Ron Paul + Jim Rogers on the government: "They'll use force and they'll use intimidation…"
by SIMON BLACK on MAY 2, 2013
May 2, 2013
en route to Hanoi
The world is truly an enormous place… and, despite the dearth of good news and positive trends out there, I still see a lot of amazing opportunities in my travels.
But it's really important to remain grounded about the challenges that face us. As I pen this letter to you, in fact,
- The NSA's Utah data center, which will intercept every phone call, email, and tweet sent across the Internet, is nearing completion.
- The Marketplace Fairness Act, which will create additional sales taxes on US-based Internet transactions, is set to pass the Senate next week.
- The government of Cyprus just passed the final bail-in measures, officially authorizing the direct confiscation of people's savings in that country's banking system.
- The Bank of Japan recently announced its intentions to double down on their already unprecedented money printing operations.
- Not to be outdone, the US Federal Reserve just announced that they will maintain their Quantitative Easing program, which dilutes the existing money supply by more than $1 trillion annually.
- At $16.83 trillion, the US federal debt is at a record high and set to breach $17 trillion early this summer.
- President Obama recently proposed to cap the tax deferral benefit on Individual Retirement Accounts in the Land of the Free
These are clear warnings signs that a rational person simply cannot ignore.
Bottom line, nations are going bust. And the worse things get, the more desperate their tactics become.
This isn't the first time that the world has been in this position. This time is not different.
History shows that there are serious, serious consequences to running unsustainably high debts and deficits. And those consequences have almost invariably involved pillaging people's wealth, savings, livelihoods and liberties… either directly or indirectly.
What's happening right now is playing out in textbook fashion. More taxes, more debt, more printing, more confiscation, less freedom.
http://www.sovereignman.com/important-i … ion-11762/
Statistics: Posted by yoda — Thu May 02, 2013 10:02 am
---
View full post on
opinions.caduceusx.com
Brewers 'nervous' as malting barley hopes diminish
Malting barley premiums look set to remain strong thanks to the spring plantings setbacks rendering North American brewers "nervous", and seen sparking a sharp rebound in import needs in the key German market.
The malting barley premium over feed, which has already recovered in Europe from nominal levels late last year to E40 a tonne, "will remain high for the coming months", RMI Analytics said.
"The supply and demand balance for the coming crop on 2-row spring malting barley in the European Union looks far less optimistic compared to last year," the Swiss-based consultancy said.
"In addition, we expect negative news in the weeks ahead concerning weather and hence plant development, which will immediately push prices higher."
German imports to soar
The comments came even as market estimates emerged of a sharp drop in spring barley plantings in German, potentially by some 40% to 360,000 hectares, because of the cold and wet spring, with the south east of the country seen particularly a risk.
A decline of the level suggested "will leave Germany, Europe's biggest user of malting barley, with over 1m tonnes to import next season", UK grain traders at a major European commodities house said, terming the slice a rare piece of fortune for Britain's own rain-plagued growers.
"This is good news for UK malting barley growers," major suppliers of malting barley to Germany, "who will look to utilise this extra demand".
Germany's import needs in 2012-13 are estimated by Evergrain, the Swiss-based broker, at 265,000 tonnes, although this is an unusually low number, depressed by high domestic sowings of spring barley last year following a cold snap which forced farmers to abandon many winter crops.
'Malting industry is nervous'
Prospects for production of spring barley, the source of most malting barley, in North America have also deteriorated with the persistent snow cover which has prevented farmers in northern US states and much of the Canadian Prairies from making a start on plantings.
RMI said: "Comments from farmers across the snow-covered area is that they will be lucky to get their crops sowed by the beginning of June," even assuming land is not flooded by snowmelt.
With supplies of left-over 2012 barley "very tight", brewers "are starting to take further coverage into 2014 deliveries but the general sentiment in the malting industry is nervous", RMI said.
Force majeure, or "act of God" clauses in barley delivery contracts in Canada and North Dakota "become more likely to be enacted as the potential late crop becomes ever more likely".
Late plantings imply a late harvest, exposing crops to the risk of early frost, and a decline in malting quality.
http://www.agrimoney.com/news/brewers-n … -5775.html
Statistics: Posted by yoda — Fri Apr 26, 2013 9:20 am
---
View full post on
opinions.caduceusx.com

Is that a stink bug? Nope it's a camera.
Most people understand that we have a massive military industrial complex (MIC.) Defense contractors and government partner to develop weapon systems and improve our "war fighting" capabilities. Massive amounts of money go to the Pentagon and contractors. So much money is moved through Defense that the GAO recently threw up its hands and said that the Pentagon budget was not auditable.
This should concern us. Nothing in government should be "too big to audit." Not the Federal Reserve, not the Pentagon. We have an obligation as a citizenry to insist on knowing what is going on, at least on a fundamental level.
Since the Bush Administration another industrial complex has emerged, the surveillance industrial complex. An offshoot of the MIC, it is a fast growing area for contractors and there are mega (tax) dollars to be made in surveillance.
Take a look at this amazing video recently produced by the Air Force and General Dynamics introducing drones which act and look like birds and insects. They will be powered by the sun, wind, power lines, even "vibrating machinery." It is truly mind blowing technology which may soon be reality on the battlefield. It may already be.
How would you like a swarm of these things floating around your town?
Pretty amazing but this was probably near state of the art early last year.
And if one wants to buy one's own insect drone, one can now for $99 as this video from Mashable.com reports. For $3K one can buy a swarm. Talk about having fun with your neighbors.
The post Your Tax Dollars at Work : Check Out the New Tiny "Bug Bot" Drone from the Air Force appeared first on AgainstCronyCapitalism.org.
View full post on AgainstCronyCapitalism.org
Sound far fetched? It was only this week that Vice President called on the "legitimate" media to push the President's gun control agenda.
He said-
"To be very blunt with you, we're counting on all of you, the legitimate news media to cover these discussions because the truth is that times have changed,"
The way "times have changed" is that now there isn't just a handful of gatekeepers which the government can count on to get a story to the American people. (Or keep it from them.) Though 90% of media is controlled by 6 corporations, there is a pesky and growing independent media. This worries the powers that be. In Australia the government may do something about it.
Last year in the Land Down Under, a liberal democratic, western republic, a government issued report suggested that Canberra consider a news media star chamber of 21 people who will determine what is "legitimate news" and what is not.
A government appointed "news media gestapo" is what the video below calls the group.
This is the sort of thing being seriously considered in Australia folks. In a western, liberal republic.
We'd better hope this doesn't happen down there, because Lord knows certain elements would love to see such a chamber here. Did I mention that the Huffington Post just officially "joined forces" with Goldman Sachs.
The post Imagine if the government determined what was "legitimate" news and what was not, by force of law. appeared first on AgainstCronyCapitalism.org.
View full post on AgainstCronyCapitalism.org
Disappearing US labor force and goodbye to retirement – Adding 146,000 jobs while 542,000 drop out of the labor force. Understanding the changes in the unemployment rate.
Posted by mybudget360
The recent drop in the unemployment rate was largely due to the number of people dropping out of the labor force. I've noticed that more people in the press are picking up on the important nuances when it comes to the employment figures. For example, in the last month those "not in the labor force" increased by well over 500,000. This is a big figure and given that 1 out of 3 Americans has no savings to their name, many are hitting retirement age but are still likely to be working. There is an idea that with 10,000 Americans hitting retirement age each and every day that they are now all spending their time sipping Margaritas and playing cards on some crystal blue beach. Yet net worth has been slammed and most Americans have seen their net worth plummet by roughly 40 percent since the crisis hit. Let us take a closer look at the employment numbers to see what is really going on.
Dropping out of the labor force
One of the more stunning realities is how many people are falling out of the labor force: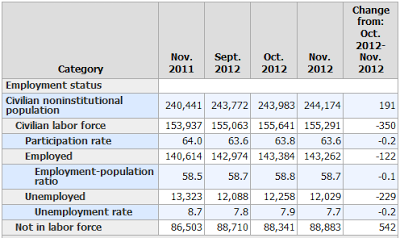 Here are some key stats:
-In last year civilian noninstitutional population went up by 3.7 million
-In this time span, the labor force only went up by 1.3 million
-Those not in the labor force increased by 2.3 million
So this big jump is being pushed by more than baby boomer demographics. Many are simply not retiring and you will see this in the economy where you will find much older Americans working jobs that were usually standard for younger Americans. You have this compression occurring where many older Americans simply cannot afford to retire while younger Americans are fighting as hard as they can to simply land a job in the tight economy.
The market added 146,000 jobs in the establishment survey which is positive but we need at least 125,000 a month just to keep up with population growth.
Back to 2006
We've been adding jobs since 2010 and now we are back to employment levels last seen in 2006: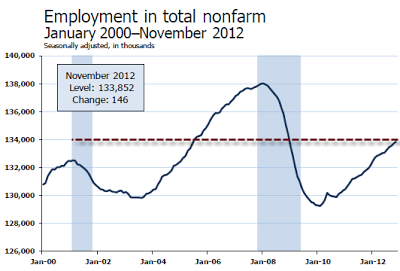 At the same time, our population has increased and we are having larger portions of Americans not in the labor force. This is key in understanding the continuing drop in the unemployment rate that you hear about in the media. There are a couple of surveys to pay attention to and people are now starting to become more aware of the differences.
A big rise during these months has to do with retail hiring for the holiday season: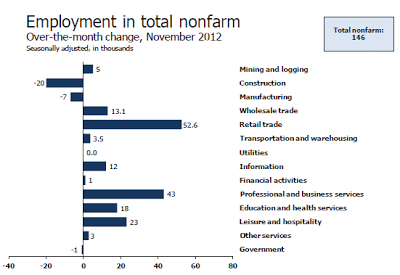 What is concerning above is the drop in construction and manufacturing. These are blue collar positions and given the importance of housing to the economy, these signal something else. Sure, the Fed has pushed rates lower yet this has largely created a refinancing boom yet construction for new housing is still weak.
It will be important to keep our eyes on these numbers moving forward since the seasonal changes are big during the holiday season. Also, next year we will see changes because of the fiscal impacts that will happen. Those that think that high levels of debt relative to GDP don't matter need only look at Europe. Again, it is important to understand the differences in the employment figures.
http://www.mybudget360.com/labor-force- … ent-plans/
Statistics: Posted by yoda — Sat Dec 08, 2012 11:00 pm
---
View full post on
opinions.caduceusx.com
IBM work force in N.C., U.S. keeps dropping but grows in India
By RICK SMITH, WRAL Tech Wire Editor
RESEARCH TRIANGLE PARK, N.C. — Where does IBM now employee more workers than anywhere else?
India.
Meanwhile, IBM's work force in North Carolina is now well below 10,000.
And across the Triangle, where Big Blue employed more than 10,000 just a few years ago alone, the headcount has dropped to some 7,300.
IBM (NYSE: IBM) won't talk about where it employees people geographically. So people trying to figure out what's up with job numbers have to rely on sources and the occasional document that might be leaked.
Last week, ComputerWorld reported that it had seen a "document" showing IBM employs 112,000 people in India. That's up from just 6,000 in 2002, the news site reported.
Indian media sources have reported similar numbers, and we've cited those in Tech Wire reports.
Meanwhile, Alliance at IBM, the union that seeks to represent IBM workers in the U.S., says its sources have provided information that says Big Blue headcount in the U.S., is down to 92,000.
Locally, the numbers are grim with under 10,000 workers across the sate and just 5,500 in RTP with another 1,800 in Durham, the Alliance tells WRAL News.
Some reductions are not surprising, given that IBM sold off its PC business and point-of-presence retail units, both of which were primarily based in Raleigh and the Triangle.
IBM's headcount keeps dropping in N.C. and across the U.S. even as the ranks of Big Blue keep growing in India. According to Computer World, IBM has 112,000 workers across India. Meanwhile, the U.S. workforce is down to 92,000, says the union seeking to represent Big Blue employees.
"It does not surprise us that IBM India has more employees than IBM U.S.," Lee Conrad, national coordinator for the Alliance, said.
"For years we have been sounding the alarm that IBM corporate management has and is abandoning the U.S. for low cost countries, like India."
ComputerWorld reported that Indian IBM workers average $17,000 a year in compensation.
Conrad didn't dispute the ComputerWorld story.
"Our sources tell us the information is accurate," he said.
Meanwhile, IBM's numbers decline even as it does announce new hires such as an analytics center in Ohio that will employ some 500 people. That news was disclosed last week.
The latest IBM headcount estimate from Alliance at IBM follows. The asterisk notes Alliance estimates based on its own sources. IBM stopped reported employee count by geography in 2009.
The numbers:
2012: *92,000
2011: *98,000
2010:*101,000
2009: 105,000
2008: 115,000
2007: 121,000
2006: 127,000
2005: 133,789
http://wraltechwire.com/ibm-work-force- … /11837048/
Statistics: Posted by yoda — Mon Dec 03, 2012 5:33 pm
---
View full post on
opinions.caduceusx.com
My criticism upon Mr. Hobson's recent paper in defense of socialism must be that he takes much trouble to prove that which is not in dispute, that which almost all of us, I presume, are ready to admit, and which, when admitted, can be of no use as regards the defense of the socialist position, while he altogether passes by the real point at issue—the crux of the whole question-by which socialism has to stand or fall.
Now let us get to business and see how the matter stands. Mr. Hobson justifies socialism—or the compulsory organization of all human beings—by the fact of our social interdependence. In many forms of words he returns again and again to the same point of view. Psychology brings, he tells us, "a cloud of witnesses to prove the direct organic interaction of mind upon mind"; society is "an organic system of the relations between individuals"; "the familiar experience of everyone exhibits thoughts, emotions, character as elaborate social products"; "minds breathe a common atmosphere, and habitually influence one another by constant interferences." We are not, as he says, to look at "numbers," but rather at "the action of the social will." Without examining critically these metaphors, that he employs, we need not so far have any quarrel. We are all agreed probably that we are subject to innumerable influences, that we all act and react upon each other in the great social whole, that the environment constantly affects and modifies the individual. Marvelous indeed is the great subtle web of relations in which we are all bound together—man and nature, man and man, body and mind, nation and nation, each forever interacting on the other. But what in the name of good logic and plain common sense have this universal interaction and interdependence to do with the fundamental dogmas of socialism? Socialism rests upon the assumed right of some men to constrain other men. It naturally exhibits several varieties; but all the thoroughgoing forms of it are so far alike that they depend upon universal compulsory organization. It must be always borne in mind that socialism differs from other systems in this essential, that it recognizes, and, so to speak, sanctifies compulsion as a universally true and proper method; and the compulsion, which it sanctifies, must for practical reasons, as well as for the assumed virtues in compulsion itself, be left undefined and unlimited in extent. It represents the belief that prosperity, happiness, and morality are to be conferred upon the world by force—the force of some men applied to other men.
That may be, or may not be. Force may be the greatest and most far-reaching thing in the world; or it may be the weakest and most contemptible. But before we discuss the strength or the weakness of force as a reforming instrument, before we decide what force can or cannot do on our behalf, we have to consider, first of all, if we have a moral right to employ force. The socialist assumes—he is obliged to assume for the sake of his system—that men have a right to use force for any purpose and to any extent that he desires, in order that he may be enabled to restrain men from using their faculties for their own individual advantage. If you ask which men are to be the depositories of force, he can only answer, the biggest number of men; or if not the biggest number, then such a number of men as by efficient organization can succeed in obtaining possession of power and in retaining it.
I need not spend time in proving this point. Every thoroughgoing socialist, who is willing to deal frankly in the matter, will admit that socialism rests on the cornerstone of force. Private property is by force to be turned into common property; and when that has taken place, no individual will be allowed to acquire private property or to employ it for his own purposes, except to a very small extent, and under strict regulations. John Smith could not be allowed to work for Richard Parker, as this would be a return to the system of free labor, and must necessarily endanger the system of state labor. Richard Parker could not be allowed to open a shop and sell his wares to John Smith, for this would be to allow free enterprise and the individual acquisition of wealth once more to reappear in the world. The whole meaning of socialism is force, applied in restraint of faculties. For good or for evil, it is the attempt to place all men and all human affairs under a compulsory system; and to allow no free system to exist by the side of its own system, which would be necessarily endangered by such rivalry. It differs from every free system in this essential particular: that under liberty, you may give away your own liberty, if you think good, and be socialist, or anything else you like; under socialism, you must be socialist, and may not make a place for yourself in any free system.
Now we can all see that any writer, with the literary abilities and instincts possessed by Mr. Hobson, who under these circumstances proposes to plead the cause of socialism, finds himself involved in considerable difficulties. He has to apologize for and to defend a system of universal force, and he instinctively dislikes the task. Of course he might openly take force under his protection, declare that it was the reformer's true weapon, and glorify the whole business of compelling all dissidents. But the systematic glorification of force is an awkward piece of work; for as it is generally conceded for good and for evil that we are all to be free and equal in forming our opinions, so as a necessary consequence it must be conceded that we are to be free and equal as regards the methods of advancing our opinions. A method that is good for one must be good for all; and in accepting the method, we must expect to find that, here too as in every other human matter, considerable differences will exist as regards the application of the method. Tot homines, tot sententiae. Tastes must vary. Some men will prefer the confused mixture of force and liberty that usually prevails under the system of party government; some men will prefer the stronger article of compulsory socialism; some men will prefer military despotism; and some the force of the anarchist, who employs dynamite as a social corrective. On what ground can the believers in force quarrel with or even very seriously criticize each other? They are all fellow worshipers in the same temple, and at the shrine of the same principle. Once admit that force is right in itself, and then you cannot pick out any special sect or party, confer special privileges upon them, and declare that they alone, and nobody else, are entitled to use force. That would be a mere arbitrary and fanciful selection, as arbitrary and fanciful as picking out certain opinions, and declaring that these opinions are orthodox, and that all other opinions are heterodox. If force is good in the hands of some men, it is good in the hands of other men; if it is a good instrument to serve some causes, it is good to serve other causes. You can't have a monopoly in the use of so valuable "a resource of civilization." If the socialist with his compulsory system can succeed in justifying his use of force so also can the ordinary politician, or the military despot, or the dynamiting anarchist, with his newly awakened perceptions that force can be applied in very uncomfortable fashions, without any machinery of government, or policemen, or soldiers. Having once arrived, after much searching of heart, at the belief that we must concede to all men the right to think as they like, and having got rid of the Old World idea that we can authoritatively pronounce some opinions to be good and some to be bad, we must take the further step, and admit that every holder of opinions has an equal right to use the same methods of advancing his opinions. In a word, we must concede equality as regards the method of advancing opinions, just as we have conceded equality as regards the holding of opinions. We must therefore choose between either altogether rejecting force as an instrument for advancing our opinions and our interests, or recognizing equality in the use of method—accepting, so to speak, free trade in force, even if this last alternative is not altogether reassuring as regards the peaceful and friendly relations of men to each other. This difficulty therefore confronts the socialist. If he is resolved to employ a frank and consistent logic, he must admit that force is a good instrument in the hands of all who can possess themselves of it; or employing the defective and halting logic that all his predecessors in power have employed, he must try to persuade us that force is good for him, but not for the rest of his fellow men, and claim, in common with the other worshipers of force, that there exists a mysterious dispensation given from some unknown quarter in his own special favor.
But the literary difficulties of those who plead for the compulsory organization of all men, under the name of socialism, do not end here. I will not touch now upon the difficulties of conceiving that you can organize society upon the principle of dividing every five men in the nation into two groups—a group of three men, who have all rights, and a group of two men, who have no rights, of turning the three men into those who own others, and the two men into those who are owned by others. Apart from the verdict, which reason and morality if fairly questioned, must pass upon every system which splits the nation into a crowd that owns, and a crowd that is owned, into a conquering and a conquered faction, the socialist, who plainly and frankly invites men to banish freedom of action from the world, will find himself opposed by a large number of persons who, as the result of living in a fairly free country, and who, guided by their feelings and daily experience, have a strong moral and intellectual dislike to force. It is only a few persons as yet amongst us who consciously submit themselves in this matter to the discipline of first principles; but there is a large number of persons whose general habit of thought and whose instinct tell them that force is the wrong method, and that discussion, persuasion, the light of reason and the attraction of example, are the right method. They see that force is at best a clumsy and brutal argument. They remember the wise saying: "Any fool can govern with bayonets." They see that those who use force most freely are as a one-eyed race, with very limited perceptions, able to perceive dimly the immediate consequences, but not the more remote consequences of what they do. And just as these disbelievers in force see that those who accustom themselves to the use of force grow stupid, and not only stupid but brutal, so they see that those, who are subject to force, also grow stupid in their own way, indifferent, apathetic, and generally revolutionary in temper. They see that mistakes made under force systems are apt to persist, that they are not easy to discover or remedy, when you have discouraged the growth of all systems by their side. They see that every force system requires a great complicated machinery, and that this machinery always eludes popular control, and falls under the management of some not very intelligent or disinterested clique. They see not only that every act of force requires continual new extensions of force, but also that force breeds many forms of intrigue and deception. Even when you have force in your hands, it is not an easy task to compel a great number of persons to do what they don't want to do—it is much like the labor of making water flow uphill; and force, therefore, naturally allies itself to trick and to management. The moral transition is always an easy one.
Those persons who have taken the one shortcut readily persuade themselves to take the other shortcut. No believer in force truly respects his fellow-men. He always slightly despises them, even while he serves them. They tend to become to him mere material for carrying out his views. His views may be honestly and sincerely held; they may be excellent in themselves; but when he uses force on their behalf he commits the capital mistake of exalting himself and his views into the first place, and of degrading his fellow-men, with an intelligence and conscience like and equal to his own, into the second place. Thus it comes about that the user of force loses all hold on moral principles; he becomes a law, and a very defective law, to himself; and thus it comes about also that politics—which are simply the method of force—are in every country not only the battlefield of opposed fighters, but the hotbed of intrigue and corruption. The career of a politician mainly consists in making one part of the nation do what it does not want to do, in order to please and satisfy the other part of the nation. It is the prolonged sacrifice of the rights of some persons at the bidding and for the satisfaction of other persons. The ruling idea of the politician—stated rather bluntly—is that those who are opposed to him exist for the purpose of being made to serve his ends, if he can get power enough in his hands to force these ends upon them. Is it wonderful then, if trick and intrigue grow rank and fast in the garden of politics; or that amongst the many things which you may find there, you will rarely find flowers that are fragrant, and fruits that are clean and wholesome?
And again, men see another evil, which arises where the use of force is admitted. So long as we remain in the region of discussion and persuasion, so long there is a sure guarantee that the truest view will gradually prevail. The truest view necessarily commands the best arguments, just as it gradually attracts to its side the higher class of minds; and therefore having the best arguments and the best fighters on its side must win in the free open field, sooner or later. But when we abandon the free open field, in which reason and persuasion, the appeal to reason and the appeal to conscience, are the only admitted weapons, and allow force to be recognized as an equally righteous method, then this certainty of ultimate victory for the truest view entirely disappears. Why? Because force enlarges and degrades the issues. It adds inducements of an effective, if of a very coarse kind, in order to win men over to its side. As long as we are only seeking to persuade, we can only offer the fruits of persuasion. We can promise men that they shall be better, happier, more prosperous, by certain changes in their conduct, but we cannot promise that they shall find tomorrow or the next day five shillings or five pounds, magically placed in their pocket, without any effort of their own. But this is exactly the kind of promise that force can make; indeed, not only can make, but must make. From the nature of things, force cannot fight a pure battle, or appeal simply to pure motives. There is nobody amongst us who can become possessed of force, unless he can first of all induce a very large number of persons to fight on his side. To be the possessor of force you must possess a force army; and your force army must be larger than the force army of any of your rivals. How are you to collect together and keep together such a force army? You cannot do it by appeals to reason and conscience, for that is a slow affair, which wins its way by influencing individuals, and these individuals, who are influenced, are influenced by the same appeal in very different degree and fashion. To obtain a force army, capable of defeating another highly organized force army, you must bring in the recruits in shoals and masses, you must bring them in on a given day, at a given spot, you must bring them in in such a state of discipline, that they will all keep step together and follow their leader like one man. But if appeals to reason and conscience, being, as I have said, essentially individualistic in their action, cannot produce disciplined masses on the given spot and at the given moment, force has a store of arguments exactly, suited for the purpose. Give me force enough, and I can promise you almost any material prize for which your heart lusts. If you are a poor man, I can promise you three acres and a cow, gratuitous education, state pensions, and state insurance, novels provided at the public expense, and taxes thrown upon your richer fellow citizen; or better still, all private wealth converted at a touch of my wand into public wealth; if you are a rich man, I can promise you bigger armies and fleets, more territory, more glory, and many noble opportunities of making a splash before the eyes of the world; and if you are nervous about the safety of your possessions in these socialistic days, I can turn the nation into an army for your convenience, and submit it to military discipline—an excellent way, as some persons think, of conjuring away, at all events for some twenty-four hours, all socialistic dangers. Give me force enough, and I can offer every kind of glittering ware for every class of customer. In this way, if I am only a skillful buyer of men, I can recruit my force army; and when I have recruited them, I can pay them out of the prize money which I employ them to win.
From certain practical points of view the system is excellent, as the politicians have discovered, only you must not ask from it, what it cannot pretend to offer—any test as regards the moral and intellectual value of conflicting views; or, if does offer you such a test, it can only offer it by the rule of contraries. If we wished to be ingenious, we might perhaps say that the moral and intellectual value of the views, which are backed by force, is generally in inverse proportion to their momentary attractiveness. The more any particular kind of political prize money attracts, the less clean, and sound, and wholesome, and really desirable in itself, it will probably be discovered to be under searching criticism. I do not know if the philosophers will someday be able to extract a more definite moral canon for our guidance as regards the attractions of force, but meanwhile, we may content ourselves with certain homely but useful truths. You cannot possess force, without first recruiting a force army; you cannot recruit a force army, without the free use of prize money; and you cannot offer prize money without putting the prize money, in the first place, and the appeal to conscience and reason in the second place, with a very large interval disclosing itself between the two classes of inducements.
I have dwelt at some length on this question of force, because it is the test question, by which socialism has to be tried. Socialism undertakes to save the world from all its sorrows by a greatly extended use of force, a use of force, far exceeding the force which even emperors and despotic governments employ; and what the philosophical and literary defenders of socialism—I do not mean the mere promisers of prize money—have to do is to convince us first of all that force is a right weapon in itself—that we are morally justified in using it against each other; and second, that it is likely—as far as we can judge by past experience—when applied in this new universal fashion, to make men better and happier. Socialism intends to found itself upon force; and therefore we stand upon the threshold, and call upon it, before it goes any further, to justify force. Does Mr. Hobson do this? Does he lay any moral foundations for the use of force? Does he satisfy us that three men may rightly do whatever they please with the minds, bodies and property of two men? Does he satisfy us that the three men can produce any lawful commission for saying to the two men: "Henceforth your faculties belong to us and not to you; henceforth you are forbidden to employ those faculties for your own advantage, and in such fashion as you choose; henceforth they are to be employed for what we are pleased to call the public good." In another paper, I hope to follow Mr. Hobson's argument, and see how far it is suited to remove the hesitations and scruples of those who believe that every man and woman is the true owners of his or her own faculties, and that every forcible annexation of these faculties by others has prevented the world from discovering the ways of true happiness.
View full post on Libertarianism.org
Herbicide resistant weeds force greater herbicide use
Posted Oct. 12th, 2012 by Robin Booker
Herbicide tolerant crop varieties have led to an increase in overall herbicide use in U.S. corn, cotton and soybeans, according to a recent study.?
Professor Charles Benbrook of Washington State University found that the emergence of weeds resistant to glyphosate has led to 239 million more kilograms of herbicide used in the United States since 1996 than what would likely have been used in the absence of herbicide resistant crops.?
Benbrook's peer reviewed study, which was published in Environmental Science Europe, analyzed data from the U.S. Department of Agriculture to track pesticide use trends since 1996, when farmers began growing HT crops.?
In an interview, Benbrook said herbicide resistant weeds pose a significant threat to agriculture, and that the onus is on the chemical and biotechnology companies to solve the problem. ?
"The weed science community from all over the world was warning from the day this technology was commercialized in 1996 that if farmers become too dependent on it and plant Roundup Ready crops after Roundup Ready crops, that it would be a perfect storm for triggering the emergence of glyphosate resistant weeds," Benbrook said. ?
Eighty-five percent of corn and 95 percent of cotton and soybean acres in the U.S. are planted to varieties genetically modified to be herbicide tolerant.?
Weeds resistant to glyphosate began to emerge in 2000 and by 2005 had led to a substantial increase in the amount of herbicide used in Roundup Ready cotton and soybeans. ?
He said an extra pound per acre of glyphosate is applied today compared to when the technology was first brought onto the market.?
The study predicts that the incremental increase of herbicide use will continue as herbicide resistant weeds spread. As well, farmers will be forced to return to older chemicals that have greater health and environmental effects, such as 2,4-D.?
"(2,4-D) is one of the higher risk old chemicals that American and Canadian farmers have moved away from because of the public health and environmental risk," Benbrook said. ?
"It would be a real shame if it came back because there would most certainly be a price to pay in terms of reproductive problems." ?
Stephen Yarrow, vice-president of plant biotechnology at CropLife Canada, said weeds have adapted to weed management systems since the advent of agriculture.?
When asked if herbicide tolerant crop systems have caused an increase in the use of herbicides, Yarrow said: "In sheer volume, then the answer is yes, particularly when we're talking about glyphosate and glufosinate type herbicides. But on the other hand, the number of different herbicides that farmers have to use had decreased. They can use just one herbicide rather then multiple types of herbicide to control their weeds. It's a much more efficient means of weed control, and it's now allowing the use of more environmentally benign herbicides."?
Even though resistant weeds are emerging in herbicide tolerant crops in Canada, Yarrow said the situation is far more serious in the United States. ?
"What we're hearing is it's all about rotation," he said. "Farmers in the U.S., for various reasons where these issues have arisen, are not rotating their crops and different types of herbicide controls as frequently as they are in Canada. The situation in Canada is going to be less serious because of that."?
Benbrook also said alternating weed control methods is crucial in slowing the development of resistant weeds.?
"By far the most important recommendation for farmers all over the world is when they manage their weed control system, is don't rely too heavily on any one tactic or tool. In the world of herbicides, don't rely on only one herbicide with only one active ingredient."?
The study also charts a decrease in the application of insecticides since the implementation of b.t. crops that manufacture one or more forms of the natural bio-insecticide bacillus thuringiensis. ?
However, the amount of the insecticide displaced is less than the amount of bioinsecticide produced by the crops. ?
"It is certainly true that b.t. generally poses a less worrisome set of risks on the environment and human health than the typical corn insecticide," Benbrook said. ?
"I think given the volume that are now being produced across large areas in the American Midwest because of the use of b.t. corn, it really warrants a closer look at what is going on in terms of impact on soil microbial communities, plant health and aquatic ecosystems." ?
Yarrow said HT crops have other benefits that fall outside the study's scope, such as those associated with zero till.?
http://www.producer.com/2012/10/herbici … icide-use/
Statistics: Posted by yoda — Thu Oct 18, 2012 1:15 pm
---
View full post on
opinions.caduceusx.com
Rain's return to force UK growers to ditch crop
The return "with a vengeance" of wet weather may prompt many UK farmers to abandon their last standing wheat, besides rendering spring barley and oats harvests the slowest in recent memory, and piling on "misery" for potato growers.
While the harvest of the UK wheat crop is close to completion – after a dry spell at the start of the month allowed farmers to catch up on a rain-delayed start – rains over the weekend left growers facing "saturated soils, ponding in fields and some flooding", Adas said.
"There are still crops elsewhere on the higher land and in wet patches of fields that may prove impossible to harvest following the latest rain," the consultancy said.
In Scotland, where "there have been serious harvest difficulties caused by the wet conditions", further rain forecast for the coming week "will hamper the completion of the winter wheat harvest".
Abandoned barley
The poor conditions look set to ensure a historically poor UK harvest ends on a dismal note.
Adas restated a forecast of yields coming in "towards the lower end" of a range of 6.8-7.2 tonnes per hectare, implying the worst result in 20 years, with the specific weight, a key quality measure, dropping 70.7 kilogrammes per hectolitre, the lowest on records going back to 1977.
And the harvest slowdown was reflected in other cereals too, with the spring barley harvest slowing to a crawl, and becoming the latest in recent years.
"There are still crops dotted around the rest of England and Wales that have not been harvested due to poor ground conditions," Adas said.
"The latest rain and the harvest logistics mean that many of these patches may not be harvested."
For oats, harvesting stalled at 85% complete, compared with nearly all typically by now.
'Perfect storm of misery'
The wet conditions have also slowed the potato harvest, which was 27% complete as of Monday, roughly half the usual rate, according to the British Potato Council.
The low figure reflects, besides recent rains, the knock-on effects of damp spring weather, which delayed sowings, and the wettest summer in a century, which slowed crop development and raised disease pressures.
Confirmed outbreaks of potato blight have more than doubled this year, the council said, warning that producers faced a "perfect storm of misery" given also that many farmers were on fixed contracts, meaning they would be unable to pass on higher costs.
"The combination of low yielding potato crops, increased crop spraying costs and increased wastage from problems such as greening, soft rots and growth cracks has massively increased the average cost of producing a tonne of potatoes," council chairman Allan Stevenson said.
Price dynamics
According to analysis group Andersons, farmers' costs have soared from £140 a tonne to £190 a tonne.
Potatoes achieved an average price of £184.77 a tonne last week, with relatively low contract prices offsetting £252.77 a tonne for free-market crop.
http://www.agrimoney.com/news/rains-ret … -5038.html
Statistics: Posted by yoda — Thu Sep 27, 2012 1:51 pm
---
View full post on
opinions.caduceusx.com
Premier Alison Redford won't force Tory MLAs who were paid for sitting on a legislative committee that never sat to return the money – but she suggested Thursday voters will judge members on how they handle the issue.
A controversy has blown up over the all-party privileges and elections committee, which has paid $1,000 a month to 21 MLAs despite not sitting since 2008.
Liberal Leader Raj Sherman, and Wildrose MLAs Heather Forsyth and Guy Boutilier have pledged to return the payment they have received for committee membership.
No Progressive Conservative MLAs — who made up the majority of members on the committee — have yet announced they will give money back.
"Every MLA who sat on that committee needs to make a choice as to what they do and they will be held accountable in the election for it," said Redford on a Calgary radio talk show Thursday morning.
Redford announced earlier this week said that Tory MLAs will no longer accept stipends for serving on committees. She called during last year's PC leadership campaign for an end to compensation for committee work.
Redford pointed to the appointment of a committee headed by former Supreme Court Justice John Major to review MLA pay, which she also promised during the leadership race, as a sign she knows there is a problem that needs to be fixed.
The Tories have been battered in recent weeks by a string of problems that have included the so-called "no meet committee," allegations of bullying of municipal leaders, school officials and doctors and the suspension of Asia envoy Gary Mar — a former Tory leadership candidate and cabinet minister — over a potentially improper fundraiser.
Redford said she ran for leader in part because she had wanted to address concerns there was a sense of entitlement in the 41-year PC government.
"We're seeing some things right now that I think are illustrating what has been in the past couple of years problematic and it's not right and I don't agree with it either," she said.
Redford herself has come under heavy fire herself over the narrow scope given to a public inquiry into health care queue-jumping
http://www.edmontonjournal.com/news/Pre … story.html
Statistics: Posted by yoda — Thu Mar 15, 2012 1:17 pm
---
View full post on
opinions.caduceusx.com