Are we running out of time?  For the last several years, we have been living in a false bubble of hope that has been fueled by massive amounts of debt and bailout money.  This illusion of economic stability has convinced most people that the great economic crisis of 2008 was just an "aberration" and that now things are back to normal.  Unfortunately, that is not the case at all.  The truth is that the financial crash of 2008 was just the first wave of our economic troubles.  We have not even come close to recovering from that wave, and the next wave of the economic collapse is rapidly approaching.  Our economy is like a giant sand castle that has been built on a foundation of debt and toilet paper currency.  As each wave of the crisis hits us, the solutions that our leaders will present to us will involve even more debt and even more money printing.  And each time, those "solutions" will only make our problems even worse.  Right now, events are unfolding in Europe and in the United States that are pushing us toward the next major crisis moment.  I sincerely hope that we have some more time before the next crisis overwhelms us, but as you will see, time is rapidly running out.
The following are 12 things that just happened that show the next wave of the economic collapse is almost here…
#1 According to TrimTab's CEO Charles Biderman, corporate insider purchases of stock have hit an all-time low, and the ratio of corporate insider selling to corporate insider buying has now reached an astounding 50 to 1….
While retail is being told to buy-buy-buy, Biderman exclaims that "insiders at U.S. companies have bought the least amount of shares in any one month," and that the ratio of insider selling to buying is now 50-to-1 – a monthly record.
#2 On Friday we learned that personal income in the United States experienced its largest one month decline in 20 years…
Personal income decreased by $505.5 billion in January, or 3.6%, compared to December (on a seasonally adjusted and annualized basis). That's the most dramatic decline since January 1993, according to the Commerce Department.
#3 In a stunning move, Michigan Governor Rick Snyder says that he will appoint an emergency financial manager to take care of Detroit's financial affairs…
Snyder, 54, took a step he avoided a year ago, empowering an emergency financial manager who can sweep aside union contracts, sell municipal assets, restructure services and reorder finances. He announced the move yesterday at a public meeting in Detroit.
If this does not work, Detroit will almost certainly have to declare bankruptcy.  If that happens, it will be the largest municipal bankruptcy in U.S. history.
#4 On Friday it was announced that the unemployment rate in Italy had risen to 11.7 percent.  That was a huge jump from 11.3 percent the previous month, and Italy now has the highest unemployment rate that it has experienced in 21 years.
#5 The youth unemployment rate in Italy has risen to a new all-time record high of 38.7 percent.
#6 On Friday it was announced that the unemployment rate in the eurozone as a whole had just hit a brand new record high of 11.9 percent.
#7 On Friday it was announced that the unemployment rate in Greece has now reached 27 percent, and it is being projected that it will reach 30 percent by the end of the year.
#8 The youth unemployment rate in Greece is now an almost unbelievable 59.4 percent.
#9 On Saturday, hundreds of thousands of protesters filled the streets of Lisbon and other Portuguese cities to protest the austerity measures that are being imposed upon them.  It was reportedly the largest protest in the history of Portugal.
#10 According to Goldman Sachs, bank deposits declined all over Europe during the month of January.
#11 Over the weekend, the deputy governor of China's central bank declared that China is prepared for a "currency war"…
A top Chinese banker said Beijing is "fully prepared" for a currency war as he urged the world to abide by a consensus reached by the G20 to avert confrontation, state media reported on Saturday.

Yi Gang, deputy governor of China's central bank, issued the call after G20 finance ministers last month moved to calm fears of a looming war on the currency markets at a meeting in Moscow.

Those fears have largely been fuelled by the recent steep decline in the Japanese yen, which critics have accused Tokyo of manipulating to give its manufacturers a competitive edge in key export markets over Asian rivals.
#12 Italy is an economic basket case at this point, and the political gridlock in Italy is certainly not helping matters.  Former comedian Beppe Grillo's party could potentially tip the balance of power one way or the other in Italy, and over the weekend he made some comments that are really shaking things up over in Europe.  For one thing, he is suggesting that Italy should hold a referendum on the euro…
"I am a strong advocate of Europe. I am in favor of an online referendum on the euro," Beppe Grillo told Bild am Sonntag.

Such a vote would not be legally binding in Italy, where referendums can only be used to repeal laws or parts of laws, but would carry political weight. Grillo has said in the past that membership of the euro should be up to the Italian people.
In addition, Grillo is also suggesting that Italy's debt has gotten so large that renegotiation is the only option…
In an interview with a German magazine published on Saturday, Mr Grillo said that "if conditions do not change" Italy "will want" to leave the euro and return to its former national currency.
The 64-year-old comic-turned-political activist also said Italy needs to renegotiate its €2 trillion debt.

At 127 per cent of gross domestic product (GDP), it is the highest in the euro zone after Greece.
"Right now we are being crushed, not by the euro, but by our debt. When the interest payments reach €100 billion a year, we're dead. There's no alternative," he told Focus, a weekly news magazine.

He said Italy was in such dire economic straits that "in six months, we will no longer be able to pay pensions and the wages of public employees."
And of course government debt has taken center stage in the United States as well.
The sequester cuts have now gone into effect, and they will definitely have an effect on the U.S. economy.  Of course that effect will not be nearly as dramatic as many Democrats are suggesting, but without a doubt those cuts will cause the U.S. economy to slow down a bit.
And of course the U.S. economy has already been showing plenty of signs of slowing down lately.  If you doubt this, please see my previous article entitled "Consumer Spending Drought: 16 Signs That The Middle Class Is Running Out Of Money".
So what comes next?
Well, everyone should keep watching Europe very closely, and it will also be important to keep an eye on Wall Street.  There are a whole bunch of indications that the stock market is at or near a peak.  For example, just check out what one prominent stock market analyst recently had to say…
"Every reliable technical tool is warning of major peaking action," said Walter Zimmerman, the senior technical analyst at United-ICAP. "This includes sentiment, momentum, classical chart patterns, and Elliott wave analysis.

"Most of the rally in the stock market since 2009 can be chalked up to the Federal Reserve's attempt to create a 'wealth effect' through higher stock market prices. This only exacerbates the downside risk. Why? The stock market no is longer a lead indicator for the economy. It is instead reflecting  Fed manipulation. Pushing the stock market higher while the real economy languishes has resulted in another bubble.

"The next leg down will not be a partial correction of the advance since the 2009 lows. It will be another major financial crisis. The worst is yet to come."
Sadly, most people will continue to deny that anything is wrong until it is far too late.
Many areas of Europe are already experiencing economic depression, and it is only a matter of time before the U.S. follows suit.
Time is running out, and I hope that you are getting ready.
So what do you think?
How much time do you believe that we have left before the next wave of the economic collapse strikes?
Please feel free to post a comment with your thoughts below…
View full post on The Economic Collapse
Andrew J. Coulson
Homo sapiens evolved to deal with a natural world governed by consistent, predictable physical laws—so it stands to reason that when we fill our days studying public policy, we might occasionally become overwhelmed by all the crazy. It seems I was thus overhwelmed yesterday, when I blogged about the savings from Washington, DC's private school choice program, forgetting about a backroom deal that was required to secure its passage.
While the vouchers only cost $14 million per year over the course of the initial five year trial, school choice advocates had to commit to spending an extra $13 million on DC public schools each year, as a palliative to local public school and political leaders. Some might consider this political payoff an additional "cost" of the voucher program, thereby reducing the program's net savings. That would be a mistake. This payoff was just yet another cost of operating a state school monopoly whose rent-seeking masters demand to be financially appeased if even a few of "their" students are emancipated. It is at that system's feet that these costs should be laid.
So, after reflecting on this particular bit of crazy, I'll stick with the DC voucher savings estimate I offered yesterday.
View full post on Cato @ Liberty
David Boaz
If you want to cut federal spending, which has doubled under Presidents Bush and Obama, you need to eliminate some programs and agencies. At the Orange County Register – and thus on the World Wide Web – I offer some suggestions. Here are a few:
•Farm subsidies. The Department of Agriculture doles out $10 billion to $30 billion in cash subsidies to farmers and owners of farmland each year (depending on crop prices, disaster outlays and other factors). More than 90 percent of agriculture subsidies go to farmers of just five crops: wheat, corn, soybeans, rice and cotton. Most farms collect no subsidies. Farmers' income has been booming lately, making this a particularly good time to end the subsidies.

•Head Start. Oh, no! Everyone loves Head Start. It helps poor kids. Who could be against that? But on the Friday before Christmas, the administration released a large-scale study of Head Start's effectiveness. Its conclusion: "[B]y the end of third grade, there were very few impacts found … in any of the four domains of cognitive, social-emotional, health and parenting practices. The few impacts that were found did not show a clear pattern of favorable or unfavorable impacts for children." Head Start costs $8 billion a year, and about $200 billion since its inception. Multiple official studies have shown its ineffectiveness.

•Afghanistan. Americans are tired of America's longest war. It's costing more than $100 billion a year. Instead of vague plans to reduce the number of troops next year or thereafter, let's make the decision to end the war, bring the troops home, and save that money.
More on how to cut programs that are unconstitutional, obsolete, mismanaged, or otherwise dysfunctional at DownsizingGovernment.org.
View full post on Cato @ Liberty
Put out by Program for the Human Environment at the Rockefeller University in New York.
"Peak farmland" is here, food crop area to fall – study
By Alister Doyle, Environment Correspondent
OSLO | Mon Dec 17, 2012 9:10pm IST
(Reuters) – The amount of land needed to grow crops worldwide is at a peak and an area more than twice the size of France can return to nature by 2060 due to rising yields and slower population growth, a group of experts said on Monday.
The report, conflicting with U.N. studies that say more cropland will be needed in coming decades to avert hunger and price spikes as the world population rises beyond 7 billion, said humanity had reached what it called "Peak Farmland".
More crops for use as biofuels and a shift towards more meat consumption in emerging economies such as China or India – demanding more cropland to feed livestock – would not offset a fall from the peak driven by improved yields, it calculated.
If correct, the land freed up from crop farming would be some 10 percent of what is currently in use – equivalent to 2.5 times the total area of France, Europe's biggest country bar Russia, or more than all the arable land now farmed in China.
"We believe that humanity has reached Peak Farmland, and that a large net global restoration of land to nature is ready to begin," said Jesse Ausubel, director of the Program for the Human Environment at the Rockefeller University in New York.
"Happily, the cause is not exhaustion of arable land, as many had feared, but rather moderation of population and tastes and ingenuity of farmers," he wrote in a speech about the study he led in the journal Population and Development Review.
The report, supplied to Reuters by Ausubel, projected that almost 150 million hectares (370 million acres) could be restored to natural conditions such as forest by 2060. That is also equivalent to 1.5 times the area of Egypt or 10 times Iowa.
It said the global arable land and permanent crop areas rose from 1.37 billion hectares (3.38 billion acres) in 1961 to 1.53 billion (3.78 billion acres) in 2009. It projected a fall to 1.38 billion hectares (3.41 billion acres) in 2060.
LAND SCARCER
A June 2012 report by the U.N.'s Food and Agricultural Organization (FAO), however, said that a extra net 70 million hectares of land worldwide would have to be cultivated in 2050 compared to now: "Land and water resources are now much more stressed than in the past and are becoming scarcer," it said, referring to factors such as soil degradation and salinisation.
Ausubel's study admits to making many assumptions – rising crop yields, slowing population growth, a relatively slow rise in the use of crops to produce biofuels, moderate rises in meat consumption – that could all skew the outcome if wrong.
It also does not factor in major disruptions from climate change that U.N. studies say could disrupt farm output with rising temperatures, less predictable rains, more floods, droughts, desertification and heatwaves.
Still, it points out that both China and India have already spared vast tracts of land in recent decades.
In India, for instance, wheat farmers would now be using an extra 65 million hectares – an area the size of France – if yields had stagnated at 1961 levels. China had similarly spared 120 million hectares by the same benchmark.
The authors said that the idea of "Peak Farmland" was borrowed from the phrase "Peak Oil", the possibility that world use of petroleum is at its maximum.
The study also projected that world corn yields would rise at a rate of 1.7 percent a year until 2060, against a 1.8 percent annual gain from 1983-2011. That would raise world corn yields by 2060 to roughly the current U.S. average, it said.
It said that biofuels were a wild card in calculations. The study concluded that non-food crop production – for instance not just sugar or corn used as fuel but also the likes of cotton and tobacco – was likely to exceed growth in food supply until 2060.
Growth of all crops would outstrip food supply by 0.4 percent a year until 2060, up from 0.24 percent a year from 1961-2010, it projected. That indicated a continued, but not spectacular, rise for biofuels.
Changing diets were also a big uncertainty as the world population headed towards about 10 billion and grappled with simultaneous problems of obesity and malnourishment. But there were some encouraging signs, the report found.
Meat consumption in China was only rising moderately, far below rates of economic growth. "Fortunately for the sparing of cropland," it said of world trends, "Meat consumption is rising only half as fast as affluence."
http://in.reuters.com/article/2012/12/1 … CD20121217
Statistics: Posted by yoda — Tue Dec 18, 2012 11:49 am
---
View full post on
opinions.caduceusx.com
Turk – Here Is Why They Are Pounding Gold & Silver Today
http://kingworldnews.com/kingworldnews/ … Today.html
Today James Turk told King World News spoke with King World News about why central planners are pounding gold and silver today. Here is what Turk had to say about this orchestrated smash: "Both the Democrats and the Republicans are bracing for combat on the fiscal cliff battlefield, Eric, with blow-by-blow reporting by the media of the war of words proclaiming solutions. So the fiscal cliff rhetoric is really heating up. As the sound bites from Washington become more frequent, there will be the usual hype leaked to the media by unnamed officials and planted rumors."
"So I think we can probably expect more volatility within recent trading ranges, particularly the stock market because it is the one that I think the central planners intervene the least. But the stock market is rigged too, which has driven countless people from it. The hosing given to retail investors in the Facebook IPO is just one example. NYSE volume is now down more than 50% from its peak just a few years ago.
People sometimes forget that we got into this fiscal cliff situation because the can has been kicked down the road time and again….
"It started decades ago when the constitutional requirements for sound money were abandoned, ushering in a period of easy money and government largesse.
The can kept getting kicked and eventually landed right where we are today. Will there be a solution? Of course solutions will be proclaimed, just like President Nixon proclaimed in 1971 that closing the Gold Window and ending the dollar's formal link to gold was a solution. He bought some time, but ultimately made things worse. Politicians never propose solutions. As sure as the sun rises every morning, they always take what they believe to be the soft political option. It won't be any different this time, and the central problem will be ignored.
Specifically, government has become far too large a percentage of GDP. I'm not just talking here about the increasing regulatory burden placed on companies, but all government activity. Government spending is even more now than during WWII when the country was on a war footing.
The public sector has also become too large compared to the private sector, or to put it more colorfully, there is an imbalance between tax-eaters and taxpayers. Government has expanded way too far in nearly all sectors of the economy, and history has shown there is a harsh consequence for such expansion.
I have just finished reading a study published by New York University which shows the median net worth of American households has dropped to the same level as 1969. And they reach this conclusion using the government's CPI calculation, so it is safe to say that average Americans are poorer now than in 1969.
In short, the central planners are decimating the American middle class with government and central bank policies, which is frightening because the middle class is the backbone of capitalism. It is the middle class that accumulates the savings and drives the production which raises standards of living.
The same thing is happening all over the world, Eric. Greece went over the fiscal cliff five times, and is still falling. And just about every other industrial country in Europe, as well as Asia, is teetering on the edge of the precipice. The US situation has particular significance because the dollar is the world's reserve currency. So we need to watch the US situation carefully over the next few weeks.
On a day like today when the metals are getting pounded by the cartel, it's important to step back and look at the big picture. And the bottom line here is that we have some tough times coming. We need to prepare for it, and of course the best way to do that is by accumulating physical gold and silver.
The reason they are attempting to make gold and silver look weak here is because these monetary metals will provide the foundation when the monetary system is eventually re-constructed, and the price of gold and silver will be far higher than the numbers they are painting the tape with today. But before that day comes, they need to shake as many people out of these markets as possible so they are victims of the greatest wealth transfer in history, not beneficiaries."
Statistics: Posted by DIGGER DAN — Tue Dec 04, 2012 8:40 pm
---
View full post on
opinions.caduceusx.com
You won't believe the opportunities here
by SIMON BLACK on NOVEMBER 21, 2012
November 21, 2012
Santiago, Chile
The Chilean economy is booming right now. Full stop. From agriculture to retail to construction to mining. Everywhere you look, it's happening.
This isn't pretend economic growth, conjured out of thin air by central bankers who drop freshly printed currency from helicopters. It's the real kind, brought about by increased production, greater exports, technological development, and fiscal discipline.
So far this year, for example, the Chilean government has posted a budget surplus of 1.7% of GDP, up from 1.4% last year. Unsurprising, Chile's gross debt level is a paltry 11.3% of GDP, putting it in the same category as countries like Saudi Arabia and Estonia.
Yet despite such a strong fiscal position, taxes in Chile are the lowest in the OECD at just 17% of GDP. This means that a whopping 83% of all economic activity remains in the hands of private businesses and individuals, not incompetent, thieving bureaucrats.
All of this is self-reinforcing. Low taxes mean that the economy can grow, unrestrained. And high economic growth means that the government can keep tax rates low. It's a virtuous circle.
Here's the best part, though. Amid all of this economic growth, there's tremendous opportunity on the ground here. Jobs are plentiful, disposable income is growing, and confidence is high.
If you're an employee type, chances are you'll be able to find a job here. The labor market is tight, and companies really need talented workers. Plus, new ventures are being created daily, and foreign companies are investing heavily in the country.
Not to mention, Chilean immigration law is perhaps the most straightforward in the western hemisphere. There are very few obstacles to obtaining a work permit. And of course, you can eventually obtain citizenship as well.
(I should mention that a passport from Chile is one of the more valuable in the world… more on that soon.)
If you're an entrepreneur or investor type, the opportunities are even more sensational. Wealth in Chile is rising, so overall demand is very strong. But the supply of very high quality products and services is incredibly tight.
To give you an example, Chileans who are coming into wealth for the first time want to send their children to the best private schools possible. But the supply and demand are so out of balance that tuition rates have gone through the roof… yet the schools still have waiting lists a mile long!
The same fundamentals hold for just about every high quality product or service across the economy… from beauty and anti-aging treatments to heavy machinery to high performance sports cars to top brand electronics to fine dining.
This is especially true for the luxury market in Chile, which is growing at a rate of 20% p.a. according to the Association of Luxury Brands. Ferrari sales last year quadrupled over the previous years. Premium restaurants are often booked out days in advance.
This is just the tip of the iceberg. There's much more growth to come for Chile, and this means there is a lot of room for foreigners to set up shop, ply their skills, and make a fortune in this booming economy.
http://www.sovereignman.com/expat/you-w … here-9982/
Statistics: Posted by yoda — Wed Nov 21, 2012 11:35 am
---
View full post on
opinions.caduceusx.com
Hello, you've reached the president. I'm never here.
By MICHAEL GOODWIN
Last Updated: 4:31 AM, September 30, 2012
Michael Goodwin
In Hillary Rodham Clinton's 3 a.m. television ad in the 2008 primary campaign, we heard the sound of a ringing phone and saw sleeping children. In ominous tones, a narrator warned that "something is happening in the world" and asked, "Who do you want answering the phone?"
Well, it's 2012, and — the phone is still ringing. Please, somebody answer the damn thing!
The story of the terror attack in Benghazi is that neither Clinton nor the president who made her secretary of state responded to the real emergency when it came. The biggest foreign-policy crisis of the last four years is revealing an astonishing lack of competence and character at the center of the Obama administration.
That's not to say the Democratic duo did nothing in response to the worst terror attack on American civilians since 9/11. After eulogizing our dead ambassador and three others, Obama and Clinton got to work spinning a web of deceit that would make Richard Nixon blush.
They sent out a wave of aides to mislead and torture the truth. Even now, nearly three weeks later, they have yet to come clean.
In the process, they are demonstrating how to turn a disaster into a scandal.
The attack in Libya, on the 11th anniversary of 9/11, killed one of our ambassadors for the first time since 1979. Christopher Stevens' diary was recovered by CNN, and it shows he feared he was an al Qaeda target. Yet he had almost no security.
Because of their deception, you don't have to be a cynic to ask what Obama and Clinton knew, and when they knew it. As Fox News has shown, intelligence officials concluded within 24 hours that the attack was carried out by Islamic terrorists affiliated with al Qaeda. Also, a terror group claimed credit for the attack.
But it wasn't until this past Wednesday that Clinton hinted of an al Qaeda link. Even then, she made only a single reference and was far from definitive.
The next day, Obama's flack said he, too, thinks it was terrorism, though the president has not deigned to say so himself or explain what happened.
This is not an isolated example. When it comes to terrorism, this White House has a bad habit of starting with a lie.
In 2009, after the underwear bomber's Christmas Day plot was stopped, Obama called him an "isolated extremist." That wasn't true — he was sent on the mission by an al Qaeda affiliate, a fact interrogators knew before Obama spoke.
In May 2010, when a Pakistani national tried to set off a car bomb in Times Square, Homeland Security chief Janet Napolitano claimed it was a "one-off," a tale that police knew was false.
http://www.nypost.com/p/news/local/hell … oBNR0pX7AN
Statistics: Posted by yoda — Sun Sep 30, 2012 8:26 am
---
View full post on
opinions.caduceusx.com
If The Market Rolls Over Here….
March 1, 2012
If this rally runs out of steam, history suggests the next move down could plumb depths not seen in years.
If the market rolls over here, the next bottom might be a lot lower than most players think possible. After all, the "news" is all positive: Europe's debt crisis is now resolved; employment in the U.S. is trending up, GDP is growing nicely, etc. etc. etc.
As food for thought, here are two charts, courtesy of frequent contributor B.C., that suggest the good news might not only be priced in, but it might abruptly cease flowing.
The first chart is of the S&P 500 from 1973 to the present. The current rally has stalled right at a multi-year line of resistance, and a potential A-B-C pattern in a long-term channel suggests a return visit to the March '08 lows around 666, or perhaps even lower.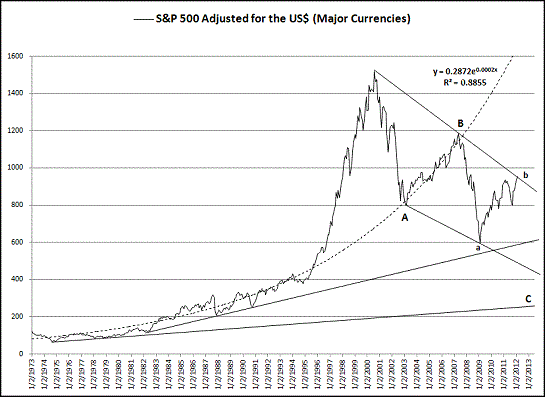 Here are B.C.'s observations:
If a C wave is imminent, a typical pattern is 2 (or 2.382-2.764) x A or a target of the '02-'03 and fall '08 lows, or even as low as the 500s-600s eventually. C = A would imply an idealized target in the 460s and nominal SPX 600s (US$ constant at the current level).
Such a decline in a period of "growth" seems impossible, but we should keep in mind the possibility that four conditions could cause growth to roll over and corporate profits to compress:
1. Rising energy input costs
2. Rising U.S. dollar decimates overseas earnings of U.S. corporations
3. Tapped-out consumers run out of gas (literally)
4. Federal government stops borrowing and blowing 10% of GDP every year
Next up, an analog chart of the Nikkei and the S&P 500 (SPX). To align apples to apples, this chart tracks the dollar-adjusted Nikkei from its top in 1989 and the dollar-adjusted SPX from its top in 2000. (For reference, the yen-adjusted Nikkei is also plotted.)
Interestingly, the SPX has tracked the Nikkei rather closely–at least until the extraordinary monetary interventions by the Federal Reserve known as QE2 and Operation Twist put booster rockets on the market (with some recent aid from the ECB's LTRO injection of about $1.5 trillion into the banking sector since December).
If the SPX were to continue tracking the Nikkei, the next bottom won't occur until late 2013 or early 2014–two years hence.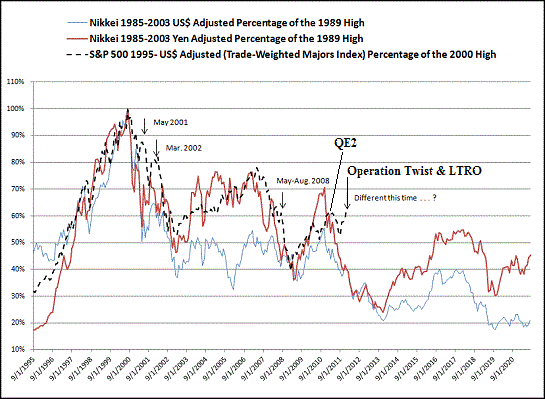 Here are B.C.'s notes on this chart:
Note how relatively closely the SPX was tracking the currency-adj. corollary with the Nikkei until QE2 and "Operation Twist". Coincidence . . .? I suspect not. Had the SPX tracked the corollary as in '01 and '08, the SPX would be in the 800s-900s by now.
Can the Fed and shadow banksters prevent for the next 18-24 months the historical tendency for the SPX to follow the self-similar cyclical and secular patterns? I suspect we are going to witness their ongoing desperate attempts to do so.
The problem for the Fed is that interest rates are already zero, and playing around with bonds and buying more mortgages (the Fed already owns $1 trillion) is ultimately pushing on a string: the Fed can't force all the free money into productive investments, nor can it force banks to lend or consumers to spend.
The cliche is "don't fight the Fed;" there is no need to "fight the Fed" because they're busy self-destructing, and all we have to do is watch.
Maybe the market will follow Apple in a trajectory to the moon here. If it doesn't, a variety of other models suggests the wheels may fall off the "growth and rising profits forever" story and the market will decline to test recent lows or even hit new lows.
That's not what the Fed or the politicos want, but events on stage may be slipping beyond their off-stage control.
http://www.oftwominds.com/blog.html
Statistics: Posted by yoda — Thu Mar 01, 2012 1:19 am
---
View full post on
opinions.caduceusx.com