20,000 Swiss civil servants protest austerity
AFP – Some 20,000 teachers, police, hospital workers and other civil servants gathered in the Swiss capital Saturday to protest austerity measures and demand better working conditions and salary increases, unions said.
"The canton of Bern doesn't have enough money and it is the civil servants who are paying the price," Michael Gerber, a spokesman for the regional teacher's union LEBE that helped organise the demonstration, told AFP.
Gathered in Bern's main square, the Bundesplatz, the demonstrators urged the cantonal government to "Stop the demolition".
The canton has, according to the ATS news agency, balanced its budget by binning automatic public sector salary increases and slashing some 55 million Swiss francs ($59 million, 45 million euros) in spending, especially in the school and health sectors.
"Salaries have basically been frozen, (and) working conditions are far from what they should be," Gerber lamented.
He pointed out that the canton six years ago scrapped a law that previously ensured regular salary increases for teachers, instead allowing lawmakers to decide each year whether there is enough money in the pot to up their pay.
The demonstration, which reportedly marked the biggest protest by Bern civil servants in more than a decade, should also be seen as "a message against the bad financial policies," Beatrice Stucki, a Socialist parliamentarian and head of the SSP civil servant union, told ATS.
Charging that the canton government was handing out tax breaks to the wealthy while cutting spending on education, security and healthcare, she demanded "resources for all" to avoid the creation of a "two-tier society."
http://www.france24.com/en/20130316-200 … -austerity
Statistics: Posted by yoda — Sat Mar 16, 2013 1:17 pm
---
View full post on
opinions.caduceusx.com
The Ultimate Threat In The Euro Bailout And Austerity Racket: War
SUNDAY, MARCH 10, 2013 AT 7:13PM
There have been waves of threats by Eurozone politicians to bully people into accepting "whatever it took" to keep the shaky construct of the monetary union glued together. These threats peaked last year with disorderly default, and when that wasn't enough, with the collapse of the Eurozone. But now, the ultimate threat has been pronounced: war.
It wasn't an idle thought by a wayward parliamentarian on the radical fringe but a well-articulated statement by Luxembourg Prime Minister Jean-Claude Juncker who was, until January, the President of the Eurogroup that manages the political aspects of the euro. And he'd picked Europe's largest magazine, Der Spiegel, to make it (excerpts here, rest behind pay wall).
He'd alluded to it before. Last August, as he was jabbering about Greece's potential exit from the Eurozone, he lamented that "many Germans and the German media" talked about Greece as if it were "a people you couldn't respect," and that Greeks depicted Chancellor Angela Merkel as if she were "the heiress of the Nazis." And then his big threat, albeit in veiled form: "What we thought had been buried long ago, very quickly rises again."
His problem: the halting integration of Europe. European countries were small, but there was a solution. "We must show the world something giant, and that's the euro," he said. He wanted Europeans to integrate more closely. And not just within the EU, but "the total continent, with extensions"—so maybe Turkey. They'd all eventually use the euro. And if it didn't work out….
That was last year. Now, given the Italian election, he made it explicit. "For my generation, the common currency has always been a policy of peace," he said. He was worried that people were getting lost in national naval gazing. "Those who believe that the eternal question of war and peace in Europe would never reappear could be seriously mistaken," he said. "The demons aren't gone; they're only sleeping, as the wars in Bosnia and Kosovo have shown."
The possibility of war—unless the euro survived and became the currency of the entire EU.
He was struck by the realization how much the European conditions resembled those of 1913, on the eve of World War I. But then, after having thrown "war" on the table, he backed off; he didn't believe that Europe was facing armed conflicts, but he saw "conspicuous parallels." In 1913, the prevailing wisdom was that there could never be another war in Europe because the powers on the continent were economically so interwoven that they couldn't afford it, he said. "Particularly in Western and Northern Europe, there reigned a complacency that assumed that peace had been secured forever."
By 2050, Europe would have about 7% of the world population, he said. In order to remain relevant, it would have to be united. The heads of the governments in Germany, France, and Great Britain knew that their voices were heard internationally only because they were speaking through the "megaphone" of the EU.
And the EU's destiny was the euro. He listed proudly the "serious reforms" that had been carried out, like keeping Greece in the Eurozone—regardless of what that did to the Greeks whose belts had been tightened by five notches, or what it did to their economy that would be downgraded to "developing nation" effective June 2013. He praised the bailout funds and the European banking union—regardless of how they'd use taxpayers in some countries to bail out banks and their investors in others.
But hadn't the elections in Italy shown that Southern Europeans weren't all that enthusiastic about his glorious plans? Hadn't Italian voters just demolished Prime Minister Mario Monti and his pro-euro course of reforms and austerity? It didn't matter. Abandoning the austerity policies "would be a big mistake," he explained. Politicians shouldn't promote the "wrong policies" just because they were afraid they'd lose the next election. "If you want to govern, you must take responsibility for your country and Europe overall. And that means: you must implement the correct policies even if many voters find them wrong."
A curious understanding of democracy. One fraught with peril. But one that has become all too common in the Eurozone where the will of the people has consistently been trampled into the ground. To make his message more persuasive, to get politicians to toe the line, to get taxpayers in financially stable countries to give up resisting the transnational wealth transfers, and to get the people in crisis countries to swallow without demur the bitter pills of his reform programs, he'd added what has become the ultimate threat in the euro bailout and austerity racket—the possibility of war.
But there may be complications. The ECB and the national central banks of the Eurozone set out to collect information on household wealth. A massive bureaucratic undertaking. Results are now ready. No one in Europe had ever done a survey on that scale before. And no one might ever do it again. Because the results are so explosive that the Bundesbank is keeping its report secret—and word has leaked out why
http://www.testosteronepit.com/home/201 … acket.html
Statistics: Posted by yoda — Sun Mar 10, 2013 10:18 pm
---
View full post on
opinions.caduceusx.com
Why Austerity Is Triggering a Crisis
January 7, 2013
We have created an economy with an extremely high cost-basis, and as a result it is brittle, fragile and vulnerable to cuts as modest as 4%.
In economies dependent on ever-rising consumption, austerity had a negative connotation even before its politically charged meaning commandeered the public debate. When the entire Status Quo depends on discretionary consumption not just for "growth" but for its survival, austerity is welcomed with approximately the same enthusiasm Superman reserves for Kryptonite.
This is of course a contradiction: an economy based not just on consumption of all net income but debt-based consumption is an economy devoid of savings, i.e. capital to invest in productive assets.
An economy without capital is lacking a key component of classic capitalism.
"Austerity" also suggests a preference for simplicity and productive work, another contradiction sociologist Daniel Bell explored in his 1988 book, The Cultural Contradictions of Capitalism: the narcissistic consumption promoted by Neoliberal Capitalism erodes not just the work ethic that powers productive capitalism but also the ethic to save and invest that is the foundation (along with credit and transparent markets) of capitalism.
(I have explored narcissism and the cultural contradictions of capitalism in Narcissism, Consumerism and the End of Growth (October 19, 2012) which also mentions Christopher Lasch's 1979 book The Culture of Narcissism: American Life in an Age of Diminishing Expectations.)
No wonder austerity is the equivalent of Kryptonite to the global consumption-dependent Status Quo. But there is another dynamic behind the panic and fear austerity has provoked, a dynamic I have characterized as The Rising Wedge Model of Breakdown, which builds on the well-known Ratchet Effect: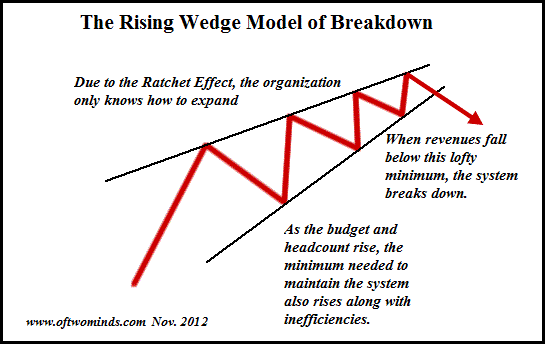 The Ratchet Effect is visible in organizations of all scales, from households to sprawling bureaucracies. The core of the Ratchet Effect is the ease with which the cost basis of an organization rises and the extreme resistance to any reduction in funding.
The psychology of this resistance is easy to understand: everyone hired in the expansion will fight to keep their job, regardless of the needs of the organization or the larger society. Every individual, department and division will fight with the fierceness of a cornered animal to retain their share of the budget, for their self-interest trumps the interests of the larger organization or society.
Since each "ratchet" will fight with desperate energy to resist being cut while those attempting to do the cutting are simply following directives, the group that has pulled out all the stops to resist cuts will typically win bureaucratic battles.
Broad-based cuts trigger Internecine Warfare Between Protected Fiefdoms as entrenched vested interests battle to shift the cuts to some politically less favored fiefdom. Bureaucracies facing cuts quickly shift resources to protecting their budget, leaving their mission on auto-control. (The Lifecycle of Bureaucracy December 2, 2010)
These dynamics create a rising wedge in which "minimum" costs continue to rise over time even if modest cuts are imposed from time to time. The eventual consequence is a cost basis that is so high that even a modest reduction collapses the organization.
In other words, incremental reductions and reforms have become impossible. The organization has become so brittle that any structural reform triggers a breakdown.
I have characterized this mechanism as The Seductive Illusion of Incremental Change (May 13, 2008)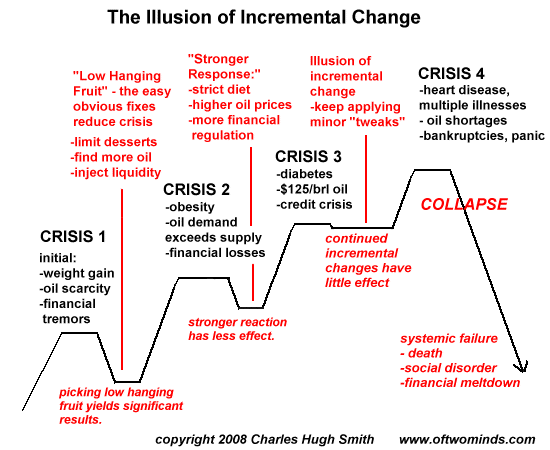 We can use a household example to illustrate The Rising Wedge Model of Breakdown. Like many households, the Wedge Household responded to rising income and home equity in the bubble years by moving up to a larger home. Now the mortgage on the Wedge McMansion is $5,000, as property taxes have soared. Healthcare costs have also skyrocketed, consuming over $1,000 a month of the family budget.
In response to declining real wages, the Wedge Household cut travel and dining out and cancelled cable/satellite TV channels. Unfortunately, these represent a relatively tiny percentage of the annual household budget, and the family's savings have been drained maintaining their high cost-basis lifestyle.
When the primary wage earner takes a 10% pay cut, the household's minimum cost basis is so high that the family has no choice but to cut one or another essential of middle class life: either the Wedges lose their health insurance or they default on their mortgage.
Their financial health has lost all resiliency; it is now fragile and brittle. (Brittleness January 29, 2007)
This is a direct analogy for the nation's budget; a 10% reduction will trigger breakdown in the nation's brittle systems. Indeed, as I suggested in Can 4% of Homeowners Sink the Entire Market? (February 21, 2007), even a 4% reduction could have an outsized impact on 64% of the economy. This is the Pareto Distribution in action: just as the vital 20% wields outsized influence over the 80%, the 20% of the 20% (4%) exerts outsized influence over 80% of the 80% (64%).
The loss of resilience and cost sensitivity has consequences. We have created an economy with an extremely high cost-basis, and as a result it is brittle, fragile and vulnerable to even modest "austerity."
http://www.oftwominds.com/blog.html
Statistics: Posted by yoda — Mon Jan 07, 2013 1:09 am
---
View full post on
opinions.caduceusx.com
Schäuble's Secret Austerity Plan for Germany
By Christian Reiermann and Michael Sauga
DPA
The German government and opposition are pledging higher benefits for pensioners, families and the long-term unemployed ahead of elections next year, but Finance Minister Wolfgang Schäuble is secretly planning cutbacks to prepare for a weakening economy and possible fallout from the euro crisis.
German Finance Minister Wolfgang Schäuble has an inimitable way of misleading his listeners with a torrent of obfuscating words. When asked if the Greek bailout would cost more money, he responded: "Not necessarily," adding that there was merely "a greater financial requirement on the timeline."
ANZEIGE
It could soon be a similar story with yet another gem from Schäuble's repertoire of quotations. "Germany is clearly a gainer from the euro," as the minister likes to say. But if what his team has been writing over the past few weeks is true, Germans will soon find that their presumed winnings have transformed into losses.The government in Berlin is living in a dual reality. Strategists in the center-right coaliton parties are planning to enhance benefits for families, pensioners and the long-term unemployed in a bid to woo voters in the upcoming elections.
By contrast, due to the economic slowdown, experts in Schäuble's ministry are anticipating an entirely different scenario: The next government — no matter who will be chancellor and which parties will be in power — won't be able to boost spending. Instead, it will have to impose rigorous spending restraint.
According to the recommendations made by Schäuble's team, in order to brace itself for the consequences of the euro crisis, Germany will have to drastically increase taxes and make painful cuts in social services over the coming years.
These ideas don't fit with the current political climate in Germany, which has been characterized for months by a passionate debate about how additional money could be used to combat poverty among the elderly and improve life for low-wage earners. Schäuble nevertheless feels that his experts' forecasts are realistic. He has expressly approved their proposals and ordered them to continue to work on the cost-cutting program. At the same time, he has ordered strict secrecy to avoid any adverse effects on his party's campaigns for the upcoming state election in Lower Saxony in January and the general election in the fall of 2013.
The Germans face a bitter déjà vu. It was only 10 years ago that then-Chancellor Gerhard Schröder of the center-left Social Democrats (SPD) and his conservative challenger Edmund Stoiber fought an election campaign that was primarily focused on social justice. After Schröder's victory, it became clear that Germany was strapped for cash. Subsequently, the chancellor introduced his radical — and widely unpopular — "Agenda 2010" reforms of the labor market and welfare system. This time, Schäuble's team has calculated that even deeper cuts may be needed.
Historic Cuts Looming
What the Finance Ministry officials have listed under the seemingly innocuous title "Medium-Term Budget Goals of the Federal Government" is nothing less than the most comprehensive austerity program in postwar German history. In order to avoid forcing the government to incur additional debt, the officials are scrutinizing subsidies, entitlements and welfare benefits worth tens of billions of euros.
There are also plans to raise taxes. Finance Ministry officials propose increasing the reduced VAT rate of 7 percent — which currently applies to such items as food, books and streetcars tickets — to the regular VAT rate of 19 percent. This alone would allow the state to collect an extra €23 billion ($30 billion) every year.
Schäuble's team wants to slash €10 billion from the federal government's contributions to the German health fund, which currently helps to stabilize premiums in the statutory health insurance system. At the same time, they know that Germany's statutory insurers will require more money over the coming years as the population's life expectancy increases. This has led them to consider introducing a surcharge on income tax to support the system. The experts call this a "health solidarity tax."
The plan also calls for state pension funds to do their part. At the same time, Schäuble intends to counteract the expected labor shortage. Since the baby boomer generation of the 50s and 60s will go into retirement in the future, Germans will be expected to work longer. The ministry envisages the retirement age remaining at 67, but the retirement benefit period will have "to be linked to life expectancy." In other words, the older Germans get, the longer they will have to work — if need be, beyond the age of 67.
Measures to Discourage Early Retirement
In order to achieve this goal, Schäuble's team wants to make early retirement even less attractive. "Inappropriate incentives for early retirement have to be removed," they write, and they have come up with proposals for achieving this. Until now, retirees who leave the workforce before they reach the statutory retirement age have had to accept a 3.6 percent reduction in their pension payments for each year. In the future, this would be 6.7 percent.
Widows and widowers would also have to tighten their belts. Currently, the surviving spouse receives 55 percent of the deceased spouse's pension. The idea is to significantly reduce this level in the future. This initiative would annually save billions of euros for the state pension fund.
Finance Ministry officials see additional cutbacks in social services as unavoidable if the state is to spend more money in other areas, for example, on repairing roads and improving the education system. These investments would "entail stronger limitations on consumptive expenditure," as it says in the draft paper.
The proposals from Schäuble's ministry serve to tighten a regulation that has only been enshrined in the German constitution for the past few years: the so-called debt brake, which calls for the German federal government to "maintain a nearly balanced budget" starting in 2016.
The government will still be able to take out loans to some extent. In 2016, for instance, it will be allowed to borrow some €10 billion. However, Schäuble and his staff say that Germany should not completely exhaust this scope for borrowing. They want a safety buffer. "It is absolutely necessary to maintain sufficient distance to the constitutional limit during budget planning to prepare for unexpected structural expenditure and revenue developments," it says in the paper. The experts also note that they intend to safeguard the national budget against a series of risks.
One of the examples that they cite is "a sharp economic downturn." If the economy collapses, as it did in the wake of the financial crisis in 2009, experience has shown that public coffers come under considerable pressure. Tax revenues decline while expenditures, such as for the unemployed, massively increase.
This can have a devastating impact on state finances. Following the most recent recession, government debt soared from 65 to nearly 83 percent of gross domestic product (GDP). Schäuble's experts say that the country cannot withstand another similar increase in public debt and conclude that it's time to take appropriate countermeasures.
Bank Bailouts, Euro Crisis Pose Budget Risks
To make matters worse, Finance Ministry officials say that it's also possible that Berlin will have to absorb the costs of its bank bailouts. At the height of the financial crisis, the German government supported ailing financial institutions such as Hypo Real Estate, Commerzbank and WestLB with capital injections and guarantees amounting to nearly €180 billion. Large quantities of toxic assets were transferred to so-called "bad banks."
But it's questionable whether these banks will ever be able to completely pay back this money. If that is the case, the federal government will have to waive its claims and permanently absorb the debt.
Schäuble's team foresees the possibility of a similar development with the euro rescue. Indeed, "irrevocable ESM payment defaults" is one of the reasons they list for their contingency plans. Behind the bureaucratic jargon lies the concern that Germany — despite the government's solemn statements to the contrary — will have to pay for the euro rescue.
Germany is currently supporting the European Stability Mechanism (ESM) to the tune of at least €190 billion. A portion of these guarantees and loans could actually be lost if Greece's government creditors forgive some of the country's debt. The losses to German public coffers could then easily amount to tens of billions of euros.
Consequently, Finance Ministry officials contend that the government will have to make cutbacks elsewhere in the future. Now, in a scenario that euroskeptics have long been warning about, German Chancellor Angela Merkel's government has finally admitted, for the first time, that to balance out the impact of the monetary crisis it will have to reduce expenditure for pensioners and people taking early retirement.
Germany Didn't Impose Austerity On Itself
The paper by the Finance Ministry officials contains a further admission. The next finance minister will have to make up for what Schäuble has failed to accomplish. Merkel's most important minister forced half of Europe to submit to austerity measures while the Germans were spending money hand over fist at home.
The current center-right coalition of Merkel's Christian Democratic Union (CDU), its Bavarian sister party, the Christian Social Union (CSU), and the pro-business Free Democratic Party (FDP) ignored the opposition's warnings and pushed through a costly childcare allowance that pays mothers who stay home €150 per child per month. Starting in mid-2014, over €1 billion per year will be budgeted for this expense. Public coffers are also missing €1.8 billion every year because the FDP managed to push through a bill eliminating a €10-per-quarter copay charge for visiting the doctor or dentist, payable since 2004 by people in the statutory — meaning non-private — health insurance system. But perhaps the most blatant example of overgenerous public spending during the coalition's current term was the tax reduction for hotel owners, which costs the government roughly €1 billion a year. The political process that preceded each jump in spending was always the same. Schäuble grumbled audibly, but ultimately agreed.
No wonder the opposition now accuses him of having failed. "The increased revenues from the economic recovery were not completely used to reduce deficit spending," says SPD finance expert Carsten Schneider. "This government demands harsh austerity measures from other European countries," he argues, "while it lavishly spends its own tax revenues."
Schäuble's team apparently has a similar view of the situation — and even the boss himself has recently changed his tune. Schäuble says that he wants to run again in the next election, and he could even see himself serving another term as finance minister.
And, in keeping with his style, he is carefully preparing the Germans for hard times with his signature inscrutable Schäuble-speak: "We cannot allow ourselves to believe that the current positive situation is automatically secured for the future," he says. He goes on to say that sound public finances are "not a notion created by stubborn finance ministers, but rather the prerequisite for prosperity and social security." In plain language: Germany is going to start subjecting itself to some iron fiscal discipline.
Translated from the German by Paul Cohen
http://www.spiegel.de/international/ger … 74377.html
Statistics: Posted by yoda — Mon Dec 24, 2012 12:54 pm
---
View full post on
opinions.caduceusx.com
By Steve H. Hanke
Hungary is in a recession, again. According to the chattering classes, as well as many analysts and financial reporters, fiscal austerity is the cause of Hungary's slump.
Nonsense. Hungary's recession results from its slumping money supply.
When monetary and fiscal policies move in opposite directions, the economy will follow the direction taken by monetary (not fiscal) policy – money dominates. For doubters, just consider Japan and the United States in the 1990s. The Japanese government engaged in a massive fiscal stimulus program, while the Bank of Japan embraced a super-tight monetary policy. In consequence, Japan suffered under deflationary pressures and experienced a lost decade of economic growth.
In the U.S., the 1990s were marked by a strong boom. The Fed was accommodative and President Clinton was super-austere – the most tight-fisted president in the post-World War II era. President Clinton chopped 3.9 percentage points off federal government expenditures as a percent of GDP. No other modern U.S. President has even come close to Clinton's record.
The money supply picture for Hungary seemed to be looking up until late 2011 (see the accompanying chart). Indeed, Hungary's money supply had nearly returned to its trend-rate level, when it peaked in November 2011. Then, in the course of just over a month, things took a turn for the worse.
First, Moody's downgraded Hungary's debt to junk status, and soon thereafter, S&P and Fitch followed suit. Then, the EU and IMF walked out on debt restructuring talks, citing concerns over proposed constitutional changes, which threatened the Hungarian central bank's independence. Just days later, their fears were confirmed, as the Hungarian Parliament passed the controversial law, merging the central bank with the Financial Supervisory Authority. And, to top it off, Hungary unexpectedly cancelled part of its December debt auction.
When the dust settled, confidence in Hungary's financial system had been shattered. Despite a 15.9% increase in the supply of state money, the total money supply had plummeted by 4.2% (from November 2011 to January 2012). As the accompanying table shows, this decline in the total money supply was driven by a 9% drop in the all-important bank-money component of the total.
Hungary's money supply has yet to recover from this perfect monetary storm. And, as if that wasn't enough, Hungary recently adopted a damaging financial transactions levy.
Money and monetary policy trump fiscal policy. Until Hungary gets its money and banking houses in order, its economy will continue to wallow in recession.
Slumping Money Supply (Not Austerity) Plunges Hungary Into Recession is a post from Cato @ Liberty – Cato Institute Blog
View full post on Cato @ Liberty
The Case for Austerity
By Gary North May 14th, 2012
The Keynesians and declared anti-Keynesians have joined hands in order to promote an intensely Keynesian error: European fiscal austerity as a negative factor. One contributor in Forbes refers to austerity as a death spiral.
The word "austerity," beginning with the Greek government's debt crisis two years ago, has been used by the financial media in one sense, and only one sense: reductions in spending by national governments. The word is not used with respect to the economy as a whole.
More than this: the word has been used to explain the contracting economies of Europe. The reductions in government spending are said to have caused the contracting economies. This explanation is based on textbook Keynesianism.
Keynesians call for increased government spending. This is the heart of Keynesianism. Keynesianism rests on a mantra: "Government spending overcomes recessions." All else is peripheral: monetary inflation, graduated taxation, and free trade. These peripheral issues will always be sacrificed to the supreme economic premise: "Government spending overcomes recessions."
This is where every analysis of Keynesianism should begin. Any economic doctrine, any economic policy, any proposed solution to the present crisis should be assessed in terms of the mantra. Anything that does not begin and end with the mantra is not Keynesianism. Anything that does, is.
It is a mark of the supreme triumph of any ideology when the self-professed critics of the ideology adopt both its conclusions and its rhetoric, and do so unknowingly. This means that the promoters of the ideology have set the terms of public discourse. It is very difficult to replace an ideology or worldview, once its promoters have established the terms of discourse.
It can be done, of course. But to do this, the promoters of a rival outlook must expose both the errors of the existing system and the implicit agreement of its supposed critics. This wins no friends among the hapless troops who think they are scoring significant victories by arguing against peripheral aspects of the enemy ideology, while accepting its central presuppositions and main policy prescriptions lock, stock, and barrel. They have been taken in hook, line, and sinker.
PHARAOH AND THE FROGS
A recent example of a well-meaning but conceptually confused anti-Keynesian was published in Forbes. It had a powerful headline: "Keynesianism Is the New Black Death." It suggested that the great tragedy of Europe today is "austerity."
As I have already said, the financial media universally define austerity as cuts in government spending. I have never seen the word used in any other way over the last two years. Any author who uses the word in any other way owes it to his readers to explain this new usage. The Forbes article offered no such distinction or alternative definition. I therefore take it at its word: austerity.
If austerity is the great evil, then the implication is inescapable: that which restores government spending and therefore overcomes austerity is positive.
This reminds me of the Pharaoh who decided not to let the Israelites journey for a week to sacrifice to God. Moses and Aaron then attempted to persuade him by way of a series of plagues. One of them was frogs. The land filled up with frogs. Everywhere anyone walked, he stepped on frogs.
The court magicians had to do something about this. They responded by a public display of the power of their magic that matched what Moses and Aaron could do. "And the magicians did so with their enchantments, and brought up frogs upon the land of Egypt" (Exodus 8:7).
Somehow, I imagine Pharaoh screaming at them: "No, no, you blockheads: not more frogs! Fewer frogs!" But the text does not record this.
The solution to the frogs of European recession is not increased government spending. Rather, it is the opposite: reduced government spending. In short, the solution is greater austerity.
AUSTRIANISM'S MANTRA
The Austrian economists also have a mantra: "Reduced taxation increases liberty." Liberty is necessary for economic growth.
If a contemporary government cannot reduce taxes without going bankrupt, then it must cut spending if it chooses not to go bankrupt.
Europe's national governments are all going bankrupt. Japan's is, too. So is America's. The solution is to cut taxes and cut spending even more.
"Not more government spending. Less government spending!"
"Not larger government deficits. Reduced government deficits!"
"Not higher taxes. Lower taxes!"
"Not more fiat money. Reduced fiat money!"
In short: "Let my people go!"
With this in mind, let us examine an article that argues that austerity is the great threat to Europe's prosperity.
A DEATH SPIRAL?
The article begins with a survey of European politics. It points out that voters are tossing out politicians in nation after nation. Sarkozy was number eight over the last year. Why is this happening? Here is the proposed answer:
The voters of Spain, Greece, France, etc., understand that their governing elites have pushed their economies into austerity death spirals, and they have been expressing their unhappiness at the ballot box.
The more fundamental question is this: Why did these elites push their respective economies into this supposed death spiral? Why would faithful Keynesian elites do such a thing?
Let us not be naive. The West has been run at the top by Keynesian elites, or politicians holding Keynesian ideas, ever since 1930 – six years before Keynes offered his unreadable justification of politicians' policies: "The General Theory of Employment, Interest, and Money.".
The Keynesian central bank pushed Europe's economies into a boom, 2001 to 2007. The voters loved it. Interest rates were low. There was lots of money to buy houses. The economies of the south – "Club Med" – were booming. So was the honorary member of Club Med: Ireland. Ireland's property values quadrupled. It was all going to last forever. The elites – especially the economists – issued no warnings, except for Austrian economists, who were dismissed, as always, as dinosaurs.
Then came the bust phase. What the European Central Bank did before 2007 – inflate – it has done more aggressively ever since 2008. Governments ran even larger deficits. They all implemented Keynesian stimuli. This did not work. Europe is falling back into a recession.
In the spring of 2010, investors in northern Europe caught on to the fact that Club Med residents could not compete economically. They kept running deficits with the North. Those easy-going populations were living on money borrowed from the North. So were their governments. They had no intention of ever paying back these loans.
Any why not? This is what Keynesianism teaches. Government loans will not be paid off. Ever. Government debt will grow. So will prosperity.
Two years ago, Greece's Socialist Party found out just how far in the debt hole the government was. Interest rates then started to rise in PIIGS nations. PIIGS governments were trapped. They could not run ever-larger deficits, because the cost of loans were rising.
That was when the reality of Keynesianism hit: deficits do matter. Money is not free. Debts must be rolled over at market interest rates. The horror!
That was when governments in the South started cutting back on spending. Not much, you understand. The deficits are still unprecedented: above 6% of GDP.
Keynesians labeled this "austerity."
It is not austerity. It is deficit spending on a massive scale. Austerity is where national governments run surpluses and use excess revenues to pay down the national debt.
There has not been austerity in Europe since approximately 1914.
The gold coin standard enforced austerity, 1815 to 1914. That was its chief function and its great service to mankind. It kept the West's governments austere. This enabled the private sector to dine at an ever-expanding feast.
Keynesians hate the gold coin standard. That is because they believe that high government spending is the basis of high consumer spending, and consumer spending – not private thrift – is the foundation of prosperity.
The public, which prefers consumer spending to the austerity of thrift, cheers on the politics of Keynesianism. Deficits without end, borrowing without pain, growth without ceasing: Keynesians promise, and voters believe.
But the day of reckoning arrived in 2010. The free money got expensive. The party did not stop, but some of the guests were sent home, to join young adults, who have sat and watched TV, because there are no jobs.
The public feels betrayed. Voters believed in the Keynesian dream, which was articulated by the original Keynesian, who said, "If thou be the son of God, command that these stones be turned into bread" (Matthew 4:3). When the target of this challenge refused to rise to the bait, the Keynesian went looking for other takers. In the second half of the twentieth century, he found them. Lots of them. Millions of them. Politicians promised to accomplish the feat. Voters applauded.
But times have changed, the article tells us.
Unfortunately for Europe and the world right now, there are no pro-growth candidates and/or parties on the Continent to offer relief from the austerity programs that are grinding their economies to dust. With no one to vote for, all that European electorates have been able to do is to vote against. They have sought to register their protest by defeating incumbents.
The incumbents over-promised. They had long told the voters that deficits don't matter. Deficits did not matter for as long as banks in northern Europe kept lending to PIIGS at rates associated with German frugality. But then came reality.
Europe as a whole is in recession, and Greece, Spain, and Portugal are in depressions. What are the people supposed to do if the economic chefs on both the political Left and the political Right are offering the same poisonous "austerity" menu?
Balanced budgets remain mirages a far as the eye can see. Token spending cuts, which are made in the name of reducing deficits to about 3% of GDP in ten years, are part of a "poisonous austerity menu." Put in a more familiar terminology, there are too many stones and not enough bread. The voters will not tolerate this.
The reason why there are no economic chefs promoting growth is simple: somebody has to bankroll the growth of government spending. Who will that be? Who wants to trust PIIGS?
The louder the voters scream about austerity, the fewer the number of lenders, meaning lenders at rates under 10%.
PLAGUE!
The article eventually gets to the point.
So, what happened in Europe? The short answer is, "plague". The Black Death of the 14th century was caused by the Yersinia pestis bacterium, which was spread by rats. Today's plague is the result of Keynesianism, which is being spread by the economics departments of major universities and The New York Times. Unfortunately, unlike Yersinia pestis, Keynesianism does not respond to antibiotics.
How does the article define Keynesianism? Erroneously. It says that Keynesians favor tax increases and spending cuts.
Austerity, as currently being practiced in Europe, is based upon the Keynesian belief that tax increases and government spending cuts have the same effect upon both the government deficit and the economy. In fact, the most virulent strains of Keynesianism cause people to believe that raising top marginal tax rates and increasing government spending can actually boost GDP, because "the rich" have a higher "marginal propensity to save" than do the recipients of government handouts.
Fran‡ois Hollande, the winner of Sunday's election in France, is a Keynesian. He believes that raising France's top marginal tax rate to 75% while hiring 60,000 more unionized teachers will make things better.
Excuse me? What does an avowed socialist politician have to do with Keynesianism? Keynesianism is what Paul Krugman proclaims, which is greater deficit spending, plus sufficient central bank money expansion to finance this expansion.
Which Keynesian economist or politician has come out forthrightly for spending cuts, i.e., austerity? Austrian economists have. Ron Paul has. This is why Austrians and Ron Paul have been marginalized by the Keynesian media as cranks.
To a leader whose mind is infected by Keynesianism, it makes sense to try to close a budget deficit with a combination of tax increases and spending cuts, with the balance between them determined by some combination of political considerations and "fairness".
There are many politicians in Europe who have imposed taxes on the rich. The voters have cheered them on, as always. The voters are outraged by the spending cuts. Spending cuts reduce the flow of funds to government bureaucrats and welfare state clients. This is why Greek union members riot.
Traditional Keynesianism calls for increased spending, more borrowing, and – if private lenders demand high rates of interest – monetary expansion by the central bank to purchase government debt. The article wisely rejects monetization. But it does not call for a gold coin standard. Rather, it defends the euro.
As damaging as tax increases are to an economy, monetary depredation is worse. Only a Keynesian could think that replacing the euro with a new drachma could be a solution for Greece. The result would be a new currency backed by the full faith and credit of a government in which no one has faith and to which no one will extend credit. In reality, the collapse of the Greek economy would not even wait for the introduction of the new currency. It would not be possible to keep preparations for a new drachma a secret, and even rumors of such a move would be enough to create a cataclysmic run on the Greek banking system. Capital, and people with capital, would flee.
The article suffers from an illusion: that the euro is not just another medium for inflation, that it is anything more than drachmas for Keynesians.
The Keynesian political hierarchy imposed the euro on the voters in 1999. The elite's spokesmen have decried the departure of Greece from the eurozone. The unelected Greek technocrats, like technocrats all over Europe, were either former Goldman Sachs employees or wanna-be's. They are now being tossed out by the voters. The voters are populists and socialists. They are fellow travelers of Keynesians only in the boom phase of the Keynesian welfare state. When the bills come due, they revert to locally issued fiat money, taxation of the rich, trade unionism, and increased government spending.
CONCLUSION
Keynesianism is in a death spiral. So is populist socialism. So is fiat money fascism. They are all in death spirals because they all reject this premise: "Lower taxes increase liberty."
Liberty will prevail. This is an eschatological affirmation. One of the ways that it will prevail is through the bankruptcy of the Keynesian social order: high taxation, high regulation, high deficit spending, and high inflation.
Let's put government on a diet. Let's have austerity where it belongs: government spending.
That is what Europe's voters do not want. That is what they are going to get.
"Not less austerity. More austerity!"
Regards,
Gary North
http://whiskeyandgunpowder.com/the-case-for-austerity/
Statistics: Posted by yoda — Mon May 14, 2012 4:45 pm
---
View full post on
opinions.caduceusx.com
April 25, 2012
Is the austerity consensus falling apart in Europe?
Rick Moran
With the probable election of the first socialist president in France in more than 15 years, and bond rates rising in Spain and Italy, investors appear to be questioning the committment of the euro zone to tackling budget deficits and the sovereign debt crisis.
Markets were shaken after a first round of French presidential elections on Sunday put Socialist Francois Hollande, who wants the euro zone to focus on growth rather than austerity, ahead of incumbent Nicolas Sarkozy. The two contenders face off in a final vote May 6.
Further undermining stability, the Netherlands' government collapsed yesterday after failing to reach agreement over austerity measures, placing its AAA credit rating at risk. But Spain still managed to lure strong interest in the auction with overall demand outstripping supply by more than four-to-one.
The money raised was towards the top of its targeted range of €1-2 billion. But it had to pay a steep price. The borrowing rate leapt to 0.634% from 0.381% for three-month bills and to 1.58% from 0.836% for six month bills, when compared with the last similar auction on March 27.
Spain has promised to cut its public deficit – the annual shortfall of income compared to spending – to 5.3% of gross domestic product in 2012 and just 3% of GDP in 2013. Last year it had allowed the deficit to hit 8.5% of GDP – 2.5 percentage points over target.
Desperate to meet its targets, the government approved €27 billion in fiscal tightening in its 2012 budget, in addition to an earlier round of tax increases and spending cuts amounting to €15.2 billion.
But analysts say those targets will be harder to reach as tax income declines and welfare costs rise because Spain is back in recession just two years after emerging from the last downturn. Spanish GDP fell by an estimated 0.4% in the first quarter of 2012 after a 0.3% decline in the last three months of 2011, the Bank of Spain said yesterday.
Social unrest in Greece and Spain are rocking the governments of those two countries. Greece has seen its economy contract an astonishing 5% and along with austerity measures, will cause enormous pain among the citizenry. An election next month is not likely to solve anything, as the major parties are all committed to drastically cutting the budget in order to keep receiving the EU bail out package to prevent default. If anything, some of the fringe parties on the right and left may make sizable gains as they promise a way out of the crisis without the accompanying sacrifices being asked by the current government.
Recession has complicated the Spanish situation enormously. There is little chance they will meet those deficit targets – or even come close – while the economy is contracting. The demonstrations in Spain have been massive and a general strike last month paralyzed many sectors of the economy. Spanish prime minister Mariano Rajoy has pledged to continue the austerity program – referred to as the "harshest budget ever seen in Europe – but has very little room to maneuver. Unemployment is expected to climb to depression-era levels of 25%.
All of this has led some analysts to wonder if by this time next year, the austerity budgets in most of the eurozone will be history. It is possible that governments may fall, unrest roil the streets, and some countries default rather than inflict pain on their citizens – the result of decades of overspending and over promising. What becomes of the european experiment if this happens, no one knows.
But it is very possible that the face of Europe will change dramatically and the ancient concept of a United States of Europe end in a sea of red ink.
Read more: http://www.americanthinker.com/blog/201 … z1t1vyX6Ls
Statistics: Posted by yoda — Wed Apr 25, 2012 12:16 am
---
View full post on
opinions.caduceusx.com