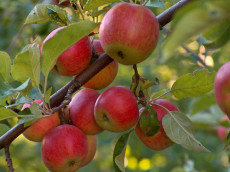 The Federal Food and Drug Administration (FDA) is keeping busy overhauling the nation's food-safety system, a legacy of the 2010 Food Safety Modernization Act, which tasked the FDA to prevent food-borne illnesses rather than just respond to them. That means the FDA will have to decide which fruits and vegetables will be subject to new safety standards. In its great wisdom, the FDA wants to target tree fruits such as apples, and pears.
Those who grow apples and pears could be forced into a regulatory regime that calls for stricter testing of their irrigation water, heavier sanitization measures, and more stringent rules on animal abatement. Tree fruit farmers say their product has strong safety record, grows above the ground, and has protective skins. They say the FDA measures defy common sense and would do little to enhance safety. As some argue, the FDA would do better to focus on spinach and cantaloupes, which have caused outbreaks of disease, rather than hang a new regulatory regime on tree fruit.
One Virginia farmer told the Washington Post "what's being proposed is very onerous and expensive." Another, from Washington State, said, "Somebody in an office in Washington, D.C., who's never stepped foot off concrete has decided we need this rule and that rule. . . The market has already taken care of this problem, if it's a problem. Which it isn't."
With good reason, some tree fruit farmers fear that foreign products will not be subject to the same regulation, and that American farmers will be driven out of business. Yet another farmer from Washington State said, "If it ain't broke, don't fix it." The FDA says it is listening, but should also adhere to a different rule: If it ain't broke, don't break it.
The FDA is also hitting up Congress for more money, proposing a raise of $821 million to $4.7 billion for 2014. FDA boss Margaret Hamburg said that the FDA "is a true bargain among federal agencies" giving Americans "an extraordinary array of benefits for about 2 cents a day."
View full post on MyGovCost | Government Cost Calculator
When we last addressed California's hidden money scandal, the state's Attorney General found that the state Parks had concealed only $20.5 million and the remaining $33 million was "simply obscured by long-term complexities in managing that fund." The AG passed the buck by letting the state Natural Resources Agency decide whether to bring in local law enforcement. Now the Sacramento County District Attorney Jan Scully, a Republican, has declined to bring charges because the Attorney General failed to identify any crime. That made sense on one level.
Governor Jerry Brown had asked the AG, a law-enforcement body, to conduct an "administrative" investigation, like asking the police to make sure a threatened business has all the right permits and signs in place. To "knowingly keep any false account," is a felony according to section 424 of the state penal code, legal experts told the Sacramento Bee, which broke the hidden money story. If the AG knew about that statute, which may well be doubted, they still declined to file charges. With local law enforcement opting out Parks bosses are considering the case closed. Whoever hid the money got away with it, but the case still has educational value.
Government is clearly unqualified to investigate itself but remains unwilling to let independent investigators see the books. That's why government employees can hide millions with impunity. One witness told the AG that the money was hidden so the state would not further reduce the Parks Department budget, a perfectly plausible motive. The scandal also revealed that a criminal background is no object to promotion in state government.
Career bureaucrat Manuel Thomas Lopez spent 12 of his 23 years in state government on court-ordered probation for a lengthy list of convictions, including felony drunk driving. But Lopez was duly promoted to deputy of administrative services in the parks department, where he presided over an unauthorized vacation buyout. His boss Ruth Coleman, who would not talk to the AG and has retained an attorney, accused Lopez of hiding the $54 million.
When the story broke Sen. Noreen Evans, Santa Rosa Democrat, wondered how much more "deceit and thievery" was going on in state government. That remains unanswered but prompts another question. California has long been a trendsetter for the rest of the nation. Could such deceit and thievery also be going on in agencies of the federal government, which operates scores of national parks? Odds are we'll never find out.
View full post on MyGovCost | Government Cost Calculator
The Untouchables: PBS show finds Wall Street can get away with murder
John Doyle
The Globe and Mail
Published Tuesday, Jan. 22 2013, 12:01 AM EST
The Untouchables (on Frontline, PBS, 10 p.m.) is a transfixing, enraging examination of why a small army of greedy-guts bank executives in bespoke suits, the ones who brought down an entire economy, are moseying around, fancy-free, and not in court or in the hoosegow.
It's fair to wonder why. And, timed as it is to air one day after Barack Obama begins his second term as President of the United States, the program is a brutal indictment of his administration.
What happened in the collapse of various banks in 2008 was mind-boggling. The U.S. economy itself came to the brink of disintegration. Look around the world at the impact and it is devastating. As we now know, a vast network of banks, all in cahoots, led Europe and the United States into recession. (A very good read on the madness in Europe is Michael Lewis's book Boomerang: Be prepared to be stunned by it.) Around Europe, former bank execs have been prosecuted and some are doing jail time. In the United States, nothing more than finger-pointing has happened.
The Frontline program, written and produced by Martin Smith, begins with an assertion by a U.S. Justice Department official that "greed is not necessarily criminal." It then looks at the difference between greed and criminality and finds copious evidence of criminal fraud.
At the core of the program is an examination of what was at the core of the banking practices that precipitated the crisis – the banks knowingly packaged and sold toxic mortgage loans to investors. These dubious loans should never have been given in the first place. The banks knew that and merrily stepped around financial safety standards to keep the game going.
Particular attention is paid to Countrywide Financial, which, in 2006, financed 20 per cent of all mortgages in the United States. Its business plan was simple, we are told – "a loan for every customer" was the motto. Even if the customer had no income. A former employee, who questioned the viability of some loans, was told, "If they can fog a mirror, we'll give 'em a loan." Total jiggery-pokery.
So mortgages, based on unverified information and inevitably headed for collapse, were sold and resold, with everybody along the banking line getting a fee, and nobody being bothered to make it stop. We hear from a "Due Diligence Underwriter," a person tasked with assessing the loans and mortgages, who says, "It wasn't uncommon for underwriters to laugh at the loans being given." But his boss would dismiss the concerns and say, "The loan looks reasonable to me." The boss's bosses would then sell a package of dubious loans to investors with an assertion that everything was fine. At one point, Countrywide was estimated to have assets of $200-billion. When it was acquired by Bank of America in 2008, its assets were estimated at only $2.8-billion.
What emerges is a picture of dubious practices unchecked. And then what emerges is a number of politicians and officials seething with rage that fraud charges have not been brought against key players.
A lot of people are mad at the U.S. Department of Justice for failing to press charges. Former senator Ted Kaufman (a Democrat who was appointed to fill Joe Biden's Senate seat when Biden was sworn in as Vice-President in January, 2009) was, as the program says, "determined to see bankers in handcuffs." But try as he might, nothing happened.
Kaufman left Washington in 2010. His chief of staff, Jeff Connaughton, remains perplexed that prosecuting Wall Street was never a priority for the Obama administration: "You're telling me that not one banker, not one executive on Wall Street, not one player in this entire financial crisis committed provable fraud?" he asks incredulously. "I mean, I just don't believe that."
Eventually, there is a sort-of explanation from Lanny Breuer, assistant attorney-general for the Department of Justice's criminal division. Wringing his hands and obviously a bit nervous, he says, "I think there was a level of greed, a level of excessive risk taking in this situation that I find abominable and very upsetting. But that is not what makes a criminal case."
And yet, as Frontline finds, there is considerable evidence of fraud. "Very upsetting" is what you'll find this excellent exposé. Talk about getting away with it. You and I couldn't get away with it.
http://www.theglobeandmail.com/
Statistics: Posted by yoda — Tue Jan 22, 2013 12:37 am
---
View full post on
opinions.caduceusx.com
By Daniel J. Mitchell
Atlas is shrugging and Dan Mitchell is laughing.
I predicted back in May that well-to-do French taxpayers weren't fools who would meekly sit still while the hyenas in the political class confiscated ever-larger shares of their income.
But the new President of France, Francois Hollande, doesn't seem overly concerned by economic rationality and decided (Obama must be quite envious) that a top tax rate of 75 percent is fair." And patriotic as well!
So I was pleased – but not surprised – when the news leaked out that France's richest man was saying au revoir and moving to Belgium.
But he's not the only one. The nation's top actor also decided that he doesn't want to be a fatted calf. Indeed, it appears that there are entire communities of French tax exiles living just across the border in Belgium.
Best of all, the greedy politicians are throwing temper tantrums that the geese have found a better place for their golden eggs.
France's Prime Minister seems particularly agitated about this real-world evidence for the Laffer Curve. Here are some excerpts from a story in the UK-based Telegraph.
France's prime minister has slammed wealthy citizens fleeing the country's punitive tax on high incomes as greedy profiteers seeking to "become even richer". Jean-Marc Ayrault's outburst came after France's best-known actor, Gerard Dépardieu, took up legal residence in a small village just over the border in Belgium, alongside hundreds of other wealthy French nationals seeking lower taxes. "Those who are seeking exile abroad are not those who are scared of becoming poor," the prime minister declared after unveiling sweeping anti-poverty measures to help those hit by the economic crisis. These individuals are leaving "because they want to get even richer," he said. "We cannot fight poverty if those with the most, and sometimes with a lot, do not show solidarity and a bit of generosity," he added.
In the interests of accuracy, let's re-write Monsieur Ayrault's final quote from the excerpt. What he's really saying is: "We cannot buy votes and create dependency if those that produce, and sometimes produce a lot, do not act like morons and let us rape and pillage without consequence."
So what's going to happen? Well, I wrote in September that France was going to suffer a fiscal crisis, and I followed up in October with a post explaining how a bloated welfare state was a form of economic suicide.
Yet French politicians don't seem to care. They don't seem to realize that a high burden of government spending causes economic weakness by misallocating labor and capital. They seem oblivious  to basic tax policy matters, even though there is plenty of evidence that the Laffer Curve works even in France.
So as France gets ever-closer to fiscal collapse, part of me gets a bit of perverse pleasure from the news. Not because of dislike for the French. The people actually are very nice, in my experience, and France is a very pleasant place to visit. And it was even listed as the best place in the world to live, according to one ranking.
But it helps to have bad examples. And just as I've used Greece to help educate American lawmakers about the dangers of statism, I'll also use France as an example of what not to do.
P.S. France actually is much better than the United States in that rich people actually are free to move across the border without getting shaken down with exit taxes that are reminiscent of totalitarian regimes.
P.P.S. This Chuck Asay cartoon seems to capture the mentality of the French government.
French Thief Complains that Victims Are Running Away is a post from Cato @ Liberty – Cato Institute Blog
View full post on Cato @ Liberty
Greece's Debt Problems Aren't Going Away
By Stefan Kaiser
AFP
Greeks are hoping to hear Chancellor Angela Merkel express solidarity with the crisis-stricken country during her Tuesday visit to Athens. The situation, however, remains dire. If Greece is to remain in the euro zone, either more aid or another debt restructuring program will be necessary — and possibly both.
For months, Greek political leaders have been asking Chancellor Angela Merkel to come for a visit. Yet now that she is heading to Athens for a one-day trip on Tuesday, it has become clear that her mission is an impossible one.
The Greeks are hoping that Merkel will arrive with expressions of solidarity and pledges of support for the crisis-torn country. But 2013 is an election year, and members of her own governing coalition, not to mention much of the German electorate, would prefer to see her continue playing the role of the Iron Chancellor and reiterate her demands for reform and austerity. Germans simply don't want to send any more money to Athens.
Merkel's spokesman Steffen Seibert has sought to ensure journalists that Merkel will be able to satisfy both groups. She is traveling to Greece to "express her support for the demanding reforms" the country has embarked upon, he said on Monday. At the same time, she will "stress all that must still be done." It seems likely that her tightrope walk won't be entirely successful and that at least one camp will be disappointed. Perhaps even both.
The attempt to save Greece from bankruptcy has been underway now for two-and-a-half years. And at the moment it is looking more than ever as if a decisive point has been reached. Euro-zone member states must soon decide if they want to provide Athens with yet more aid and allow the country to pay back the emergency loans later than planned. Or if they want to forgive Greece a significant portion of the emergency aid the country has already received. Or, perhaps even both.
The current aid package runs until the end of 2014 and foresees Greece being able to return to the capital markets in 2015. At the moment, however, few believe that the timeline is realistic. Indeed, estimates point to Greece needing an additional €78 billion in funding between 2015 and 2020. Where exactly that money should come from remains unclear.
Rapidly Shrinking Economy
Equally unclear is how the country can reduce its sovereign debt load to a bearable 120 percent of gross domestic product by 2020. The Greek government's current budget proposal envisions this year ending with a debt load of 169 percent of GDP. In 2013, it will be 179 percent of GDP. "The debt level is extremely high," says Jens Boysen-Hogrefe of the Kiel Institute for the World Economy. "Given current conditions, the country won't likely be able to handle it."
Greece's spiralling debt load is primarily a function of the country's abysmal economy. In the last four years, the Greek economy has shrunk by fully 20 percent with economists expecting a further 6.5 percent drop this year. Athens expects that 2013 will see the economy shrink by an additional 3.8 percent, but most economists are more pessimistic.
The further the economy shrinks, the more difficult it becomes for Greece to pay the interest on its debt. "Thanks to the austerity packages, the Greek budget, minus interest payments, is largely balanced," says Boysen-Hogrefe. "The country requires external aid almost exclusively to service its debt."
At the beginning of 2012, that burden was lightened slightly when a large share of the country's private creditors agreed to forgive more than half of the debt they held. But the effects of that debt haircut have long since faded.
As a result, economists are convinced that Greece will need yet more assistance. "Either one can put together a new aid package or one can push through another debt haircut," says Boysen-Hogrefe. "It is possible that it will be a mixture of both methods."
A second default, however, would be much more painful for euro-zone member states than the first. This time, it wouldn't be just private debt holders who would suffer, but also public ones, such as Germany and its taxpayers.
A €63 Billion Hit
Euro-zone states, together with the International Monetary Fund, have thus far sent some €149 billion to Greece. It is considered highly unlikely that the IMF would forgive Greece a portion of the aid it has provided, leaving the €126.8 billion from euro-zone countries, €34 billion of it from Germany.
If one takes the debt cut from earlier this year as a model, which saw private creditors forgive 50 percent of the debt they held, that would mean that countries in the common currency zone would take a €63 billion hit — with Germany alone bidding farewell to €17 billion. On top of that comes the potential hit that the European Central Bank might take. In its effort to drive down borrowing costs for euro-zone nations, the ECB purchased Greek sovereign bonds with a face value of some €45 billion, though the actual purchase price was much lower.
Were the ECB to take part in a program of debt forgiveness, Germany's share of the losses could be as high as €3.5 billion, resulting in a total haircut bill for Berlin of over €20 billion. Still, Greece would suddenly find itself free of some €170 billion in debt.
If everyone plays along, that is. And that isn't likely. The European Central Bank in particular has indicated that it would not take part in any such debt forgiveness program. Even a debt restructuring program involving the extension of the bond periods or a reduction of the interest owed on those bonds is unappetizing.
Pushing the Problem into the Future
"We can neither extend the periods on Greek sovereign bonds nor can we lower the interest payments," Jörg Asmussen, the German member on the ECB board, told the newspaper Bild am Sonntag over the weekend. "Both would be a form of debt forgiveness and thus a direct financing of the Greek state. Legally, the ECB is not allowed to do that."
Beyond the legal concerns, however, are the political concerns facing Merkel. With general elections looming next autumn, the last thing she wants to do is write off €20 billion in German taxpayer money during what promises to be a difficult re-election campaign. As such, it seems more likely that euro-zone countries will opt for a soft debt restructuring program involving an extension of bond repayment periods and a lowering of the interest rate due on those bonds. That, however, would also mean that Europe continues following the Merkel course of the last two-and-a-half years — that of simply pushing the problem into the future.
Merkel, however, is running out of room for further delays. In 2014, the exact same conundrum will crop up once again. Either Greece will need additional billions of euros in aid or its creditors will have to forgive billions in debt. Or both. Meanwhile, the third alternative — that of simply ceasing to provide aid and plunging Greece into an uncontrolled bankruptcy — becomes more expensive with each passing year.
No matter what happens, it will be expensive for the euro zone and expensive for Germany. "Either way," says Boysen-Hogrefe, "we will have to bear our share of the costs." And that is a reality that Merkel's visit to Athens on Tuesday will do nothing to change.
http://www.spiegel.de/international/eur … 60264.html
Statistics: Posted by yoda — Tue Oct 09, 2012 6:15 am
---
View full post on
opinions.caduceusx.com
Crowds to stay away from
Looters
The previous Woodpile Report looked at the "Official Crowd" because it's proactive and well positioned to dominate at the outset of the final collapse. Remus said Federal and state officialdom will work against you, especially the DHS, a stumblebum Frankenstein stitched from 40 existing agencies that's been shambling from pratfall to pratfall since 2003. DHS is a creepy outfit that sees intimidating the populace and violating the innocent as a duty. It has nearly unlimited resources and a history which argues against the least trace of optimism. Notice DHS is buying a billion-plus additional cartridges on a hurry up basis and it's not for the Olympics or to repel boarders, it's in anticipation of spooling up the open police state of their dreams. When the collapse occurs, the initial wave of violence and looting may last for a few weeks but the DHS occupation force is intended to be permanent.
Let's look reality in the eye. When considering looters the survivalists's attention rightfully turns first to the usual suspects, the improvident by preference and violent by nature, the subsidized and utterly dependent, unstable, impulsive and all but bereft of ambition or realistic goals, perpetually hostile, constant posers and exhibitionists, often clever but always fundamentally incompetent if not astonishingly stupid. In all this they're a close match to DC, which is why they adore each other. Their childlike grasping is often amusing, if embarrassing, their over-the-top, half understood rhetoric even more so. They've lived on 'redistribution' and 'assistance' and 'social justice' their whole lives, which in practice means they're bribed to simulate a civility which doesn't come naturally. "I beat down, therefore I am" is what comes naturally.
Some people have come to understand this through a protracted process of real life experience. Call them postjudiced. Others merely trust their eyes and see what they're looking at as it really is. Perhaps one of them has cared enough about you to risk censure and told you these things directly.
When it all crashes down they'll scatter like rodents fleeing a dockside fire, enraged and demanding as only the formerly entitled can be. Life long leeches deprived of a patsy to supply their wants and nurse their delusions will be desperation itself, worse, to their mind an unsatiated want is an injustice, and injustice warrants revenge. You'll do. As looters go, this is the crowd to stay furthest from. Their onboard options are not extensive. They're opportunists, not planners. They self-sort-of-organize, act and disperse, then often as not attack each other. Look for scorched earth flash mobs, warfare-like violence and unexampled destruction, mainly arson. They'll target retailers familiar to them; mid-level jewelry and clothing stores, liquor stores and pharmacies, any ATM, gun stores, coin shops, convenience stores, and electronic gadget outlets. They'll invade places others won't; hospital apothecaries and police stations and nursing homes, and attack buses and subways, even firefighters and rescue crews responding to emergencies.
There may be some incursions into outlying suburban malls and big box outfits, if not seriously contested and if they're undemandingly convenient. For what it's worth, book stores are a field-tested refuge of last resort. Home invasions will mainly be to gratify instincts never far from the surface, same as now, horrors currently described as 'robberies gone wrong', the intimation being the victims got what they deserved for failing to perform their end of an otherwise normal transaction. Stay away from this crowd, or keep them away if it comes to that. And be aware federal and state officialdom has a decades-old symbiotic relationship with them. Many are thisclose to being the same people. Don't be the last optimist.
Somewhat less threatening will be looting by the more businesslike, including suddenly unemployed commercial and industrial security workers, idled wholesale and transportation employees, rogue federal and state agents, newly surplus law enforcement officers, common criminals, the upper levels of cartel-connected gangs, and armed partisan outfits in the making. They'll be efficient and well prepared, targeting transportation distribution centers, supermarket and restaurant wholesalers, pharmaceutical distributors, industrial-commercial warehouses and supply outlets, military depots, big rigs at truck stops, freight trains in rail yards and perhaps ships at their piers. This crowd is looking to optimize their return on time and effort, not to redress imaginary grievances or cause unproductive collateral damage. Unless you become bothersome or useful or plain unlucky they're unlikely to take an interest in you, except for the gangs. Violence is their default negotiating tactic, even over trifles or nothing at all. Stay away from this crowd too.
The top end looters will be career big-ticket thieves, politician-level law enforcement, rogue military with grudges, and criminal syndicates other than governmental. They'll be superbly equipped and professional, hired or working on speculation. They'll sometimes employ specialists by the job. Much of what they do will be with inside help, bribed or coerced. You'll find them looting museums and galleries, precious metal repositories and jewelry vaults and armored car depots, along with the occasional high value, quick turnaround kidnapping. Officialdom won't seriously interfere with this class of looters, although their public condemnations will be memorable. There's a form of camaraderie at work here. Call it the Corzine Effect. Avoiding this crowd takes little effort, but your presence at the work site will be as unwelcome as it is unlikely.
There's one more kind of looter, the "pseudo survivalist". His plan isn't materially different from the career dependent's. He's surveyed sources of survival supplies and equipment, noted their accesses and security provisions, familiarized himself with the floor plans and availed himself of the necessary tools. He's calculated the weight and bulk of his prospective haul, done familiarization runs, usually at night, scouted alternate routes and mentally rehearsed different scenarios, probably with background music. He's counting on events to impart the necessary courage.
Other than procrastination or being clinically "expiration date adverse" there's not much to be said by way of explanation. His rationale amounts to "everybody's doing it," the same excuse garden variety looters use when the perpetually shocked reporter from Action Breaking News puts a microphone to their face and inquires of the thirty pairs of designer shoes in their possession. There's not much need to avoid the pseudo survivalist. Superior planning and careful selection aren't exculpatory and he knows it. If confronted he'd likely wet himself. Extreme circumstances could temper our disapproval but he's already proven he hasn't what it takes to be a survivor.
Staying away from looters is simple, if not easy. Either be somewhere else or get somewhere else, anywhere they aren't, or be somewhere defendable. A prepared defense is a huge advantage but even an "it'll have to do" place is better than being caught out on the street. People have noticed marauding mobs of looters will hesitate, perhaps even break and run if they take incoming from a source they can't quite locate, especially if they see some of their number drop like empty laundry bags. The best plan is to be where they aren't, and if properly done, where they never want to be.
Statistics: Posted by yoda — Sat Sep 29, 2012 8:23 am
---
View full post on
opinions.caduceusx.com
THE BEAR'S LAIR
Confidence drains away
By Martin Hutchinson
The continual stream of bad news coming out of Europe is causing a withdrawal of investor confidence in the bonds of several European countries, very reminiscent of the draining confidence in housing-related bonds in 2007-08. Thus there seems to be an increasing likelihood of an extreme scenario in which confidence disappears and insolvency events occur that were previously unthinkable.
Such a collapse in confidence would almost certainly produce a global depression of 1930s magnitude. It's also pretty clear from the 2008 experience that the authorities have little idea of how to prevent this or of what to do when it happens.
This can be easily demonstrated by examining the authorities' behavior in 2008. In monetary policy, Ben Bernanke's Federal
Dilbert
Reserve and the Bank of England both violated Walter Bagehot's famous dictum that in a crisis the central bank should make money readily available against first class security at a very high rate.
The purpose of doing this, as Bagehot and his contemporaries well knew, was to prevent a liquidity crisis that might destroy confidence and cause banks to be forced into liquidation unnecessarily, while at the same time providing a strong incentive for the banking system to get its house in order, foreclosing on loans with poor security, liquidating positions even at a loss and freeing up the banks' balance sheets for future opportunities.
If the banks took large but not fatal losses in doing this, so much the better; it would prevent them from overextending themselves so foolishly in the future, sharply discouraging future bubbles.
In 2008 in both the United States and Europe and again earlier this year in Europe, the world's central banks recklessly disregarded this dictum and instead lent large amounts of money at very low rates. The result was that banks piled back into risky assets, buying mortgage debt in the US after the housing market had collapsed (thereby profiting from the artificially steep yield curve gap between low short-term rates and higher medium term rates).
In Europe this year, Italian and Spanish banks bought more of their countries' government bonds, thereby recklessly overloading their balance sheets still further and weakening at a crucial moment what should have been a ferocious budget pruning in both countries.
Given the ability to postpone pain, the Italian government of Mario Monti, installed illegitimately by Brussels, wimped out on the necessary labor law changes. The mostly admirable Spanish government of Mariano Rajoy trimmed the national budget adequately but failed to bring the grossly overspending provinces to their senses.
As well as reckless lending at excessively low rates, 2008 saw the creation of the Troubled Asset Relief Program (TARP). Like the cheap loans, this saw government taking an utterly irresponsible attitude towards public money and demonstrating a complete lack of forethought as to what the bailout should achieve. Indeed, in its first incarnation, TARP would have had taxpayers buying the most toxic housing assets from the banking system at prices determined by the banking system; it would thus have guaranteed humongous losses for taxpayers and achieved little.
With the massive liquidity injections from the Federal Reserve, no bank bailout should have been necessary. At worst, Citigroup, Merrill Lynch and Washington Mutual might have failed because being overleveraged and heavily concentrated in the most worthless assets they would have lacked sufficient collateral for a Fed loan program that was run in an appropriate manner. AIG would undoubtedly have failed and would have deserved to do so because of its grossly inappropriate activity in the gimcrack credit default swap market.
However other banks would have rescued themselves through Fed emergency funding, with Wells Fargo buying Wachovia at a knockdown price and Bank of America surviving, in spite of its catastrophic previous purchase of Countrywide, because it would only have had its own bad assets to deal with and not those of Merrill Lynch.
The result would have been a very nasty recession, a sharp contraction of credit, and a further lurch downwards in house prices that would have achieved 2012′s depressed and market-stabilizing price levels three years early. The recovery from recession would however have been robust, as it was for example in 1920-21, which saw a similar period of mass liquidation after the overextended bubble caused by World War I.
Even if a bailout had been undertaken, TARP's principles were precisely the reverse of those that should have been used. Instead of making TARP capital injections compulsory, they should have been voluntary. TARP as it was implemented cast a shadow over the credibility of the entire US banking system, as well as encouraging assets and business to flow even further towards the largest banks, which were thought "too big to fail".
A voluntary TARP, on the other hand, in which banks took only those capital injections that they felt truly necessary, would have allowed those banks that could survive without TARP, including many of the larger regionals, to gain additional credibility and lower market funding costs through doing so.
As for AIG, it should indeed have been treated as a special case, being forced to default altogether, thus ensuring that the wholly unsound credit default swap market involved several of the world's largest banks in painful losses, strangling its further growth. Holders of genuine AIG insurance policies might have had to wait for their money, as did holders of assets in the defaulting Reserve Primary Fund, but they would have received most if not all of their legitimate claims in the end.
Enough of history. We are currently in the eurozone faced with a repeat of 2007′s mortgage market collapse, only on a larger scale, potentially involving the public debt of not only Greece and Portugal (Ireland appears to have rescued itself) but Spain, Italy and France, all countries so large as to be impossible to bail out.
Just as in 2007-08, investor confidence drained from mortgage bonds of all kinds, even though some of them eventually proved of high quality, so today investor confidence is draining from a number of European countries whose prospects are very different.
Should the authorities continue pouring money into the market without the necessary structural reforms taking place, we will eventually experience another September 2008, with the defaulters being countries rather than banks (though their defaults will cause several banks to default as well). In detail:
In Greece, a further default is inevitable, whether or not the country remains part of the euro. The deflation required in order to force the witless Greeks back to living standards that are sustainable – about a third of their 2008 opulence – is simply too great if Greece remains part of the euro, and the debt Greece has already acquired, even after the write-offs already taken, is too great to be repaid from collapsing drachmas. Greece must exit from the euro; the market has already priced this in, and the principal objective should be to force it out as quickly and in as orderly a manner as possible, without pouring additional resources down the Greek rat-hole. Those resources will be needed elsewhere.
Spain, on the other hand, is in trouble almost entirely because of investor confidence. Its budget is well under control and its debt is moderate. What's more, its real estate problems were confined to the smaller banks (Bankia being an amalgamation thereof). Its problem now is that it is a decentralized polity, and its provincial governments did not adopt austerity quickly enough and are now cut off from the market. If Spain were isolated, its problems could be solved with a moderate-sized bailout; as it is, it may very well have to leave the euro although a full debt default remains unlikely. Rationally, Spain has by no means the most difficult problem to solve, but market confidence in it has almost entirely departed.
Italy has considerably worse problems than Spain, in terms of its debt level, and much less capability to solve them. If the EU were going to impose a new government undemocratically, it had to ensure its government would take the actions needed. As it is, Monti has wimped out in face of Italy's public sector unions, and Italy's budget and debt problems are getting worse, not better.
Furthermore, Italy must have an election next March (or lose democratic legitimacy altogether). At that election, it now seems the electorate will be offered three alternatives: further pointless austerity with Monti, a clean departure from the euro followed by an assault on union privileges with Silvio Berlusconi or an outright debt default with Beppe Grillo. Two out of three of these alternatives would lead to debt default, while all three would probably lead to departure from the euro, since under Monti the bailouts would get too great for the German people to stand.
Finally, France is currently not in investors' sights, with its 10-year bonds yielding 2.2% rather than 6-7% as in the case of Spain and Italy. Here investors are being irrationally optimistic in not panicking. The new French government has introduced a 75% tax rate, plus a swingeing wealth tax, and has reversed most of the very modest fiscal reforms introduced by the previous government.
France's budget and debt position are both worse than Spain's, and the new measures will drive wealth out of the country, cause economic decline and thereby worsen France's debt and budget problems substantially. When investors figure this out, probably toward the end of this year, there will be hell to pay – the French economy is far too big, and French economic policy far too bad, for any bailout to be feasible.
There are thus at least two major confidence destroyers in France and Italy beyond the current problem children of Greece and Spain. Just as with the successive bankruptcies/liquidation rescues of Northern Rock, Bear Stearns, Fannie Mae/Freddie Mac, WaMu, Lehman Brothers, Wachovia and AIG in 2007-08, successive events will deal hammer blows to investor confidence, eventually drying it up altogether. No amount of further "liquidity support" and bailouts will prevent this; the amounts of money involved in the case of Italy and France are simply too great.
Doom is not inevitable. If the euro breaks up, each national currency can find its own level, and national monies can be printed as necessary to fund debt service and government deficits. Inevitably, some countries, probably Greece and France, will overdo the injections of liquidity from their central banks and experience a Weimar Republic-type inflation episode, followed by a partial default on their debt. But that, and the sharp decline in living standards that it will produce, will be purely their problem.
In Italy (probably) and Spain (almost certainly) sufficient discipline will be maintained that the crisis will be solved without default and without further outside intervention. Globally, the break-up of the euro will cause a short-lived downturn, but the new strength in Germany, Finland, the Netherlands and elsewhere, their economies finally freed from the need to bail out their weak sisters, will quickly restore global growth.
In 2008, much subsequent economic malaise could have been solved by the authorities applying the principles of Adam Smith and Walter Bagehot. The same principles can now be applied in the eurozone, and the collapse of investor confidence stopped in its tracks. To adapt a famous Maynard Keynes aphorism, all it will take is the euthanasia of the bureaucrat.
http://www.atimes.com/atimes/Global_Eco … 2Dj02.html
Statistics: Posted by yoda — Wed Aug 01, 2012 1:48 pm
---
View full post on
opinions.caduceusx.com