If Cyprus Is the Bellwether?, then Canada Is the Red Flag
Posted on 10th May 2013 by Administrator in Economy |Politics |Social Issues
Casey Research
If Cyprus Is the Bellwether, then Canada Is the Red Flag
By Jeff Thomas, International Man
An intriguing article titled "Canada Includes Depositor Haircut Bail-In Provision for Systemically Important Banks in 2013 Budget" was recently published in SD Bullion.
The somewhat lengthy title offers all the information necessary, but for those who – quite understandably – may not be able to accept that they have just watched Canada tumble down the Cypriot rabbit hole, here is a bit more detail from the approved budget itself:
"The Government proposes to implement a bail-in regime for systemically important banks. This regime will be designed to ensure that, in the unlikely event that a systemically important bank depletes its capital, the bank can be recapitalized and returned to viability through the very rapid conversion of certain bank liabilities into regulatory capital."
Customer deposits could certainly fall under the label of "certain bank liabilities," and converting them into "regulatory capital" without permission is just a gentle way of describing confiscation. Though Canadian officials have denied that the term "certain bank liabilities" includes customer deposits, we must note that the government in Cyprus also promised that customer deposits would not be touched, only to renege on that promise at the onset of the crisis. Remember lesson #1 of the Cyprus debacle: "Do Not Trust Politicians."
As the recent events in Cyprus have been unfolding, each iteration has seemed to me to be not only logical, but almost predictable. As Jim Sinclair has recently been stating frequently, the EU has run out of options… The next step is confiscation.
There will, of course, be endless rhetoric and debate, followed by minor adjustments in method and percentage taken, but, ultimately, the powers-that-be have reached the confiscation stage. That is now carved in stone.
But at this point, if we are watching the horizon, we will spend less of our time mourning the fall of Cyprus and more of it anticipating which countries will be next in line.
Here, I confess, I have been surprised. There were quite a few countries that, logically speaking, might have been next. Canada was not even on my personal radar. This is not to say that it would not also be in the queue – only that I would have predicted its position in the queue to be quite a bit further back.
Those observing recent developments may have understandably been saying to themselves, "I realize that we live in difficult times and that, if I am to look after my family's future, I need to face up to the fact that we may be seeing dramatic change. But there are some things I can't accept, and one of those is the possibility that my savings could be confiscated by my bank. My government would never allow it!"
For those who very understandably may find this latest realization to simply be beyond the pale, it would be well to take a moment out to rise above the clouds for a bit of an overview at this juncture.
In most countries of what we grew up calling the "Free World," there has been a steady deterioration, particularly with regard to corporatism (the merger of state and corporate powers). One facet of that deterioration has been increasing legislation that allowed financial institutions to create Ponzi schemes with regard to lending, in which the bank goes broke in the end but the cost for the failure is passed to the taxpayer in the form of a bailout.
Put more simply, this means that after the fox has raided the henhouse, the government advises the public that the only way to save the situation is for the government to confiscate more hens from the farmers and give them to the foxes.
The public, desperate to return to "normal," will accept whatever the government says at this point, in the hope that it will all somehow turn out all right. Only a tiny percentage will be prepared to say, "We've been systematically raped and robbed by both our government and our banks, in full complicity with each other. It's high time I put what I have left in a sack and find a way to protect it on my own."
Those few who do so will turn to safe havens for wealth (however much or little that wealth may be). They may invest in overseas properties that cannot be confiscated by their own governments, buy precious metals and store them privately, and so on.
The objective will be simply to make it as difficult as possible for their governments to confiscate their wealth.
While there may be no guarantee that they will succeed, they would know that at the very least, they will not be the low-hanging fruit when their government enters the orchard to begin the picking.
However, as history shows, the great majority of the people of all countries will fail to act. They will watch in confusion as events unfold, as the banks continue to come up with schemes to further bilk the public of their wealth, while the governments assure the public that, "It's an emergency situation. We have to be willing to sacrifice a bit more to save the system, or we'll really be sorry." In the end, the majority of people will comply.
Cyprus is a bellwether of what is next for the world in general. A term has even already been coined for what is coming – a "bail-in." An event in which the public must accept that, in order to save the banks from collapse (which they have been told since 2008 is the absolute worst possible outcome), they must accept that they must make their "contribution" – confiscation of their deposits by the banks. First, it will be, say, 5%, then it will be announced that 5% didn't solve the problem and another transfusion will be needed. Then another.
Some people will figure out along the way that they are being robbed by both their government and the banks, working in concert, but most will regard that reality as impossible, as it has never happened before and surely can't happen now.
If Cyprus is the bellwether, then Canada is the red flag, showing that Cyprus is not an isolated situation. The damage wreaked by monumental debt is systemic, and it has taken place throughout the First World and beyond.
This latter statement will very likely be the most difficult to accept as reality. If so, here is something to consider: Canada has approved its bail-in on a national level just one week after a final decision was made in Cyprus. As we all know, the wheels of governments worldwide move slowly. The reader might ask himself whether he believes that the Canadian government has, in short order, approved its own bail-in, in reaction to the events in Cyprus. If this possibility is simply too far-fetched, he must accept that the plan for Cyprus has been known to the Canadian government for some time and that a similar bail-in for Canada has been in the works for a while. It was simply agreed that Cyprus would go first – to act as the litmus test.
If the reader finds himself agreeing that it is likely that the Canadian government had foreknowledge of the events in Cyprus, his next logical conclusion would be that other nations had the same foreknowledge and have very likely been getting their own ducks in a row.
Most countries in the First World have gone down the same road of monumental debt and have found that that road has led to a precipice. At this point, they have no other option left in their bag of tricks. They are all in the same boat and will play their last option – confiscation of wealth.
While many First World citizens think that events like those unfolding in Cyprus could never happen in their home country, the truth is precisely the opposite – and actions like the Canadian government's send a strong signal that the time to protect your wealth from governmental grabs is running out.
There are a number of diverse steps you can take to protect yourself and your wealth from being milked by your home government.
http://www.theburningplatform.com/?p=53966
Statistics: Posted by yoda — Sat May 11, 2013 12:02 am
---
View full post on
opinions.caduceusx.com
Better "Safe Haven"-
Switzerland or Canada?
JULIAN D.W. PHILLIPS
25 April 2013
Despite the well-engineered 'bear raid' conducted by some U.S. banks together with some hedge funds –which knocked the gold price back on its heels down to $1,344—the demand for gold from all over the world remains unabated. The fall in the gold price caused the physical buying of gold to surge everywhere and the gold price has begun to recover.
The dilemma facing most gold investors remains.
"Where does one hold their physical gold?"
More to the point, where does one hold one's gold away from institutions and governments that may want to keep your gold. We've seen depositors funds confiscated from banks in Cyprus, so the prospect of gold being confiscated is now on the screens of gold investors. So where does one hold gold to avoid this probability? This is not just a vague fear but a real danger. It is insufficient to wait until the dollar collapses. That would be far too late!
This was emphasized by a recent report we saw implying that Switzerland was not allowing the redemption of gold. The report was baseless (see below).
Switzerland as a Financial "Haven"
Old money and new money from the world over, store their wealth in Switzerland, as they've done for the last three centuries in the face of many wars because Switzerland has remained neutral for all this time. You would think that such a small nation would not be able to resist an onslaught from its European neighbors. In fact there have been no attempts to assault the tiny nation. Not only is Switzerland a nation with an impossible terrain for armies, it has an army (mainly reserves) of over a million soldiers ready for action at any time in a well-trained state of readiness. Its complex of bridges and tunnels, which link it with all the different parts of Europe and allow its own people to travel through the nation, is mined with explosives that will make it impassable should it be invaded.
As a result its refuge for capital is 300 years old and its banking industry 5 times the size of its own GDP stretching all over the world. It has been tried and tested in war and in peace like no other nation. It's this testing that is critical for investors. If they feel another country would be a better place to store wealth out of reach of their authorities, then they would have to question the robustness of its resolve against any other country's attempts to dominate their sovereignty. Switzerland's history on this has proved robust.
Of late, the multi-national companies in the financial industry in Switzerland and particularly private vaults have been rejecting U.S. taxpayers as clients. This is because the U.S. IRS alongside the new tax regimes and reporting requirements under FATCA and FBAR are invasive in attacking such taxpayers. The experience of UBS and the IRS brought a change in Switzerland that expanded their view of criminal wealth (which they don't accept) to include Tax Evasion. But nothing else has changed there and the attempt to expose U.S. citizen's bank accounts there brought the revealing of only 4,500 names out of the 45,000 U.S. citizens in UBS. This meant that 40,500 U.S. citizens were not guilty of Tax evasion and so their names were not revealed to the IRS. This showed the resolve of the Swiss government to retain Swiss secrecy in their financial affairs.
Swiss Banks Refusing to Redeem Gold?
The other day a report was issued by some respected members of the gold community that a Swiss Bank has refused to redeem/repatriate gold above 200,000 Swiss francs and the central bank had instructed them not to do it because it has to do with anti-terrorism and anti-money laundering precautions. We realized just how important such a possibility could be to gold investors so investigated its accuracy. It turns out that it was entirely false.
Reputable Vaults in Switzerland have informed us that they have not had any such instructions from the Swiss National Bank and that they continue to redeem/repatriate gold on client's instructions.
Let's be clear, if such a report was accurate it would have made headlines the world over. We are certain that the reputable vaults in Switzerland would inform the world, if the Swiss National Bank had issued such draconian regulations because of the deep impact of such news would have on the Swiss economy.
If a Swiss bank has told a client that he may not redeem/repatriate his gold, then the issue is between that bank and that client and nothing else outside these two. It may be that the bank cannot access the gold it purported to hold for the clients if the story is true. The advantage of the reputable Swiss Vaults is that it does hold physical gold delivered to it without the ability of leveraging, leasing or otherwise using client's gold. It remains in an 'allocated' state always available to its clients.
We repeat that the Swiss National Bank has not issued such an instruction. Indeed we are of the opinion that Switzerland would be the last nation to introduce such Capital Controls, if ever.
But other nations are being recommended as a "Safe Haven" for investor's gold such as Singapore, Canada and Hong Kong. The first point we would make about this is that none of these nations have a history of protecting clients' assets. Such protection would be an unintended accident and would change, if government interests felt it should. Believing that their assets would be protected by government from foreign government pressures is an assumption that should not be made until tested.
But let's look at Canada as a "Safe Haven" as this is perhaps the favorite of U.S. citizens.
Canada as a "Safe Haven" in Extreme Times
Before discussing the ways you can hold your gold in Canada, we feel it important to look at the nature of the country itself and particularly with regard to the U.S.
The first point that comes to mind is the dependence Canada has on the U.S. Canada could not survive independently of the U.S. in economic terms. There is a high degree of integration with the U.S. economy, so much so that should extreme times hit Canada, it will follow the direction of the U.S. We believe that it will not fight to hold off such pressures but willingly go along with U.S. interests. Certainly when it comes to financial policies, Canada will not walk a separate road to the U.S.
In extreme times we expect there to be a need to bring gold within the control of the central banks to support the existing monetary system. While Canada currently has very little gold having sold it off [3.2 tonnes] at 0.2% of its reserves, it is dependent on the U.S. dollar in its reserves. To us, this makes Canada a monetary satellite of the U.S. In turn, this makes it clear to us that Canada will make little to no efforts to ensure the U.S. does not interfere with U.S.-owned assets. History supplies evidence of how Canada has as recently as 1974 cooperated with the U.S. in attempting to return U.S. citizens gold back to the States. [http://personalliberty.com/2010/02/03/the-war-on-gold-a-personal-account/ ]
More importantly if the U.S. did decide to bring its citizens gold into government coffers, would Canada act any differently? We believe that if the U.S. felt the need to do this today, Canada would feel it too.
Canada has gold producers, so could easily buy the gold from these producers entirely and pay them market related prices to do so as is now the practice in Kazakhstan.
In addition, the institutions that held gold for clients would be targeted too. After all, this is where the largest holdings of physical gold are most accessible and so, primary targets. With banks being the Custodians of these institution's gold, the government would simply instruct the custodian to hand over the gold it held on their behalf. The banks would comply immediately, as this would allow them to keep their banking license. The owning institutions would then be informed of the event.
Security and storage companies in Canada would also be targeted and would be happy to comply to keep other facets of their business. Swiss Vaults are rejecting U.S. Taxpayer clients for this very reason. They want to remove their vulnerability to government actions entirely. Sadly, similar Canadian companies would not be able to move their gold to another Jurisdiction and be forced to comply with U.S. and Canadian government demands.
As a result, for the many reasons given, Switzerland remains the only credible "Safe Haven" in extreme monetary times.
http://www.gold-eagle.com/editorials_12 … 42513.html
Statistics: Posted by yoda — Sat Apr 27, 2013 1:10 am
---
View full post on
opinions.caduceusx.com
Yes.Me too,As long as there is computers involved in tracking accounts and purchases and tracking your balance i cant see where its any better than the current system.One day you could wake up to find that your bit coin account has been hacked or the government has cleaned it out.
Statistics: Posted by DIGGER DAN — Fri Apr 26, 2013 12:59 am
---
View full post on
opinions.caduceusx.com
Bitcoin Dealers Are Running Into Problems In Canada
Rob Wile | Apr. 25, 2013, 3:37 PM
http://www.businessinsider.com/canadian … ses-2013-4
Two Canadian businessmen recently got some bad news from their banks.
James Grant, owner of Canadian Bitcoins, got a letter.
Melvin Ng, proprietor of CADBitcoin, got a phone call.
Both men run online exchanges where you can purchase Bitcoins for Canadian dollars.
And both were informed their businesses' accounts frozen by Canada's largest banks.
"It's a weird situation," Ng told us by phone recently. "We're a normal Canadian business, we're registered with the government, and a Canadian bank can just block it off."
Grant was more blunt: "They just don't like Bitcoins."
As the price of Bitcoin has steadily increased and purchases with the digital currency become more commonplace, large institutions were bound to begin paying more attention to — and cracking down on — places who traffic in the currency.
Royal Bank of Canada, which shut down the accounts, sent us a statement saying they do not comment on client matters. As of this writing we had not heard back from TD Bank, the other bank that shut down or turned away the Bitcoiners.
We've already discussed why Bitcoin is such an extreme gray area for regulators — it's not quite a currency, not quite a commodity, and there's lots of interstate and international commerce involved, both of which in theory must be regulated by federal governments.
But they've only just begun to catch up with its explosion — Bitcoin merchants must now report all large and/or unusual transactions.
Joseph David appears to have successfully navigated the legal minefield of Bitcoin business.
The co-founder of CAVirtex, Canada's largest real-time Bitcoin exchange (like NYSE, or more precisely, Japan's Mt. Gox), David says he too had his company's account shut down in its early days. But by the beginning of 2012, they were back up and running. The site now sees $15 million a day in transactions.
David believes Ng or Grant may not have obtained the proper money service licensing.
But Ng says he did just that.
Even so, he's already moved on. He says the company plans to open what he believes will be the first ever brick-and-mortar Bitcoin stores in Canada. There will be one in Vancouver and one in downtown Toronto, he said.
That seems to be the mindset among Bitcoin professionals — press on at all costs, because Bitcoin is only going to get bigger.
"You have have $150 million worth of Bitcoins being transacted every 24 hours," David said. "It's not a fad."
Read more: http://www.businessinsider.com/canadian … z2RWFcvasu
Statistics: Posted by DIGGER DAN — Thu Apr 25, 2013 5:06 pm
---
View full post on
opinions.caduceusx.com
Walter Olson
The makers of a Canadian take-out coffee cup have a bit of fun at the expense of a certain country immediately to their south:
If this was another country, we'd have to tell you that this coffee may be hot. Good thing this is Canada!
For more on hot coffee spills and warnings, see Overlawyered's hot coffee tag. For more on the famous McDonald's case and its long afterlife as a chestnut of online comments sections, see Ted Frank's mythbusting post and "Law of McDonald's" lecture; product liability site Abnormal Use's FAQ on the case; and Glenn Garvin (quoted) on one propagandistic film.
View full post on Cato @ Liberty
BULLION SALES IN EDMONTON Alberta Canada
http://www.caseyresearch.com/gsd/editio … count-sale
Ed Steer who rights a daily article for Casey Research also works in a P.M bullion store in Edmonton.This is what he had to say this morning about the sales in the shop he works in this past week.
"Yesterday was the biggest sales day in the bullion store's history, even though we only had silver maple leafs and 100 oz. silver bars to sell…as these are the only two items that we were able to order and get delivery of in a timely manner. Over-the-counter sales were decent, but it was the huge order-in sales that were the standout.
Then at 2:00 p.m. local time, our supplier called us to say that silver maple leafs were no longer available…and from that point on, we only were selling the 100 ounce bars. But faced with buying that large a bar, or walking away empty handed, our customers bought them like they were party favours! Even when silver was approaching $50 the ounce back in April 2011, we've never had a week like we've had this past week. The psychology of the buyer today is totally different from what they were thinking two years ago. Back then they were buying to [hopefully] make a quick buck…now it's the Cyprus thingy, no interest on bank deposits, along with the new 'bail in' provisions for Canada's 'too big to fail' banks that showed up in Canada's recent budget. The people are finally starting to wake up…and not just in this country."
Statistics: Posted by DIGGER DAN — Sat Apr 20, 2013 1:04 pm
---
View full post on
opinions.caduceusx.com
The coming deleveraging for Canada – Unit labor costs in manufacturing above US labor costs and household debt-to-income at 160 percent.
Our neighbors to the north in Canada are going to face a serious deleveraging shortly. This isn't hyperbole or some off the wall call but based on evidence of what happens when economies get into too much back breaking debt. If the largest trading blocs, the US and Europe had to have their day of reckoning how is it that Canada will be immune from the same economic forces of debt? Bubbles do not pop in perfect harmony. They pop in a disorderly and loud fashion and momentum picks up once the unraveling begins. Canada has one of the biggest ongoing housing bubbles and contrary to the rhetoric we see, they have households deeply in debt. In other words, they are leveraging to the hilt just to keep this charade going. Yet this can only go on for so far. Obviously bubbles can last for a very long-time (i.e., US housing from 1997 to 2007) and can surprise many people. Let us take a look at a couple of reasons why Canada is going to face a heavy deleveraging.
Canadian household debt
Canadian households are deeply in debt: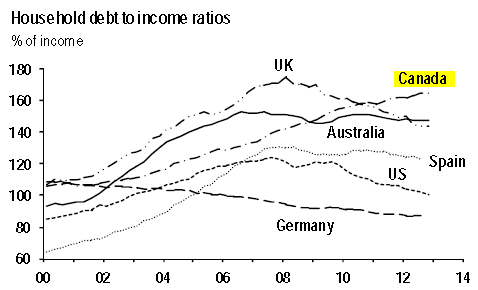 At the peak of the US housing and debt bubble, US households had something close to 120 percent debt-to-income ratios. Canada today is above 160 percent. So they are fully into uncharted territory. Household debt is incredibly high largely because of the massive Canadian housing bubble. Housing is the biggest expense in both the US and Canada. Contrary to what we hear, it is not different this time. In fact, given the massive debt we see, it is likely that the deleveraging event in Canada will be even more painful.
Canada's labor costs are much more expensive than US labor costs: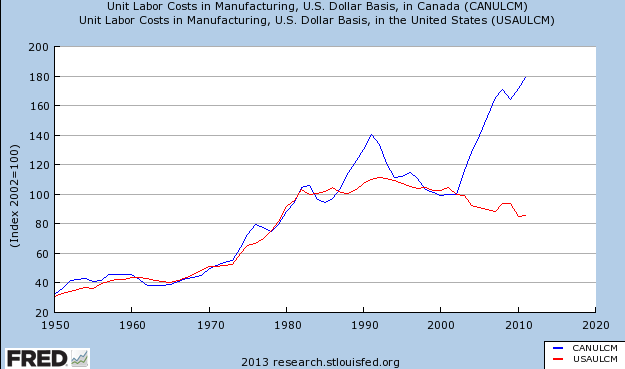 This is problematic in a world driven by low wage labor. Households in Canada are maintaining their current spending via debt. This was a common experience that was had in the US as households were trying to maintain a middle class lifestyle while wages were stagnant or even falling. Canada has massive household debt relative to income and labor costs are also very high. The global markets are punishing. Look at places like Spain with high labor costs and big housing bubbles. It will take years if not decades to get to a more balanced out economy.
Canada is also losing an edge when it comes to maintaining a lion share of exports to the US: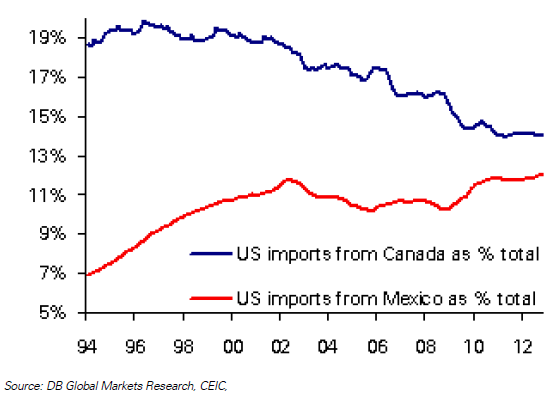 You can see that over the last 20 years, Mexican imports have narrowed the gap. This is largely driven by the low wage nature of our current global economy and the aforementioned high wages in Canada. Something will give and is giving. But like any bubble, things get wilder at the very end:
"Bloomberg: – Canadian housing starts unexpectedly increased for a second month in March and building permits rose in February, evidence that low borrowing costs are supporting construction.
Starts were 184,028 at a seasonally adjusted annual pace during the month, up from a revised 183,207 in February, the Ottawa-based Canada Mortgage & Housing Corp. said on its website today. In a separate report, Statistics Canada said building permits rose for a second month in February on a rebound in non- residential projects.
Construction has been supported by some of the lowest mortgage rates in decades, along with historically cheap borrowing for businesses, even as the government tries to tighten the mortgage market amid concern prices in some cities have become inflated."
Low rates and cheap borrowing. Of course it will be different this time around. Right?
http://www.mybudget360.com/canada-debt- … #more-4769
Statistics: Posted by yoda — Wed Apr 17, 2013 10:35 am
---
View full post on
opinions.caduceusx.com
Stephen Harper's Cyprus Blueprint For Canada
Written by Jeff Nielson
Wednesday, 10 April 2013 12:33
Until now, the "bail-in" (i.e. the Cyprus Steal) has been presented to us in the following manner by politicians, bankers, and the Corporate Media. It is a least-worst option for dealing with a financial emergency, and is being conducted in a fair and legitimate manner.
As previous commentaries have exposed, this is all lies. It is not a "least-worst" option, but rather the most-extreme desperation measure imaginable. It is the only form of stealing which our Crime Syndicate governments haven't already attempted to perpetrate against their own populations: direct confiscation of assets.
This was not a "financial emergency." It was a choreographed looting of the Cyprus financial system, plotted at least 18 months in advance. Furthermore, the chronology clearly indicates that the Western banking cabal had already engaged in a secret agreement with the Cyprus government to ultimately approve this theft – and the initial proposal (and first vote) was simply an absurdly transparent sham.
There is nothing "fair" or "legitimate" about this repugnant concept. This is why the propaganda machine invented a euphemism for it which is utter gibberish. "Bail-in" is nonsensical English, used to hide a vulgar act of theft which is completely indefensible.
Ultimately the Thieves themselves even concede that what they are really perpetrating is a form of "taxation." Yet this "taxation" is entirely ad hoc, and arbitrary; with the initial group of Victims involved (bank depositors) being asset-holders who put their savings in these banks for one (and only one) reason: because the banks and our governments themselves assured depositors again and again and again that their savings were "absolutely safe."
Obviously if our governments (and banks) are going to arbitrarily choose to betray a particular group of individuals in society with a "surprise" theft of their assets, the one group of individuals who should be last on the list are those people whom the banksters and politicians themselves assured were absolutely safe. There could be no more egregious knife-in-the-back.
However, what if this betrayal is much, much worse? What if the "bail-in" – the bankers' new form of organized crime – was not merely a desperation measure to ward-off inadvertent bankruptcy? What if the banking cabal and our Traitor Governments were intentionally creating "insolvency" in our financial system in order to manufacture a pretext to engage in this illegal looting?
This brings us to Canada, Prime Minister Stephen Harper, and the Conservative Party. Stephen Harper is a consummate Thief. He's stolen his own job not once, but twice.
He stole his job as Prime Minister originally by promising Canadian voters that (unlike the Liberals) he would never "touch" (i.e. tax) their "income trusts" – into which Canadians had funneled $10's of billions of their wealth. However it had already become obvious this massive tax-loophole was destroying the entire, national tax base; and was not economically viable. The moment Harper got into power, he flip-flopped and abolished that tax-exemption.
He stole his job a second time when the Opposition Parties were about to unite to vote the Harper regime out of office. Stephen Harper illegally suspended Parliament, and then the Conservative Party and Big Business launched a massive propaganda campaign while Canada's Parliament was illegally suspended; labeling the plan to vote the Harper regime out of office as "undemocratic." The Opposition Parties backed off on their threat, and then Stephen Harper ended his illegal suspension of Parliament.
When Stephen Harper came to power, however, he had more on his mind than just breaking promises: he had an Agenda. A part of that agenda was to duplicate – as exactly as possible – the massive housing-bubble of the United States; the largest asset-bubble in history, which was followed by the largest "bail-out" package in economic history.
For interested readers, this plot has been described in detail in a previous commentary. For the purpose of this commentary; it's not essential to know how Stephen Harper manufactured the Canadian housing-bubble (with the enthusiastic assistance of former Bank of Canada Governor Mark Carney). It's only essential to note the dates involved. Stephen Harper began constructing the Canadian housing-bubble after the U.S. bubble had already burst.
There can only be one thing worse than engaging in suicidally-reckless economic policy. This is to engage in suicidally-reckless economic policy after that policy has been exposed as such. The reason this is much, much worse should be obvious to all readers.
The bankers and politicians (of both parties) who manufactured the U.S. housing-bubble have at least "plausible deniability" on their side: they can pretend the U.S. housing-bubble was an "accident." Stephen Harper has no such cover available to him. The dates involved make this clear that the Canadian housing-bubble is a premeditated betrayal of the entire Canadian population.
There are two, major distinctions between the U.S. and Canadian bubbles, apart from (perhaps) a difference in the level of premeditation. First and foremost, it was impossible for Stephen Harper to match the saturation-level of fraud which has permeated every nook-and-cranny of the U.S. housing sector – from rampant land-title fraud to (institutionalized) Liar's Loans to literal "fraud factories": companies being formed solely to custom-produce forged/fraudulent documents for the Wall Street banksters.
The other very important difference is that when the Wall Street crime syndicate and the Republican regime looted approximately $15 trillion from the U.S. financial system in direct hand-outs, (so-called) "0% loans", infinite "loss guarantees", and near-infinite tax-breaks there were no "bail-in" rules in place. Directly stealing from peoples' accounts to indemnify their gambling-losses was merely a "wonderful fantasy" for U.S. banksters (at that time).
With Stephen Harper's housing-bubble poised to burst – whenever Canada's banksters choose to detonate it – the question becomes: how large will the subsequent looting be, with Canada's "bail-in" rules officially carved in stone?
Most of Wall Street's looting following the Crash of '08 was of necessity restricted to the 0% loans, loss-guarantees, and tax-breaks. With the entire U.S. economy collapsing (as appears to be happening in Canada); there was only a limited amount which could be stolen from the public Treasury. When Canada's housing-bubble is detonated there will be no such limitations.
As was spelled-out in my most-recent commentary; the Canadian Budget (and the Financial Stability Board "policy paper" it is based upon) opens up the possibility of not merely stealing bank deposits, but any/every asset in the financial system: bonds, pensions, and equities as well. "Trust funds"? The term has been rendered archaic.
Even if we weren't dealing with intentional insolvency, and premeditated betrayal; we have already long since crossed the threshold into insanity with respect to another nonsensical euphemism constructed by the Corporate Media: "too big to fail." The banks are "too big to fail" but the People (collectively) are not?
What if the banksters now tell us that the only way to "save them" (but again only temporarily) is for every family to sacrifice their first-born males? When do we say "enough is enough" with this criminal insanity? Congratulations Doctor, the operation was a success…but the Patient died. And now Stephen Harper and the bankers are going to "operate" on Canada.
In 2008, the same Traitor Governments told us they were "fixing the banks"; with the largest public looting of our economies in history. In 2013, we're being told that they are still "fixing the banks" – except now this requires exponentially more looting.
It is now crystal-clear when our governments will be finished "fixing the banks", at which point these bankrupt shells and our insolvent economies will be allowed to default on their gigantic debts: after every last penny of wealth belonging to the Little People has been cleaned out of the Western financial system.
http://bullionbullscanada.com/canadian- … for-canada
Statistics: Posted by yoda — Wed Apr 10, 2013 12:51 pm
---
View full post on
opinions.caduceusx.com
Canada reels as two of its own linked to Algeria attack
Canadian news channel CBC has disclosed the identities of two Canadians belonging to the group of Islamist militants killed in the attack on an Algerian gas refinery earlier this year.
By Mehdi Chebil (text)
The survivors of an attack on Algeria's In Amenas gas refinery earlier this year have not forgotten the hostage taker who was unlike the others.
Blond, blue-eyed, and speaking perfect English, the Islamist militant was one of the leaders in the attack that took place on January 16 that resulted in the deaths of 38 hostages and 29 assailants.
The identity of the "blond jihadist" was disclosed by Canadian public television channel CBC, which located him in the peaceful city of London, Ontario.
His name is Xristos Katsiroubas, a 24 year-old from a Greek Orthodox family, who converted to Islam while in high school.
From 'friendly and tolerant' to detached
While at London South Secondary School, Katsiroubas became friends with Ali Medlej, another Canadian jihadist killed in the attack.
The report broadcast by CBC comes in the wake of declarations by Canadian police last month that two Canadians were indeed among the militants killed in the bomb blast at the Algerian gas refinery.
The photo of Katsiroubas, taken from a high school yearbook, is now being flashed across TV screens all over Canada, provoking shock and dismay among residents of the comfortable London area.
Those who knew the young man remember him as "friendly and tolerant", though he is said to have changed dramatically after dropping out of high school in 2007 and travelling around working odd jobs in Western Canada.
A former friend recalled Katsiroubas's full beard and detached attitude upon his return to London.
"It was really hard to relate to him at that point. He wasn't the same. He had other interests — kept saying let's go to the mosque," the friend, who wished to remain anonymous, told CBC.
Questions about Canadian intelligence agency
The CBC journalists' investigation has also raised questions about the role of Canada's intelligence service, known as the CSIS, which had the two young men on their radar as of 2007 and had questioned their families and friends.
Canadian authorities then presumably lost track of Katsiroubas and Medlej – or stopped their surveillance operations – and their departure abroad went unnoticed.
CSIS agents resumed questioning the families and friends of the two Canadian jihadists two months after the attack on In Amenas, without explaining why or indicating that they were dead.
The Canadian intelligence agency refused to comment when contacted by CBC News.
Meanwhile, CBC sources are investigating two other former students from the same high school, who allegedly left Canada at the same time as Katsiroubas and Medlej. It remains unknown whether the two presumed jihadists participated in the attack on In Amenas, and whether they are still alive.
http://www.france24.com/en/20130402-can … ack-amenas
Statistics: Posted by yoda — Tue Apr 02, 2013 9:22 am
---
View full post on
opinions.caduceusx.com