We came across a really cool web application over at the Economist: The Global Debt Clock, which visualizes the level of publicly-held debt for nations around the world. The map below shows how much all the governments of the world collectively owe entities other than themselves, according to each government's public-held debt per capita. As a bonus, we directly compared the United States and Greece in the tables on the right:
We were surprised to find that each nation's public debt per person was nearly identical, with the U.S. at $36,088 per person and Greece at $36,722 per person. Unfortunately for the failing Greece, its public debt-to-GDP ratio is more than double the same ratio for the U.S.
But that only considers "publicly-held" debt. In reality, the amount of the U.S.' total public debt is understated because it excludes the money the U.S. government has "borrowed" from Social Security. Adding that debt back in vaults the U.S.' total public debt outstanding to GDP ratio past 103%.
View full post on MyGovCost | Government Cost Calculator
When the financial clock strikes zero – Half of Americans pass away with nearly zero wealth. The middle class has contracted by ten percent in the last 40 years.
Posted by mybudget360 in banks, debt, economy, government, middle class, recession, wall street
A recent study demonstrates the precarious financial position many Americans find their lives in. The National Bureau of Economic Research found that nearly half of Americans pass away penniless. The exact figures were sobering stating that many of these Americans end up with no financial assets including home wealth and typically rely heavily on Social Security. This study points out a couple of important items regarding the state of the economy for many families. Many simply cannot save and end up relying on external funding. The system is witnessing heavy strain on these sources at a time when government spending is off the charts for bailouts and other targeted spending. Yet the typical American is still ending up in a financially precarious state. In the last four decades the middle class has contracted by ten percent. What does it say about the economy when half of the inhabitants of the wealthiest country pass away with almost no wealth?
The shrinking middle class
It is troubling to see that the middle class has contracted hand and hand with the reshaping of our FIRE driven economy and dismantling of the manufacturing sector: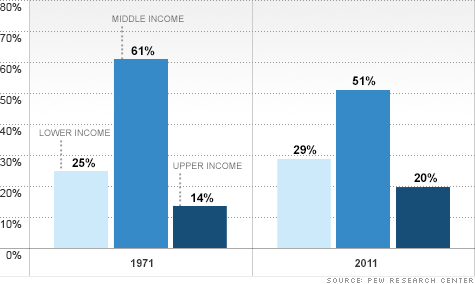 Yet the upper-income group also increased during this time and income inequality is at its highest level ever. This is another statistic that demonstrates the growing disparity in the low wage capitalism economy that is emerging. The fact that 46 million Americans are on food stamps is startling. So the data on the study is fascinating showing that half of the country will reach the end of their lives with little to their name:
"(NBER) We find that a substantial fraction of persons die with virtually no financial assets – 46.1 percent with less than $10,000 – and many of these households also have no housing wealth and rely almost entirely on Social Security benefits for support."
The heavy reliance on Social Security is telling. As our national debt reaches nearly $16 trillion the costs for items like Medicare and Social Security are set to soar. Keep in mind this is coming at a time when young Americans, those that are largely paying into the system to keep funds flowing, are much less affluent than their parents.
Low wage and temp work
The number of Americans in low wage jobs is increasingly high. We are seeing that the days of any sort of job security are out the window. Many are now contending in a fast paced economy where little protection is offered to frontline workers while the select few with big wallets can protect their wealth via political bailouts.
The notion of the Horatio Alger story is largely a giant dream, sort of like hitting the lottery. Most Americans think that a little bit of hard work and sweat will make you into a millionaire. A recent study shows some data on this mobility in our country:
"(Pew Research) Americans raised at the top and bottom of the income ladder are likely to remain there themselves as adults. Forty-three percent of those who start in the bottom are stuck there as adults, and 70 percent remain below the middle quintile. Only 4 percent of adults raised in the bottom make it all the way to the top, showing that the "rags-to-riches" story is more often found in Hollywood than in reality."
This tells you that many will continue to rely on things like Social Security once they reach retirement and this number is not going down: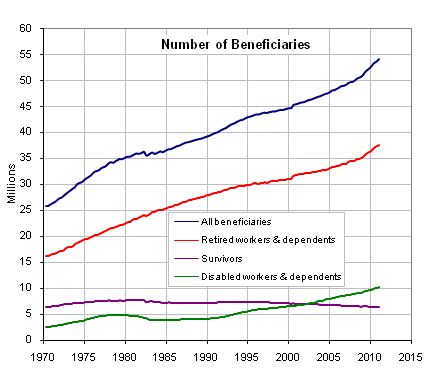 The economy is splitting up into two clear fields. Those that are in the growing smaller middle class and lower income class and those that are pulling away. Half of Americans will end their days penniless so young Americans in many cases need not worry about an inheritance.
http://www.mybudget360.com/financial-cl … #more-4254
Statistics: Posted by yoda — Sat Sep 01, 2012 10:24 am
---
View full post on
opinions.caduceusx.com
WHEN
Posted on 28th June 2012 by Administrator in Economy |Politics |Social Issues
SGT Report, SHTFplan
Timing is everything. I predicted the housing market collapse. Of course I started predicting it in 2004, so it took three years before I was proved right. I also believe we are in part 2 of the Greater Depression, but very few agree with me so far. I'm pretty sure I'll be proven right, but I don't know when. The Federal Reserve and the central bankers around the world, along with their puppet politicians have pulled out all the stops to keep this ponzi scheme going. I think they are growing desperate. A major financial crisis spurred by the collapse of one or more major banks in the Fall seems quite possible to me. This time we will need to take to the streets to keep TPTB from screwing us again to save bankers.
Watching the Clock: Will a Total Economic Collapse Occur in September-October?
SGT June 28th, 2012 SGT Report
This report has been generously contributed by SGT Report.
People like to ask about dates. "When do you think the collapse will happen?" they ask. What are your thoughts on the Mayan calendar? How 'bout December 21st, 2012?
Most of us informed and awake folks aren't interested in trying to predict specific dates. That's an art best left to Nostradamus. That said, highly respected truth tellers James Turk and John Williams have both tied dates to predictions. In an interview with James Turk he told me that he thinks we will see $400 silver and $8,000 gold some time between 2013-2015. And John Williams firmly believes the die has been cast for hyperinflation in the United States, likely beginning in 2014.
Over the past 48 hours we've stumbled across three separate pieces of information, all predicting essentially the exact same thing regarding a fall 2012 economic collapse. Serendipity or coincidence, it's information I want to pass on. As always, discussion is welcomed below.
The first warning is from a St. Louis based police officer who called into the Alex Jones radio show on Sunday, June 24th. The second warning comes our way via the Silver Doctors. And the third came today from unflappable Director of UBS Floor Operations Art Cashin. All three warnings are presented here for your benefit and consideration:
The first warning came our way via the Sunday broadcast of the Alex Jones radio show. Jones announced that he only wanted to take calls from members of the military or police. A man identifying himself as a police officer named 'Jim' called in to report some startling information.
"We have been told that in October we need to be prepared for an event that will require us to use air and ground support, in conjunction with the military here."
During the call Jim comes across as passionate, sincere and very shaken by the information he tries to share. After the commercial break, Jim gets choked up as he tries to convey his appreciation for what Alex Jones has tried to do in terms of waking people up in the effort to save the Republic from the clutches of the forces seeking to destroy it. Now, nearly in tears, Jim concludes by saying "This country's dead Alex. It's gone" before unexpectedly hanging up.
Here's the entire call including the head of the show with the date of the broadcast for posterity's sake. I edited out the commercial break, and posted this call on my backup You Tube channel SGTreport.
Warning 2 from Silver Doctors, on Monday:
LEAP/2020 has issued a RED ALERT for the Western banking system, stating that Europe's hour of payment has arrived, and compares the next two months to the Israelites circling Jericho for 7 days prior to blasting the trumpets. LEAP/2020?s red alert states the Western banking system's trumpet blast will occur in September or October.
The seven blasts of the trumpets of Jericho marking the September October 2012 period will cause the "Dollar Wall's" last sections and the walls which have protected the world as we know it since 1945 to collapse. The shock of the autumn 2008 will seem like a small summer storm compared to what will affect planet in several months.
The third warning comes by way of Art Cashin and Zero Hedge on Tuesday morning:
While Europe is dominating headlines this week, UBS' Art Cashin suggests "mark your calendar and cross your fingers" as he notes the disproportionate prevalence of events that occur in September. Focusing on The Economist's Greg Ip's recent post on a possible seasonal pattern in banking crises, via this recent Reinhart & Rogoff extension paper by Laeven and Valencia, he notes: "The frequency with which the world goes to hell in September seems hardly random." Unfortunately the authors provide no explanation for this beyond observing, "An interesting pattern emerges: banking crises tend to start in the second half of the year, with large September and December effects."
No one can possibly know exactly when the death of the Western fiat banking system will occur. We just know that it will collapse – it cannot be stopped. And increasingly it looks like it will happen sooner rather than later.
This is not fear porn. It's the reality of the dire times we now find ourselves in. Take heed, and prepare the best you can.
We are all in this mess together.
http://www.theburningplatform.com/?p=36610
Statistics: Posted by yoda — Fri Jun 29, 2012 12:26 am
---
View full post on
opinions.caduceusx.com
The debt clock is a ticking time bomb. If you watch too long it makes your eyes go wacky and your stomach lurch. Indeed, the rapidly increasing totals of a debt clock is a proof that the government is having a hard time getting a grasp of the budget. Many money experts are wondering if how long the debt clock can keep from exploding especially if the cost of borrowed funds starts to aggrandize because even payday loans are not enough to repay the huge amount.
Indeed, the debt clock is a concern of every citizen. Now, what must be done? The government needs to act quickly to correct this financial situation and the citizens must partake in every endeavor of the State. I know that this is not an easy task but I believe that if support is given to the government then economic recovery will be close at hand.
Statistics: Posted by selenaparker — Wed Jan 25, 2012 3:29 am
---
View full post on
opinions.caduceusx.com