By Roxana Hegeman
11 May 2013
(AP) – The winter wheat crop is expected to be far smaller this season compared to last, particularly for hard red varieties used in bread, the U.S. Department of Agriculture reported Friday.
In the first government projection on the harvest's anticipated size, the National Agricultural Statistics Service estimated winter wheat production will be down 10 percent to 1.49 billion bushels, due to fewer acres — 32.7 million acres, some 6 percent fewer acres than a year ago — and a 1.8-bushel decrease in average yields, to 45.4 bushels per acre.
The government's forecast comes amid a season marked by drought and late spring freezes in the Midwest's major wheat growing areas, particularly in Kansas — the nation's biggest wheat-producing state. […]
Nationwide production of hard red winter wheat, typically used to make bread, is expected to decline 23 percent to 768 million bushels. But that'll be offset somewhat by soft red winter wheat types — favored for cookies and pastries — which are projected to be up 19 percent at 501 million bushels.
One bushel of wheat yields about 42 pounds of flour — enough to make 73 loaves of bread.
Far western Kansas is considered a disaster area, and farmers told tour participants earlier this month that crop insurance agents have already begun writing off acres there. Wheat tour participants examined 570 fields, finding that in south-central Kansas, which got late winter snowstorms and heavy spring rains, the wheat looks good and production there is expected to offset a bit the losses elsewhere in the state. [more]
http://www.desdemonadespair.net/2013/05 … wheat.html
Statistics: Posted by yoda — Wed May 15, 2013 1:45 pm
---
View full post on
opinions.caduceusx.com
Cold leaves EU crop development one month behind
Europe's cold start to spring, marked by one of the chilliest Marchs on record, has caused a "very strong delay" to the development of winter grains, of more than one month, besides slowing spring sowing, officials said.
However, the staff at the European Commission's Mars agricultural meteorology division declined to cut yield forecasts, saying it was too early yet to assume below-average harvest results.
The Mars division said that cold March temperatures, up to 6 degrees Celsius below average in Germany and Poland, had so far cost some 100-150 growing degree days (GDD) – a measure of crop development conditions drawn from temperatures, and with some 1,600 needed for wheat to reach maturity.
"A significant delay in winter crop development and spring sowing was observed in most of Europe," the division said in a monthly report.
"In western Europe, the late and persistent cold spell of March led to a delayed growth for winter and spring crops by one month or more."
'Significant delay'
Delays were particularly evident in the UK, the EU's third-ranked wheat producing country, where "the cold month of March has generated little accumulated temperatures", although warmer conditions over the last 10 days or so have allowed crops to grow "at a rapid rate".
The poor prospects for the UK crop, potentially on course for a 30-year low, were behind a downgrade by analysis group Strategie Grains last week to its forecast for the EU wheat harvest.
However, the Mars unit also said that crop development was "clearly delayed" in Germany, the second-ranked wheat producer, and lagging by up to a month in parts of top-ranked France.
"Soft wheat and winter barley show a significant delay in their development, as a consequence of the cold temperatures registered in northern France," the briefing said.
'Delay in spring sowing'
The report also highlighted the threat to crops in Poland, where cold had slowed development of winter crops "by more than 20 days", leaving them at risk of "reduced yields" from further delays.
"Furthermore, there is a delay in spring sowing," which "will shorten tillering and stem elongation stages", and potentially lower yield by reducing the number of kernels per stem.
"However, the proper choice of seed variety and an increased sowing density might compensate the late sowing from late spring sowings," Mars added.
Indeed, the unit proved reluctant overall to lower its yield forecasts, saying that while the prospect of crops realising their potential had been "somewhat compromised, it is still too early to revise forecasts.
"Weather conditions in the forthcoming weeks will be critical to evaluating more accurately yield potentials."
'Move in the right direction'
In fact, the comments come amid an improvement in weather, with a warm-up in temperatures to around average levels in many areas.
"Europe continues to see an improvement on the weather front," Jaime Nolan Miralles at broker FCStone said, noting also data on Friday from FranceAgriMer showing that 69% of soft wheat had headed as of April 15, up 32 points week on week, if behind the 99% a year before.
For barley, the proportion headed rose by 39 points to 76%, compared with 100% usually by now.
"Still behind last year, but a move in the right direction," he said.
http://www.agrimoney.com/news/cold-leav … -5752.html
Statistics: Posted by yoda — Mon Apr 22, 2013 9:18 am
---
View full post on
opinions.caduceusx.com
The Fed's Fear Scale: Holdings Of Cold Hard Cash At A Record
MONDAY, APRIL 8, 2013 AT 8:53PM
In 1969, notes greater than $100, including the cool $10,000 note that would still pay for a lot of things, were retired due to "declining demand." Prematurely, it turns out. Because demand for cold hard cash, despite plummeting use of it for transactions, has surged. Reason: fear.
Modern payment technologies have been taking over transactions. Since 2000, transaction volume via debit cards skyrocketed 18.4% per year, electronic bank transfers 13.5% per year, and credit cards 3.7% per year, reported San Francisco Fed President and CEO John Williams in "Cash Is Dead! Long Live Cash!" Conversely, use of checks dropped by 5.8% per year.
Cash does have advantages: it's reliable even during blackouts or after earthquakes when nothing works anymore; and it's anonymous so that companies can't track you when you by pita bread and hummus, information that years later might lead a promotion-hungry genius at some counter-terrorism office to send drones after you. Because cash is murky, the San Francisco Fed could only estimate transaction volume. And it's down sharply.
The other reason to hang on to cash is as a store of value, albeit a lousy one as interest income is zero…. Oops, same as most bank accounts! As the Cyprus bail-in debacle has demonstrated, handing your cash over to a bank is nothing but a loan, and when the bank craters, the uninsured deposit, and perhaps even the insured deposit, might evaporate or get a crew cut.
So, in these crazy times of ours, when central banks around the world impose zero-interest-rate policies that force people to lend their money interest-free to banks that are shaky, suddenly cold hard cash that you can move out of harm's way can be a good option.
And people have figured it out. Since 2007, when the financial crisis started, through 2012, the value of US dollars in circulation jumped 42% to $1.1 trillion, or $3,500 per person in the US. The annual growth rate over those five years of 7.25% is over three times the growth rate of the US economy. Most of it in $100 bills. Over the six months after the Lehman moment in September 2008, $100 bills in circulation jumped by $58 billion, or 10%.
So in 2009, when the Fed tried to bamboozle people into thinking that it solved the financial crisis, or when the Obama administration tried to point at some lonely green shoots, and later when they began hyping the decline in the unemployment rate, and when the Fed bandied about stress-test results to trick people into believing that the TBTF banks were in excellent shape, that their inscrutable balance sheets were sound, and that depositors' money would be safe and secure… with all these wondrous accomplishments, why did people not return these stacks of $100 bills to the banks?
Cash in circulation does decline, periodically. A small dip occurs after the holiday shopping season at the end of the year. And a much larger dip should have occurred when the Fed and the White House gave the all-clear signal. Instead, the curve of cash holdings steepened. Not exactly a vote of confidence.
There was another culprit. In the spring of 2010, as the Eurozone debt crisis got uglier, holdings of dollars rose sharply. "Economic and political turmoil and uncertainty about the future sent Europeans scrambling to convert some of their euros to dollars," Williams explains. During that time, the share of dollars held overseas rose from an estimated 56% before the debt-crisis fiasco to nearly 66% by the end of 2012.
Last fall, Eurocrats and Eurozone politicians declared with fake conviction in their voices that they'd vanquished the debt crisis with their bold and wise actions, that all was hunky-dory. People didn't get it; the curve of cash holdings steepened yet again—because, as Williams writes, "cash holdings tend to rise during periods of political and economic turbulence."
Terms that defined the Eurozone last fall despite the incessant soothing voices wafting down from the top. Terms that found their meaning in March when the tiny island of Cyprus turned into financial mayhem. And holdings of cold hard cash will surely have spiked again.
Zero-interest-rate-policies expose savers to the risks of lending money to the banks with zero return on their investment, and only an iffy guarantee of their investment. In this arrangement, savers pay for inflation, banks benefit from it. An insidious situation. So in trouble spots around the world, people, motivated by fear and lacking incentives to do otherwise, hoard US dollars as a relatively safe asset, as silly as that might seem, given the Fed's effort to debase them. Until that curve of dollar holdings inverts, nothing is solved. Meanwhile, those old $10,000 notes would come in handy.
Since 2008, 2.2 million jobs have been lost in the US among the 25-54 year olds, even as their numbers grew by over 3 million. Young people who thought they'd scrimp by until they "moved up" now expect to never have a decent life and are trying to adapt to their new reality. Since 2008, America seems to have failed many Americans.
http://www.testosteronepit.com/home/201 … ecord.html
Statistics: Posted by yoda — Tue Apr 09, 2013 12:14 am
---
View full post on
opinions.caduceusx.com
Crops suffer in spring cold snap
The unseasonably cold spring is having an impact on Britain's wheat and vegetable crops.
By Richard Gray, Science Correspondent7:32AM BST 06 Apr 2013
For signs of just how exceptionally cold this spring has been, look to the fields of rural Britain.
Farmers are reporting stunted crops and ground that is still to hard to drill at a time when wheat is normally growing vigorously, oil seed rape is preparing to bloom and foods such as peas and beans are being planted to ensure they are ready for harvest.
Temperatures over the past week fell to among the coldest seen in April for 96 years. Normally Britain enjoys an average temperature of 12 degrees C by the start of April, but even maximum temperatures struggled to rise above 1 degree C in some parts of the south east.
While snow flurries have helped to remind us that winter has yet to release its icy grip on Britain, they are not unusual at this time of year.
It has been the extreme cold that has surprised meteorologists. On Tuesday temperatures fell to -11.2 degrees C in Braemar, the joint coldest weather seen anywhere in the UK in April for 96 year.
Two other years have brought similarly cold conditions – 1961 and 1978 – while the first time it was older was in 1917 when temperatures in Cumbria reached -15 degrees C.
Since the start of the year, forecasters have seen a weakening of the jet stream, the current of air that flows high in the atmosphere around the North Pole. This has been pushed further south than normal, carrying the normal milder spring weather seen here in Britain to Spain and the Mediterranean.
Without this fast flowing barrier of air to hem them in, cold blasts of air have swept in from eastern and north eastern Europe, bringing the prolonged wintry conditions.
Official statistics from the Met Office released during the week showed that March was the joint second coldest on record. The country received just three quarters of its usual sunshine levels and crop reports are already showing signs of the toll this has taken.
Farmers say that growth of important crops such as wheat and oil seed rape have been severely stunted while the frozen ground has meant just 15 per cent of the planned spring cereal crops have been planted.
Normally they would have hoped to have planted at least half by the end of March.
The poor crop growth could mean that Britain will need to import millions of tonnes of wheat and other cereals this year.
Keith Norman, technical director from Velcourt, which offers advise on farm management, said: "Oil Seed rape and winter wheat are suffering tremendously from the weather conditions.
"I've been visiting fields from Wiltshire up to East Anglia and I've never seen crops so backward – which is of huge concern.
"We are probably facing a harvest in 2013 that will the worst in most people's living memory."
Livestock farmers have also suffered heavy losses at the start of the lambing season with 20,000 more sheep perishing this year compared to last year. Around 5,000 more cattle have also died this spring compared to in 2012.
http://www.telegraph.co.uk/earth/agricu … -snap.html
Statistics: Posted by yoda — Sat Apr 06, 2013 2:24 am
---
View full post on
opinions.caduceusx.com
Government representatives from around the world gathered last week in Dubai to chart the future course of the Internet. They voted to kill it as we now know it.
China, Russia, much of the Middle East, and much of Africa voted to reconfigure the Net in such a way that ends the Internet as a global and free entity. The countries which voted in the affirmative with regard to the recent ITU resolution prefer regional nets which will be highly regulated and if need be, cordoned off from the rest of the world. Goodbye Twitter in Iran. Facebook in Egypt? Better start posting now. Very quietly a new Iron Curtain of Information appears to have been erected—with UN sanction.
(From The Wall Street Journal)

The treaty document extends control over Internet companies, not just telecoms. It declares: "All governments should have an equal role and responsibility for international Internet governance." This is a complete reversal of the privately managed Internet. Authoritarian governments will invoke U.N. authority to take control over access to the Internet, making it harder for their citizens to get around national firewalls. They now have the U.N.'s blessing to censor, monitor traffic, and prosecute troublemakers.
The post Crony States, China and Russia, Draw the Lines of a "Digital Cold War" in Dubai appeared first on AgainstCronyCapitalism.org.
View full post on AgainstCronyCapitalism.org
Gold & The Cold War
Darryl Robert Schoon
Posted Nov 15, 2012
There are now two great nations in the world, which starting from different points, seem to be advancing toward the same goal: the Russians and the Anglo-Americans… Each seems called by some secret design of Providence one day to hold in its hands the destinies of half the world. -Democracy in America, Alexis de Toqueville, 1835
De Toqueville's amazing prediction in 1835 about the destinies of Russia and the Anglo-Americans was every bit the equal to those made by his illustrious French predecessor, Michel de Nostradame.
In the 1830s, Russia was a czarist empire and the US had fought its war of independence from England only 60 years before. The idea of Russia and the Anglo-Americans ..starting from different points advancing toward the same goal.. called by some secret design of Providence..to [each] hold .. the destinies of half the world was an extraordinary prediction, especially in 1835.
Nonetheless, 110 years later, just as de Toqueville predicted, Russia and the Anglo-Americans each advancing towards the same goal would become enemies in what would become known as the Cold War, an extraordinarily costly decades-long battle for economic hegemony and world dominion in the second half of the 20th century.
In 1835, deToqueville called the two great nations, Russia and the Anglo-Americans. DeToqueville knew full well the difference between England and America. Nonetheless, de Toqueville made no mistake when he described the future Anglo-American alliance as one nation.
It was a prescient prediction of a coming, close relationship between England and the US, a relationship that would extend British geopolitical influence but would bankrupt America in the process and cost it its once great heritage as a beacon of freedom and liberty in the world.
EMPIRE, EMPIRE AND MORE EMPIRE
When de Toqueville made his prediction in 1835, both Russia and England were already empires. By the 18th century, the Tsardom of Russia had become the huge Russian Empire, stretching from the Polish-Lithuanian Commonwealth eastward to the Pacific Ocean. Read here.
The British empire, however, would become far larger and ultimately cover almost a quarter of the world's land area. By 1922 it was estimated that England ruled 20% of the world's population and was the largest empire in history. Read here.
The US, unlike Russia and England, had no interest in empire. Indeed, the democratic ideals of America were antithetically opposed to the imposition of power over others, let alone nations.
I have never been able to conceive how any rational being could propose happiness to himself from the exercise of power over others. -Thomas Jefferson
America's participation in the Anglo-American pursuit of empire one century later would have catastrophic results for America. Cut loose from its moral anchor as a beacon of freedom, America would gain wealth and power but would lose its soul in the process; and, in the end, America would also lose much of its wealth and power as well.
Although, in the end, America would deny its democratic past to pursue the fruits of empire, it would not escape the costs, both financial and moral, in so doing:
Every ambitious would-be empire clarions it abroad that she is conquering the world to bring it peace, security and freedom, and is sacrificing her sons only for the most noble and humanitarian purposes.
That is a lie, and it is an ancient lie, yet generations still rise and believe it! If America ever does seek Empire, and most nations do, then planned reforms in our domestic life will be abandoned, States Rights will be abolished in order to impose a centralized government upon us for the purpose of internal repudiation of freedom, and adventures abroad.
The American Dream will then die – on battlefields all over the world – and a nation conceived in liberty will destroy liberty for Americans and impose tyranny on subject nations. -George S. Boutwell, (1818-1905), Secretary of the Treasury under President Ulysses S. Grant, Governor of Massachusetts, Senator and Representative from Massachusetts.
THE ANGLO-AMERICA ALLIANCE
In 1945, at the beginning of what is now known as the Cold War, England and America had become far more alike than America's founding fathers could have foreseen; the central bank being the most egregious example.
Of all the English institutions that Founding Father Thomas Jefferson opposed, it was the central bank. Designed by bankers to transfer the profits of societal productivity, commerce and ingenuity to bankers and financiers via the mechanism of debt, the central bank was at the center of British power and wealth.
England's central bank allowed England to wage war on credit, an advantage not shared by others; and as along as England's armies and navies were victorious, the bankers' debts were repaid, their wealth increased and England's empire expanded.
England's central bank allowed England to literally create money out of thin air. This monetary alchemy was possible as long as England (1) maintained confidence in paper money, (2) maintained the balance between credit and debt, and (3) kept its economy expanding.
In central bank debt-based economies, economic activity needs to expand or debt will overwhelm productive capacity; and when the growth of England's empire began to slow in the late 1800s, England's bankers realized they would soon need another base from which to continue their financial franchise.
America was ideal for England's purposes; and despite Jefferson's numerous warnings about central banks, in 1913 a consortium of private European bankers, US financiers and industrialists established the Federal Reserve Bank in the US, modeled after England's central bank, the very institution that Thomas Jefferson so strongly opposed.
It was the establishment of the Federal Reserve Bank in America that allowed England to regain control of its former colony, the United States. Establishing a central bank was the first and only step necessary; for with a central bank established in America, private bankers would henceforth control America's money supply and, ultimately, its political future.
Give me control of a nation's money and I care not who makes the laws.
-Mayer Amschel Rothschild (1744-1812)
RUSSIA, THE ANGLO-AMERICANS AND THE COLD WAR
In the 20th century, as England's imperial power weakened, England's grip on the US grew tighter; and by 1945, the US was more than eager to betray its democratic heritage in order to join England in the pursuit of world power.
After WWII, what Alexis de Toqueville had predicted in 1835 came true. Russia and the Anglo-Americans would compete for world dominion in what would become known as the Cold War.
The Cold War lasted from 1945 to 1990 when the USSR collapsed. It would appear the Anglo-Americans won and Russia lost. But, in truth, both sides lost; for the five-decade reign of Anglo-American dominance would cost the England and America their foundation of economic hegemony, i.e. the ability of their debt-based economies to expand ad infinitum.
The pursuit of global dominion would also cost America its vast gold reserves, once the largest monetary reserves in history. Maintaining a world-wide military force forced the US to end the gold-convertibility of the US dollar in 1971; and the removal of gold from the world monetary system allowed credit and monetary aggregates to grow at heretofore unprecedented rates.
The unrestrained growth of money and credit after 1971 led to the sequential growth and collapse of the three largest speculative bubbles in history: (1) the Japanese Nikkei in 1990, (2) the US dot.com bubble in 2000, and (3) the 25-year global credit bubble in 2008.
The subsequent inability of the Anglo-Americans to revive the credit and debt machine that had initially allowed it to achieve suzerainty over the East has now leveled the playing field between the East and the West; and, in this new playing field, the East and West are pursuing radically different strategies.
With its economic foundation threatened as never before, the West is doing everything in its considerable power to strengthen its now faltering economic foundation; and, gold, once viewed as necessary to maintain the stability of its paper money, is now viewed by Western bankers as a threat.
As confidence in the West's confidence game of credit and debt wanes, investors are increasingly seeking the safety of gold. They have done so in every monetary and financial crisis in history and it is no less true today.
However, transferring wealth from paper assets, e.g. stocks and bonds, to gold threatens the leveraged asset base so necessary to the credit and debt ponzi-scheme that comprises the foundation of modern economies, i.e. debt-based capitalism.
It is perhaps appropriate that the two former communist antagonists to capitalist expansion, China and Russia, are now playing the exact opposite hand. As the latest iteration of 'great game' is being played out on the geopolitical stage, China and Russia are going for the gold.
THE EAST GOES FOR THE GOLD
Since 2007, Russia has more than doubled its official gold reserves, the largest increase in reserves worldwide; and every month Russia buys about a half a billion dollars more. In 2012, China replaced India as the world's top importer of gold and for the past five years China has led the world in gold mining production.
No gold mined in either China or Russia is sold on the open market. All gold mined in China and Russia stays in that country. Clearly, the East has a different strategy than the West and gold is a critical part of that strategy.
The West, however, is primarily concerned with protecting the economic system, i.e. capitalism, which allowed it to conquer and exploit much of the world for almost three hundred years. Such leverage is rarely come by and the fact that it may be ending has only redoubled Western efforts to save it.
The East has a much more sanguine outlook on the possible demise of capitalism. Capitalism is seen as a Western contrivance. Whatever replaces it will most likely involve gold and they're getting ready.
My current youtube video, Exchange is Inevitable, Like Death, is a discussion with fellow author and long-time coin dealer, Ralph T. Foster. Most don't realize the dangers of our times. They will. Unfortunately for most, it will be too late when they do.
Buy gold, buy silver, have faith.
###
http://www.321gold.com/editorials/schoo … 11512.html
Statistics: Posted by yoda — Thu Nov 15, 2012 9:12 pm
---
View full post on
opinions.caduceusx.com
8th June 2012 by Administrator in Economy |Politics |Social Issues
Dr. Housingbubble
4 emerging trends in the housing market
Submitted by drhousingbubble on 06/08/2012 12:12 -0400
The market seemed to be stunned that pending home sales fell in spite of mortgage rates being so low that they are essentially tracking inflation. Yet the narrow focus on financial liquidity still continues to miss the slow degradation of the American household balance sheet. I always found this fascinating even during the boom how rarely household incomes were mentioned in the context of purchasing a home. People at networking events or cocktail parties were quick to talk about their "$700,000" or "$1 million" home purchase yet felt that it was taboo to discuss actual income growth. In many ways buying a home with a giant mortgage became a socially acceptable way to flaunt your notion of wealth instead of pulling out your electronic pay stub. So this fall in pending home sales is merely a reflection of the shadow inventory leaking out into the market but also of weak household income growth. The Case Shiller Index made a new post bubble low in synchronization with the new mortgage rate low. What is going on with the housing market?
Case Shiller Index
The Case Shiller Index showed a new post bubble low but overall with year-over-year changes we do appear to be reaching a nationwide bottom. Even the creators of the index discussed that it trails the market by a few months and recent buying does suggest that overall we may be reaching a bottom. You can see this in the index: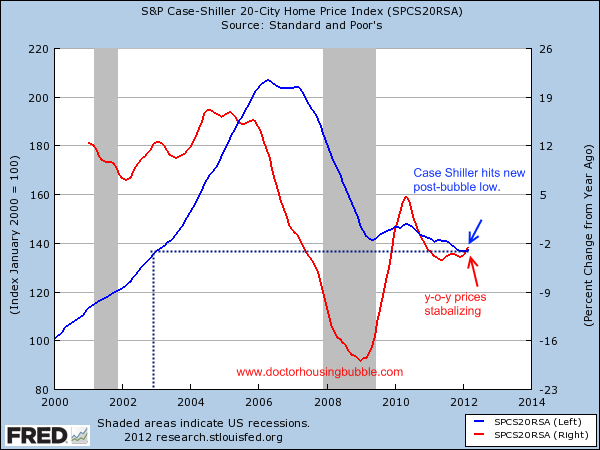 The year-over-year drops are starting to stabilize and will likely turn up. Yet this is likely temporary unless wages go up. But as many are noting, a bottom does not mean home prices will rise or even outpace inflation. The push of mortgage rates lower is occurring because the credit markets need more and more dramatic efforts to keep the massive debt game going. So a lower mortgage rate almost becomes like a pay boost for many homeowners and those massively in debt. Yet with rates straddling the lower bound this fuel is being quickly wasted while the Federal Reserve balance sheet still is at peak levels with nearly $3 trillion in "assets" that we have little idea about.
New home sales
The leaking out of shadow inventory also has other unintended consequences. Since we have years of inventory to work through, there is little need for construction or the creation of new homes. In fact, the low range and the high range of new home sales continues to be crushed: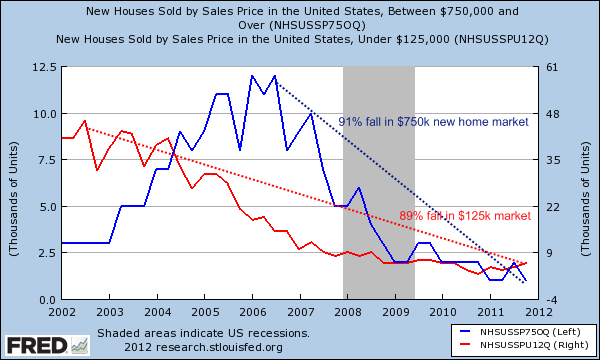 More new homes priced above $750,000 were sold in 2002 than in 2012 and that also applies to homes under the $125,000 range. Both of these markets are down by roughly 90 percent from their peaks and are both near their nadir. You notice that tiny little uptick in the red line? That means whatever new homes sales are occurring are coming from the sub-$125,000 market. Builders that are low-cost are seeing a mini-boost but definitely not in the more expensive segment of new home sales.
Regional sales differences
I find it interesting that the big existing sales jump has occurred in the Northeast and Midwest. The South and West which had the biggest bubbles are seeing more moderate home sales increases. Sure we hear about ravaging hoards of investors swooning in on Las Vegas and Arizona but overall, it doesn't seem like a massive jump. What do these investors have in mind? The rental market is currently flooded and the flipping action will slow down since the underlying economy is still hurting.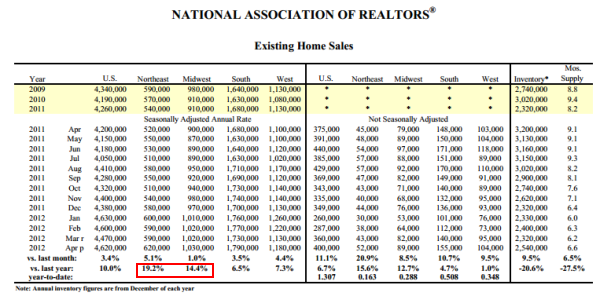 The tight range of sales
The recent tick up in sales which is now losing steam came largely from the ridiculously low mortgage rate that is absolutely artificial. Even in California all the rhetoric about buying a home when put into a bigger picture context shows a very tight sales range: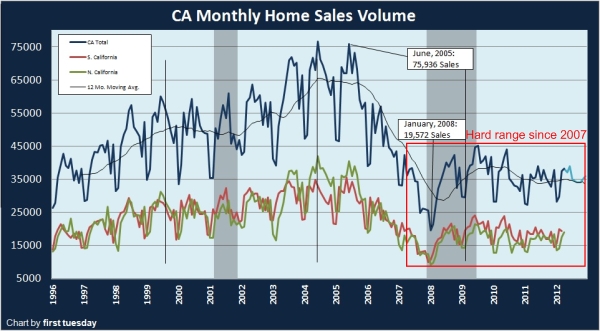 Where is the massive jump in home sales courtesy to 3% mortgage rates? Could it be that our financially broke state is likely going to be cutting and raising taxes soon? After all, if things were so fantastic you would expect tax revenues to be up but sadly they are not. Remember all the tax revenues we were going to get from the Facebook IPO? Try seeing how well that stock is doing plus you have one of their top winners renouncing their citizenship conveniently to help with taxes. Like Europe is quickly realizing, extending loans into the future is like playing a big game of kick the can. I find it amusing how easily some analysts just quickly accept the fact that the shadow inventory is somehow a normal occurrence instead of a giant pseudo nationalization of the housing market. They talk about the "market" and mortgage rates as if they are being set by the market instead of glorious manipulation to benefit financial institutions. In California, the underemployment is still above 20 percent and tens of thousands are losing unemployment insurance on a monthly basis and falling off the employment statistics but hey, at least we have low mortgage rates!
http://www.theburningplatform.com/?p=35719
Statistics: Posted by yoda — Fri Jun 08, 2012 1:09 pm
---
View full post on
opinions.caduceusx.com
Dryness cuts hopes for Mexican, S African corn too
Dry weather, blamed for ravaging Argentine corn, has increased pressure too on crops in South Africa and in Mexico, whose imports of the grain look set to set a record more convincingly than had been thought.
US Department of Agriculture foreign staff cut their estimate for the 2011-12 corn harvest in South Africa by more than 400,000 tonnes to 12.07m tonnes, citing "dry weather conditions that persisted during the planting season", so delaying sowings.
For Mexico, the corn harvest estimate was cut to an 11-year low of 18.4m tonnes, 2m tonnes less than the USDA's latest official forecast, which will be upgraded next week in the latest Wasde report on world crop supply and demand.
Mexico's farm ministry lowered its own estimate for 2012 production on Tuesday to 21.8m tonnes, well below the 25m tonnes initially hoped for.
'Mexico is being battered'
"Mexico is being battered by its worst drought in seven decades, which has devastated the rural sector and is expected to continue throughout the year," the USDA's Mexico City bureau said, adding that nearly 70% of the country had been affected.
The "prolonged" drought, "caused by two dry winters and a rainy season with less rainfall than expected", has lifted yield losses in spring-summer corn, and reduced expectations for sowings in the autumn-winter cycle.
In the main producing state of Sinaloa, where frost last year added to farmers' hardships, sowings of autumn-winter corn are expected to drop by 140,000 hectares.
The production shortfall leaves Mexico facing imports up 36% at 10.5m tonnes in 2011-12, some 700,000 tonnes above official USDA forecasts, and well above the current record of 9.56m tonnes set four seasons ago.
Argentine woes
The corn harvest downgrades come as hopes for global production raised by a record Ukrainian harvest have been hurt by weaker expectations for Argentina, the second-ranked exporter, where drought dashed ideas earlier in the season of a bumper 29m-tonne crop.
Some forecasters have pegged the Argentine crop at 17m-18m tonnes, although thanks to recent rains "expectations for the harvest have "now stabilised at 21m-22m tonnes", broker US Commodities said.
Mexico has so far in 2011-12 imported 3.5m tonnes of corn from the US, up 70% year on year, with a further 3m tonnes in orders outstanding.
It has also bought more than 1m tonnes from South Africa, the fifth-ranked exporter, since May, up from 72,000 tonnes in the previous 12 months.
http://www.agrimoney.com/news/dryness-c … -4113.html
Statistics: Posted by yoda — Thu Feb 02, 2012 11:31 am
---
View full post on
opinions.caduceusx.com
Japanese Declare 'Cold Shutdown' Of Crippled Reactors
http://www.npr.org/blogs/thetwo-way/201 … d-reactors
Workers in protective suits and masks wait to enter the emergency operation center at the crippled Fukushima Dai-ichi nuclear power station on Nov. 12, 2011.
Nuclear reactors crippled in Japan's March 11 earthquake and tsunami are now in a "cold shutdown," Prime Minister Yoshihiko Noda announced today.
If that is correct, it's a milestone on the long road toward recovery from the world's worst nuclear crisis since Chernobyl, The Associated Press writes. The earthquake and tsunami, which left more than 15,800 people dead and nearly 3,500 officially classified as missing, devastated the Fukushima Dai-ichi nuclear power plant and for weeks had the world anxiously watching as engineers struggled to avert catastrophe.
A cold shutdown, AP says, "normally means a nuclear reactor's coolant system is at atmospheric pressure and the its reactor core is at a temperature below 212 degrees Fahrenheit (100 degrees Celsius), making it impossible for a chain reaction to take place."
"But many skeptics," The Japan Times reports, "believe the declaration is little more than political grandstanding, given the revised definition of what constitutes cold shutdown, and are concerned about the long-term stability of the critical coolant system. … Reactors 1, 2 and 3 have been damaged and much of the melted fuel is believed to have penetrated through the pressure vessels and fallen to the bottom of the outer containment vessels. Tepco [which operates the plant] has been unable to take direct measurements of the temperatures at the bottoms of the containment vessels."
And regardless, as the BBC reports, "the government says it will take decades to dismantle it completely. The six-reactor Fukushima Daiichi nuclear plant was badly damaged by the 11 March earthquake and tsunami. Blasts occurred at four of the reactors after waves knocked out vital cooling systems."
Statistics: Posted by DIGGER DAN — Mon Dec 19, 2011 1:28 am
---
View full post on
opinions.caduceusx.com