The enemies of these freedoms, as expressed in the First Amendment, have always been at work to narrow and eliminate them.
By Alan Caruba
Monday, May 20, 2013
"Congress shall make no law respecting an establishment of religion, or prohibiting the free exercise thereof; or abridging the freedom of speech, or of the press; or the people peacefully to assemble, and to petition the government for a redress of grievances."
The enemies of these freedoms, as expressed in the First Amendment, have always been at work to narrow and eliminate them.
A recent, egregious example of this was the subject of an article by Hans Bader, a former attorney with the U.S. Department of Education's Office for Civil Rights. In 2003 he joined the staff of the Competitive Enterprise Institute as CEI's Counsel for Special Projects after having service as Senior Counsel at the Center for Individual Rights.
On May 10, he wrote an article, "Federal Title IX Enforcers Effectively Define Dating and Sex Education as 'Sexual Harassment'" based on the views expressed by Greg Lukianoff, president of the Foundation for Individual Rights in Education (FIRE).
As we have seen of late, the federal government has been using the powers of the Internal Revenue Service to harass organizations identifying themselves as "Tea Party" groups, "patriots", and even pro-Israel. The Department of Justice has come under fire for the way it accessed phone records of Associated Press reporters and editors.
The most fundamental fear of the Founders was a central government grown too large and acquiring powers to itself not delineated or prohibited by the Constitution. That document is devoted to limitations on the federal government and the states at the time it was introduced demanded that a Bill of Rights be included before they would ratify it.
It is a precious legacy for all Americans, but it has also been the target for all manner of individuals and groups that want to impose their own interpretation on it and to expand it in ways that actually undermine it.
"In a shocking affront to the United States Constitution," said Lukianoff, "the U.S. Departments of Justice and Education have joined together to mandate that virtually every college and university in the United States establish unconstitutional speech codes that violate the First Amendment and decades of legal precedent."
"In 2011, the Department of Education took a hatchel to due process protection for students accused of sexual misconduct." Now college students have had speech codes imposed on them that are "so broad that virtually every student will regularly violate them," said Lukianoff. In essence, the new codes would define as punishable, any expression of sexual topics that offends any person!
In effect this outlaws any expression of opinion regarding sexual activity to include debates about sexual morality, gay marriage, or a classroom lecture on Vladimir Nabokov's "Lolita." It would outlaw any sexually themed joke that anyone might find offensive for any reason. It would criminalize any request for a date or any flirtation that is not welcomed by the recipient, all defined now as "offenses."
As Lukianoff warns, "There is likely no student on any campus anywhere who is not guilty of at least one of these 'offenses.' Any attempt to enforce this rule evenhandedly and comprehensively will be impossible."
Bader said "No one would believe you if you made this up, but it's now actually happened." The definition is found in a May 9 Title IX Letter of Findings and Resolution Agreement involving the University of Montana" but which now applies to all colleges and universities in America.
Bader notes that what makes this especially troubling is that the Supreme Court has already ruled on this behavior, stating that isolated instances of trivially offensive sexual speech are not illegal and are not to be considered "sexual harassment" in even the broadest possible sense.
Silencing free speech on our nation's campuses is the official policy of the Obama administration. The mandate must be overturned before countless students find themselves expelled from colleges and universities for the flimsiest reasons. It affects what can be taught and discussed on those campuses. It is in direct contempt of the freedom of speech embedded in the First Amendment.
On May 5th in a speech delivered to the graduating class of the Ohio State University, President Obama warned students that "Unfortunately you've grown up hearing voices that incessantly warm of government as nothing more than some separate, sinister entity that's the root of all our problems; some of these same voices are also doing their best to gum up the works. They'll warn that tyranny is always lurking just around the corner. You should reject these voices."
No, you should not reject these voices. Some come from the Tea Party movement. Others come from organizations such as the Competitive Enterprise Institute and the Foundation for Individual Rights, among the many who keep an eye on what appears to be the most corrupt administration to have ever held power in Washington, D.C.
© Alan Caruba, 2013
http://canadafreepress.com/index.php/article/55346
Statistics: Posted by yoda — Tue May 21, 2013 12:14 am
---
View full post on
opinions.caduceusx.com
April 27, 2013
The College Board Trolls for Home-Schoolers
Marianna Trzeciak
The College Board, which already grabs much information about a student's family from the questionnaire which the student must answer in order to take the SAT, is now trolling for homeschooled students to take the Advanced Placement (AP) tests, which are offered on myriad subjects.
Perhaps the AP web page dedicated to homeschoolers is a sign of the times. Perhaps we home-school parents should tell ourselves that we've come a long way, baby.
Or perhaps not.
Parents, beware! Either a homeschooling parent will have taught any given subject with such a different focus that the student will have difficulty in taking the test, or the parent will find herself "teaching to the test" and depriving her child of the balanced information that is one of the hallmarks of a home-school education.
A review of a suggested AP Art History curriculum and accompanying sample test provide a subtle example by which the gentle reader may ease into this shocking discovery. The Art History curriculum is finite, and yet it provides much emphasis on non-Western art — including Islamic art, which is beautiful, but which might not be an appropriate area of focus for the average American homeschooler.
A sample question which deals with Western art asks the student to fill in the end of the following sentence: "Mary Cassatt demonstrated a keen interest in (A) landscapes of Italy, (B) animal paintings, (C) Hudson River scenes, or (D) Japanese prints."
Now, Mary Cassatt focused on the lives of women; she painted gorgeous portraits of mothers and their children. Sometimes there were pets in the pictures — so is the answer B? Cassatt lived for years in France, which is near Italy, so is the answer A? Cassatt came from Pennsylvania, which neighbors New York, so is the answer C? No, the answer is D, because more than halfway through her life, she saw a Japanese art exhibit which moved her to imitate somewhat the techniques used in Japan.
Yes, the inspiration is visible in a number of her works. Yet, by the AP question, Cassatt, an American feminist in the best sense of the word, is reduced to an artistic dilettante.
The AP US Government and Politics web page shows how a student's grade is determined. Five to 15% of the test refers to the "Constitutional Underpinnings" of the U.S. government. For the other 85%-95%, "public opinion" becomes a recurrent theme.
The AP European History test sample appears sophisticated almost to the point of being esoteric. However, one of the more comprehensible questions shares a quotation from Thomas Malthus, an early population control theorist.
A pleasant surprise is a review of the AP English Language and Composition sample exams. Students read short texts and then answer questions regarding the texts. Here is a portion of a quoted essay by social critic Neil Postman: "What Orwell feared were those who would ban books. What Huxley feared was that there would be no reason to ban a book, for there would be no one who wanted to read one." Still, the test might not share the subject and author emphases which a home-school parent might have for her child.
Rather than preparing to take an AP test, taking a community college course for dual high school and college credit might be a more satisfying option for the average home-school student.
Marianna Trzeciak skipped a year of college because of high AP scores, but she does not recommend the AP tests to her own children.
http://www.americanthinker.com/blog/201 … olers.html
Statistics: Posted by yoda — Sat Apr 27, 2013 11:37 am
---
View full post on
opinions.caduceusx.com
Daniel J. Mitchell
I'm at Hillsdale College in Michigan for a conference on taxation. The event is called "The Federal Income Tax: A Centenary Consideration," though I would have called it something like "100 Years of Misery from the IRS."
I'm glad to be here, both because Hillsdale proudly refuses to take government money (which would mean being ensnared by government rules) and also because I've heard superb speeches by scholars such as Amity Shlaes (author of The Forgotten Man, as well as a new book on Calvin Coolidge that is now on my must-read list) and George Gilder (author of Wealth and Poverty, as well as the forthcoming Knowledge and Power).
My modest contribution was to present "The Case for the Flat Tax," and I was matched up – at least indirectly, since there were several hours between our presentations – against former Congressman John Linder, who gave "The Case for the Fair Tax."
I was very ecumenical in my remarks.  I pointed out the flat tax and sales tax (and even, at least in theory, the value-added tax) all share very attractive features.
A single (and presumably low) tax rate, thus treating taxpayers equally and minimizing the penalty on productive behavior.
No double taxation of saving and investment since every economic theory agrees that capital formation is key to long-run growth.
Elimination of all loopholes (other than mechanisms to protect the poor from tax) to promote efficiency and reduce corruption.
Dramatically downsize and neuter the IRS by replacing 72,000 pages of complexity with simple post-card sized tax forms.
For all intents and purposes the flat tax and sales tax are different sides of the same coin. The only real difference is the collection point. The flat tax takes a bite of your income as it is earned and the sales tax takes a bite of your income as it is spent.
That being said, I do have a couple of qualms about the Fair Tax and other national sales tax plans.
First, I don't trust politicians. I can envision the crowd in Washington adopting a national sales tax (or VAT) while promising to phase out the income tax over a couple of years. But I'm afraid they'll discover some "temporary" emergency reason to keep the income tax, followed by another "short-term" excuse. And when the dust settles, we'll be stuck with both an income tax and a sales tax.
As we know from the European VAT evidence, this is a recipe for even bigger government. That's a big downside risk.
I explore my concerns in this video.
To be sure, there are downside risks to the flat tax. It's quite possible, after all, that we could get a flat tax and then degenerate back to something resembling the current system (though that's still better than being France!).
My second qualm is political. The Fair Tax seems to attract very passionate supporters, which is admirable, but candidates in competitive states and districts are very vulnerable to attacks when they embrace the national sales tax.
On dozens of occasions over the past 15-plus years, I've had to explain to reporters that why anti-sales tax demagoguery is wrong.
So I hope it's clear that I'm not opposed to the concept. Heck, I've testified before Congress about the benefits of a national sales tax and I've debated on C-Span about how the national sales tax is far better than the current system.
I would be delighted to have a national sales tax, but what I really want is a low-rate, non-discriminatory system that isn't biased against saving and investment.
Actually, what I want is a very small federal government, which presumably could be financed without any broad-based tax, but that's an issue for another day.
Returning to the issue of tax reform, there's no significant economic difference between the flat tax and the sales tax debate. What we're really debating is how to replace the squalid internal revenue code with something worthy of a great nation.
And if there are two paths to the same destination and one involves crossing an alligator-infested swamp and the other requires a stroll through a meadow filled with kittens and butterflies, I know which one I'm going to choose. Okay, a slight exaggeration, but I think you get my point.
View full post on Cato @ Liberty
John Samples
Article II of the United States Constitution states: "Each State shall appoint, in such Manner as the Legislature thereof may direct, a Number of Electors, equal to the whole Number of Senators and Representatives to which the State may be entitled in the Congress" to elect the president. The phrase "in such Manner" does not obviously restrict the way electors may be rewarded.
Even before the last election, some people had proposed changing the way states award electoral votes. The National Popular Vote effort, for example, proposed a compact in which states with a majority of the electoral votes agree to award their votes to the winner of the popular vote for president. Now other people, mostly Republicans, propose that states award each of their electoral votes to the winner of each congressional district in a state.
This proposal is highly partisan, but it is not outlandish. Two states, Nebraska and Maine, now award almost all of their electoral votes by congressional district. In each state, two of their electoral votes (the two they get because of equal state representation in the Senate) go the state-wide winner of the popular vote.
However, proponents of the "district proposal" have not suddenly been convinced of the merits of presidential elections in Maine and Nebraska. Rather, they are beguiled by the thought that Mitt Romney would have won in 2012 had electoral votes been awarded by congressional district.
Here we find the first problem with the proposal: it concerns the past not the future. Much like those liberal Democrats who wished to change the filibuster rule because Sen. McConnell (R-KY) frustrated the president's desires on health care, some Republicans now wish to change electoral rules in response to the 2012 disaster.
It is unlikely that states governed by Democratic majorities in the legislature would adopt this proposal. Let's assume they would, however, to think about what might happen.
The "district proposal" would increase the value of partisan redistricting since the presidency as well as the House would now depend on the composition of congressional districts.
The "district proposal" might change nothing. If the partisan majority in every state legislature has already maximized its share of congressional seats, nothing changes. I think that would be the case for most states controlled by the GOP.
State legislatures controlled by the Democrats face a different situation. In 2012, in aggregate Democratic candidates received more votes in House races than Republicans. They ended up with a minority of seats because their voters often live in densely-packed large cities. Hence, the party "wastes" votes in House races. In other words, they win many districts by overwhelming numbers (i.e. "too many" votes all things considered). The Democratic party in the House would be better off if those wasted votes were put in Republican districts.
The "congressional district" proposal would give Democratic legislatures more reasons than they have now to move those "wasted" votes into Republican House districts. All things being equal, those districts would become more competitive; some of them would probably flip from the GOP to a Democratic representative. On the other hand, the districts that gave up the "wasted votes" would also become more competitive. More competition is a good thing, but surely it is not what the proponents of the "district proposal" intended. Moreover, in Democratic states, I imagine the GOP would be a net loser of districts. You can take a lot of Democratic voters out of many urban districts and still have a safe Democratic district. In contrast, Republican representatives in a place like New York would have a much harder time if new Democratic voters started arriving in their districts.
I conclude that House elections would perhaps become marginally more competitive under the "district proposal." The gain in competitiveness would come in GOP districts in blue states. The flip side of that conclusion would be that a Republican presidential victory would become marginally less likely than it was in 2012 under the proposal. The enhanced competitiveness probably serves the general interest; make what you will of the likely GOP frustration.
The "district proposal" would also work against what remains of the older ideal that congressional districts should be a community of interest. The incentives noted above would tend to make partisanship more of a criterion for drawing district lines. Partisanship has its place in politics. The question here should be: would the nation benefit from a mixture of more electoral competition and more partisanship in elections?
Ironically, partisanship, along with other considerations, may doom the "district proposal." The Democrats will see a GOP plot in the proposal, and Republicans will go down the game tree and recognize that future elections under this proposal will not be the same as they were in 2012, to the GOP's likely detriment. Indeed, the proposal seems off to a poor start.
Plus, the proposal smells of desperation on the part of the GOP.
Think again.
View full post on Cato @ Liberty
By Neal McCluskey
I love me some Georgetown University basketball, and am happy to pay for the privilege of possessing season tickets. (Well, that is when the Hoyas win pretty regularly and don't deliver too many abominations like this one.) I'm also more than willing to make the hoops club "donation" that's required to secure my seats. But it's high time to end the ludicrous college sports scam—especially in light of our fast-approaching rendezvous with the "fiscal cliff"—that is the tax deduction for ticket-securing "charitable" donations.
My forced giving, to be honest, is pretty small: $100 per seat for some decent, lower bowl (though not center court) seats. But it's not like I'm spending the dough to support, say, a new science center, or endow a professorship. No, it's going to support big-time, constantly televised, money-making sports entertainment. And, of course, it is the fun of being an in-person fan—not my selfless desire to, say, engineer mitochondria to better serve humanity—that is animating my "charity." Nonetheless, 80 percent of my donation is tax deductible.
At many big-time sports schools, and for better seats than mine, such forced philanthropy can be much pricier. At some institutions, such as the University of Texas and the University of North Carolina, it is impossible to nail down just how much people have to donate per seat beyond sticker prices because one accumulates donation points over time. Just to make it onto the UT benefits chart, however, you have to donate at least $150, and the top-line is $25,000. Texas A&M lets you know that for "priority" football tickets you'll have to give between $45 and $3,900 per seat. And for most of the lower-bowl seats at the University of Kentucky's Rupp Arena, basketball season tickets require donations of between $850 and $5,000. But don't worry—part of the price can be handled by corporate matching funds!
If people want to donate generously to college sports programs—including cash-cow football and basketball—that's fine. And I don't want government getting any more money than it already has … and flushes down noble-sounding toilets. But giving favored tax status to forced donations for season tickets, as if one were donating to famine relief or cancer research? Even without the nation facing a $16 trillion—and growing—debt, that's ridiculous.
Cross-posted from SeeThruEdu.com
Sports 'Donations' a Flagrant College Foul is a post from Cato @ Liberty – Cato Institute Blog
View full post on Cato @ Liberty
Is College Worth the Price and Debt? Private student loans make up $150 billion of the $1 trillion in outstanding student debt. Private student loans grow hand and hand with for-profit institution growth.
Posted by mybudget360 in banks, college, debt, education, student debt, student loans
Few will ever argue that getting an education is a worthy goal. College is seen as the gateway to a better life and mobility into the middle class. The middle class has been shrinking while the cost of attending college has skyrocketed. The cost to attend college has far outstripped any sensible economic measure and has climbed even faster than housing values during the peak days of the bubble. Is college worth the current cost? Many articles come out showing that college graduates earn more than non-college graduates. Yet this data rarely digs deep into the figures. What colleges did these graduates go to since the US now has over 4,000 institutions? How old are these graduates? These figures look at lifetime earnings so we are looking at a time when the US had a more vibrant economy and going to college was affordable. Let us examine if college is worth the current price.
Total Student Debt
Student debt is the fastest growing segment of debt in our economy. Student debt has surpassed the $1 trillion mark and continues to grow. What is also problematic is how much of this debt is tied to onerous private student loans: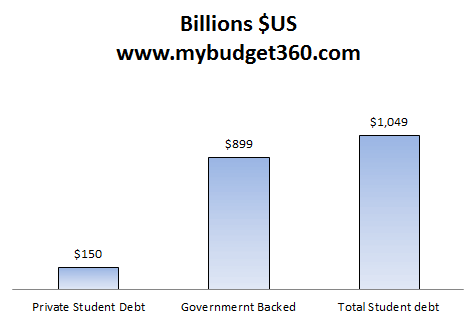 $150 billion of the outstanding student debt is attached to the private market. This debt does not have the minimal protection of federal student loans. Keep in mind many find themselves in deep financial issues with federal loans. A recent report found incredible amounts of complaints regarding these loans:
"(NY Times) The report found that many loan servicers — the companies that collect the payments for the lenders — make it extremely difficult for student borrowers to manage their debts. Borrowers often have difficulty finding out how much they owe or getting information about their payment histories. Some struggling borrowers who need loan modification said that servicers forced them to pay more per month than they could possibly afford, without telling them the payments would not prevent default."
That is one aspect of the problem. What the report does not focus on is how many of these loans are made to students going to for-profit institutions.
For-profits
For-profit institutions in the late 1990s made up about 3 percent of total college enrollment. Now they make up roughly 10 percent of all students:
These schools also eat up an inordinate amount of federal aid as the chart above highlights with very little results. Many are largely designed to suck in as much federal aid money while yielding a negligible educational benefit to students. They also push many into the private loan market.
Remember that figure of $150 billion in private student loans? A large portion of this growth can be attributed to the growth of the for-profit education industry:

At a public school, about 5 percent of graduating students take on private student loans. Compare this to 42 percent at for-profits. This would not be such an issue aside from the fact that many of these schools have horrific track records when it comes to placing students in the careers they studied for. They have an extremely powerful lobby and make it very difficult to gather these figures. In fact, until a year ago it was extremely difficult to get the figures on outstanding student debt. How can it be that an industry fully subsidized by the government does not know that banks and educational lenders have made out some $1 trillion in student loans? Of course they knew and it was in the government and banks interest to keep this figure hidden from view. Now the problem is out of hand and we are likely facing another bubble.
Young Wage Earners
The loss of the middle class has crushed the earnings of those only with a high school degree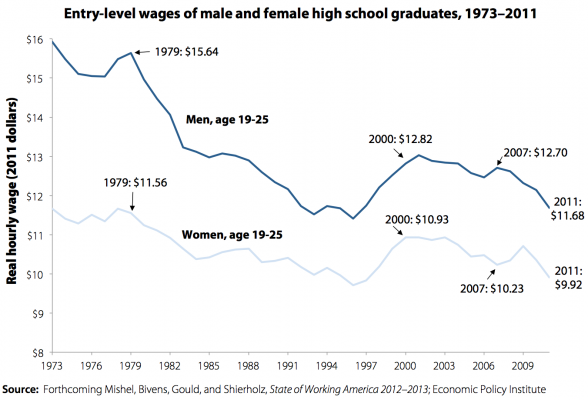 Earnings for male high school graduates has fallen nearly 25 percent from the 1970s. The same has occurred for female high school graduates. There are fewer blue collar jobs that can provide a living wage. The squeeze on working class Americans is intense and that is why we find nearly 47 million Americans now on food assistance. With these kinds of figures, it is understandable why some will go to any college for the chance of making it out of poverty.
At least going to college, whether paying $20,000 a year at a for-profit or $50,000 for a private institution, many feel they will get something in return. If they try a go at the market with no college degree the figures are already dismal. So it is important that people make wise choices. In fact, many will do a much better job by simply going to a local community college than a for-profit. Yet community colleges being crushed by local state budgets never had an effective advertising wing to get out to the public.
Many of the institutions that run marketing campaigns especially in the for-profit arena are largely places to be avoided. For-profits have horrific default rates and have very little tangible results in the real world.
Net Worth for Young
Are young Americans poorer than they were two decades ago? One strong measure of financial health is looking at net worth figures: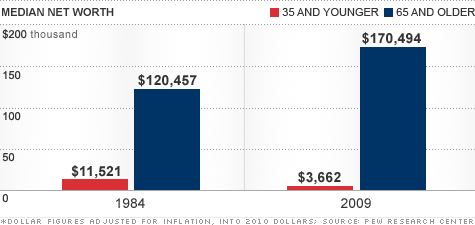 http://www.mybudget360.com/is-college-w … #more-4422
Statistics: Posted by yoda — Sun Nov 25, 2012 1:29 pm
---
View full post on
opinions.caduceusx.com
By Neal McCluskey
Last month, the Consumer Financial Protection Bureau – a rogue creation of Dodd-Frank – released the first annual report from its private student loan "ombudsman." And boy, does the report illustrate how far off the rails government has gotten.
Start with the focus: private student loans. These and for-profit colleges have gotten huge, damning attention from Washington – and much of the higher ed commentariat – over the last few years. But even if they were true devil's spawn, private loans are absolutely not the main problems in higher ed.
Even at their very brief peak in 2007-08, private student loans constituted only 12.5 percent of total student aid. In 2011-12 they were just 2.6 percent. The vast majority of funds have always come from other sources, first and foremost the federal government. Yes, it is primarily "aid" from Washington that lets colleges raise their prices with impunity, and enables students to take on substantial debt for often less-than-substantial studies.
Government, not private lending, is the Lex Luthor here. But to be fair, private lending is the CFPB's bailiwick, so you can't blame the agency for putting out the report. You can sure as heck, though, blame politicians for creating a bureau whose job seems simply to be pointing fingers at private companies.
You can also blame the CFPB for the content of its report, which is simply a summary of complaints the bureau has received from disgruntled borrowers. Fairly early on it even states that "the report does not attempt to present a statistically significant picture of issues faced by borrowers" (as if its findings are empirical at all). Unfortunately, it goes on to say that the report "can help to illustrate where there is a mismatch between borrower expectations and actual service delivered."
Actually, no it can't. At least not reliably. All it can tell you is what people complained to the CFPB about. It can't tell you if the complaints had bases in fact. It can't tell you if complaint-lodgers were really just motivated by a desire not to pay. And it can't tell you what the lenders' sides of the stories are.
Okay, it probably could do the last thing, but it seems the ombudsman chose not to. There is not an ounce of response from any lender to the anecdotes that essentially are this report. In other words, the report seems to be doing exactly what the bureau's opponents feared CFPB would do: functioning as an unaccountable propaganda machine against private companies. And don't be surprised to hear this report invoked repeatedly by Sen. Tom Harkin (D-IA) and other profit-haranguers as damning proof that private student lenders are out of control.
Sadly, the prominent role of government in student lending is ignored even when it is obvious from data on private lending. As one table shows, 46 percent of complaints received were about loans connected to Sallie Mae, and 12 percent about loans from American Education Services, an offshoot of the Pennsylvania Higher Education Assistance Agency (PHEAA).
Sallie Mae, of course, is the student-loan cousin of Fannie Mae and Freddie Mac, the federal creations at the heart of bad mortgage lending. And PHEAA? "Created in 1963 by the Pennsylvania General Assembly, PHEAA has evolved into one of the nation's leading student aid organizations."
Yup, more than half of the complaints about ostensibly private lending were really about government-created lenders. But don't expect to find even a footnote in the report hinting that government might be the real problem.
It's hard not to conclude that the major goal of the CFPB is to bash private companies, and in so doing justify more and more government control of the economy. If that's the case, and if this report is any indication, then the CFPB is doing its job. Too bad that job serves the public so poorly.
Cross-posted from SeeThruEdu.com
How the CFPB Distorts the Facts about College Loans is a post from Cato @ Liberty – Cato Institute Blog
View full post on Cato @ Liberty
By David Boaz
Here's a story from the sports pages with relevance to current debates on welfare, dependency, and whether college is good for you.
After the European win in the Ryder Cup, sports reporter Matthew Futterman of the Wall Street Journal wonders why "the best European golfers are better than the best Americans now." His tentative answer:
One difference is that the 12 Americans on the Ryder Cup team all attended college. Just two members of Europe's team, Graeme McDowell and Luke Donald, spent those crucial, formative years of development playing collegiate golf….

Here's what happens when top golfers, tennis and soccer players attend college: They subject themselves to rules about how often they can compete and practice. They throw themselves at the mercy of coaching that is not always world-class. They live in housing filled with…let's call them distractions. And in order to play, they have to pass classes in biology and political science.

Compared with the experience of Rory McIlroy or other European golfers, who turn pro as teenagers, then do little else but practice and compete (sometimes for their next meal or train ticket), the college life is pretty appealing.
And why is that a problem?
…the college life is pretty appealing.

But it's also a safety net. It's not crazy to think that the European approach creates athletes who work a bit harder and perhaps become just a wee bit tougher.
And that insight might apply to more than golf and tennis. As Peter Thiel suggests, smart young people might do better to leave college and "dedicate themselves to their work."  "Safety net" programs might trap people in long-term welfare dependency, unemployment benefits might prolong unemployment, and  establishing religion might make the established church lazy.
Welfare, College, and Golf is a post from Cato @ Liberty – Cato Institute Blog
View full post on Cato @ Liberty
Thank you for this informative post where else could anyone get that kind of information in such a perfect way of writing and i was looking for more info.
Statistics: Posted by cyntinadiana — Wed Sep 12, 2012 6:33 am
---
View full post on
opinions.caduceusx.com
If you are in college right now, you will most likely either be unemployed or working a job that only requires a high school degree when you graduate.  The truth is that the U.S. economy is not coming anywhere close to producing enough jobs for the hordes of new college graduates that are entering the workforce every year.  In 2011, 53 percent of all Americans with a bachelor's degree under the age of 25 were either unemployed or underemployed.  Millions upon millions of young college graduates feel like the system has totally failed them.  They worked hard in school all their lives, they went into huge amounts of debt in order to get the college education that they were told they "must have" in order to get a good job, but after graduation they found that there were only a handful of good jobs for the huge waves of college graduates that were entering the "real world".  All over America, college graduates can be found waiting tables, flipping burgers and working behind the register at retail stores.  Unfortunately, the employment picture in America is not going to get significantly better any time soon.
All over the United States, "middle class jobs" are being replaced by "low income jobs" and young college graduates are being hurt by this transition more than almost anyone else.  Massive numbers of young college graduates are now working jobs that do not even require a high school degree.  Some of the statistics about young college graduates are absolutely astounding.  The following is from a recent CNBC article….
In the last year, they were more likely to be employed as waiters, waitresses, bartenders and food-service helpers than as engineers, physicists, chemists and mathematicians combined (100,000 versus 90,000). There were more working in office-related jobs such as receptionist or payroll clerk than in all computer professional jobs (163,000 versus 100,000). More also were employed as cashiers, retail clerks and customer representatives than engineers (125,000 versus 80,000).
Can you imagine working really hard all throughout high school and college and always getting good grades and then ending up as a bartender?
Sadly, many hard working college graduates cannot seem to find a decent job no matter how hard they try.  The following is one example from the CNBC article mentioned above….
"I don't even know what I'm looking for," says Michael Bledsoe, who described months of fruitless job searches as he served customers at a Seattle coffeehouse. The 23-year-old graduated in 2010 with a creative writing degree.

Initially hopeful that his college education would create opportunities, Bledsoe languished for three months before finally taking a job as a barista, a position he has held for the last two years. In the beginning he sent three or four resumes day. But, Bledsoe said, employers questioned his lack of experience or the practical worth of his major. Now he sends a resume once every two weeks or so.
Have you ever been there?
Have you ever sent out resumes week after week, month after month, only to get absolutely nowhere?
Many recent college graduates are being advised by "career counselors" that they should go back and "get more education".
But is that really the answer?  The truth is that there are lots and lots of unemployed and underemployed Americans with advanced degrees too.  For example, a recent Business Insider article profiled a law school graduate named Erin that is actually on food stamps….
She remains on food stamps so her social life suffers. She can't afford a car, so she has to rely on the bus to get around Austin, Texas, where she lives. And currently unable to pay back her growing pile of law school debt, Gilmer says she wonders if she will ever be able to pay it back.

"That has been really hard for me," she says. "I have absolutely no credit anymore. I haven't been able to pay loans. It's scary, and it's a hard thing to think you're a lawyer but you're impoverished. People don't understand that most lawyers actually aren't making the big money."
But what "more education" will do is that it will get you into even more debt.  Student loan debt can be one of the cruelest forms of debt, because it cannot be discharged in bankruptcy.
As I wrote about a few days ago, total student loan debt in the United States recently surpassed the one trillion dollar mark.  Students keep on racking up student loan debt in the hope that they will find "the American Dream" at the end of the rainbow.
Sadly, many students do everything "right" and still end up in the middle of a nightmare.
But it is not just young college graduates that are suffering in this economy.
As I wrote about a while back, the U.S. economy is not producing enough jobs for anyone at this point.
The mainstream media keeps telling us that unemployment is going down, but the truth is that the percentage of working age Americans that are employed is not increasing.  In March 2010, 58.5 percent of all working age Americans had a job.  In March 2012, 58.5 percent of all working age Americans had a job.
Does that sounds like improvement?
Of course not.
Unlike what we have seen after every other recession in the post-World War II era, the employment to population ratio is not bouncing back, and that is really bad news.
The main reason for this is because of the bad economy, but also it is important to understand that we are transitioning away from an "employment economy".
Today, most large corporations view employees as very expensive "liabilities".  The goal for most large corporations is to minimize those "liabilities" as much as possible.  In fact, these days some large corporations lay off huge numbers of workers even while they are making huge profits at the same time.
Once upon a time, Henry Ford made a conscious decision to pay his workers enough money so that they could afford to buy the cars that they were making.
Today, most corporations simply do not care about the living standards of their workers.  They simply want to maximize profits to the fullest extent possible.
Many small businesses would like to hire more workers, but the federal government has made hiring workers so complicated and so expensive that it has become exceedingly difficult to make a profit on a worker.  Most of the time it is simply easier to try to do more with what you already have.
The number of Americans that can work a job ("just over broke") and still live "the American Dream" is steadily shrinking.  Increasingly, the financial rewards in our economy are being funneled to the very top of organizations and workers are finding that their living standards continue to slowly go down.
At corporations that belong to the Standard & Poor's 500 stock index, CEOs earn 380 times what the average worker makes at those companies.  In 1980, CEOs only earned 42 times what the average worker made at those companies.
A fundamental shift is happening in our economy and it is not going to be reversed any time soon.  Workers are not valued at most companies anymore.  No matter how much of yourself you give to your company, when the day comes that you become "disposable", you will be cast aside as so much rubbish.
That is why I try to encourage people to start their own businesses and to be their own bosses.  There is no job security anymore.  The job that you have today could be gone tomorrow.
Meanwhile, the federal government is actually spending your money to train foreign workers to take our jobs.  The following is from a recent Daily Caller article….
While the president has been urging "insourcing," the government has been sending money to the Philippines to train foreign workers for jobs in English-speaking call centers.

According to New York Democratic Rep. Tim Bishop and North Carolina Republican Rep. Walter Jones, this is unacceptable and "shocking."

The pair are calling on the United States Agency for International Development (USAID) to immediately suspend what is known as the Job Enabling English Proficiency (JEEP) program.
Can you believe that?
Over and over again, our politicians talk about the need to keep jobs in the United States and then they go out and do things that have the exact opposite effect.
It is truly maddening.
So what are the hordes of American workers that cannot find jobs supposed to do?
Well, one thing we are definitely seeing is a huge rise in the number of Americans that are dependent on the government.
For example, at the end of the Reagan administration the ratio of workers on Social Security disability to active workers was about 2 percent.
Today, it is over 6 percent.
During the first four months of 2012 alone, 539,000 more Americans were added to the Social Security disability rolls and another 725,000 submitted new applications.
Another federal program that is experiencing explosive growth is food stamps.
Last year, one out of every seven Americans was on food stamps, and the Congressional Budget Office is projecting that the number of people on food stamps will continue to grow through 2014.
It is so sad to see what is happening to America.  Our economy is being dismantled all around us and the future looks incredibly bleak.
Right now there are millions upon millions of Americans that are sitting at home wallowing in despair.  They don't understand why nobody will hire them and they are rapidly running out of options.
The following is a comment that a reader left on one of my recent articles about the middle class….
I cannot believe my present situation…

I worked hard in school and college so that I could escape the low income uneducated mess I grew up in.

I made all the correct decisions with my career, finances, etc. I cannot figure out how I got to where I am at now.

In late 2008 I was laid off in the IT field. I was a go-getter, and I didn't let anyone tell me the economy would make it difficult to find a job. I had another within 4 weeks.

Was laid off from that job last year. I qualified for unemployment, but then my employer decides to bring a bunch of lawyers and fight my eligibility. After I won again, they appealed again. I finally couldn't afford to keep paying attorney fees. I finally lost the appeal. I had to pay all that money back.

I'm still trying to find a job in my field. Being the go-getting I am, I immediately took a job waiting tables which amounted to a 75% pay-cut.

I had saved 6 months of expenses and that is completely dry. I have completely drained my retirement and savings. Still cannot find a livable wage job after almost a decade in my field.

Things are slowly going into default and it feels utterly hopeless and stressful. My pristine credit rating is gone, my savings and everything I worked for is gone. I haven't missed a payment on my mortgage, but it is coming. I can't cut anything more than I already have.

I just can't figure out how this could have happened to me. I played by the rules and made all the right choices. I skipped vacations and time off to prove I was a good worker and had what it took to be a valuable employee.

I really am just at a loss at this point. I'm single and have no family. This is really make-or-break for me. I have no fallback plan. The feeling of failure is just gut-wrenching.
Please say a prayer for that reader and for all of the other hard working Americans out there that are desperate to find a job.
If you are at the end of your rope, please do not give up.  Even in the darkest moments, there is always a way to turn things around if you will just keep on fighting.
Sadly, way too many people are giving up on life because of the economy.  In Europe, economic conditions have deteriorated so badly that there has been a dramatic increase in suicides.  The following is from a recent article in the New York Times….
The economic downturn that has shaken Europe for the last three years has also swept away the foundations of once-sturdy lives, leading to an alarming spike in suicide rates. Especially in the most fragile nations like Greece, Ireland and Italy, small-business owners and entrepreneurs are increasingly taking their own lives in a phenomenon some European newspapers have started calling "suicide by economic crisis."
When the next major economic downturn happens in the United States, we will probably see a similar thing happen here too.
But people need to realize that our lives are not about how much stuff we own.
Even if every single thing is taken away from you and you are left with nothing that does not mean that your life is over.
Even if you have not been able to find a job for years, that does not mean that you should give up.
In life, everyone gets knocked down.
But unless you are dead, there is always a way to get things turned around in a more positive direction.
One thing that I have learned in life is that you must never, ever, ever, ever give up.
The years ahead are going to be really hard for the global economy, but that doesn't mean that they have to be horrible years for you.
The years ahead can be the very best years of your entire life, but that will never happen if you decide to simply give up.
View full post on The Economic Collapse