Campbell closing plants as soup consumption falls
CANDICE CHOI, Associated Press Copyright 2012 Associated Press. All rights reserved. This material may not be published, broadcast, rewritten or redistributed.
CANDICE CHOI, Associated Press, MICHELLE CHAPMAN, Associated Press
Thursday, September 27, 2012
. . . .
NEW YORK (AP) — Campbell Soup Co. is closing two U.S. plants and cutting more than 700 jobs as it looks to trim costs amid declining consumption of its canned soups.
The world's largest soup maker said Thursday that it will close a plant in Sacramento, Calif., that has about 700 full-time workers. The plant, which makes soups, sauces and beverages, was built in 1947 and is the company's oldest in the country. That also means it has the highest production costs of Campbell's four U.S. soup plants.
Campbell also plans to shutter a spice plant in South Plainfield, N.J. that has 27 employees. Production will be shifted to the company's other spice plant in Milwaukee.
Employees at the two closing plants were notified that there would be a meeting at 6 a.m. local time Thursday; about 400 workers showed up in California, where they were told of the closure.
"It's always difficult, even when there's a business case that is compelling," said Anthony Sanzio, a Campbell spokesman. "You're dealing with people, and this is going to impact 700 employees who've worked together closely for many years."
CEO Denise Morrison, who was been on the job for about a year, was not present at the meeting.
The announcement comes as Campbell looks to freshen up its image with dozens of new soup flavors and sauces intended to lure younger consumers. Many of the new products come in pouches designed to convey a fresher feel, rather than the iconic steel cans that have long defined the company.
Those new pouches are manufactured with another party and are not made at Campbell's soup plants.
Although Campbell makes other products such Pepperidge Farm baked goods and V8 vegetable juices, soups account for half its revenue. And the Camden, N.J.-based company has struggled to fix the soup unit.
Over the past decade, overall canned soup consumption is down 13 percent, according to the research firm Euromonitor International, as fresh soups have become more widely available at supermarkets and restaurants. Campbell's share of the market has also declined to 53 percent, down from 67 percent a decade earlier.
To expand into products with more growth potential, Campbell this summer purchased Bolthouse Farms in a $1.55 billion cash deal. The company says the move will help it stake a claim in the fresh packaged food category, which is growing at a faster clip than the broader packaged food market.
Campbell Soup has about 19,900 employees globally. The company said the California plant is expected to close by July 2013 and the New Jersey plant by March 2013.
The company expects the closings to result in about $115 million in pre-tax costs. Its actions will also require about $27 million in capital spending.
Annual savings are predicted to be about $30 million starting in fiscal 2016.
Shares of Campbell fell 11 cents to close at $34.75 Thursday.
Read more: http://www.seattlepi.com/business/artic … z27jIHTPaL
Statistics: Posted by yoda — Thu Sep 27, 2012 8:57 pm
---
View full post on
opinions.caduceusx.com
It's Not Just Gasoline Consumption That's Tanking, It's All Energy
February 14, 2012
It's not just gasoline consumption that's declining–petroleum and electricity consumption are also dropping. Is that indicative of economic growth?
A number of readers kindly forwarded additional data sources to me as followup on last week's entry describing sharply lower deliveries of gasoline. (Why Is Gasoline Consumption Tanking? February 10, 2012)
The basic thesis here is that petroleum consumption is a key proxy of economic activity. In periods of economic expansion, energy consumption rises. In periods of contraction, consumption levels off or declines.
This common sense correlation calls into question the Status Quo's insistence that the U.S. economy has decoupled from the global ecoomy and is still growing. This growth will create more jobs, the story goes, and expand corporate profits which will power the stock market ever higher.
Courtesy of correspondents Bob C. and Mark W., here are links and charts of petroleum consumption, imports/exports, and electricity consumption. Let's start with a chart of total petroleum products, which includes all products derived from petroleum (distillates, fuels, etc.) provided by Bob C. The chart shows the U.S. consumed about 21 million barrels a day (MBD) at the recent peak of economic activity 2005-07; from that peak, "product supplied" has fallen to 18 MBD. The current decline is very steep and has not bottomed.
This recent drop mirrors the decline registered in 2009 as the wheels fell off the global debt-based bubble. Those arguing that the U.S. economy is growing smartly and sustainably have to explain why petroleum consumption looks like 2009 when the economy tipped into a sharp contraction.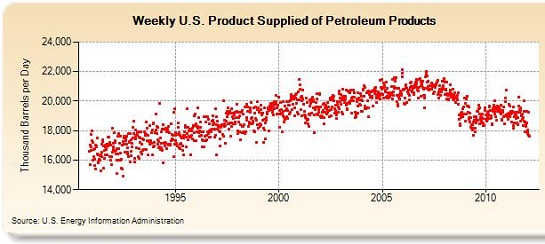 A link of interest from Mark W.: Montly U.S. Product Supplied of Finished Motor Gasoline (Thousand Barrels per Day) showing gasoline "product supplied" from 1945 to 2011. This shows gasoline has declined about 700,000 barrels per day from 2007, from 9.2 MBD to 8.5 MBD in November 2011. This represents about a 13% decline.
A number of readers wondered if gasoline imports might account for lower domestic shipments. That is a good question, and Bob C. found the answer in other EIA (U.S. Energy Information Agency) charts.
Weekly U.S. Imports of Total Gasoline (Thousand Barrels per Day)
Weekly Imports & Exports of Petroleum and Other Liquids (Thousand Barrels per Day)
Exports of Petroleum and Other Liquids
Here we see that of 8.5 million barrels a day of gasoline supplied, roughly 500,000 barrels are imported. In other words, the percentage of imported gasoline is modest.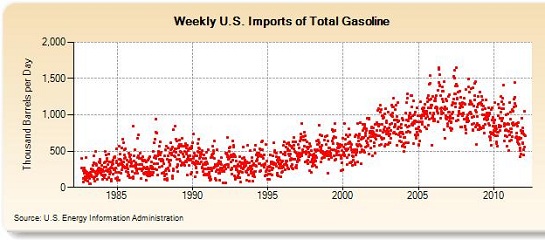 The U.S. imports and exports petroleum products, but the net result is imports of around 8 million barrels a day. The U.S. imports about 10.5 MBD and exports almost 3 MBD for a net import total of 7.5 MBD. The secular decline in net imports from the 2006 top is consistent with the view that consumption has declined as a reflection of economic activity.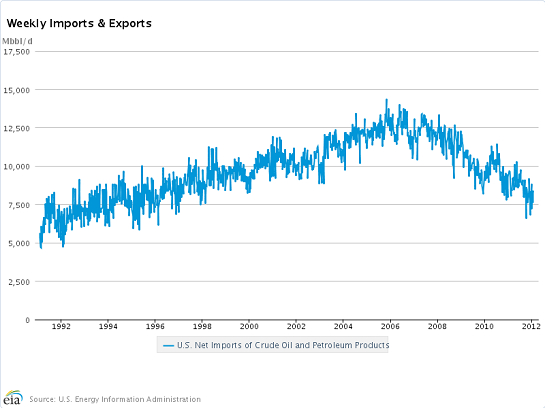 Mark W.also forwarded these charts of Electrical power consumption. Not only has electrical consumption never recovered the levels of mid-2008, it peaked in mid-2011 and has begun a sharp decline in late 2011.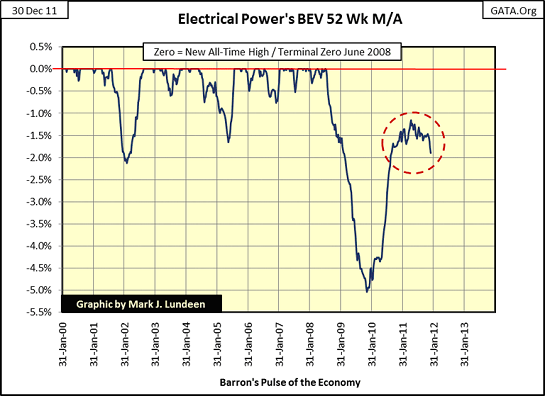 I marked recent recessions on a long-term chart of electrical consumption to show that the deep recession of 1981-83 barely registered, while the recessions of 1990-91 and 2000-2002 are essentially noise.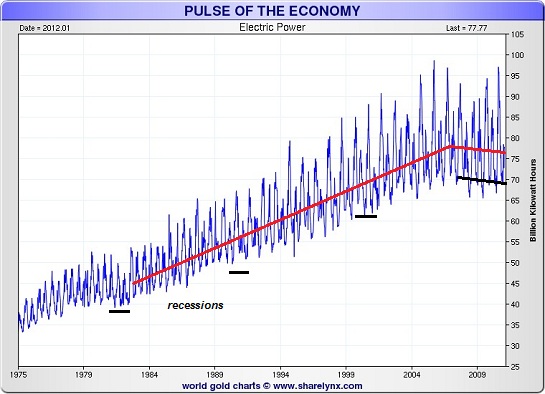 That makes the secular decline from 2006 peaks all the more striking. (It is perhaps no coincidence that the housing bubble peaked in 2006-07 along with the extraction of home equity craze.)
Clearly, electrical consumption is in a downtrend with no recent historical precedent. Those claiming that U.S. growth is sustainable and the Dow is heading for 15,000 must square their rosy projections with sharply declining energy consumption. The two simply don't match up.
As a lagniappe, here is a link from correspondent Joel M. on downward revisions to shale oil estimates. This injects a note of realism in the recent euphoric depiction of the U.S. as having essentially boundless supplies of petroleum equivalents. Substantial, yes, virtually unlimited, no.
Shale gas estimates continue downward: Energy Bulletin.
http://www.oftwominds.com/blog.html
Statistics: Posted by yoda — Tue Feb 14, 2012 6:38 am
---
View full post on
opinions.caduceusx.com