European Contagion Turns Into Domino
FRIDAY, JULY 20, 2012
One day after the EU finally sanctioned the €100 million bailout for Spain's banking system, for which the sovereign will remain on the hook, according to German finance minister Schäuble, who said there was no way the banks would be bailed out directly, developments were fast and furious.
A second remark by Schäuble may yet come back to haunt him.
Germany: Spain doesn't need sovereign bailout
"There is absolutely no reason to speculate, beyond this (bank aid) application, about a comprehensive aid program for Spain," German Finance Minister Wolfgang Schaeuble was quoted as telling the daily Rheinische Post. "Spain really does not need that," he added.
First off, Madrid announced a bailout of its own: a €12-18 billion fund (€6 billion will come from a loan taken out by the national lottery) to help its regions. Which, finance minister Luis de Guindos swore, would not make sovereign debt any higher. Does that mean Spain still has cash lying around somewhere? And if so, why the bank bailout? Or is de Guindos simply telling another hopeful lie and are additional bond issues on the horizon?
The region of Valencia didn't waste any time in claiming it will seek money from the regional fund. It won't be the last. In fact, it's hard to see how the fund could be large enough. The regions need to rollover some €15 billion in existing debt in Q2 2012 alone. And they have zero access to international markets left.
Next, Madrid revised a bunch of numbers downward. Angeline Benoit and Charles Penty for Bloomberg:
Spain Postpones Recovery As Valencia Seeks Bailout
Gross domestic product will fall 0.5% in 2013 instead of rising 0.2% as the government predicted April 27, Budget Minister Cristobal Montoro said after the Cabinet met today in Madrid. The government will spend €9.1 billion ($11 billion) more paying interest than in 2012, he said. [..]
"I don't want to send too soothing a message, everyone has to comply," Montoro said even as he denied Valencia has called for an intervention. Montoro said the central government is reviewing regions' budget plans after announcing last week that several aren't on track to meet this year's deficit target.
The economy returned to recession last year and unemployment is surging after the collapse of the real-estate boom. The economic outlook is worsening as the government implements 110 billion euros of measures over three years to cut budgets, raise taxes, shrink public wages and charge more for education and health care. [..]
Unemployment will be 24.6% in 2012 instead of 24.3%, the government's forecasts showed today, and 24.3% in 2013 instead of 24.2%. It revised the forecast for this year's contraction to 1.5% from 1.7%. Exports will continue to drive the economy, rising 6% next year, as domestic demand continues to contract.
The spending limit for 2013 will be €126.8 billion, 9.2% higher than a year earlier, Montoro said. Stripping out the interest costs and contributions to the welfare system, the spending ceiling will fall 6.6% from 2012, he said.
Expect lots of protests. From AFP:
Spain protest turns ugly
Spanish police fired rubber bullets and charged protestors in central Madrid early Friday at the end of a huge demonstration against economic crisis measures.
The protest was one of over 80 demonstrations called by unions across the county against civil servant pay cuts and tax hikes which drew tens of thousands of people, including police and firefighters wearing their helmets. "Hands up, this is a robbery!" protesters bellowed as they marched through the streets of the Spanish capital.
At the end of the peaceful protest dozens of protestors lingered at the Puerta del Sol, a large square in the heart of Madrid where the demonstration wound up late on Thursday. Some threw bottles at police and set up barriers made up of plastic bins and cardboard boxes in the middle of side streets leading to the square and set them on fire, sending plumes of thick smoke into the air.
Riot police then charged some of the protestors, striking them with batons when they tried to reach the heavily-guarded parliament building. The approach of the riot police sent protestors running through the streets of the Spanish capital as tourists sitting on outdoor patios looked on.
The protests held Thursday were the latest and biggest in an almost daily series of demonstrations that erupted last week when Prime Minister Mariano Rajoy announced measures to save 65-billion euros ($80-billion) and slash the public deficit. Among the steps is a cut to the Christmas bonus paid to civil servants, equivalent to a seven-percent reduction in annual pay. This came on top of a pay cut in 2010, which was followed by a salary freeze.
"There's nothing we can do but take to the street. We have lost between 10 and 15 percent of our pay in the past four years," said Sara Alvera, 51, a worker in the justice sector, demonstrating in Madrid. "These measures won't help end the crisis."
The Madrid stock exchange fell 5.82% today. Its 10-year yields are at 7.20%. Nice numbers to go into the weekend. Spain will need a bailout real soon, or default. So will Italy, with a 4.38% stock exchange drop and a 6.13% 10-year yield closing out this Friday. And yes, we've seen similar things before, and things still look sort of normal, familiar.
But it gets real hard now to see what else Europe can do amidst all its self-enforced constraints on both financial and legal issues. The markets are not letting go, if anything they're tightening their squeeze. Spain managed to sell bonds this week, but it did so at rates it can't afford. Nor can Italy afford to pay over 6%. Both countries will increasingly try to sell shorter term debt, but there's no hosanna in that either.
The hands-down quote of the day comes from Italian PM Mario Monti:
"It's difficult to say to what extent the contagion comes or came from Greece, or from Portugal, or from Ireland, or from the situation of the Spanish banks, or of the one apparently emerging from the streets and the squares of Madrid," Monti told reporters. "Obviously, without the problems in those countries, Italy's interest rates would be lower."
That is priceless. It's the others. L'enfer, c'est les autres. Brilliant, when you think about it; it's right up there with Schäuble claiming Spain doesn't need a sovereign bailout. Denial right up until you hit the wall. Or it hits you. Whichever comes first.
Does Europe still have weapons left? Well, it can lower its interest rates to minus 1-2%. It can lower ECB reserve rates into negative territory, so banks won't park their money there anymore. But they won't put it back into the economy instead, as would be the hope, they're not certified nuts yet; they'll move it to the US or Switzerland or something.
The battleship Europa is very close to being shattered on the cliffs. And we need to seriously wonder how much longer the Euro has to live, let alone the eurozone.
And the consequences for the rest of the world? This graph from Lance Roberts, which compares S&P 2011 with S&P 2012, provides a solid clue. And it could be just the beginning.
Expect Spain to restructure its debt. And contagion to turn into domino.
http://theautomaticearth.org/Finance/eu … omino.html
Statistics: Posted by yoda — Fri Jul 20, 2012 2:20 pm
---
View full post on
opinions.caduceusx.com
The contagion of the European Union and banking debt – 20 European Banks have liabilities above 50 percent of their home country GDP. Why an EU FDIC is highly unlikely in the short-term.
Posted by mybudget360 in bailout, banks, debt, European Union, wall street, world markets
The crisis in Europe is boiling over yet again. The central connecting factor of all of this is too much debt relative to production. Debt in itself is not a bad thing. If you borrow modestly for a home and have sufficient income to cover your mortgage payment then this might actually be beneficial. When things go haywire is when you leverage up. You had people buying homes that were 10 to 12 times their annual income. This however is a modest example compared to investment banks that were levered 30-to-1 and in some cases even higher. The issue with the European Union is the lack of cohesion but also the amount of debt relative to their production. True colors do not shine in boom times but do come out in crisis. The issue at hand for the moment is that stronger more productive economies with moderate levels of debt will need to step in if they are to bailout the periphery where debt levels are extreme relative to the local country GDP. Politically you can see how this is not going well. In the US, even though the bailouts were geared heavily in favor of the banks, few doubt the power of the Fed in stepping in and bailing out a big bank in California all the way to New York. This is not exactly the scenario playing out in Europe.
Banking system liabilities
The biggest bank in the US, JP Morgan Chase has liabilities of roughly 13 percent of US GDP. Compare this to the massive banking liabilities of some European banks: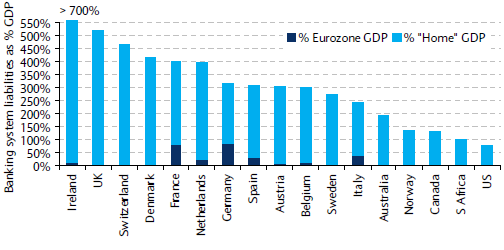 20 European banks have liabilities upwards of 50 percent of their home country GDP! This is just incredible and actually demonstrates the deep issues in the European Union. This weekend there will be talks about methods of backing up all deposits in similar fashion to our FDIC. The problem of course is that you will have systems where banks are more stable like in Germany and France needing to go on the hook for the deposits of other countries with banking systems that are unstable. This is hardly going to go over well and the political changes hitting the EU are centering on who will end up picking up the bill.
It is unlikely that this will go over well and it is unlikely anything substantive will come from this week meetings. This is why anything that comes out of the meetings this weekend is likely to be weak and unlikely to provide any aid to the ailing system. Just look at the chart above. The only nations that have the financial strength to do anything are unlikely to tie their banking systems directly to these ailing economies. But then this begs the question of how much power does the European Central Bank really have over the member nations. Does this become more of a symbolic union or is this really a cohesive trading bloc?
They were also kicking around schemes regarding banks paying a central tax to create this insurance fund but this would take roughly a decade to have any meaningful capital to deal with the current crisis. In other words, this is now a methodical game of banking chess.
So while all eyes are on Europe for the next few years, the US still has tough times ahead because we have been growing on massive debt expansion: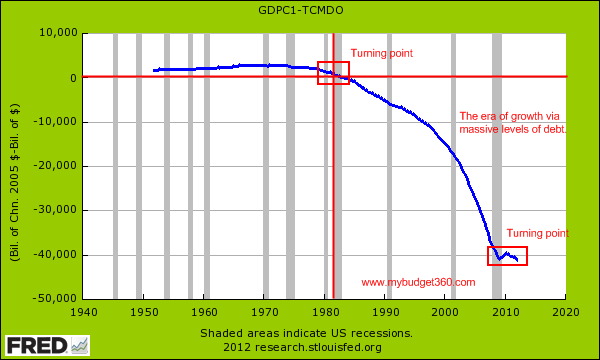 Since the 1980s, we have been spending money we don't have to expand our economy. But in relation to the European Union we are in better shape. Because of this the safe haven trade is benefitting the US. All in all this is shaping up to be a challenging time for late 2012 and early 2013 since the US has major challenges ahead with Medicare and the massive number of baby boomers retiring. The European Union is already impacting global demand for goods as we look at China for example and just look at how oil prices will impact many nations around the world: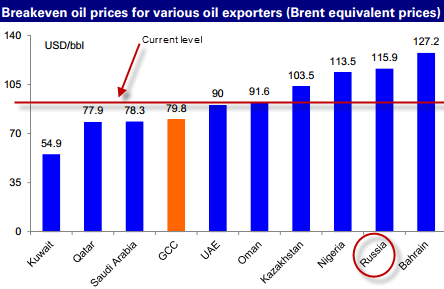 Source: Sober Look
Many oil dependent countries need oil at a certain point before it is profitable. But with demand curtailing, prices have fallen significantly. Things are always bigger than they appear when it comes to massive debt or bad trades including the JP Morgan Chase loss that is looking more and more expensive. The EU as the biggest trading bloc in the nation has some major challenges ahead and none of them are pro-growth.
http://www.mybudget360.com/contagion-eu … #more-4093
Statistics: Posted by yoda — Thu Jun 28, 2012 2:27 pm
---
View full post on
opinions.caduceusx.com