The coming deleveraging for Canada – Unit labor costs in manufacturing above US labor costs and household debt-to-income at 160 percent.
Our neighbors to the north in Canada are going to face a serious deleveraging shortly. This isn't hyperbole or some off the wall call but based on evidence of what happens when economies get into too much back breaking debt. If the largest trading blocs, the US and Europe had to have their day of reckoning how is it that Canada will be immune from the same economic forces of debt? Bubbles do not pop in perfect harmony. They pop in a disorderly and loud fashion and momentum picks up once the unraveling begins. Canada has one of the biggest ongoing housing bubbles and contrary to the rhetoric we see, they have households deeply in debt. In other words, they are leveraging to the hilt just to keep this charade going. Yet this can only go on for so far. Obviously bubbles can last for a very long-time (i.e., US housing from 1997 to 2007) and can surprise many people. Let us take a look at a couple of reasons why Canada is going to face a heavy deleveraging.
Canadian household debt
Canadian households are deeply in debt: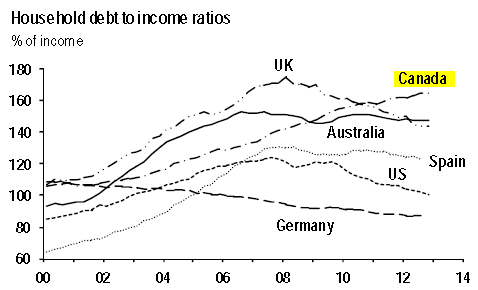 At the peak of the US housing and debt bubble, US households had something close to 120 percent debt-to-income ratios. Canada today is above 160 percent. So they are fully into uncharted territory. Household debt is incredibly high largely because of the massive Canadian housing bubble. Housing is the biggest expense in both the US and Canada. Contrary to what we hear, it is not different this time. In fact, given the massive debt we see, it is likely that the deleveraging event in Canada will be even more painful.
Canada's labor costs are much more expensive than US labor costs: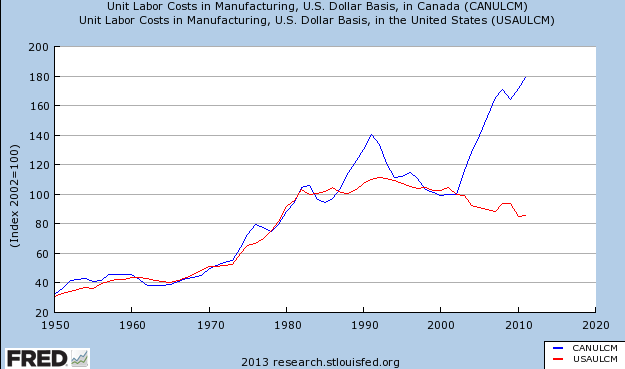 This is problematic in a world driven by low wage labor. Households in Canada are maintaining their current spending via debt. This was a common experience that was had in the US as households were trying to maintain a middle class lifestyle while wages were stagnant or even falling. Canada has massive household debt relative to income and labor costs are also very high. The global markets are punishing. Look at places like Spain with high labor costs and big housing bubbles. It will take years if not decades to get to a more balanced out economy.
Canada is also losing an edge when it comes to maintaining a lion share of exports to the US: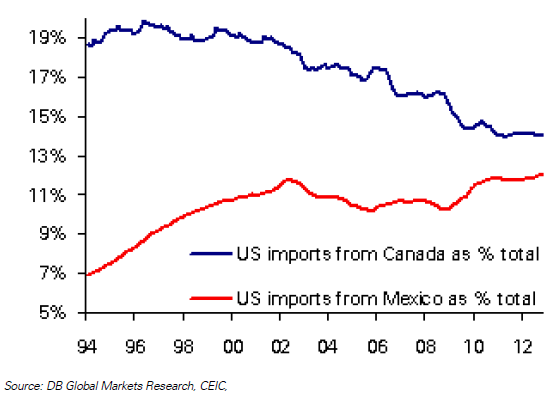 You can see that over the last 20 years, Mexican imports have narrowed the gap. This is largely driven by the low wage nature of our current global economy and the aforementioned high wages in Canada. Something will give and is giving. But like any bubble, things get wilder at the very end:
"Bloomberg: – Canadian housing starts unexpectedly increased for a second month in March and building permits rose in February, evidence that low borrowing costs are supporting construction.
Starts were 184,028 at a seasonally adjusted annual pace during the month, up from a revised 183,207 in February, the Ottawa-based Canada Mortgage & Housing Corp. said on its website today. In a separate report, Statistics Canada said building permits rose for a second month in February on a rebound in non- residential projects.
Construction has been supported by some of the lowest mortgage rates in decades, along with historically cheap borrowing for businesses, even as the government tries to tighten the mortgage market amid concern prices in some cities have become inflated."
Low rates and cheap borrowing. Of course it will be different this time around. Right?
http://www.mybudget360.com/canada-debt- … #more-4769
Statistics: Posted by yoda — Wed Apr 17, 2013 10:35 am
---
View full post on
opinions.caduceusx.com
A nation in the pangs of deleveraging – The long-term trend of a declining dollar and a collapsing middle class.
Posted by mybudget360 in bailout, banks, debt, economy, government, wall street
As Americans go out to vote many go blissfully unaware of the reality that our total public debt is now above $16.2 trillion. If your only source of information was the mainstream press this fact rarely came up in any debates or journalistic investigations. The discussion of stagnant household income never even came up in any of the important debates. It was all simply accepted that the decrease in the standard of living was somehow a normal part of the process. The squeeze in the middle is so extreme that we have dollar stores symbolically cropping up in places like the Silicon Valley and Beverly Hills. Rich and poor but very little left for the middle. While momentum continues to ebb the economy forward we are entering what you can describe as stagnation. An economy limping along while American households slowly undergo a painful process of deleveraging.
The great deleveraging continues
US households continue to deleverage as they undergo bankruptcy, foreclosure, and simply paying off existing debts. The appetite for new debt has been largely capped as the banking system recapitalizes through various subtle bailouts. The same result has not occurred for US households: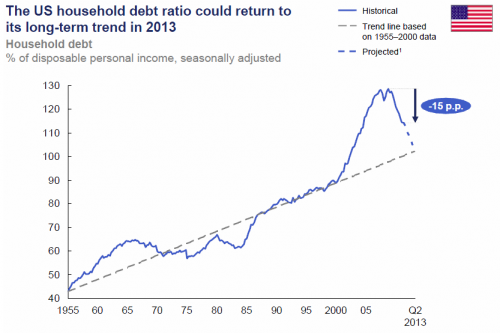 US households are still highly levered with debt. The system is lubricated by the machinery of debt. This is why at the core of the crisis the issue of debt was so vital. If you remember during the heart of the financial panic all the excuses given to bailout banks with blank checks were to "keep the credit markets going." But keep them going for what group of people? The American public has been largely deleveraging to adjust to the new economic reality while the banking sector has the most favorable access to debt in modern history courtesy of the Federal Reserve.
The great stagnation can really be seen if we look at actual household income: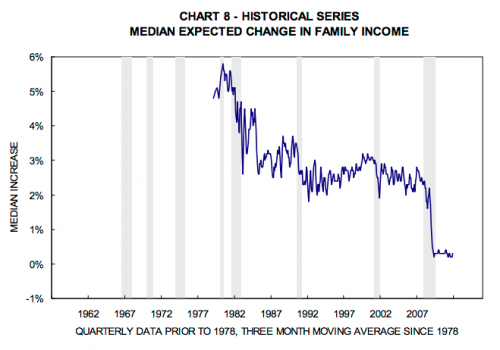 Since the 1970s household income growth has been shrinking year after year. Proponents of a weak dollar hypothesis need to look at data like this and ask again why a weaker dollar is good for America. It is clearly good for a select group of people but overall, it has been a crushing blow for the middle class. Things were heading lower and lower until they have finally stalled out.
The 2000s were a period of reconsideration and people simply did not want to believe that income growth was stalling out so debt was the solution. You build up credit as a nation. The US as the biggest economy in the world has latitude here but we went ahead and turned our entire economy into a debt based casino. The days of yanking money out of homes for vacations and cars was simply a method of spending years of future income in the moment. That bill is now here and the ability to finance it all with debt is growing weaker and weaker.
One good way of measuring this is looking at household debt and GDP as a ratio: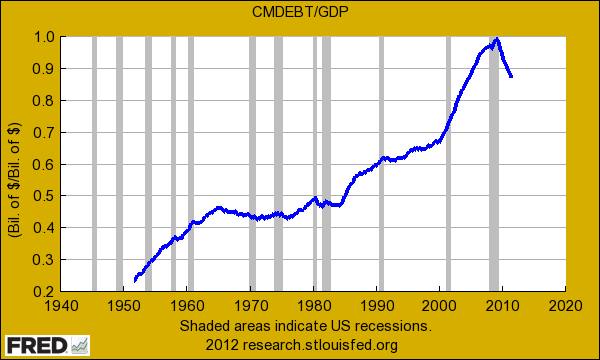 Since the 1950s the trend was rather clear. Then we peaked out in the 2000s. The US has reached a peak debt situation. So to keep on spending without actual production would likely lead to a similar outcome down the line. So as people go out to vote we need to remember that this is a multi-decade long trend. We are going to need more than one election to change this trajectory or we can get used dealing with more of the same for the middle class.
http://www.mybudget360.com/american-hou … #more-4390
Statistics: Posted by yoda — Tue Nov 06, 2012 11:46 am
---
View full post on
opinions.caduceusx.com
– $6.2 trillion in mortgage debt was added between 2000 and 2008. Since the peak in 2008 $1.3 trillion in US household debt is gone but another bubble is brewing hidden under the rubble of the busted housing market.
Posted by mybudget360 in bailout, banks, bubbles, debt, economy, housing, income
There is some interesting data on the deleveraging that is occurring with the American household. Since the peak in Q3 of 2008, US households have lowered their outstanding debt by $1.3 trillion. It is important to understand how this deleveraging is occurring. First of all, Americans are largely paying down existing debts much faster and are no longer on a debt binge like they were pre-2007. Yet a significant amount of the deleveraging has occurred via mortgage defaults. So while lower debt is a good sign, it is important to understand in what context this is occurring. Another point that will be highlighted is the amount of student loan borrowing in the US household equation. This segment of debt was untouched by the recession as younger Americans financed their college educations through more expensive debt. After a few years, Americans have pushed off some $1.3 trillion in household debt. Let us examine how this debt weight was lost.
Removing $1.3 trillion in household debt
Without question most of this reduction in debt has occurred because of mortgages being written off thanks to the housing bubble popping. Yet another part of the equation is that Americans have tapered off their borrowing ways and are not back to pre-recession levels. It is likely that this is a structural change given that most of the previous decade's borrowing came courtesy of a once in a lifetime bubble. Let us examine how this debt was removed via the housing process: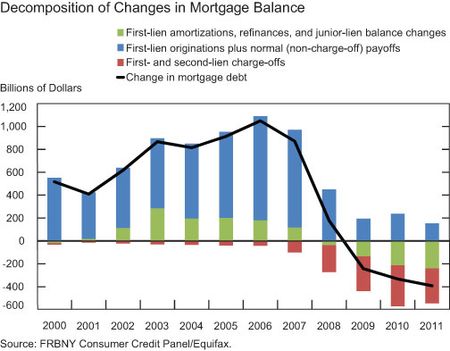 The big increase in US household debt from 2000 onwards was largely based on massive growth of mortgage debt. In 2000 outstanding mortgage debt went up nearly $600 billion. It dropped a bit in 2001 likely in line with the tech bubble bursting. After that, it was bubble city yet again. In 2002 it was well over $600 billion. From 2003 to 2005 it ranged in the $800 to $900 billion category. In 2006 it went over the nutty $1 trillion mark and even in 2007 it was over $900 billion. Trillions of dollars added in mortgage debt thanks to the housing bubble.
To be exact, a stunning $6.2 trillion in mortgage debt was added between 2000 and 2008.
Yet in 2008 even with problems emerging net mortgage debt went up. Only in 2009 through 2011 did we see actual mortgage debt go down. $241 billion in mortgage debt was paid down and as you can see from the chart above, a large amount of mortgage debt went away because of the housing bubble bust. All in all $968 billion in mortgage debt has been written off from 2009 to 2011.
Underlying all of this of course is that banks have dealt much better from the bust since the Federal Reserve has helped banks directly with countless programs and bailouts. For example, home values are down over 30 percent from their peak. However banks have not come close to adjusting mortgage debt by 30 percent. Even the chart above reflects this trend and demonstrates that most of the deleveraging has occurred on the balance sheets of US households.
The growing student debt
While practically all areas of consumer debt fell once the recession hit, student loan borrowing continued unabated: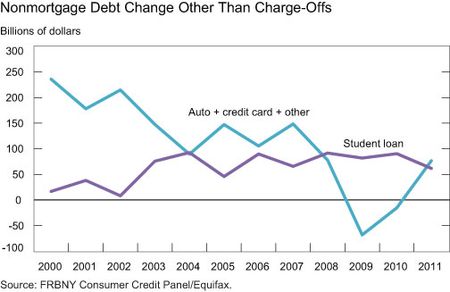 While the bubble in housing clearly has caused massive deleveraging in household debt, the higher education bubble continues to rage on. You have mixed signals being thrown out to students that yes, education is going to make you more money in the long-run but this kind of generalist advice provides very little guidance. There is a big difference between what career you choose and also where you go to study. It is insane that some poor quality institutions are charging students $50,000 per year and the only way this can occur is via the student loan system. Think about the fact that US households are essentially earning what they did in 1995 yet the cost of going to college has gone up even quicker than housing did during the peak of the bubble.
While it is true that US households are in the painful process of deleveraging, banks are once again levering up and speculating in all sorts of markets. The Federal Reserve is essentially handing out free money to member banks so they can continue to speculate in whatever they see fit. Of course the unforeseen changes are coming via hidden inflation and a declining standard of living. Need we remind you that the Fed was largely at the core of the initial housing bubble? With no real changes to the financial system the Fed is essentially funneling billions of dollars each month into the housing market to try and re-inflate asset values. US households have a firm grasp on what is happening with over 46.5 million Americans on food stamps and nearly half of Americans too poor to pay any Federal income tax.
http://www.mybudget360.com/us-household … #more-4296
Statistics: Posted by yoda — Mon Sep 24, 2012 12:13 pm
---
View full post on
opinions.caduceusx.com
THE DRAG FROM HOUSEHOLD DE-LEVERAGING IS UNDERESTIMATED
16 MARCH 2012 BY COMSTOCK
By Comstock Partners
Household debt deleveraging is only at its beginning stages and has a long way to go. It has already placed a lid on consumer spending that is holding down economic growth, and will continue to do so for the next few years. To convey how heavy a burden this debt is on the economy we present the following data.
Household debt has averaged 55% of GDP for the last 60 years and climbed to about 65% by 2000, when it really took off and soared to 99% at the peak in 2008. Since that time it has dropped to 86%. Although this is commendable progress, it has been the main reason why the current recovery has been by far the slowest since the 1930s. Furthermore, in order to get the debt down to even the relatively elevated 65% level of 2000, it would be necessary for debt to decline by about $3.2 trillion. When we consider that this is a whopping 30% of current personal consumer expenditures, the enormity of the task becomes obvious. Now we don't expect this to happen all at once, and the rise in GDP over coming years will also reduce the ratio. Therefore the drag on spending won't be as disastrous as the $3.2 trillion implies but will still be a serious impediment to future economic growth.
A similar analysis applies when household debt is measured against consumer disposable income (DPI). The ratio of debt to DPI averaged 76% over 60 years and increased to about 92% by the end of 1999. It climbed to 130% at the pre-crisis peak and has since dropped back to 113%. In order for the ratio to get back only to the year-end 1999 level, debt would have to decline by $2.4 trillion, or 22% of consumer spending.
Is all of this relevant to the real world? You bet it is. Fourth quarter GDP was up only 1.6% over a year earlier, while real consumer expenditures were down 1.4% year-over-year in January 2012. And despite all the talk about an improving economy, it is year-over year consumer expenditure growth that is the leading indicator for production, employment and capital spending.
When we also consider that the EU (in total the largest economy in the world) is probably entering a recession, and that a major bank is saying that China is already in a hard landing, the outlook for the U.S.
http://pragcap.com/the-drag-from-househ … restimated
Statistics: Posted by yoda — Fri Mar 16, 2012 6:02 am
---
View full post on
opinions.caduceusx.com
Has Derivatives Deleveraging Fueled the Stock Rally?
February 7, 2012
A mad scramble to avoid insolvency as Greek default becomes likely may be driving the rally in equities.
Deleveraging typically means selling assets to raise cash to meet margin calls or pay debts coming due. But there may be another twist to deleveraging that has fueled the manic market rally since late December. I am indebted to Peter C. of M3 Financial Sense for explaining this dynamic.
To understand this non-intuitive dynamic, let's start with a simple example of how options work. If this is new to you, please stay with me, your head will not explode…. at least for awhile.
An option is a financial instrument which grants you the right to buy X number of shares of a company at Y price (the strike price). One option controls 100 shares. An option is either a put (a bet the price will decline in the future) or a call (a bet the price will rise in the future).
An option is "in the money" when the stock price is above the call strike price or below the put strike price. For example, if you own one call option on Netflix (NFLX) at a strike price of $100, then your option is worth $2,900 ($29 per share) as of today because Netflix is trading for $129 per share. (There is also a time value in options, but let's leave that aside in this example.)
So if you bought 10,000 options on Netflix (NFLX), whomever sold you the options is obligated to deliver 1,000,000 shares of Netflix to you (at the strike price of the option) upon expiration of the option.
If your option is "in the money" as in the above example, the specialist who sold you the options will hedge his position so he can meet the obligation. If your options are just barely in the money, he might buy 250,000 shares of Netflix to cover his future obligation.
As your option becomes ever more valuable, i.e. becomes deeper in the money, the specialist has to increase his hedge up to the full 1,000,000 shares that he is obligated to deliver to you upon expiration.
That purchase of 750,000 shares to cover his bet will drive the price of Netflix up.
Here is an important point about options and derivatives. In theory, the number of options should equal the number of outstanding shares. If there are 1,000,000 shares of a stock outstanding, then there shouldn't be more than 10,000 options contracts written and sold.
In the parlance of options, these puts and calls are "covered," meaning there are enough shares available to "cover" the options, i.e. when the option expires, there are enough shares to meet the delivery obligations of actual shares.
If a specialist sells options without holding the requisite number of actual shares to cover the options, then he will have to buy those shares as the delivery date looms. If the number of option contracts exceeds the number of available shares, then the rush to acquire those shares for delivery will spark a massive rally.
This is somewhat akin to the infamous "short-covering rallies" triggered when those who sold shares short have to buy shares to close their short positions.
Options and futures contracts are all marked to market at the close of every trading day. The price is thus transparent for all to see.
Derivatives are not marked to market. That sort of requirement is evil, evil, evil and anti-capitalist–or so we are told by the financial cartels who profit from selling derivatives.
Derivatives can be sold in whatever quantity can be fobbed off to credulous buyers. This is how the world ends up with 700 gazillion dollars in notional derivatives.
Consider the debt of a sovereign state–for example, Greece. Just to keep things simple, let's say there are $100 billion of outstanding Greek bonds. Back in the good old days around 2009, the risk of Geece defaulting on that debt was considered low. Nonetheless, prudent owners of the debt bought insurance against default. The insurance is a derivative called a credit default swap (CDS).
The contract works somewhat like an option, in the sense that if a default occurs, the seller of the CDS must cover their contract by delivering the value promised in the CDS to its owner. If no default ever occurs, the financial institution that originated and sold the CDS gets to keep the hefty premium.
Nice. Since there are no limits on how many CDs I can write on Greek debt, why not sell more CDS? In fact, why not sell more CDS than there are Greek bonds?
As in our options example, in the normal course of things the number of CDS equals the outstanding bonds. In other words, the owners of the $100 billion in bonds would buy $100 billion in notional CDS insurance against default.
If Greece defaulted and the value of the bonds fell in half to $50 billion, the sellers of the CDS would owe the owners of the CDS $50 billion. (This is simplified, but you get the picture.) That was, after all, the bet: in exchange for this hefty premium, if Greece defaults then we will make good your horrendous losses.
But a funny thing happened on the way to the derivatives market: wise guys realized they weren't limited to selling CDS to the owners of Greek bonds–anyone could buy a CDS on Greek debt. So why not sell $1 trillion in CDS against Greek bonds? That's ten times the premium.
Some issuers hedged their bet by buying CDS issued by other institutions. These other institutions are the "counterparty", that is, the party who pays off the CDS I bought from them so I can pay off the owner of my CDS. Thus the derivatives market for Greek debt is a daisy-chain of counterparties, all planning to use the proceeds from the CDS they own to pay off the CDS they sold.
It was a license to print money–until Greece defaults. Yikes, now what? Just as in the classic film The Producers, where 100% of the proceeds of the Broadway play were promised to ten different investors, the CDS schemers reckoned the odds of a Greek default were effectively zero–"the E.U. will never let a member state default."
Ahem. Until they do. In The Producers, the schemers devised a play so odious, so bad and so repellent that they felt extremely confident it would close after one night for a tremendous loss–and they would get to keep the 10X oversubscribed investors' money.
This was the same bet made by sellers of CDS on Greek debt–and on Italian, Portuguese, Spanish, Irish et al. debt as well.
Now that leaves the canny financiers in a pickle, as they owe various parties $1 trillion when $100 billion in Greek debt goes up in smoke.
Now we get to the deleveraging part. As I understand it, some of these CDS are written against various swaps or stock indices, meaning that the asset to be delivered upon default is ultimately a claim against stock indices, currencies, etc.
That means that those holding the CDS obligations have to acquire these assets so they can pay off their obligation when Greece defaults.
There is one more wrinkle. Many sellers of CDS protected themselves against any potential loss by buying a CDS originated by someone else. As noted in When Greece Defaults, the Credit Default Swap Dominoes Fall (February 4, 2012), this "can be likened to a pool of $100 bets leveraged off $5 in cash. If every bet is covered perfectly, then it's somewhat like $95 in bets being paid by passing $5 around–much like the famous email that depicts all debts in a small town being paid by the same $5."
But some players have issued more CDS than they bought as insurance, meaning that they will be unable to meet all their obligations. Everyone is depending on a host of counterparties to deliver, and now there is a growing fear that some counterparties will be unable to make good on their obligations.
That's how the dominoes topple. Prudent institutions aren't waiting around until the dominoes fall–they're buying the underlying assets so they can meet their CDS obligations. That's the only way not to topple into insolvency when the default causes CDS to be recognized as due and payable.
In this light, it's no wonder stocks have been rising. If even a modest percentage of CDS are tied to stock indices, then those deleveraging their derivatives positions must acquire the underlying assets. They can no longer count on all counterparties paying off as promised, and so they are raising cash and buying the underlying assets needed to make good their obligations.
The whole thing is a farce, just like The Producers. The moment the default is recognized, then all the CDS become due and payable, and it will only take handful of failed counterparties to bring the entire system down.
No wonder the Eurocrats and central bankers are twisting everyone's arms to accept a 70% loss–the alternative is a Greek default and the collapse of the banking cartel's profitable scheme. It is beyond absurd–what is a 70% loss but default? When banana republics default, their bondholders don't necessarily absorb a 70% loss. yet now, to "save" the despicably parastic shadow banking system and the "too big to fail" financial institutions, a default cannot be called a default: it is a "voluntary haircut."
Greece, please do the world a favor and openly default–right now, today. Declare a default and pay nothing. Force the shadow banking system to recognize a default and bring down the entire rotten heap of worm-eaten corruption.
At that point, there will be no reason to buy equities.
http://www.oftwominds.com/blog.html?ref=patrick.net
Statistics: Posted by yoda — Tue Feb 07, 2012 10:10 am
---
View full post on
opinions.caduceusx.com