Gold crush: U.S. ready to shut down gold sales to Iran
By Perry Chiaramonte
Published May 20, 2013
FoxNews.com
Iranians are seeking gold as their currency – the rial – plummets in value.
The U.S. is trying to stop the gold rush to Iran in a bid to undermine the Islamic Republic's plummeting currency, but critics say the move is more likely to hurt ordinary citizens than the rogue regime's leadership.
A top Treasury Department official told lawmakers that, starting July 1, the U.S. plans to crack down on all transfers of gold to the Iranian government or its citizens. The move appears aimed largely at banks and gold brokers in Turkey and the United Arab Emirates. Companies operating from within those nations have shipped large amounts of gold to Iran as Tehran attempts to stabilize its currency, the rial, amid increasing international economic isolation.
"We have been very clear with the governments of Turkey and the UAE and elsewhere, as well as the private sector that is involved in the gold trade, that as of July 1 all must stop, not just the trade to the government," Treasury Undersecretary for Terrorism and Financial Intelligence David Cohen told members of the Senate Foreign Affairs Committee last week.
The rial has lost two-thirds of its value against the dollar since late 2011, largely as a result of U.S.-led sanctions targeting the banking system and oil exports. The sanctions are in response to Iran's ongoing nuclear weapons program. The U.S. can impose sanctions on foreign companies that violate the Iran policy, as long as those companies also seek to do business with parties in the U.S. To date, the Obama administration has not penalized any companies in Turkey or the UAE for trading in gold with Iran.
"There's a tremendous demand for gold among private Iranian citizens, which in some respects is an indication of the success of our sanctions."
- David Cohen, U.S. Department of Treasury
"There's a tremendous demand for gold among private Iranian citizens, which in some respects is an indication of the success of our sanctions," Cohen said. "They are dumping their rials to buy gold as a way to try to preserve their wealth. That is, I think, an indication that they recognize that the value of their currency is declining."
Some economists questioned whether the gold squeeze can be effective against the Islamic regime.
"It is not clear to me that banning the sale of gold to private Iranian citizens is going to increase pressure on the Iranian government," Milken Institute economist Komal Sri-Kumar told FoxNews.com. "While banning the sale of essential goods and service has a depressive effect on an economy, banning gold sales simply removes one safety valve that the residents would have had.
"It means, then, that the rial cannot be used by residents to purchase gold. They have to use the currency to buy domestic real estate, goods and services to hedge against inflation. In turn, this would probably hurt residents more than it would the rulers," he added.
In February, the Central Bank of Iran claimed that the country holds 907 tons of gold — roughly worth $17.5 billion — in reserves. Officials for the agency added in reports that the nation had purchased gold in recent years at an average of $600 per ounce. While gold reached a price of three times that during its recent run, it has fallen below $1,400 per ounce.
The new effort is the latest in sanctions imposed by the U.S. and Europe against Iran. In 2011, a sanctions law was signed by President Obama that led a full embargo on crude oil and gas products which cost the Iranian government of billions of dollars in revenue.
But many agree that the most likely to suffer from the embargo will be ordinary citizens and not the regime.
"Our position is that economic sanctions should target the government and not the entire people," Hadi Ghaemi, executive director of the International Campaign for Human Rights in Iran, told FoxNews.com. "Crippling sanctions will hurt average Iranians, strengthen the regime, and play into their hands by blaming misery of the people and all of the government's shortcomings on the West.
"We wish to see targeted sanctions against the regime and its officials, not the entire people of Iran," he added."We already have serious shortages in medical, food and industrial sectors of Iran with Iranian people paying a heavy price, while the regime's cronies getting richer due to the economic environment created through black market, smuggling and inflation."
http://www.foxnews.com/world/2013/05/20 … latestnews
Statistics: Posted by yoda — Tue May 21, 2013 12:29 am
---
View full post on
opinions.caduceusx.com
 (From Black Listed news)

Commerce Secretary Penny Pritzker? What's next? Labor Secretary Donald Trump? SEC Chairman Bernie Madoff?
View full post on AgainstCronyCapitalism.org
Michael F. Cannon
Secretary of Health and Human Services Kathleen Sebelius' latest abuse of power has strengthened the case for her removal from office. Before discussing her latest misconduct, let's review some of Sebelius' past abuses of power.
Now we learn, from the Washington Post's Sara Kliff, "Sebelius has, over the past three months, made multiple phone calls to health industry executives, community organizations and church groups and directly asked that they contribute to non-profits that are working to enroll uninsured Americans and increase awareness of the law."
This too appears to be unlawful:
Federal regulations do not allow department officials to fundraise in their professional capacity. They do, however, allow cabinet members to solicit donations as private citizens "if you do not solicit funds from a subordinate or from someone who has or seeks business with the Department, and you do not use your official title," according to Justice department regulations.

[A] Health and Human Services official, who requested anonymity because he was not authorized to discuss the secretary's private discussions, described her work as well within the bounds of her authority.
Riiight. Kathleen Sebelius runs the Department of Health and Human Services. At nearly $1 trillion per year, HHS is the largest department in the U.S. government, spending 43 percent more than the Defense Department. Most of those subsidies go to the health care sector. Those subsidies will increase dramatically when ObamaCare takes full effect next year. Sebelius has been calling executives from the industry she regulates, including "multiple insurance executives," and asking them to donate money to Enroll America – a private organization, headed by a former White House official, whose purpose is to help make ObamaCare a success. Sebelius has a history of threatening uncooperative companies with retaliation. But we are to believe it's all on the up and up because…what? She never told these executives whether she is the Kathleen Sebelius who runs HHS, or some other Kathleen Sebelius?
Even if her activities are not illegal, they are definitely unethical:
"It sounds like the people she's going to are people that are being regulated by her agency, I think that is definitely problematic," said Meredith McGehee, policy director for the Campaign Legal Center. "That's not a statement about the value of the law, but it's a statement about using the power of government to compel giving or insinuate that giving is going to be looked at favorably by the government."
Given this much misconduct, you might think President Obama would ask for Sebelius' resignation. A spokesman for the president commented:
The President believes that the American people expect and deserve to have the very best public servants with the highest levels of integrity working in government agencies on their behalf…If the Inspector General finds that there were any rules broken or that conduct of government officials did not meet the standards required of them, the President expects that swift and appropriate steps will be taken to address any misconduct.
I'm kidding, of course. That's what White House press secretary Jay Carney said about the IRS targeting tea-party groups. Sebelius is all aces with the president, for two reasons. First, her misconduct came in the service of universal coverage. To the Church of Universal Coverage, there is no higher law. Second, the president needs Sebelius because she is the only person in the universe who can wield the considerable powers of ObamaCare's Independent Payment Advisory Board without needing a Senate confirmation hearing.
As I wrote on the eve of ObamaCare's passage, "Abandoning ethics to serve one's partisan agenda is an ugly yet bipartisan tradition. But there's an added irony when supporters of ObamaCare do it: at the same time they demonstrate what scant regard politicians have for honesty, propriety, fair play, and even public opinion, they are demanding that we trust politicians with our health care."
View full post on Cato @ Liberty
Trevor Burrus
Yesterday, the Bureau of Justice Statistics (BJS) released a special report, Firearm Violence, 1993-2011. Not surprisingly, at least for those who follow crime statistics, the report shows that firearm homicides went down 39% between 1993 and 2011. The report also reconfirms many things that gun-rights supporters have been saying for decades: that less than 2% of prison inmates in 2004 bought their firearm from a "flea market or gun show," and that "2% of state inmates and 3% of federal inmates were armed with a military-style semiautomatic or fully automatic firearm."
Also not surprising is that very few people know about the dramatically reduced crime rate. Also released yesterday was a Pew study on Americans' perceptions of the crime rate. Despite cutting the murder rate nearly in half in less than twenty years, only 12% of Americans believe that gun crime has dropped in the past two decades. Fifty-six percent believe it has increased, and 26% believe it stayed the same. This is not new. People often don't realize how much better things are getting, and this fact can push public policy in misguided directions.
Many have tried to explain this precipitous drop in crime, including one study that connected it to the decreased amount of lead in the environment. Whatever the cause, one thing is clear: there are about 50 million more guns in America now than in 1993 and crime did not go up.
Now, I will not oversell that statistic, not only because it does not prove the thesis "more guns, less crime," but also because overselling statistics is a big problem in the gun control debate for both sides. For example, to take another statistic from the BJS report: the number of times per year people use guns to stop or curtail crime.
Despite the fact that the BJS is quite good at some things, it is uniquely bad at measuring the level of defensive gun use (DGU) in America. And despite the fact that I can easily demonstrate this to anyone with even the slightest inclination to allow their minds to be changed, I am not optimistic that the gun controllers will listen.
Gun controllers are constantly accusing gun-rights supporters of over-estimating the instances of DGU, and their primary source is the data from the National Crime Victimization Survey, which they rely on unquestioningly. The disparity between the BJS statistics and other studies is stark, as much as 30x. For example, yesterday's BJS report claims that, between 2007-2011, crime victims used guns to stop or curtail crime 235,700 times. This aligns with the general tendency for the BJS to record between 60,000 and 100,000 DGUs per year. By contrast, Florida State's award-winning criminologist Gary Kleck has found there may be as many as 2.5 million DGU instances per year. Gun-controllers almost always dismiss Kleck's data as wildly inaccurate, if not NRA-funded propaganda (it is neither), and instead unquestioningly accept the BJS numbers. See, for example, this study by the Violence Policy Center, which simply regurgitates the BJS numbers, and this discussion of the VPC report at Mother Jones. This New York Times post on the VPC report sneeringly offers this observation on the disparity between Kleck's and the BJS's numbers:
Readers can judge for themselves whether the V.P.C. or the N.R.A. is likely to have better numbers. The V.P.C. used data from the National Crime Victimization Survey, conducted by the Bureau of Justice Statistics. The N.R.A.'s estimate is the result of a telephone survey conducted by a Florida State University criminologist.
I accept the Times's invitation, and I will judge for myself:
Six Reasons to Distrust the NCVS on Defensive Gun Use
1) As you can see from the NCVS survey questions here, the survey is non-anonymous. Although respondents were given guarantees that the results will remain confidential, many respondents would certainly be uneasy about answering questions about gun use after giving their names and addresses. This is a well-known effect of non-anonymous surveys.
2) Respondents were told from the outset that the survey is conducted by the government, specifically the U.S. Census Bureau. Coupling this with the survey being non-anonymous and you have a perfect recipe for withholding information. This is all the more true if the respondent had reasonable concerns about whether an instance of DGU was legal, either because they themselves were not allowed to have a gun or to be carrying a gun (perhaps because of a felony conviction), because carrying a gun or having a gun is essentially illegal in their area (e.g., DC, NYC), or because of the obvious legal gray-area around the act of threatening someone with a gun, much less firing it at them. In essence, those who unquestionably trust the NCVS data on DGUs believe that the question, "hi, I'm from the government, please give me your name and address and tell me if you've used a gun to protect yourself in the past year" will yield accurate results.
3) Respondents were only asked about DGU after they had given the location of the crime. If the crime occurred outside the home, as did 78.1% of violent crimes between 2007-2011 (table 7), and some respondents were unauthorized to carry a gun outside the home, then they were being asked to admit to a crime.
4) But respondents were not just told that the U.S. Census Bureau is conducting the survey, they were told that the survey is sponsored by the Department of Justice. They were then asked to volunteer information about possibly illegal activities to the chief law enforcement agency of the United States.
5) Respondents were not directly asked about DGU because the NCVS is not primarily designed to uncover instances of DGU. They were first asked whether they have been victims of a crime and only then were they asked follow-up questions about the incident. But the NCVS under-reports crime, particularly domestic violence and rape, and if it under-reports crimes where DGUs are particularly common then it would of course under-report DGUs.
6) The follow-up questions are not straightforward enough to accurately capture instances of DGU. As you can see from the follow-up questionnaire given to those who report a crime (page 12), respondents must first have answered "yes" to the question, "Did you do anything with the idea of protecting YOURSELF or your PROPERTY while the incident was going on?" before they were asked about DGU. They were then asked to volunteer information about a DGU rather than being put in a position of having to lie in order to deny a DGU.
That's what the government did. Let's see how "the result[s] of a telephone survey conducted by a Florida State University criminologist (Gary Kleck)" were collected:
We use the most anonymous possible national survey format, the anonymous random digit dialed telephone survey. We did not know the identities of those who were interviewed, and made this fact clear to the Rs [Respondants]. We interviewed a large nationally representative sample covering all adults, age eighteen and over, in the lower forty-eight states and living in households with telephones. We asked DGU questions of all Rs in our sample, asking them separately about both their own DGU experiences and those of other members of their households. We used both a five year recall period and a one year recall period. We inquired about uses of both handguns and other types of guns, and excluded occupational uses of guns and uses against animals. Finally, we asked a long series of detailed questions designed to establish exactly what Rs did with their guns; for example, if they had confronted other humans, and how had each DGU connected to a specific crime or crimes.

Interviews were monitored at random by survey supervisors. All interviews in which an alleged DGU was reported by the R were validated by supervisors with call-backs, along with a 20% random sample of all other interviews.

Questions about the details of DGU incidents permitted us to establish whether a given DGU met all of the following qualifications for an incident to be treated as a genuine DGU: (1) the incident involved defensive action against a human rather than an animal, but not in connection with police, military, or security guard duties; (2) the incident involved actual contact with a person, rather than merely investigating suspicious circumstances, etc.; (3) the defender could state a specific crime which he thought was being committed at the time of the incident; (4) the gun was actually used in some way–at a minimum it had to be used as part of a threat against a person, either by verbally referring to the gun (e.g., "get away–I've got a gun") or by pointing it at an adversary. We made no effort to assess either the lawfulness or morality of the Rs' defensive actions.

An additional step was taken to minimize the possibility of DGU frequency being overstated. The senior author went through interview sheets on every one of the interviews in which a DGU was reported, looking for any indication that the incident might not be genuine. A case would be coded as questionable if even just one of four problems appeared: (1) it was not clear whether the R actually confronted any adversary he saw; (2) the R was a police officer, member of the military or a security guard, and thus might have been reporting, despite instructions, an incident which occurred as part of his occupational duties; (3) the interviewer did not properly record exactly what the R had done with the gun, so it was possible that he had not used it in any meaningful way; or (4) the R did not state or the interviewer did not record a specific crime that the R thought was being committed against him at the time of the incident. There were a total of twenty-six cases where at least one of these problematic indications was present. It should be emphasized that we do not know that these cases were not genuine DGUs; we only mean to indicate that we do not have as high a degree of confidence on the matter as with the rest of the cases designated as DGUs. Estimates using all of the DGU cases are labelled herein as "A" estimates, while the more conservative estimates based only on cases devoid of any problematic indications are labelled "B" estimates.
Kleck's study (which you can read here) was done in 1993, so there is good reason to believe that the instances of DGU have gone down with the crime rate. Also, Kleck's study, like all studies, is far from ironclad. But I'll leave that question to the reader: which study is likely to be more reliable?
(For more on defensive gun use, see Cato's study Tough Targets. You can also check out interactive map on defensive gun use.)
View full post on Cato @ Liberty
Chris Edwards
It drives a lot of us at Cato nuts to read news stories almost every day which simply assume that government spending is good for the economy. Any defense or nondefense spending restraint will hurt economic growth, it is assumed. Even a recent AEI study seemed to accept this Keynesian concept.
Government spending certainly helps the government-dependent parts of the U.S. economy. But most Americans live in the private economy, and so they might like to know how government budget actions affect the economy that they live in.
So let's explore the spending-to-growth relationship with national income accounts data. I ran a simple regression with 60 years of data, 1953 to 2012. The variable I was trying to explain was real private GDP growth. Private GDP is total GDP less the government portion of GDP from Table 1.1.5. The explanatory variable was total (federal/state/local) government spending from Table 3.1. Both variables were converted to constant dollars using the GDP deflator.
The chart below shows the Excel plot of the results. The downward slope of the trend line means that higher government spending growth in a year corresponds to reduced private GDP growth that year. For example, if real government spending growth was zero, private GDP would be expected to grow at 4.2 percent. If real government spending growth was 5 percent, private GDP growth would be expected to fall to 2.8 percent.
The F-statistic for the regression was 4.1 indicating overall significance at the 95 percent level, which is the usual level economists look for to be confident of a solid relationship. The T-statistic on the government spending variable was 2.0, which indicates significance at over 95 percent. (Note that the statistical results were even stronger when I included data back to 1946 because post-war government cuts coincided with robust economic growth.)
The R-square of the regression was low, indicating that changes in government spending only explained a small portion of current-year GDP growth. That makes sense because a myriad of other factors affect GDP growth, including economic growth in other countries, regulatory factors, oil industry shocks, technology shocks, etc.
Note that my explanatory variable was total government spending, which includes government production and government transfers. I think that both types of government spending harm the private economy. If the government increases UI payments or food stamps, for example, it induces fewer people to work.
Personally, I'm suspicious of statistical "proofs" of economic relationships. But I do think that even broad-brush results such as this should give pause to the reporters and policy wonks who often write articles with hidden Keynesian assumptions. I think that the harm from increasing government spending affects the economy over a longer period of time. But even these single-year regression results suggest that people should be skeptical of the widely held notion that the economy is like a car and the government can speed things up by simply stepping down on the spending gas peddle.
P.S. I'm happy to share my data upon request if people want to check for any Reinhart-Rogoff problems.
View full post on Cato @ Liberty
: Over $1 Billion Vaporized In a Few Hours
http://www.24hgold.com/english/news-gol … Slavo&mk=1
by Mac Slavo – SHTFPlan
Published : April 11th, 2013
Just a few months ago the total net worth of all Bitcoins, a popular encrypted digital currency, was worth about $140 million. The non-tangible exchange mechanism is used by people all over the world to purchase everything from traditional goods and services, to illicit trade that may include drugs and stolen credit card numbers. The coins became a go-to digital store of wealth around the world after the meltdown of the Cypriot financial system, and was pushed as a 'safe' way to preserve wealth out of view prying government eyes. All of the excitement surrounding Bitcoin has driven the price of a single unit to in excess of $250, giving the total Bitcoins in global circulation a market capitalization of over $2.5 Billion in just a few months time.
Earlier this morning, Mike Adams of Natural News penned a warning to investors and those seeking privacy and wealth protection by utilizing the digitally encrypted BitCoin currency unit:
Bitcoin has become a casino. It is almost a perfect reflection of the tulip bulb mania of 1637 in these two ways: 1) Most people buying bitcoins have no use for bitcoins (just like tulip bulbs), and 2) The rapid increase in bitcoin valuations cannot be substantiated in any way that reflects reality.
In other words, there is no fundamental reason why bitcoins should be 2000% more valuable today than four months ago. Nothing has changed other than the craze / mania of people buying in.
…
When bitcoins were in the sub-$20 range, I was not concerned about any of this. I actually encouraged people to buy bitcoins and support the bitcoin movement. But alarm bells went off in my mind when it skyrocketed past $150 and headed to $200+ virtually overnight. These are not the signs of rational markets. These are warning signs of bad things yet to occur. (Via Infowars)
A few hours after Adams' dire warning was posted, the crash he warned about has become a reality.
This morning, without warning, and moments after Bitcoin achieved its all time highs, the currency collapsed over 50%, essentially vaporizing upwards of one billion dollars in value.
This is what panic selling looks like – in real time:
Bitcoin-Collapse(Chart Courtesy Bitcoinbullbear.com)
And given that there are no protective mechanisms for the alternative free market Bitcoin trade, the crash may not yet be over.
Will it stage an amazing recovery? Alas, for this particular bubble, there are no NYSE circuit breakers nor is there a Federal Reserve-mandated "plunge protection team." And why should there be? The central banks hate all currency alternatives. Firehats: on, especially since the volume is still relatively lite. (Zero Hedge)
The momentum for Bitcoin has now turned to the downside, much like it did in previous crashes where the currency achieved new highs, and was promptly sold off by those who bought into the bubble early at rock-bottom prices.
While BitCoin may be a preferred method of keeping payments for services and products private through its crypto-mechanisms, it is still a non-tangible asset and it require brokers and the internet to function properly.
Touted as a safe haven store of wealth and a "gold standard of the internet age" by Forbes, tens of thousands of investors bought into the hype.
Today they are paying the price.
During times of financial and economic stability BitCoin may function just fine as a suitable mechanism of exchange. But these are not ordinary times. Interesting, yes. Stable, no. And thus, exchanging one's assets and turning them into digital Bitcoins may not be the best choice of asset protection during periods of financial, economic and political turmoil and uncertainty.
Only physical assets – the kind we can hold in our hand – can truly be called safe havens.
Statistics: Posted by DIGGER DAN — Sat Apr 13, 2013 3:16 am
---
View full post on
opinions.caduceusx.com
Cargill's earnings plunged 42% in 3rd quarter due to drought
Cargill Inc., the largest closely held company in the U.S., reported third-quarter earnings were $445 million, down 42% from the same period a year earlier.
By Ricardo Lopez
April 9, 2013, 10:48 a.m.
Last summer's punishing drought in the Midwest caused Cargill's third-quarter earnings to sink 42% compared to the same period a year earlier, the Minneapolis-based company said Tuesday.
Cargill Inc., the largest closely held company in the U.S., reported that net earnings in the fiscal 2013 third quarter were $445 million — down $321 million from the same period a year earlier.
Third-quarter sales were $32.2 billion — up 1%.
"In North America, our meat-processing businesses were pressured by the drought-related high cost of feed ingredients," said chief executive Greg Page.
Among Cargill's five business segments — which include agriculture services and food ingredients and applications — four of them had lower earnings in the third quarter.
"The animal protein businesses were negatively affected in North America by high feeding costs, tight cattle supplies and an oversupplied turkey market," the Minneapolis-based company said in a statement.
Cargill is a multinational food and agriculture company employing 142,000 people in 65 countries.
http://www.latimes.com/business/money/l … 2787.story
Statistics: Posted by yoda — Tue Apr 09, 2013 1:43 pm
---
View full post on
opinions.caduceusx.com
Backwardation in a down market! Gold and silver are poised to go much higher
Gijsbert Groenewegen
Posted Mar 23, 2013
What is the significance of backwardation in a down market?
We are witnessing backwardation (spot price higher than future price) in a down market, which is unusual! Why? Because backwardation normally only occurs when prices are rising and there is such strong demand and such limited supply that the prices for spot are higher than the future prices, which include interest and storage costs. Backwardation especially happens just before the harvest of agricultural (consumable) commodities when there is a lot of demand and no supply yet and when a situation of scarcity exists. The situation is different for precious metals because there is no scarcity of above ground gold and silver inventories. The main reason for backwardation in the case of precious metals is that the supply is extremely scarce because holders of gold and silver don't want to dispose of their physical gold and silver, not because there isn't enough gold or silver, but because the gold and silver investors don't know if they will be able to get the physical back in the future if they sell it spot, now.
Investors don't trust giving up their physical gold in exchange for a paper delivery in the future, in sixty or ninety days. In other words they don't trust a paper delivery, that gold will be available for delivery in the future, investors believe there is increased counter party risk (paper risk) following increased uncertainty in the markets. In other words it is paper versus physical.
The Fed has a vested interest in suppressing gold and silver prices
The fact that gold and silver holders don't want to separate from their physical in a down market is in my point of view even a stronger signal that a strong rise in prices can't be too far off. I believe it could be explained basically as a signal that the paper market (facilitating government and bank manipulation) wants to put downward pressure on the gold and silver prices whilst the physical market (real demand) states loud and clear that they don't want to sell! It is a stand off between the paper market (government and banks (Fed)) and the physical market (real investors). The ratio paper versus physical gold is estimated to be 100:1. It is easy to create a piece of paper that creates an obligation with a certain quantity of gold as the object though the physical delivery of the gold is a totally different story. Most future contracts are settled in cash and not the physical though when too many parties would start asking for physical delivery the Comex still has the power to call it "force majeure" and impose a cash settlement.
The Fed wants to suppress the gold and silver prices despite the ongoing QEs causing the debasement of the currencies and foremost the debasement of the reserve currency, the US dollar, which has an inverse relationship with gold! The reason for the suppression is that strongly higher gold and silver prices would be a red flag to the improving stock markets indicating that there is something sincerely wrong in the markets. The whole consumer confidence building, healing exercise would be destroyed and thus the monetary authorities in the US have a strong incentive in keeping the gold and silver prices from rising too quickly and too strongly. Though one should understand that ultimately the physical will always win it from the paper, if investors can't put their hands on the physical and the paper markets tries to suppress the price what is that telling you? Only one thing: I need to buy physical gold! The proof is in the pudding.
When is the collapse imminent?
Anyway it is clear that we are witnessing a tremendous false expansion of credit, which is created out of thin air, and which will collapse ultimately. So what could be the signal that the collapse would be imminent? In my point of view this will be the case when the backwardation will increase and gold will not come to the market despite even higher prices. The moment investors don't want to sell their physical gold for US dollars, doesn't matter what amount, the US dollar will have lost its value.
In the quest for safe havens gold and the US dollar could rise in tandem
Though for the moment it looks like the US dollar is strengthening. In fact I believe we are at crossroads in the markets with the US dollar breaking out on the upside, upward pressure and a most likely break out of the interest rates and a still relatively very low Vix index, clearly indicating huge complacency about the state of the markets that show a 85% correlation between the equity markets and the size of the Fed's balance sheet!
As a friend of mine rightfully observed the precious metals have lately behaved actually very well considering the rising US dollar index (USD) from 79 on February 1, 2013 to 82.75 on March 21, 2013 a 5% rise. Gold fell from $1,667/oz to $1,615/oz a decline of 3.3%. The US dollar and gold and silver are inversely correlated. They are each other opposite. Only for short periods the precious metal prices and US dollar have moved in tandem although I think that might soon happen again in the quest for safe havens in order to preserve capital.
The Cyprus situation clearly illustrates the need for safe havens
The intricacies and potential consequences of Cyprus situation clearly support the need for real safe havens. The Cyprus situation has put into doubt the sanctity of property rights and the validity of deposit guarantees. Where will the discretionary behavior of monetary authorities and politicians stop? What could happen next weekend? Why would holders of deposits, one of the pillars of the banking system, have to pay for the irresponsible behavior of the bankers that get away with huge bonuses every year because they know that a "healthy' banking system is a "condition sine qua non" for a healthy economy. Anyway my point is that the quest for real safe havens is more necessary than ever. Gold and silver are obvious safe havens because they have real value of their own and "can't be manipulated", better said they can't be printed. Other safe havens are currencies that "are backed" by large gold reserves or healthy economies, such as the Swiss Franc, the Norwegian Kroner, the Australian Dollar or the Canadian Dollar though these pools are too small too handle the large influx of funds looking for a safe haven. What is left, despite its poor fundamentals, is the US dollar with world's largest money market with a size of $10trn. Though be aware of having bank accounts, having physical gold or silver in personal possession looks like the safest option. You don't want to hold your gold in deposit boxes in the banks. Ask the people in Cyprus if they could get their money out of the banks now there is a crisis in Cyprus. Wake up!
The US dollar index likely to break out of downtrend since 2001
As mentioned here above the US dollar has been rising since February this year and when the US dollar index exceeds the 83 level (which it did last week before being pushed down aggressively!?) on the point & figure chart it will break out of its downtrend since 2001 and will most likely show a strong move upwards.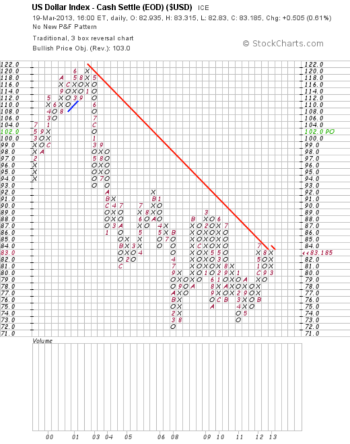 The US dollar actually reached an 83.1 high last week before falling sharply wiping out two weeks of gains. Though the real question now is for how much longer the "manipulators" can keep the US dollar down. On March 21 the US dollar closed at 82.75!
What could be the factors behind a strong rise in the US dollar index
In my point of view there are 5 reasons why the US dollar is rising:
1.The economy is perceived to be really improving. I sincerely dispute this view because I don't think there is sustainability of economic growth because we have surpassed the tipping point (Debt/GDP in excess of 77%-90%). The IMF estimates that the US economy will expand by 2% in 2013, that Japan will grow 1.2%, the UK 1% and that the Euro-zone will contract by 0.2%. China is forecast to grow by 7.5% in 2013.
The Fed's $3trn buying program has inflated the markets dramatically. Where would the Dow Jones be if the Fed hadn't injected $3trn and where would 2% 10y bond yields be? 4%, 6%, 8%! Wall Street might be doing well though Main Street isn't. Wages are not really rising and the labor force participation rate at 63.5% is at a 20 year low and food stamps are at all time highs. The middle class, the buffer in the economy, is obliterated.
Net household formation, an estimate of the future number of households, was coming off an unusually low level of approximately 400,000 to reach nearly 1 million. Though the main question is if we will see 1.4 million, 1.6 million or 1.8 million? In other words is the improvement in the housing market sustainable? While sales of existing homes were hitting a three-year high there is a lack of natural first time buyers (only 30% of sales) with "unnatural" institutional investors buying up REO for Rental homes from the banks and then re-renting them out or securitizing them, accounting for 25% of sales. Similar to the bond and equity markets the housing market improvement is very artificial.
Anyway lets just assume that the economy is really improving than inflation shouldn't be far off when the velocity of money (the number of transactions) increases. Especially with the ballooned $3trn Fed balance sheet. This would inevitably lead to much higher interest rates and thus a declining bond market. The so-called "Great Rotation" bares the seeds of its own destruction although very few people want to see this and use the argument that the money has to go somewhere. Next to that with current yearly interest expenditures of $250-300bn one has ask himself what these expenditures of the US government will be when interest rates really start to rise, $500bn? $750bn? $1trn? When you break out of a 32-year downtrend (as off 1981) interest rates are not going to stop at 3% or 3.5% be convinced of that. Every investor will go for the gate!
2.Or is it because the outlook for Europe in 2013, and thus the Euro, is not particularly rosy. Despite the fact that European stocks are approaching a five year peak (probably a result of a continuation of unchanged dividend payments and the suffocating search for yield) dismal conditions at home outweigh growth overseas. Fourth quarter profit for European companies fell 5.2% from a year earlier. And the outlook for the economies for 2013 is not much better with increasing austerity measures and uncertainty of what the future will bring.
3.Investors buy the dollar because the increasing energy self-sufficiency. A stronger dollar in this scenario in my point of view only works when one has a strong underlying economy otherwise prices are likely going to fall below the break even price for a barrel of oil due to strongly reduced economic activity.
4.The flight to a safe haven because investors don't believe the euforism in stock markets and want to take out a hedge just in case the so called improving fundamentals don't add up. Especially in the light of the resurging European problems (the US media doesn't report at all on the massive demonstrations taking place in countries such as Romania, Spain and Portugal) with an emphasis on the Cyprus situation where savers are in danger of being punished with a haircut in order to pay for the bad policies of the bankers (contagion from bad Greek loans) and the lax Government. The proposed haircut would undermine the sanctity of ownership and open the floodgates towards erosion of property rights. Next to that it would completely undermine the deposit guarantee credibility not only for Cyprus but also for the rest of Europe. And as emphasized here above in times of distress investors tend to park their money in the most liquid and largest pool of money, the $10trn US dollar market, n'importe quai the bad fundamentals.
5.Geopolitical developments. Disturbing developments coming out of North Korea. That nation issued fresh threats of a possible nuclear strike against U.S. based in Japan or Guam where the B52s are based. Any escalation in tensions between the U.S. and North Korea could send investors into safe-haven assets like gold or the US dollar. Next to that the Iranian capability of creating a nuclear bomb is getting closer and closer. Obama was quoted saying "We think that it would take over a year or so for Iran to actually develop a nuclear weapon, but obviously, we don't want to cut it too close," he told an Israeli television station. Yes and the Israelis are going to wait a year! Next to that there were also reports that chemical weapons were used in the Syria civil war, which bear the potential for American intervention.
6.Or because interest rates are being forced up in case of another downgrade of US debt following the inability to execute serious measures resolving the structural problems. The USA got away with its first downgrade though I don't believe that investors will regard a second one as a non-event. The downgrade of sovereign debt worldwide is an ongoing process and is definitely not in its last innings. We are only in the beginning phase with all this "Monopoly" money being thrown around.
Concluding there are ample reasons why the US dollar index is likely to go up.
The gold and silver bull market is definitely not over if anything it is only starting. Central banks are diversifying into gold.
The gold and silver bull market over? If so please tell me when we had the blow off top! Next to that Central banks have begun to reduce reserve portfolio allocations to US dollars and euros in favor of alternative reserve assets. The 'IMF COFER data', show that official reserves for all central banks have grown from US$2tn in 2000 to greater than US$12tn in 2012, over a span of only 12 years. An analysis concludes that central banks retain 65% of their reserve assets in dollars and euros and that central banks try to find the most optimal asset mix for the remaining 35%. Assets like Japanese yen, British pounds, and gold have been consistently held by most central banks over the past several decades. Though purely through portfolio optimization analysis the renminbi, gold and Australian dollar assets emerge as the most important for diversification.
A portfolio optimization analysis furthermore concludes that gold, with its lack of credit risk and deep and liquid market, is one of the most attractive alternatives in this diversification process. Accordingly, building gold reserves in tandem with new alternatives is an optimal strategy as these markets need time to develop and allocations to gold remain largely below optimal levels of around 8% of their official reserves. In 2012 Central banks bought more than 500 tons of gold. Especially the Bank of China is aggressively buying gold, through its own hedge funds, to add to their reserves and as a hedge against their $3trn in mainly US dollar denominated forex reserves. They don't trust the reserve currency, the US dollar, following the inability of the politicians to solve the structural budget and debt problems which signify the final chapter of the aging and less productive baby boomer generation.
In my point of view the break-out of the USD index above the 83 level signifies an anticipation of a false improvement of the US economy but I believe it is more likely a move for a "safe haven". The US dollar market with its $10trn size is the largest asset class funds can move large amounts in and out off without influencing the price too much. And completely contrarian to what one would expect following a financial crisis in Europe, the US dollar will likely go up for a while despite its very weak fundamentals.
The real benchmark for risk and valuation is no longer interest rates but gold!
The real benchmark of the state of affairs is the gold and silver price. These are the real benchmarks, the constants of valuation and risk and no longer the heavily manipulated interest rates or currencies. The transformation from a paper (US dollar) based system to a gold backed system has been underway since 2001 and the quest for yield is increasingly being replaced by the intensifying need for preservation of capital.
As is illustrated by this gold chart of McHugh's Market Forecasting & Trading Report, since 2007, every time the stochastic of the gold price fell to approx. the 20 level it was followed by a strong rally.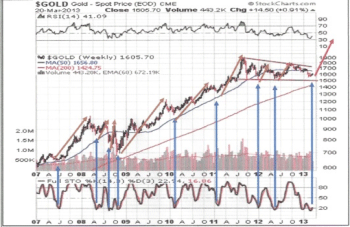 Time, or should I say events, will tell but I believe soon there will be a crucial inflexion point whereby investors don't believe the Monopoly money game of the Fed any longer. Hence why we are already witnessing the volumes in the stock market getting lower and lower the closer we get to the peak in the markets. Gravity will ultimately have its way. No height fear, when the S&P 500 trades above the 1600 level? Comfortable? Have a reality check and see the VIX, the "complacency" index, trading at historic lows of between 10-14. When all the conditions are in place only a small event is necessary to trigger the domino effect.
I believe that when the market finally realizes the bankrupt state of the economies, as illustrated again by the problems of a small country like Cyprus, that the US dollar and gold will rise in tandem. Though at one stage the US dollar will drop like a stone, when people realize what kind of dire straits the US economy and finances are in, and that will be the moment that we will see gold and silver going stratospheric! In my point of view gold and silver look very cheap and very attractive and the backwardation can be explained as a clear indication that the monetary authorities are very nervous about gold and silver taking off.
###
Mar 21, 2013
Gijsbert Groenewegen
http://www.321gold.com/editorials/groen … 32313.html
Statistics: Posted by yoda — Sat Mar 23, 2013 10:55 am
---
View full post on
opinions.caduceusx.com