http://www.ft.com/cms/s/0/8134e0b0-99ea … z2P9uQGLAS
March 31, 2013 6:28 pm
Scramble to find Cypriot cash escape route
By Michael Stothard in Nicosia and Courtney Weaver in Limassol
©Bloomberg
The hunt is on to find ways to circumnavigate the new draconian capital controls in Cyprus and get money off the island.
At least three people have attempted to flee the island in recent weeks with more than €200,000 in cash on their person, according to official sources. The money was in all cases confiscated and the people questioned by the authorities.
Individuals have only been allowed to take €1,000 a day out of the country since Thursday under strict capital controls designed to prevent a bank run. The imposition of the eurozone's first ever capital controls followed the re-opening of the country's two banks for the first time after the European Union and International Monetary Fund bailout.
Amid the financial confusion that has characterised recent weeks, police have stepped up their security at the marina in the southern town of Limassol, in a bid to combat those trying to get money off the island by boat. O thers have, it seems, approached the problems with more sophistication.
Sergei Tyulenev, a Russian businessman, says he received a call on Thursday – the day the capital controls were implemented – from Cypriots he did not wish to identify offering to help him move what he implied was more than €1m out of a collapsing local bank.
The move would have seen his money transferred from the now-failed Laiki Bank, where deposits over €100,000 are likely to see substantial write-offs, to Hellenic Bank, a comparatively healthy Cypriot bank.
There was a catch though, on top of the illegality of the move. "They said I had to pay €200,000 up front. I refused," said Mr Tyulenev, speaking from Limassol, a town dubbed "Limassolgrad" for its high proportion of Russian residents.
The Financial Times has seen no official reports of illegal financial dealings at the banks. Those calling Mr Tyulenev may not have been able to follow through with their offer or may have been stopped in their attempts by the financial regulators.
But concerns have also been raised in Brussels that politically-connected depositors on the island have been able to move their cash out of Laiki and Bank of Cypus, even though banks were closed from the start of the crisis.
"There are some dubious capital outflows out of Cyprus as we speak," one senior eurozone official directly involved with negotiations with Cypriot officials said before the banks had reopened. "I'm sure it's 'the friends', and the friends are not only Russians."
Many foreign depositors had already sought to move money out of Cyprus by legitimate means before the crisis struck, seeing the writing on the wall for the banking sector as early as from the end of last year.
Some 18 per cent of the deposits held in Cypriot banks by residents of other eurozone countries were pulled out in February, according to figures from the Central Bank of Cyprus. Such deposits in Cyprus had fallen 41 per cent since last June to €3.9bn.
But there are also concerns that large sums flowed out of the two banks just before the first bailout package was signed in the early morning hours of March 16, and an inquiry has now been launched looking into who took money out and what knowledge they had at the time.
Additional reporting by Peter Spiegel
Statistics: Posted by yoda — Sun Mar 31, 2013 4:25 pm
---
View full post on
opinions.caduceusx.com
Even Mafia fails to escape grips of recession
MICHAEL DAY ROME TUESDAY 12 MARCH 2013
Even the Mafia is not immune to the lingering recession, according to new reports that suggest a merciless spending review is causing serious discontent in Sicily's Cosa Nostra.
The axe, which is falling chiefly on hand-outs to junior mobsters, family members and hangers-on, has exacerbated the fall in "earnings" already taking place thanks to a police blitz on extortion rackets.
Only the big Mafia bosses will be spared the social security cuts. Those worst affected have been the relatives of jailed mobsters, prompting their wives and girlfriends to lead the backlash, Italian press reports said.
The insight into the mob's own financial crisis has been illustrated by wiretaps of Palermo's Noce clan, based in the centre of the Sicilian capital. This section of the Mafia was particularly hard hit last October in a series of raids organised by Palermo's three anti-Mafia magistrates – Francesco Del Bene, Lia Sava and Gianluca De Leo – which saw 41 Mafia suspects arrested. La Repubblica says this brought Cosa Nostra "to its knees" in its Sicilian heartland.
In one of the telephone calls recorded by investigators, the wife of a recently jailed mobster is heard complaining about the financial situation to a female friend in a similar position. "I have to look after myself, I have to look after my husband and I have to look after my children," she said. "November, December, January and then I didn't seen anyone. It's not right that they abandon my husband."
Significantly, she went on to say that she intended to go right to the top and speak to clan boss Renzo Lo Nigro, who assumed the role after the October raids. Mr Lo Nigro was one of six people held this morning as a result of the surveillance.
A couple of years ago it was predicted that organised crime in Italy might prosper from the economic downturn, with the likelihood that businesses caught in the credit crunch would be forced to accept offers of finance from underworld sources.
But the new claims appear to back earlier reports that suggested many mobsters were being hit hard by the drawn-out recession. Mafia expert and author Corrado De Rosa, who has just published Mafia da Legare (Mad Mafia) with the journalist Laura Galesi, said the news of the Mafia spending cuts underlined how the mob acted as "an anti-state, alternative welfare system". But he added the willingness of Mafia wives to speak out marked a major departure. "Twenty years ago… this would never have happened."
http://www.independent.co.uk/news/world … 31652.html
Statistics: Posted by yoda — Wed Mar 13, 2013 12:33 am
---
View full post on
opinions.caduceusx.com
Why are so many people leaving the United States right now?  Over the past couple of years, an increasing number of Americans have decided that moving to another country is the best way to prepare for the collapse of America.  According to the U.S. State Department, an all-time record of more than 6 million Americans are now working or studying overseas.  Of course many of those that have left the country do not believe that the U.S. economy is going to collapse, but without a doubt there are an increasing number of preppers that believe that now is the time to "escape from America" while they still can.  And certainly there are a lot of reasons why the U.S. is becoming less appealing with each passing day.  In addition to our economic problems, crime is on the rise in our cities, our liberties and freedoms are being eroded at a frightening pace, political correctness is wildly out of control, and our corrupt politicians continue to make things even worse.  But is life really that much better in the rest of the world?  The sad truth is that life in most other nations is more difficult than it is in the United States.  Yes, there are some nations that are relatively stable and that look promising at first glance, but the truth is that moving to another country is never easy.  If you plan to do it, there are some hard questions that you need to ask yourself first.
If you plan to move permanently to another nation, it would be wise to visit first.  The way that things work in a foreign country is often very, very different from how things work in the United States.  If you are not accustomed to being in a foreign culture, it can feel like your whole world is being turned upside down.
But of course it is definitely possible to make a successful transition to another culture.  Millions of Americans have done it.  The following is from a recent RT article…
Ever dream of leaving it all behind and heading out of America? You're not the only one. A new study shows that more US citizens than ever before are living outside of the country.

According to statistics from the US State Department, around 6.4 million Americans are either working or studying overseas, which Gallup says is the largest number ever for such statistic.

The polling organization came across the number after conducting surveys in 135 outside nations and the information behind the numbers reveal that this isn't exactly a longtime coming either — numbers have skyrocketed only in recent years. In the 24 months before polling began, the number of Americans between the ages of 25 and 34 living abroad managed to surge from barely 1 percent to over 5.1 percent. For those under the age span wishing to move overseas, the percentage has jumped in the same amount of time from 15 percent to 40.
But picking up and moving to a foreign nation is not something to be done lightly.
The following are 10 questions to ask yourself before you decide to move to another country…
Do You Speak The Language?  If Not, How Will You Function?
If you do not speak the language of the country that you are moving to, that can create a huge problem.  Just going to the store and buying some food will become a challenge.  Every interaction that you have with anyone in that society will be strained, and your ability to integrate into the culture around you will be greatly limited.
How Will You Make A Living?
Unless you are independently wealthy, you will need to make money.  In a foreign nation, it may be very difficult for you to find a job – especially one that pays as much as you are accustomed to making in the United States.
Will You Be Okay Without Your Family And Friends?
Being thousands of miles away from all of your family and friends can be extremely difficult.  Will you be okay without them?  And it can be difficult to survive in a foreign culture without any kind of a support system.  Sometimes the people that most successfully move out of the country are those that do it as part of a larger group.
Have You Factored In Weather Patterns And Geological Instability?
As the globe becomes increasingly unstable, weather patterns and natural disasters are going to become a bigger factor in deciding where to live.  For example, right now India is suffering through the worst drought that it has experienced in nearly 50 years.  It would be very difficult to thrive in the middle of such an environment.
Many of those that are encouraging people to "escape from America" are pointing to Chile as an ideal place to relocate to.  But there are thousands of significant earthquakes in Chile each year, and the entire nation lies directly along the "Ring of Fire" which is becoming increasingly unstable.  That is something to keep in mind.
What Will You Do For Medical Care?
If you or someone in your family had a serious medical problem in the United States, you would know what to do.  Yes, our health care system is incredibly messed up, but at least you would know that you could get the care that you needed if an emergency arose.  Would the same be true in a foreign nation?
Are You Moving Into A High Crime Area?
Yes, crime is definitely on the rise in the United States.  But in other areas where many preppers are moving to, crime is even worse.  Mexico and certain areas of Central America are two examples of this.  And in many foreign nations, the police are far more corrupt than they generally are in the United States.
In addition, many other nations have far stricter gun laws than the United States does, so your ability to defend your family may be greatly restricted.
So will your family truly be safe in the nation that you plan to take them to?
Are You Prepared For "Culture Shock"?
Moving to another country can be like moving to a different planet.  After all, they don't call it "culture shock" for nothing.
If you do move to another country, you may quickly find that thousands of little things that you once took for granted in the U.S. are now very different.
And there is a very good chance that many of the "amenities" that you are accustomed to in the U.S. will not be available in a foreign nation and that your standard of living will go down.
So if you are thinking of moving somewhere else, you may want to visit first just to get an idea of what life would be like if you made the move.
What Freedoms and Liberties Will You Lose By Moving?
Yes, our liberties and our freedoms are being rapidly eroded in the United States.  But in many other nations around the world things are much worse.  You may find that there is no such thing as "freedom of speech" or "freedom of religion" in the country that you have decided to move to.
Is There A Possibility That The Country You Plan To Escape To Could Be Involved In A War At Some Point?
We are moving into a time of great geopolitical instability.  If you move right into the middle of a future war zone, you might really regret it.  If you do plan to move, try to find a country that is likely to avoid war for the foreseeable future.
When The Global Economy Collapses, Will You And Your Family Be Okay For Food?
What good will it be to leave the United States if you and your family run out of food?
Today, we are on the verge of a major global food crisis.  Global food reserves are at their lowest level in nearly 40 years, and shifting global weather patterns are certainly not helping things.
And the global elite are rapidly getting more control over the global food supply.  Today, between 75 and 90 percent of all international trade in grain is controlled by just four gigantic multinational food corporations.
But grain is not the only thing that the food giants control.  Just check out the following statistics from a recent Natural News article…
The paper said three mega-multinationals now control better than 40 percent of global coffee sales, for example. Eight companies control the supply of cocoa and chocolate. Seven control the lion's share – 85 percent – of tea production. Five multinationals control three-quarters of the world banana trade. And the largest half-dozen sugar traders account for about 66 percent of world trade, the new report by the Fairtrade Foundation said.
The elite are also buying up food producing real estate all over the globe.  That is why farmland prices in the United States have been absolutely skyrocketing lately.
The people that run the world are rapidly getting a stranglehold over the global food supply.
So wherever you end up – whether it is in the United States or in another country – you will need to make sure that you can provide enough food for you and your family to live on independently of the system.
These are all things to think about when considering whether or not to move out of the United States.
But there are many, including some of those that regularly read my website, that have made the transition successfully.
If you have some advice that you would like to share with those that are considering moving away from America, please feel free to share it below…
View full post on The Economic Collapse
Federal Reserve bubble escape clause: The master of bubble creation talks about preventing future bubbles and other circular banking logic. Fed aggressively buying securities outright.
Posted by mybudget360 in banks, federal reserve, wall street
It is no secret that the Federal Reserve is aggressively buying up a variety of securities and storing them in their opaque balance sheet. The Fed in essence has become the bad bank and has served as the conduit to support bad banking policy. There seems to be a policy of slowly shrinking the middle class and over time, maybe people will not notice it. How can you not see that the central bank of the United States has been at the nucleus of many of the previous bubbles? So with that said, I found it rich that the Fed has talked about its ability to moderate bubbles. That is right. The Fed, the numero uno culprit in the housing bubble is talking about preventing future bubbles. Ironically by going deep into QE3 they are essentially inflating asset prices yet again by destroying fixed income investments and causing inflation to pick back up.
Bubble maker to prevent bubbles
One of big reasons for the housing bubble was because of the Fed's inaction in the banking industry. The Fed has the power to patrol and monitor banks. Instead, in the early 2000s when it was clear housing values were taking off for no reason aside from a mania, the Fed drove interest rates into the ground: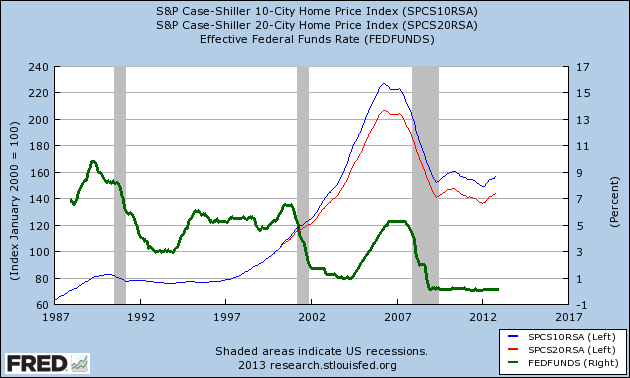 The Fed essentially added fuel to the flame. By the time the Fed stepped back we were already at a peak. The damage had already been done. This is the problem with this bubble clause measure. The Fed is controlled by people and very few will have the political will and power to pop a bubble in the early making. What is there to gain? If Alan Greenspan popped the housing bubble in the early 2000s what would he have gained? Instead he kept inflating the bubble and allowed the mess to be cleaned up by his predecessor when the bubble inevitably burst causing the deepest recession since the Great Depression.
Yet we are now seeing the issues with keeping rates low for such a long-time. Inflation is now picking up in many sectors and is stripping the middle class of purchasing power. The Fed is actively targeting mortgage backed securities and is pretty much the only player in the mortgage market right now. Banks are operating in a private-public partnership where gains are privatized and losses are socialized. This bubble machine is perfectly setup. Even with housing and the middle class that rely on housing as the backbone of their financial wealth, families have lost over 5 million homes in foreclosure. Interestingly enough, many of these banks and hedge funds are buying up these properties from these bailed out banks. Those that were prudent are largely subsidizing all this activity.
Fed securities holdings hit a record: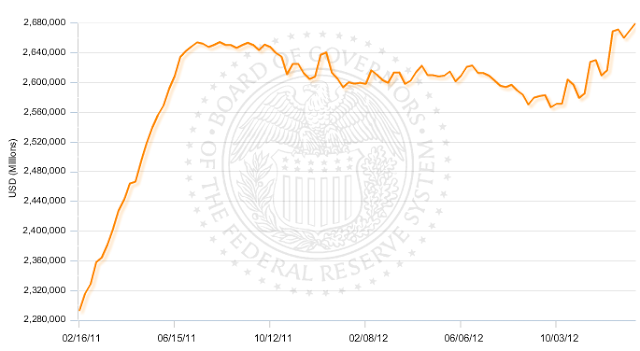 Outright securities holdings by the Fed (source: FRB)
The market is weak here and the Fed is crowding out all players. The desire for such low rates is driven more by keeping the banking system in place and allowing the tragic bets of the 2000s to slowly inflate away. It is also driven by our massive debt. A low interest rate allows us to borrow more and pay less.
Yet low rates are typically driven by safe bets in the open market. The opposite is occurring here. The safe bet belief is happening because the Fed is buying trillions of dollars of securities. The only reason people believe rates will stay low is because they might perceive that the Fed can keep rates low. The perception is not working all that well thus the Fed needs to be the largest player in these markets.
The notion that the Fed can somehow stop future bubbles is comical. What have they done since the recent crisis to shore up the banking system? The same gambling and speculation continue today. So we expect the Fed to self police itself? No wonder why we now exist in a perpetual system of booms and busts.
http://www.mybudget360.com/federal-rese … #more-4551
Statistics: Posted by yoda — Wed Jan 16, 2013 12:02 am
---
View full post on
opinions.caduceusx.com
Desperate Greeks flee to the countryside to escape crisis
Deepa Babington and Lefteris Papadimas, Reuters Jun 8, 2012
John Kolesidis/Reuters
KONITSA, Greece – Thirteen years after abandoning rural Greece for a career in graphic design, Spiridoula Lakka finds herself in the last place she expected to end up — watering a patch of lettuce and herbs in her sleepy village.
As Greece sank into its worst economic crisis since the Second World War, Lakka had already given up her dream of becoming a web designer. Even waitressing seemed impossible. She faced a simple choice: be stranded without money in Athens, or return to the geriatric village where she grew up plotting to escape.
'Those who have returned are desperate. They aren't coming back because they wanted to'
At age 32, Lakka, an office clerk who also juggled odd jobs, joined a growing number of Greeks returning to the countryside in the hope of living off the land. It's a reversal of the journey their parents and grandparents made in the 1960s and '70s.
Data is scarce on how many people have made the trek, but as people angered by austerity head to the polls on June 17, anecdotal evidence and interviews with officials suggest the trend is gaining momentum. In a survey of nearly 1,300 Greeks by Kapa Research in March, over 68% said they had considered moving to the countryside, with most citing cheaper and higher quality life. Most expected to move permanently.
"A year ago, I couldn't imagine myself holding a garden hoe, or doing any farming," said Lakka, as she watered the herbs she grows in the village of Konitsa, which nestles among snow-capped peaks near the Albanian border.
"I've always wanted to leave the village. I never imagined I would actually spend my whole life here."
Her experience has been far from idyllic. The arrival of young, city-dwelling Greeks is being watched with a mix of pity and hope by those who never left.
"Those who have returned are desperate. They aren't coming back because they wanted to," said Stefanou Vaggelis, a 50-year-old distillery owner as he threw back tsipouro — a strong spirit favored by locals — with friends in the village centre dotted with taverns.
This summer, judging from the queries he has received from city-dwellers on vacation, Vaggelis predicts as many as 60 people will move to Konitsa, where over half of the population of about 3,000 is aged 60 or over.
"They usually ask whether there are state subsidies for agriculture and for growing pomegranates, snails and aromatic herbs," he said, recounting how a 40-year-old acquaintance had returned to tend sheep in the hills. Greece's farmers mostly run small operations and rely on EU subsidies to survive. They complain that over the past five years subsidies have halved.
TREMENDOUS INTEREST
In the northern city of Thessaloniki, a school for farmers says applications for its high school program have tripled this year. Cheese-making and bee-keeping have also filled quickly at the American Farm School, founded in 1904 by an American missionary who was keen to teach practical skills. Its courses run from pre-school to adult level.
John Kolesidis/Reuters
"In Athens, I worked many jobs I didn't like but I had to compromise," said Lakka. "In the village, you have your own home and you can grow vegetables to eat."
"There is tremendous interest," said Panos Kanellis, the school's president. The trend, he said, is driven by both the crisis and a desire among many Greeks for a quality of life that's impossible to find in the city.
Greek families have traditionally owned houses or plots of land in their native villages, often devoted to fragrant olive, lemon and orange groves or a mix of vibrant greens and tomatoes.
For those returning, rural life promises rent-free housing, backyard produce to fill dinner plates and support from a network of relatives and friends. The Kapa survey showed most people planned to count on family and friends to help.
"In Athens, I worked many jobs I didn't like but I had to compromise," said Lakka. "In the village, you have your own home and you can grow vegetables to eat."
Five decades ago, one in two Greeks was employed in farming. The Pan-Hellenic Confederation of Unions of Agricultural Cooperatives, a farmers' union, says employment steadily shrank in the early 2000s, but agriculture added 38,000 jobs between 2008 and 2010 as Greece slid into a recession that is now in its fifth year.
It lost jobs again in 2011 when the banking crisis squeezed lending to farmers, but people have continued to return to villages, said the union's general manager Ioannis Tsiforos.
"We have a number of people, most of them middle-aged, entering the farming business," he said: the trend is especially visible in Crete and the Dodecanese islands in the east.
NO PLACE TO DREAM
Until recently, the Greek countryside was largely a place young people escaped from. The lure of city jobs spurred a wave of migration to urban centres after the Second World War. In the three decades to 1981, Athens' population more than doubled to more than 3 million people.
Today, the Greek capital is still home to about 4 million of Greece's 11 million population, but it is no longer a magnet for the young and ambitious. At 22%, unemployment in Athens hovers just above the national average. Homeless people line the streets, the poor scavenge through bins for scrap. "For Rent" signs hang across shuttered shop windows.
Crime has surged, turning pockets of Athens into virtual no-go zones at night.
All this came as a shock to Lakka. Like almost everyone else in Konitsa, she grew up convinced the move to the big city was a rite of passage. She studied design in Thessaloniki and moved to the capital at 22. A graphic design job proved difficult to find, so she took up odd jobs. Her big break came with a temporary contract as an office clerk with a state social security fund, which she hoped would eventually turn permanent.
The pay was a paltry 640 euros (US$800) per month, so Lakka did waitressing and office work on the side.
Then the debt crisis hit, forcing Greece to take a bailout from the European Union and the International Monetary Fund. Lakka struggled to find extra work. Panic set in.
The final straw came last June, when she learned there was no money to renew her contract.
"At that moment I said to myself: 'That's it. There is no way I'm going to start begging my friends again for a new job," she said. "I decided to return to my village."
INSULTS AND GOSSIP
Up a wild cherry- and maple tree-lined road from Lakka's family business — a petrol station and cafe — Konitsa's deputy mayor Nikos Karras smiles as he ponders the unexpected homecoming of village youth. About 10 people returned last year, and the area is gearing up for many more, he says.
"It is important for the region that young people come back because until now we've been living through the opposite: everyone left and the only people who stayed back were the elderly," says the 41-year-old.
"When someone loses their job in a city and has no hope of finding another, they come here as a last resort. We will be the last to starve because when you have a field or a garden, you can produce food for yourself and make sure you survive."
But adjusting to life in the village is not easy.
Hoping to put her city skills to use, Lakka tried to transform the petrol station cafe.
John Kolesidis/Reuters
Spiridoula Lakka poses in front of her parents' cafe-restaurant.
With a fading Coca-Cola sign outside and a fog of cigarette smoke hanging over wooden tables inside, the cafe offered its elderly clientele basic fare of tsipouro, coffee and sandwiches.
Lakka had other ideas. Her eyes lit up as she recounted her plans from a corner table in the cafe, her mother by her side. She wanted to allow local hunters to cook their catch on the restaurant grill; she would spice up the menu with goat stews, tripe, casseroles and pasta dishes.
"My dream was to change the shop completely," she said.
But the tight-knit village community had other thoughts. A rival cafe owner said he hoped Lakka would shut shop and go back to Athens; others snickered behind her back.
"One woman said 'The girl from Athens has come to change our ways, but she has to adapt to us, not the other way round,'" Lakka said.
"These things upset me. I just can't get used to it," she said. "They don't say it directly to me, but to people they know will pass it on to me."
As a single woman with no plans to marry, Lakka was also an anomaly in a deeply traditional place. "There is a lot of pressure to get married and have children, even from my own parents."
She used to wear short skirts and bare midriff tops. She has replaced them with loose jeans.
"There is no privacy here in the village. You feel like everyone is judging and trying to control you, and there is gossip," she said. "It's a closed society."
Instead, she turned to cultivating herbs. The craggy mountains encircling her village are home to more than 2,000 varieties. She also tends to a row of beehives on a dirt track near the cafe. Lakka says she hopes she can one day sell her bunches of sage, nettle and peppermint at a roadside kiosk.
There is no certainty of a happy ending. What she does know is that Athens did not leave her much choice.
"I still have second thoughts, though from what I hear from friends in Athens, I've made the right choice," she said.
"Things have become too difficult there and they also want to leave."
http://business.financialpost.com/2012/ … pe-crisis/
Statistics: Posted by yoda — Sat Jun 09, 2012 8:52 am
---
View full post on
opinions.caduceusx.com
.Is There No Escape From The U.S. Government?
By Jeffrey Tucker Mar 27th, 2012
The Feds have been shutting down websites again.
The Canadian gambling site bodog.com thought it had the whole thing figured out. If you stay in Canada, use Canadian servers, block anyone inside U.S. territory from using the site and make sure that you don't use any American vendors for anything — stay completely away from anything having to do with the jurisdiction of the United States — you can be free to operate your online business.
Many sites have assumed this. More and more are doing this. Bodog was doing just fine, with hundreds of employees in Canada and Costa Rica. It had just signed a three-year sponsorship deal with the Canadian Football League, according to Michael Geist, whose column alerted me to this remarkable case. All was going well.
If you go to the site right now, you will find that it is a among the growing number of seized domains. Instead of a free gaming site, you will see instead what is quickly becoming known as the Mark of the Beast. It is the Homeland Security seizure notice.
How could this have happened? Officials were somehow able to get the warrant and lean on VeriSign to redirect the URL. The homeland is safe! Whether this is legal is another question. There have been many legal challenges to U.S. takedowns recently, among them the Megaupload case from early 2012, a case that may eventually be decided in favor of the defendant.
Regardless, the chilling effect is real and lasting. Governments are going to be less likely in the future to permit any gaming sites, and large institutions such as the Canadian Football League are less likely to sign deals with any enterprise the U.S. government doesn't like.
What's absolutely bizarre is how the U.S. government can presume what is effectively a global jurisdiction over the global Internet. It can use its weapons of mass destruction to smash even the most-developed and popular institutions — developed entirely by a voluntary meeting of minds between producers and consumers — and make them go away with one court order.
This case shows that it is no longer protection enough to put up a wall between U.S. jurisdiction and the website. In any case, it has been obvious enough for some months that the excuse that the enforcers have used was a thin excuse, in any case. No, that excuse seems to be gone, and just as with U.S. military policy, any server located anywhere in the world is fair game.
This whole nationalist approach runs completely contrary to the international ethos of the digital age. Given the ubiquity of instantaneous and universal communication, where you live is less and less important. Consumers and producers can be in all corners of the world and still cooperate. But look what is happening: Dynamic companies are already setting up shop outside the U.S. just to evade what Ronald Reagan called the "evil empire" (except, of course, he was not talking about the U.S.).
This takedown notice seems to indicate that the government isn't satisfied merely with the digital age outside our borders. It is signaling the desire to crush it wherever it may appear.
And just like the Megaupload case earlier this year, this case is also a rebuke to those who worked so hard to beat back the SOPA legislation that Congress had been considering. A major concern of the opponents of this legislation was that it would dramatically expand the geographic jurisdiction of the U.S. If any dot-com, dot-net or dot-org site were accused of hosting pirated copy, it could be instantly shut down wherever it happened to reside.
Well, once again, we discover that no such legislation is necessary. The government already has that power. The excuses vary. It could be a copyright case. It could be a patent infringement case. Or it could be that the site is said to be doing something, like gambling, that the U.S. wants to see monopolized by some other market player. The rationale can be anything or nothing.
Under these conditions, the whole Internet is threatened every day. You might say that it doesn't matter, that you don't host pirated material, you don't tolerate illicit porn and you will have nothing to do with gamblers. Surely, you are safe. The truth is that no one is safe when the government has this much power.
First, they came for the pirates, but I was not a pirate…
In the 1985 film Brazil, the government would routinely drop through the roofs of citizens and throw people in body bags and take them away. If it turned out that a mistake was made, a bureaucrat would show up with a receipt and express regret. That's it. It's been this way in U.S. foreign policy, with the military killing innocent people and then reluctantly admitting that mistakes might have been made.
Internet enforcement seems to be going the same direction. A body bag is thrown over any website, and the details are worked out later. The business dies and hundreds lose their jobs and files. If mistakes were made, here's your receipt.
Regards,
Jeffrey Tucker
http://whiskeyandgunpowder.com/is-there … overnment/
Statistics: Posted by yoda — Tue Mar 27, 2012 7:09 pm
---
View full post on
opinions.caduceusx.com