Another must read article from Matt Taibbi. Yes, Taibbi still won't go after the Federal Reserve and the biggest fixer club of them all, the FOMC at the Federal Reserve. But he has done some excellent work over the past 5 years exposing the inner workings of a financial system which is deeply flawed. (To be kind.)
His critique often gives one the impression that he thinks the market is to blame for the fraud which permeates the world economy. That greed and self interest are the reason for the abuse we see. But in a market fraud is unacceptable. If someone lies to gain an advantage unfairly  this is a form of theft and the prosecution of this theft is an entirely legitimate role for a regulating authority. (If the market doesn't uncover it first, which it often does.)
Of course fraud and theft will always happen. But it is the Federal Reserve which makes it particularly easy these days for the "cigar chomping cabals" to operate with its constant flow of easy money and never ending enabling. Add a Treasury and Justice Department which has said explicitly that some firms are too big to prosecute and it's pretty easy to see how the state, not the market, is the primary reason for the sorry state of high finance. The crash of 2008 and the rampant crony capitalism we see in finance now simply could not have happened without the state. In a free market crooks, once uncovered are dealt with swiftly. In our current system the crooks are able to short circuit the market mechanism.
Cheap, fiat money breeds immoral behavior. It breeds debt. It breeds derivatives which are built on other derivatives which are then built on yet other derivatives into a colossal daisy chain of financial dysfunction.   It concerns me deeply how absolutely out of hand the fiat money experiment has gotten. The collapse of this unsustainable system will shake the world on a level beyond what we saw in 2008. I have no idea when it will happen but I am pretty sure it one day will.
Hopefully it will come in fits and starts. Hopefully the market will overwhelm the system in stages. We should pray that this is the case. A sudden unwinding would be unlike anything the world has seen in a very long time, perhaps ever.
(From Rolling Stone)

The only reason this problem has not received the attention it deserves is because the scale of it is so enormous that ordinary people simply cannot see it. It's not just stealing by reaching a hand into your pocket and taking out money, but stealing in which banks can hit a few keystrokes and magically make whatever's in your pocket worth less. This is corruption at the molecular level of the economy, Space Age stealing – and it's only just coming into view.
View full post on AgainstCronyCapitalism.org
The sugar guys are never happy. They want American consumers to pay an artificially higher price for their commodity (which we do) and then cry "unfair trade" when Brazil artificially pushes down their price of sugar. How about we let the market figure this one out?
View full post on AgainstCronyCapitalism.org
Gold Bears Suddenly Appear, More Emboldened than Ever
Jordan Roy-Byrne, CMT | Apr 19, 2013
The Daily Gold Newsletter
Congrats to the gold bears and stock bulls! After being slaughtered for the majority of the last decade and more, they finally won a victory. Golf clap for you gentlemen. Now you can have your day in the sun once again. US stocks are at all-time highs and Gold sucks again! You won't have to listen to your clients bitch and moan about how you ignored, avoided or were underweight the bull market of our time. Time to crow!
I awoke on Monday to a link from a subscriber. It was an editorial titled, "The Day that Gold Died." The author cited the usual, clueless and baseless arguments both to why folks buy gold and why gold sucks as an investment. It is nothing more than a flimsy rant. He also cited a "marvelous takedown" by Barry Ritholtz, a formerly humble and generally impartial commentator who is now enjoying mainstream notoriety.
The worst and most natural, instinctive error these chaps and all gold haters make is to immediately refer to gold is an end of the world investment. This would be the most bizarre and ridiculous argument for gold. If the world ends, then how do you collect on it? If society breaks down for a period of time, then what good will Gold do for you, ahead of a farm?
Do central banks buy Gold because they think the end of the world is coming? If Gold is an "end of the world" investment, then why the hell do western central banks own the vast majority of their reserves in Gold? And why are emerging central banks buying Gold?
It's because Gold is money and has been the only form of money to last for thousands of years. Not too long ago it was legally part of the monetary system. Since that change in 1971, the S&P 500 has advanced from 88 to 1541 while Gold has moved from $35/oz to $1395/oz (as I pen this). Even with the latest slide in Gold, it has still crushed the S&P 500 by rising 40-fold compared to just 17.5 fold for the S&P 500.
Gold's tremendous increase in value (since its removal from the monetary system) over a long period of time shows its value as a speculation but more importantly, a currency. Though it fluctuates greatly during each cycle, over the very long-term it is the strongest reserve asset. This is why central banks buy it, hold it and accumulate it. It's a no-brainer. Jim Grant put it best when he said gold is a hedge against monetary disorder.
Now let me get back to this supposed "marvelous takedown" from Ritholtz.
First he cites that the US$ is at a 3-year high and that Gold rallied when the buck fell from 2001-2007. First, let me note what few analysts know. When it comes to important market moves, Gold usually leads the US$. Does Ritholtz know that the US$ bottomed in late 1978 while Gold soon advanced 400% until its top in early 1980? Does he know that each of Gold's recent major bottoms (2000, 2005, 2008) occurred before the US$ topped? The US$ is at the same level it was in late 2004 when Gold was trading below $500/oz. So should Gold be at that level? Surely, a strong US$ is a negative for Gold. However, history shows us that Gold is far more than an anti-dollar bet.
Secondly, as usual we hear this utter nonsense that Gold is a "trade". It's a greater fool trade as Ritholtz says. According to Ritholtz, gold trades differently than equities (citing history) because it has no fundamentals (i.e. no earnings, cash flow, etc.). What detractors of Gold should say is, because it produces nothing and is hard to value, it is never an investment and always a speculation.
Getting back to his point, can we check the charts of the last 10-15 years? Which one is a trade and which is in a bull market? There is a difference between a trade and a secular trend (i.e. a bull market). The bull market is in Gold while equities with their 15-year zigzag, clearly should have been traded back and forth.
Ritholtz totally bungles this argument. He cites history but fails to mention that Gold and equities trade inversely over long cycles. Equities were in a secular bear from 1966 to 1982 while gold stocks were in a bull from 1960 to 1980 and gold in a bull from 1969 to 1980. Then precious metals experienced a vicious bear market in the 1980s and 1990s while equities performed fantastically. Since 2000 stocks have been in a bear market and precious metals in a bull.
There is a reason for this long-term cyclicality. Stocks begin a bear market at times of major economic excess. Naturally, the economy corrects the excesses while at the same time, government increases its spending and the Fed cuts rates to soften the impact of long-term recessionary forces. Furthermore, real interest rates are typically negative to ensure more money comes out of cash and fixed income. Stocks struggle through these periods and hard assets (especially precious metals) perform well. Ultimately, the private sector is able to work through the problems and high commodity prices induce greater supply, which quells future inflation and results in an extended bear market.
This entire argument between stock bulls and gold bugs ultimately comes down to one thing. Has the secular tide shifted? Was this the major top in Gold on par with 1980?
Let's compare some performance numbers. In the previous bull market, Gold gained about 25-fold. In this one, its gained nearly 7.5-fold. In the final 12 months of the previous bull market, Gold gained 282%. The 12 months before the 2011 peak, Gold gained about 55%. The last three years of each? It's 577% (1977-1980) and 156% (2008-2011).
Gold corrected about 45% after its peak at the end of 1974. In the 13 months leading up to that peak, Gold gained 116% versus 59% for this bull market. In the 24 months leading up to that top Gold gained about 200% versus about 100% for this bull market.
In terms of the numbers, the most recent top in Gold comes nowhere close to the bubble peak of 1980 nor is it close to the peak in 1974 which was followed by a 45% downturn. Calling Gold a bubble just proves you don't know what you're talking about.
Furthermore, we've noted that the Barron's Gold Mining Index, which was in a bull market from 1960 to 1980, experienced two substantial downturns of 61% (1968-1969) and 68% (1972-1974) before rising about 7-fold from 1976 to 1980. The HUI Gold Bugs Index declined about 71% in 2008 and as of yesterday was down about 60% since its 2011 peak.
History argues that equities will remain in a secular bear market. The three previous secular bear markets lasted 20, 13 and 16 years. The shortest commodity bull market, the last one, is 13 years long. It is highly unlikely that the commodity bull market ended in 2011 at 12 years old. The shortest bull market is not likely to be followed by an even shorter one. Furthermore, its highly unlikely the bear market in equities ended at 9 years when the others range from 13 to 20 years. Moreover, valuations at the 2009 bottom did not come close to where they were in 1921, 1942, 1946 or 1982.
Also, consider the Gold versus the S&P 500 ratio. It peaked in 1942 at 4.3 and in 1980 at 5.8. In 2011 it peaked at 1.7. Judging from history that was nowhere close to bubble territory.
Meanwhile, the macro backdrop remains extremely supportive of precious metals. Real interest rates are negative and will remain so for years as governments try to "QE" their way through the coming sovereign debt crisis. Do stock bulls honestly think governments will be able to continue to print money to buy their own bonds and stocks will go up 10% a year, there will be no inflation and commodities will decline? (Barry, isn't this the recency effect you speak of?) This reminds me of the folk who denied the housing bubble or thought we weren't in a recession in spring 2008. What happens when governments and central banks lose control of the bond markets and interest rates start rising? I'll tell you what, they'll print more and more to try to reverse it and rates will still go up.
This is why Kyle Bass and John Paulson aren't selling. They made assloads of money betting against something that was inevitable and patiently waited. In the meantime, reporters and bloggers can poke fun at them saying the "trade" hasn't worked or has gone wrong. These folks were never invested in precious metals to begin with and they either can't see the world beyond a few days or fail to understand the bulletproof case for precious metals.
It's true that many gold bugs deserve the recent ridicule. When you constantly promote wild conspiracy theories or blame manipulation for your large losses, you lose respect and credibility and you taint gold as an investment. It just makes us look worse.
The stock bulls and gold haters have won the battle but not the war. Sorry guys but your victory lap is premature. Next time you may want to do some real research before writing about Gold unless you just want to do a hit piece or take a victory lap. Precious metals are likely to strongly outperform stocks in the next three to four years. Both are nearing cyclical turning points. Once Gold goes parabolic, that is the signal to abandon ship and get back into stocks.
A sharp rally in the precious metals complex is days or hours away but look for a base building process to follow. Right now the complex is a strong buy. We've kept at least 40% cash over the past several months and have scaled in, albeit early. Now is the time to put money to work more aggressively than normal. If you'd be interested in professional guidance in uncovering the producers and explorers poised for big gains in the next few years then we invite you to learn more about our service.
Good Luck!
Jordan Roy-Byrne, CMT
http://thedailygold.com/gold-bears-sudd … than-ever/
Statistics: Posted by yoda — Fri Apr 19, 2013 3:09 pm
---
View full post on
opinions.caduceusx.com
http://bullmarketthinking.com/comex-gol … on-record/
Statistics: Posted by yoda — Tue Apr 09, 2013 12:18 pm
---
View full post on
opinions.caduceusx.com
Gold Trader: "Once This Bottom Is Formed, We May Never See Gold At These Levels Ever Again."
http://bullmarketthinking.com/gold-trad … ver-again/
April 4, 2013 | By Tekoa Da Silva
I had the chance yesterday to speak with technical gold trader Gary Savage, publisher of the "Smart Money Tracker", daily gold market commentary and trading service, which has outperformed most of the world's hedge funds in 2011 and 2012.
It was a powerful conversation as Gary commented on the panic selling we've seen over the last few days, sharing his view that "once this bottom is formed, we may never see gold at these levels ever again."
Despite continued and relentless selling, Gary commented that, "Gold isn't in a bear market, it's [just] been in a consolidation since the top of September 2011. If you pull up a 13-year chart, it shows that gold is not in a bear market, not even close. The miners however, are in bear market, and they have been for 19 months now, and they've lost 50%. That's about an average cyclical bear market…[So] I think the miners are [primed] to bottom along with gold at this yearly cycle low, which I don't think occurred today, but I think we're within a day or two of that final bottom."
When asked about valuations on mining stocks at these levels, Gary said that, "The valuations in the miners are absurd. The gold XAU ratio is higher than it's ever been before in history. This is coming at a time where the miners have gotten the hint…management is cleaning up their act…[and] the sector is doing what it needs to do to turn itself around. [But] since the trend is down, people just invent reasons for why the miners should continue to go down. Eventually rationality is going to return, people will recognize that mining stocks are not going bankrupt, and they're just too insanely cheap."
In terms of the big picture following this grueling correction, Gary said, "We definitely started a [panic selling climax] today in my opinion. The volume on GDX and NUGT was just through the roof, [but] we're close [to a bottom]…If you have the emotional ability to buy at those bear market bottoms, that's where the really big money is made…[and] once this [bottom] is formed…we will probably never ever see gold back below this level again."
As a final call, Gary concluded by saying, "The gold bull cannot end until the fundamentals change, and they have not changed, they've only gotten better…[So] I think we're about to leave these levels behind forever."
——
This was another outstanding interview with one of the world's most successful gold traders, and is required listening for investors looking to profitably trade this gold bull market.
To listen to the interview, click the following link and/or save to to your desktop:
>>Interview with Trader Gary Savage (MP3)
http://bullmarketthinking.com/wp-conten … savage.mp3
Statistics: Posted by DIGGER DAN — Thu Apr 04, 2013 10:42 pm
---
View full post on
opinions.caduceusx.com
THE BIGGEST LIE EVER SOLD TO AMERICANS
Posted on 16th March 2013 by AWD in Economy
A succinct presentation about inflation. It's the silent tax. The U.S. dollar has been devalued 20% in the last decade alone. Did you have investments that went up 20% in the last decade? If not, you've been taxed (and you've lost money). Cash sitting idly by is melting away, every single day.
Bernanke is printing $118 million dollars every hour of every day, $84 billion every month. Inflation is a lagging indicator, but when it kicks in, it's unstoppable. And those that believe we can't have hyperinflation without wage inflation are wrong. In a stagflation picture, wages stay the same or drop as inflation continues skyward. Remember the late 70?s and early eighties? 12% inflation. Worse, interest rates were also 12%. Once inflation takes off (if it isn't already), interest rate must rise. Then the whole debt bubble threatens to collapse as the debt is unserviceable (never mind the $210 in unfunded liabilities).
Bernanke is out of bullets. At what rate of inflation is he finally going to stop printing money? 20%? 30% If he pulls the punchbowl of QE heroine, or unwinds the Fed portfolio, we'll have market collapse. He's pouring gasoline on the fire now, printing billions just to keep the debt bubble inflated. It's not going to end well.
The Biggest Lie Ever Sold to the American Public
Submitted by Phoenix Capital Research on 03/15/2013 12:53 -0400
The US has been lying to all of us for decades now.
We're not talking about some kooky conspiracy theory… we're talking about INFLATION.
By understating inflation, the Federal Government and Federal Reserve have done two things:
Exaggerated our economic growth.
Lied about the true cost of living in the US.
Regarding #1, every time the US prints GDP growth numbers, it adjusts this data for inflation. The reason for this is that if the economy grows at 10%, but prices also rise at 10%, then there really hasn't been any actual growth.
To deal with this, the US adjusts its GDP measures for inflation to make it appear as f they're objective. The only problem is that the US adjusts GDP using a phony inflation number that is much lower than reality.
A great example is last quarter when we were told that the GDP grew at an annual rate of 0.1%. The reality is that if you used realistic inflationary measures, the US economy SHRANK at a rate of over -1% last quarter. Yes, negative 1%. The worst GDP print since 2009.
The same lie has been extended to the US population about our standard of living.
For decades now we've been told that we were getting wealthier because incomes were growing and asset prices like stocks and real estate were rising. Yet data clearly show incomes have been dropping in the face of rising inflation: a "double whammy".
However, the reality is that inflation was the source for much of this "growth." The US Dollar has lost nearly 20% of its value in the last decade. The end result is all of us are paying much more for EVERYTHING. But we're being told that we're actually richer because incomes are up
This is why understating inflation is a HUGE LIE: it is a lie to all of us that our living standards are improving when in fact they're not.
And the media is FINALLY beginning to report on it.
Those who know the price of everything and the value of nothing are said to be cynics. Americans can be forgiven for being a bit cynical, though, when it comes to prices. Their own cost of living rarely seems to be as low as official statistics claim it is.
Friday's consumer-price index for February is seen rising 0.2% month on month, excluding volatile food and energy costs. That would bring the year-on-year pace to 2%.
A change to the inflation-measuring process 30 years ago by the Bureau of Labor Statistics, Uncle Sam's arbiter of prices, is starting to raise eyebrows again. Since 1983, house prices haven't been part of the consumer-price index. Instead, the BLS calculates "owners' equivalent rent," a mix of actual rents and what homeowners guess their homes would fetch if rented.
http://online.wsj.com/article/SB1000142 … 55538.html
Look around you. The cost of everything is increasing dramatically. Gas prices are UP. Home prices are UP. Healthcare costs are UP. Energy prices area UP. Everything you need to survive is UP.
Forget the Fed's CPI measure. Inflation is here now. And things are only going to be getting worse going forward. History has shown us countless times that you cannot print money without prices soaring. There is not one single instance in which currency devaluation has not done this. And the US Federal Reserve is now printing $84 billion every single month.
What effect do you think this will have on the cost of everything?
Make no mistake, now is the time to be preparing yourself and your portfolio for this. Inflation can take its time to arrive. But once it does… things move very very quickly.
http://www.theburningplatform.com/?p=51093
Statistics: Posted by yoda — Sat Mar 16, 2013 2:39 pm
---
View full post on
opinions.caduceusx.com
Of course I have yet to hear anyone on Wall Street thank the taxpayers of America for anything. Did Jamie Dimon or Lloyd Blankfien ever look into the camera during a congressional hearing and say-
"American people, thanks for saving our bacon in 2008. Thanks for saving us from ourselves. Thanks for the giant bonues in the years since 2008 which could not have happened if it wasn't for all you rednecks out there in flyover country, I mean good citizens. And thanks also for the ongoing subsidy you fine Americans pay us every year, the subsidy which constitutes nearly all of the profits of the big banks. Thank you, so much."
No, none of those guys ever said anything like that. Why? Because they aren't thankful. They just think they're smart.
Remember, according to Bloomberg.com, nearly all of the profits of the big banks, the second largest amount ever, is as a result of a taxpayer subsidy created when these banks became officially "too big to fail."
The post 2012 the 2nd best year ever for bank profits. Thanks taxpayers! appeared first on AgainstCronyCapitalism.org.
View full post on AgainstCronyCapitalism.org
Michael F. Cannon
Things are getting desperate in the ObamaCare wing of the U.S. Department of Health and Human Services. How else can one explain today's announcement to reject—no, to approve! conditionally!—Utah's unapprovable health insurance "exchange" as ObamaCare-compliant?
Utah's Exchange does not satisfy a fraction of the requirements ObamaCare imposes. Nevertheless, on December 14, Utah Gov. Gary Hebert (R) asked HHS Secretary Kathleen Sebelius to "certify Utah's version of an exchange as ACA compliant." Hebert repeatedly stressed he was speaking about "our version of an exchange," "our pre-ACA exchange," and "the Utah version of an exchange." Indeed, rather than offer to change his state's Exchange to comply with ObamaCare, Hebert hinted that ObamaCare should change in order that "Utah's version should serve as the minimum standard for all federally compliant health exchanges."
Today, HHS Secretary Kathleen Sebelius responded with a "conditional approval" that "reflects [HHS's] expectation that [Utah] is developing a State-based Exchange, compliant with the Affordable Care Act (ACA)." In other words, Sebelius approved Hebert's request conditional on Hebert doing what he expressed he has no intention of doing. In the real world, we call that a rejection.
I can think of only a couple of reasons that might explain why Sebelius would issue such a ridiculous letter:
HHS is so overwhelmed by the burden of creating Exchanges in the 32 states (!) that have refused to create one that Sebelius is desperate to create the appearance of progress.
A lawsuit filed by the state of Oklahoma has the Obama administration afraid it won't be able to implement ObamaCare's individual and employer mandates in Utah, as well as other major provisions of the law, unless it can claim Utah's Exchange was "established by the state."
If there's anything to the first reason, Congress can take some of the pressure off the administration by delaying implementation of the Exchanges and all related provisions for two years (savings: $160 billion). The Obama administration might even be grateful.
If there's anything to the second reason, Utah and the other 49 states should take care to protect their employers and residents by not establishing an Exchange. That also means taking care not to give HHS an opportunity to pretend they have established one.
View full post on Cato @ Liberty
The most educated and indebted generation ever – Average student debt has tripled since 1990 while earnings have gone stagnant for college graduates. How much is the college rite of passage worth?
Posted by mybudget360 in college, debt, student debt, student loans
Most have very fond memories of their college going years. Going off to college is one of the few rites of passage that we have in the United States ushering future generations into official adulthood. Yet the cost to attend this passage has gotten astronomically expensive. College has now turned into a very large business funded by deep levels of student debt. In the past, the state took on a larger role with public universities but with state budgets in shambles these are now becoming much more expensive options. We speak of the student debt problem as a nationwide issue but this crisis is really a burden largely shouldered by our young. Poor Americans aspiring to go to college have to walk cautiously on this passage and avoid paper mill for-profits and going into massive student debt. This rite of passage is now turning into a debt filled nightmare.
Student debt by age
While we speak of student debt as some sort of "we" problem, it largely falls on the shoulders of the young: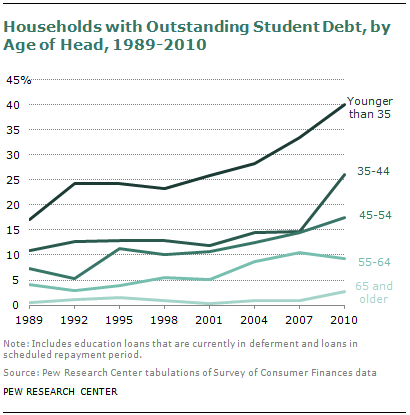 Of baby boomer households, less than 10 percent carry any sort of student debt. Not only do they carry a lower debt load they also went to school at a time when college education was affordable and people were graduating into a healthy job market. Take a look at the chart carefully and you will see that over 40 percent of households under the age of 35 have student debt. There is a big difference between carrying $5,000 in student debt and $50,000.
The burden has only gotten larger in recent years as incomes have gone stagnant: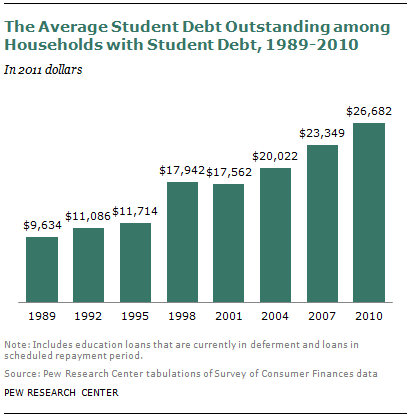 The average student debt has more than tripled since 1989. A good way to measure this is by looking at median household income:
1990 median household income: $30,000
Average student debt: $9,634
Ratio: 3.11
2012 median household income: $50,000
Average student debt: $26,682
Raito: 1.8
The real cost of going to college has gotten much more expensive. If incomes kept pace with college costs the median household income would be above $90,000.
Student debt example
Many lower income students are lured into the for-profit machinery that simply survives courtesy of Federal government student debt. These institutions are mired with poor outcomes and are largely designed as efficient operations to draw in students and extract as much federal loan money from them as soon as possible. Yet this is only one part of the higher education market making up one out of ten students. Even at good institutions students can fall between the cracks. The New York Times did an in depth piece on college and the pitfalls for many lower income Americans. Here is one example given: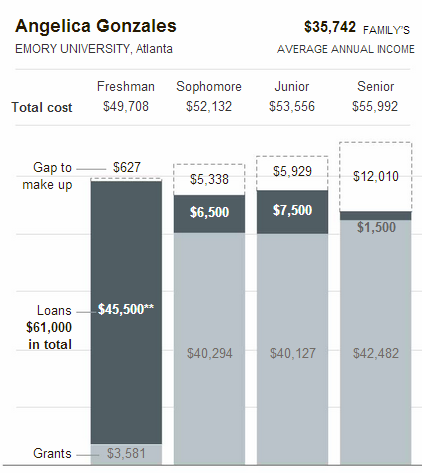 While the article explores the pitfalls for poor students, it does not go into the details of how middle class students are crushed on these sliding scale financial aid models. In the above example, the student did not clearly report her financial situation and because of this, ended up needing to take $45,500 in loans for year one of her education. Once things were clarified most of the funding was covered by grants.
Yet look at the actual cost. From the first year of attendance at $49,708 the cost went up to $55,992 by the student's senior year. This is a recent story. What in the last few years has justified a more than 10 percent increase in cost to attend Emory? The answer is that all institutions are simply hiking costs up and adjusting the true cost at the back end. For example, a middle class family with an average student might end up paying the full bill while a lower income student like the case above will have grants covering most of their costs. Colleges do this because it gives them more leeway to extract funds from loans and other forms of payment.
Earnings
It would be one thing if earnings were keeping up with the rise in tuition and other costs to attend college: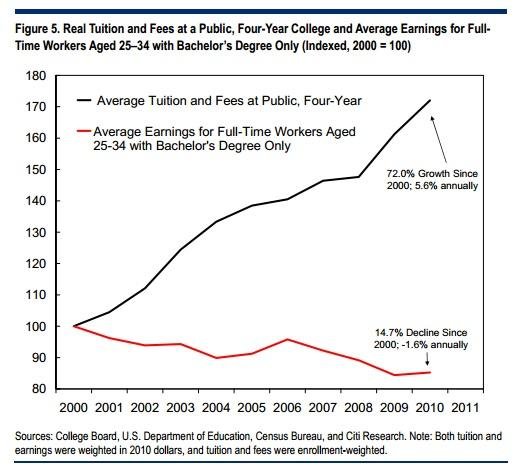 This is probably one of the more telling charts. Since 2000 average tuition and fees at public institutions has gone up by 72 percent while earnings for those with a college degree between 25 and 34 has fallen by 14.7 percent. This is the age group that is carrying the heaviest burden of the $1 trillion in outstanding student loan debt.
One of the more frustrating aspects of the coverage on the student debt bubble is that you hear facts about lifetime earnings for college graduates. Sure. This makes sense because these are people that went to college during very affordable times, graduated into a healthy economy, and didn't have to worry about entering a for-profit paper mill that would drain out $20,000 a year for a piece of paper. There is little risk when you receive a B.A. in English from a state school years ago and graduate with say $1,000 in debt versus coming out today with $75,000 in debt and trying to find work in our low wage economy.
Total debt
Averages are incredibly misleading. Most of the $1 trillion in student debt has come after 2000. We went from roughly $200 billion in student debt to over $1 trillion in about a decade. A big leap has also occurred since the crisis hit: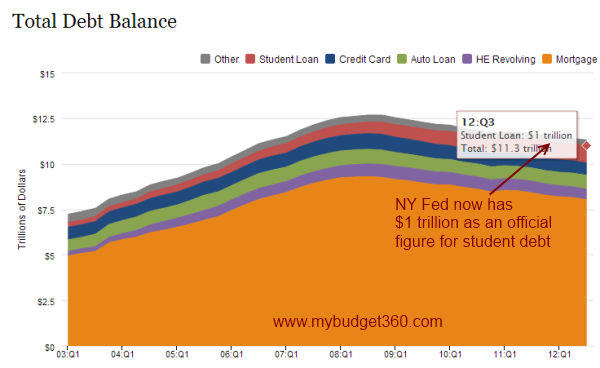 While overall households have been deleveraging because the crisis student debt has gone from $600 billion in 2008 to a startling $1 trillion in the last quarter (the Fed now officially has the $1 trillion mark on their own charts). This is a raging bubble. It will pop. There is a limit now as to how high prices can go without any discernible increase in wages. Bubbles are hard to spot but common sense needs to prevail at times. Like with housing, just because people had access to easy debt with no income verification prices kept being pushed higher as long as the debt market was there. What happens when it pops? The government basically is the higher education market for public institutions and certainly the for-profits. Elite schools will draw from many that can pay and others that are willing to go into debt for the experience. Yet this rite of passage is now starting to have the signs of a mania. More and more students are defaulting. Many are unable to service their debt payments. Income based repayment plans may defer payments deep into the future but that only means that problems are pushed out a few more years. We have about ten cans that we are now kicking down the road. At a certain point, you run out of cans and with $1 trillion in student debt floating in the market the clock is ticking on this bubble.
http://www.mybudget360.com/average-stud … #more-4489
Statistics: Posted by yoda — Thu Dec 27, 2012 1:28 am
---
View full post on
opinions.caduceusx.com
Greyerz – One Of The Most Important Charts Ever
http://kingworldnews.com/kingworldnews/ … _Ever.html
Today Egon von Greyerz sent King World News one of the most important charts you will ever see. Greyerz, who is founder and managing partner at Matterhorn Asset Management, demonstrated, in this one chart, the incredible danger facing the global financial system and why gold will explode higher in price.
This is the first of two interviews KWN will be releasing with Greyerz today. Here is what Greyerz had this to say in Part I, along with his chart: "If I look around the world, the problems continue. China has yet another round of QE totaling $60 billion. China is under real pressure. And if you look at ArcelorMittal, which is the biggest steel producer in the world, and for them China is a massive market, they had a 20% decline in sales in Q3."
"That's a massive plunge in sales, and a major part of that is due to China. Steel production is a very good indication of what's happening in the world, and a 20% fall is massive. But, importantly, that is a sign of a worldwide fall in demand for raw materials, especially in China.
Looking at Japan, one company after another is having problems. The electronic company Sharp is fighting for survival. Panasonic has massive losses, and even Sony is suffering. Japan is in trouble and their debt-to-GDP is a staggering 200%….
"So the reality is Japan will need to continue to print money. Argentina is another country which will default very soon. It's an absolute mess in Argentina, but that is not unusual because they have one default after another.
Moving to Europe, eight months ago Greece had a financing package, agreed to by the EU, of 175 billion euros. Of course now we are being told that will not be enough. They expected the debt to peak at 167% of GDP in 2014. Now Greek debt will be 200% of GDP, and I doubt that will be enough.
The target for the Greeks was to get down to 120% by 2020, but there is no chance whatsoever of accomplishing that. So the question is, who is going to finance even more debt for Greece? Well, obviously the ECB will have to print more money.
Spain is also suffering. Retail sales last month had the biggest plunge in history. We also see Europe's unemployment is at a record high of 11.6%. So everywhere we turn the problems continue. In spite of that, the European Union is now having budget discussions for financing Brussels activities and the EU.
Well, of course the unaccountable bureaucrats want an increase in the EU budget. Virtually every country is hemorrhaging in the EU, but the well-paid bureaucrats are asking for more money. The UK Prime Minister Cameron is trying to fight against that, but he is unsuccessful.
Over in the US, hurricane Sandy is going to negatively impact the already struggling US economy. The negative effect may be relatively small, but it will still be damaging. With 50 million people on food stamps and unemployment at levels which can only be compared to the Great Depression, the US can ill afford additional unforeseen problems such as hurricane hitting the east coast."
Greyerz also warned about insolvency: "I've spoken in the past about bankrupt governments, and the bankrupt banking system. If you value debt in the banking system at market value, then no major bank would be standing today. But in addition to that, if you then look at the derivative positions of the banks, this is a disaster waiting to happen (see chart).
The real over-the-counter derivatives outstanding, worldwide, is at least $1.1 quadrillion, and a major part of that is worthless. People have no idea what kind of turmoil and destruction this can cause to the global financial system. KWN readers need to understand that as the global economy edges closer and closer to collapse, the earthquakes in the financial system will become so enormous that it will eventually overwhelm politicians and central planners.
This is why it is so important that investors protect themselves by holding physical gold and silver outside of the banking system because the coming derivatives disaster will create an explosion in the price of gold. And when the chaos is finally over and a new financial system emerges, gold and silver will be one of the few assets left standing."
I would just add to what Greyerz has said here that when you look at the 'cubes' within the cubes, which represent gold and alleged gold holdings, the smaller of the two cubes shows gold held by the central banks totals $1.6 trillion. Greyerz, like Turk, believes the central banks do not physically possess all of the gold they claim to have.
This could mean that the central bank gold cube may in fact only be half the size of the one Greyerz shows in his chart. If that is true, then the case for an eventual explosion in gold is that much more compelling.
Greyerz – Gold & The Incredible Financial Destruction We Face
http://kingworldnews.com/kingworldnews/ … _Face.html
Earlier today King World News published the extraordinary chart sent exclusively to KWN by Egon von Greyerz. In part II of his interview, Greyerz, who is founder and managing partner at Matterhorn Asset Management, discusses the incredible chart, and gives readers a shocking price for gold which is based on that 'cubed' chart.
Here is what Greyerz had this to say in Part II, along with his comments about the fascinating chart: "I discussed the real over-the-counter derivatives earlier, which stand at $1.1 quadrillion, and this is worldwide. Every time there is a problem in a bank it seems to be derivatives related, such as what happened with JP Morgan which recently lost $5.6 billion, and UBS which lost $2.3 billion."
"They have young people, many times in their 20s, coming in and having derivatives positions of tens of billions or even one hundred+ billion dollars, and these young people have no idea what they are doing. The individual from UBS, who is now defending himself, said, 'I just came in to run these positions. I had no idea about this market.' He is only 27 years old.
So you have inexperienced people taking massive risks, and running positions which amount to an unthinkable total of $1.1 quadrillion….
"Every time we look at these positions closely and value them, which is when there is a problem, the banks realize the positions are not worth anywhere close to what they believed they were. The real, underlying problem is that even management at the banks don't understand these derivatives. They don't know how to value them, so they have no understanding of the true value of the positions.
Many times they are virtually impossible to understand, therefore the traders can value them at whatever they want. Of course they are unregulated and they are not traded on any exchange, and most all of this is held off-balance-sheet. Meaning they are not included on the banks balance sheet.
What the banks do is net down the positions to a very small total because they assume that counterparties will pay. Well, we know when something happens in the banking world, take Lehman as an example, and we will have many more Lehmans in the future, the counterparty doesn't pay or isn't able to pay.
What that means is the gross remains the gross, and again, we have an outstanding exposure, worldwide, of an unfathomable $1.1 quadrillion. You also have to realize that there are virtually no reserves against these enormous positions.
This is why investors that hold major assets in banks are taking risks they shouldn't take. The reality is the banking system is incredibly fragile because of the ongoing risk of the derivatives bubble blowing up at some point. I would add that the risk of this happening is very high in my view.
This is the reason, as I've said, that investors have to hold assets outside of the banking system. Let's take a look once again at the cube chart, just to look at the proportion of outstanding derivatives to gold:
You have $1.1 quadrillion of derivatives, and all of the gold ever produced, which is in one corner of the chart, is $9 trillion. If you take the gold said to be held by central banks, which assumes the central banks physically possess the 30,000 tons and I don't believe they have anywhere near that, but hypothetically speaking, if they did, it is only $1.6 trillion worth of gold.
You can see in the above chart that the central bank gold only fits into a tiny corner of the cube. So what I am saying with this chart is if there is a derivatives blow up, you can only imagine the amount of money that would need to be printed. And, again, I think there is a very high probability of a derivatives blow up taking place.
If you then related the enormous derivative position to the percentage of gold allegedly held by central banks, if gold were to reflect that, you are not talking about gold at $10,000 or $20,000, you are talking about gold well above $100,000 an ounce. This is what investors must focus on in terms of the bigger picture for gold."
Statistics: Posted by DIGGER DAN — Fri Nov 02, 2012 12:53 am
---
View full post on
opinions.caduceusx.com