Ireland's 'bankruptcy tourists' face tougher treatment in English courts
Distressed Irish moguls who would be declared bankrupt for 12 years at home are finding it harder to get courts in England – who would bar them for only one year – to hear their cases
Shane Hickey
The Observer, Sunday 3 March 2013
Irish investor Brian O'Donnell, with his wife Mary, are due in court for another attempt to be declared bankrupt in the UK.
At the peak of the Irish economic boom in 2007, lawyer and investor Brian O'Donnell had an empire that was the envy of his contemporaries. Along with a large house in south Dublin around the corner from Bono and an eight-bedroom townhouse in Westminster valued at £13m, his portfolio of luxury properties stretched from Washington DC to Stockholm.
Five years on, O'Donnell has joined a stream of credit crunch debtors crossing the Irish Sea – or the Northern Irish border – to go bust in the UK, which is a far friendlier place for those drowning in debt. Following in the footsteps of a boy band star, a former government minister and the one-time richest man in Ireland, O'Donnell this week returns to the high court to appeal against its refusal to declare him bankrupt on these shores.
Like countless others in Ireland, O'Donnell has suffered a spectacular downfall as a result of his property dealings. His €1bn empire crumbled during the 2008 bust as banks called in loans, including €71.5m (£61.7m) that is owed to Bank of Ireland. Since the downturn, a series of Irish passport holders have opted to declare themselves bankrupt in Britain. The difference between the two jurisdictions is stark: in Ireland, bankrupts may be faced with up to 12 years of financial purgatory. In the UK they can be clear after one year.
After initially attracting Germans, who face a minimum of six years in bankruptcy, the British system soon received an increasing number of Irish people. All applicants have to do is prove that their "centre of main economic interest" is in the UK; in other words, that Britain is the home of their business. Among the first prominent debtors to head to the UK was property developer John Fleming who, with his construction firm, owed €1bn to the banks. He declared bankruptcy in the modest setting of Southend county court, Essex, in November 2010 and was discharged a year later.
Last June, Westlife singer Shane Filan became the highest-profile Irish person to follow the trend when he was declared bankrupt in Kingston county court in Surrey, a week after his Irish-based property development company went into receivership owing €5.5m to Ulster Bank and Bank of Ireland.
Sacha Pickering, a partner with Michelmores solicitors, says the start of the recession saw Irish and German nationals entering bankruptcy in the UK without the media and legal scrutiny that they are receiving now. "I think a lot of them slipped under the radar but then the concept started coming up that they are not moving their centre of main interest properly and therefore it is harder now," he said.
The reduction in 2004 of the UK bankruptcy period from three years to one resulted in a surge of activity, says Neil Smyth at law firm Taylor Wessing. "The court system simply wasn't in a position to have a judge hear all of these matters, so they were being dealt with on paper. Some would be having a brief look at the paperwork and deciding whether the centre of main interest was in England or not."
The original verdict against O'Donnell in December points to a clampdown on the Ireland-UK bankruptcy flight. Melissa Clarke, a district judge who sits at the bankruptcy court in the central London county court, said recently that claims needed to be scrutinised to see whether people switched their centre based on "substance" or an "illusion". "English judges sitting in the personal insolvency jurisdiction may have to look a little deeper into the circumstances of the debtor's move to England and claims to have severed ties with the home country," she wrote in the Law Gazette.
In one case last year, a German sports photographer had a bankruptcy order against him annulled after it emerged that he still lived in Germany and did not even own a camera.
Smyth said: "I think the courts are trying to send out more of a warning signal that you can't continue to abuse the system by trotting along, making yourself bankrupt and hoping people don't look at the papers too readily – getting yourself made bankrupt here and after a few months going back to your original jurisdiction and leaving all of your problems behind."
Ireland will soon reduce the bankruptcy period from 12 to three years but Alan Shatter, the country's justice minister, is alarmed at the number of Irish people seeking out the more liberal regime. "It is Minister Shatter's view that there is need for greater clarity in bankruptcy matters across the EU in determining a person's centre of main interest in the context of courts in EU states assuming jurisdiction to deal with bankruptcy matters," a spokesman said.
But even those forthcoming changes in the law in Ireland will not stop the flow, says Barry Cahir of Dublin solicitors William Fry. He thinks that people will continue to choose between three years of bankruptcy in Ireland versus one in the UK.
Steve Thatcher, a Leicester-based insolvency lawyer who once had an Irish client with €150m of debt whose case was heard in just 35 seconds, says most of the figures with large debts have already been through the system and it is now younger families who are looking for his services.
The number of Irish people who have declared bankruptcy in Britain is not clear, as the Insolvency Service (IS) does not keep such records. However, the IS says the system is not being abused. And it has not dissuaded O'Donnell from returning: last year, he admitted his initial application for bankruptcy in the high court was a "chastening experience"that had effectively ended his 30-year career. In December, Mr Justice Newey said O'Donnell had not been "a frank, or even a wholly truthful" witness as he rejected an application by O'Donnell and his wife, Mary Patricia, to declare bankruptcy.
Undeterred, O'Donnell will offer new evidence to appeal against the decision on Tuesday.
BUST IN THE UK
Other Irish entrepreneurs to have sought bankruptcy in the UK include:
Tom McFeely
The former IRA hunger striker turned property developer had his bankruptcy in the UK rescinded after a challenge by one of his creditors in a London court. McFeely, who had argued that he was a British citizen and it was his human right to be declared bankrupt in Britain, was declared bankrupt in the high court in Dublin last July.
Shane Filan
A court in Surrey declared the boy band star bankrupt days before Westlife played their final farewell show last June. Filan was forced into bankruptcy after the collapse of the property business he owned with his brother Finbarr. Between them they owed more than €5.5m (£4.45m) to Ulster Bank and Bank of Ireland.
Ivan Yates
Once a government minister, the bookie and radio presenter was made bankrupt in Swansea on 24 August 2012, days after the high court in Dublin refused an application by Allied Irish Banks to have him declared so in Ireland. Yates told reporters he would be an "economic zombie" for a year.
Sean Quinn
Once Ireland's richest man, Quinn ran up unprecedented losses in Anglo Irish Bank through stock investments in the bank as its share price collapsed. He was initially declared bankrupt in Belfast in November 2011 but this was annulled following a challenge by Irish Bank Resolution Corporation, the rebranded Anglo. He was later declared bankrupt in Ireland.
http://www.guardian.co.uk/world/2013/ma … ish-courts
Statistics: Posted by yoda — Sun Mar 03, 2013 12:50 am
---
View full post on
opinions.caduceusx.com
The coming pension crisis: States face a $3 trillion funding gap. Only about 10 percent of Americans now covered by pensions.
Posted by mybudget360 in pensions
Many Americans look at the crisis in Greece and shake their heads wondering how it is possible for an entire country to derail the future of its younger generation. One big problem in Greece was massive government liabilities funding very generous pensions. Yet this came at an enormous cost. The US is facing a different crisis but the markets have already responded over the last few decades. In the early 1980s, roughly 60 percent of private sector workers had a pension. Today, it is down to 10 percent in the latest data and will likely continue to decrease. For young Americans entering the workforce, the self-funded 401k is likely the only path to having a nest egg and any sort of retirement. This is why so many people get angry when they hear about some in California that retire in their early 50s pulling in annual pensions of $100,000. Over 20 to 30 years this can range from $2 to $3 million of payouts. And we wonder why states face a $3+ trillion funding gap with pensions. Are we simply ignoring another looming crisis?
The shift away from pensions
While the stock market inches closer to a previous peak, the shift with pensions has been rather dramatic: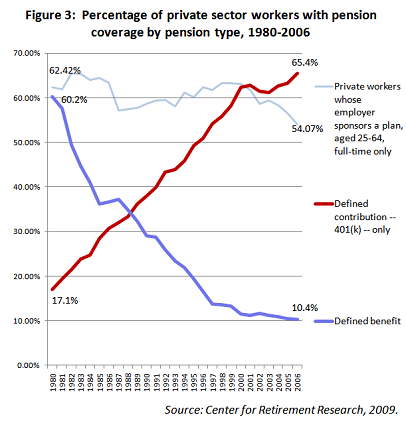 Only about 10 percent of private sector workers have the opportunity for a pension. This of course is likely lower given the trend above. While many might think this is an issue to deal with in the future the crisis is very real:
"(The Atlantic) In addition, states have funded only about 80 percent of their pension liability, leaving a $3.32 trillion funding gap. Ohio and Rhode Island are in the worst shape, having underfunded their pensions by almost 50 percent of their gross state product. Other liabilities, such as retiree health and dental insurance, also are underfunded. City governments similarly are plagued by underfunded pensions, with Los Angeles underfunding its public pension liabilities by $3.53 billion, with an additional $2.43 billion owed for other employment benefits such as healthcare. As of June 2009, New York City public pension programs had liabilities that exceeded their assets by $39.9 billion with an additional $65.5 billion owed for other benefits.
So both the private and public components of the U.S. pension system are under severe strain, as the Great Recession combined with pre-recession patterns of rising inequality and a diminishing social contract have taken their toll. With fewer workers covered by pensions, this leg of the three-legged stool of retirement security is too short — and growing shorter."
This is incredible. Guess who will cover this gap? The taxpayer. And of course, we are talking about massive payouts for many. In California, over 18,000 people collect pensions of over $100,000. Given that the income figures, this is very generous: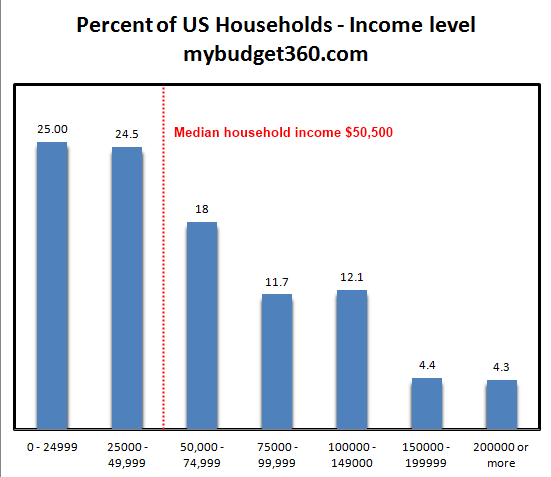 This of course will cause many Americans to become furious at the current situation given that most are left to the whims of the stock market to save up any sort of nest egg. Most will depend on Social Security deep into retirement. Yet for many younger Americans, many realize that the estimated benefits will be cut (we already know that only a 75 percent payout will be had after 2033). For someone in their 20s or 30s, that is reality.
You even have some collecting at much earlier ages:
"(MarketWatch) My two friends on the PATH train would have their blood pressures rise when they hear about stories such as this one from the St. Augustine Record about a 43-year old retired firefighter who will receive a $58,000 pension after 25 years of public service . To achieve this for a private sector worker, they'd have to have nearly $1.5 million dollars in their retirement account. And that doesn't take into consideration the health benefits that many public service employees will also have."
Think about that. Someone at 43 receiving $58,000 a year. Someone working in the private sector would need a nest egg of $1.5 million to make up for this. This is why it is unsustainable. Even at $50,000 payouts given the early age of retirement, these payouts will amount to well over one million dollars. In other words, it is like lottery payouts for many. And this is why the $3 trillion underfunding problem is a big issue.
Keep in mind the pension wasn't designed to be some sort of lottery winning. The idea that coupled with Social Security, a pension, and your own savings that many retirees would have a modest life after their working years. Yet you have an entire portion of Americans receiving well beyond the median household income into their retirement years for 20, 25, or even 30 full years. Think about that.
$50,000 x 20 years = $1,000,000
$50,000 x 25 years = $1,250,000
$50,000 x 30 years = $1,500,000
I'm surprised how little coverage is being given to this. Of course, when the assumption was that we were going to be at DOW 30,000 then all of this would have gotten swept under the rug. But instead, we have this: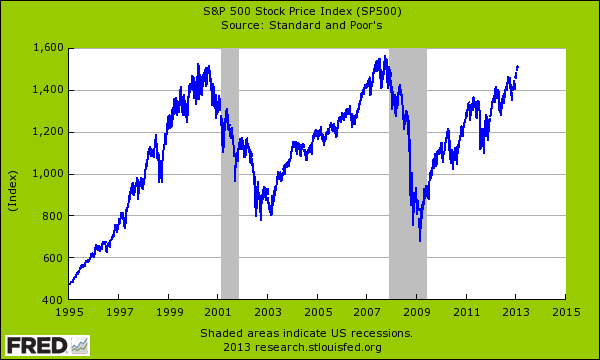 The stock market is back to where it was in the late 1990s even after the incredible rally from the lows of 2009. So obviously those in the private sector have had a hard time building up their wealth in their 401ks. Yet pensions have always had extremely generous built in assumptions.
A $3 trillion unfunded liability is big. This is baked into the cake. This is going to hit one way or another. Of course, many of those receiving giant pensions right now would probably disagree. Something tells me that they did not pay $1 or $2 million over their working life however. Consider this another big issue we will contend with while many younger Americans are left fighting to stay afloat and are entering a world where the safety net is no longer visible.
http://www.mybudget360.com/pension-cris … #more-4619
Statistics: Posted by yoda — Sun Feb 10, 2013 3:57 am
---
View full post on
opinions.caduceusx.com
Ind. Officer, Wife Could Face Jail for Saving Deer
http://gma.yahoo.com/blogs/abc-blogs/po … ories.html
ABC News' Gio Benitez, Mosheh Gains and Emily Stanitz report:
Should an Indiana couple go to jail for saving Bambi?
That's the question surrounding the case of Jeff and Jennifer Counceller, who rescued an injured fawn and nursed it back to health at their Connersville, Ind., home. The couple now faces the possibility of jail time and fines after state officials charged them with a misdemeanor for harboring the animal.
Jeff Counceller, a police officer in Connersville, and his wife were charged with unlawful possession of a deer, a misdemeanor that punished to its fullest extent could put the Councellers in jail for up to 60 days and cost them up to $2,000 in fines.
(ABC News) The couple rescued the deer more than two years ago after finding it on their neighbor's porch. The Councellers said the deer had sustained injuries, and they wanted to nurse it back to health.
"I could feel all of the open wounds all along her back side and she wouldn't stand up," Jennifer Counceller told ABC News.
They brought the deer home and named her Little Orphan Dani.
The Councellers said an Indiana Conservation Officer stopped by their home and discovered the deer this past summer. The Indiana Department of Natural Resources wanted to euthanize Dani, saying she might be dangerous and a threat to people.
"I was devastated. I spent a year and several months nursing her into adulthood, getting to the point where she was able to go out on her own," Counceller said.
On the day Dani was to be put down, the Councellers said she inexplicably escaped from their backyard. Even though Dani disappeared back into the wild, the Councellers' legal problems didn't go with the fawn.
The Indiana Department of Natural Resources said it couldn't comment on pending litigation but that it did discourage people from taking in injured wildlife. This case could go to court next month, and if charges aren't dropped, it will be left for a jury to decide whether the Councellers broke the law.
"No matter what the law is, we did what was right for the animal," Counceller said.
Meanwhile, the story has caused uproar on the Internet. A Facebook support page has more than 6,400 "Likes" in support of the couple. An online petition to drop the charges already has more than 3,800 signatures.
Rick on Change.org wrote, "An act of humanity should not be rewarded with a sentence."
Michelle on Facebook wrote, "They are being punished for having compassion and showing kindness."
The Councellers' case could go to court next month.
Statistics: Posted by DIGGER DAN — Wed Jan 30, 2013 6:59 pm
---
View full post on
opinions.caduceusx.com
With Farm Bill Stalled, Consumers May Face Soaring Milk Prices
If Congress cannot pass a new farm bill, a 1949 one will go into effect and prices could reach $6 to 8 a gallon.
By RON NIXON
Published: December 20, 2012
WASHINGTON — Forget the fiscal crisis and the automatic budget cuts. Come Jan. 1, there is a threat that milk prices could rise to $6 to $8 a gallon if Congress does not pass a new farm bill that amends farm policy dating back to the Truman presidency.
The government sets a minimum price for milk to cover dairy farmers' production costs.
Lost in the political standoff between the Obama administration and Congressional Republicans over the budget is a virtually forgotten impasse over a farm bill that covers billions of dollars in agriculture programs. Without last-minute Congressional action, the government would have to follow an antiquated 1949 farm law that would force Washington to buy milk at wildly inflated prices, creating higher prices in the dairy case. Milk now costs an average of $3.65 a gallon.
Higher prices would be based on what dairy farm production costs were in 1949, when milk production was almost all done by hand. Because of adjustments for inflation and other technical formulas, the government would be forced by law to buy milk at roughly twice the current market prices to maintain a stable milk market.
But the market would be anything but stable. Farmers, at first, would experience a financial windfall as they rushed to sell dairy products to the government at higher prices than those they would get on the commercial market. Then the prices customers pay at the supermarket would surge as shortages developed and fewer gallons of milk were available for consumers and for manufacturers of products like cheese and butter.
For dairy farmers like Dean Norton in upstate New York, who are struggling with high feed costs caused by this summer's drought, a jump in prices would be welcomed.
"But it would be short-term euphoria followed by a long hangover that would be difficult for us to recover from," said Mr. Norton, who is president of the New York Farm Bureau. "I don't think customers and food processors are going to pay double what they are paying now for dairy products."
The Senate passed a farm bill in July. A House version of the bill made it out of committee, but House leaders have yet to bring its version to the floor.
Under the current program, the government sets a minimum price to cover dairy farmers' production costs. If the market price drops below that, the government buys dairy products from farmers to buoy prices and increase demand. Since milk prices have remained above that minimum price in recent years, dairy farmers usually do better by selling their products commercially rather than to the government.
But if 1949 rules go into effect, the government would be required to buy dairy products at around $40 per hundredweight — roughly twice the current market price — to drive up the price of milk to cover dairy producers' cost.
"It would be bad for consumer demand in the long run," said Chris Galen, a spokesman for the National Milk Producers Federation, which represents more than 32,000 dairy farmers.
Mr. Galen and others in the dairy industry said reverting to 1949 policies could probably force the makers of butter, cheese, yogurt and other dairy products to look for cheaper alternatives, like imported milk from countries like New Zealand.
Most dairy companies declined to discuss plans to buy dairy supplies from abroad if they are forced to pay higher prices for milk.
But Land O' Lakes, a dairy company based in Arden Hills, Minn., said the 1949 law could be potentially disruptive for dairy industry operations.
"Congress needs to pass a comprehensive farm bill that helps farmers continue to feed the world, keeps food prices affordable and provides farmers some financial stability in the very unpredictable profession of farming," said Rebecca Lentz, a company spokeswoman.
In a conference call with reporters on Thursday, Tom Vilsack, the agriculture secretary, said the department was exploring all its options to deal with the possibility of the 1949 law going into effect.
"We will do whatever we are legally obligated to do," said Mr. Vilsack, who declined to say what specific steps the department would take to prepare for what dairy lobbyists and industry officials are calling the "milk cliff."
Among the options: the agriculture secretary could drag his heels on the milk purchases until Congress passes a new farm bill or an extension of the 2008 one that expired in September, said Vincent Smith, a professor of agriculture at Montana State University in Bozeman.
"This is a totally antiquated law that has nothing to do with farming conditions today," Professor Smith said. "It was put as a poison pill to get Congress to pass a farm bill by scaring lawmakers with the prospect of higher support prices for milk and other agriculture products. Letting it go into effect for even a few months would be particularly disastrous for consumers and food processors. "
http://www.nytimes.com/2012/12/21/us/mi … ml?hp&_r=0
Statistics: Posted by yoda — Fri Dec 21, 2012 10:48 am
---
View full post on
opinions.caduceusx.com
National Guard soldiers and airmen face unemployment crisis
No longer 'weekend warriors,' an estimated 20% of returning Guard members in the U.S. are jobless. Some employers are reluctant to hire them because, unlike other veterans, they can be called up again.
By Alexandra Zavis, Los Angeles Times
November 23, 2012
For 1st Lt. Ernest Rodriguez, weekly chats with his young daughter via phone or Skype are the highlight of duty in Afghanistan.
The father from Sacramento desperately wants to come home to 7-year-old Samantha. But instead, he has signed up for another year in the war zone. He needs the money and he knows that returning National Guard troops face high unemployment.
More than half of those in his unit had no work when they got back to California in August. Across the country, an estimated 20% of returning National Guard soldiers and airmen are without jobs, former National Guard Bureau Chief Gen. Craig R. McKinley told Congress earlier this year. That is twice the rate for all military veterans who have served since September 2001.
The Obama administration has helped reduce the unemployment rate for all recent veterans, from 15% nearly two years ago to 10% last month, by developing online tools to help returning troops find jobs, working with employers to increase recruitment and retention, and signing into law tax credits for hiring veterans.
But the rate remains stubbornly high for National Guard members and military reservists. Some employers are reluctant to hire them because, unlike other veterans joining the civilian workforce, they can be called up again.
"A person cannot run a company with their most valued asset, their human capital, being taken away for 12 to 18 months at a time," said Ted Daywalt, president of vetjobs.com, one of the largest Internet job sites for veterans.
No longer just "weekend warriors," the nation's more than 1 million National Guard and reserve members have been transformed by the wars in Iraq and Afghanistan into frontline forces. Even as the wars wind down, the troops are being tapped for peacekeeping duties in Africa, Europe and elsewhere. Those in the Guard also have state obligations and can be called to respond to brush fires and other emergencies.
Federal law prohibits employers from discriminating against job applicants because of their military service. But such discrimination can be hard to prove.
Rodriguez, who is 40 and has a college degree, said he submitted hundreds of resumes after he was laid off in 2008 by a Sacramento housing developer.
"As soon as they found out I was in the Guard," he said, "I got hardly any sort of response from anybody."
Rodriguez shares custody of Samantha with her mother. By the time he received orders to deploy with the 756th Transportation Company, he had exhausted his unemployment benefits and was worried about putting food on the table. So when a position opened up in another unit in Afghanistan, he grabbed the opportunity.
"I didn't want to be in the ranks of the deadbeat dads," he said.
Other service members have returned from deployments to find their former employers out of business or their positions axed. The law generally requires employers to take them back, but not if they would have been let go even if they hadn't been called up.
Veteran unemployment is highest among the young. Like their active-duty counterparts, many in the Guard enlist out of high school and have little or no work experience before they deploy. The demands on the military have been so high, some have not needed to look for civilian jobs in years.
When Sgt. 1st Class Edward Dueñas got back from Iraq in 2009, many openings existed for Guard and reserve members to step in for departing active-duty soldiers. The 38-year-old father of two said he quickly found work in Washington state preparing other soldiers to deploy until he, too, was mobilized to go to Afghanistan with the 756th.
But he says there are fewer opportunities like that now. He has broadened his search to include law enforcement and security jobs. "I get call-backs, but it's very competitive," he said.
His post-deployment leave pay ended in October. He receives unemployment benefits. But even with his wife's earnings from a store on base, their income has been cut by half.
Although the job market is improving, advocates for veterans fear their employment difficulties will get worse as the U.S. completes its drawdown in Iraq and Afghanistan. The Pentagon estimates as many as 1 million service members will enter the civilian workforce in the next five years.
Guard leadership says unemployment is becoming a force readiness issue. "Soldiers can't show up if they don't have a car, if they don't have gas," said Maj. Ty Shepard, who heads a state program that aims to slash unemployment in the California National Guard.
1st Lt. Dalia Sanchez, who commands the 756th, also worries about the toll it can take on her soldiers' financial stability, family relations and mental health.
"I think it exacerbates any reintegration issues they already have," said Sanchez, a social worker in her civilian career. "It can make depression worse, anxiety worse, sleep problems worse."
Sgt. 1st Class Timothy King, a military police member from Whittier who deployed with the 756th, said his marriage collapsed because he was away for three of the last six years. But he needed the deployments because he couldn't find civilian work. Now he is in divorce proceedings and racking up credit card debt while caring for two young children and applying for jobs as a police officer.
"After being on deployment where your adrenaline is high every single day … it's just hard to sit on your butt all the time and not do anything," he said. "I don't feel like much of a man anymore."
Hoping to head off a crisis, the National Guard in California and other states is taking a more aggressive approach to unemployment.
Under a pilot program launched in late January, members of Shepard's Work for Warriors program reached out to the 756th to help troops start looking for work two months before they returned to the United States. They created a database with the service histories and educational qualifications of all those in need of employment. And they looked for jobs that would be a good fit.
Trucking and security firms had many openings. But soldiers applying for the slots often struggled to translate military skills into terms a civilian employer could understand, Shepard said. Work for Warriors staff helped them purge their resumes of military jargon and focus on skills that would be useful in the workplace: leadership, discipline, responsibility.
Others had skills they could not use because they lacked civilian credentials, such as commercial driver's licenses. A new state law will allow troops qualified to drive large military vehicles to obtain the licenses without taking a road test. The California Trucking Assn. has provided vehicles for service members to take the test.
Work for Warriors also lined up training and certification opportunities for Guard members interested in security jobs and will soon begin offering the training itself.
At the same time, Shepard's office has been working to address any concerns employers have about hiring Guard members. They can even get a soldier excused from training if necessary.
To date, they have helped find work for more than 300 of the 1,789 members who contacted them, he said.
Nearly four months after the return of the 756th, unemployment among the 159 current members stands at 17%. That is slightly higher than for the California National Guard as a whole and five points higher than the state unemployment rate.
The figures don't include the many Guard members who are using their GI Bill benefits to go to school. Guard leaders had high praise for the program, which includes a small living stipend. But they worry that too many are using the benefit for subsistence rather than to upgrade their educational qualifications.
Unless the economy picks up substantially, Shepard said, they too may soon be joining the ranks of the unemployed.
http://www.chicagotribune.com/news/la-m … 9803.story
Statistics: Posted by yoda — Sat Nov 24, 2012 3:07 am
---
View full post on
opinions.caduceusx.com
By Christopher Preble
Josh Rogin had a chance to interview Tennessee's Bob Corker, likely to be the next ranking member or chairman (depending upon whether the Republicans regain the majority) on the Senate Foreign Relations Committee.
In an interview with The Cable, Corker said he wants the job, that he has been making preliminary preparations just in case he gets it, and that he has a vision of restoring the committee to a place of renewed prominence in the foreign-policy discussion in Washington and around the world.

"We understand the decision about who leads the Foreign Relations Committee is up to the caucus, but in the event I end up being the person, quietly we've done a significant amount of travel throughout the world to understand issues more deeply, we've had meetings and briefings with numbers of people with varying backgrounds and have really tried to immerse ourselves in such a way that if I am the person, I have the ability to be effective," Corker said.
I was puzzled by this, however.
Without much fanfare, Corker has visited 48 countries over the past two years, often traveling commercial…. Here in Washington, he's been meeting with conservatives and realists alike. Some of his briefings and social events have been organized by the American Enterprise Institute's Danielle Pletka, a former staffer for SRFC chairman Jesse Helms, who declined to comment for this article. (my emphasis)
I wasn't aware that Pletka knew many realists. More substantively, her foreign policy views don't seem to align very closely with Corker's, so it is curious that she would be helping him build a staff-in-waiting for the committee.
For example, Corker has exhibited a welcome degree of pragmatism and prudence when it comes to intervening in civil wars, and he appears to share the public's distaste for having U.S. troops carry out open-ended nation-building missions. Pletka, by contrast, was an early advocate for U.S. intervention in Libya and Syria. She championed the war in Iraq at every stage. She has scorned any suggestion that the United States should eventually withdraw from Afghanistan. And she complained that American leadership "cannot be subcontracted" to other countries, even though those other countries might have actual interests at stake. Most Americans want the U.S. government to intervene less often abroad, and they welcome other countries stepping forward, and assuming greater responsibility for their own security, and in their respective neigborhoods. I'm guessing that Sen. Corker does as well.
There is a healthy debate brewing within the Republican Party over the purpose of American power, and there does appear to be some movement toward the public's view, which is increasingly skeptical of being the world's armed social worker. If Bob Corker becomes the new face of GOP foreign policy, I expect that he will listen to a broad range of views, including actual realists.
Will Bob Corker Be the New Face for GOP Foreign Policy? is a post from Cato @ Liberty – Cato Institute Blog
View full post on Cato @ Liberty
FBI begins installation of $1 billion face recognition system across America
Published: 08 September, 2012, 00:38
TAGS: SciTech, Information Technology, USA, Security, FBI
Birthmarks, be damned: the FBI has officially started rolling out a state-of-the-art face recognition project that will assist in their effort to accumulate and archive information about each and every American at a cost of a billion dollars.
The Federal Bureau of Investigation has reached a milestone in the development of their Next Generation Identification (NGI) program and is now implementing the intelligence database in unidentified locales across the country, New Scientist reports in an article this week. The FBI first outlined the project back in 2005, explaining to the Justice Department in an August 2006 document (.pdf) that their new system will eventually serve as an upgrade to the current Integrated Automated Fingerprint Identification System (IAFIS) that keeps track of citizens with criminal records across America .
"The NGI Program is a compilation of initiatives that will either improve or expand existing biometric identification services," its administrator explained to the Department of Justice at the time, adding that the project, "will accommodate increased information processing and sharing demands in support of anti-terrorism."
"The NGI Program Office mission is to reduce terrorist and criminal activities by improving and expanding biometric identification and criminal history information services through research, evaluation and implementation of advanced technology within the IAFIS environment."
The agency insists, "As a result of the NGI initiatives, the FBI will be able to provide services to enhance interoperability between stakeholders at all levels of government, including local, state, federal, and international partners." In doing as such, though, the government is now going ahead with linking a database of images and personally identifiable information of anyone in their records with departments around the world thanks to technology that makes fingerprint tracking seem like kids' stuff.
According to their 2006 report, the NGI program utilizes "specialized requirements in the Latent Services, Facial Recognition and Multi-modal Biometrics areas" that "will allow the FnewBI to establish a terrorist fingerprint identification system that is compatible with other systems; increase the accessibility and number of the IAFIS terrorist fingerprint records; and provide latent palm print search capabilities."
Is that just all, though? During a 2010 presentation (.pdf) made by the FBI's Biometric Center of Intelligence, the agency identified why facial recognition technology needs to be embraced. Specifically, the FBI said that the technology could be used for "Identifying subjects in public datasets," as well as "conducting automated surveillance at lookout locations" and "tracking subject movements," meaning NGI is more than just a database of mug shots mixed up with fingerprints — the FBI has admitted that this their intent with the technology surpasses just searching for criminals but includes spectacular surveillance capabilities. Together, it's a system unheard of outside of science fiction.
New Scientist reports that a 2010 study found technology used by NGI to be accurate in picking out suspects from a pool of 1.6 million mug shots 92 percent of the time. The system was tested on a trial basis in the state of Michigan earlier this year, and has already been cleared for pilot runs in Washington, Florida and North Carolina. Now according to this week's New Scientist report, the full rollout of the program has begun and the FBI expects its intelligence infrastructure to be in place across the United States by 2014.
In 2008, the FBI announced that it awarded Lockheed Martin Transportation and Security Solutions, one of the Defense Department's most favored contractors, with the authorization to design, develop, test and deploy the NGI System. Thomas E. Bush III, the former FBI agent who helped develop the NGI's system requirements, tells NextGov.com, "The idea was to be able to plug and play with these identifiers and biometrics." With those items being collected without much oversight being admitted, though, putting the personal facts pertaining to millions of Americans into the hands of some playful Pentagon staffers only begins to open up civil liberties issues.
Jim Harper, director of information policy at the Cato Institute, adds to NextGov that investigators pair facial recognition technology with publically available social networks in order to build bigger profiles. Facial recognition "is more accurate with a Google or a Facebook, because they will have anywhere from a half-dozen to a dozen pictures of an individual, whereas I imagine the FBI has one or two mug shots," he says. When these files are then fed to law enforcement agencies on local, federal and international levels, intelligence databases that include everything from close-ups of eyeballs and irises to online interests could be shared among offices.
The FBI expects the NGI system to include as many as 14 million photographs by the time the project is in full swing in only two years, but the pace of technology and the new connections constantly created by law enforcement agencies could allow for a database that dwarfs that estimate. As RT reported earlier this week, the city of Los Angeles now considers photography in public space "suspicious," and authorizes LAPD officers to file reports if they have reason to believe a suspect is up to no good. Those reports, which may not necessarily involve any arrests, crimes, charges or even interviews with the suspect, can then be filed, analyzed, stored and shared with federal and local agencies connected across the country to massive data fusion centers. Similarly, live video transmissions from thousands of surveillance cameras across the country are believed to be sent to the same fusion centers as part of TrapWire, a global eye-in-the-sky endeavor that RT first exposed earlier this year.
"Facial recognition creates acute privacy concerns that fingerprints do not," US Senator Al Franken (D-Minnesota) told the Senate Judiciary Committee's subcommittee on privacy, technology and the law earlier this year. "Once someone has your faceprint, they can get your name, they can find your social networking account and they can find and track you in the street, in the stores you visit, the government buildings you enter, and the photos your friends post online."
In his own testimony, Carnegie Mellon University Professor Alessandro Acquisti said to Sen. Franken, "the convergence of face recognition, online social networks and data mining has made it possible to use publicly available data and inexpensive technologies to produce sensitive inferences merely starting from an anonymous face."
"Face recognition, like other information technologies, can be source of both benefits and costs to society and its individual members," Prof. Acquisti added. "However, the combination of face recognition, social networks data and data mining can significant undermine our current notions and expectations of privacy and anonymity."
With the latest report suggesting the NGI program is now a reality in America, though, it might be too late to try and keep the FBI from interfering with seemingly every aspect of life in the US, both private and public. As of July 18, 2012, the FBI reports, "The NGI program … is on scope, on schedule, on cost, and 60 percent deployed."
http://rt.com/usa/news/fbi-recognition-system-ngi-640/
Statistics: Posted by yoda — Sat Sep 08, 2012 1:30 pm
---
View full post on
opinions.caduceusx.com
Italians Squeezed by $9.50-a-Gallon Gas Face Costly Drive
http://www.bloomberg.com/news/2012-08-3 … -home.html
By Chiara Vasarri and Tommaso Ebhardt – Aug 31, 2012 1:27 PM MT
Giovanni Cimmino filled up his Fiat Multipla in Croatia before returning to Italy after his summer holiday, avoiding Europe's highest gasoline prices.
Motorway traffic declined 8 percent in the first half, according to Atlantia, the country's biggest toll-road operator, while Autogrill SpA, the world's biggest manager of airport and highway restaurants, reported a 10.4 percent fall in food and beverage sales in Italy over the same period. Photographer: Alessia Pierdomenico/Bloomberg
.
"You need a smart strategy to save on gas," said Cimmino, 37, who manages a metals trading company near Milan. With pump prices at a record in Italy, "I tend to use more public transportation and avoid driving when it's not necessary."
Unleaded fuel has climbed to more than 2 euros ($2.50) a liter, about $9.50 a gallon, in some areas of Italy, including parts of the Tuscany region. That's made this year's end-of- summer "rientro," when Italians return to the cities after their August vacations, more costly than usual.
Motorists are being hit by the fallout from the European debt crisis as the government of Prime Minister Mario Monti raises gasoline taxes to rein in the world's fourth-biggest public debt. High fuel prices are weighing on consumer spending, deepening the country's fourth recession since 2001 and sapping earnings at carmaker Fiat SpA (F) and highway operator Atlantia SpA. (ATL)
Italians now spend more each week to fill their tanks than they do to feed their families, according to agricultural trade group Coldiretti. Topping up a car's 60-liter (16 gallon) tank costs about 120 euros compared with the 111 euros an average Italian household spends per week on food, according to Coldiretti.
'Blackmail'
"It's blackmail for people like me who don't live in a big city and can't take public transport," said Costanza Cappelli, a 32-year-old consultant to a jewelry maker, who lives in the Tuscan countryside. "I don't have an alternative."
Italian drivers paid an average 1.87 euros a liter including tax for unleaded gasoline at the end of August, 19 percent more than a year ago, according to Bloomberg data. Gasoline and diesel pump prices rose to record levels throughout Europe last week, with retail gas prices averaging 1.70 euros a liter in the European Union's 27 member nations, exceeding the earlier peak of 1.69 euros in April, according to data from the European Commission.
Italians, among the world's most avid drivers based on car- ownership rates, have been shunning purchases of new vehicles. Car sales plummeted 20 percent through July and purchases from private customers may slump this year to the lowest since 1955, Romano Valente, general manager of auto industry group Unrae, said in an interview last month.
Demand Declines
Promotor, an automotive research group based in Bologna, estimates that gasoline and diesel consumption fell 9.7 percent in the country during the first six months of this year.
Motorway traffic declined 8 percent in the first half, according to Atlantia, the country's biggest toll-road operator, while Autogrill SpA (AGL), the world's biggest manager of airport and highway restaurants, reported a 10.4 percent drop in food and beverage sales in Italy over the same period.
Gas stations owned by Eni SpA (ENI), Italy's largest energy producer, have had lines 10 cars long this summer as the company offers weekend discounts of about 20 cents a liter.
"A weak euro, the rising price of oil and higher taxes are an explosive mix for prices at the pump," Eni Chief Executive Officer Paolo Scaroni told reporters last week in the Adriatic coast resort of Rimini. "Our discounts are helping Italians, but if this situation continues, prices will continue to rise."
Tax Increase
Gasoline prices begin to jump shortly after Monti came to power in November. He quickly passed a 20 billion-euro austerity plan that included an increase in fuel levies that added about 10 cents to a liter. Rising crude prices — North Sea Brent, the benchmark for over half the world's oil, has rallied more than 25 percent since its 2012 low in June — coupled with a 4.5 percent decline in the euro this year have contributed to the peak in Italian gasoline prices coinciding with the top driving season.
Concerns that the economic slump will deepen have led Fiat to temporarily stop new investments in Italy. CEO Sergio Marchionne has vowed to close a second Italian factory, after shuttering one last year, unless he finds a way to export cars to the U.S. Fiat will halt production at its newest plant in the country at Pomigliano, near Naples, for two weeks starting Sept. 24 because of weak demand, a union official said Aug. 29.
Monti is under growing pressure to cut fuel levies. France this week announced a plan to reduce retail prices of gasoline and diesel that will cost the government 300 million euros in lost taxes. Politicians backing the Italian government have called on Monti to follow France's lead. Industry Ministry Undersecretary Claudio De Vincenti told Radio Anch'io in an interview yesterday that the Italian government is working on a plan to reduce fuel taxes.
"If fuel prices remain so high, we could face an inflationary depression," said Emiliano Brancaccio, professor of political economy at the University of Sannio in Benevento. "Levies like these risk having the worst impact on economic growth as they hit all types of income indiscriminately."
To contact the reporters on this story: Chiara Vasarri in Rome at cvasarri@bloomberg.net; Tommaso Ebhardt in Milan at tebhardt@bloomberg.net
To contact the editors responsible for this story: Jerrold Colten at jcolten@bloomberg.net; Chad Thomas at cthomas16@bloomberg.net
Statistics: Posted by DIGGER DAN — Sat Sep 01, 2012 11:49 am
---
View full post on
opinions.caduceusx.com
After drought blights crops, U.S. farmers face toxin threat
Michael Hirtzer and Meredith Davis, Reuters | Updated: August 15, 2012
The worst U.S. drought in five decades has parched the land and decimated crops. It now threatens to deal a second blow to farmers, who may have to throw out tonnes of toxic feed.
Growers are rushing to check the nitrate levels of that silage, the stalks and leaves that corn farmers often harvest to feed to locally raised cattle or hogs.
Agriculture groups are warning farmers that drought-hit plants may have failed to process nitrogen fertilizer due to stunted growth, making them poisonous to livestock.
Exceptionally early spring planting has caused a crush of early summer requests for the tests. Farmers are also expected to chop down a near-record swathe of their fields for silage to make up for this year's poor yields.
"We've had a lot of walk-in business and normally we are not a walk-in business," said Lola Manning, a 30-year employee of Agri-King, a laboratory that tests for nitrates and other toxins. "At this point it's the busiest I've seen it."
Manning said the facility, approved by the National Forage Testing Association, checked about 400 samples — roughly double the norm — in July.
So far, few samples have shown elevated levels of toxins, she said. But late-season rains — far too tardy to help salvage the corn crop — could prompt mostly mature plants to draw even more nitrogen out of the soil and into the stalks.
"The tests are coming out OK but as soon as they have rain, the situation will change," Manning said.
SO FAR, SO GOOD
Two months of dry weather and high heat that stunted plants and shriveled ears likely caused the absorption of excessive amounts of nitrogen, experts say. Instead of being distributed safely through the plant, the chemical built up in the lower portions of the stalk at potentially toxic levels.
Kenny Wagler, a dairy farmer in Nashville, Indiana who also farms 2,500 acres (1,000 hectares) of corn and pasture, is testing his corn for the first time since the last major drought in 1988.
"It's almost never a factor," said Wagler, who raises about 1,500 dairy cows and cattle, adding that he is testing this year on recommendation from his farm nutritionist.
Nearly half of what he typically harvests to sell as a cash corn crop will be cut for silage this year because most of the plants had no ears of grain.
In the worst-case scenario, silage with high levels of nitrate can be absorbed into an animal's bloodstream, causing poisoning leading to death.
The absorption causes hemoglobin to be converted to methemoglobin, which is incapable of transporting oxygen and so can be fatal to the animal, according to the U.S. Department of Agriculture. Symptoms of nitrate poisoning include labored breathing, rapid heartbeat, weakness, lack of coordination and blue-gray discolored skin.
Extensive losses of livestock are an unlikely, extreme scenario, beef and dairy experts say.
"Certainly there are instances of dead cattle from nitrate," said Chris Hurt, agriculture economist at Purdue University. "Widespread education has helped reduce the problem."
But nitrate-laced silage would force those farmers to buy extra feed grains in order to sustain their animals.
LOW GRAIN YIELDS, MORE SILAGE?
Silage is usually harvested while plants are still green and contain a high level of moisture. It is then fermented, often in silos. Many dairy farmers raise corn specifically for silage, in part to avoid having to buy feed elsewhere.
The rest of the crop is allowed to mature and is harvested as grain to be sold to elevators for export or feed use, or to ethanol makers.
Farmers are expected to harvest more of their corn crop for silage than usual this season due to poor yields, which are forecast by the USDA to be the lowest in 17 years.
As many as 9 million acres — or 9 percent of the corn crop — may not be harvested for grain this year, according to USDA data released last week. That would be the most abandoned acres in a decade. Much of that will be used instead as silage.
At Agri-King in western Illinois, tests cost $8 per sample for nitrate. Farmers are advised to take six stalks, chop them up and put them into a bag for testing.
Nitrate levels under 4,400 parts per million are considered safe while those over 15,000 ppm are considered potentially toxic and should not be fed to livestock, said Randy Shaver, extension dairy nutritionist at the University of Wisconsin.
At between 8,800 and 15,000 ppm, silage should be limited to less than half of the total feed ration and well fortified with minerals, data from that university showed. However, acceptable nitrate levels vary slightly from state to state.
"We've had quite a few tests that have come in at 14,000 parts per million or higher, and that seems to come up after a rain," said Travis Meteer, a beef extension specialist at the University of Illinois, one of several universities to issue bulletins about nitrates in silage in recent weeks.
LIVESTOCK PAIN, CORN'S GAIN
If the silage proves to be toxic, farmers like Wagler could be forced to cull their herds, as many ranchers are doing. Or they could buy additional grains from the cash market to feed their livestock — incurring extra expenses in a year when some of their income will depend on crop insurance claims.
Extra demand could add fuel to corn prices, which have already rallied more than 60 percent in two months to a record as drought deepened across two-thirds of the country.
"It will mean higher feed costs for livestock producers," said Roger Elmore, a professor of agronomy and a corn specialist at Iowa State University. "In addition to the drought, forage quality and the quantity will be less.
"We'll have less forage out there, so that price will also increase. All of that increases the cost of production for livestock producers," he added. (Editing by Dale Hudson)
http://www.cattlenetwork.com/cattle-new … 01756.html
Statistics: Posted by yoda — Wed Aug 15, 2012 3:02 pm
---
View full post on
opinions.caduceusx.com