Simon Lester
A few weeks ago, I blogged about how the U.S. government uses the idea of helping malnourished people abroad as a way to promote domestic agricultural interests. As I explained there, "Instead of simply giving money to people to buy food from the cheapest source, the U.S. government buys food from U.S. producers and requires that it be sent overseas on U.S. ships." It turns what some might see as a noble cause into a means of industrial policy.
The Washington Post has been all over the issue, and has another good editorial today. They note the argument of one politician that "political realities are such that foreign aid cannot get funding unless domestic U.S. constituencies also benefit." But then they have a great response:
Perhaps it's true that funding for foreign aid, always politically tenuous, has depended on greasing interest groups. But it's also true that foreign aid depends on persuading taxpayers in general that their funds are being well spent. And there are more taxpayers than special interests.
The Obama administration is pushing in the right direction on this. Let's hope they can successfully fight off the special interest groups who are resisting.
View full post on Cato @ Liberty
Case Worker: Illegal Aliens Got Food Stamps by the "Vanload"
April 30, 2013 |
For decades the U.S. government has knowingly given illegal immigrants food stamps, according to a former certification case worker who denounced the costly practice back in the 1980s but was essentially ordered to keep a lid on it.
The retired assistant case manager, Craig McNees, was in charge of vetting food-stamp applicants in north Florida and Indiana in the '80s and says the program was infested with fraud and corruption that was perpetually ignored by management. "Illegals would come in by the vanload and we were told to give them their stuff," McNees said. "Management knew very well they were illegal. It was so rampant that some employees would tell their illegal relatives to come get food stamps."
McNees contacted Judicial Watch after reading documents obtained by JW from the U.S. Department of Agriculture (USDA) detailing how the agency is working with the Mexican government to promote participation by illegal aliens in the U.S. food stamp program. The effort includes a Spanish-language flyer provided to the Mexican Embassy by the USDA ensuring that Mexicans in the U.S. don't need to declare their immigration status to get financial assistance from Uncle Sam.
The documents ignited outrage considering the nation's food stamp program has exploded under President Obama, who claims there are too many "food insecure households" in America. To correct the problem the administration has spent millions on ad campaigns promoting food stamps and has rewarded states with multi-million-dollar bonuses for signing up recipients. It's been quite effective because American taxpayers spent an astounding $80.4 billion on the program in 2012 and a record number of people—46 million and growing—get free groceries from Uncle Sam.
The retired case worker who contacted JW says in the three years he worked in a Sarasota food-stamp office, he found more than 500 cases of fraud but management ignored them all instead pushing a yearly quota. "They just said that if we don't give out as many as last year, we don't get our money," McNees said. "It was crazy, like a three-ring circus; like the inmates were running the asylum."
Decades later it seems little has changed as Obama promotes the program like there's no tomorrow. In fact, last summer a federal audit revealed that many who don't qualify for food stamps receive them under a special "broad-based" eligibility program that disregards income and asset requirements. That means American taxpayers are getting stuck with a multi-million-dollar tab to feed hundreds of thousands who can well afford to feed themselves.
Adding insult to injury, last spring the USDA Inspector General revealed that many food-stamp recipients use their welfare benefit to buy drugs, weapons and other contraband from unscrupulous vendors. Some trade food stamps for reduced amounts of cash, the USDA watchdog told Congress, disclosing that the fraud has cost taxpayers nearly $200 million. None of this surprises McNees, who claims he witnessed so much fraud as a food-stamp case worker that he "could write a book."
http://www.judicialwatch.org/blog/2013/ … e-vanload/
Statistics: Posted by yoda — Tue Apr 30, 2013 8:06 pm
---
View full post on
opinions.caduceusx.com
Recently uncovered documents prove that the Obama administration has been working with the Mexican government to increase the number of illegal immigrants on food stamps, and when more illegal immigrants go on food stamps JP Morgan makes more money.  As you will read about below, JP Morgan has made at least 560 million dollars processing Electronic Benefits Transfer cards.  Each month, JP Morgan makes between $.31 and $2.30 for every single person on food stamps (and that does not even include things like ATM fees, etc).  So JP Morgan has a vested interest in seeing poverty grow and the number of people on food stamps increase.  Meanwhile, the Obama administration has been aggressively seeking to expand participation in the food stamp program.  Under Obama, the number of people on food stamps has grown from 32 million to more than 47 million.  And even though poverty in America is absolutely exploding, that apparently is not good enough for the Obama administration.  It has now come out that the U.S. Department of Agriculture has provided the Mexican government with literature that actively encourages illegal immigrants to enroll in food stamps.  One flyer contains the following statement in Spanish: "You need not divulge information regarding your immigration status in seeking this benefit for your children."  The bold and the underlining are in the original document in case you were wondering.  Overall, federal spending on food stamps increased from 18 billion dollars in 2000 to 85 billion dollars in 2012, and at this point one out of every five U.S. households in now enrolled in the food stamp program.  When people illegally or fraudulently enroll in the food stamp program, it makes it harder for those that desperately need the help to be able to get it.
It is certainly a good thing to help fellow Americans that are suffering.  It is a crying shame that more than a million public school students in America are homeless.  That should not be happening in the "wealthiest nation on earth".
But today we have a system that has turned poverty into big business.  According to an article posted on Breitbart.com, JP Morgan has made at least 560 million dollars (and probably much more) processing EBT cards…
A new report by the Government Accountability Institute finds that JP Morgan has made at least $560,492,596 since 2004 processing the Electronic Benefits Transfer (EBT) cards of 18 of the 24 states it has under contract for the food stamp program.
A Daily Beast article provided some more specifics about the monster profits that JP Morgan is making…
Just how lucrative JP Morgan's EBT state contracts are is hard to say, because total national data on EBT contracts are not reported. But thanks to a combination of public-records requests and contracts that are available online, here's what we do know: 18 of the 24 states JP Morgan handles have been contracted to pay the bank up to $560,492,596.02 since 2004. Since 2007, Florida has been contracted to pay JP Morgan $90,351,202.22. Pennsylvania's seven-year contract totaled $112,541,823.27. New York's seven-year contract totaled $126,394,917.

These contracts are transactional contracts, meaning they are amendable based on changes in program participation. Each month, the three companies that administer EBT receive a small fee that can range from $.31 to $2.30 (or higher depending upon the number of welfare services on an EBT card and state contractual requirements) for each SNAP recipient.
So the more people that are out of work and that need to turn to the government for food, the bigger profits that JP Morgan makes.
What makes all of this even more insulting is that many of the jobs that JP Morgan could be providing to Americans to help alleviate this poverty are being shipped overseas instead.  As I noted in a previous article, many EBT card customer service calls are being routed to call centers in India by JP Morgan.
So why doesn't anyone do anything about this?
Well, it turns out that JP Morgan has the politicians that oversee the food stamp program in their back pocket.  The following is from a recent Money Morning article…
And the bank has taken steps to make sure the SNAP program remains a growing source of revenue. JPMorgan's political donations to the members of House and Senate agricultural committees, the ones with legislative responsibility for the program, soared from just over $82,000 in 2002 to nearly $333,000 as of 2010.
What a wonderful system we have, eh?
And surely JP Morgan just loves the fact that the Obama administration is actively encouraging illegal immigrants to apply for food stamps.
What you are about to read should absolutely shock you.  At a time when the U.S. government is absolutely drowning in debt, the Obama administration is making it abundantly clear to illegal immigrants that their immigration status will not be checked when they apply for food stamps.  The following is from a recent Judicial Watch press release…
Judicial Watch today released documents detailing how the U.S. Department of Agriculture (USDA) is working with the Mexican government to promote participation by illegal aliens in the U.S. food stamp program.

The promotion of the food stamp program, now known as "SNAP" (Supplemental Nutrition Assistance Program), includes a Spanish-language flyer provided to the Mexican Embassy by the USDA with a statement advising Mexicans in the U.S. that they do not need to declare their immigration status in order to receive financial assistance.  Emphasized in bold and underlined, the statement reads, "You need not divulge information regarding your immigration status in seeking this benefit for your children."

The documents came in response to a Freedom of Information Act (FOIA) request made to USDA on July 20, 2012.  The FOIA request sought: "Any and all records of communication relating to the Supplemental Nutrition Assistance Program (SNAP) to Mexican Americans, Mexican nationals, and migrant communities, including but not limited to, communications with the Mexican government."

The documents obtained by Judicial Watch show that USDA officials are working closely with their counterparts at the Mexican Embassy to widely broaden the SNAP program in the Mexican immigrant community, with no effort to restrict aid to, identify, or apprehend illegal immigrants who may be on the food stamp rolls.
You can see a copy of the flyer right here.
So who pays for all of this?
You do of course.
The Obama administration is doing all that it can to promote illegal immigration, and big banks such as JP Morgan just make bigger profits the more illegal immigration that we see, but it is you and I that end up with the bill.  This was put beautifully in a recent article by Mike Adams of NaturalNews.com…
Nearly $75 billion of taxpayer money is spent each year on federal food stamps, and it turns out some of that is alarmingly being handed out to illegal immigrants — people who contribute nothing to the federal tax base in America but who seem to be experts on collecting social welfare benefits of all kinds. If you are working for a living, you are buying food for illegals who are being actively recruited by Obama and the democratic party so that they will vote more democrats into office.
When we reward illegal immigration, what happens?
That's right – we are just going to get even more illegal immigration.
According to WND, we have already started seeing a huge increase in illegal immigrants coming across the border since Congress began debating the amnesty bill…
Illegal border crossings have doubled, and possibly even tripled, since the latest congressional push began toward comprehensive immigration reform.

In reporting first published by Townhall.com's Katie Pavlich, border patrol agents in the Tucson/Nogales sector claim illegals are coming here in much higher numbers in just the past few months.

"We've seen the number of illegal aliens double, maybe even triple since amnesty talk started happening," an unnamed border agent said to Townhall. The data from Customs and Border Protection cited in the report shows 504 illegals were detected crossing in that sector between Feb. 5 and March 1. Only 189 were caught on camera, and just 174 of the 504 were apprehended. Of those spotted on camera, 32 were carrying huge packs believed to contain drugs and several were heavily armed.
If that bill is passed, it is being projected that it will bring 33 million more people into this country…
The pending Senate immigration bill would bring a minimum of 33 million people into the country during its first decade of operation, according to an analysis by NumbersUSA, a group that wants to slow the current immigration rate.

By 2024, the inflow would include an estimated 9.2 million illegal immigrants, plus 2.5 million illegals who arrived as children — dubbed 'Dreamers' — plus roughly 3.4 million company-sponsored employees with university degrees, said the unreleased analysis.

The majority of the inflow, or roughly 17 million people, would consist of family members of illegals, recent immigrants and of company-sponsored workers, according to the NumbersUSA analysis provided to The Daily Caller.
We have made legal immigration a complete and total nightmare while leaving the back door completely wide open at the same time.
We greatly punish those who are trying to do things legally while at the same time we are greatly rewarding those that are cheating the system.
What kind of sense does that make?
Shouldn't we insist that everyone come in through the front door?
Those that are coming over our borders illegally know what the score is…
Linda Vickers, who owns a ranch in Brooks County, which is Ground Zero for the immigration debate, pins the blame directly on talk of 'amnesty' and a 'path to citizenship' for people who entered the U.S. illegally.

She recalls one man being arrested on her ranch not long ago.

"The Border Patrol agent was loading one man up, and he told the officer in Spanish, 'Obama's gonna let me go'."

Border Patrol agents report that immigrants are crossing the border, and in some cases surrendering while asking, "Where do I go for my amnesty?"
We are already becoming a poverty-stricken nation.  We simply can't afford to feed millions upon millions of illegal immigrants as well.
As I write this, the U.S. national debt is $16,758,107,082,298.63.
We now have a debt to GDP ratio of about 105 percent.
In the United States today, the amount of money that is deposited in our banks is about 9.3 trillion dollars.  If we took every penny of that and used it to pay off the national debt, we would still owe more than 7 trillion dollars.
We are stealing more than 100 million dollars from future generations of Americans every single hour of every single day to pay our bills, and yet everyone seems to think that this is "normal" somehow.
The truth is that what we are doing is absolutely criminal, and we should all be ashamed.
For much more on our exploding national debt, please see the following article: "55 Facts About The Debt And U.S. Government Finances That Every American Voter Should Know".
In the end, it should be apparent to everyone that our system is failing.  Our government is corrupt, our big banks are consumed with greed and most average Americans are so addicted to entertainment that they have absolutely no idea what is going on.
What would those that bled and died for this country think about what we have become today?
View full post on The Economic Collapse
United States of Food Stamps: Food stamp usage has grown by 30,000,000 people since 2000. The economics of a food stamp recovery.
Posted by mybudget360 in dollar stores, food stamps
I was working through a few pages of Excel data regarding food stamp usage and a troubling milestone has now been breached. Since 2000, we have now added over 30,000,000 Americans to the food stamp program now labeled SNAP. What is even more difficult to understand is this number has moved up nearly unabated since 2000 even though if you believe the data, we were in full recovery from 2001 to 2007 until the financial crisis hit. In reality, what was happening was that the poor and working class were merely papering over their shrinking wealth by going into unsupportable debt. The fact that food stamp usage continues to move up is a very telling sign of our current economic situation. Over 47.77 million Americans are now on food stamps. In many parts of the country, Wal-Mart stores have adjusted store hours at the end of the month to coincide with food stamp debit cards (EBT) being reloaded allowing people to shop. I wanted to dive into the food stamp data a bit deeper.
Food stamp participation up by 30,000,000 people since 2000
I doubt anyone would ascribe growing food stamp usage with an actual economic recovery. That might be a bit of a stretch. When we chart this out, it becomes even more dramatic: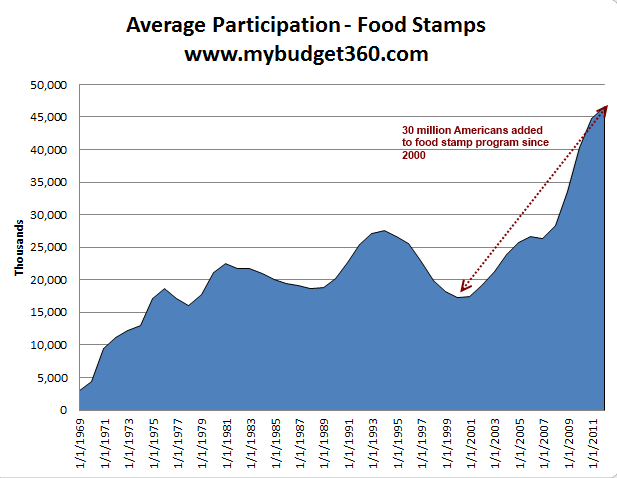 Source: SNAP
Keep in mind that for most of the 2000s, we've been in a "recovery" according to various sources. Yet food stamp usage soared dramatically over this period. Also, keep in mind that we've been in an economic recovery since the summer of 2009 yet food stamp usage continues to expand. In 2009 we had 33 million Americans on food stamps. Today it is over 47.77 million adding nearly 15 million people to the program during a time of economic recovery. At least that is what we are told.
Record number of families on food stamps
While we are off from the peak reached in December at least in a raw count of people, we are actually at a new peak when it comes to households on food stamps: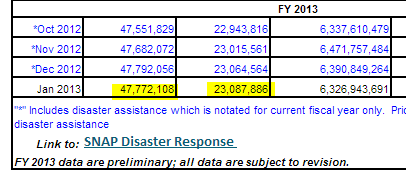 Source: SNAP
Over 23.08 million households are participating in the SNAP program. When we look at the stock market making record highs we have to keep in mind that most Americans do not have any sizable amount of money in bonds or stocks.
Food stamp costs are obviously rising with the growing number of people in the program: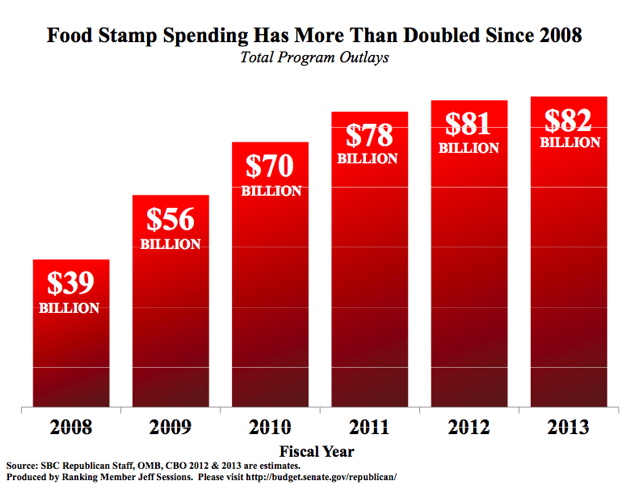 Keep in mind that much of this gets spent back into the economy so this isn't an argument on the merits of the program. There are strict means testing to get on food stamps which is even more troubling because it underlies how many Americans are really in dire economic situations. How is it feasible that we can call this a recovery when we have a vast portion of our population struggling to get by on food stamps? In other words, these families have such little income that they need supplemental support just to feed themselves and their children.
Take a look at what states have the highest food stamp participation: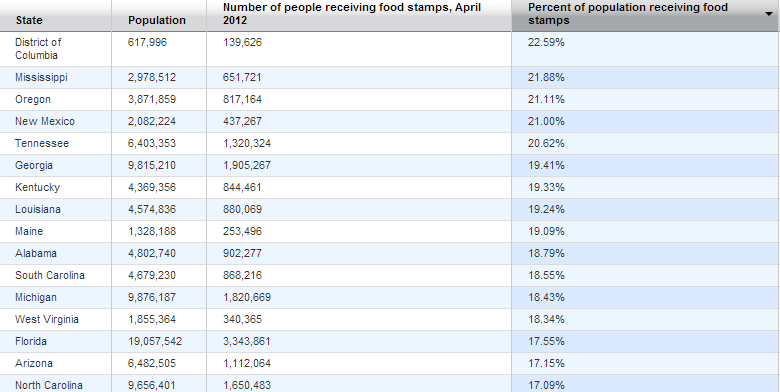 It is astounding how many states have 20 percent or about 20 percent of their entire population on food stamps. The economics of food stamp usage have also created some winners here. After all, if you have 47 million customers receiving a set amount each month, you can provide products to this group. It is interesting that many dollar stores have shifted from general items to focusing on a large portion of their store selection being on food. Take a look at a couple of major dollar stores around the country and how well they have done over the last few years:
Some excellent performance from both Family Dollar and the 99 Cents Stores. Are we on path to reaching 50,000,000 Americans being on food stamps? At this rate, it'll only be a few years away. If you think this is the case, you now have a few stocks to invest in assuming you have the money to invest. I believe Wall Street would call this the food stamp play
http://www.mybudget360.com/united-state … #more-4795
Statistics: Posted by yoda — Sun Apr 28, 2013 12:24 am
---
View full post on
opinions.caduceusx.com
Chris Edwards
The federal food stamp program—now called SNAP—is attracting a lot of media coverage. One reason for this is that the program's costs have exploded—spending more than quadrupled during the Bush-Obama years to $82 billion in 2013 (see here and here p. 16). The Clinton, Bush, and Obama administrations all took steps to loosen the purse strings on food stamp eligibility, and those changes have led to the ballooning costs of recent years during the stagnant economy.
Aside from the rising costs, two other aspects of SNAP have garnered interest. One is food stamp fraud. The other is the program's "Twinkie problem": taxpayers are paying for billions of dollars of junk food, which seems like a huge waste of money to most people.
These two issues have come together in a high-profile effort by a group of media organizations that is demanding greater transparency in SNAP operations. The organizations—led by the Association of Health Care Journalists (AHCJ)—have sent a letter to Agriculture Secretary Tom Vilsack (whose agency oversees SNAP) asking for full disclosure about where food stamps are being spent and what they are being spent on. The Daily Caller reports on the issue here.
Let's look at the fraud issue. The government claims that the food stamp trafficking rate is just 1 percent and the general overpayment rate is just 4 percent. I suspect that the real rates are much higher, for three reasons: First, the overall costs of SNAP and the number of beneficiaries have skyrocketed. Second, SNAP is ideally suited for abuse: the USDA has few investigators to police the roughly 200,000 SNAP retailers, any of whom could be scamming the system. Third, overpayment rates on other federal subsidy programs are often around 10 percent. Medicare and Medicaid overpayments are in that range, for example, and overpayments have long been around 20 percent in the EITC program.
The AHCJ-led effort is asking the USDA to release data on food stamp purchases by retail outlet. This would be a very useful resource for investigators across the nation to help the government reduce waste and fraud. Are food stamps being cashed in at liquor stores? Which corner stores have unusually high food stamp usage? Let's get detailed SNAP data on the Internet and allow journalists and the public to help answer these questions. After all, scandal after scandal illustrate that the federal government is lousy at policing programs itself.
The journalists are also asking the USDA to provide detailed breakdowns of the types of food being purchased with SNAP money. It's remarkable that in an era of Bloomberg-style efforts to restrict private food choices, the government itself runs a giant $82 billion program that subsidizes junk food. How much junk food? We don't know, and that's what many journalists want to find out.
Food stamps can be used to purchase just about any edible item other than alcohol, hot food, restaurant meals, and live animals. The USDA explains the rules here and specifically notes that "soft drinks, candy, cookies, snack crackers, and ice cream" are allowed.
Many health experts would like to ban junk food purchases in the food stamp program because they want Americans to eat more nutritious food. I'm a libertarian, so I don't want the government telling people what to eat. But I think banning junk food in SNAP would be a good step for a different reason: it would greatly reduce demand for the program and thus cut taxpayer costs. If we told the 48 million users of food stamps that they could only use their electronic subsidy cards to buy items like spinach and broccoli, a lot fewer people would use the program and they would buy less stuff.
Why has the USDA been stonewalling journalists on providing SNAP program data? I'm guessing that federal officials don't want to be embarrassed about: 1) how much taxpayer money goes toward junk food, and 2) the endless series of stories about SNAP fraud that would likely be generated if journalists could explore the program's operational details.
Optimally, SNAP should be terminated altogether and food subsidy activities left to the states—or better, to private charities. But until that reform happens, the current effort to pry open the workings of this giant hand-out program would be big step in the right direction.
Some links of interest:
A leaked database of food stamp usage in Massachusetts. This is the type of data that should be released nationally by the USDA.
A study on the corporate lobbying surrounding food stamps. This liberal group doesn't want to cut spending, but it provides an excellent summary of the junk food issue, transparency, and the benefits of SNAP to the banking industry.
WaPo columnist Charles Lane on SNAP junk food.
Some of Tad DeHaven's analyses of food stamps are here, here, here, here, and here.
My overview of federal food subsidies.
View full post on Cato @ Liberty
Simon Lester
It's understandable that Americans would see malnourished people in other countries and want to help. Despite our recent economic woes, we are still relatively wealthy, and our instinct is to make the world a better place if we can.
The role of the government in any such issue is debatable. But not surprisingly, once the government gets involved, the original purpose gets distorted. In practice, after becoming a government program, the idea of giving food to poor people has been turned into an industrial policy tool. Instead of simply giving money to people to buy food from the cheapest source, the U.S. government buys food from U.S. producers and requires that it be sent overseas on U.S. ships.
Thus, government turns aid for the foreign poor into a domestic jobs program. As a result, the percentage of food aid money actually spent on food for the hungry is significantly reduced, as some of that money is now diverted to subsidizing domestic agricultural and other interests. (That, of course, is the problem with all industrial policy: it reduces overall welfare in order to help a favored few.)
Hopefully, that may change soon. From the Washington Post:
The Obama administration has proposed the first major change in three decades to the way the United States supplies food aid to impoverished nations, significantly scaling back the program that buys commodities from U.S. farmers and ships them to the needy overseas.

Under a proposal in the White House budget released Wednesday, nearly half of $1.4 billion in requested funds for the aid could instead be spent to purchase local bulk food in countries in need or to distribute individual vouchers for local purchases.

Reducing the government's requirement to purchase U.S. food, most of which by law must be shipped on U.S.-flag vessels, will save enough money to feed an additional 4 million children, according to Rajiv Shah, administrator of the U.S. Agency for International Development (USAID).

…

Although the United States is the biggest provider of food assistance in the world, it is the only donor nation that continues to require national purchases and shipment. Government and academic studies in recent years have described the U.S. system as both wasteful and inefficient.
The proposed changes won't completely get rid of the industrial policy aspect: "the new proposal stops well short of doing away with Food for Peace and guarantees that 55 percent of food assistance funds will still be used to purchase and transport U.S. commodities." But it would be a start.
Of course, these kinds of programs generate support from interest groups who benefit, and who resist any change:
Attempts by previous administrations to change the program were opposed by farm-state lawmakers and the agricultural and maritime lobbies, which argued that it provided economic benefits and jobs at home. In a February letter to President Obama, 21 senators from both parties said the existing program, called Food for Peace, was "important to American farmers and shippers and developing nations around the world."
The bottom line: If we are going to try to help the poor through government programs, let's make sure those programs are designed to help the poor, not special interest groups.
View full post on Cato @ Liberty
Food service workers at a record high in US economy: Record percent of Americans now employed in food services as a share of total employment coupled with peak food stamp usage.
Posted by mybudget360 in economy, Employment, food stamps, government, recession
One of biggest contributors to jobs over the last few years has come from the low-wage food service sector. A record 7.6 percent of Americans now work in food services and drinking places. Given that we have 47+ million Americans on food stamps and this figure has boomed in the last decade, it should come as no surprise that as Abraham Maslow would have it, people are reverting to the basic necessities of life. Yet there is a larger story of our economic recovery. There was a McDonald's hiring a cashier but looking for someone with a college degree. Welcome to the low wage recovery. A large part of America is simply trying to get by and this population is growing. Those that frequent financial sites on the net are probably a very small part of the overall population. So I know it comes as a surprise to some readers when they realize the per capita wage in the US is $26,000. I'm sure this record percent of Americans in the food services industry must come as a shock as well.
Record employment in food services
The record figures regarding food service employment doesn't surprise me. The growth has been steady for the last few decades: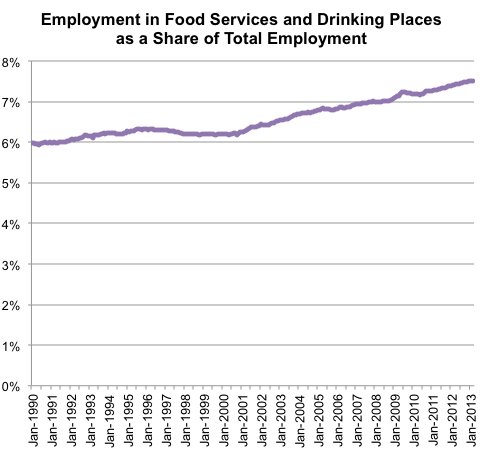 First, you cannot outsource food services. There is no off-shoring Taco Bell and your ability to order a burrito. There is no off-shoring Pizza Hut delivery. In a way, food services is an industry that is built to stay in a local area. Unfortunately the pay isn't the best but fits into the new low-wage American economy. We've discussed that under the illusion of profits, many firms are driving stock values higher by cutting employee wages, slashing benefits, and basically squeezing all the productivity they can muster out of the current workforce. This might be attractive when it comes to the stock market but little stock wealth is in the hands of most Americans. In fact, the top 1 percent controls over 42 percent of all financial wealth.
With the rise of people working in food services we also have a peak number of people on food stamps: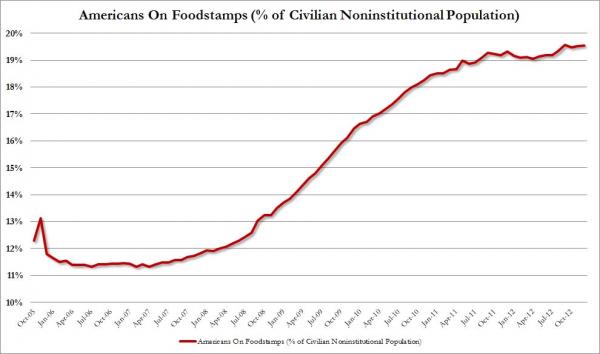 We now have a record percent of our population on food stamps and a record percent of our workforce employed by food services. Not exactly the ideal recovery many had in mind. You wonder what kind of economy we will have where workers are largely demonized in the media and many have lost their voice. In fact, some in the middle class actually advocate for policies that systematically go against their own interest and the interest of the country if they believe in having a healthy middle class. Ultimately we are on the quick road to fully converting our economy into a low-wage system. Peak food service employment and peak food stamp usage are merely symptoms.
The case of the McDonald's in Massachusetts looking to hire a cashier with a college degree is an anecdotal example of where things stand with our economy:
"(Huff Po) Hopefully "Do you want fries with that?" is a phrase they teach in college classrooms.
A McDonald's in Winchendon, Mass., is apparently requiring potential cashiers to have a bachelor's degree, according to a recent job posting. The ad, posted on jobdiagnosis.com, also says that applicants should be "friendly" and able to "smile while serving lots of guests daily."
The job opening is with an "independent franchise," but it also appears on the McDonald's corporate site, albeit with no note of the bachelor's degree requirement. McDonald's corporate headquarters didn't immediately return email and phone messages seeking comment."
So you have young Americans paying incredibly high costs for going to college and diving into debt simply to work at a fast food restaurant? You might write this off but given our record level of food service workers, maybe this is an unfortunate trend of our new low-wage economy.
http://www.mybudget360.com/food-service … #more-4756
Statistics: Posted by yoda — Tue Apr 09, 2013 10:59 am
---
View full post on
opinions.caduceusx.com
The town of Woonsocket rises and falls every month with issuance of food stamps on the 1st. Not a good way to live, that is for sure.
(From The Washington Post)

Three years into an economic recovery, this is the lasting scar of collapse: a federal program that began as a last resort for a few million hungry people has grown into an economic lifeline for entire towns. Spending on SNAP has doubled in the past four years and tripled in the past decade, surpassing $78 billion last year. A record 47 million Americans receive the benefit — including 13,752 in Woonsocket, one-third of the town's population, where the first of each month now reveals twin shortcomings of the U.S. economy:
The post Food stamps put Rhode Island town on monthly boom-and-bust cycle appeared first on AgainstCronyCapitalism.org.
View full post on AgainstCronyCapitalism.org
Food stamps put Rhode Island town on monthly boom-and-bust cycle
Rhode Island town relies on food stamps:?In Woonsocket, R.I., a third of the residents use SNAP, formerly known as food stamps, to pay for groceries. That means the businesses in the struggling town also rely on the program to survive.
By Eli Saslow, Published: March 16
WOONSOCKET, R.I. – The economy of Woonsocket was about to stir to life. Delivery trucks were moving down river roads, and stores were extending their hours. The bus company was warning riders to anticipate "heavy traffic." A community bank, soon to experience a surge in deposits, was rolling a message across its electronic marquee on the night of Feb. 28: "Happy shopping! Enjoy the 1st."
In the heart of downtown, Miguel Pichardo, 53, watched three trucks jockey for position at the loading dock of his family-run International Meat Market. For most of the month, his business operated as a humble milk-and-eggs corner store, but now 3,000 pounds of product were scheduled for delivery in the next few hours. He wiped the front counter and smoothed the edges of a sign posted near his register. "Yes! We take Food Stamps, SNAP, EBT!"
"Today, we fill the store up with everything," he said. "Tomorrow, we sell it all."
At precisely one second after midnight, on March 1, Woonsocket would experience its monthly financial windfall — nearly $2 million from the Supplemental Nutrition Assistance Program (SNAP), formerly known as food stamps. Federal money would be electronically transferred to the broke residents of a nearly bankrupt town, where it would flow first into grocery stores and then on to food companies, employees and banks, beginning the monthly cycle that has helped Woonsocket survive.
Three years into an economic recovery, this is the lasting scar of collapse: a federal program that began as a last resort for a few million hungry people has grown into an economic lifeline for entire towns. Spending on SNAP has doubled in the past four years and tripled in the past decade, surpassing $78 billion last year. A record 47 million Americans receive the benefit — including 13,752 in Woonsocket, one-third of the town's population, where the first of each month now reveals twin shortcomings of the U.S. economy:
So many people are forced to rely on government support.
The government is forced to support so many people.
The 1st is always circled on the office calendar at International Meat Market, where customers refer to the day in the familiar slang of a holiday. It is Check Day. Milk Day. Pay Day. Mother's Day.
"Uncle Sam Day," Pichardo said now, late on Feb. 28, as he watched new merchandise roll off the trucks. Out came 40 cases of Ramen Noodles. Out came 230 pounds of ground beef and 180 gallons of orange juice.
SNAP enrollment in Rhode Island had been rising for six years, up from 73,000 people to nearly 180,000, and now three-quarters of purchases at International Meat Market are paid for with Electronic Benefit Transfer (EBT) cards. Government money had in effect funded the truckloads of food at Pichardo's dock .?.?. and the three part-time employees he had hired to unload it .?.?. and the walk-in freezer he had installed to store surplus product .?.?. and the electric bills he paid to run that freezer, at nearly $2,000 each month.
Pichardo's profits from SNAP had also helped pay for International Meat Market itself, a 10-aisle store in a yellow building that he had bought and refurbished in 2010, when the rise in government spending persuaded him to expand out of a smaller market down the block
cont
http://www.washingtonpost.com/national/ … story.html
Statistics: Posted by yoda — Sun Mar 17, 2013 12:33 pm
---
View full post on
opinions.caduceusx.com