The one thing that governments do really well–
by SIMON BLACK on APRIL 22, 2013
April 22, 2013
Phnom Penh, Cambodia
In the killing fields outside of Phnom Penh, you can still see bone fragments protruding from the ground. It's harrowing to say the least.
Roughly two million people were wantonly massacred in the 1970s under the rule of Pol Pot, decimating not only the population but also the nation's economy.
Modeling his policies on communist China's failed "Great Leap Forward", Pol Pot destroyed libraries and machinery, devastating the means of production for decades to come.
Naturally, there were a few people in Cambodia who saw the writing on the wall in the early 1970s. They didn't wait around, and instead took what they could carry and got the hell out of dodge.
They rebuilt new lives for themselves in places like Australia, Singapore, and France at a time when Cambodia was going through the worst turmoil in its modern history.
Today is a different story. Cambodia is once again thriving– producing, exporting resources, and welcoming foreign investment. The economy has consistently (and realistically) been growing at 7%+ for years.
I've met several Cambodians living here now who come from some of the families that escaped forty years ago. When the turmoil ended, they returned.
They brought the savings that they accumulated overseas… along with experience and skills… and started thriving businesses here that contribute to, and benefit from, the booming local economy.
Their stories are fascinating. Even inspiring. They're real life examples of how our primary responsibility is to do what is in the best interest of our families, wherever that takes us in the world.
As I was flying up here over the weekend, I happened upon an interesting article in the Wall Street Journal entitled "Protecting Your Portfolio From Calamity".
This raised my antenna a bit as most mainstream media sources tow the line that everything is hunky-dory.
The author rightly observed that "[t]he bombings in Boston and an outbreak of bird flu in China are just the latest reminders that everyone needs a disaster plan," and that it makes sense to "rationally plan for the worst."
I was shocked to see something like this out of the Journal, especially when she went on to recommend the same things we talk about routinely in this letter– opening bank accounts in places like Hong Kong and Singapore, or having foreign residency.
But one huge point was missed in the article: It wasn't so much the bombing in Boston that serves as a reminder to have a 'disaster plan', but rather the response.
Everyone in the Land of the Free ought to be keenly aware of just how fast one of the country's biggest cities was reduced to a ghost town… or how fast thousands of gun-toting, combat-clad paramilitaries descended upon the region with urban assault vehicles and 'shelter in place' orders.
No doubt, governments tend to screw up just about everything they try– from the economy to education to disaster relief. But one thing they consistently excel at is quickly deploying overwhelming firepower.
Look, I'm not suggesting that the West is destined to go the way of Pol Pot. But such tactics should cause any freedom-oriented individual to pause briefly and take a serious look at precautionary options abroad.
After all, it's hard to imagine that you'd be worse off for having a portion of your savings in a Hong Kong bank account, holding some gold in a depository in Singapore, or owning a small plot of land overseas in a thriving economy.
But should the turmoil ever come to your town, these steps may prove to be some of the wisest you could ever take.
http://www.sovereignman.com/expat/the-o … ell-11682/
Statistics: Posted by yoda — Mon Apr 22, 2013 12:49 pm
---
View full post on
opinions.caduceusx.com
Last week, Aaron questioned the claim made in a Democratic National Convention video that "government is the only thing we all belong to." I certainly agree that it seems deeply odd when "anyone looks at Washington and feels a sense of belonging." Nevertheless, the video gives us a chance to explore the concept of "belonging" and what it has to do with political theory.
Any system of social ordering that eschews consensus—that is, any system that will make people abide by a result they did not consent to, or perhaps even objected to—must be concerned with a sense of "belonging," or what I will call a "perception of meaningful participation." Without a perception of meaningful participation—and here perception really is what's important—nonconsenting or objecting people likely won't abide by the decision of the majority and may even actively try to undermine it. Social order will rapidly become social disorder.
A court of law is a useful analogy. The primary purpose of a court is not so much to resolve a dispute by discovering what really happened, but to provide a method of resolution in which both parties will abide by the result. Someone must feel that he has "had his day in court," especially if it means respecting a decision he knows is inaccurate.
Similarly, if political systems impose the preferences of a bare majority onto an objecting minority, then the minority must feel as though they "had their day in court." That is, that they "belong" because they meaningfully participate.
Libertarians have a unique, and some would say strange, view of the state. Whereas most tend to view the state as "us"—as a collective apparatus through which "we" make decisions on how our world will look—libertarians regard the state as "them"—an alien and possibly illegitimate association grafted onto civil society like a parasite.
As an indication of its otherness, the government will do things that seemingly no one, or at least only a small group, wants it to do. It will subsidize ethanol despite an increasing awareness of the harmful effects. It will escalate a war against marijuana users just as public acceptance of marijuana use increases.
The opposite view comes from what I will broadly call the "anti-market" side. Non-libertarians, particularly from the left side of the political spectrum, tend to view the market, not government, as "them." The market, particularly in the form of Wall Street and international corporations, is an alien and illegitimate association grafted onto civil society like a parasite.
Similarly, as an indication of its otherness, the market will do things that seemingly no one, or at least only a small group, wants it to do. Much beloved local stores will fall victim to big box stores imbued with vast amounts of capital derived from "foreign" sources. Meanwhile, other much-in-demand things, such as the fabled high-quality electric car, never come to market.
For each side, the "other-sphere" derives its otherness from two main sources: 1) a general opinion that the personality traits that bring success in that sphere are not only undesirable but nearly inhuman; 2) a view that the "voucher" for participation in the other-sphere—money for markets; voting for government—is in some way inadequate.
For those who are anti-market, markets are driven by greed and self-interest. Successful market participants get there through rapacious and self-gratifying motives, entirely devoid of human sympathy and care. Although markets can produce good things, encouraging their unfettered expansion also promotes undesirable behaviors. Thus, the market is an other-sphere populated by people with anti-"belonging" dispositions.
For libertarians, the political sphere is also driven by a type of self-interest: the elitist, technocratic, and disingenuous self-interest of career politicians and bureaucrats. Politicians say and do anything to remain in office, even making statements—"I smoked marijuana, but I didn't inhale"—that a satirist would balk at writing. Expanding the political sphere means giving such two-faced charlatans more control over our lives.
This view leads libertarians to focus more on process than partisanship and more on systemic problems than fleeting solutions. Libertarians also reserve many of their harshest words for the political classes and the illusions of influence and participation that the democratic process gives.
Second, both other-spheres offer different vouchers of participation. The anti-market crowd has understandable complaints about money as a method of participation: markets favor those with more money, people do not start out with equal amounts, and its distribution does not correlate to needs or worth, only wants and base desires.
Libertarians have similar ideas about voting as a method of participation. Many libertarians view the political process as a trial in which the average citizen does not get his day in court. Between public choice theory, Arrow's theorem, and the rational ignorance of the average voter, democracy is a pretty ineffective way for any single person to actualize their preferences in the world. A vote is a voucher that gives you the illusion of influence in exchange for a loss of freedom.
Finally, as both the sphere of government and the sphere of the market grow, they are often accompanied by a diminishing perception of meaningful participation. First, as information accelerates, so do markets. Transactions occur at blinding speeds and seem to have a mind of their own. Both day-traders and local grocers have difficulties predicting the vicissitudes of accelerating markets.
Moreover, expanding markets attenuate the connections between cause and effect. Distant markets in foreign countries cause our coffee to double in price overnight. Rainstorms inSouthern Floridaaffect not just the price of oranges, but also, somehow, the price of wheat, avocados, and industrial solvents.
Lastly, expanding markets brings diversification. Due to the relative scarcity of music in the 1980s, the Venn diagrams of individuals' music tastes overlapped heavily. Now, it is very likely that if you meet a random person you'll have almost no music tastes in common. The same is increasingly true for nearly everything: books, news sources, and movies, just to name a few. This level of diversification can decrease the perception of meaningful participation in the market by making people ask, "Who is this new singer? I've never even heard of him, and no one I know has heard of him." Just as 40 year-olds feel no sense of participation in the marketplace for the current teenage fad, people increasingly feel no sense of participation in the same marketplaces as the guy who lives across the hall. More and more it seems as if we're just leaves in the wind of market forces, along for the ride.
Of course, the expanding sphere of government can produce a similar effect. As more local choices are made by distant technocrats, as the channels of government become more labyrinthine, as our votes seem to do less to directly affect our lives, the perception of meaningful participation decreases.
Perhaps these observations can help us better understand the other side better and realize that our frames of reference will often clash, especially in terms of the institutions to which we feel a sense of belonging.
View full post on Libertarianism.org
Guess who's bailing out bankrupt western governments now…
Tim Staermose on JULY 5, 2012
July 5, 2012
Jakarta, Indonesia
Fourteen years ago during the Asian financial crisis, Indonesia endured a currency collapse, a severe 2-year recession, and an embarrassing IMF bailout.
Western bureaucrats wagged their fingers incessantly at Indonesia, lecturing the country about the dangers of excess and fiscal irresponsibility.
How sweet the irony is. In a stunning rags-to-riches story, Indonesia contributed US$1 billion to the IMF last week in order to help bail out bankrupt Western nations.
As I've written before, unlike Japan, the US, and Europe — which all seem to think the answer to an economic bust brought on by a debt-binge is to borrow and spend even more money– Indonesia took its medicine when its economy collapsed back in 1998.
The government cut spending. The economy was de-regulated and thrown open to more foreign investment.
The banking system was restructured, and after a difficult and admittedly very painful two years, the foundation was laid for new economic expansion, which continues to this day.
To be sure, the 1998 collapse of the Indonesian economy cost the incumbent political elite here their cushy positions. President Suharto's three-decade long iron-grip came to an ignominious end. There were riots in the streets, and he was literally turfed out of office.
But so what? That's EXACTLY what was needed. Part of the renewal process should always be to ship out the dead wood.
Wandering the streets of Menteng this week, Jakarta's most up-market residential suburb, it's as though the Suharto era never existed. The street where he used to live is just another non-descript, quiet, residential street in this leafy inner-city suburb.
Ironically, US President Barack Obama spent some of his childhood in this same suburb of Jakarta.
Unfortunately, as he pulls out all stops to cling to power for a second term, the kind of tough decisions that could help the US emerge from its economic malaise have no chance of being made.
Lest anyone accuse me of being "anti-Obama" or, shock-horror, FOR the Republicans, let me state emphatically that the PROBLEM is not one side of the aisle or the other. In fact, whoever coined the terms "Demopublicans" and "Repulicrats," is right on the money in my book.
It's the ENTIRE system that's the problem. And that goes for nearly every Western, "free market," democracy out there.
I use the term "free market" reluctantly, because these economies are anything but. There has not been a true free market economy anywhere in the Western world for many decades.
The most important price of all — that of MONEY — is completely rigged by a small band of dark-suited men who sit around an impressive boardroom table and DECREE what interest rates should be. It is a farce.
Moreover, politicians from opposing sides of the political spectrum may disagree in public and harangue each other in the press.
But, at the end of the day, they're generally all members of the same club– a cabal of privileged, self-righteous individuals who think they know how to spend your money better than you do.
This system has a vice grip on society, and nothing short of a revolution– such as what Indonesia experienced in 1998– will force any change.
That leaves most people with a rather interesting choice—stay at home in a declining, bankrupt, insolvent nation and hope that a social and political revolution comes quickly…
… or head to greener pastures, to a place that's stable, thriving, and has already swallowed its medicine.
Here at Sovereign Man, we strongly urge you to come on in. The water's fine, and the view is much better from this side.
Tim Staermose
Chief Investment Strategist
Sovereign Man
Statistics: Posted by yoda — Thu Jul 05, 2012 10:07 am
---
View full post on
opinions.caduceusx.com
Eric Sprott – Governments Frightened of Panic Liquidation Event
http://kingworldnews.com/kingworldnews/ … Event.html
billionaire Eric Sprott told King World News that governments are desperately trying to avoid a "Liquidation Event." Sprott, who is Chairman of Sprott Asset Management, also warned the the market is liquidating, "irrespective of whether the powers that be want it or not." Here is what Sprott had to say about the unfolding crisis: "Something has to be done because it's totally out of control these days. I mean you can't have bank runs (like we're seeing). The one thing the powers that be, the central banks and the governments, have tried to do is to avoid what I call a 'Liquidation Event.'"
"Ever since we saw what happened when Lehman was liquidated, they realized we can't go there. Fannie was taken over as well as AIG and GM to prevent this liquidity event. But I think the market is just liquidating, irrespective of whether the powers that be want it or not.
I just think that process is picking up into a tsunami…
"…and the world is going to start focusing back on precious metals. We've had one Minsky moment in Greece and we're going to have another one.
As these Spanish yields and Italian yields move up here, it will become a Minsky moment in those countries as well. I would suggest the same would be true for most major developed economies because the obligations of the state are way beyond the productive capacity of the remaining workers to fund those obligations.
I think on a worldwide basis, whether you're talking Japan, England, the US, and all of Europe, people are going to realize that we have too much debt here. At a certain interest rate cost, we can't pay the interest.
That's exactly what I would imagine should unfold here. That's what's causing the bank runs. That's what's causing interest rates on sovereigns to rise, and I think that's what will tip over into a mass desire to get involved in precious metals.
You know, the most stunning thing about the bank runs, and I'm going to focus on the one in Greece, I really couldn't believe that people took 500 million euros out of Greek banks on Monday. This country has had a problem for two years.
had one bond restructuring already, and here we are two years later and people are finally figuring out they should take their money out of the bank. I don't know why it takes so long for people to put two and two together, but I'm happy they are finally doing it."
Here was a portion of what Sprott had to say about gold and the recent decline in the gold market: "I put it all down to the shenanigans that have gone on at the COMEX. As you know, some of the major dealers, who are embroiled in some of their own issues outside of the gold market, were short gold and silver.
I think the downtrend was engineered because when you look at the physical aspects of gold, they seem totally different than the paper aspects of gold. The major dealers, who have now massively covered their short positions, orchestrated the takedown in the face of fundamentals that were just screaming to buy gold and silver.
The key thing, Eric, that everyone should focus on is you always have to look at what's going on in the physical markets. We've had some dramatic numbers recently. Of course, the most dramatic one is what's going on in China.
Yesterday we had the World Gold Council saying that Chinese demand would be up 30%. I would always suggest to people that when somebody says they are going to increase their demand by 30%, in a market where the supply is flat, it's almost impossible to do that without the price rising.
We've seen in the last nine months that exports of gold from Hong Kong into China have increased by a factor of almost ten times. The numbers are truly staggering. For example, in March the exports from Hong Kong (into China) were 64 tons.
I would remind everyone that the available supply to the world, ex-China, ex-Russia because China and Russia consume their own gold, the mining output is only 2,200 tons, which is less than 200 tons per month. When someone comes in and buys 64 tons in a month, that's over 30% of the market.
How you can satisfy that change in physical demand when there is no increase in supply is mind boggling. I suspect that (Western) central banks have continued to surreptitiously sell gold by leasing gold to the bullion banks. When they go to call in those shorts, obviously the physical is not going to be available."
Statistics: Posted by DIGGER DAN — Sat May 19, 2012 12:19 am
---
View full post on
opinions.caduceusx.com
Hidden Gold Taxes: The Secret Weapon Of Bankrupt Governments
By Daniel R. Amerman, CFA
Overview
What if there was a hidden tax that most gold and silver investors were simply unaware of? A tax where the government would take a big chunk of your starting net worth if gold went to $2,000 an ounce, leaving you poorer than you started with? A tax that rises with inflation, so that $100,000 an ounce gold could cripple your net worth?
This tax already exists, as we will demonstrate in step by step detail using three easy to follow examples. All but a few investors are unaware of this tax and its devastating implications. Simply put, when we assume that gold acts as "real money" and perfectly maintains its purchasing power during rapid inflation, then the higher that the rate of inflation rises, the higher the percentage of the average gold investor's starting net worth that ends up belonging to the government.
Knowledge is power. Conversely, a time of severe monetary crisis could be the most dangerous time in our lifetimes to be uninformed. Investors who are unaware of this profoundly unfair tax, or who choose to ignore it, necessarily become helpless victims of the government. When investors become aware of perhaps the number one danger to long term precious metals investment, and adapt their strategies to deal with this danger – then they can unlock the true investment power of gold during times of currency crisis. And turn potential $10,000 or $100,000 an ounce gold prices into the once-in-several-generation wealth creation opportunities that they should be.
$2,000 An Ounce Gold
In the first step of our illustration, we will consider a situation and how it affects the life savings of two investors. The situation is that 50% of the value of the dollar gets destroyed by inflation. This is not a radical assumption, as with modern symbolic or fiat currencies the value of money is always destroyed by inflation. The only question is one of speed, and if we look at the United States, 80% of the value of the dollar was destroyed by inflation between 1972 and 2007 as measured by official government statistics. For this illustration we will assume there is a smaller loss in value of the dollar, but that it happens much faster – because the US is in much worse shape right now than it was in 1972 in some key ways.
Kate is well educated, keeps up with the newspapers, and is concerned that the global financial crisis may get worse. So she liquidates her riskier investments, and to play it "safe", moves her money into a $100,000 money market account.
For our illustration we will assume Kate's money is safe – but the value of her money is not protected. Inflation destroys 50% of the value of the dollar. Kate still has her full $100,000, but it will now only buy what $50,000 used to. Kate has lost 50% of the value of her investments to inflation (for simplicity, we're leaving out assumptions on interim money market interest payments).
Jack also reads the mainstream media, but reads more widely as well, and believes that high inflation is the logical outcome of the financial crisis. Jack therefore takes his $100,000 and buys 100 ounces of gold at $1,000 an ounce (using round numbers for ease of illustration).
We will assume that gold performs exactly like many investors hope it will. That is, it acts like "real" money and maintains its purchasing power in inflation-adjusted terms. Now, if the dollar is only worth half of what it used to be, and gold does maintain its purchasing power, there is only one way for gold to do so, and that is for gold to sell for twice the number of dollars per ounce than it did before.
Therefore, gold goes from $1,000 an ounce to $2,000 an ounce. Those dollars are only worth fifty cents (in today's terms), so we multiply $2,000 times 50%, and we end up with $1,000. Jack's 100 ounces of gold at $2,000 each will buy exactly same amount of real consumption, of real goods and services, as gold used to buy for him at $1,000 an ounce. Some would say that this is an example of a perfectly successful inflation hedge, where gold has performed exactly like it is supposed to.
The powerful advantages of having your money in an inflation hedge when entering a period of substantial inflation, can be seen in the chart below, which compares what happened with Jack and Kate.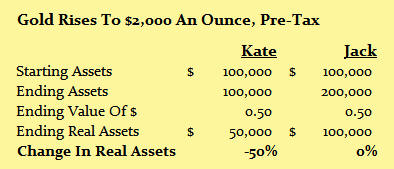 Adding Taxes
Through placing her money in what is conventionally considered one of the safest possible investments, during a time of high inflation, Kate has lost 50% of her net worth. This is terrible, of course, but at least she should be able to get a nice tax deduction out of this $50,000 loss. Except that when it comes time to fill in her tax return, she starts with $100,000 in her money market fund, and ends with $100,000 in principal in her money market fund. As far as the government is concerned — there is no loss to be deducted. Kate still has every dollar she started with.
Jack decides to lock in his gains by selling his gold investment, redeploy most of his newfound wealth into some new investments, and maybe take a little out to reward himself for having made such a brilliant investment. When it comes time for Jack to fill in his tax return, it shows that he bought his gold for $100,000 and he sold it for $200,000, thereby generating a $100,000 profit. Effectively, the government looks at Jack's having dodged the its destruction of the value of the nation's money, and says "Great move Jack, you made a lot of money! Now give us our share."
Even in bullion form, gold is currently taxed as a "collectible" in the US, with a 28% capital gains tax rate, or almost twice the long-term capital gains tax rate on investments that the financial industry and government prefer. We'll call it 30% to allow for some state capital gains taxes, and to keep the numbers round. However, this rate is not sufficient to cover government spending, as the federal government is currently running enormous deficits, as are the states and municipalities (particularly when we take into account not only declining tax collections but the pension fund crisis). So it is reasonable to expect potentially much higher taxes in the not-too-distant future, both in the US and other nations. For illustration purposes then, we will assume a 50% future combined capital gains tax rate on gold – which is not unrealistically high from a historical perspective.
So for Jack, as shown in the chart below, paying a 50% tax rate on $100,000 in profits means $50,000 in required tax payments, and subtracting those taxes leaves Jack with $150,000.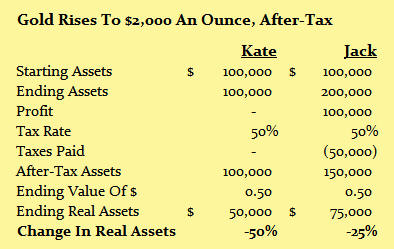 Our final step is to adjust for a dollar being worth 50 cents, so we multiply $150,000 by 50%, and we find that Jack's net worth after-inflation and after-tax has fallen to $75,000. When it comes to what matters, the purchasing power of what our money will buy for us, then Jack didn't double his money, instead he lost a quarter of what he started with. Jack just met what are known as "inflation taxes". And they ran him over.
Turning Gold Into Lead
From a gold investor's perspective, $2,000 an ounce gold may seem like a dream come true. And when we look at the results, $100,000 turning into $200,000, gold does look like a great investment. Until we remember that the reason gold went to $2,000 an ounce was because of inflation and we adjust our investment results for inflation. We break even. While not a net improvement relative to today, this outcome is highly desirable compared to what happened to Kate. Gold did indeed act as "real money".
Unfortunately, we then run into one of the most deeply unfair and little understood aspects of inflation and investing in anticipation of inflation. Government fiscal policy destroys the value of our dollars. Government tax policy does not recognize what government fiscal policy does, and is blind to inflation. This blindness means that attempts to keep up with inflation generate very real and whopping tax payments, on what is from an economic perspective, imaginary income.
These taxes turn gold from a shimmering dream to a lead weight around our neck, and mean even a successful inflation hedge can lead to a devastating loss in net worth in after-tax and after-inflation terms.
So how do we deal with this lead weight of inflation taxes around our neck, trying to pull us down under the water? Does all of this mean that we just need to swim harder, to try to overcome taxes?
$5,000 An Ounce Gold
What if gold goes much higher than $2,000 an ounce? What if the dollar falls in value to twenty cents, and we assume that gold again performs as a perfect inflation hedge, and keeps its value? If the dollar drops to 1/5 its value, then the only way gold can keep up is to rise to 5X the dollar price, which means $5,000 an ounce gold.
First let's take a quick look at Kate. She still has $100,000 in her money market account, each of those dollars are now worth twenty cents, and the real value of Kate's "safe" investment is now down to $20,000. Kate has taken an 80% hit to the purchasing power of her net worth.
Meanwhile, Jack has enjoyed some fantastic investment results from his investment acumen. With 100 ounces of gold at $5,000 an ounce, Jack is now half way to being a millionaire!
Jack is ecstatic, at least until he tries to spend some of that half million dollars, and finds out what it will buy for him after he has paid his taxes. Let's repeat our chart from above, but with gold at $5,000 an ounce. When it's time to file his tax return, Jack now has a $400,000 profit to report. Jack therefore has to write the government a check for $200,000 for taxes due, leaving him with $300,000.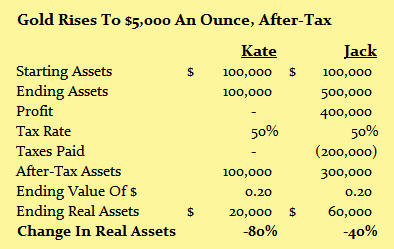 When we adjust for a dollar being worth twenty cents, then Jack's real after-inflation and after-tax net worth, what he can buy in today's dollar terms after paying the government, is down to $60,000.
The difference between gold going to $5,000 an ounce, and gold going to $2,000 an ounce, is that Jack loses more of his real net worth. Jack loses 40% of the purchasing power of his net worth at $5,000 an ounce instead of 25%.
The lead weight of inflation taxes is still around Jack's neck, heavier than ever, trying to pull him and his net worth deeper and deeper underwater. Perhaps Jack just isn't working hard enough, and he is going to have to swim like a wild man if he's going to stay afloat, as he will not only have to outpace inflation, but also inflation taxes.
$100,000 An Ounce Gold
Let's explore what happens if there is hyperinflation and a dollar becomes worth a penny. For Kate, the situation becomes even bleaker as the $100,000 in her money market account will now only buy what $1,000 used to. Kate has lost 99% of her net worth to inflation. Instead of a comfortable nest egg for retirement, she is impoverished, as are the many millions of others who were not prepared for hyperinflation.
If gold (or silver) serves as "real money", and maintains its purchasing power even as paper money collapses, then to offset a dollar becoming worth 1/100th of what it used to, gold must climb to a dollar value that is 100X greater than what it was. So gold must go to $100,000 an ounce in order to maintain the same purchasing power as $1,000 an ounce gold today. Once again, we're assuming that gold acts as a perfect inflation hedge.
Jack's 100 ounces of gold are now worth a cool $10 million! Jack decides to sell his gold, lock-in his profits, and then start enjoying his new status as one of the ultra-wealthy.
As illustrated below, Jack sells his gold for a whopping $9.9 million profit. The government looks at his profit, and demands its $4,950,000 share. This still leaves Jack a millionaire multiple times over, as he has $5,050,000 in after-tax proceeds. Until we adjust for that technicality of a dollar only being worth a penny. And we find that instead of entering the ranks of the ultra-wealthy, Jack's net worth on an after-tax and after-inflation basis has fallen by almost 50%, from $100,000 to $50,500.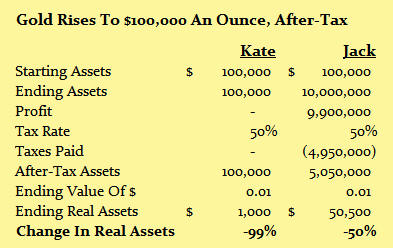 Jack has made one of the most brilliant market timing moves of all time. But the end result is that he loses almost half of his starting net worth in purchasing power terms. What's going on?
The Better You Do, The Worse You Do
Something seems seriously, seriously wrong here. Jack bets his net worth that inflation will skyrocket, and he buys an inflation hedge in the form of gold. His prediction comes true, a high rate of inflation does occur, and his gold investment does perform as a perfect inflation hedge. Yet the ending bottom-line is that Jack loses a big chunk of the value of his starting net worth. And the better that the gold performs and the more spectacular his returns — the bigger the chunk of his real net worth that Jack loses.
This relationship is summarized in the chart below. When Jack earns a 100% profit — he loses 25% of his net worth. When Jack earns a 400% profit — he loses 40% of his net worth. When Jack earns a 9900% profit — he loses 50% of his net worth.

A Pervasive & Difficult Problem
Inflation taxes are a basic fact of life which investors pay every year when there is inflation. These taxes are entirely real and are deeply painful when we look at the world in terms of what really matters – which is not the dollar amount of our savings, but what our savings will buy for us.
Real as they are, however, inflation taxes are not a line item on our tax returns. There's no box that we check that says go to form "30236 IT" to calculate our inflation taxes. There is no check we write that's specifically made out to inflation taxes. There's never any discussion in the newspapers or magazines about how much money the average investor pays every year in inflation taxes.
So if almost nobody sees inflation taxes or talks about them – do they exist at all? This may be a good time for a pop quiz of sorts. If you are skeptical, the examples of Jack and Kate were kept very simple for a reason. Go back through the basic illustrations, and try to disprove them. Now, you can change how the price of gold moves relative to the destruction of the dollar, and you can change the tax rate – but there's no room for anything else.
Do you agree that the numbers work? This "quiz" is self-graded, but your "score" could be essential for your future. Because if our future is one of high inflation, then whether and how you deal with inflation taxes may be one of the biggest determinants of your personal standard of living for decades to come.
Inflation taxes are irrefutable. Whenever you look at investment results on an after-tax and after-inflation basis in an environment of inflation, then inflation taxes make their ugly appearance.
However, while our illustration of Jack and Kate was not all that complicated to follow, the numbers involved are just sophisticated enough where they are rarely acknowledged in conventional personal finance. That combination of just a slight bit of sophistication, with never explicitly appearing on a tax return, means that likely in excess of 99% of the general population is blissfully unaware of inflation taxes.
Let me suggest that a big whopping tax that 99% of voters are blind to represents major opportunity for the government. An opportunity that has been fully taken advantage of by governments, even if the average senator, representative or member of parliament has no better understanding than the general public. Indeed, as I cover in my Turning Inflation Into Wealth mini-course, when we take inflation taxes into account, then the real tax rate on investments in the US has historically been about 256% higher than the statutory rates.
History is bad enough, but as we illustrated with Jack and Kate, the higher the rate of inflation – the worse inflation taxes get. Staying ahead of inflation is hard enough. But even trying to tread water, to stay even with inflation, becomes extremely difficult when you have the lead weight of inflation taxes around your neck, pulling you down. The higher the rate of inflation, the heavier the weight of inflation taxes and the more difficult they are to overcome.
This is true for such traditional inflation hedges as gold and silver. It's also true for real estate. As it is true for stocks. Indeed, almost any traditional inflation hedge has difficulty in reaching the break-even point on an after-inflation and after-tax basis when we take into account the pervasive problem of hidden inflation taxes.
Reversing Inflation Taxes & Creating Wealth
There are two very sad aspects to what we covered in this article. Unlike most of their peers, millions of responsible, knowledgeable people are seeing through the soothing, complacent illusions created by the government and Wall Street. They understand the grave threat to the value of their money and their investments. They are moving to the real tangible protection of gold and other precious metals. Unfortunately, in the process, they are setting themselves up for victim status as illustrated in this article.
Yes, the "Jacks" of the world are likely to do far, far better than the "Kates", but despite the dizzying numbers involved with how high gold can go with a truly high rate of inflation — when we look to what our investments will buy for us after we've paid our taxes, our status is still that of a victim.
The other sad aspect is that this simply doesn't have to be. There are two things that gold does spectacularly well during times of financial and monetary crisis. Using these properties of gold, with a monetary crisis of historic proportions, a gold investor can come to the crisis not just with their net worth intact but possibly even having built wealth on a multigenerational scale.
But let me suggest that achieving this result on an uninformed basis, without fully understanding the issues discussed in today's article, will be a matter of rather unlikely good fortune.
There is a better path. Study. Learn. Invest in your intellectual capital. As covered in my "Gold Out Of The Box" materials, let gold do what gold does best. Let gold provide safety and security for you. Unleash the wealth creating abilities of gold during peak inflation to multiply your real wealth. But don't rely on gold as an inflation hedge and don't ignore inflation taxes.
To have a chance of beating inflation taxes, we not only have to realize they exist, but we need to thoroughly understand our opponent. Our opponent is an enormously powerful government that is deliberately blind to the effects of inflation. Government fiscal policy destroys the value of our money. Government tax policy is officially blind to inflation. So a crushing hidden tax is created that keeps us from maintaining the purchasing power of our savings, with our attempts to survive the deadly effects of inflation merely acting to increase government tax revenues.
The key to prospering in a world of inflation taxes is to understand that regardless of its strength, a blind opponent is ultimately a weak opponent. Through careful study and by focusing very closely on the intersection between taxes, net worth and inflation, we can discover how to turn inflation into gains in real wealth, to which the government is entirely blind. We can learn to reverse inflation taxes, so that instead of paying real taxes on imaginary gains, we are paying imaginary taxes on real gains. Entirely legally, with every cent of taxes due paid in full – because remember, inflation taxes don't appear on your tax return, and neither does their reversal.
http://danielamerman.com/articles/GoldTaxes1.htm
Statistics: Posted by yoda — Sat Apr 21, 2012 11:14 am
---
View full post on
opinions.caduceusx.com