Patrick J. Michaels and Paul C. "Chip" Knappenberger
While doing some historical studies in preparation for an article in Cato's Regulation magazine, we found that we once discovered the information equivalent of antimatter, namely, "anti-information".
This breakthrough came when we were reviewing the first "National Assessment" of climate change impacts in the United States in the 21st century, published by the U.S. Global Change Research Program (USGCRP) in 2000. The Assessments are mandated by the Global Change Research Act of 1990. According to that law, they are, among other things, for "the Environmental Protection Agency for use in the formulation of a coordinated national policy on global climate change…"
One cannot project future climate without some type of model for what it will be. In this case, the USGCRP examined a suite of nine climate models and selected two for the Assessment. One was the Canadian Climate Model, which forecast the most extreme warming for the 21st century of all models, and the other was from the Hadley Center at the U.K Met Office, which predicted the greatest changes in precipitation.
We thought this odd and were told by the USGCRP that they wanted to examine the plausible limits of climate change. Fair enough, we said, but we also noted that there was no test of whether the models could simulate even of the most rudimentary climate behavior in past (20th) century.
So, we tested them on ten-year running means of annual temperature over the lower 48 states.
One standard method used to determine the utility of a model is to compare the "residuals", or the differences between what is predicted and what is observed, to the original data. Specifically, if the variability of the residuals is less than that of the raw data, then the model has explained a portion of the behavior of the raw data and the model can continue to be tested and entertained.
A model can't do worse than explaining nothing, right?
Not these models! The differences between their predictions and the observed temperatures were significantly greater (by a factor of two) than what one would get just applying random numbers.
Ponder this: Suppose there is a multiple choice test, asking for the correct temperature forecast for 100 temperature observations, and there were four choices. Using random numbers, you would average one-in-four correct, or 25%. But the models in the National Assessment somehow could only get 12.5%!
"No information"—a random number simulation—yields 25% correct in this example, which means that anything less is anti-information. It seems impossible, but it happened.
We informed the USGCRP of this problem when we discovered it, and they wrote back that we were right, and then they went on to publish their Assessment, undisturbed that they were basing it models that had just done the impossible.
View full post on Cato @ Liberty
From time to time I will write essays on some books of interest to libertarians. I hereby kick off my intermittent series, "Among My Favorites," with a work that truly is among my all-time favorites: History of Civilization in England, by Henry Thomas Buckle (1821-62). Once famous but now virtually unknown, even among libertarian scholars, this massive and heavily documented best-seller—originally published in two volumes, 1857 and 1861—is one of the most libertarian histories ever written. The following passages, which typify Buckle's perspective, should whet the intellectual appetite of my readers.
[T]here is another circumstance worthy the attention of those writers who ascribe a large part of European civilization to measures originated by European governments. This is, that every great reform which has been effected, has consisted, not in doing something new, but in undoing something old. The most valuable additions made to legislation have been enactments destructive of preceding legislation; and the best laws which have been passed, have been those by which former laws were repealed….

Indeed, the extent to which the governing classes have interfered, and the mischiefs which that interference has produced, are so remarkable as to make thoughtful men wonder how civilization could advance, in the face of such repeated obstacles. In some of the European countries the obstacles have in fact proved insuperable, and the national progress is thereby stopped. Even in England, where, from causes I shall presently relate, the higher ranks have for some centuries been less powerful than elsewhere, there has been inflicted an amount of evil which, though much smaller than that incurred in other countries, is sufficiently serious to form a melancholy chapter in the history of the human mind. To sum up these evils would be to write a history of English legislation; for it may be broadly stated that, with the exception of certain necessary enactments respecting the preservation of order, and of the punishment of crime, nearly every thing which has been done, has been done amiss.
Critics were offended by many things in History of Civilization in England, but nothing offended them more than Buckle's insistence that greater knowledge, not moral or religious factors, has been the mainspring of human progress. A person may act from the purest moral or religious motives, but if he is ignorant and has the power to impose his ignorance upon others, disasters will almost certainly follow. In such cases, therefore, hypocrisy is preferable to moral purity and religious devotion.
There is no instance on record of an ignorant man who, having good intentions, and supreme power to enforce them, has not done far more evil than good. And whenever the intentions have been very eager, and the power very extensive, the evil has been enormous. But if you can diminish the sincerity of that man, if you can mix some alloy with his motives, you will likewise diminish the evil which he works. If he is selfish as well as ignorant, it will often happen that you may play off his vice against his ignorance, and by exciting his fears restrain his mischief. If, however, he has no fear, if he is entirely unselfish, if his sole object is the good of others, if he pursues that object with enthusiasm, upon a large scale, and with disinterested zeal, then it is that you have no check upon him, you have no means of preventing the calamities which, in an ignorant age, an ignorant man will be sure to inflict. [I]t is an undoubted fact that an overwhelming majority of religious persecutors have been men of the purest intentions, of the most admirable and unsullied morals.
Passages like this enraged some of Buckle's pious readers, who accused him of being an enemy of both morality and religion. An enemy of morality he certainly was not; his views on religion, however, were less clear. Buckle appears to have been a deist, and his thoroughly secular approach made his book a favorite among nineteenth-century freethinkers. Indeed, his most avid and capable defender was the Scottish atheist and freethought scholar, J.M. Robertson, who dubbed Buckle a "sentimental Theist" with a "sharp practical antagonism to the theological spirit." In 1895 Robertson published Buckle and His Critics, an extensive vindication of the maligned historian. And in 1904 Robertson published a critical edition of Buckle's book in one volume, Introduction to the History of Civilization in England.
Rather than use Buckle's original title, Robertson retitled his edition Introduction to the History of Civilization in England. He did this because Buckle presented his two-volume work as a "General Introduction" rather than as a history of England per se. This may seem curious, even amusing, considering that the original two volumes consumed 1,455 pages. Unfortunately, Buckle didn't live to write his projected multi-volume history of English civilization, having died in 1862, the year after the second volume had been published. We thus have what is probably the longest introduction in the history of historical writing, as well as one of the most original and interesting.
Most of Buckle and His Critics is devoted to defending Buckle against prominent critics and correcting their misrepresentations; as Robertson put it, "Perhaps no man has been blamed more for mistakes he did not make." But Robertson had his own disagreements, many of which focused on Buckle's advocacy of laissez-faire. He wrote:
In respect of his uncompromising attitude to the "principle of Protection," and his implied approval of laissez faire in politics, he may be accused of failing to turn his social science to any great constructive account….But it is to be remembered…that Buckle wrote exactly when the optimism of laissez faire was most plausible.
This remark displays the condescending attitude of many sociologists during the late nineteenth century toward advocates of laissez-faire. In opposition to Spencer, Sumner, and other sociologists who opposed government intervention, many sociologists viewed the emerging "science of society" as an instruction manual, in effect, for social planners. Although Robertson embraced some principles of classical liberalism, such as international free trade and anti-militarism, he is more accurately described as a proponent of the "new" liberalism that gained traction during the late Victorian era.
According to many "new" liberals, the science of economics, which had been used to defend free markets, was being supplanted by a broader discipline, sociology—the science of society that relegated economics to one of its branches and condemned the abstraction "economic man" as an unduly narrow conception of human nature. Thus any competent sociologist—and there was no doubt that Buckle's History relied heavily on sociological reasoning—who dared defend laissez-faire obviously did not understand the great potential of sociology to distinguish between beneficial and harmful forms of government intervention. Robertson attempted to excuse Buckle's supposed ignorance in this matter by noting that he merely shared the naïve prejudices of an earlier time.
Before delving into the substance of Buckle's complex and controversial book, with the purpose of highlighting the parts that libertarians will find most interesting, I wish to sketch some personal aspects of the author.
Buckle, like his contemporary Herbert Spencer, was largely self-educated, thereby corroborating Spencer's observation that most defenders of freedom were market intellectuals, whereas most advocates of statism were "university men." Blessed with a photographic memory, Buckle, by age twenty-nine, could read nineteen languages, seven of which he could also converse in and write with ease. Buckle conceived his magnum opus when he was nineteen, and thereafter he worked on it eight to ten hours nearly every day for twenty-one years.
By all accounts H.T. Buckle was an entertaining conversationalist. One of his favorite stories was about a trip to Italy that involved passing through Austria. At the Austrian border Buckle's baggage was searched by a customs officer. A fanatical bibliophile who eventually amassed 20,000 volumes in his personal library, Buckle always carried books on his many travels, and in this instance he had a copy of the seminal work by Copernicus, On the Revolutions of the Heavenly Spheres. After the customs officer said that he was under orders to confiscate any book with revolutionary tendencies, Buckle explained that this book was about the revolutions of planets. The customs officer replied that it didn't matter where the revolutions took place; all revolutionary books were banned in Austria. Thus did Buckle forfeit his copy of Copernicus to bureaucratic stupidity.
After Buckle's untimely death at age forty-two, the most glowing testimonials appeared not in intellectual journals, which tended to be critical of this "amateur" historian, but in chess magazines. A lengthy article about Buckle and some of his games appeared in The Chess Player's Magazine in 1864. It begins:
The genius of Henry Thomas Buckle came and went like a splendid meteor, shedding its radiance over two spheres of intellectual life. Over the world of chess, as over the world of literature, its glorious career shed a lustre, and its sudden extinction cast a gloom. Those who observed him in the mental wrestlings of the king of games recognized a player of extraordinary power, daring originality, and calm self-reliance; while all who met him in the regions of learning and philosophy felt the august presence of a penetrating mind, schooled to independent wanderings in every department of human thought.
Years later, in 1898, the American Chess Magazine said of Buckle:
To Henry Thomas Buckle, the brilliant author of the "History of Civilization," belongs the distinction of being one of the finest chess players of his time. Had he not already been noted as a historian, his name would still be enrolled high on the scroll of Caissa's favored chessists. Though never a professional himself, Buckle defeated many of the eminent professionals of his day. Indeed, England has so far produced no truer chess genius unless it be Staunton.
Buckle's victories over some of the most renowned chess masters of his day (including Adolf Anderssen, Johann Löwenthal, and Lionel Kieseritsky) led some fans to proclaim him the greatest English player of all time, better even than the celebrated Howard Staunton. This assessment incurred the wrath of a writer for The Chess Players' Chronicle. Published shortly after Staunton's death in 1874, this article ridiculed the notion that Buckle "was by far the greatest player England ever produced, and much superior to Staunton." On the contrary, Buckle was not only "immeasurably but decidedly inferior to Staunton," and "his published games bear no comparison with Staunton's." (Around 150 of Buckle's games were published, some of which can be found here.)
This critic went on to suggest that Buckle's fame as a historian, like his fame as a chess player, was transitory and would not long endure. Unfortunately, this prophecy proved accurate.
To be continued….
View full post on Libertarianism.org
A Brief History of Cycles and Time, Part 2 (guest essay)
May 14, 2013
Part 2 of the guest essay by Eric A.: "Because it's time."
I am honored to publish a deeply insightful two-part essay by longtime contributor Eric A. on long-term cycles, and how they shape our spectrum of responses in periods of crisis and transformation. This essay has profound implications for our individual choices in the years ahead, and I believe it helps explain my own political/ financial philosophy outlined in my books:
Why Things Are Falling Apart and What We Can Do About It
Resistance, Revolution, Liberation: A Model for Positive Change
An Unconventional Guide to Investing in Troubled Times
Survival+: Structuring Prosperity for Yourself and the Nation
Here is Part 2 of Eric's essay.
Let me ask you something: Do you really think your ancestors didn't see the Depression coming in 1921 or in 1929? Of course they did. The Balloon Option-ARM mortgage had just been invented, creating a housing boom larger and even more groundless as our own, immortalized by the Marx Brothers in The Cocoanuts. They warned the world then just as we do now, and no one listened then, just as they don't now. Why? It wasn't time.
Likewise, do you think Hoover and Roosevelt didn't do everything they could, whether legal or illegal to stop the endless economic decline after 1929? Of course they did. Roosevelt confiscated the entire money supply, packed the Supreme Court, and took control of the entire US economy to no avail. Henry Morgenthau, Roosevelt's Treasury Secretary, admitted,
"We have tried spending money. We are spending more than we have ever spent before and it does not work… We have never made good on our promises. I say after eight years of this Administration we have just as much unemployment as when we started. And an enormous debt to boot."
And the media failing to report? I'll show you just three graphics: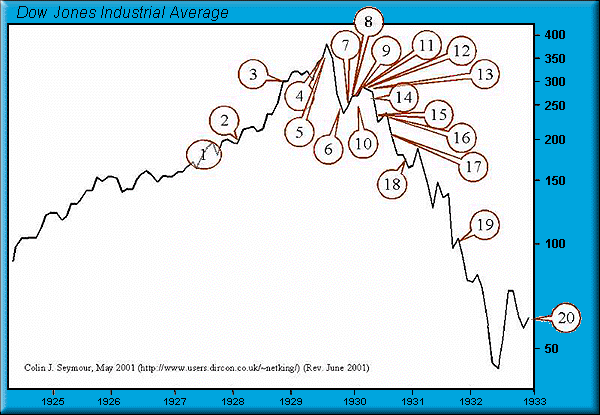 1. "We will not have any more crashes in our time." – John Maynard Keynes in 1927 (1)
2. "I cannot help but raise a dissenting voice to statements that we are living in a fool's paradise, and that prosperity in this country must necessarily diminish and recede in the near future." – E. H. H. Simmons, President, New York Stock Exchange, January 12, 1928
"There will be no interruption of our permanent prosperity." – Myron E. Forbes, President, Pierce Arrow Motor Car Co., January 12, 1928 (2)
3. "No Congress of the United States ever assembled, on surveying the state of the Union, has met with a more pleasing prospect than that which appears at the present time. In the domestic field there is tranquility and contentment…and the highest record of years of prosperity. In the foreign field there is peace, the goodwill which comes from mutual understanding." – Calvin Coolidge December 4, 1928 (3)
4. "There may be a recession in stock prices, but not anything in the nature of a crash." – Irving Fisher, leading U.S. economist , New York Times, Sept. 5, 1929 (4)
5. "Stock prices have reached what looks like a permanently high plateau. I do not feel there will be soon if ever a 50 or 60 point break from present levels, such as (bears) have predicted. I expect to see the stock market a good deal higher within a few months." – Irving Fisher, Ph.D. in economics, Oct. 17, 1929
"This crash is not going to have much effect on business." – Arthur Reynolds, Chairman of Continental Illinois Bank of Chicago, October 24, 1929
"There will be no repetition of the break of yesterday… I have no fear of another comparable decline." – Arthur W. Loasby (President of the Equitable Trust Company), quoted in NYT, Friday, October 25, 1929
"We feel that fundamentally Wall Street is sound, and that for people who can afford to pay for them outright, good stocks are cheap at these prices." – Goodbody and Company market-letter quoted in The New York Times, Friday, October 25, 1929 (5)
6. "This is the time to buy stocks. This is the time to recall the words of the late J. P. Morgan… that any man who is bearish on America will go broke. Within a few days there is likely to be a bear panic rather than a bull panic. Many of the low prices as a result of this hysterical selling are not likely to be reached again in many years." – R. W. McNeel, market analyst, as quoted in the New York Herald Tribune, October 30, 1929
"Buying of sound, seasoned issues now will not be regretted." – E. A. Pearce market letter quoted in the New York Herald Tribune, October 30, 1929
"Some pretty intelligent people are now buying stocks… Unless we are to have a panic — which no one seriously believes, stocks have hit bottom." – R. W. McNeal, financial analyst in October 1929 (6)
7. "The decline is in paper values, not in tangible goods and services… America is now in the eighth year of prosperity as commercially defined. The former great periods of prosperity in America averaged eleven years. On this basis we now have three more years to go before the tailspin." – Stuart Chase (American economist and author), NY Herald Tribune, November 1, 1929
"Hysteria has now disappeared from Wall Street." – The Times of London, November 2, 1929
"The Wall Street crash doesn't mean that there will be any general or serious business depression… For six years American business has been diverting a substantial part of its attention, its energies and its resources on the speculative game… Now that irrelevant, alien and hazardous adventure is over. Business has come home again, back to its job, providentially unscathed, sound in wind and limb, financially stronger than ever before." – Business Week, November 2, 1929
"…despite its severity, we believe that the slump in stock prices will prove an intermediate movement and not the precursor of a business depression such as would entail prolonged further liquidation…" – Harvard Economic Society (HES), November 2, 1929 (7)
8. "…a serious depression seems improbable; [we expect] recovery of business next spring, with further improvement in the fall."- HES, November 10, 1929
"The end of the decline of the Stock Market will probably not be long, only a few more days at most." – Irving Fisher, Professor of Economics at Yale University, November 14, 1929
"In most of the cities and towns of this country, this Wall Street panic will have no effect." – Paul Block (President of the Block newspaper chain), editorial, November 15, 1929
"Financial storm definitely passed." – Bernard Baruch, cablegram to Winston Churchill, November 15, 1929 (8)
9. "I see nothing in the present situation that is either menacing or warrants pessimism… I have every confidence that there will be a revival of activity in the spring, and that during this coming year the country will make steady progress." – Andrew W. Mellon, U.S. Secretary of the Treasury December 31, 1929
"I am convinced that through these measures we have reestablished confidence." – Herbert Hoover, December 1929
"[1930 will be] a splendid employment year." – U.S. Dept. of Labor, New Year's Forecast, December 1929 (9)
10. "For the immediate future, at least, the outlook (stocks) is bright." – Irving Fisher, Ph.D. in Economics, in early 1930 (10)
11. "…there are indications that the severest phase of the recession is over…" – Harvard Economic Society (HES) Jan 18, 1930 (11)
12. "There is nothing in the situation to be disturbed about." – Secretary of the Treasury Andrew Mellon, Feb 1930 (12)
13. "The spring of 1930 marks the end of a period of grave concern… American business is steadily coming back to a normal level of prosperity." – Julius Barnes, head of Hoover's National Business Survey Conference, Mar 16, 1930
"…the outlook continues favorable…" – HES Mar 29, 1930 (13)
14. "…the outlook is favorable…" – HES Apr 19, 1930 (14)
15. "While the crash only took place six months ago, I am convinced we have now passed through the worst — and with continued unity of effort we shall rapidly recover. There has been no significant bank or industrial failure. That danger, too, is safely behind us." – Herbert Hoover, President of the United States, May 1, 1930
"…by May or June the spring recovery forecast in our letters of last December and November should clearly be apparent…" – HES May 17, 1930
"Gentleman, you have come sixty days too late. The depression is over." – Herbert Hoover, responding to a delegation requesting a public works program to help speed the recovery, June 1930 (15)
16. "…irregular and conflicting movements of business should soon give way to a sustained recovery…" – HES June 28, 1930 (16)
17. "…the present depression has about spent its force…" – HES, Aug 30, 1930 (17)
18. "We are now near the end of the declining phase of the depression." – HES Nov 15, 1930 (18)
19. "Stabilization at [present] levels is clearly possible." – HES Oct 31, 1931 (19)
20. "All safe deposit boxes in banks or financial institutions have been sealed… and may only be opened in the presence of an agent of the I.R.S." – President F.D. Roosevelt, 1933 (20)
Source: Colin J. Seymour, June 2001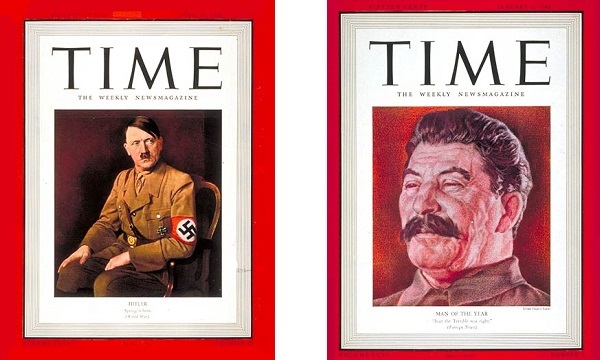 Man of the Year, 1938 Man of the Year, 1939
Poor enough reporting for ya? I'm sure you'd find the same reporting in the Great Depressions of 1837 and 1870, while many of you personally remember the W.I.N. buttons and pro-American quotes in the Depression of 1968-1979.
History never changes. Or, at least it changes very slowly indeed.
So here we are, like those before us, warning of our own Great Depression, of our own World War, or of even larger cycles like the fall of the English, Spanish, or Roman empires. And so far as we can tell, few listen and nothing changes. Why?
Because it isn't time.
You think they didn't see the rise of Fascism and WWII in the 30's? What was the Lincoln Brigade about? You think the people of 1930 didn't also inform each other, stall and delay the day of reckoning, and struggle to prepare? Of course they did. Just as much as we ourselves and our present government have. The delay due to their ability and willingness to intervene is already factored into the cycle.
So why didn't war break out in 1932, 1936, or for the U.S., in 1940? It wasn't as if people didn't see it coming, just as we see our own war and challenges now.
Because it wasn't time. What I mean by that is, no matter how far seeing, History, as Hari Seldon would say, is made up of the aggregate, not the individual. No individual– not even Churchill chafing under Chamberlain in 1938—could change it.
It only happens slowly, when one by one the great mass of the population have changed their minds and their behavior. Only then can history unfold. You, me, even Barack Obama, Ben Bernanke, or George Soros cannot push the great Wheel of History around because it is made of all 6 Billion of us, the whole planet, the whole market, and the sum of human understanding.
To me, this the cardinal sin of the blogosphere, or indeed of the times: that we know what is best for everyone, as writers, pundits, politicians. That we need to make the other guy "wake up." We need to make them see as we do, act as ourselves, obey our will. Isn't this the very defect we attribute to our enemies? That they're always galumping around telling everybody what to do and how to live?
"They"—your family, your neighbors, your country–need to wake up? Let me ask you: "How did YOU wake up?" I can answer that without knowing you: a little at first, then all at once, in your own time. Neither is the journey for any of our "waking up" complete.
Telling people what is going on is one thing, it's free speech, expressing our opinions on where we are and how the world works. Forcing others to believe something, become something, act in a way we believe they should is the first step to violence. If you believe in and value Liberty and the free exchange of ideas as I do, don't do it. Changing the other guy is not your job.
Given that we can't change history, and it's reprehensible to force yourself on others, one might ask what good is it to talk about it? Screw the other guy if he won't learn. Ride the stock market up for every dollar. "Eat, Drink, and be Merry, for tomorrow we die." To which I would respond as Dorothy Parker, "But alas, we never do." We may not be able to change the world or the course of history, but we can prepare on our own, individual level. And that's the key, the individual level.
Markets, governments, wars, they are aggregations that will only change on schedule after some series of remarkable events forces them to respond and adjust.
This is part of Charles Hugh Smith's discussions of fiefdoms, feedback, and the status quo: by definition the status quo can't change, because if it could it wouldn't be a status quo mired in internecine wrangling; it would be smoothly evolving into a new stable system. The system as we know it can't change, but YOU can.
And as this is the only effort that's going to effect any change in your life vs. the tide of history, it's also the only one you have control over and the only one that's going to do you any good. Dmitry Orlov has mentioned this many times regarding the collapse of governments and empires, in his case, the Soviet Union.
Did the U.S.S.R. disappear overnight? No. It took time, the exact amount of time for people to recognize, test, explore, and adjust their behavior. For some slower, and others more quickly. That is to say it took years, each piece unfolding one person at a time, one personal realization and event at a time in their own order. Once the nation collapsed, did it suddenly reform into the functional and rising state Russia enjoys now?
No. Again, it took time, decades of unfolding from 1991 until 2013, another whole generation, one "turning." Not until those who carried the template of the old ways passed away and new, younger people with new thinking replaced them. Not one of them could have stopped it or hurried it along although many tried, no different than any other time in history. As for the other guy, it's always been clear that we're all in this together. If your neighbors have a problem, then you have a problem whether down the street or in the world. This is why we all help each other best we can according to our abilities, in our own time.
What we as bloggers and far-seers have been trying to do is to change the aggregate, which cannot be done. The aggregate WILL change, but it can only change in its own schedule. We can continue to tell the truth, but after decades of status quo, we should not expect our words to change the world, our nation, or to some extent even our community. The only thing we can realistically change is ourselves with our own actions, and that is where all real change comes from, one person: one action at a time. 6 billion tiny events, tiny tipping points, changing minds who realize themselves one by one.
So what revolutionary act can you make today? If you read OfTwoMinds.com, PeakProsperity.com or similar sites, you already know the direction of history and what may be needed by you and the nation in the years ahead. What can you do to fill those gaps and prepare in your own life? Because the Wheels of History, although grinding exceeding slow, do get there in the end, made up of the decisions of billions of human actors. You may not be able to change your nation or the desperate situation we find ourselves in, but each of you can change yourself. You can make your own lifeboat in the midst of our own national challenge or "collapse." Only through that individual preparation could we find a million safety nets which prevent collapse.
And if that is all that's asked of you, it's good, for that's all that's possible.
Start today. It's time.
by Eric A.
http://www.oftwominds.com/blog.html
Statistics: Posted by yoda — Tue May 14, 2013 12:16 am
---
View full post on
opinions.caduceusx.com
There was a time when Spain was booming. After a successful Barcelona Olympics, which finally hammered the coffin completely closed on Franco, and then full a partnership within the Eurozone things were looking quite bright for Espana. No longer would Africa start at the Pyrenees. Spain seemed, honest to goodness, a real European country. Not like the Netherlands or Germany of course but approaching Italy.
Well the good news is Spain and Italy are still in the same boat. The bad news is the boat is sinking.
Spain is suffering through a 27% unemployment rate. Youth unemployment is much higher than that. A full 1/3 of the workforce is idle. It is a disaster on a massive scale.
Look at it this way Spain, you could be Greece.
View full post on AgainstCronyCapitalism.org
Is the United States about to experience another major economic downturn?  Unfortunately, the pattern that is emerging right now is exactly the kind of pattern that you would expect to see just before a major stock market crash and a deep recession.  History tells us that when the price of gold crashes, a recession almost always follows.  History also tells us that when the price of oil crashes, a recession almost always follows.  When both of those things happen, a significant economic downturn is virtually guaranteed.  Just remember what happened back in 2008.  Gold and oil both started falling rapidly in July, and in the fall we experienced the worst financial crisis that the U.S. had seen since the days of the Great Depression.  Well, a similar pattern seems to be happening again.  The price of gold has already crashed, and the price of a barrel of WTI crude oil has dropped to $86.37 as I write this.  If the price of oil dips below $80 a barrel and stays there, that will be a major red flag.  Meanwhile, we have just seen volatility return to the financial markets in a big way.  When volatility starts to spike, that is usually a clear sign that stocks are about to go down substantially.  So buckle your seatbelts – it looks like things are about to get very, very interesting.
Posted below is a chart that shows what has happened to the price of gold since the late 1960s.  As you will notice, whenever the price of gold rises dramatically and then crashes, a recession usually follows.  It happened in 1980, it happened in 2008, and it is happening again…
A similar pattern emerges when we look at the price of oil.  During each of the last three recessions we have seen a rapid rise in the price of oil followed by a rapid decline in the price of oil…
That is why what is starting to happen to the price of oil is so alarming.  On Wednesday, Reuters ran a story with the following headline: "Crude Routed Anew on Relentless Demand Worries".  The price of oil has not "crashed" yet, but it is definitely starting to slip.
As you can see from the chart above, the price of oil has tested the $80 level a couple of times in the past few years.  If we get below that resistance and stay there, that will be a clear sign that trouble is ahead.
However, there is always the possibility that the recent "crash" in the price of gold might be a false signal because there is a tremendous amount of evidence emerging that it was an orchestrated event.  An absolutely outstanding article by Chris Martenson explained how the big banks had been setting up this "crash" for months…
In February, Credit Suisse 'predicted' that the gold market had peaked, SocGen said the end of the gold era was upon us, and recently Goldman Sachs told everyone to short the metal.

While that's somewhat interesting, you should first know that the largest bullion banks had amassed huge short positions in precious metals by January.

The CFTC rather coyly refers to the bullion banks simply as 'large traders,' but everyone knows that these are the bullion banks.  What we are seeing in that chart is that out of a range of commodities, the precious metals were the most heavily shorted, by far.

So the timeline here is easy to follow.  The bullion banks:

Amass a huge short position early in the game
Begin telling everyone to go short (wink, wink) to get things moving along in the right direction by sowing doubt in the minds of the longs
Begin testing the late night markets for depth by initiating mini raids (that also serve to let experienced traders know that there's an elephant or two in the room)
Wait for the right moment and then open the floodgates to dump such an overwhelming amount of paper gold and silver into the market that lower prices are the only possible result
Close their positions for massive gains and then act as if they had made a really prescient market call
Await their big bonus checks and wash, rinse, repeat at a later date

While I am almost 100% certain that any decent investigation by the CFTC would reveal that market manipulating 'dumping' was happening, I am equally certain that no such investigation will occur.  That's because the point of such a maneuver by the bullion banks is designed to transfer as much wealth from 'out there' and towards the center, and the CFTC is there to protect the center's 'right' to do exactly that.
You can read the rest of that article right here.
There are also rumors that George Soros was involved in driving down the price of gold.  The following is an excerpt from a recent article by "The Reformed Broker" Joshua Brown…
And over the last week or so, the one rumor I keep hearing from different hedge fund people is that George Soros is currently massively short gold and that he's making an absolute killing.

Once again, I have no way of knowing if this is true or false.

But enough people are saying it that I thought it worthwhile to at least mention.

And to me, it would make perfect sense:

1. Soros is a macro investor, this is THE macro trade of the year so far (okay, maybe Japan 1, short gold 2)

2. Soros is well-known for numerous market aphorisms and neologisms, one of my faves being "When I see a bubble, I invest."  He was heavily long gold for a time and had done well while simultaneously referring to it publicly as a speculative bubble.

3. He recently reported that he had pretty much exited the trade in gold back in February. In his Q4 filing a few weeks ago, we found out that he had sold down his GLD position by about 55% as of the end of 2012 and had just 600,000 shares remaining. That was the "smartest guy in the room" locking in a profit after a 12 year bull market.

4. Soros also hired away one of the most talented technical analysts out there, John Roque, upon the collapse of Roque's previous employer, broker-dealer WJB Capital. No one has heard from the formerly media-available Roque since but we can only assume that – as a technician – the very obvious breakdown of gold's long-term trend was at least discussed. And how else does one trade gold if not by using technicals (supply/demand) – what else is there? Cash flow? Book value?

5. Lastly, the last public interview given by George Soros was to the South China Morning Post on April 4th. He does not mention any trading he's doing in gold but he does reveal his thoughts on it having been "destroyed as a safe haven"
It is also important to keep in mind that this "crash" in the price of "paper gold" had absolutely nothing to do with the demand for physical gold and silver in the real world.  In fact, precious metals retailers have been reporting that they have been selling an "astounding volume" of gold and silver this week.
But that isn't keeping many in the mainstream media from "dancing on the grave" of gold and silver.
For example, New York Times journalist Paul Krugman seems absolutely ecstatic that gold has crashed.  He seems to think that this "crash" is vindication for everything that he has been saying the past couple of years.
In an article entitled "EVERYONE Should Be Thrilled By The Gold Crash", Business Insider declared that all of us should be really glad that gold has crashed because according to them it is a sign that the economy is getting better and that faith in the financial system has been restored.
Dan Fitzpatrick, the president of StockMarketMentor.com, recently told CNBC that people are "flying out of gold" and "getting into equities"…
"There have been so many reasons, and there remain so many reasons to be in gold," Fitzpatrick said, noting currency debasement and the fear of inflation. "But the chart is telling you that none of that is happening. Because of that, you're going to see people just flying out of gold. There's just no reason to be in it.Traders are scaling out of gold and getting into equities."
Personally, I feel so sorry for those that are putting their money in the stock market right now.  They are getting in just in time for the crash.
As CNBC recently noted, a very ominous "head and shoulders pattern" for the S&P 500 is emerging right now…
A scary head-and-shoulders pattern could be building in the S&P 500, and this negative chart formation would be created if the market stalls just above current levels.

"It's developing and it's developing fast," said Scott Redler of T3Live.com on Wednesday morning.
Even worse, volatility has returned to Wall Street in a huge way.  This is usually a sign that a significant downturn is on the way…
Call options buying recently hit a three-year high for the CBOE's Volatility Index, a popular measure of market fear that usually moves in the opposite direction of the Standard & Poor's 500 stock index.

A call buy, which gives the owner the option to purchase the security at a certain price, implies a belief that the VIX is likely to go higher, which usually is an ominous sign for stocks.

"We saw a huge spike in call buying on the VIX, the most in a while," said Ryan Detrick, senior analyst at Schaeffer's Investment Research. "That's not what you want to hear (because it usually happens) right before a big pullback."

The last time call options activity hit this level, on Jan. 13, 2010, it preceded a 9 percent stock market drop that happened over just four weeks, triggered in large part by worries over the ongoing European debt crisis.
And according to Richard Russell, the "smart money" has already been very busy dumping consumer stocks…
What do billionaires Warren Buffet, John Paulson, and George Soros know that you and I don't know? I don't have the answer, but I do know what these billionaires are doing. They, all three, are selling consumer-oriented stocks. Buffett has been a cheerleader for US stocks all along.

But in the latest filing, Buffett has been drastically cutting back on his exposure to consumer stocks. Berkshire sold roughly 19 million shares of Johnson and Johnson. Berkshire has reduced his overall stake in consumer product stocks by 21%, including Kraft and Procter and Gamble. He has also cleared out his entire position in Intel. He has sold 10,000 shares of GM and 597,000 shares of IBM.

Fellow billionaire John Paulson dumped 14 million shares of JP Morgan and dumped his entire position in Family Dollar and consumer goods maker Sara Lee. To wrap up the trio of billionaires, George Soros sold nearly all his bank stocks including JP Morgan, Citigroup and Goldman Sachs. So I don't know exactly what the billionaires are thinking, but I do see what they're doing — they are avoiding consumer stocks and building up cash.

… the billionaires are thinking that consumption is heading down and that America's consumers are close to going on strike.
So what are all of those billionaires preparing for?
What do they know that we don't know?
I don't know about you, but when I start putting all of the pieces that I have just discussed together, it paints a rather ominous picture for the months ahead.
At some point, there will be another major stock market crash.  When it happens, we will likely see even worse chaos than we saw back in 2008.  Major financial institutions will fail, the credit markets will freeze up, economic activity will grind to a standstill and millions of Americans will lose their jobs.
I sincerely hope that we still have at least a few more months before that happens.  But right now things are moving very rapidly and it is becoming increasingly clear that time is running out.
View full post on The Economic Collapse
Leonard Liggio is currently the Executive Vice President of Academics at the Atlas Economic Research Foundation, a Distinguished Senior Scholar at the Institute for Humane Studies, and a Research Professor at George Mason University's School of Law.
In this lecture from a Laissez-Faire Supper Club meeting in 1981, Liggio gives a history of foreign policy beginning in England during the Enlightenment and spanning all the way up to the Cold War. He makes the case that government intervention abroad through the centuries has been just as disastrous and has been fraught with just as many unintended consequences as government intervention in domestic policy.
View full post on Libertarianism.org
In the 1770s, the Scottish jurist, historian, and philosopher Lord Kames pointed to a disturbing paradox: "The Christian religion," he wrote, "is eminent for a spirit of meekness, toleration, and brotherly love; and yet persecution never raged so furiously in any other religion." Kames called this conflict between Christian principle and practice "a singular phenomenon in the history of man," and he tried to explain how it came about.
Kames was not the first historian to call attention to this problem, nor was he the last. In 1865, the liberal historian W.E.H. Lecky put it this way: "When it is remembered that the Founder of Christianity summed up human duties in the two precepts of love to God and love to man…the history of persecution in the Christian Church appears as startling as it is painful."
To portray the founder of the Christian religion as an exemplar of love and compassion was a common tactic among proponents of religious toleration, who argued that the life and teachings of Jesus were inconsistent with the persecuting spirit that had permeated centuries of Christian history. John Locke was far from the first proponent of toleration who appealed to Jesus as a paradigm that Christians should emulate. In A Letter Concerning Toleration (1689), Locke maintained that Jesus and his apostles were armed not with swords and other "instruments of force" but with "the Gospel of peace." If Jesus had wished to convert people by force, he could easily have raised "armies of heavenly legions" that were far more powerful than all the dragoons of earthly governments, but this was not his method, which was persuasion, not coercion. According to Locke, the "toleration of those that differ from others in matters of religion" is so agreeable both "to the Gospel of Jesus Christ, and to the genuine reason of mankind" that it requires a peculiar type of intellectual blindness not to recognize these obvious facts.
Christian opponents of toleration were not likely to be convinced by Locke's arguments; they had heard them many times before, and they needed only consult the armory of arguments for persecution in the writings of St. Augustine (354-430) to answer them.
When Augustine (the first Christian theologian to develop a systematic defense of persecution) was challenged by critics to name even one incident where Jesus had used coercion instead of persuasion, he pulled an ace out of his sleeve. This was the famous story (Acts 9:1-18) of Paul's journey on the road to Damascus. While on his way to persecute Christians, Paul (then known as Saul) fell to the ground as he heard the voice of Jesus and was blinded by a bright light. This conversion of Paul, according to Augustine, clearly involved compulsion, for Christ "used his power to knock Paul down" and also "struck him with physical blindness" (a disability that lasted three days). Thus did Paul come "to the gospel under the compulsion of a physical punishment," and thus was the tolerationist argument that Christ never used physical force decisively refuted — at least in the minds of Augustine and many later Christians who repeated his argument. For example, in the thirteenth century Thomas Aquinas followed Augustine's lead when he argued that "Christ at first compelled Paul and afterwards taught him."
This brings us to a fundamental point about the historical debates over persecution versus toleration. From the early centuries of Christianity until roughly the early eighteenth century, such debates revolved, first and foremost, around the Bible. This is not to deny that philosophical and pragmatic arguments also played a role; on the contrary, they sometimes played an important role, but the defender of either side was ultimately obligated to show that his position harmonized with biblical teachings. The importance of biblical arguments may be seen in John Milton's defense of toleration, A Treatise of Civil Power in Ecclesiastical Causes (1659), in which he noted at the outset: "What I argue shall be drawn from the scripture only; and therein from true fundamental principles of the gospel, to all knowing Christians undeniable." Likewise, when Roger Williams published his remarkable manifesto calling for the separation of church and state (The Bloody Tenet of Persecution 1644), it was so laden with detailed analyses of biblical texts that modern readers are apt to find much of it difficult to follow.
Among the many biblical passages cited by all sides in the controversy over religious toleration, two stood out above all others. Each side had a favorite proof passage, a parable attributed to Jesus, that it cited more frequently than any other biblical text. For defenders of persecution it was the Parable of the Feast (Luke 14:15-25), whereas for defenders of toleration it was the Parable of the Tares (Matthew 13: 24-30).
In the Parable of the Feast, Jesus tells of a man who invited many guests to a great supper and sent his servants to tell them that the feast was ready. But some invitees gave excuses explaining why they could not attend; and when a servant related those excuses to the host by saying, "Master, it is done as you commanded, and still there is room," the host replied: "Go out into the highways and hedges, and compel them to come in, that my house may be filled."
"Compel them to come in"—no other statement of this brevity has had a more disastrous effect on the history of Western civilization. Whatever Jesus may have meant by this parable, it became the definitive text—one cited endlessly by the proponents of persecution—to prove that Jesus (and therefore God) had sanctioned, indeed commanded, the use of coercion against heretics and others who would not voluntarily embrace Christian orthodoxy, whether Catholic or Protestant.
The Parable of the Feast began its career as the pillar passage for persecution during the early fifth century, when it was invoked repeatedly by Augustine. So enduring was the significance of this text that when Pierre Bayle wrote his critique of persecution during the 1680s, he called it A Philosophical Commentary on These Words of the Gospel, Luke 14: 23, "Compel Them to Come In, That my House May Be Full." Much of this lengthy book, which runs nearly 600 pages in the English translation, is devoted to rebutting the claim that the Parable of the Feast, properly understood, is a justification for religious persecution.
On the other side of the scale stood the Parable of the Tares, which was the key passage for defenders of toleration. In this parable Jesus compares the kingdom of heaven to a man who sowed good seed in his field, but whose enemies planted tares (i.e., weeds) among the wheat. When the crop sprouted and servants came to the owner to ask whether they should remove the tares, he replied: "No, lest while you gather up the tares you also uproot the wheat with them. Let both grow together until the harvest…."
As interpreted by defenders of toleration, the Parable of the Tares taught that it is the business of God, not man, to deal with those who reject the Christian faith, and that human authorities will do more harm than good if they use coercion to punish heretics, dissenters, and unbelievers. But the defenders of persecution were not persuaded; they had no difficulty interpreting this parable so that it conformed to their own predispositions. For example, according to the church father John Chrysostom (c. 347-407), in the Parable of the Tares Jesus merely forbids the killing of heretics; he does not forbid us "to restrain heretics, to stop their mouths, to take away their freedom of speech, to break up their assemblies and societies."
As Augustine explained the Parable of the Tares, it simply cautions against uprooting weeds when this might result in damaging the wheat as well, but this is not a problem when the weeds can easily be identified and separated without causing damage to the wheat. Hence when heretics can easily be recognized — and Augustine had no problem spotting them — Christian authorities should not hesitate to use coercion against them. Augustine's rather tortured interpretation of the Parable of the Tares became standard fare among later defenders of persecution, especially after Thomas Aquinas adopted it eight centuries later. Although there were some dissenting voices in the Catholic Church, the combined authority of Augustine and Aquinas proved overwhelming until after the Protestant Reformation.
Because of its religious significance the Bible seemed to provide a common framework wherein Christians could settle disputes about God's will in matters relating to the respective roles of coercion and persuasion, but the ideal rarely conformed to practice. In the debates over toleration there was no passage cited by one side that could not be explained away or interpreted differently by the other side. We have already seen this with the Parable of the Tares, and we find another instance — again, one hatched from the fertile mind of Augustine — in John 6: 66-7, which tells how many followers left Jesus "and walked with Him no more." In response, Jesus asked the twelve disciples who remained, "Do you also want to go away?"—and this implies that Jesus regarded acceptance of his teachings as a purely voluntary matter. Or so it seemed to the defenders of toleration.
Augustine responded to this biblical argument with a typical tactic. He argued that this and similar examples, including those instances where early Christians spurned the Roman state and refused to call upon it to aid their cause, must be understood in a broader context. The context in this case consisted of Old Testament prophecies — most notably Psalms 72:11, according to which "all nations" will one day serve God. That day had obviously not arrived while Christians were a despised and powerless minority in the Roman Empire, and this is why Jesus "recommended humility" during the time when "the church was just beginning to sprout from a recent seed." But things changed—the prophecy began to be fulfilled — when the emperor Constantine and his successors Christianized the Roman Empire, so it was now fitting for Christians to use coercion as the Catholic Church continued on its path to convert the entire world. As Augustine put it: "Certainly the more nearly this [prophecy] is fulfilled, the greater the power at the church's disposal. Consequently, she can not only invite others to embrace what is good, but also compel them."
In the event this interpretation might appear strained, Augustine immediately fortified it by recalling the words of Jesus, "Compel them to come in, until my house is full." This "indicated the point quite clearly"; even if heretics and schismatics were "walking quietly outside the banquet of the holy unity of the church" (i.e., even if these dissenters were bothering no one), the church should still "compel them to come in." For many centuries to come, all roads to persecution would eventually lead to these few fateful words.
It was no accident that many defenders of persecution relied heavily on the Old Testament; in that collection of writings they found abundant grist for their mill, such as the injunction (Lev. 24:16), "He who blasphemes the name of the Lord shall be put to death." This passage largely explains why John Calvin and other Protestant Reformers represented heresy and other religious crimes as a type of blasphemy; this classification provided scriptural warrant for the death penalty. Other passages, such as the injunction that false prophets "shall be put to death" (Deut. 13: 5), served the same purpose, as did stories like that found in I Kings 18, where the prophet Elijah had 450 followers of Baal slaughtered without pity.
In addition, the theocratic rule of David and other kings of Israel, in which both the secular and the spiritual realms were the subject of coercive laws, later provided Christians with ample precedents to support the argument that God never intended to leave religious matters to the voluntary decisions of individuals. As the American Puritan John Cotton put it: "the eternal equity of that judicial law of Moses was of moral force and binds all Princes to express that zeal and indignation, both against blasphemy…and against seduction to idolatry."
As crucial as these and other biblical passages were in the debates over religious toleration — their significance is nearly impossible to overestimate — it would be both pointless and impossible to discuss in any detail the arguments they engendered. Suffice it to say that Christians did not accept some of the Old Testament, especially those parts of the Mosaic law that prescribed circumcision and other rituals, as binding upon Christians; but they did agree that its fundamental moral precepts, such as the Ten Commandments, were still obligatory. Between these two extremes, however, there were gray areas, such as the capital laws against blasphemy and idolatry. Whether or not such laws applied to Christian communities was a major topic of debate.
View full post on Libertarianism.org
In Part 1 of this series, I mentioned Lord Acton's interest in two aspects of the history of freedom: the intellectual and the institutional. This essay focuses on the institutional factor, specifically, on a fundamental condition that permitted free institutions to develop in the West. After summarizing Acton's views on this matter, I quote from numerous sources, ranging from the eighteenth through the twentieth centuries, to show that Acton's approach has been a common explanation among classical liberal historians.
"Liberty," according to Acton, "is established by the conflict of powers." This principle is the key to Acton's institutional history of freedom.
For centuries after the fall of the Western Roman Empire, the Catholic Church was the only institution with the authority to challenge the power of feudal lords, monarchs, and emperors. Church and state contended for power, and if either had achieved total victory the probable result would have been the kind of absolute despotism that developed in other parts of the world. This is the fundamental theme in Acton's history of freedom—a prolonged struggle between spiritual and temporal powers in which neither side was able to achieve complete victory until the ultimate triumph of the sovereign territorial state in post-Reformation Europe. (Many historians have warned against speaking of this as a struggle between church and state, since the "state," as we understand the term today, did not, for the most part, exist in medieval Europe. I hereby acknowledge this qualification, ignore it, and move on.)
According to Acton, neither church nor state favored liberty, but, while competing for allies, each granted various immunities and privileges to towns, parliaments, universities, guilds, and other corporations. Eventually some of these institutions were able to resist the power of both church and state—and so there evolved a decentralized system of power unknown to the ancient world and the East. Institutional barriers to arbitrary and absolute power, long advocated in theory, now existed in fact. Individual liberty was a happy byproduct of this system. As Acton wrote in "The History of Freedom in Christianity."
To that conflict …we owe the rise of civil liberty. If the Church had continued to buttress the thrones of the kings whom it anointed, or if the struggle had terminated speedily in an undivided victory, all Europe would have sunk down under a Byzantine or Muscovite despotism. For the aim of both contending parties was absolute authority. But although liberty was not the end for which they strove, it was the means by which the temporal and spiritual power called the nations to their aid. The towns of Italy and Germany won their franchises, France got her States-General, and England her Parliament out of the alternate phases of the contest; and as long as it lasted it prevented the rise of divine right.
The contention that freedom emerged in Europe as an unintended consequence of centuries of conflict between various claimants to power, with the result that no single power was able to establish a monopoly, was scarcely original with Acton. I don't know how far back this theory goes, but it was advanced in the early eighteenth century by Voltaire (who is sometimes credited with originating the idea), and it subsequently became standard fare among classical liberals who wrote about the history of freedom.
This approach to understanding the evolution of free institutions in the West has also been defended by many modern historians. Because of the tremendous importance of this explanation, I will cite examples from various sources. These examples are far from exhaustive, of course, but they may serve as indicators for readers who wish to investigate this matter in more detail.
In his Philosophical Letters (1733; also known as Letters Concerning the
English Nation), Voltaire discussed why personal freedom in England was so much greater than in his native France. English liberty, he argued, emerged from conflicts between English kings and nobles that prevented any single power from becoming dominant.
Fortunately, in the shaking that the strife between kings and nobles gave to empires, the chains of the nations have been more or less loosened. Liberty was born in England of the quarrels between tyrants.
In Sketch for a Historical Picture of the Progress of the Human Mind (written during the early 1790s and published posthumously), Condorcet attributed the decentralized power structure in Renaissance Italy to the "rivalry between pope and emperor," which "prevented Italy from being united under one master, and ensured the continuance of a large number of independent societies."
In History of the Rise and Influence of the Spirit of Rationalism in Europe (1861), the secular historian W.E.H. Lecky discussed "the conflicting claims of temporal sovereigns and of popes." Although severely critical of the Catholic Church, especially for its role in promoting the "Crusades and religious persecution," Lecky concluded that "there can be no question that it was on the whole favourable to liberty."
The simple fact that nations acknowledged two different masters was itself a barrier to despotism, and the Church had always to appeal to the subjects of a sovereign to enforce its decisions against him. There was therefore a certain bias among ecclesiastics in favour of the people, and it must be added that the medieval popes almost always belonged to a far higher grade of civilization than their opponents. Whatever may have been their faults, they represented the cause of moral restraint, of intelligence, and of humanity, in an age of physical force, ignorance, and barbarity.
In The History of European Liberalism (1927 English translation), Guido de Ruggiero wrote:
Ever since the feudal period, and with renewed vigour in the age of absolute monarchy, the Catholic Church fought against State supremacy; and the very fact of this conflict between two great powers has been an effectual safeguard for individuals against the perils of utter enslavement to either. If the Western peoples have succeeded in saving themselves from the stagnant theocracy of the East, it has been because of the age-long rivalry of Church and State, rooted ultimately in the fact that both Church and State were self-contained and self-sufficient institutions forming in fact two separate and independent states.
Regarding the "reciprocal influence of church and state" in medieval Europe, Alexander Rüstow (Freedom and Domination: A Historical Critique of Civilization, 1980 English translation) wrote:
To both sides this separation of power was undesirable; church and state each tried to establish total and unrestricted domination, yet neither succeeded. The church remained the conscience of the state, the state the critic of the church—both unquestionably to the benefit of Western Mankind. For as Voltaire knew, this dualism was the strongest guarantee of freedom, the only protection against being overtaken by one of the two powers.
This thesis was nicely summarized in 1964 by the distinguished medieval historian Brian Tierney (The Crisis of Church and State, 1050-1300), who also called attention to the philosophical consequences of the conflict between religious and secular authorities:
The very existence of two power structures competing for men's allegiance instead of only one compelling obedience greatly enhanced the possibilities for human freedom. In practical life over and over again in the Middle Ages men found themselves having to make genuine choices according to conscience or self-interest between conflicting appeals to their loyalty. On the theoretical level, intellectuals were led to formulate detailed arguments about the deposition of tyrannical kings or popes and to define with more and more precision the due limits of their respective powers.
In his magisterial book, Law and Revolution: The Formation of the Western Legal Tradition (1983), Harold J. Berman explored in considerable detail the highly decentralized legal system of medieval Europe. According to Berman, "Perhaps the most distinctive characteristic of the Western legal tradition is the coexistence and competition within the same community of diverse jurisdictions and diverse legal systems." Berman continued:
The pluralism of Western law, which has both reflected and reinforced the pluralism of Western political and economic life, has been, or once was, a source of development, or growth—legal growth as well as political and economic growth. It also has been, or once was, a source of freedom. A serf might run to the town court for protection against his master. A vassal might run to the king's court for protection against his lord. A cleric might run to the ecclesiastical court for protection against the king.
At the risk of taxing the patience of readers with a laundry list of quotations, I will conclude this essay with some general observations and additional passages about the role of unintended consequences in histories of freedom written by classical liberals.
In Part 2 of this series, I criticized Herbert Butterfield's discussion of "the whig interpretation of history" as unfair and inaccurate. The leading whig (i.e., classical liberal) historians, I argued, did not trace the progress of freedom in the linear, simplistic manner that Butterfield attributed to them. The passages I have quoted thus far illustrate my point, but additional examples may be given of the stress that whig historians placed on unintended consequences. This is especially true of eighteenth-century Scottish historians, such as Adam Smith, David Hume, Adam Ferguson, John Millar, and William Robertson.
Consider The History of the Reign of the Emperor Charles the Fifth (1769), by William Robertson. In the celebrated first chapter, "A View of the Progress of Society in Europe," Robertson discussed how Europe emerged from the "darkness" that prevailed in the centuries after the fall of the Western Roman Empire. The factors that contributed to this progress, Robertson maintained, were sometimes unintended. The Crusades, for example, were condemned by Robertson as "a singular monument of human folly"; nevertheless, "from these expeditions, extravagant as they were, beneficial consequences followed which had neither been foreseen nor expected."
Or consider John Millar's An Historical View of the English Government (1787). Millar was a student of Adam Smith, so it should come as no surprise that he was sensitive to the role of unintended consequences in historical causation. A good example appears in Millar's discussion of the Magna Carta and other "charters" that contributed to the progress of English freedom.
Contrary to some modern historians, who look with academic disdain upon the supposedly naïve treatments of English liberty by whig historians, Millar did not embrace the simplistic notion that the Magna Carta and similar charters were intended to establish freedom for the common people of England. On the contrary, "the parties concerned in them were not actuated by the most liberal principles." Such charters were not meant "to secure the liberties of the people at large, as to establish the privileges of a few individuals." They resulted from the conflicts between "a set of petty tyrants" (the nobility) and "a great tyrant" (the king). Millar continued:
But though the freedom of the common people was not intended in those charters, it was eventually secured to them; for when the peasantry, and other persons of low rank, were afterwards enabled, by their industry, and by the progress of arts, to emerge from their inferior and servile condition, and to acquire opulence, they were gradually admitted to the exercise of the same privileges which had been claimed by men of independent fortunes; and found themselves entitled, of course, to the benefit of that free government which was already established. The limitations of arbitrary power, which had been calculated chiefly to promote the interest of the nobles, were thus, by a change of circumstances, rendered equally advantageous to the whole community as if they had originally proceeded from the most exalted spirit of patriotism.
Aside from the historical significance of the preceding quotations, I confess to a personal motive in presenting them. Over decades of writing about and teaching the history of libertarian thought, I have often been asked for a list of recommended reading. What books should a student of freedom read if he or she wishes to understand the origin and development of libertarian ideas and how they were implemented? Implicit in this question, more often than not, is the assumption that only fairly recent books are worth reading, that historical accounts from the eighteenth and nineteenth centuries are outdated and are therefore a waste of time.
Now, I don't wish to deny that considerable advances have been made in our historical knowledge in modern times, but I do wish to deny that such advances render earlier works of no value. I have benefitted tremendously from my reading of historical works on freedom written during the eighteenth and nineteenth centuries, especially for their presentation of general themes that were regarded as fundamental to the classical liberal tradition. I therefore recommend that serious students of liberty study those early accounts as well.
It is often said that early historical works should be read with caution. I agree, but I would add that all historical accounts, whenever written, should be read with caution. I also contend that an understanding of how classical liberals viewed history is indispensable if we wish to understand classical liberalism itself.
Lord Acton once said that we cannot truly appreciate an idea unless we know something about its history. In this as in many other matters, Acton was exactly right.
View full post on Libertarianism.org
Modern historians have been a reflective tribe; some have written articles and books in which they analyze various problems that attend the art of writing history, such as the nature and possibility of objectivity and the role of value judgments. Among their writings on methodology, few if any have influenced professional historians as much as The Whig Interpretation of History (1931), a slender book by the British historian Herbert Butterfield (1900-1979).
Many professional historians have followed Butterfield's lead in condemning "the whig interpretation of history," or what Butterfield sometimes called the "whig fallacy." These labels are meant to signify a deeply flawed method of writing history, one that Butterfield associated with various whig historians. Other than a few names mentioned in passing, the only historian that Butterfield discussed was Lord Acton, so it is appropriate to discuss Butterfield's charges in my series on Acton.
Were Butterfield's criticisms based on an accurate understanding of Acton's ideas? I contend they were not.
When historians criticize the whig interpretation of history, they are thinking primarily of those nineteenth-century classical liberal historians—such as Lord Acton, T.B. Macaulay, H.T. Buckle, and W.E.H. Lecky—who focused on the progress of freedom in various spheres, especially in post-Reformation Europe. In particular, Thomas Babington Macaulay (1800-1859), who was one of the most widely read historians of the nineteenth century, has been singled out as the quintessential practitioner of the whig interpretation of history. And to hurl this charge against a historian is, in effect, to dismiss his work with a sneer.
What, precisely, is the whig interpretation of history? What is the fallacy that whig historians supposedly committed? Some historians identify what they call presentism as the fundamental fallacy. This is the (supposed) fallacy of interpreting the past from the perspective of the present, of assessing people from bygone eras in terms of our own moral and political values, with the result that those who agreed with us, or who came closest to our way of thinking, receive a more sympathetic hearing than those who did not.
In contrast, critics of this "whig fallacy" insist that the first duty of the historian is to understand historical figures in their own terms, within the intellectual, social, cultural, and political contexts of their own times, rather than judging them by our standards. The job of the historian is to understand historical figures as they understood themselves, not to evaluate them through the distorting medium of our own values. Thus has "context" become a key word in modern historical writing.
Butterfield was all over the map when it came to what he meant by "the whig interpretation of history." Although he did not use the word "presentism," he did join more recent historians in condemning what the word denotes. But Butterfield also associated other errors with this approach, including the imposition of inappropriate value judgments by the historian. Indeed, if Butterfield is to be believed, whig historians committed virtually every major methodological blunder that it is possible for historians to commit.
Although Butterfield was something of a classical liberal himself, he criticized earlier liberal historians who viewed history through the prism of libertarian values by focusing on the progress of freedom in recent centuries, and who attempted to explain the causes and conditions of that progress. This perspective distorted the historical record, according to Butterfield. In searching for the origins of values we hold dear today, such as religious freedom, whig historians interpreted people and events in terms of good and evil. Those individuals who contributed to the progress of freedom were praised, whereas those who resisted or impeded that progress were condemned.
In discussing this subject, Butterfield made several points that bear mentioning.
First, whig historians, in their search for heroes and villains, typically vilified Catholics, so the whig interpretation may also be dubbed the Protestant interpretation of history. Whig historians supposedly traced a direct line from Martin Luther to the eventual triumph of religious freedom in many western countries, and in the process they condemned Catholics as enemies of freedom.
Second, Butterfield warned that general overviews of history are prone to adopt a whig perspective, because they omit details that would enable readers to understand the motives and reasons of people they disagree with. When these details are missing, as they are in highly abridged accounts, readers will read their own values into the past and thereby misunderstand why certain people acted as they did.
Third, Butterfield cautioned against finding lessons in history. After the whig historian imposes his own preconceptions on history, he concludes that history teaches us such-and-such. Yet this such-and-such turns out to be nothing more than a logical implication of the whig theory itself, not something that history per se has taught us. If the whig historian claims to have discovered grand moral principles from his study of history, this is only because he superimposed those selfsame principles on his investigations from the outset. The source of moral lessons is the whig historian, not history per se.
According to Butterfield, the aim of the historian "is to achieve the understanding of the men and parties of the past." The basic problem of whig historiography is that "it studies the past with reference to the present." Whig historians typically believed in progress; and in tracing the history of progress (say, in the realm of religious freedom) they divided "the world into the friends and enemies of progress." This perspective inevitably distorted the historical record, because people in the past did not hold the same values or view the social and political worlds as we do today. The good historian will eschew the effort to divide humankind into good and evil; instead he will attempt to empathize with the people he investigates and to understand their ideas, decisions, and actions as they understood them.
There is no doubt that Butterfield gave some sound advice. The problem is that most whig (or liberal) historians did not commit the crude fallacies that he attributed to them. For example, I know of no leading whig historian who attempted to trace a direct line from Martin Luther to the emergence of religious freedom. Rather, those historians typically regarded religious freedom as an unintended consequence of the Reformation—an interpretation with which Butterfield himself agreed. Moreover, the perspective of some leading whig historians of the nineteenth century, such as Lecky and Buckle, was more secular than Protestant, and they frequently gave Catholics their due, as when the Catholic Church served as a protective buffer between secular rulers and individuals.
In addition, more than a few whig historians preceded Butterfield in insisting that historians should understand their subjects within their historical context. Indeed, this was commonplace. Consider a celebrated book, The History of the Reign of the Emperor Charles the Fifth (1769), by the celebrated Scottish historian William Robertson (an important figure in the Scottish Enlightenment). Robertson, a Protestant, had a good deal to say about the progress of freedom in Europe since the Reformation. He did not hesitate to identify the friends and enemies of progress, so by Butterfield's standard he was about as whiggish as they come. Yet, in a typical remark, Robertson criticized histories "written by modern authors, who are apt to substitute the ideas and maxims of their own age in the place of those which influenced the persons whose actions they attempt to relate." Such historians "convey a very imperfect notion of the spirit" of the time they were investigating.
During the eighteenth and nineteenth centuries, whig historians often insisted that historians should attempt to understand the "spirit" of an age, i.e., the beliefs, assumptions, and perspectives, whether explicit or implicit, that permeated a particular society or culture. It is therefore difficult to know which historians Butterfield thought he was criticizing.
The problem becomes even more acute when we consider that the only whig historian discussed by Butterfield was Lord Acton, and that Acton was a Catholic, not a Protestant. Of course, since Acton was also a classical liberal, it could be said that he was guilty of committing some vaguely defined whig fallacy, despite his religious affiliation. But this won't wash, as anyone who has read Acton carefully can attest. On the contrary, Acton maintained that no one group or movement, religious or secular, deserves exclusive credit for the theory and evolution of free institutions. He wrote that historians should avoid the error of "making history into the proof of their theories." Instead, the historian should try "to do the best he can for the other side, and to avoid pertinacity or emphasis on his own."
It would be an absurd caricature to attribute to Acton most of the fallacies that Butterfield linked to whig historiography. So why did Butterfield single him out? Primarily because of Acton's comments about the role of value judgments in history. Butterfield exploited Acton's penchant for penning memorable aphorisms. Even those people who have never heard of Acton are probably familiar with his maxim, "Power tends to corrupt, and absolute power corrupts absolutely." According to Butterfield, this aphorism instills a prejudice against historical figures who wielded great power, and this prejudice, in turn, hinders our ability to understand them accurately.
Butterfield and other critics of Acton objected to some of his comments in "The Study of History," a lecture delivered in 1895, after Acton's appointment as Regius Professor of Modern History at Cambridge. It was here that Acton expressed his belief that "liberty is the one ethical result that rests on the converging and combined conditions of advancing civilization"; it was here that he advised students of history to "suspect power more than vice"; it was here that he likened history to "a hanging judge"; and it was here that he uttered the oft-quoted line: "But the weight of history is against me when I exhort you never to debase the moral currency or to lower the standard of rectitude, but to try others by the final maxim that governs your own lives, and to suffer no man and no cause to escape the undying penalty which history has the power to inflict on wrong."
Critics of Acton who quote these remarks rarely mention Acton's admonitions in the same lecture about the need for impartiality and accuracy in historical writing, and the danger of making history into a proof of one's own theories. Similar remarks are scattered throughout Acton's writings, e.g.: "The absence of a definite didactic purpose is the only security for the good faith of a historian." So what is going on here?
Acton's views on the role of value judgments in history were complex and subtle, so it is difficult to summarize them in a few paragraphs. Essentially, Acton was objecting to those historians who whitewashed the unjust actions of "great men," especially secular and religious leaders, by attributing to them grand purposes and designs. Atrocities that would naturally strike most people as repellent if committed by ordinary people were treated as means to noble ends when committed by people with power; and some historians lightly passed over the details of such atrocities, especially when dealing with a religious or political figure they admired.
Acton astutely recognized that all historical treatments involve value judgments, if only implicitly, because the historian must use value judgments when selecting which facts to include as part of his narrative. Acton was especially critical of fellow Catholic historians who downplayed the significance of various inquisitions, or who excused the role of the papacy by placing most of the responsibility on secular rulers.
Historians need not expressly render judgments of good and evil in order to smuggle value judgments into their writing. Such judgments are integral to the discipline of history itself, so historians must decide whether to reveal their value premises openly so that readers can decide for themselves if they have unduly affected a given historical account. In addition, historians must decide whether to present both sides, good and bad, of an important historical figure so that readers can make their own assessments of his or her character and actions.
It is perhaps ironic that Lord Acton, the supposed dean of whig historians, offered his ideas about value judgments as an antidote to the bias that he found in other historians, both Protestant and Catholic. He did not call for historians to praise heroes and condemn villains; rather, he advised historians to be impartial in their accounts, to present all relevant aspects of significant figures and then let readers determine for themselves, using the ordinary rules of morality, how to assess them.
This is what Acton meant in calling history a "hanging judge." The historian should not hesitate to recount the worst deeds of "great men," nor should he sugarcoat their atrocities. This kind of rounded history will result in the "hanging" of many revered figures—not because the historian does the hanging himself but because his presentation of unvarnished and unpleasant facts will cause readers themselves to condemn those supposedly great men. As Acton put it in a letter to the Anglican historian Mandell Creighton: "I cannot accept your canon that we are to judge Pope and King unlike other men, with a favorable presumption that they did no wrong."
View full post on Libertarianism.org
The Cambridge historian Lord Acton (1834-1902) – who is best remembered for his maxim "Power tends to corrupt, and absolute power corrupts absolutely" – spent much of his professional life working on a single book, a comprehensive history of liberty. As one of the most knowledgeable historians of the nineteenth century, Acton was uniquely qualified for this ambitious project. Unfortunately, however, his rigorous standards of scholarship eventually got the better of him.
Distrustful of secondary accounts, Acton insisted on doing original research in every phase of his history. And since his history spanned over 2500 years, covered many different countries, and dealt with everything from the history of religion and philosophy to the history of political movements, it became virtually impossible for any one person, however brilliant and industrious, to complete the task that Acton had set for himself. Consequently, Acton's masterpiece was never finished, and his history of liberty, the work of a lifetime, became known as "the greatest book never written."
Although Acton never published a book, he did write many articles that reflected his passionate interest in the history of freedom, religious toleration, and constitutional government. According to Acton, we cannot understand the history of Western civilization if we fail to appreciate the perennial conflict between liberty and power. The idea of liberty, he said, "is the unity, the only unity of the history of the world, and the one principle of a philosophy of history."
Acton detected something unique in Western civilization, a distinctive worldview that set it apart from other cultures. In this worldview, which took centuries to develop, the individual was afforded a status greater than any collective entity, such as the state or society; and the individual conscience, especially in religious matters, came to be treated as a supreme value that should remain forever immune to the incursions of power.
Throughout his articles, we see many indications of Acton's primary interest, namely to explain the various factors that contributed to the rise of freedom in Western civilization. What were the ideological conditions that led so many Western intellectuals to focus their attention on the idea of freedom? And what were the social and political conditions that made it possible to transform the idea of freedom into specific institutions? According to Acton, if we wish to understand the causes of freedom we must look beneath the surface of recent events to its roots in the intellectual, social, and political history of the Western world.
When Thomas Jefferson, John Adams and others in their tradition referred to history as "the lamp of experience," they were expressing an insight with which Acton agreed. There is an important sense in which we can understand past ages better than our own. For example, when Edward Gibbon wrote The Decline and Fall of the Roman Empire he was dealing with events that had happened some 1500 years earlier. Yet this distance of time, though disadvantageous in some respects, enabled Gibbon to view the arc of Roman history from a perspective that would have been impossible for a historian living, say, in the year 300, in the heart of Rome itself.
Similarly, a historian living a century from now could probably write a better history of modern libertarianism than we can at present, even though we are able to experience events as they happen, in a way the future historian cannot. What the future historian will have, and what we presently lack, is an overall perspective of how things will eventually turn out – which libertarian ideas and policies will be able to gain popular support, which libertarian institutions will prove most effective, and so forth. We are simply too close to these things at present to be able to render a final judgment; and, unlike the future historian, we cannot know where our current efforts will take us.
This is why modern libertarians, like our eighteenth-century predecessors, must rely on a knowledge of freedom's history for our own "lamp of experience." And here we are especially fortunate to have a historian of Acton's caliber to guide us.
Two of Acton's essays are especially relevant in this context. The first, "The History of Freedom in Antiquity," stresses the intellectual history of freedom, whereas the second, "The History of Freedom in Christianity," focuses on the institutional history of freedom. Before exploring the significance of this distinction, we would do well to ponder a few of Acton's incisive observations. In "The History of Freedom in Antiquity," Acton wrote:
At all times sincere friends of freedom have been rare, and its triumphs have been due to minorities, that have prevailed by associating themselves with auxiliaries whose objects often differed from their own; and this association, which is always dangerous, has been sometimes disastrous, by giving to opponents just grounds of opposition, and by kindling dispute over the spoils in the hour of success.
This passage raises a number of interesting issues that I cannot explore here. I quoted it to illustrate the principle that even a little knowledge of freedom's history can shed light on its future prospects. Modern libertarians, for example, regard themselves as among those "sincere friends of freedom" who, according to Acton, have always been in the minority. Thus, rather than viewing our minority status as cause for pessimism, we should understand that this has been the norm throughout history. A minority status, according to Acton, has not presented an insuperable barrier to the progress of freedom. Of course, history, as they say, is not destiny, so Acton's observation doesn't prove anything one way or the other. But it may suggest new ways of looking at old problems.
Immediately after the passage I just quoted, Acton wrote:
No obstacle has been so constant, or so difficult to overcome, as uncertainty and confusion touching the nature of true liberty. If hostile interests have wrought much injury, false ideas have wrought still more; and its advance is recorded in the increase of knowledge, as much as in the improvement of laws. The history of institutions is often a history of deception and illusions; for their virtue depends on the ideas that produce and on the spirit that preserves them, and the form may remain unaltered when the substance has passed away.
As is so typical of Acton's writing, this passage bears the mark of extensive research and reflection, condensing a number of important ideas into a few lines. Perhaps most important for our purpose is Acton's point about the significance of ideas and their relationship to institutions.
Essentially, Acton was saying that political institutions alone cannot be relied upon to preserve freedom, because such institutions have no real substance apart from the ideas that people have about them. A political institution, such as the American presidency, may retain the same external characteristics through time; officially, for example, the office of president had the same powers during the latter half of the nineteenth century, when Acton was writing, that it had during the Washington administration. But, as Acton pointed out, the reality of power is often far different from what it appears to be on paper:
Legally and to outward seeming the American President is the successor of Washington, and still enjoys power devised and limited by the Convention of Philadelphia. In reality the new President differs from the Magistrate imagined by the fathers of the Republic as widely as Monarchy from Democracy, for he is expected to make 70,000 changes in the public service; fifty years ago John Quincy Adams dismissed only two men.
It is interesting to note that a similar point had been made many years earlier by James Madison about the separation of powers in the federal government. The system of checks and balances was supposed to pit each branch of the government against the other two, which in turn was supposed to inhibit the pursuit of power by the members of each branch and thereby restrain the growth of centralized government. But some years after the Constitution had become the law of the land, Madison, who is often hailed as the father of that document, had serious second thoughts about the effectiveness of this system. Indeed, Madison later characterized the separation of powers, as specified in the Constitution, as nothing more than a "parchment barrier" to the growth of the federal government. The idea of checks and balances looked good on paper, but that was about all. It would not serve to restrain the growth of government in fact, because each branch – whether executive, legislative, or judicial – would ultimately seek to expand its power not by encroaching on the jurisdiction of the other branches but by taking freedom away from the people at large.
Acton was calling attention to a kind of optical illusion that can be generated by political institutions. As long as these institutions appear to be in good working order, then it is frequently assumed that our freedom is secure and that we needn't worry about the onset of despotism. Yet even a political institution that originally served the interests of liberty can insensibly degenerate over time into an instrument of power – and this can happen with no external changes in the formal characteristics of that institution. This is what Acton meant when he said that "the history of institutions is often a history of deception and illusions," and that the form of an institution "may remain unaltered when the substance has passed away."
Acton's other claim—that the "virtue [of institutions] depends on the ideas that produce and on the spirit that preserves them"—illustrates his belief in the crucial role of ideas in achieving and maintaining a free society. However much political institutions that were originally designed to preserve freedom may have been corrupted and turned to other uses, it may still be possible to restore their original spirit with fresh ideas about freedom. If institutions can be corrupted with bad ideas, they can also be reinvigorated with good ideas.
View full post on Libertarianism.org