Sumner Books
Completely Predictable
Terence Jeffrey
Government Spending Per Household Exceeds Median Household Income
Terence Jeffrey
As reported in my new book, "Completely Predictable," the combined spending of federal, state and local governments actually exceeded the median household income for 2010, which is the latest year for which all relevant government data are available.
In fiscal 2010, according to numbers published by the Census Bureau and the Office of Management and Budget (OMB), net spending by all levels of government in the United States was $5,942,988,401,000. That equaled $50,074 for each one of the 118,682,000 households in the country.
In that same year, according to the Census Bureau, the median household income was $49,445.
That means total net government spending per household ($50,074) exceeded median household income (49,445) by $629.
Government in the United States, of course, has not always spent more per year than the median household earns. As recently as 2000, the relationship between government spending and household income was dramatically different.
Data from the Census Bureau and the OMB show that in that year net spending by all levels of government was $3,239,913,876,000. That equaled $29,941 for each of the nation's then 108,209,000 households. In 2000, the median household income was $41,990.
Thus, between 2000 and 2010, government in this country went from spending $12,049 less than the median household income to spending $629 more.
This is how I derived these startling numbers:
First, I took the figure for each year's total state and local government spending (published by the Census Bureau) and subtracted from it the money that state and local governments had received from the federal government. That left the net total of state and local spending for the year.
Then I took the total federal government spending for the year (published by OMB) and subtracted from it the money the Census Bureau said state and local governments had sent to the federal government. That left net total federal spending.
I then added the net total of state and local spending to the net total of federal spending to get the net total of all government spending for the year.
I divided that number by the number of households in the country that year (published by the Census Bureau) to get total net government spending per household.
In 2000, according to the Census Bureau, state and local governments spent a total of $1,746,942,699,000 and received $291,949,750,000 from the federal government, leaving net total state and local spending at $1,454,992,949,000.
The federal government spent a total of $1,788,950,000,000 in 2000, according to OMB, and received $4,029,073,000 from the states, leaving the net total of federal spending at 1,784,920,927,000.
The net total state and local spending of $1,454,992,949,000 and the net total federal spending of $1,784,920,927,000 combined for a net total of $3,239,913,876,000 in all government spending in 2000. Dividing by the 108,209,000 households the Census Bureau said were in the United States that year equals $29,941 — or $12,049 less than the 2000 median household income of $41,990.
Similarly, in 2010, according to the Census Bureau, state and local governments spent a total of $3,114,846,571,000 and received $623,732,004,000 from the federal government, leaving net total state and local spending for that year at $2,491,114,567,000.
The federal government spent a total of $3,456,213,000,000 in 2010, according to OMB, and received $4,339,166,000 from the states, leaving the net total of federal spending at $3,451,873,834,000.
The total net state and local spending of $2,491,114,567,000 and the total net federal spending of $3,451,873,834,000 combined for a total net $5,942,988,401,000 in government spending in 2010. Divided by the 118,682,000 households the Census Bureau said were in the United States that year, that equals about $50,074 — or $629 more than the 2010 median household income of $49,445.
I calculated the total net government spending per household in 2010 for my new book, "Completely Predictable." I think the number demonstrates how completely predictable the fiscal crisis our country faces has become.
A nation whose government spends more than the typical family earns is on the road to ruin.
http://www.sumnerbooks.com/books/view/c … redictable
Statistics: Posted by yoda — Thu Apr 11, 2013 10:23 am
---
View full post on
opinions.caduceusx.com
Poll: Two-thirds of American voters with household guns would 'defy' gun laws
11:32 AM 01/27/2013
As anti-gun lawmakers push for a government ban of more than 150 types of firearms, a new Fox News poll shows that two-thirds of American voters who have guns in their household would "defy" any law requiring them to give up the guns.
A majority of poll respondents – 52 percent – revealed that someone in their home owns a gun. Those respondents were then asked, "If the government passed a law to take your guns, would you give up your guns or defy the law and keep your guns?"
Approximately 65 percent indicated they would "defy the law," including 70 percent of Republicans and 52 percent of Democrats who answered the question. Only 22 percent said they would "give up" their guns, while 13 percent were not sure.
On Thursday, Democratic Sen. Dianne Feinstein introduced the "Assault Weapons Ban of 2013," which would prohibit the sale, transfer, importation and manufacture of hundreds of rifles, shotguns and pistols. The legislation also bans magazines that can hold more than 10 rounds. (RELATED: Feinstein stages dramatic anti-gun press conference)
At the Thursday press conference, Feinstein stated her belief that massacres like the Sandy Hook Elementary School shooting occur because of the country's "weak" gun laws.
Nearly 78 percent of those polled apparently disagree, indicating that "people who commit these kinds of acts will always find the guns to commit violent acts." Only 22 percent "think tougher gun laws can help stop shootings," and 58 percent believe if "more law abiding citizens owned guns," there would be less violent crime in the United States.
The poll sampled 1,008 registered voters and was conducted from Jan.15 to 17. It has a margin of error of a plus or minus 3 percentage points.
Read more: http://dailycaller.com/2013/01/27/poll- … z2JCCtqiKK
Statistics: Posted by yoda — Sun Jan 27, 2013 10:57 am
---
View full post on
opinions.caduceusx.com
US median household income trap: Four decades of data and households struggling to keep up with inflation. Younger Americans face bigger income struggles.
Posted by mybudget360 in bailout, banks, debt, income
Household income growth in the US has largely been absent for well over a decade if we adjust for inflation. This is important because people truly care about what their money can purchase. What use is it getting a $1 raise if healthcare went up $2? What use is it that you are earning $1,000 more a year when sending your kids to college now costs $5,000 a year more? It is unfortunate so little attention is given to income growth when the available data is readily available. Part of the lack of coverage probably stems from the reality that the mainstream press is largely an advertising vehicle. Do not hold your breath for deep analysis and reporting from the press. Telling people how their inflation adjusted incomes are back to 1990s levels isn't going to encourage people to go out and buy that new car, fancy tech gadget, or go into heavy debt for that new home. Let us dive deep into the income data.
Where we stand with household income
The first chart we should look at is the median household income chart: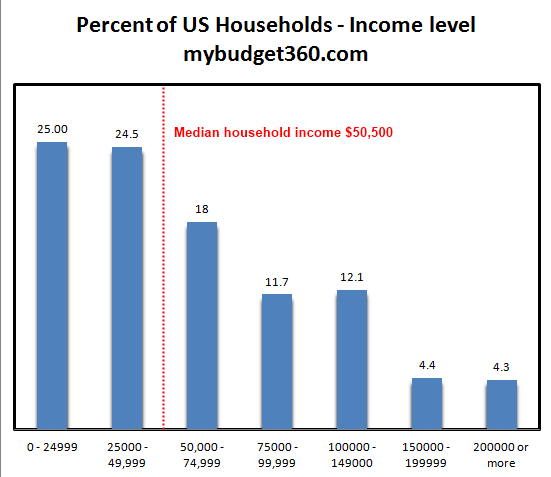 The median household income in the US is $50,500. The next chart we should look at is both nominal and inflation adjusted household income growth: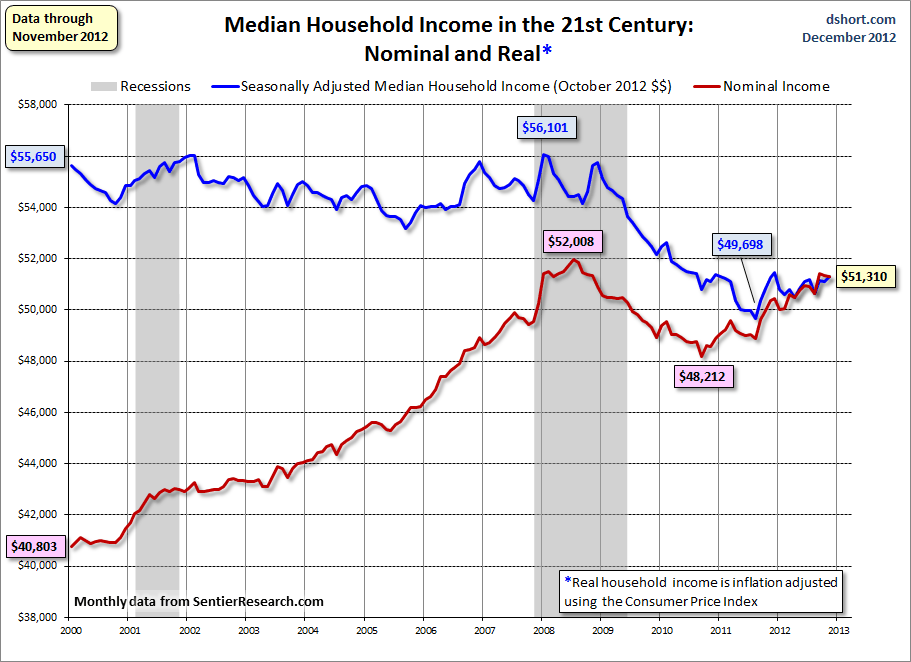 This is a very important chart. Adjusting for inflation, Americans are much poorer than they were in 2000. Nominal growth is only useful if it is increasing at a faster pace than inflation. From 2000, the CPI itself has increased over 30 percent. Even to keep pace with the CPI, the median household income today should be at roughly $55,000 (we are 10 percent below that). If we go further back, we will realize that household income would need to be much higher to account for decades of stagnant growth for most Americans.
It is problematic when household incomes are growing so slow. When examined on a longer term horizon, you will realize that only the top 10 percent have really seen real income growth over the last 40+ years: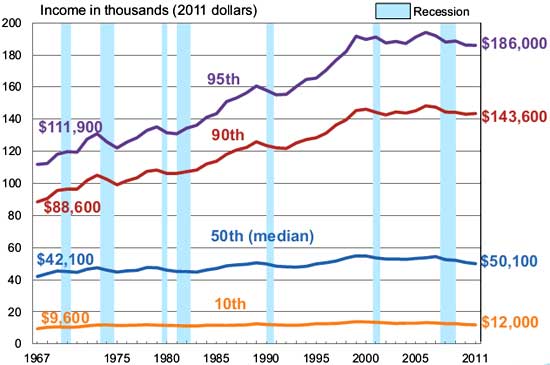 Think of how quickly the price of many items has increased for the last few decades:
-Healthcare
-College tuition
-Housing (home prices / rent)
-Food
We are also contenting with a large part of our population now receiving food stamps. Over 47 million Americans are now receiving food assistance. We have a growing number receiving Social Security as they enter retirement. A larger strain and burden is being placed on younger Americans to support these changes. Younger Americans are also carrying the heaviest burden with student debt and weaker employment prospects. Half of college graduates are underemployed or working at jobs that do not even require a college degree. Many can no longer support the debt they have taken on to pursue their education: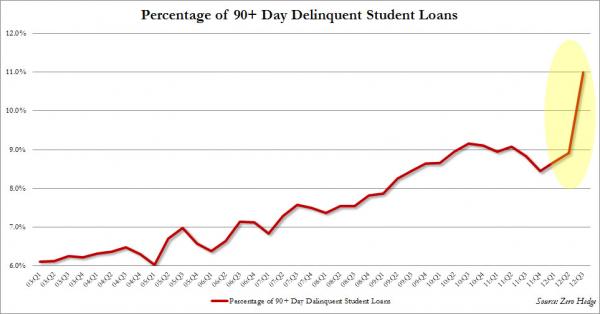 The number of student loans 90+ days late is now 11 percent of the entire pool of loans. This is incredibly high given that we now have more than $1 trillion in student debt outstanding.
Americans do not earn as much as some would think. The below is data from the latest Social Security data:
151,380,749 wage earners (had earnings in 2011)
50 percent of US wage earners made less than or equal to the median wage, estimate to be $26,965
66 percent of US wage earners made less than or equal to $41,211.36
The median wage in the US per person is $26,695. Since the recession hit, and for well over a decade, real income growth has severely contracted: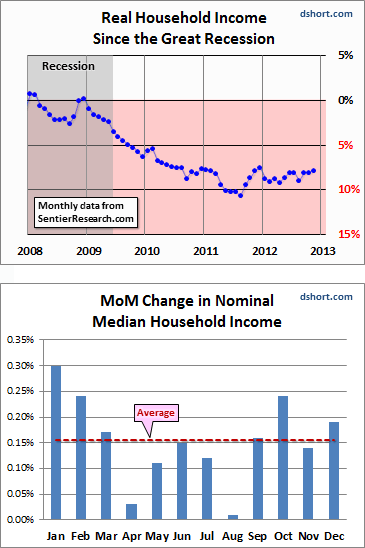 Those claiming that incomes are rising are clearly mistaken or have a vested interest in pushing out that agenda. Just because nominally something went up, does not mean people are better off. From what you can see above, even in a nominal perspective things are not healthy on the household income front.
http://www.mybudget360.com/us-median-ho … #more-4544
Statistics: Posted by yoda — Sun Jan 13, 2013 12:36 am
---
View full post on
opinions.caduceusx.com
Gold-Confiscation Coming To India?
Written by Jeff Nielson
Thursday, 13 December 2012 12:42
As one of the loudest voices warning of the risks of "bullion confiscation" by our governments; it was no surprise to me to see the Corporate Media singing the virtues of bullion confiscation. What was a surprise is where this "initiative" purportedly originates: India.
Readers who follow the precious metals market are familiar with the dynamics here. Western Sheep choose to hold the bankers' fraudulent paper currencies – despite our governments openly/explicitly driving the values of those currencies to zero with their "competitive devaluation." It was this foolhardy mistake which is a major factor behind the greater-than-50% decline in the U.S. standard of living over the past 40 years.
Meanwhile the "peasants" in India (as well as many/most urban residents) do not engage in similar, suicidal behavior. They park their wealth in gold (and silver) bullion – immune to the print-and-dilute theft inherent in every fiat-currency system. It is one of the key reasons why Asian standards of living are rising, while those of the West plummet downward at the fastest rate in history.
In my own naivete, I had assumed that our predatory Western governments would target their own people for bullion confiscation, and look to steal the modest amount of savings of the shrewd minority in our societies who do hold precious metals. But apparently the bankers and Oligarchs have their sights set on a bigger prize: the largest private holdings of bullion in the world, in India.
Let's be clear that this is obviously a Western proposal, as indicated by the English-speaking "front" organization used to deliver this propaganda. What is the substance of the proposal?
…Households and temples carry about 25,000 metric tons [of gold] and a successful plan to gather at least 10 percent of the gold reserves for lending to jewelers will ensure supplies for three years…
So here we see the modest goal of the Western Oligarchs: harvesting (i.e. confiscating) "at least 10 percent" of Indians' gold, and to apparently repeat this harvest every three years – since the propagandists putting forth this trial-balloon claim that a 10% harvest would only deal with the supposed "problem" faced by India for three years.
We see further evidence that the entity spewing this banker propaganda is nothing but a Western mouthpiece, as any genuine "Indian" entity would understand that proposing to plunder the gold from India's religious temples would be an absolute "non-starter" for its ¾ billion population.
Just as phony as the organization itself is the supposed "problem" which this bullion-confiscation scheme claims to address: what it calls India's "current account deficit." Here a quick definition is in order for those not conversant with this economic jargon.
A current account deficit (or surplus) represents the flow of "money" into/out of an economy. Just as nations have "trade deficits" (and surpluses), so too it is a necessary proposition of arithmetic that each year there will be some nations with net in-flows of capital, and others with net out-flows.
What is phony here is the lie behind the mythical "current account deficit" of India. As the world's largest importer of gold bullion, each year India has a large out-flow of the bankers' bogus paper currencies and a large in-flow of real money: gold. Obviously you cannot have a "current account deficit" (or surplus) in exchanging one form of money for another.
Let's make no mistake here. The Western banksters themselves (and the Oligarchs they represent) not only consider gold to be "money", but (as has been the case for 5,000 years) our best money. They recently were forced to elevate gold to the status of a "Tier I" monetary asset, in deference to its superior status to their own, debauched paper.
More importantly, it is these same banksters who require all international gold transfers between banks/governments to be reported and accounted for exactly as they do with their paper currencies. No one thinks of gold as "money" more than Western bankers. Thus the premise that India's swapping of (bad) paper money for (good) gold money somehow is creating a "currency deficit" is not only wrong, but patently absurd.
There are several other points to note here. Notice that at no point in the Bloomberg article do the propagandists use the word "confiscate". In the 2,000+ years in which the bankers have been stealing from us (since they originally went by the name "money-changers"), one lesson they have learned is that they are much more successful with their stealing if they scrupulously avoid using the word "steal."
Of course the Corporate Media apologists will tell us that bullion confiscation is not "stealing", as governments pay "fair compensation" for the gold (or silver) which they coercively obtain from their populace. Yes, just like the "fair compensation" paid by the U.S. government to its own citizens when it confiscated their gold in 1933 – and then immediately "revalued" it higher by 50%.
Put another way. First the U.S. government took its citizens gold. Then it retroactively reduced the actual value of the "fair compensation" by half. The only thing separating that from an open act of theft was that the U.S. government inserted an intermediate sham-transaction to make the theft a two-step process.
Am I trying to frighten readers away from gold and/or silver bullion by warning of the dangers of bullion-confiscation? Absolutely not. Indeed, regular readers know I deliver precisely the opposite message: gold and silver bullion (as a matter of simple arithmetic) is our best refuge from the Hyperinflation Hell looming directly ahead of us.
My message to people is to hold lots of gold/silver bullion (which cannot be debauched/stolen through the banksters' money-printing scams). However, it's crucial that people hold their precious metals personally; in a home safe or other secure location. Obviously if (when?) bullion confiscation takes place in our own societies (again), the first gold/silver to go will be every ounce contained in any/every bullion account, fund, or trust – as all this bullion can be snatched effortlessly with nothing more than a point-and-click.
Would our increasingly authoritarian governments ever send their Nazis to start busting down doors, looking for bullion "the hard way"? Three reasons mitigate against this.
1) Our governments' Big Brother electronic surveillance still provides them with no way to identify the source/location of all wealth we have stored in bullion – another reason they don't want the Little People holding gold and silver.
2) Similarly, since we could have disposed of our bullion in private, legal transactions; they have no way of proving that such privately-held bullion even exists (at least in holdings of moderate amounts).
3) Our governments (up until now) have shown the preference to Steal with Stealth. They have already looted more than ¾ of all our wealth over the decades; through banking and taxation systems which were structured to funnel all wealth out of the pockets of the bottom-99% and into the vaults of the Top-1% (over time).
While those reasons provide no absolute security for our bullion holdings; gold and silver still represent our safest form of financial security – given the alternatives. Apart from losing all our paper wealth relentlessly through the serial theft inherent in the banksters accelerating currency-dilution; (insolvent) Western governments have already begun "confiscating" (i.e. stealing) paper assets.
Some will argue for parking their wealth in real estate. However, not only do our permanent near-zero interest rates ensure that all real estate markets are permanently in some form of "bubble", but land can also be seized. Unlike bullion, however, it can't be hidden.
http://bullionbullscanada.com/
Statistics: Posted by yoda — Thu Dec 13, 2012 1:22 pm
---
View full post on
opinions.caduceusx.com
HOW TO INCREASE HOME PRICES WHEN HOUSEHOLD INCOME IS FALLING?
Posted on 4th November 2012 by Administrator in Economy |Politics |Social Issues
Dr. Housingbubble, flippers, foreclosures, home prices, Home sales
It's easy. You artificially create a shortage of supply by not putting foreclosed homes on the market. You have the Central bank artificially keep interest rates below market rates by buying up the bad mortgage debt from the criminal Wall Street banks. You encourage the same dumbass flippers that contributed to the first housing bubble to jump back into the game. Then you convince clueless math challenged dupes across the land that they better buy before it's too late. Then get the corporate MSM to run blaring headlines when home prices and sales blip up by the tiniest fraction, and still 60% below the levels of 2005. Dr. Housing Bubble lays it all out.
How to increase home prices in the face of stagnant household incomes – 6 charts exploring the state of the US and California housing market. 9 million homeowners are still underwater. Pockets of real estate mania.
It is easy to get swept into the momentum of the housing market. The Federal Reserve has managed to push interest rates to historically low levels creating additional buying power for US households. As we enter the slower fall and winter selling season, there is unlikely to be any major changes until 2013 as the election year concludes. We do face major challenges ahead. This current momentum in housing isn't being caused by flush state budgets or solid wage growth. No, this is being caused by low inventory, big investors crowding out households, and a concerted effort to push mortgage rates lower. If you simply follow the herd, you would think that prices are now near peak levels again (or soon will be) and household incomes are hitting record levels. Let us examine where things stand today deep in 2012.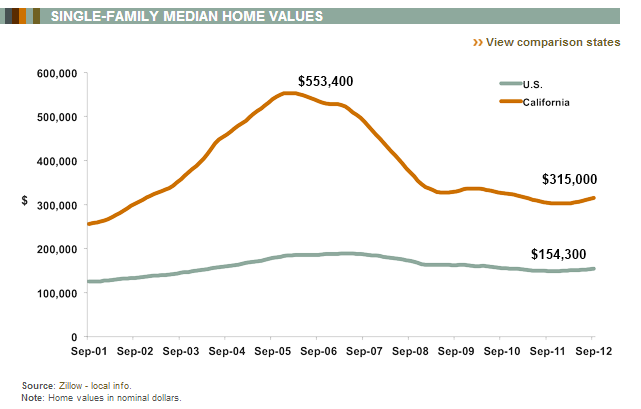 It is clear that 2012 has pushed home prices higher overall. This has occurred both on a nationwide basis and also for California. Yet California home prices are far away from that peak reached in 2006. However, some mid-tier markets never really corrected and we are now seeing flippers selling homes for prices that are near peak levels. The argument is that overall things corrected but then this is applied to niche areas where prices are now back near peak levels (at least with the current prices being seen with some flips).
The low inventory and the narrative that the bottom is here is causing a flood of people to buy especially with low interest rates. In lower priced areas, a good portion of the market is being over bought by Wall Street and big money investors. This is still anything but a normal market.
US home prices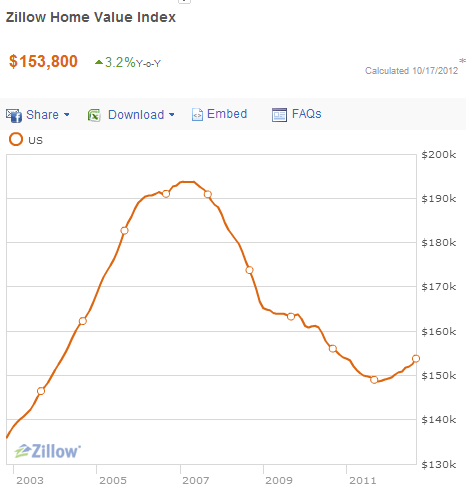 It is evident that US home prices have hit a new trend in 2012. Prices are moving up. Yet the driving force behind this is low interest rates, low inventory, and the high amount of investors buying up properties. Keep in mind that low interest rates and especially investment buying is finite. This money will dry up. In housing what you want to be seeing is sustainable appreciation in combination with rising household incomes and a healthy employment market. Those should be the driving forces instead of the Fed committing to another $500 billion of MBS purchases via QE3.
Median household income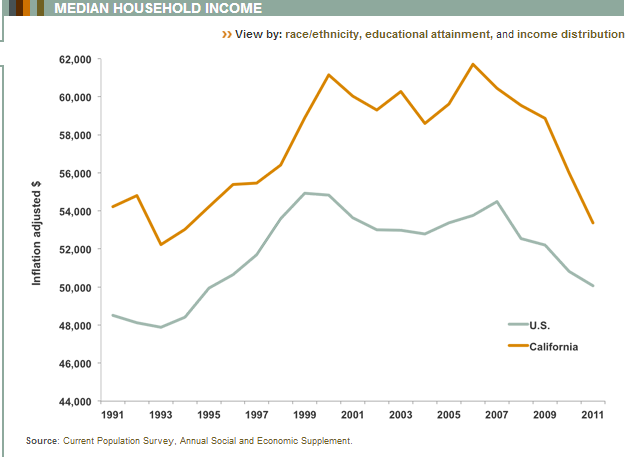 This is the one argument that is always missing from the home boom 2.0 narrative. Is it possible to have sustained rising home prices when household incomes are falling or stagnant? It isn't and the Fed and banks are fully aware of this. So the Federal Reserve has decided to push affordability via low rates as far as they can. It is a win-win for the financial industry. They can unload properties at much higher prices courtesy of the low interest rate. Some people think this comes at no expense. It does. Carrying a negative interest rate is pummeling those on fixed incomes and also, with one out of seven Americans on food stamps many are seeing those monthly deposits not going so far when they go shopping for food. Ultimately the cost is being shouldered by those who can least afford it. Ironically this flood of investors has also pushed rental prices higher as well creating a double-whammy.
LA Tiered home prices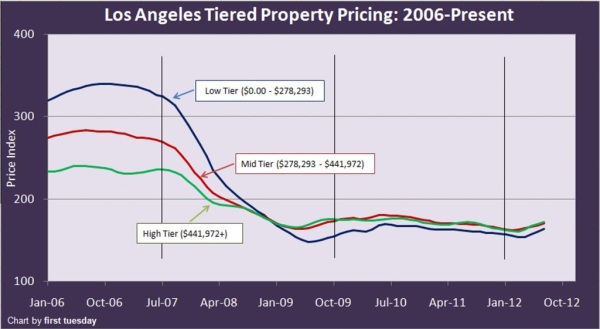 Probably one of the better measures of price is the Case Shiller Index. This looks at repeat home sales so we are measuring apples to apples. The median price is also important but it is prone to changes with the mix of sales. Right now, the big drop in foreclosure resales is causing prices to surge. Yet it is important for trend shifts and also because the media and the public rely on this for their purchasing behavior.
As you can see from the chart above, each tier in Los Angeles County has shifted up a bit. We are far from peak prices and given the mania in certain areas, you would think this would be rising much faster. You are not missing anything. For those thinking they are missing something you might as well go to Las Vegas and try your hand at the tables. There is a mini mania in prime areas of California happening right now. As you see from the above charts, household incomes simply do not justify this movement. The momentum right now is in favor of higher prices but for fleeting reasons.
Home sales and trends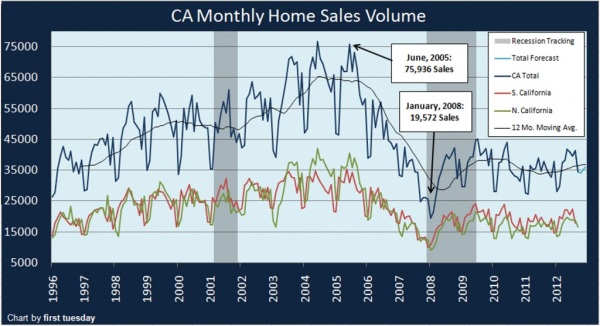 If things are so hot, why are home sales not running at a higher pace? The 12 month moving average is running a little bit higher than 35,000. This is the pace we've had since 2009 when the market was flying off a cliff. From 1998 to 2007 the moving average was above 45,000 sales per month. So what really is going on then with prices rising so fast overall?
The explanation comes from a few items:
-1. Inventory is low (we even hear complaints from real estate agents about this)
-2. Low rates increased leverage in the face of falling incomes (refer to earlier chart)
-3. From the bottom everything is higher (the increase is big from the bottom but put into context, still has us way below the 12 month moving average from over a decade ago)
-4. You are competing with big money investors
This is why sales are not exactly off the charts given all the favorable elements that are being perceived. For this market to continue on this path, nothing from the above can be removed. Keep in mind that with the "fiscal cliff" some items on the table include the mortgage interest deduction cap. This will hit California hard especially in these mania locations. There is no reason for the nation to allow mortgage interest deduction above a certain level (i.e., $500,000 or capped at certain income levels).
"(LA Times) But since only about one-third of taxpayers itemize on their returns — the rest opt for the standard deductions — who's really getting these tax savings? As you might guess, people who have higher incomes are more likely to itemize and claim mortgage interest and other housing deductions. Citing the latest data on the subject, published by the IRS in 2009, Kolko found that only 15% of households with incomes below $50,000 took itemized deductions, while 65% of those with incomes between $50,000 and $200,000 did. Just about everybody with incomes above $200,000 — 96% — itemized on their returns."
And guess who was number one on the list?
"California ranked No. 1 in the size of home mortgage deductions, with $18,876 on average. Next came Hawaii ($16,730), the District of Columbia ($16,720), Nevada ($15,502), Washington ($14,262), Maryland ($14,162) and Virginia ($14,094)."
There is little reason for the mortgage interest deduction to allow for such a large write-off especially when the typical US home price ranges from $150,000 to $170,000. We are in massive debt and for the nation to subsidize expensive California housing does not make sense.
Underwater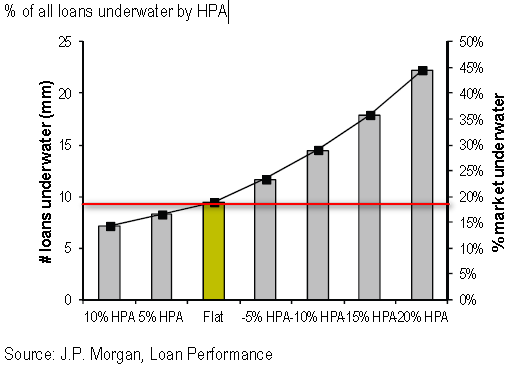 Even with home prices moving up we still have over 9,000,000 underwater homeowners. This is a sizeable number. The above chart highlights underwater mortgages at various increases or decreases in home prices. The distressed inventory is still large but is decreasing.
The thing with the housing market is that it largely isn't a market anymore. So with all of these market incentives and the fiscal situation looming next year, there has to be a catch. We have yet to see household incomes increase. The economy is still on shaky ground. Yet in many pocket markets you have people ignoring the macro economy and just running around their little enclaves with blinders on. Hot money is flowing in. There is no doubt about that. Yet it is not sustainable. Since election years usually produce very little change, we'll have to wait until 2013 to see if this trend actually has some real teeth.
Do you think household incomes are important when it comes to home price?
http://www.theburningplatform.com/?p=43481
Statistics: Posted by yoda — Sun Nov 04, 2012 3:32 pm
---
View full post on
opinions.caduceusx.com
The Poor Aren't Making Money Off Poverty Programs So Who Is?
We have stated before that some form of societal safety net is needed. How it is administered now, via massive waste and bureaucracy is a travesty and tragic. It should be a source of shame for the nation.
But there's a lot of money in welfare, just not for the recipients it seems. There are lots of programs deployed at relatively high cost, but solutions always seem to be in short supply. Could it be that solutions eventually reduce federal flows of cash to established bureaucracies which would like to keep the tax funded flow growing? It's a very cynical question I understand.
(From the Weekly Standard)
"According to the Census's American Community Survey, the number of households with incomes below the poverty line in 2011 was 16,807,795," the Senate Budget Committee notes. "If you divide total federal and state spending by the number of households with incomes below the poverty line, the average spending per household in poverty was $61,194 in 2011." 
This dollar figure is almost three times the amount the average household on poverty lives on per year."
(Weekly Standard, 10-26-2012)
The post For every household in poverty $61K is spent on means tested welfare. appeared first on AgainstCronyCapitalism.org.
View full post on AgainstCronyCapitalism.org
Krugman: Household Debt is the Problem, not the Banking System
10/22/2012 1:13 AM CULLEN ROCHE
Regular readers of Pragcap are well aware of my position on why the economy has been weak and why I think it is likely to remain relatively weak. The monetary system revolves around bank money or inside money. That is, when the economy is strong, people are taking out loans, investing, purchasing goods and services, etc. I discussed the importance of this back in 2008 before I had formally come across Richard Koo's work where he formally called this idea the "Balance Sheet Recession" and long before we ever came up with Monetary Realism and the importance of understanding why "inside money" rules the monetary roost:
"So, the government has a partially correct solution. Not the BEST solution, but it gets to the core of the credit issues. They will essentially trade the bad paper for good paper and it will alleviate many of the pressures on the banks. As I have written here many times the banks are the lifeblood of the system. I like to think of the banks as the oil in the engine. If you run out oil the system begins to break down and eventually the engine stops running. You can't have a healthy functioning economy if the banks aren't lending. Unfortunately, because this won't fix any problems at the household level it won't induce any borrowing. So, it's a clever way to resolve the banking crisis, however, it doesn't fix the root of the problem which is at the household level. So, again I ask – is this a "bailout"? You bet your ass it is. Unfortunately, it's not a bailout of the entire system. It's just a bailout of the banking system. And their problems are merely a symptom of much bigger problems at the household level."
I've written a lot of stupid things here over the last 4 years. This wasn't one of them. This was the very essence of our entire economic problem. The household credit crisis was the single most important understanding of the entire financial crisis. It was the root of the entire disease that spread through the banking system and the rest of the economy like a virus. If you understood that the household debt crisis was the root cause of the crisis you understood how to fix it. Fix the household balance sheets and fix the crisis (or at least soften the blow). But instead, we mainly worked under the theory that the credit markets were broken because the banks were broken. So we focused our efforts on fixing the banks. We thought this was a banking crisis. As Paul Krugman noted the other day this really isn't a "financial crisis" (via Paul Krugman):
"Yet the economy remains depressed, with recovery far from complete. My current modeling approach stresses the overhang of household debt as an explanation; it's not about the financial system any more.
By the way, way back when, when I was worrying about Japan, I quarreled with the common argument at the time that Japan's problem was "zombie banks", and that once the banks had been recapitalized all would be well. They were, and it wasn't, and much the same has been true for us now.
So Dean and I agree; maybe I shouldn't use the term "financial crisis" at all, but it's the terminology people know."
I'd go even further. In fact, I probably never should have adopted Koo's BSR terminology as it's too vague. This is and always was a household debt crisis. It's nice to use terminology people know, but had we all referred to this crisis as a household debt crisis it might have gone a long way in helping people better understand the root cause and perhaps even help politicians in formulating policy geared more towards fixing the root of the problem….
http://pragcap.com/krugman-household-de … ing-system
Statistics: Posted by yoda — Mon Oct 22, 2012 6:04 am
---
View full post on
opinions.caduceusx.com
Debt Jumped $1.2759T in FY 2012; Up $10,855 Per Household in Just 12 Months; Beats 2011
By Terence P. Jeffrey
October 1, 2012
(CNSNews.com) – According to the U.S. Treasury, the debt of the U.S. government climbed by a total of $1,275,901,078,828.74 in fiscal 2012, which ended yesterday.
That means the federal government borrowed approximately an additional $10,855 for each household in the United States just over the past twelve months.
The total debt of the United States now equals approximately $136,690 per household.
In fiscal 2011, the debt increased by about $10,454 per household–$401 less than the $10,855 per household increase of 2012.
The $1.2758 trillion that the debt increased in fiscal 2012 was about $47.18 billion more than the $1.2287 trillion that the debt increased in fiscal 2011.
The federal fiscal year begins on Oct. 1 and ends on Sept. 30.
At the close of business on Sept. 30, 2011, the total debt of the U.S. government was $14,790,340,328,557.15, according to the Treasury. At the close of business on Sept. 28, the last business day of fiscal 2012, it was $16,066,241,407,385.89
That meant the debt increased in fiscal 2012 by $1,275,901,078,828.74.
At the close of business on Sept. 30, 2010, the debt had stood at $13,561,623,030,891.79. Over the course of fiscal 2011, it increased by $1,228,717,297,665.36 before closing at 14,790,340,328,557.15 on Sept. 30, 2011.
The fiscal 2012 increase of $1,275,901,078,828.74 exceeded the fiscal 2011 increase $1,228,717,297,665.36 by $47,183,781,163.38
The Census Bureau estimated that there were 117,538,000 household in the United States in 2010. The $1,275,901,078,828.74 that the debt increased in fiscal 2012 equaled about $10,855 for each one of those 117,538,000 households.
Here is how much the debt has increased in each of the last six fiscal years:
Fiscal 2007: $500,679,473,047.25
Fiscal 2008: $1,017,071,524,650.01
Fiscal 2009: $1,885,104,106,599.26
Fiscal 2010: $1,651,794,027,380.04
Fiscal 2011: $1,228,717,297,665.36
Fiscal 2012: $1,275,901,078,828.74.
http://cnsnews.com/news/article/debt-ju … beats-2011
Statistics: Posted by yoda — Mon Oct 01, 2012 7:06 pm
---
View full post on
opinions.caduceusx.com
New numbers that have just been released show that things are getting worse for American families.  According to the U.S. Census Bureau, median household income declined to $50,054 in 2011.  That is a 1.5 percent decline from the previous year, and median household income has now fallen for 4 years in a row.  In fact, after adjusting for inflation median household income has not been this low since 1995.  These new numbers once again confirm what so many of us have been talking about for so long – American families are steadily getting poorer.  Incomes are going down and the cost of living just keeps going up.  This dynamic is squeezing more Americans out of the middle class every single month.  Others just keep going into more debt in an attempt to maintain their previous lifestyles.  As Americans, we really don't like to hear that things are getting worse and that we are in decline, but unfortunately that is exactly what is happening.  Our economy does not produce nearly enough jobs for everyone anymore, the proportion of low wage jobs in our economy continues to grow, and the middle class is shrinking at an alarming rate.  Our politicians can deliver speeches about how great we all are until the cows come home, but it isn't going to change the reality of our situation.  If we want different results we have got to start taking different actions.
When you take the median household income of $50,054 and divide it up over 12 months, it comes to about $4000 a month.
About half of all American households are making more than that and about half of all American households are making less than that.
So can an average family of four people make it on just $4000 a month?
Well, first of all you have got to take out taxes.  After accounting for all forms of taxation you will be lucky if you have $3000 remaining.
With that $3000, you have to pay for all of the following.
*Housing
*Power
*Water
*Food
*Phone
*Internet
*At Least One Vehicle
*Gasoline
*Vehicle Repairs
*Car Insurance
*Health Insurance
*Home Or Rental Insurance
*Life Insurance
*Student Loan Debt Payments
*Credit Card Payments
*Furniture
*Clothing
*Pets
*Entertainment (although it is hard to imagine any money will be left for that)
Have I left anything out?
The truth is that $3000 does not go as far as it used to.
No wonder American families are feeling so stretched financially these days.
Most families can't even afford to think about retirement or investments because most of them are just trying to figure out a way to survive from month to month.
Unfortunately, economic conditions for middle income Americans continue to deteriorate.  Being in the middle class in America is like playing a perverse game of musical chairs.  More chairs are constantly being pulled out of the game and the middle class just continues to shrivel up.
The following are some more statistics that show that things are getting worse….
-In 1999, 64.1 percent of all Americans were covered by employment-based health insurance.  Today, only 55.1 percent are covered by employment-based health insurance.
-Health insurance premiums rose faster than the overall rate of inflation in 2011 and that is happening once again in 2012.  In fact, it is been happening for a very long time.
-In the United States today, there are close to 10 million households that do not have a single bank account.  That number has increased by about a million since 2009.
-Back in 1962, the wealthiest one percent of all Americans had 125 times the net worth of the median household.  Today, the wealthiest one percent of all Americans has 288 times the net worth of the median household.
-Back in 2007, 19.2 percent of all American families had a net worth of zero or less than zero.  By 2010, that figure had soared to 32.5 percent.
-According to a survey conducted by the Pew Research Center, 32 percent of all Americans now identify themselves as "lower class".  In 2008, that figure was only at 25 percent.
-As I have written about previously, 61 percent of all Americans were "middle income" back in 1971 according to the Pew Research Center.  Today, only 51 percent of all Americans are "middle income".
-62 percent of all middle class Americans say that they have had to reduce household spending over the past year.
-Electricity bills in the United States have risen faster than the overall rate of inflation for five years in a row.
-There are now 20.2 million Americans that spend more than half of their incomes on housing.  That represents a 46 percent increase from 2001.
-According to the Federal Reserve, the median net worth of American families dropped "from $126,400 in 2007 to $77,300 in 2010".
-Sadly, 60 percent of the jobs lost during the last recession were mid-wage jobs, but 58 percent of the jobs created since then have been low wage jobs.
-At this point, less than 25 percent of all jobs in the United States are "good jobs", and that number continues to shrink.
-The percentage of working age Americans that are employed is smaller now than it was two years ago.
-The number of Americans that are financially dependent on the government is sitting at an all-time record, and it just keeps going up.
-If the labor force participation rate was the same today as it was back when Barack Obama first took office, the unemployment rate in the United States would be 11.2 percent.
That last statistic deserves some special attention.
If the exact same percentage of Americans were considered to be "in the work force" today as when Barack Obama became president, the unemployment rate in this country would be well over 11 percent.
But the federal government has pretended that millions upon millions of Americans have "left the work force" over the past few years and that allows them to tell the fib that the unemployment rate has actually declined to 8.1 percent.
Of course we all know that is a bunch of nonsense.  About the same percentage of Americans want a job today as was the case back in 2008.
But 8.1 percent looks way better than 11.2 percent does.
What makes all of this even more distressing is that this is the recovery.
Things are not going to be getting much better than this.  We are rapidly approaching the next wave of the economic collapse and all of the numbers posted above are going to be getting a lot worse.
So even though things may be tight for your family right now, you should enjoy these times while you still have them.
Someday we will look back on these years as "the good old days".
View full post on The Economic Collapse
On 15 August 2008, the total U.S. public debt outstanding was just over $9.6 trillion (or if you're a stickler for accuracy, $9,606,975,957,798.46). Four years later, on 15 August 2012, the total public debt outstanding for the United States had risen to just over $15.9 trillion (or rather, $15,919,488,010,442.70). In four years then, the U.S. national debt rose by more than $6.3 trillion, or by 65.7% of its value in 2008.
To put those numbers on a more human scale, the amount of the U.S. national debt per American household has increased from $81,984 to $131,113. This represents a 59.9% increase over the last four years, as we estimate that the number of households in the U.S. has increased over the same time from 117,181,000 in 2008 to about 121,418,000 in 2012.
And if it really helps understand what it means to have an extra $131,000 of debt piled onto your household, imagine what it would feel like if, in addition to all your current household bills, you were also paying the mortgage for this fine home currently on the market in Hartville, Ohio….
Is that really something that you can afford on top of all your other bills?
References
U.S. Treasury. The Debt to the Penny and Who Holds It. [Online Application]. Accessed 16 August 2012.
U.S. Census. Historical Income Tables: Households. Table H-5. Race and Hispanic Origin of Householder–Households by Median and Mean Income: 1967 to 2010. [Excel Spreadsheet]. September 2011.
Zillow. 12740 Bluebell Ave NE, Hartville, OH, 44632. Accessed 16 August 2012.
Notes
We projected the number of U.S. households by adding 1,368,000, the average annual change in the number of U.S. households from 1967 through 2010, to the recorded figure for 2010, twice (once for 2011 and again to estimate the number of households for 2012). The Census' official data for the number of households in 2011 will be published in September 2012.
View full post on MyGovCost | Government Cost Calculator