Vive le France? Well, one of the reasons there is less "vive" in France these days is because of asinine policies such as the one imposed by France's current Socialist government which is highlighted below.
Eat the rich? See how many of the rich stick around to be eaten.
How on earth would a country ever turn itself around with this sort of economic mentality? The French are basically saying that they don't want capital creation within their borders.
(From Reuters)

"…the exceptionally high level of taxation was due to a one-off levy last year on 2011 incomes for households with assets of more than 1.3 million euros ($1.67 million).

President Francois Hollande's Socialist government imposed the tax surcharge last year, shortly after taking office, to offset the impact of a rebate scheme created by its conservative predecessor to cap an individual's overall taxation at 50 percent of income."
View full post on AgainstCronyCapitalism.org
Taxes on some wealthy French top 100 pct of income: paper
Thu, May 16 2013
PARIS | Sat May 18, 2013 1:16pm EDT
PARIS (Reuters) – More than 8,000 French households' tax bills topped 100 percent of their income last year, the business newspaper Les Echos reported on Saturday, citing Finance Ministry data.
The newspaper said that the exceptionally high level of taxation was due to a one-off levy last year on 2011 incomes for households with assets of more than 1.3 million euros ($1.67 million).
President Francois Hollande's Socialist government imposed the tax surcharge last year, shortly after taking office, to offset the impact of a rebate scheme created by its conservative predecessor to cap an individual's overall taxation at 50 percent of income.
The government has been forced to redraft a proposed bill to levy a temporary 75 percent tax on earnings over 1 million euros, which had been one of Hollande's campaign pledges.
The Constitutional Council has judged such a high rate of taxation to be unfair, leaving the government to rehash it to hit companies rather than individuals.
Since then, a top administrative court has determined that a marginal tax rate higher than 66.66 percent on a single household risked being considered as confiscatory by the council.
Les Echos reported that nearly 12,000 households paid taxes last year worth more than 75 percent of their 2011 revenues due to the exceptional levy. ($1 = 0.7798 euros)
http://www.reuters.com/article/2013/05/ … AX20130518
Statistics: Posted by yoda — Sat May 18, 2013 5:32 pm
---
View full post on
opinions.caduceusx.com
Daniel J. Mitchell
I have to start this post with a big caveat.
I'm not a fan of the Paris-based Organization for Economic Cooperation and Development. The international bureaucracy is infamous for using American tax dollars to promote a statist economic agenda. Most recently, it launched a new scheme to raise the tax burden on multinational companies, which is really just a backdoor way of saying that the OECD (and the high-tax nations that it represents) wants higher taxes on workers, consumers, and shareholders. But the OECD's anti-market agenda goes much deeper.
Now that there's no ambiguity about my overall position, I can admit that the OECD isn't always on the wrong side. Much of the bad policy comes from its committee system, which brings together bureaucrats from member nations.
The OECD also has an economics department, and they sometimes produce good work. Most recently, they produced a report on the Swiss tax system that contains some very sound analysis, including a rejection of Obama-style class warfare and a call to lower income tax burdens.
Shifting the taxation of income to the taxation of consumption may be beneficial for boosting economic activity (Johansson et al., 2008 provide evidence across OECD economies). These benefits may be bigger if personal income taxes are lowered rather than social security contributions, because personal income tax also discourages entrepreneurial activity and investment more broadly.
I somewhat disagree with the assertion that payroll taxes do more damage than VAT taxes. They both drive a wedge between pre-tax income and post-tax consumption. But the point about income taxes is right on the mark.
Interestingly, the report also endorses tax competition as a means of restraining the burden of government spending.
Evidence also suggests that tax autonomy may lead to a smaller and more efficient public sector, helping to limit the tax burden and improve tax compliance… Efficiency-raising effects of tax autonomy and tax competition on the public sector have also been reported in empirical research with Norwegian and German data… Tax autonomy generates opportunities to choose the level of public service provision and taxation, although in practice such "voting with your feet" seems mostly limited to young, highly educated and high-income households. Decentralised tax setting also fosters benchmarking of the performance of jurisdictions belonging to the same government level by voters, even in the absence of "voting with your feet".
The report also notes that tax competition has reduced corporate tax rates.
Tax competition is likely to have contributed significantly to lowering corporate tax rates in Switzerland over the past 25 years. Indeed, empirical evidence shows that the responsiveness of sub-national governments to tax changes of other subnational governments ("tax mimicking") is the strongest in the case of corporate taxation (Blöchliger and Pinero Campos, 2011). …Progressive corporate income taxes harm incentives for businesses to grow. Since growing businesses are likely to be high performers in terms of productivity, such disincentives are likely to hit high-performing businesses the most, with losses to aggregate productivity performance, which has been modest in Switzerland relative to best-performing high-income countries.
P.S.: This isn't the first time the economists at the OECD have broken ranks with the political hacks that generally control the bureaucracy. In a 1998 Economic Outlook (see page 166) they wrote that "the ability to choose the location of economic activity offsets shortcomings in government budgeting processes, limiting a tendency to spend and tax excessively." And in another publication (see page 1), the economists noted that "legal tax avoidance can be reduced by closing loopholes and illegal tax evasion can be contained by better enforcement of tax codes. But the root of the problem appears in many cases to be high tax rates." These passages sound like they could have been authored by Pierre Bessard!
P.P.S.: I hasten to add that none of this justifies handouts from American taxpayers to the Paris-based bureaucracy any more than occasional bits of rationality from the World Bank (on government spending), IMF (on the Laffer Curve), or United Nations (also on the Laffer Curve) justify subsidies to those organizations.
View full post on Cato @ Liberty
Did you know that the greatest period of economic growth in American history was during a time when there was absolutely no federal income tax?  Between the end of the Civil War and 1913, there was an explosion of economic activity in the United States unlike anything ever seen before or since.  Unfortunately, a federal income tax was instituted in 1913, and this year it turned 100 years old.  But there was no fanfare, was there?  There was no celebration because the federal income tax is universally hated.  Sadly, most Americans just assume that there is no other option to an income tax.  Most Americans just assume that it has always been with us and that it will always be with us.  This year, the American people will shell out approximately $4.22 trillion in state and federal income taxes.  That amount is equivalent to approximately 29.4 percent of all income that Americans will bring in this year, and that does not even take into account the dozens of other taxes that Americans pay each year.  At this point, the U.S. tax code is about 13 miles long, and those that are honest and pay their taxes every year are being absolutely shredded by this system.  But wouldn't the federal government go broke if we didn't have a federal income tax?  No, actually the truth is that the federal government did just fine before there was an income tax.  In fact, the U.S. national debt has gotten more than 5000 times larger since the federal income tax and the Federal Reserve were created by Congress back in 1913.  As I have written about previously, the Federal Reserve system was actually designed to trap the United States in a debt spiral from which it could never possibly escape, and the federal income tax was needed to greatly expand the size of the federal government and to soak the American people of the funds necessary to service that debt.  But it doesn't have to be this way.  America was once much better off before the income tax and the Federal Reserve were created, and we could easily go to such a system again.
What we desperately need to do is to teach the American people a little history lesson.  The truth is that the greatest period of economic growth in U.S. history was between the Civil War and 1913 when there was no federal income tax at all.  The following is from Wikipedia…
The Gilded Age saw the greatest period of economic growth in American history. After the short-lived panic of 1873, the economy recovered with the advent of hard money policies and industrialization. From 1869 to 1879, the US economy grew at a rate of 6.8% for real GDP and 4.5% for real GDP per capita, despite the panic of 1873.  The economy repeated this period of growth in the 1880s, in which the wealth of the nation grew at an annual rate of 3.8%, while the GDP was also doubled.
Sadly, most Americans cannot even conceive of an economy like that.  Most Americans cannot even imagine having a nation without a massively bloated federal government and without an unelected central bank centrally planning our financial system.
But you know what?
It worked.  In fact, it worked fantastically well.
The period between the Civil War and 1913 propelled the United States to greatness.  Just check out all of the good things that Wikipedia says happened for the U.S. economy during those years…
The rapid economic development following the Civil War laid the groundwork for the modern U.S. industrial economy. By 1890, the USA leaped ahead of Britain for first place in manufacturing output.

An explosion of new discoveries and inventions took place, a process called the "Second Industrial Revolution." Railroads greatly expanded the mileage and built stronger tracks and bridges that handled heavier cars and locomotives, carrying far more goods and people at lower rates. Refrigeration railroad cars came into use. The telephone, phonograph, typewriter and electric light were invented. By the dawn of the 20th century, cars had begun to replace horse-drawn carriages.

Parallel to these achievements was the development of the nation's industrial infrastructure. Coal was found in abundance in the Appalachian Mountains from Pennsylvania south to Kentucky. Oil was discovered in western Pennsylvania; it was mainly used for lubricants and for kerosene for lamps. Large iron ore mines opened in the Lake Superior region of the upper Midwest. Steel mills thrived in places where these coal and iron ore could be brought together to produce steel. Large copper and silver mines opened, followed by lead mines and cement factories.

In 1913 Henry Ford introduced the assembly line, a step in the process that became known as mass-production.
But if we didn't have an income tax, how did we fund the government?  Well, we mostly did it with tariffs and excise taxes.  The following is from a recent article by Thomas R. Eddlem…
Prior to ratification of the 16th (income tax) Amendment in February 1913, the federal government managed its few constitutional responsibilities without an income tax, except during the Civil War period. During peacetime, it did so largely — or even entirely — on import taxes called "tariffs." Congress could afford to run the federal government on tariffs alone because federal responsibilities did not include welfare programs, agricultural subsidies, or social insurance programs like Social Security or Medicare. After the Civil War, tariff revenues sometimes suffered under a protectionist policy ushered in by the Republican Party that supplemented federal income via excises on alcohol, tobacco, and inheritances. But before the war, the need for tariff revenue to finance the federal government generally kept the tariff at reasonable levels. During wartime throughout early American history, the Founding Fathers were able to raise additional revenue employing a different method of direct taxation authorized by the U.S. Constitution prior to the 16th Amendment. These alternative taxing methods gave the young American nation embarrassing peacetime budget surpluses that several times came close to paying off the national debt.
So why didn't we stick with that system?
Well, early in the 20th century the "progressives" and the social planners started to take control in Washington.
And one of the things that "progressives" and social planners love is an income tax.  In fact, the second plank of the Communist Manifesto is a "heavy progressive or graduated income tax".
Of course they promised us that income tax rates would always remain low.  And at first they were quite low.  The following is from an article by Adam Young…
The presidential election of 1912 was contested between three advocates of an income tax. The winner, Woodrow Wilson, after the ratification of the Sixteenth Amendment, called a special session of Congress in April 1913, which proceeded to pass an income tax of 1% on incomes above $3,000 and applied surcharges between 2% and 7% on income from $20,000 to $500,000.
But once the "progressives" and the social planners get their feet in the door, they always want more.
And we have seen how things have worked out.  Today, the American people are being taxed into oblivion.
In a previous article entitled "Show This To Anyone That Believes That Taxes Are Too Low", I listed dozens of other taxes that the American people pay each year in addition to federal and state income taxes…
#1 Building Permit Taxes
#2 Capital Gains Taxes
#3 Cigarette Taxes
#4 Court Fines (indirect taxes)
#5 Dog License Taxes
#6 Drivers License Fees (another form of taxation)
#7 Federal Unemployment Taxes
#8 Fishing License Taxes
#9 Food License Taxes
#10 Gasoline Taxes
#11 Gift Taxes
#12 Hunting License Taxes
#13 Inheritance Taxes
#14 Inventory Taxes
#15 IRS Interest Charges (tax on top of tax)
#16 IRS Penalties (tax on top of tax)
#17 Liquor Taxes
#18 Luxury Taxes
#19 Marriage License Taxes
#20 Medicare Taxes
#21 Medicare Tax Surcharge On High Earning Americans Under Obamacare
#22 Obamacare Individual Mandate Excise Tax (if you don't buy "qualifying" health insurance under Obamacare you will have to pay an additional tax)
#23 Obamacare Surtax On Investment Income (a new 3.8% surtax on investment income that goes into effect next year)
#24 Property Taxes
#25 Recreational Vehicle Taxes
#26 Toll Booth Taxes
#27 Sales Taxes
#28 Self-Employment Taxes
#29 School Taxes
#30 Septic Permit Taxes
#31 Service Charge Taxes
#32 Social Security Taxes
#33 State Unemployment Taxes (SUTA)
#34 Tanning Tax (a new Obamacare tax on tanning services)
#35 Telephone Federal Excise Taxes
#36 Telephone Federal Universal Service Fee Taxes
#37 Telephone Minimum Usage Surcharge Taxes
#38 Telephone State And Local Taxes
#39 Tire Taxes
#40 Tolls (another form of taxation)
#41 Traffic Fines (indirect taxation)
#42 Utility Taxes
#43 Vehicle Registration Taxes
#44 Workers Compensation Taxes
Yet even with all of these taxes, our local governments, our state governments and our federal government are all absolutely drowning in debt.
In another previous article entitled "24 Outrageous Facts About Taxes In The United States That Will Blow Your Mind", I listed a number of reasons why our federal income tax system has become a complete and utter abomination that can never be fixed…
1 – The U.S. tax code is now 3.8 million words long.  If you took all of William Shakespeare's works and collected them together, the entire collection would only be about 900,000 words long.
2 – According to the National Taxpayers Union, U.S. taxpayers spend more than 7.6 billion hours complying with federal tax requirements.  Imagine what our society would look like if all that time was spent on more economically profitable activities.
3 – 75 years ago, the instructions for Form 1040 were two pages long.  Today, they are 189 pages long.
4 – There have been 4,428 changes to the tax code over the last decade.  It is incredibly costly to change tax software, tax manuals and tax instruction booklets for all of those changes.
5 – According to the National Taxpayers Union, the IRS currently has 1,999 different publications, forms, and instruction sheets that you can download from the IRS website.
6 – Our tax system has become so complicated that it is almost impossible to file your taxes correctly.  For example, back in 1998 Money Magazine had 46 different tax professionals complete a tax return for a hypothetical household.  All 46 of them came up with a different result.
7 – In 2009, PC World had five of the most popular tax preparation software websites prepare a tax return for a hypothetical household.  All five of them came up with a different result.
8 – The IRS spends $2.45 for every $100 that it collects in taxes.
9 – According to The Tax Foundation, the average American has to work until April 17th just to pay federal, state, and local taxes.  Back in 1900, "Tax Freedom Day" came on January 22nd.
10 – When the U.S. government first implemented a personal income tax back in 1913, the vast majority of the population paid a rate of just 1 percent, and the highest marginal tax rate was just 7 percent.
11 – Residents of New Jersey pay $1.64 in taxes for every $1.00 of federal spending that they get back.
12 – The United States is the only nation on the planet that tries to tax citizens on what they earn in foreign countries.
13 – According to Forbes, the 400 highest earning Americans pay an average federal income tax rate of just 18 percent.
14 – Warren Buffett had an effective tax rate of just 17.4 percent for 2010.
15 – The top 20 percent of all income earners in the United States pay approximately 86 percent of all federal income taxes.
16 – Sadly, as Bill Whittle has shown, you could take every single penny that every American earns above $250,000 and it would only fund about 38 percent of the federal budget.
17 – The United States has the highest corporate tax rate in the world (35 percent).  In Ireland, the corporate tax rate is only 12.5 percent.  This is causing thousands of corporations to move operations out of the United States and into other countries.
18 – Some tax havens are doing a booming business in setting up sham headquarters for U.S. corporations.  For example, the city of Zug, Switzerland only has a population of 26,000 people but it is the headquarters for 30,000 companies.
19 – In 1950, corporate taxes accounted for about 30 percent of all federal revenue.  In 2012, corporate taxes will account for less than 7 percent of all federal revenue.
The wealthy have become absolute masters at avoiding taxes, and the poor are not able to pay much.
So who always gets squeezed?
The middle class does.
No matter what our politicians promise us, the hammer is always brought down on the middle class.
And now, according to The Huffington Post, the IRS says that it can even read our old emails without a warrant to make sure that we are paying all of the taxes that we should be…
The IRS apparently interprets that authority very broadly, the documents show: as long as you've stored your email in a cloud service like Google Mail, and as long as those emails haven't been deleted after a few months, the agency thinks it doesn't need a warrant to read them.

The idea of IRS agents poking through your email account might sound at the very least creepy, and maybe unconstitutional. But the IRS does have a legal leg to stand on: the Electronic Communications Privacy Act of 1986 allows government agencies to in many cases obtain emails older than 180 days without a warrant.

That's why an internal 2009 IRS document claimed that "the government may obtain the contents of electronic communication that has been in storage for more than 180 days" without a warrant.
It should be noted that the IRS is claiming that it does not use emails "to target" specific taxpayers, but notice that they are not promising not to use old emails against taxpayers once they are officially being audited or investigated…
"Contrary to some suggestions, the IRS does not use emails to target taxpayers. Any suggestion to the contrary is wrong."
In any event, the truth is that we have one of the most complicated and one of the most intrusive tax systems in the history of the world.
Don't the American people deserve better?
What do you think?
Should America go back to a system where there is no income tax and no Federal Reserve?
Please feel free to share what you think by leaving a comment below…
View full post on The Economic Collapse
When I was a small child we lived in the United Kingdom for a couple of years just before the Thatcher revolution. In the years afterward, after we were back in the states and I was a bit older I can remember my parents talking about how colossally messed up Britain was economically. The 1970s weren't great for America, but for our friends across the pond they were far worse.
My parents would talk about "brown outs," when the electrical workers would deliberately turn off the power from power plants in a show of what I guess some might call "workers solidarity."
My mother told me of the time she almost died in a British hospital with an ectopic pregnancy.  The doctor had told her to go home as her pain was most likely indigestion. 24 hours later she was in a navy hospital again undergoing surgery. Post surgery she was put into a room with tens of other people who were sometimes given to screams of anguish. "Never go to a European hospital if it can be avoided," I was told.
I learned early on that socialism was not the way to go.
But more than anything my parents talked about the incredible levels of taxation in the UK.
As my father was an officer in the US Navy and he did not feel the burden, but I can remember him talking for years about the audacity of a government that thought it had the right to take nearly 100% of people's pay.
My dad explained that one of the reasons all the cool British bands of the 60s left the UK and came to the United States was because of the rate of taxation in the Isles. A pretty amazing thing given that rates weren't exactly low in the USA in the 60s either. At least Uncle Sam didn't take everything.
This level of taxation was inspiration for one of my favorite Beatles tunes (and I like nearly all of them) Taxman
Attached is an article from Bloomberg on how the Fab 4 dealt with confiscatory rates of taxation. Plus some other cool stuff.
(From Bloomberg.com)

The top rate for British taxpayers in the mid-1960s reached 83 percent. The wealthiest among them paid a 15 percent super-tax on top of that, pushing taxes as high as 98 percent. The pain came out in the band's music. George Harrison opened his 1966 song "Taxman":

Let me tell you how it will be. 
That's one for you, 19 for me…
Should 5 percent appear too small, 
Be thankful I don't take it all.

As Lennon and McCartney racked up hits with their compositions in 1963 and 1964 — "Please Please Me," "From Me to You," "I Want to Hold Your Hand," "She Loves You," to name a few — and money started pouring in, it became clear that the songwriting profits would be siphoned away to the U.K.'s treasury if something wasn't done.
The post How the Beatles dealt with a 98% income tax (That's right 98%) appeared first on AgainstCronyCapitalism.org.
View full post on AgainstCronyCapitalism.org
February 16, 2013
The Illusions of Supplemental Security Income, from Someone Who Knows
By Deborah C. Tyler
I've looked at SSI Disability from both sides now, from in and out, and still somehow it's the scammers, the duped, and the resentful I recall.
I have been involved in hundreds of SSI Disability cases. I have worked in the system providing mental status exams, called consultative examinations, in two states. I have done dozens of private psychological evaluations for people trying to get on Disability rolls. I have sent reams of case notes and reports to the Disability bureaucracy on behalf of therapy clients.
There have been memorable examinations. One was of a sassy prostitute. She said she worked for an "escort service," but it seemed important to her that I know the full range of her proficiencies. Her claim for SSI was based on major depression, but she seemed in high spirits to me — or, as we say, "affect contraindicated mood disorder at this time." I think she was just getting a little long in the tooth for "claimant's customary employment."
I have interviewed foul-mouthed teenagers whose mommas thought they could shake a few dollars out of the system on the basis of "oppositional-defiant disorder." One 17-year-old was memorable because she came with a baby on her hip. Without the sophistication or coaching to understand what kind of money she was trying to get, she told me with more than a hint of hostility how smart, empowered, and free she was to do "whatever the f-" she wanted. I asked her, "Do you know what the word 'disability' means?"
Another fellow came in rather irritated. He resented being examined in his current state of residence, South Carolina, because doctors in the state where his back injury occurred 15 years ago "know my case." He was unusually fit for his age. He worked on a golf course and wanted to know how much he could work and still keep his Disability payments. I asked him, "Are you sure it's best for your recovery that your medical care for your injury is in West Virginia?"
I did SSI Disability evaluations on men recently released from state prison. Who is not damaged by eight years of hard time? In fact, it was the "feedback" of one such applicant that convinced me to get out of the business of those evaluations.
As a psychologist, I evaluate only mental condition. I learned a long time ago to watch how clients behave in the waiting room or parking lot when unaware they are being observed. People who were sitting upright, reading a book or magazine suddenly must lie completely prone in my office. People who were joking with the receptionist a few minutes earlier can't take a breath for the sobbing. I used to say to such applicants, "I understand you feel depressed, you didn't plan to be in this situation, but there will be some time today when you're not crying. Let it be this half hour so we can do a good evaluation." So 20 of the 30 minutes she's sobbing. Then I watch from a side window as she bounds outside and into the Escalade for the "How did it go?" conversation with her boyfriend.
A poignant case was of an exploited young man whose politically connected mother got him on Disability for "bipolar disorder" when he was 17. He earnestly pursued his assigned career as a mentally ill person for 10 years, turning his checks over to his mother. It took six months of therapy to help him understand that he had gone through a rough patch in adolescence but that he did not have bipolar disorder. As we brought his brain out from under a rockslide of medication, he began to think about what he could do with his life. It took several years, but he eventually broke free of his illusion of incapacity and became a successful medical technician. SSI Disability is meant to be a path back to employment. His was the only case I saw in which the Vocational Rehab program was actually used for self-rehabilitation.
I have seen SSI Disability from both sides now. I worked with an Iraq War veteran who was as completely disabled as anyone I had ever seen. He had an obvious traumatic brain injury, was in a wheelchair, had undergone numerous orthopedic surgeries, and had a nonworking spinal stimulator in his back. His neighbors ratted him out to the government when they saw him on his boat. He wasn't angry. He said, "Dr. Tyler, it takes two people pushing on my butt to get me on that boat."
Many of the Disability cases I've worked, on either as gatekeeper or as therapist, involved people in their 40s and 50s who had the typical health issues which accrue as a part of life. They came to the Disability program after being thrown away by employers. With no possibility of regaining their previous income, they turned to SSI Disability. I worked with one woman who had been molested as a child and had significant emotional problems. Nevertheless, she held a master's degree and had a successful 20-year career until she was replaced by a younger worker. Corporations cannot openly discard older workers on the basis of age, so in the new economy, a gold watch often comes in the form of a blast of disparagement on a performance appraisal. This client wanted to continue working and looked for another job for a year. When she found out her son was going to be a father, she agreed to take care of the baby and focus on getting SSI Disability.
Advances in workplace and medical technology have reduced the number of people who are unable to work. For that reason, SSI Disability rolls should be shrinking rather than exploding. The illusions of disability are tearing down middle-class morals and values. They are undermining individual and family responsibility and building in a payoff for temporary, treatable health problems to become permanent conditions. Millions of middle-class people are forfeiting the moral code that honors work, and they are being deprived of the self-respect that comes from doing their best. They are succumbing to the "government handout" mentality. The forces destroying the free-market economy are also served by the illusion that Americans are too sick to work.
Read more: http://www.americanthinker.com/2013/02/ … z2L5N8J0m5
Statistics: Posted by yoda — Sat Feb 16, 2013 11:51 am
---
View full post on
opinions.caduceusx.com
Daniel J. Mitchell
What's the worst thing about Delaware?
No, not Joe Biden. He's just a typical feckless politician and the butt of some good jokes.
Instead, the so-called First State is actually the Worst State because almost exactly 100 years ago, on February 3, 1913, Delaware made the personal income tax possible by ratifying the 16th Amendment.
Though, to be fair, I suppose the 35 states that already had ratified the Amendment were more despicable since they were even more anxious to enable this noxious levy.
But let's not get bogged down in details. The purpose of this post is not to re-hash history, but to instead ask what lessons we can learn from the adoption of the income tax.
The most obvious lesson is that politicians can't be trusted with additional powers. The first income tax had a top tax rate of just 7 percent and the entire tax code was 400 pages long. Now we have a top tax rate of 39.6 percent (even higher if you include additional levies for Medicare and Obamacare) and the tax code has become a 72,000-page monstrosity.
But the main lesson I want to discuss today is that giving politicians a new source of money inevitably leads to much higher spending.
Here's a chart, based on data from the Office of Management and Budget, showing the burden of federal spending since 1789.
Since OMB only provides aggregate spending data for the 1789-1849 and 1850-190 periods, which would mean completely flat lines on my chart, I took some wild guesses about how much was spent during the War of 1812 and the Civil War in order to make the chart look a bit more realistic.
But that's not very important. What I want people to notice is that we enjoyed a very tiny federal government for much of our nation's history. Federal spending would jump during wars, but then it would quickly shrink back to a very modest level – averaging at most 3 percent of economic output.
So what's the lesson to learn from this data? Well, you'll notice that the normal pattern of government shrinking back to its proper size after a war came to an end once the income tax was adopted.
In the pre-income tax days, the federal government had to rely on tariffs and excise taxes, and those revenues were incapable of generating much revenue for the government, both because of political resistance (tariffs were quite unpopular in agricultural states) and Laffer Curve reasons (high tariffs and excise taxes led to smuggling and noncompliance).
But once the politicians had a new source of revenue, they couldn't resist the temptation to grab more money. And then we got a ratchet effect, with government growing during wartime, but then never shrinking back to its pre-war level once hostilities ended (Robert Higgs wrote a book about this unfortunate phenomenon).
The same thing happened in Europe. The burden of government spending used to be quite modest on the other side of the Atlantic, with outlays consuming only about 10 percent of economic output.
Once European politicians got the income tax, however, that also enabled a big increase is the size of the state.
But Europe also gives us a very good warning about the dangers of giving politicians a second major source of revenue.
Here's a chart I prepared for a study published when I was at the Heritage Foundation. You'll notice from 1960-1970 that the overall burden of government spending in Europe was not that different than it was in the United States.
That's about the time, however, that the European governments began to impose value-added taxes.
The rest, as they say, is history.
I'm not claiming, by the way, that the VAT is the only reason why the burden of government spending expanded in Europe. The Europeans also impose harsher payroll taxes and higher energy taxes. And their income taxes tend to be much more onerous for middle-income households.
But I am arguing that the VAT helped enable bigger government in Europe, just like the income tax decades earlier also enabled bigger government in both Europe and the United States.
So ask yourself a simple question: If we allow politicians in Washington to impose a VAT on top of the income tax, do you think they'll use the money to expand the size and scope of government?
If it takes more than three seconds to answer that question, I suggest you emigrate to France as quickly as possible.
P.S. You probably won't be surprised to learn that the crazy bureaucrats at the Paris-based OECD think the VAT is good for growth and jobs. Sort of makes you wonder why we're subsidizing them with American tax dollars.
View full post on Cato @ Liberty
Income Based Repayment plan cementing inflated higher education costs for graduate school: How new IBR Pay as you Earn plan will be a big win for graduate students and keep college costs high.
Student debt to hit $1.8 trillion in 2020.
Posted by mybudget360 in banks, debt, government, student debt, student loans
It is interesting that the two segments in our economy mired in debt, housing and higher education, were largely inflated courtesy of easy access to debt. New rules on how students pay back their student debt including the Income Based Repayment plan ironically will keep prices inflated. The new program dubbed "Pay as you Earn" reduces the cap on loan payments from 15 to 10 percent of a borrower's income and accelerates loan forgiveness from 25 to 20 years. As we will highlight, this will largely aid in keeping prices inflated especially in graduate schools since the government will provide a subsidy to this cohort. It is interesting that the fastest growing debt segment of the economy after the recession has come in student debt. Instead of looking at the issue comprehensively, it is likely that we will continue to push this bubble until it pops.
Income Based Repayment
One of the interesting changes with the IBR rules is that it will likely provide a large subsidy to those going to graduate school especially in certain disciplines. Take a look at the below example:
"(BusinessWeek) We have one example of someone who might look similar to an MBA student. He starts out with a starting salary of $90,000 and by the end of 20 years is making $243,360. Under the old IBR program, he'll have paid $409,445 by year 25 and be forgiven $23,892 of his loan balance. Under the new IBR repayment plan he'll pay less than half of that, or $202,299, and be forgiven $208,259 by year 20. The old IBR plan was punitive if you borrowed a lot of money, made you pay more over time and trapped you, so there were serious consequences to doing that. It was a downside and a pretty big risk, which is why you didn't see people borrowing without regard to how much it will cost. The new plan essentially eliminates any downside or risk for that type of behavior, and cuts payments in half and then some."
In other words, the government is all the more willing to write-off the debt for many that are likely to have the ability to pay for it. In the mean time, in the private student loan market we have for-profits gouging students and the figures for student debt simply continue to grow.
How much student debt do we have floating out in the market?
What is amazing is that a plan like this will simply encourage people to borrow as much as possible since there are little consequences in the end. Sort of like low down payment loans for housing. If you find yourself in trouble, you can simply walk away or how things are playing out today, the government is likely to help banks to modify away and drag out the foreclosure process. In the end the public ends up paying for all of this since it erodes the purchasing power of others via inflation.
Take a look at this:
"My advice to people who are about to enter graduate school or get an MBA would be to borrow as much money as they possibly can through the federal student loan program. They shouldn't use their own money, savings, or income to pay for it because the risks or the downside of this having real financial consequences for you, provided this program is in place, are almost zero. And to the extent that there are risks, they are well worth taking because the potential upside is pretty big on this."
Of course this is the kind of mindset that will come out of programs like this. Why not borrow $1 million if you will be capped at only paying 10 percent of your income? In the end this creates massive mispricing in the market. For example, if you are consuming $200,000 in graduate school education but paying hardly anything back, then of course this will encourage people to go into deep debt. Why not?
So it is no surprise that the amount of outstanding student loan debt has done this: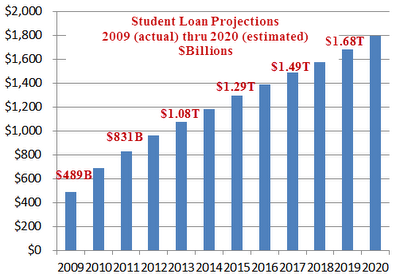 Source: Global Economic Analysis
At the current rate, student loan debt will hit $1.8 trillion in 2020. Does this seem feasible with all the other massive debt obligations we have as a nation?
How can it be in the last decade, the two largest bubbles have occurred in housing and higher education where banks, the Fed, and the government all worked together?
Ironically this program is called "Pay as you Earn" but in reality the end cost is going to be taken on by the rest of the nation. Why earn when you can simply go into massive debt?
http://www.mybudget360.com/income-based … #more-4566
Statistics: Posted by yoda — Sun Jan 20, 2013 12:34 am
---
View full post on
opinions.caduceusx.com
US median household income trap: Four decades of data and households struggling to keep up with inflation. Younger Americans face bigger income struggles.
Posted by mybudget360 in bailout, banks, debt, income
Household income growth in the US has largely been absent for well over a decade if we adjust for inflation. This is important because people truly care about what their money can purchase. What use is it getting a $1 raise if healthcare went up $2? What use is it that you are earning $1,000 more a year when sending your kids to college now costs $5,000 a year more? It is unfortunate so little attention is given to income growth when the available data is readily available. Part of the lack of coverage probably stems from the reality that the mainstream press is largely an advertising vehicle. Do not hold your breath for deep analysis and reporting from the press. Telling people how their inflation adjusted incomes are back to 1990s levels isn't going to encourage people to go out and buy that new car, fancy tech gadget, or go into heavy debt for that new home. Let us dive deep into the income data.
Where we stand with household income
The first chart we should look at is the median household income chart: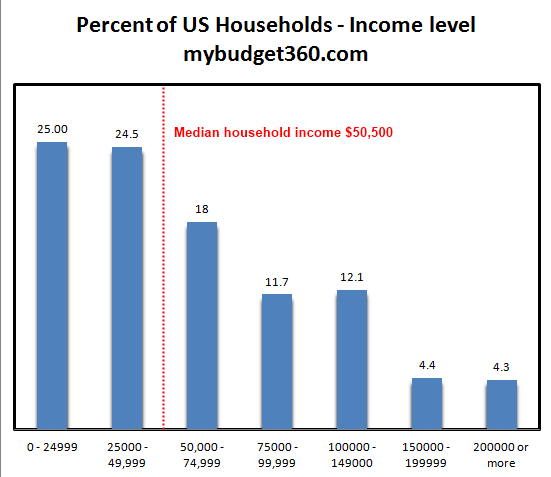 The median household income in the US is $50,500. The next chart we should look at is both nominal and inflation adjusted household income growth: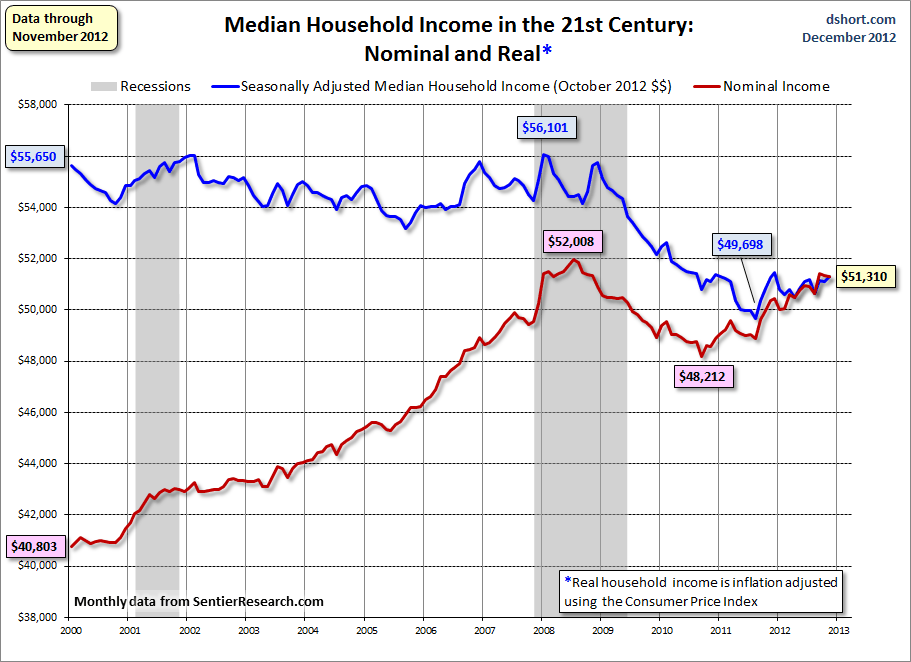 This is a very important chart. Adjusting for inflation, Americans are much poorer than they were in 2000. Nominal growth is only useful if it is increasing at a faster pace than inflation. From 2000, the CPI itself has increased over 30 percent. Even to keep pace with the CPI, the median household income today should be at roughly $55,000 (we are 10 percent below that). If we go further back, we will realize that household income would need to be much higher to account for decades of stagnant growth for most Americans.
It is problematic when household incomes are growing so slow. When examined on a longer term horizon, you will realize that only the top 10 percent have really seen real income growth over the last 40+ years: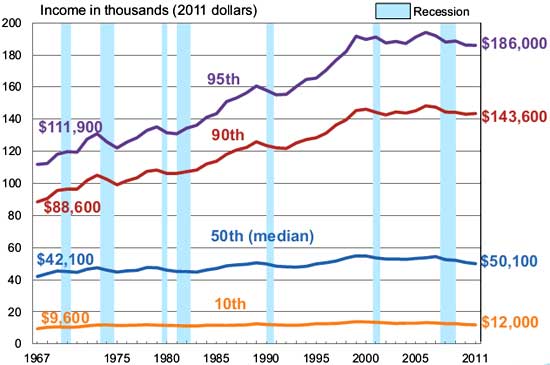 Think of how quickly the price of many items has increased for the last few decades:
-Healthcare
-College tuition
-Housing (home prices / rent)
-Food
We are also contenting with a large part of our population now receiving food stamps. Over 47 million Americans are now receiving food assistance. We have a growing number receiving Social Security as they enter retirement. A larger strain and burden is being placed on younger Americans to support these changes. Younger Americans are also carrying the heaviest burden with student debt and weaker employment prospects. Half of college graduates are underemployed or working at jobs that do not even require a college degree. Many can no longer support the debt they have taken on to pursue their education: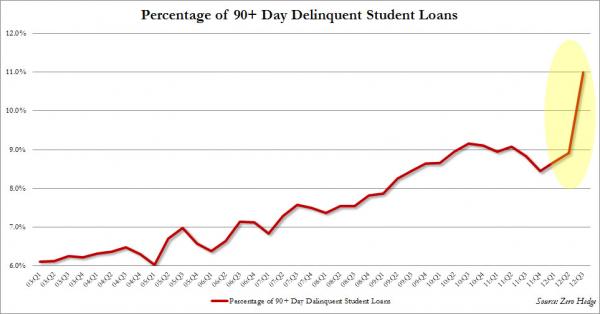 The number of student loans 90+ days late is now 11 percent of the entire pool of loans. This is incredibly high given that we now have more than $1 trillion in student debt outstanding.
Americans do not earn as much as some would think. The below is data from the latest Social Security data:
151,380,749 wage earners (had earnings in 2011)
50 percent of US wage earners made less than or equal to the median wage, estimate to be $26,965
66 percent of US wage earners made less than or equal to $41,211.36
The median wage in the US per person is $26,695. Since the recession hit, and for well over a decade, real income growth has severely contracted: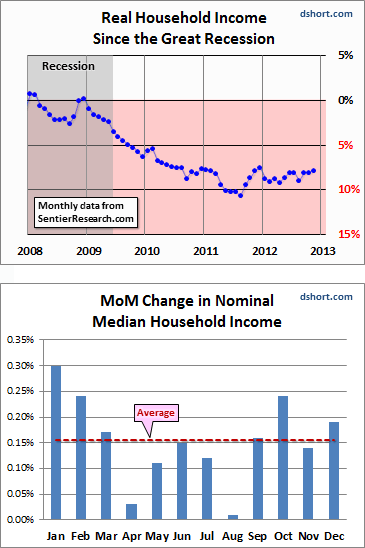 Those claiming that incomes are rising are clearly mistaken or have a vested interest in pushing out that agenda. Just because nominally something went up, does not mean people are better off. From what you can see above, even in a nominal perspective things are not healthy on the household income front.
http://www.mybudget360.com/us-median-ho … #more-4544
Statistics: Posted by yoda — Sun Jan 13, 2013 12:36 am
---
View full post on
opinions.caduceusx.com