My Dear Extended Family,
Tanzanian Royalty Exploration <info@tanzanianroyalty.com>
Why the Cluff deal is a Game Changer in the gold industry:
The scenario that gave comfort to hedge funds is the capital intensity of building a mine. That means all money in before profit out. The hedge funds believed by raiding the price of the shares of gold explorers and junior gold producers that they could strangle the company's ability to raise funds free of major dilution, if at all. Unable to raise funds, the company would not be able take a property to the level of Definitive Feasibility where it is financeable by various industry standard methods free of the issue of significant common shares.
Hedge funds that undertook short and distort did so feeling they had no risk because they had crippled the company's ability to finance. We are all familiar with the dirty tricks used, selling of good news and capping activities undertaken in order to keep the company from it historical financing methods.
Looking at the Cluff deal, the key elements to this game changer is the bypassing of the normal cash royalty company and raising significant money prior to Definitive Feasibility from a company not normally a financier of the mine development without dilution of any significant degree. Hedge funds beware! Your risk free game of destroying just got extremely risky, as gold begins its move to and above $3500 and non dilution financing is available, dependent on the property, before Definitive Feasibility, not the stock price. This is not a new way to structure a deal. It is the timing, size and source that distinguish it. Maybe Google might find this an interesting source for those billions in earnings?
Samsung is not your usual source of finance for the development of a mine.
Bakino Faso is ok, but not downtown Denver or Tokyo.
Cluff bypassed the normal lenders and financiers for minerals such as the gold royalty companies, international banks that specialize in mineral financing and quasi government lending institutions all that rarely will commit significant money to any project prior to a completed Definitive Feasibility Study and this is the KEY for your understanding.
Cluff vended a Gross Royalty Option limited in time to the financing entity as a small percentage of the gross gold sold as a sweetener to the cost of money.
Samsung has a return well above anything possible to find elsewhere with less risk than a junk bond inherently has.
This is bad news for the hedge funds who think they have killed good projects in developing nations by their short and distort tactic. This is bad news for the major royalty companies with projects in Africa, Cluff eliminated the normal route of cash producing royalty financing. This news is good news to those juniors with serious projects as they negotiated their own short term Gross Production Royalty agreement prior to having a Definitive Feasibility Study as a form of paying an attractive interest rate.
The key elements to this game changer is the bypassing of the normal cash royalty company and raising significant money prior to Definitive Feasibility from a company not normally a financier of the mine development without dilution of any significant degree. Hedge funds beware! Your risk free game of destroying just got extremely risky as gold begins its move to and above $3500 and non dilution financing is available dependent on the property, not the stock price.
The growing use of this method at that early time in a company's history reverses the fundamental weakness that Hedge Funds took advantage of in the capital intensive business of developing major new gold mines for exploration and development companies as well as junior producers.
The formula for your understanding:
Significant money.
Prior to Definitive Feasability.
For a junior producer.
From a cash rich company not usual to mine exploration & development financing.
Not in the form of the cash royalty company as a middle man.
Regards,
Jim
Statistics: Posted by DIGGER DAN — Wed Sep 19, 2012 10:36 pm
---
View full post on
opinions.caduceusx.com
The Investing Checklist….
30 JUNE 2012 BY CULLEN ROCHE
Here's a great investment checklist from Bob Seawright at Above the Market. Thanks for the great insights Bob!
Understand the "arithmetic of loss" (a 10% loss followed by a 10% gain does not get you back to even).
Correlation is not causation; consensus is not truth; and what is conventional is rarely wisdom.
High fees are a major drag on returns; tax advantages and consequences matter a lot too.
All other things being equal, ETFs are better than mutual funds.
Complex instruments, reaching for yield and illiquidity are usually more dangerous than they appear.
Asset allocation is more important than the product selection of a portfolio's component parts.
Since passive management beats active management most of the time, it is the appropriate default.
Be clear about and cognizant of what Barry Ritholtz calls the "long cycle" – secular and cyclical markets.
Our psychological make-up and the behavioral biases and cognitive impairments caused thereby conspire against our investment success and even when we recognize these problems generally, we typically miss them in ourselves ("We have met the enemy and he is us" – Pogo).
Forgetting that nobody is close to objective and that nearly everyone wants a piece of the action will cost you a lot of money.
An otherwise great investment plan can readily become a disaster is it doesn't line up with our understanding, goals, objectives and risk tolerances.
Risk is a complex and multi-faceted thing – it's much more than just volatility.
Manage risks before managing returns.
Never lose sight of the facts that investing is both probabilistic and mean-reverting.
Saving, trading and investing are very different things.
We always know less than we think we know; thus forecasts are rarely even close to accurate.
When making a trading decision, measure twice, cut once.
It's very dangerous to fight the Fed and/or the government.
When reading financial or investment papers, the best stuff is usually in the footnotes.
When you have reached your goal, stop playing.
"For the simplicity on this side of complexity, I wouldn't give you a fig. But for the simplicity on the other side of complexity, for that I would give you anything I have" (Oliver Wendell Holmes, Sr.).
Data should always trump opinion and ideology.
It is little consolation to lose less money than others or less than one's benchmark.
History doesn't repeat, but it does rhyme.
Save as much as you can as early as you can.
Always have a contingency plan.
Create and implement a written investment policy statement; review it often but alter it rarely and only for very good, data-driven reasons or due to a change in personal circumstances and after very careful consideration.
When the cost of a negative outcome is greater than you can bear, don't do it (or get out), no matter how great the odds of success appear.
"This time is different" Is almost never true, especially in investing.
Re-balance regularly.
http://pragcap.com/the-investing-checklist
Statistics: Posted by yoda — Sat Jun 30, 2012 2:19 pm
---
View full post on
opinions.caduceusx.com
Some Thoughts on Investing in the "Bottom" in Housing
June 26, 2012
Investor buying has helped put a floor under the housing market. The rental housing market is currently robust, but that is dependent on a highly artificial economy supported by unprecedented government stimulus and transfers.
In my previous entry on housing's presumptive "bottom," ( The Housing Recovery: Based on What? June 20, 2012), I showed that the conventional foundations of the housing market were impaired: demand was weakened by demographics and declining income/employment, and supply was still well above the organic growth of new household formation.
The housing "Bulls" who think the millions of young people living in basements can afford to buy a house despite having high student debt, little job security and declining incomes are either delusional or they are studiously ignoring the causal relation between buying a house and qualifying for a conventional mortgage, i.e. the financial factors of current debt loads, income, the need for a down payment, etc.
The majority of wage earners have seen real incomes decline and most households have high debt levels.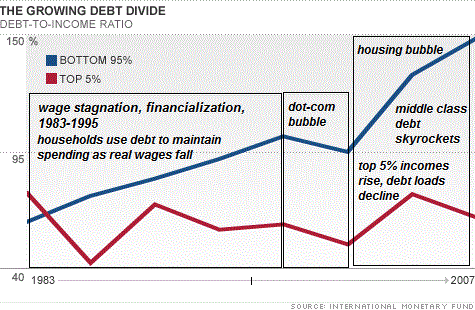 Not buying a house is a choice for a relatively few who qualify but who choose to rent. The vast majority of people who do qualify to own a home by conventional standards already own a home (65% of all households). Those who don't own generally do not qualify due to insufficient income, heavy debt loads, poor credit, etc.
There are two significant pools of buyers, however, who have become very active in the U.S. and Canadian real estate markets: domestic and overseas investors. Their buying has soaked up quite a bit of inventory–up to 40% of all home purchases in some areas have been all cash, a transaction that typifies investor buying rather than young people moving out of basements.
Each pool of investors is motivated by different forces. Domestically, the Federal Reserve's ZIRP (zero-interest rate policy) has turned cash into trash, and investors desperate for a return above 2% without the risks of the stock market casino have flooded into the rental housing market.
In California, roughly 30% of all house purchases have been for cash (investors). Some may be planning to improve and then "flip" the house as the market improves (the housing bubble redux strategy), while others are assembling a portfolio of rental properties.
I recently came across a local real estate listing in a desirable Bay Area (Northern California) location (near a University of California campus) for a multi-unit rental building: $4.9 million for 40 units, with a net of all expenses of $150,000 (not counting depreciation or tax benefits). That's a 3% return on a cash purchase, but the real yield is much higher if the buy is made with a 35% cash down payment and 65% mortgage. Regardless of the financing, the yield instantly doubles with depreciation and basic tax benefits, and could even be higher in some circumstances.
The higher yield and relatively low risk of owning rentals in a high-demand area make real estate more attractive than other investments such as 10-year bonds or dividends. As a bonus, if housing does recover, there is the potential for a capital gain.
The appeal of rental housing is understandable, and it has long been a favored investment for households (as opposed to institutional investors). According to a March 1996 report from the Census Bureau (I couldn't locate any more recent data), 92% of the nation's rental housing was owned by individual investors. In other words, owning rental property has long been a localized "Mom and Pop" enterprise.
Here is a Quick Fact Sheet on rentals in the U.S. from the National Multi-Housing Council (NMHC). According to this data, there are about 40 million households in rental housing and 78 million households in owner-occupied housing.
Owning rental property as an investment is not like owning a bond or stock or gold. Housing is a "real-world" investment that irrevocably decays with time. Heaters fail in the dead of winter, the roof eventually needs to be replaced, the yard must be maintained, and rapacious local governments generally view property owners as tax donkeys who they can load with ever-higher property taxes unless they are restrained by Prop 13-type limits.
Rental housing is also a "people business:" some tenants might disturb other tenants, others might not pay the rent, and so on. A renter is a customer, though newly minted landlords often seem to regard the tenant as an ATM machine whose only function in life is paying the rent.
The point here is the higher yield promised by rental property must be earned. Those with no experience in rental housing will learn this the hard way. All the rosy projections of steady profits vanish if vacancies rise above a very low level.
The price of rentals, like almost everything, is set on the margins. If the inventory of rentals rises above demand, then prices will eventually decline. In areas with limited inventory and strong demand (Manhattan, San Francisco, etc.), rents are generally high and the rental properties fetch a premium.
In areas without such geographical constraints, the market for rentals might not be so favorable.
In other words, it's quite possible to lose money buying and managing rental housing. There is nothing guaranteed about the return, as there are so many inputs and variables. It can be a profitable business, but that is not guaranteed.
In this chart, we can see the decline in rental income as marginal buyers became homeowners in the housing bubble, and the subsequent rise in rental income as former homeowners returned to the rental housing market.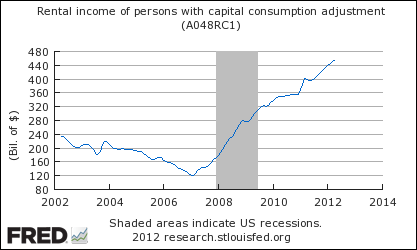 But this rise in rental income occurred in an era that has been distorted by unprecedented Federal transfer payments, stimulus, etc., and unprecedented intervention in capital and credit markets by the Federal Reserve. The total sum of "extra money" borrowed (or printed) and injected into the economy exceeds $8 trillion, and this does not count banking-sector backstops and guarantees. The U.S. economy was not allowed to experience a "burn the deadwood and rejuvenate the forest" recession, and demand for housing, owner-occupied and rental alike, has been artificially supported by near-zero interest rates, enormous deficit spending and transfer payments.
We can see some of the consequences of borrowing and spending $1.5 trillion a year in these charts. The first chart is employee compensation, wages and salaries. It has recovered smartly from its shallow recessionary trough and has risen above 2007 levels.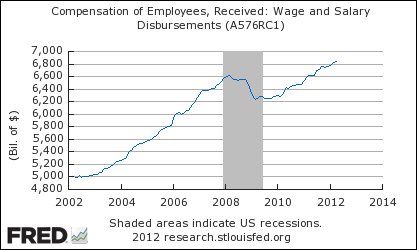 One would hope that borrowing and spending trillions of dollars would support employment, but the question raised here is whether the stimulus required to keep employment aloft is sustainable.
Here is a chart of personal transfers, cash transferred by the government to individuals. This has risen by $1 trillion a year in a decade, and roughly $400 billion since late 2007.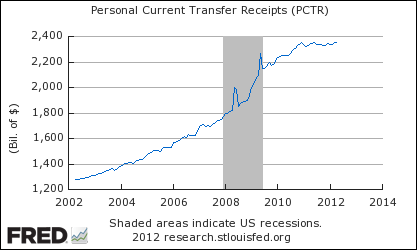 If we subtract transfer payments from real personal income, we get a more realistic snapshot of the household economy: minus government transfers, personal income is still about $400 billion below its pre-cression peak.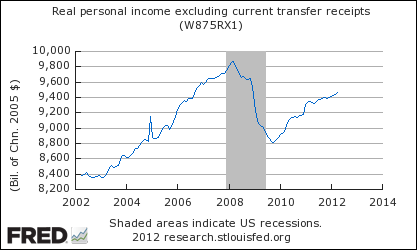 Thus the rental housing market has yet to experience a "real recession." When it does, household formation may well decline or even go negative and rents may well decline as demand falls and supply of rentals rises as millions of previously owner-occupied units go on the market as rentals.
There are a number of potential (but by no means guaranteed) secondary forces that may influence rents and the value of rental property.
1. Some new landlords may realize the business isn't as easy as expected. Some may decide to cut their losses by dumping their property back on the market.
2. Investors who planned to improve and "flip" the unit may find they can't unload the property, and so they become reluctant (and thus very possibly incompetent) landlords.
3. A peculiar feedback loop may arise as the rental market is flooded with new investor-owned inventory. Rents start declining as landlords tire of vacancy-created losses, and that pushes the value of all homes in the area down, owner-occupied and rentals alike.
4. The trend to "double up" and rent out rooms could go mainstream. These "informal" rentals are already standard practice in high-rent areas such as those found around large universities and geographically constrained markets. For example, it is not unusual for four co-eds to share a 2-bedroom apartment.
Outside these high-demand markets, people who lose their job or see their hours cut to the point they cannot afford their own apartment will move in with family or friends. Anecdotally, I have heard of Mom clearing out the dining room for a returning son and his family.
There are roughly 19 million vacant dwellings in the U.S., of which around 4 million are second homes and a million or two are on the market. Let's stipulate that several million more are in areas with very low demand (i.e. few want to live there year-round). Let's also stipulate that several million more are in the "shadow inventory" of homes that are neither on the market nor even officially in the foreclosure pipeline, i.e. zombie homes.
Even if you account for 9 million of these homes, that still leaves 10 million vacant dwellings in the U.S. which could be occupied. That means 1 in 12 of all dwellings are vacant. Even if you discount this by half, that still leaves 5 million vacant dwellings that could be occupied. Given that the total rental market is 40 million households, that constitutes a very large inventory of supply that remains untapped.
Lastly, it is important to note that the ratio of residents to dwellings is rather low in the U.S., with millions of single-person households and large homes occupied by one or two people. The potential pool of existing homeowners who could enter the "informal" rental market by offering bedrooms, basements and even enclosed garages for rent is extremely large, and that is a difficult-to-count "shadow" inventory of potential rentals.
All of these forces will play out differently in each neighborhood, town and city, depending on the inventory of rentals, the geographical constraints, the employment picture and a host of other factors. The key point here is that the rental market's current robustness is at least partially dependent on unprecedented government stimulus/transfers. The current strength may be temporary rather than permanent.
The second take-away is that demand could weaken considerably in a "real recession" even as supply increases due to millions of investor-owned properties hitting the rental market and the "informal rental" market expanding as people with mostly empty houses seek additional income or accept relatives/friends with a need for shelter.
http://www.oftwominds.com/blog.html
Statistics: Posted by yoda — Tue Jun 26, 2012 12:22 am
---
View full post on
opinions.caduceusx.com
Rick Rule: We're Entering A Great Era For Resource Investing
http://www.chrismartenson.com/blog/rick … sletter_48
Recently, we crossed the seven billion threshold for humans on the planet. Most of these people are desperately trying to get up the living standard curve. And that requires resources.
Simple math tells us there is going to be increasing competition for a steadily dwindling — in both quantity and quality — global pool of high-grade resources. This 'scramble for stuff' is going to be one of the key defining trends of this century. And while it will have game-changing repercussions across societies, economies, and geopolitics — we are at a moment in time where tremendous upside awaits investors who recognize today the true future value of key resources and secure meaningful exposure to them.
Rick Rule has made a successful and storied career as a resource investor, and has rarely seen as attractive an alignment for the space as he does today. What is there to be so optimistic about?
1. We are going to face an awful lot of volatility. And I should start by saying that volatility can be good news for you if you are prepared for it. It gives you frequent sales. Why the volatility? In the first instance, there are seven or eight trillion dollars sitting on the sidelines just in the United States looking to be invested. That has some upward bias.
2. We are in a secular bull market in 'stuff'. The bottom of the [global] demographic pyramid as it gets richer, and it is getting a bit richer, uses a lot more stuff than the top of the pyramid. So per capita consumption of stuff is growing, spread over lots and lots and lots of capitas.
3. Resource stocks have not kept pace with commodity prices. So resource stocks for the first time in several years are attractively priced.
4. The senior resource companies, including the mining companies that have been real under-performers for the last decade, are starting to make an awful lot of money. And one of the themes I think that you are going to see in the resource space is mergers and acquisitions.
Of course, there is plenty of bad news to offset the good here, and Rick warns that as attractive as prices may be here for many resource-based companies, they could easily go lower in the short term before powering higher to their true valuations.
The bad news is also pretty straightforward. It appears to me like we are headed towards a liquidity or credit crisis, as a consequence of the fact that the political will does not exist, to cause the citizenry of western nations to live within their means, and because the banking system as we know it is bankrupt. An example would be Germany; the lender of last resort for the European economic community had a failed bond auction. If the lender of last resort cannot lend, you have a fairly interesting set of circumstances. Of course, they did find another lender of last resort, and that is us. And the market has not seemed to figure out that we are in some danger of going broke ourselves.
I am completely conversant with the fact that resource stocks could get cheaper before they get expensive. [A good mathematician] knows that you have a mean line and a median line, because things do not revert to mean or median, they revert through the line. And the fact that stuff is gotten cheap probably means it gets cheaper. But the nature of investing in natural resources is investing on a net present value basis, and the stuff is cheap. We do not see it cheap very often.
So the key here is performing good-old fundamental analysis to find the undervalued opportunities, buying in, and then letting time work in your favor.
As for the resource sectors that interest Rick the most?
I am interested across the barrel, but I think I am particularly interested in sub five hundred million market cap resource plays in the western Canadian sedimentary basin, Canadian listed companies with repeatable resource plays in oil.
I am also very, very, very attracted to the uranium space. As a consequence of the events in Japan, the uranium space got cut in half, but uranium consumption has not budged. So I like the risk to reward checks to position in uranium.
What really has me excited right now, however, is that for the second time in the last ten years, the smaller gold stocks are attractively priced relative to the gold price. You know Chris, I found myself in the embarrassing position in 2010 to be a fairly well known gold stockbroker that did not have any gold stock recommendations. As a consequence of the fact that the gold stocks were assuming very, very, very high gold prices, but were not putting on very good corporate performances. We have seen the situation now where the bullion price has continued to go up, but the share prices of the stocks have gotten absolutely creamed. So what is probably most attractive to me of all are the shares of the pre-feasibility stage junior companies, and some of the smaller producers that have large organic development pipelines. We think that they are absolutely cheap, and that is something that does not happen very often.
Click the play button below to listen to Chris' interview with Rick Rule (runtime 32m:58s):
http://www.chrismartenson.com/blog/rick … sletter_48
Statistics: Posted by DIGGER DAN — Mon Dec 12, 2011 1:07 am
---
View full post on
opinions.caduceusx.com