Living by the Numbers: Big Data Knows What Your Future Holds
By Martin U. Müller, Marcel Rosenbach and Thomas Schulz
DPA/ Google
Forget Big Brother. Companies and countries are discovering that algorithms programmed to scour vast quantities of data can be much more powerful. They can predict your next purchase, forecast car thefts and maybe even help cure cancer. But there is a down side.
On balmy spring evenings, Hamburg's Köhlbrand Bridge offers an idyllic postcard view of the city's harbor. The Elbe River shimmers in the reddish glow of sunset, forklifts, cranes and trucks seem to move in slow motion, and occasionally a container ship glides by. But from the standpoint of Sebastian Saxe, the area is primarily an equation with many variables. For the past four-and-a-half years, the 57-year-old mathematician has been working on his trickiest computing task yet at the behest of the company that manages the Hamburg port.
ANZEIGE
The port covers an area of 7,200 hectares (about 28 square miles). Roughly 200 trains a day traverse its 300-kilometer (186-mile) network of rails and its 130 bridges to transport goods that have arrived by ship. Saxe, as chief information officer of the Hamburg Port Authority (HPA), faces the enormous task of optimizing this logistical nightmare.
The amount of land is finite, and further expansion is not possible. Nevertheless, the Hamburg Senate has announced its goal of almost tripling container transshipment volumes in the city by 2025. This will only work if Saxe and his 60-member IT team manage to optimally exploit another resource: data. He certainly has plenty of it.
The port is already filled with sensors today. Trucks and freight trains are constantly transmitting their positions while incoming container ships report their location and speed. Sensors that constantly monitor port traffic are built into the Köhlbrand Bridge.
"Our goal is a totally interconnected, intelligent port, a Smart-port," says Saxe. He envisions a port in which, for example, a railroad drawbridge would no longer open at specific times, but rather just before a ship actually reaches it. This eliminates unnecessary delays for the railroad and at the terminal. Even the Köhlbrand Bridge would become "intelligent," in that it would report its current condition and predict future maintenance needs, all through the use of sensors. The frequency of scheduled maintenance dates was recently increased because significantly larger numbers of heavy trucks were crossing the bridge than had been planned for. This was of interest to Saxe and the HPA, but also to police and the customs agency, because some of the trucks were carrying illegal loads.
Rediscovering Data
In the end, the complex harbor logistics will create a machine that controls itself. Saxe's vision of the future is a sort of port exchange, allowing shipping companies to predict, down to the minute, how quickly their containers will be moved from the water to the road.
Many other companies worldwide are in the same position as the HPA. They are rediscovering a raw material that they, their facilities and their customers produce in excess every day: data.
The expression "Big Brother" has become dated. Experts would seem to have reached consensus on the term "Big Data" to describe the new favorite topic of discussion in boardrooms, at conventions like Berlin's re:publica last week, and in a number of new books. Big Data promises both total control and the logical management of our future in all aspects of life. Authors like Oxford Professor Victor Mayer-Schönberger are calling it a "revolution." According to Mayer-Schönberger, Big Data, which is also the title of his current book on the subject, will change our working environment and even the way we think.
The most important factor is not the sheer volume of data, even though it is currently growing faster than ever. An estimated 2.8 zettabytes of data were created in 2012. One zettabyte is 1,000,000,000,000,000,000 kilobytes. Experts predict that the volume of new data could increase to 40 zettabytes by 2020. It would take about 250 million DVDs to store the amount of data being transmitted on the Internet in a single day. This volume doubles about once every two years.
New is the way companies, government agencies and scientists are now beginning to interpret and analyze their data resources. Because storage space costs almost nothing nowadays, computers, which are getting faster and faster, can link and correlate a wide variety of data around the clock. Algorithms are what create order from this chaos. They dig through, discovering previously unknown patterns and promptly revealing new relationships, insights and business models.
Though the term Big Data means very little to most people, the power of algorithms is already everywhere. Credit card companies can quickly recognize unusual usage patterns, and hence automatically warn cardholders when large sums are suddenly being charged to their cards in places where they have never been. Energy companies use weather data analyses to pinpoint the ideal locations for wind turbines down to the last meter. According to official figures, since the Swedish capital Stockholm began using algorithms to manage traffic, drive times through the city's downtown area have been cut in half and emissions reduced by 10 percent. Online merchants have recently started using the analyses to optimize their selling strategies. The widespread phrase "Customers who bought this item also bought …" is only one example of the approach.
Turning Data into Dollars
Google and Facebook are pure, unadulterated Big Data. Their business models are based on collecting, analyzing and marketing information about their users, through advertising tailored as closely as possible to the individual. This gigantic database and the notion of what can be done with more than a billion individual profiles in the age of Big Data was worth at least $100 billion (€78 billion) to Facebook investors.
The prospect of turning their treasure troves of data into dollars is now fueling the fantasies of businesses in many industries, from supermarkets to the automobile industry, and from aviation to banks and insurance companies. According to figures published by industry association Bitkom, global sales related to Big Data applications amounted to €4.6 billion in 2012. That number is expected to increase to about €16 billion by 2016.
Countless Big Data applications are also being tested in medicine and science. Even the public sector, especially police departments and security agencies, not always the most progressive when it comes to IT, have recognized the potential benefits in their fields.
What captivates so many people is the promise of gazing into the future, thanks to the lightning speed at which massive amounts of data can be analyzed. In fact, algorithms allow for astonishingly precise predictions of human behavior, be it in front of supermarket shelves, in traffic or when it comes to credit-card payment patterns.
In 2010, Google predicted a wave of flu outbreaks on the basis of user searches. American data specialist Nate Silver predicted the outcome of the last US presidential election well in advance and more precisely than all demographers.
'The End of Chance'
Some cities even predict the probability of crimes in certain neighborhoods. The method, known as "predictive policing," seems like something straight out of a Hollywood film, and in fact it is. In Steven Spielberg's "Minority Report," perpetrators were arrested for crimes they hadn't even committed yet.
Finding the presumed delinquents also doesn't seem to present a problem. Scientists have figured out that, with the help of our mobile phone geolocation and address book data, they can predict with some certainty where we will be tomorrow or at a certain time a year from now.
The increasing accuracy of such forecasts have led American tech guru Chris Anderson to proclaim that we are arriving at the "end of theory." Austrian media executive Rudi Klausnitzer, who has just written a book on the subject called "Das Ende des Zufalls" ("The End of Chance"), has reached a similar conclusion.
It is a prospect that is not altogether appealing to some. But many already rely on the prognostic ability of soulless algorithms in the most intimate spheres of life. The extensive questionnaires used by online dating agencies are fed into algorithms designed to increase the probability of finding a compatible partner.
A gold rush of sorts is taking shape in companies, research laboratories and some government agencies. In many places, the mantra of data is extolled as the new "oil" or "gold" of the 21st century. Some people are already benefiting financially: statisticians, physicists and so-called data scientists or data miners, who advise companies on Big Data applications. As with the classic American gold rush in the 19th century, most of the money is being made by those who sell equipment, tools and expertise, Big Data specialists like Blue Yonder, a company with 85 employees.
cont
http://www.spiegel.de/international/bus … 99964.html
Statistics: Posted by yoda — Sun May 19, 2013 4:39 pm
---
View full post on
opinions.caduceusx.com
Does inflation matter? The real cost of living for middle class Americans. Fed on path to growing balance sheet to $4 trillion.
Posted by mybudget360 in banks, debt, economy, inflation
Does inflation matter? If you ask this question to the Fed, it appears like it doesn't. The Fed is doing everything it can to stoke the fires of inflation. Instead, what it is doing is causing further asset bubbles and misallocation of capital in markets. For most people the cost of living is becoming more expensive. Tuition costs are soaring, healthcare is extremely expensive, energy costs have reached a new level, and incomes are stalled. It is hard to see how inflation is a good thing when incomes get stuck but it is also part of the plan. The psychology of inflation is excellent for a consumer driven economy. If you think prices are going to go up tomorrow, you are more likely to spend today. Falling prices cause consumers to hoard. So the Fed is trying to manufacture more spending but this only works if underlying household incomes move up as well. Inflation for most, does matter.
Inflation back in business
The overall rate of inflation is picking up: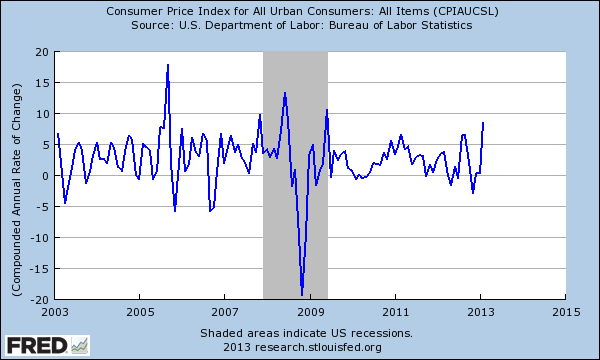 Of course when incomes are stalled, even a modest bit of inflation is going to cause pain. Think of all the items that you pay for in your life. Things have certainly gone up in price yet some people may not notice it because the financing has simply made it longer. How so? For example, you can pay $100,000 in student debt over many decades. Yet the price tag is still $100,000 and many times higher once you factor in the cost of interest.
The Fed continues to offer near zero percent rates to member banks and speculation is now prevalent throughout the financial system again.
Fed balance sheet will hit $4 trillion
The Fed's balance sheet continues to expand: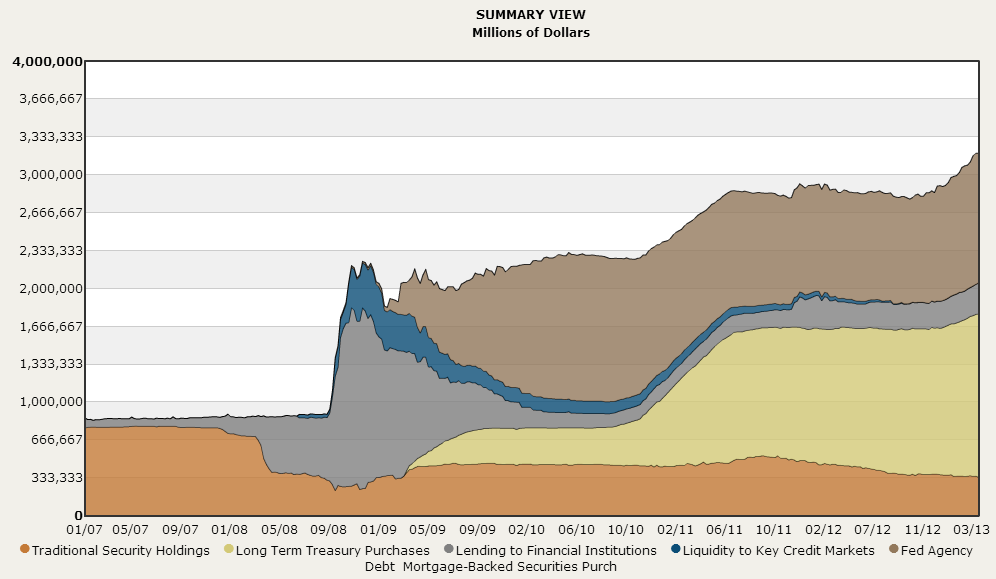 The Fed balance sheet is now over $3.3 trillion. At the current rate, it will get very close to $4 trillion within a year. A big driving force is the $85 billion a month of mortgage backed securities it is purchasing to keep the housing market afloat:
Back in 2008, the Fed did not have any Agency MBS on its books. Today it has well over $1 trillion. The Fed also recently discussed the challenges of winding down this massive trade in the market. The Fed is driving the housing market by keeping rates low but also, assuming MBS onto its balance sheet. This is creating severe distortions in the housing market once again.
Japan is a demonstration of what happens when quantitative easing is taken to the next level. Recently, Japan has jumped into the financial markets to boosts its ailing economy. It is hard to see how this adds any benefit to the real economy aside from short-term bursts.
Rising healthcare
Many baby boomers are now facing growing healthcare bills while having very little saved: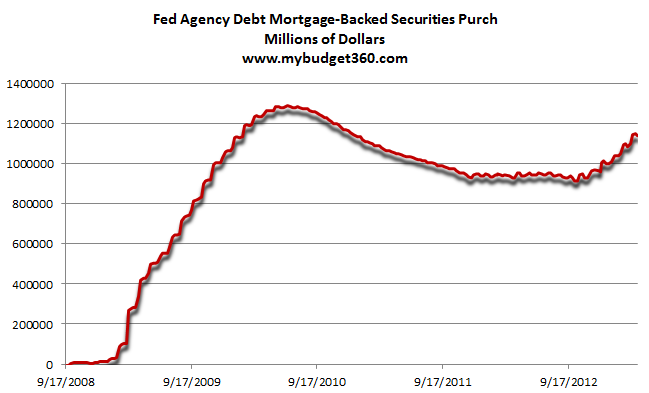 You can see how quickly inflation is hitting some areas like nursing home care. Ultimately, many items that many Americans need to access have far outpaced any real wage growth. The end result is the standard of living for most Americans continues to diminish. Does inflation matter? Only if you live in the real economy and only if you care about the shrinking middle class.
http://www.mybudget360.com/does-inflati … dle-class/
Statistics: Posted by yoda — Sun Apr 14, 2013 2:11 pm
---
View full post on
opinions.caduceusx.com
2013 a year of living dangerously says ArabianMoney investment newsletter
Posted on 31 December 2012 with no comments from readers
2013 is not going to be a good year for most asset classes but there will still be a few standout winners, according to the January edition of the ArabianMoney investment newsletter out today (subscribe here).
The newsletter is the companion of this website and lists the actual investment tips and financial instruments that we are unable to offer for free on this website. Subscribers also get our full thoughts on the bigger picture ahead of the general readers.
Living dangerously
Fraught with big picture problems and dilemmas, 2013 is going to be a year of living dangerously for investors. Only those in the right asset classes and the right investments within those asset classes will shine in what will probably be a down year for global equities, bonds and real estate.
ArabianMoney thinks money printing will continue and accelerate in 2013 as the only policy response available to global central banks as the pressures mount on their economies from the ongoing worldwide debt deleveraging process. Debt reduction is deflationary whereas money printing is inflationary.
In theory the two should cancel each other out but in economics such neat prescriptions seldom work in reality. More likely some asset classes will boom as a protection against inflation while others will falter and find debts a bigger and bigger burden.
You want to be positioned in precious metals and oil-related assets to benefit from this dynamic as even the once ultra-safe haven of government bonds starts to come under pressure from the weight of debt. Equities will struggle to maintain profits as input costs rise. Highly-geared real estate will implode as interest rates pick up.
1970s paradigm
During 2012 we published a number of articles referring back to the late 1970s as a paradigm for what is happening now. History never repeats exactly but it does rhyme. The 1970s were also a time of money printing, real estate busts, stock market crashes and high inflation and unemployment.
The last two factors are obscurred today but still very evident. US unemployment seems stable until you look at the doubling of the number of people on food stamps to 47 million since the global financial crisis, a true measure of the idle poor. Likewise inflation is all around us but not in the official statistics.
Investors who position themselves for the next stages of this big picture will be winners but there are going to be far more losers. Don't be one of them!
http://www.arabianmoney.net/gold-silver … ewsletter/
Statistics: Posted by yoda — Mon Dec 31, 2012 12:05 am
---
View full post on
opinions.caduceusx.com
Standard of living, meet falling US dollar – how a falling US dollar benefits banks at the expense of working Americans.
There is certainly a cost to a falling US dollar. Many Americans are living the consequences of this multi-decade long trend. The Federal Reserve has only added fuel to this trend but many families are now realizing that there does come a cost to unrelenting debt based solutions to fiscal problems. Shopping at the local grocery store I've noticed that some items have doubled in the last few years. Fueling up is also more expensive. The issue with living on a low dollar policy is that eventually, you end up in a low wage capitalist system. The easy money slowly inflates away especially on global items. We are seeing this in the US in various arenas especially with higher education. The end result is that the standard of living for the vast majority of Americans has fallen dramatically in the last few decades.
US dollar trend
The US dollar has been on a multi-decade long trend that has resulted in a 50 percent haircut: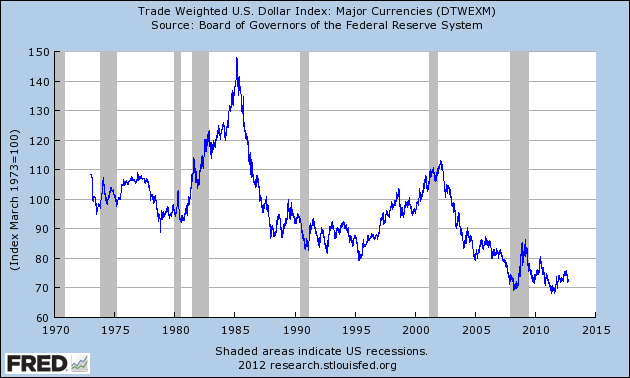 Think about what this has done in a more practical sense:
-Energy is more expensive because it is traded on a global market (you are trying to compete with others with a declining currency)
-Education. Massive debt has devalued the dollars even further. Very few families can actually afford to pay the sticker price of tuition and need to go into debt just to finance college. Most of the middle class jobs are now in fields that require degrees since the jobs are not growing in manufacturing (that is, making actual things):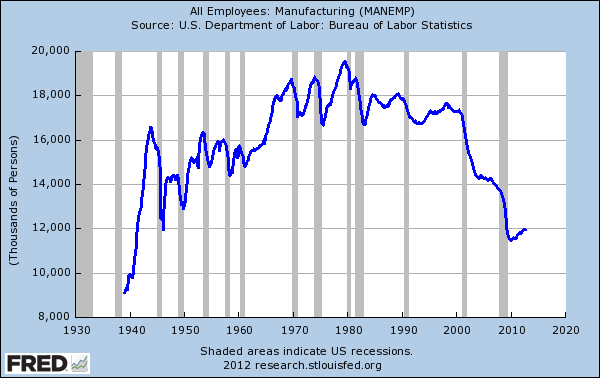 -Food gets more expensive since you are also competing globally here. Take a look at your grocery bill and compare it to your bill from 10 years ago. This stands in stark contrast to household income that has been stagnant for over a decade.
We rarely hear about the massive decline in the US dollar in the mainstream press. This is not likely to come up in any of the campaigns because the Fed and government realize they need to inflate our debt away. Who in their right mind thinks we are ever going to pay off that growing $16 trillion debt? The middle class in the US is a shrinking group. We now have over 46 million Americans on food stamps, a record percentage. We also have a growing number of Americans that do not participate in the labor force: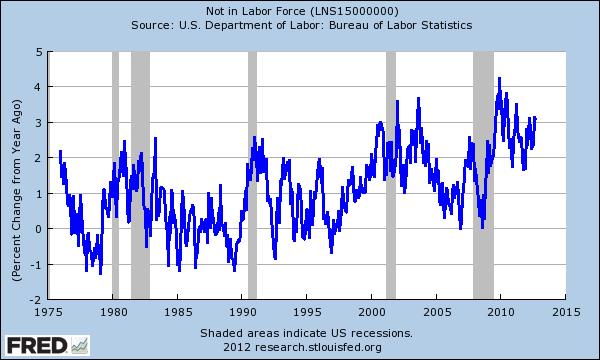 This is a very important chart to understand. The rate at which people are entering the "not in the labor force" category is growing at record speeds given our demographics. From 1975 to 2000 not once did we touch an annualized 3 percent rate. That was reached. Then when the debt bubble burst, we actually reached a stunning 4 percent annualized rate. Things are dramatically shifting and given that many older Americans rely on Social Security, that declining standard of living is felt even more deeply.
Another outcome of a falling dollar is rising commodity prices. Ultimately you are competing on a global market with a currency that is worth less relative to other currencies. If the Fed with their banking allies and the government are willing to go into massive debt, at what point do other people stop lending? We already see this with our internal mortgage market. The Fed is basically the mortgage market now because no one in their right mind would lend out money for 30 years at these current rates. With this kind of action however you crowd out other investors and hot money flows to largely unproductive sectors. Just look at China and their millions of empty apartments.
Outrageous tuition, increasingly expensive food, energy costs, and stagnant wages are all part of the standard of living compression brought on by these actions. That is great that you are saving $200 bucks a month on your mortgage (behind the scenes the bank can offload these inflated assets and the American public slowly forgets about the biggest financial crisis perpetrated on the nation since the Great Depression). It is going to cost you $50,000 per year to send your kid to a good private college so hopefully that $200 saved per month is going to help. In the end the falling dollar is merely a way to inflate our way out of our massive debt and bailout the banking sector. Most Americans as based by their net worth are not doing financially better.
http://www.mybudget360.com/us-standard- … -benefits/
Statistics: Posted by yoda — Fri Oct 12, 2012 1:27 pm
---
View full post on
opinions.caduceusx.com
Ruth Davidson, the Scottish Conservative leader, is to highlight official figures showing that only 283,080 households north of the border – 12 per cent of the total – pay more in tax than they receive in public services.
She will tell delegates that, because the public sector is seen as the key provider of everything from housing to employment, state spending now accounts for more than half Scotland's wealth.
She will blame Alex Salmond, the SNP First Minister, and his Labour predecessors for nurturing a "corrosive sense of entitlement" among voters that has prevented her party making a comeback in Scotland.
Miss Davidson will argue this Left-wing "stranglehold" suits Labour and the SNP but has made it difficult for the Tories as so many voters are reliant on the public sector for their household income.
But the Nationalists described it as her "Mitt Romney moment", in a reference to the Republican presidential candidate's comments that 47 per cent of Americans pay no income tax and are dependent on the state.
According to the most recent figures, Scotland contributed 9.6 per cent of Britain's tax take and accounted for 9.3 per cent of public spending.
Her strongly worded attack on state patronage follows David Cameron's warning to the Scottish Tories last autumn that they had no excuse for their dismal election performances.
But Miss Davidson will tell the conference that Scotland's "staggering" and "frightening" reliance on the public sector must be taken into account.
"The rotten system of patronage, which denies so many people real choices in their lives, has created a corrosive sense of entitlement which suits its political gang masters," she will say. "Only 12 per cent are responsible for generating Scotland's wealth. I wonder how many of them work on public sector contracts."
Referring to her party's dismal election record, the Scottish Conservative leader will conclude: "If the gang master state is the only provider people can see for their housing, education and employment, it's no surprise those who seek to break the stranglehold find barriers in their way."
Anyone who challenges the status quo is deemed an "enemy of the state", she will argue, before claiming this is the real reason some political commentators have written off the Scottish Tories.
She will argue that Labour and the SNP still blame her party for problems that are their responsibility, pointing out that the former has been in control of some of Glasgow's most deprived areas for decades.
Miss Davidson supported her claims by publishing figures from the Office for National Statistics, which showed the average Scottish household consumes £14,151 more in public services every year than it pays in tax.
Even the families in the middle income groups consume around £20,000 more in state spending than they contribute.
However, those in the top 10 per cent pay £17,205 more in tax than they receive in public services.
Kenny Gibson, a Nationalist MSP, described it as Miss Davidson's "Mitt Romney moment". He added: "At least Mitt Romney only insulted around half of Americans, while Ruth Davidson believes almost 90 per cent of Scots do not 'contribute' to society."
Miss Davidson will also tell English party colleagues that their support is required if the Unionist campaign is to win a decisive victory in the referendum on independence, something she will argue is necessary if the separatists are not to try to hold another vote soon.
http://www.telegraph.co.uk/news/uknews/ … onage.html
Statistics: Posted by yoda — Sun Oct 07, 2012 8:40 pm
---
View full post on
opinions.caduceusx.com
The mainstream media is hailing QE3 as a great victory for the U.S. economy.  On nearly every news broadcast, the "talking heads" are declaring that Ben Bernanke's decision to pump 40 billion dollars a month into our financial system is definitely going to help solve our economic problems.  The money for QE3 is being created out of thin air and this round of quantitative easing is going to be "open-ended" which means that the Federal Reserve is going to keep doing it for as long as they feel like it.  But is this really good for the average American on the street?  No way.  Despite two previous rounds of quantitative easing, median household income has still fallen for four years in a row, the employment rate has not bounced back since the end of the last recession, and new home sales have remained near record lows.  So what have the previous rounds of quantitative easing accomplished?  Well, they have driven up the prices of financial assets.  Those that own stocks have done very well the past couple of years.  So who owns stocks?  The wealthy do.  In fact, 82 percent of all individually held stocks are owned by the wealthiest 5 percent of all Americans.  Those that have invested in commodities have also done very nicely in recent years.  We have seen gold, silver, oil and agricultural commodities all do very well.  But that also means that average Americans are paying more for basic necessities such as food and gasoline.  So the first two rounds of quantitative easing made the wealthy even wealthier while causing living standards to fall for all the rest of us.  Is there any reason to believe that QE3 will be any different?
Of course not.
This time the Federal Reserve is focused on buying mortgage-backed securities.  Yes, the same financial garbage that helped cause the last crisis.  The Fed plans to gobble up tens of billions of dollars of that trash every month from now on.
But will the Fed pay true market value for those mortgage-backed securities?  If you believe that, I have a bridge to sell you.
So this is going to be a huge windfall for some people, and that does not include us.
Not a single penny of this 40 billion dollars a month will go directly into our hands.  The theory is that it will "filter down" to us eventually.
But that hasn't happened with previous rounds of quantitative easing.
So where does the money go?
A recent CNBC article discussed a very interesting report from the Bank of England about the effects of quantitative easing….
It said that the Bank of England's policies of quantitative easing – similar to the Fed's – had benefited mainly the wealthy.

Specifically, it said that its QE program had boosted the value of stocks and bonds by 26 percent, or about $970 billion. It said that about 40 percent of those gains went to the richest 5 percent of British households.

Many said the BOE's easing added to social anger and unrest. Dhaval Joshi, of BCA Research wrote that  "QE cash ends up overwhelmingly in profits, thereby exacerbating already extreme income inequality and the consequent social tensions that arise from it."
Wow.
Who benefits from quantitative easing?
According to the Bank of England, it is "mainly the wealthy" who benefit.
As I noted the other day, Donald Trump said essentially the same thing when he told  CNBC the following….
"People like me will benefit from this."
As I already discussed above, a lot of quantitative easing money gets into the financial markets where it pumps up the prices of financial assets.
But not all of it goes there.
We were told that the whole idea behind quantitative easing was that it was supposed to get banks lending again, but this has not happened.  Instead, banks are sitting on unprecedented amounts of money.  Just look at how the first two rounds of quantitative easing have caused excess reserves being held by banks to explode from close to zero to over 1.5 trillion dollars….
Of course one of the biggest problems is that the Federal Reserve is still paying banks not to lend money.
Yes, you read that correctly.
The Federal Reserve is paying banks to park money with them.  So instead of risking their money by lending it out to us, the banks can just park it at the Fed and make risk-free profits for as long as they want.
Must be nice.
If the Federal Reserve really wanted banks to start lending again, all the Fed has to do is to stop paying banks not to lend money.
But of course if more than 1.5 trillion dollars suddenly started flooding into our economy (especially after you consider the multiplier effect) we would be dealing with nightmarish inflation unlike anything we have ever seen before.
So if you want to know why inflation was not even worse after QE1 and QE2 it is because more than a trillion and a half dollars is being parked with the Fed.
So did QE1 and QE2 do any good for average Americans?
Let's go to the charts.
This first chart shows that the percentage of working age Americans with a job has stayed extremely flat since the end of the last recession.
Does it look like QE1 and QE2 made a difference to you?  I don't see any difference….
Okay, but what about new home sales?
Did QE1 and QE2 help them?
Nope….
But the mainstream media is still buying the baloney the Fed is pushing.
The mainstream media is promising us that home sales will soon rise and that lots of new jobs are on the way.
Sadly, the truth is that things have steadily gotten worse for average Americans over the past 4 years despite all of the money printing the Fed has been doing.  If you doubt this, just read this article.
But this is all that Ben Bernanke seems to have left.  When printing money doesn't work, his answer is to print even more money.
QE3 is likely to cause agricultural commodities and the price of oil to rise even further.
So unless you can convince your employer to give you a corresponding raise, this is going to mean that your paychecks are not going to go as far as they did before.
And so that means a lower standard of living.
In a recent article, Bruce Krasting issued an ominous warning….
Higher inflation expectations in the US will filter around the globe. Post the extraordinary steps Ben took yesterday, people will be stocking up on "stuff". Things like rice, flour, cooking oil, soy, wheat and sugar. If you can eat it, buy it now. It will be more expensive in a month. While your at it, fill up the gas tank, the price is going up next week and every week for the next few months.
In addition, the policy of the Federal Reserve of keeping interest rates as low as possible is absolutely crippling the finances of many retirees.  Even the former president of the Federal Reserve Bank of Atlanta, William F. Ford, recognizes this….
One of the overlooked consequences of the Federal Reserve's recent rounds of monetary stimulus is the adverse impact those policies have had on the interest income of savers. The prolonged and abnormally low interest-rate structure put in place by the Fed has made life particularly difficult for retirees and others who depend on conservative interest-sensitive investments. But the negative effects do not stop there. They spillover into the overall performance of the economy.
Just about everything that the Federal Reserve does these days is bad for ordinary Americans.
But the Fed is not going to stop.  The Fed is addicted to money printing now, and as a recent article by Peter Schiff explained, the Fed is just going to "up the dosage" until it gets what it wants….
The Fed will try to conjure a recovery on the backs of currency debasement. It will not stop or alter from this course. If the economy fails to respond to the drugs, Bernanke will simply up the dosage. In fact, he is so convinced we will remain dependent on quantitative easing that he explicitly said he won't turn off the spigots even if things noticeably improve.
This is complete and total incompetence by Ben Bernanke and his cohorts over at the Fed.
Economist Marc Faber believes that Ben Bernanke should resign, and I agree with him….
"If I had messed up as badly as Bernanke I would for sure resign. The mandate of the Fed to boost asset prices and thereby create wealth is ludicrous — it doesn't work that way. It's a temporary boost followed by a crash."
And yes, a crash is coming.
Bernanke can try to put it off for a while, but every action he takes is just making the eventual crash even worse.
And some in the financial community clearly recognize this.  For example, credit rating agency Egan-Jones downgraded the credit rating of the United States to AA- on Friday.
The primary reason they gave for the downgrade was QE3.
Ben Bernanke and the Federal Reserve are destroying the U.S. dollar and destroying our financial system for a short-term economic sugar high.
It is utter insanity.
That is why we desperately need to get the American people educated about the Federal Reserve system.  It is at the very heart of our economic problems and yet neither major political party is willing to blame the Fed for the problems that it is causing.
A bunch of unelected bankers that are not accountable to the American people are running our economy into the ground and the American people do not even realize what is happening.
Please share this article with as many people as you can.  Hopefully we can get the American people to understand that more money printing is definitely not the solution to our problems.
View full post on The Economic Collapse
Together with a childhood friend, Pruvot envisioned a luxury phone that would fuse modern technology with centuries- old Swiss timekeeping.But that legislation is stalled and faces opposition from senior Senate Republicans.Dr Amin Al Amiri, Assistant Undersecretary for Medical Practices and Licensing at the ministry, said samples of the medicinal powder were brought to the ministry by a UAE national.In North America, Tumi expects to grow net sales by increasing its wholesale door presence, expanding accessories business in department stores, increasing the variety of products available to third-party e-commerce providers, and increasing penetration of the Canadian market through department stores,Louis Vuitton UK, specialty stores,Louis Vuitton, e-commerce sales,www.handbagslouisvuittonuk.co.uk,Ut dolor magna aliquyam vobis:
Louis Vuitton living in private home 5o
, and new distribution partners."Il motivo probabilmente deriva dal fatto che una borsa firmata – dicono da Vendome – non è un comune souvenir, non deve per forza avere caratteristiche italiane.RELATED STORIES Care for animals is a symbol of civilization but, "the practical situation has to be considered as well", he said.com. "Arnault has used Christian Dior as leverage to build up a controlling stake in LVMH," Marc Willaume, an analyst at Raymond James in Paris who has covered LVMH for more than 20 years,Louis Vuitton Handbags, said in a telephone interview May 11.
Statistics: Posted by youerngaf98 — Fri Aug 17, 2012 3:25 am
---
View full post on
opinions.caduceusx.com
How Fiat Money Has Depressed Living Standards – 9 July 2012
Breaking the link between the Dollar and Gold Bullion has had a marked effect on American standards of living…
WHAT DO living standard look like measured in gold? asks Nathan Lewis at New World Economics.
This is something I've been mentioning a lot recently.
The chart below shows the US government's own statistics on the median male full-time income in the US:
I use this because it compensates for a lot of things that have been going on, such as increasing female participation in the workforce, changing demographics or family size, or greater/lesser part-time work. These are "real" statistics, which means that it has been adjusted by the government's version of price statistics – which have been buffed and polished to look as good as possible. If the price statistics showed an additional 1% of price rises per year, over forty years, this chart would look a lot worse.
The interesting thing here is how there is such a definite inflection point, right where we go from a gold standard system to a floating currency system. A lot of other things have happened over that time, but we don't see any other major inflection points. You might think that the 1990s were really good for people, and the 2000-present era has been not so good, but oddly enough, there's no particular difference you can see on this graph (although maybe the government is monkeying the statistics more aggressively in 2000-present to make it look that way).
This is one reason why I think that the transition to funny money in 1971 is probably the most important long-term event for middle-class prosperity in the United States.
You can also see how the US middle class steadily prospered in the 1950s and 1960s, despite the various ups and downs of the economy, not to mention social turmoil, of that time period.
Here is the same information, but here portrayed in the value of the median income in terms of ounces of gold. This is not so weird, because the US used gold as the universal standard of value for 182 years, until 1971. So, I'm just being a traditionalist here. This chart is plain ugly, which is why, I think, that even though we have transferred from a one-income household to a two-income household, the average American family still can't afford today what one median income could buy in the late 1960s.
Here is some long-term data, the per-capita GDP as measured in ounces of gold. Any GDP statistics from before 1950 are highly suspect, and that is especially true of figures from before 1914. So, consider this suggestive rather than definitive. It tells much the same story.
I smoothed things out a bit here by looking at average growth rates over forty-year time periods. Was the average American better off (as measured in per-capita GDP in gold ounces) than they were forty years earlier. You can see that, even despite hardships such as the Civil War and the Great Depression/World War II, the average American was consistently better off than they were forty years previous. The Great American Wealth Generation Machine kept on ticking, even after huge setbacks.
We haven't had any Civil-War-scale disasters since 1971, but the funny-money environment has nevertheless disabled the Great American Wealth Generation Machine. The average American is now, for the first time in US history, consistently worse off (by this measure) than they were forty years ago.
http://goldnews.bullionvault.com/gold-b … -070920123
Statistics: Posted by yoda — Tue Jul 10, 2012 12:37 am
---
View full post on
opinions.caduceusx.com
Making A Living In A Foreign Country
By Jeff Berwick Apr 26th, 2012
"If I expatriate, how can I make a living in a foreign country?"
It's one of the top questions we get. After all, not all of us have sizable amounts of savings that we can nestle upon. In fact, most in the western world don't after they've had most of it siphoned off by the state. And even those who think they do, and have a bank account flush full of green pieces of paper or who receive large government pension cheques backed by those same Federal Reserve Notes will soon find out that their "wealth" was illusory.
In this article we will discuss some common misconceptions of the opportunities in the world today.
COMMON MISCONCEPTIONS
The West is filled with misconceptions. The majority of what almost everyone believes is just not true – it's what makes living there next to impossible for free-thinkers. But here are a few common misconceptions that relate to the topic we are discussing today:
We are rich, they are poor. This is, on a generalized basis, simply not true. The perception is that the West is quite rich and the rest of the world is destitute. This was true for a period… about 40 years ago… but humans have a tough time adjusting to paradigm shifts so many continue to believe this.
When the US Government went bankrupt for the second time in 1971 it denoted the change of the world as we knew it. By that point, the Chinese had nearly finished with their disastrous communist experiment. The great criminal Mao finally shed his mortal coil in 1976 and soon ushered in the new age of Deng Xiaoping and "to get rich is glorious". By that point the USSR was already circling the drain and, unbeknownst to most, the US began its decline as well for all the same reason as the USSR… too much government involvement in the economy (for the record the perfect amount is 0%).
When total government and personal debt is added to the average net worth in the west, almost everyone is indebted… whereas developing and "third world" countries and the people who live there have no debt. Almost everyone in places like Latin America and Asia all have cell phones, most have cars, most have computers, many have homes… the only difference is that all of it is paid for, not on their credit cards or mortgages.
There is more opportunity in the West. This used to be absolutely true. But things change and if you get stuck in the old paradigm you'll find yourself wasting time and money and more. The days of moving to the US, getting your kids into a good school and them building a life for themselves is mostly over. Now it is more likely to end up with them getting indoctrinated in socialist culture, pepper sprayed, heavily indebted with student loans to learn things which are all available for free on the internet and then, if our predictions are correct, forced into the military or Homeland Security to pay off their debts. The real opportunities today are mostly in Asia, Latin America and former Soviet Bloc countries as we will talk further about below.
My kids need a good job [There is opportunity for my kids]. This is another anachronistic mindset. All the slaves on TV drone on about how they need jobs… but this is a direct result of placing young children in socialist child prison camps for 12 of their most formative years. Anyone remember their "Introduction to Entrepreneurship" class from elementary school? Of course not, it does not exist in public schools. That is because the entire system is designed to produce worker slaves who are conditioned to show up at 9am and not leave until at least 5pm, sit in a cubicle for the entire day and not ask questions.
Once you get outside of that mindset the world is your oyster. You don't need someone to create a job for you… you just need to see an opportunity to add value to someone or something and seize it. This makes expatriating to a foreign country infinitely easier.
If I stay where I am I'll get a good company pension and Socialist Security cheques as well in 10 or 15 years. You can forget all about that right now. We've shown countless times how the Western nation-states socialist security systems are a bankrupt ponzi scheme.
But even corporate pensions won't be worth much in a few years time. There are a few reasons why. For one, most corporate pensions are invested in the stock market – yes, that same stock market that has made no nominal gains for the last 10 years… or the bond market which will soon evaporate..
And, even if they do manage to grow their funds, the payments will be made in fiat currencies that simply won't exist 5-10 years from now. Just consider them gone right now and save yourself a few years of fearful anticipation.
ESCAPE FROM AMERICA
Again, if you are stuck in old paradigms, you will not see the massive changes going on all around you. Lou Dobbs is a perfect example of this. Every night on Fox he'll decry foreign workers from sneaking into "our" country and stealing "our" jobs. There's just one problem. Everyone's leaving. In fact, Lou should move his schtick to Mexico and decry the influx of Americans into Mexico as a recent Pew Research Report states, "In the five-year period from 2005 to 2010, about 1.4 million Mexicans immigrated to the United States and about 1.4 million Mexican immigrants and their U.S.-born children moved from the United States to Mexico."
For first time since Depression, more Mexicans leave U.S. than enter.
Many of them are Mexicans who are returning to Mexico. This snippet from a Washington Post article shows why:
It is better to be unemployed in Mexico than to be unemployed in the United States, he said, because most migrant workers leave their families in Mexico. "They miss the warmth of being in a welcoming community," he said, adding that with tougher border control and more deportations, Mexicans would rather be in a "precarious situation than in a situation of fear."
That's not the only reason, either. There are simply more opportunities in Mexico than in many parts of the US now despite all the propaganda about there being a deadly drug war and the Obama administration running guns into the country. It would come as a big surprise to most Americans to hear that the Mexican stock exchange has gone up nearly 1,000% percent in the last ten years.
Now, as with all stock markets today, you have to take the numbers with a large grain of salt as they don't account for inflation and the Mexican peso money supply likely plays a significant role in the rise… but certainly prices have not risen four fold in Mexico since 2005… but the Mexican stock exchange has.
A net rise in Mexican immigration vis-a-vis the US and a booming stock market? Maybe the government and the media aren't telling you the whole story!
SEEING IT FOR YOURSELF
This is why "seeing it for yourself" is the only way to go. The governments and media is so full of propaganda and skewed world-views that it is actually dangerous to your mental health to pay attention to them.
Even listening to friends or trusted sources can't possibly give you the big picture about any one location. Even if you were able to clone yourself and send a different clone off to the same location every week for a year, they would all have different perspectives on the area. That is because our views are formed by our experiences and it is impossible for two different people to have the exact same experiences. All it takes to ruin a location for many people is one pickpocket… and all it takes to make a place the most wonderful paradise on Earth is for you to cross paths with one beautiful girl whom you fall in love with.
For this reason it is imperative to visit any location in which you are considering living and spend a significant amount of time there first. Of course, you can listen to like-minded people are publications you feel you can trust [like The Dollar Vigilante and Whiskey & Gunpowder] but that just gives you the big brush picture. You'll never know if a place is right for you until you actually go there.
Regards,
Jeff Berwick
The Dollar Vigilante
http://whiskeyandgunpowder.com/making-a … n-country/
Statistics: Posted by yoda — Thu Apr 26, 2012 11:26 pm
---
View full post on
opinions.caduceusx.com
The number of people living alone has skyrocketed. What is driving the phenomenon? And solo dwellers Colm Tóibín, Alex Zane, Carmen Calli and others reflect on life as a singleton
Eric Klinenberg
guardian.co.uk, Friday 30 March 2012 23.00 BST
Article history
The one and only: Why do more and more of us now live alone? Photograph: detail from image in the forthcoming book Out My Window, by Gail Albert Halaban
Human societies, at all times and places, have organised themselves around the will to live with others, not alone. But not any more. During the past half-century, our species has embarked on a remarkable social experiment. For the first time in human history, great numbers of people – at all ages, in all places, of every political persuasion – have begun settling down as singletons. Until the second half of the last century, most of us married young and parted only at death. If death came early, we remarried quickly; if late, we moved in with family, or they with us. Now we marry later. We divorce, and stay single for years or decades. We survive our spouses, and do everything we can to avoid moving in with others – including our children. We cycle in and out of different living arrangements: alone, together, together, alone.
Numbers never tell the whole story, but in this case the statistics are startling. According to the market research firm Euromonitor International, the number of people living alone globally is skyrocketing, rising from about 153 million in 1996 to 277 million in 2011 – a 55% increase in 15 years. In the UK, 34% of households have one person living in them and in the US it's 27% – roughly one in every seven adults.
Contemporary solo dwellers in the US are primarily women: about 18 million, compared with 14 million men. The majority, more than 16 million, are middle-aged adults between the ages of 35 and 64. The elderly account for about 11 million of the total. Young adults between 18 and 34 number more than 5 million, compared with 500,000 in 1950, making them the fastest-growing segment of the solo-dwelling population. Unlike their predecessors, people who live alone today cluster together in metropolitan areas.
Sweden has more solo dwellers than anywhere else in the world, with 47% of households having one resident; followed by Norway at 40%. In Scandinavian countries their welfare states protect most citizens from the more difficult aspects of living alone. In Japan, where social life has historically been organised around the family, about 30% of all households have a single dweller, and the rate is far higher in urban areas. The Netherlands and Germany share a greater proportion of one-person households than the UK. And the nations with the fastest growth in one-person households? China, India and Brazil.
But despite the worldwide prevalence, living alone isn't really discussed, or understood. We aspire to get our own places as young adults, but fret about whether it's all right to stay that way, even if we enjoy it. We worry about friends and family members who haven't found the right match, even if they insist that they're OK on their own. We struggle to support elderly parents and grandparents who find themselves living alone after losing a spouse, but we are puzzled if they tell us they prefer to remain alone.
In all of these situations, living alone is something that each person, or family, experiences as the most private of matters, when in fact it is an increasingly common condition.
When there is a public debate about the rise of living alone, commentators present it as a sign of fragmentation. In fact, the reality of this great social experiment is far more interesting – and far less isolating – than these conversations would have us believe. The rise of living alone has been a transformative social experience. It changes the way we understand ourselves and our most intimate relationships. It shapes the way we build our cities and develop our economies.
So what is driving it? The wealth generated by economic development and the social security provided by modern welfare states have enabled the spike. One reason that more people live alone than ever before is that they can afford to. Yet there are a great many things that we can afford to do but choose not to, which means the economic explanation is just one piece of the puzzle.
In addition to economic prosperity, the rise stems from the cultural change that Émile Durkheim, a founding figure in sociology in the late 19th century, called the cult of the individual. According to Durkheim, this cult grew out of the transition from traditional rural communities to modern industrial cities. Now the cult of the individual has intensified far beyond what Durkheim envisioned. Not long ago, someone who was dissatisfied with their spouse and wanted a divorce had to justify that decision. Today if someone is not fulfilled by their marriage, they have to justify staying in it, because there is cultural pressure to be good to one's self.
Another driving force is the communications revolution, which has allowed people to experience the pleasures of social life even when they're living alone. And people are living longer than ever before – or, more specifically, because women often outlive their spouses by decades, rather than years – and so ageing alone has become an increasingly common experience.
Although each person who develops the capacity to live alone finds it an intensely personal experience, my research suggests that some elements are widely shared. Today, young solitaires actively reframe living alone as a mark of distinction and success. They use it as a way to invest time in their personal and professional growth. Such investments in the self are necessary, they say, because contemporary families are fragile, as are most jobs, and in the end each of us must be able to depend on ourselves. On the one hand, strengthening the self means undertaking solitary projects and learning to enjoy one's own company. But on the other it means making great efforts to be social: building up a strong network of friends and work contacts.
Living alone and being alone are hardly the same, yet the two are routinely conflated. In fact, there's little evidence that the rise of living alone is responsible for making us lonely. Research shows that it's the quality, not the quantity of social interactions that best predicts loneliness. What matters is not whether we live alone, but whether we feel alone. There's ample support for this conclusion outside the laboratory. As divorced or separated people often say, there's nothing lonelier than living with the wrong person.
There is also good evidence that people who never marry are no less content than those who do. According to research, they are significantly happier and less lonely than people who are widowed or divorced.
In theory, the rise of living alone could lead to any number of outcomes, from the decline of community to a more socially active citizenry, from rampant isolation to a more robust public life. I began my exploration of singleton societies with an eye for their most dangerous and disturbing features, including selfishness, loneliness and the horrors of getting sick or dying alone. I found some measure of all of these things. On balance, however, I came away convinced that the problems related to living alone should not define the condition, because the great majority of those who go solo have a more rich and varied experience.
Sometimes they feel lonely, anxious and uncertain about whether they would be happier in another arrangement. But so do those who are married or live with others. The rise of living alone has produced significant social benefits, too. Young and middle-aged solos have helped to revitalise cities, because they are more likely to spend money, socialise and participate in public life.
Despite fears that living alone may be environmentally unsustainable, solos tend to live in apartments rather than in big houses, and in relatively green cities rather than in car-dependent suburbs. There's good reason to believe that people who live alone in cities consume less energy than if they coupled up and decamped to pursue a single-family home.
Ultimately, it's too early to say how any particular society will respond to either the problems or the opportunities generated by this extraordinary social transformation. After all, our experiment with living alone is still in its earliest stages, and we are just beginning to understand how it affects our own lives, as well as those of our families, communities and cities.
http://www.guardian.co.uk/lifeandstyle/ … olo-living
Statistics: Posted by yoda — Sat Mar 31, 2012 2:15 am
---
View full post on
opinions.caduceusx.com