March 30, 2013
Meet the Gay Police State
Robert Oscar Lopez
On March 24, 2013, as I stood with other speakers waiting to take the stage at Paris's "manif pour tous" against homosexual marriage, I saw tear gas sail through the air at a crowd of peaceful protesters.
Children, elderly people, and elected officials were hit by the gas. Christine Boutin, the president of a political party, passed out. Some videos showing what happened are posted on my blog here.
As I stood behind the fence, waiting for my cue to take the stage, I was torn between two urges. One urge was to climb the fence and show solidarity with the people being tear-gassed. The other urge was to flee. In the end, I was spared having to choose, because the organizers called for me to mount the platform and speak.
The images of a police force "defending" a city ruled by a gay Socialist mayor (Bernard Delanoe), shooting tear gas at children, was worse than the imagery of Lt. Pike pepper-spraying college students in Davis, and worse, I would say, than the Jim Crow police force using dogs and water hoses on black children during the famous protests led by Reverend Martin Luther King, Jr. Why do I say it was worse? Look at the number of people, the sheer quantity of riot police, and the closeness of the tear gas, which is a seriously aggressive chemical agent. Christine Boutin lost consciousness and was still under medical care after inhaling the tear gas, which was why she could not attend the Washington March for Marriage two days later, as she and Frigide Barjot were both scheduled to do.
Unfortunately, Frigide Barjot also could not attend the Washington march because she had to remain in Paris to respond to press reports demonizing her movement.
The tear-gassing behind the stage in Paris came less than one week after Frigide Barjot and her small group in Brussels, including me, were greeted with a mob of over one hundred Belgian pro-gay rioters hurling insults, pressing against barricades, and physically assaulting Xavier Bongibault, as we tried to make a discreet transit from the European Parliament, where we had testified, to a theater where we were scheduled to address a crowd of French-speaking supporters.
Having spent so many years in the gay community, I found myself falling into an emotional nadir as violence marred events, both in Brussels and Paris. In both cases, it was the side militating for gay parenting that used physical intimidation: a combination of riled street thugs and armed riot police, the deadly cocktail of "unofficial" and "official" violence that characterizes the dynamics of so many police states.
When I made my way back to Los Angeles the following day, I found myself gazing at the Atlantic Ocean below me and searching for an answer to an agonizing question: how can gays accept their complicity with a police state? Are they willing to become a police state?
Having grown up with a lesbian mother, and having spent so many years as an out bisexual, I found the thought utterly repugnant. LGBTs, the movement based on rolling back bullying and "bashing," are now fully integrated into society's disciplinary institutions: they run schools, command armed forces, dictate jargon to the press, govern cities as big as Paris, run congressional committees on banking regulation, and get to rule on Proposition 8 from the bench of federal courts.
And now, having come into wildly disproportionate power, the movement demands the right to own children as property, insists on safe passage to India to lure poor women into paid surrogacy contracts, and threatens to put adoption centers out of business if they refuse to turn orphans over to gay couples.
When people step up to defend children, as did the people of France in the massive mobilization of March 24, the gays call in street thugs, riot police, and monsters wielding tear gas.
It was another turning point for me, from which I have yet to recover. For having seen what I saw in Brussels and Paris, I know something I didn't feel comfortable believing before: gays cannot claim that they would be any kinder in power. They are in power, and they are happy to sit atop a police state.
I suppose it was a long time coming. Go to any Gay Pride event, and you see the floats celebrating "leather men," sadomasochistic outfits of dominatrices and gleeful torture equipment — both gay men and lesbians are shamelessly fond of eroticizing power. There is nothing in gay culture that is incompatible with a police state. If anything, the evolution of gay culture since Stonewall has set us up for a gay police state. Now it has arrived.
I suppose I should be happy at least knowing what underlies the cries for gay liberation and equality. Whatever becomes of same-sex marriage in the United States, the gay movement poses a much longer-term problem. Homosexuality is not a sexual orientation, but rather an ideology. The LGBT movement is not a community, but rather a political machine backed by big business. Until it can show that it is capable of increasing its reach and profile without abusing power, it has to be resisted, for it is the face of an ancient urge which must always be resisted: the lust for power and domination.
http://www.americanthinker.com/blog/201 … state.html
Statistics: Posted by yoda — Sat Mar 30, 2013 1:15 pm
---
View full post on
opinions.caduceusx.com
Alcohol abuse! Maker's Mark cutting alcohol in its bourbon to meet high demand
By PEDRO OLIVEIRA JR.
Last Updated: 4:41 PM, February 9, 2013
Posted: 4:31 PM, February 9, 2013
The distillery behind Maker's Mark bourbon is reducing the amount of alcohol in its bottles by 3 percent to meet a rise in global demand, company officials said today.
"Lately we've been hearing from many of you that you've been having difficulty finding Maker's Mark in your local stores," Maker's Mark executives Rob Samuels and Bill Samuels Jr. wrote in a joint email to clients.
"Fact is, demand for our bourbon is exceeding our ability to make it, which means we're running very low on supply."
The bourbon brand — which famously used the slogan "It tastes expensive… and is" in the '60s and '70s — looked at "all possible solutions" and "worked carefully" to reduce the alcohol by volume of the beverage by 3 percent.
Maker's Mark is distilled to 45 percent alcohol by volume — or 90 proof — and, after the change, would go down to about 44 percent ABV or 88 proof, according to Quartz.
"This will enable us to maintain the same taste profile and increase our limited supply so there is enough Maker's Mark to go around, while we continue to expand the distillery and increase our production capacity," the Maker's Mark executives said.
It is unclear when the watered-down beverages will hit the market.
A spokesman for Maker's Mark did not immediately reply to a request for comment.
http://www.nypost.com/p/news/local/alco … DXLlE6uRRO
Statistics: Posted by yoda — Sat Feb 09, 2013 4:04 pm
---
View full post on
opinions.caduceusx.com
By Steve H. Hanke
This Sunday (2 December 2012), David Gregory hosted a lively session of NBC's Meet the Press. The focus of Sunday's program was the so-called Fiscal Cliff. Gregory rounded up many of the usual Washington suspects, including Treasury Secretary Timothy Geithner, and drilled them on their talking points.
Several times, in the course of Gregory's questioning, he referred to President Bill Clinton's tough 1993 budget deal. Throughout the broadcast, Gregory kept stressing the fact that the 1993 deal included defense cuts. For Gregory, those cuts were the flavor of the day.
This isn't surprising. Indeed, most members of Washington's chattering classes parrot the line that the economy boomed during the Clinton years because Clinton was the beneficiary of the so-called peace dividend, which allowed him to cut defense expenditures.
In fact, if we look carefully at the federal budget numbers, while Clinton did cut defense expenditures, as a percent of GDP, the majority of the Clinton squeeze came from non-defense expenditures. Indeed, as can be seen in the accompanying table, the non-defense squeeze accounted for 2.2 percentage points of President Clinton's 3.9 total percentage point reduction in the relative size of the federal government.
Clinton squeezed the budget and squeezed hard, from all major angles. This was a case in which a president's actions actually matched his rhetoric. Recall that, in his 1996 State of the Union address, he declared that "the era of big government is over."
Clinton's 1993 deal marked the beginning of the most dramatic decline in the federal government's share of the U.S. economy since Harry Truman left office. The Clinton administration reduced government expenditures, as a percent of GDP, by 3.9 percentage points. Since 1952, no other president has even come close. At the end of his second term, President Clinton's big squeeze left the size of government, as a percent of GDP, at 18.2 percent—the lowest level since 1966.
The table contains the facts. President Clinton knew how to squeeze both defense and non-defense federal expenditures. Indeed, he squeezed non-defense a bit harder than defense. Since 1952, the only other president who has been able to reduce the relative share of non-defense expenditures was Ronald Reagan. Forget the "peace dividend"—it's all about the Clinton "squeeze dividend."
Meet the Press, Check the Facts is a post from Cato @ Liberty – Cato Institute Blog
View full post on Cato @ Liberty
At least one member of the Senate is raising a red flag over the "fiscal cliff" negotiations.
Apparently the Senate is not included in the goings-on (on the whole probably not a bad thing) and Senator Sessions has a problem with this.
He predicts that the "solution" to the cliff will be presented on Christmas or New Years Eve. I'll bet he's right. That's what they did with the Federal Reserve Act in 1913, and the NDAA on New Years Day of this year. Everyone is busy with their lives and when they come to after their holiday induced stupor whatever the politicians wanted to do is a fait accompli. Then we just suck it up and go with it.
(From The Weekly Standard)

Sessions, the highest Republican on the Senate Budget Committee, saved most of his criticism for the president. "President Obama campaigned on a tax increase of 'only' $800 billion," said Sessions. "But now the White House is demanding $1.6 trillion in new taxes. Don't the American people have a right to see these taxes and where they will fall? Shouldn't the President of the United States, the only person who represents everybody in the country, lay out his plan, or must that remain a secret too? Will it just be revealed to us on the eve of Christmas or eve of the new calendar year? We will be asked to vote for it, to ratify it like lemmings, I suppose."
The post Boehner and Obama Meet in "Secret," How High Will They Raise Taxes? appeared first on AgainstCronyCapitalism.org.
View full post on AgainstCronyCapitalism.org
There are some very important issues developing over this gold audit.Accepting the fact the the Germans "ARE SUPPOSED TO BE" the second biggest gold holding nation in the world:
1) James Turk wrote an article some time back regarding this issue .He stated then that the Germans had virtually no gold.One of the most likely persons in the world to know wether the gold is actually there or not would be James Turk.
2) If the audit comes back that the gold is acutually there and they own it:
A) Who in ther right mind would beleive the audit?
B) Could they afford to announce that " whoops the gold isnt there" and the Germans have no gold?
C) What influnence will it have on the price of gold if the gold isnt there and the information that it isnt there is either leaked out or officially released?
D) If it isnt there this is going to shake the financial community to the core.
E) If the gold isnt there what influnce will this have on Germany and the EU or the Euro.How much were they relying on this gold to back the German banks
the EU and/or the Euro?
F) If the gold isn't there will the Germans attempt to replace it? The Germans have a very nasty experince pre Hitler days with hyper inflation and this is the main reason why it is hard to say what effect the "there is no gold" senario will have with the German public but we can be assured that they will not be ammused.
G) Most importantly of all if the Germans dont have any gold what about the Americans?Is there gold there and will the American public demand an audit of
there gold to prove that there gold is actually there?
Just a few questions with 100s of possible answers to amuse the mind.It will be interesting to see how this unfolds. D.D.
Statistics: Posted by DIGGER DAN — Sat Oct 27, 2012 7:56 am
---
View full post on
opinions.caduceusx.com
Standard of living, meet falling US dollar – how a falling US dollar benefits banks at the expense of working Americans.
There is certainly a cost to a falling US dollar. Many Americans are living the consequences of this multi-decade long trend. The Federal Reserve has only added fuel to this trend but many families are now realizing that there does come a cost to unrelenting debt based solutions to fiscal problems. Shopping at the local grocery store I've noticed that some items have doubled in the last few years. Fueling up is also more expensive. The issue with living on a low dollar policy is that eventually, you end up in a low wage capitalist system. The easy money slowly inflates away especially on global items. We are seeing this in the US in various arenas especially with higher education. The end result is that the standard of living for the vast majority of Americans has fallen dramatically in the last few decades.
US dollar trend
The US dollar has been on a multi-decade long trend that has resulted in a 50 percent haircut: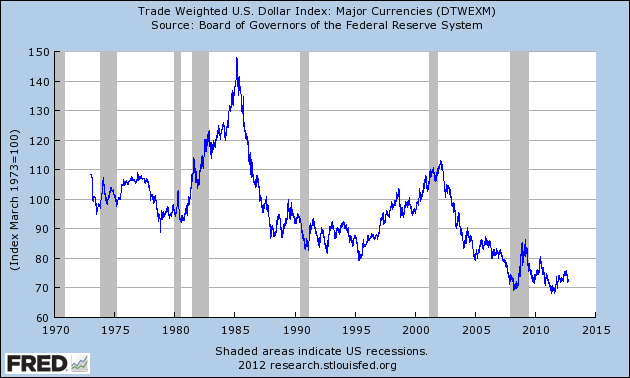 Think about what this has done in a more practical sense:
-Energy is more expensive because it is traded on a global market (you are trying to compete with others with a declining currency)
-Education. Massive debt has devalued the dollars even further. Very few families can actually afford to pay the sticker price of tuition and need to go into debt just to finance college. Most of the middle class jobs are now in fields that require degrees since the jobs are not growing in manufacturing (that is, making actual things):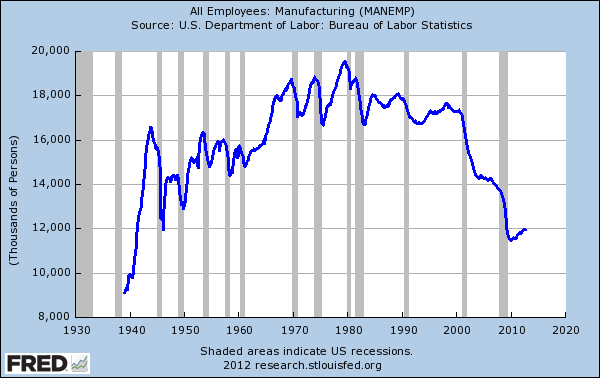 -Food gets more expensive since you are also competing globally here. Take a look at your grocery bill and compare it to your bill from 10 years ago. This stands in stark contrast to household income that has been stagnant for over a decade.
We rarely hear about the massive decline in the US dollar in the mainstream press. This is not likely to come up in any of the campaigns because the Fed and government realize they need to inflate our debt away. Who in their right mind thinks we are ever going to pay off that growing $16 trillion debt? The middle class in the US is a shrinking group. We now have over 46 million Americans on food stamps, a record percentage. We also have a growing number of Americans that do not participate in the labor force: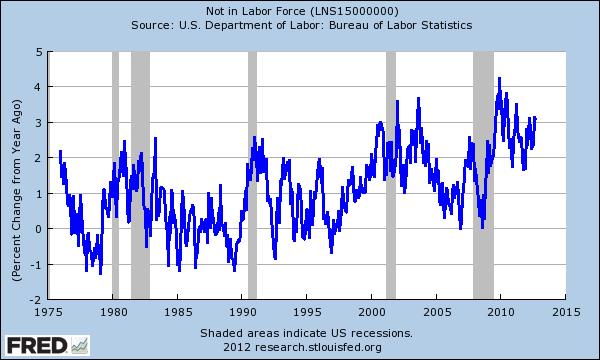 This is a very important chart to understand. The rate at which people are entering the "not in the labor force" category is growing at record speeds given our demographics. From 1975 to 2000 not once did we touch an annualized 3 percent rate. That was reached. Then when the debt bubble burst, we actually reached a stunning 4 percent annualized rate. Things are dramatically shifting and given that many older Americans rely on Social Security, that declining standard of living is felt even more deeply.
Another outcome of a falling dollar is rising commodity prices. Ultimately you are competing on a global market with a currency that is worth less relative to other currencies. If the Fed with their banking allies and the government are willing to go into massive debt, at what point do other people stop lending? We already see this with our internal mortgage market. The Fed is basically the mortgage market now because no one in their right mind would lend out money for 30 years at these current rates. With this kind of action however you crowd out other investors and hot money flows to largely unproductive sectors. Just look at China and their millions of empty apartments.
Outrageous tuition, increasingly expensive food, energy costs, and stagnant wages are all part of the standard of living compression brought on by these actions. That is great that you are saving $200 bucks a month on your mortgage (behind the scenes the bank can offload these inflated assets and the American public slowly forgets about the biggest financial crisis perpetrated on the nation since the Great Depression). It is going to cost you $50,000 per year to send your kid to a good private college so hopefully that $200 saved per month is going to help. In the end the falling dollar is merely a way to inflate our way out of our massive debt and bailout the banking sector. Most Americans as based by their net worth are not doing financially better.
http://www.mybudget360.com/us-standard- … -benefits/
Statistics: Posted by yoda — Fri Oct 12, 2012 1:27 pm
---
View full post on
opinions.caduceusx.com
Meet the Obama Donors at the BLS
BY: Washington Free Beacon Staff
October 5, 2012 1:28 pm
At least two economists at the Bureau of Labor Statistics (BLS) have contributed to President Barack Obama's campaign. Harley Frazis of Bethesda, MD, has contributed at least $2,000 to Obama and $9,000 to the Democratic National Convention over the last three election cycles. During his time at BLS, Harley has published a number of papers including his most recent, "How to Think About Time-Use Data: What Inferences Can We Make About Long- and Short-Run Time Use from Time Diaries?"
Stephen Phillips of Washington, D.C., has contributed at least $270 to Obama during the 2012 cycle. According to his LinkedIn profile, Phillips has been an economist at BLS since June 2009. Phillips was responsible for examining the impact of Obamacare on Healthcare North American Industry Classification System indices. Phillips was also assistant coach for a girls' high school tennis team in 2010.
http://freebeacon.com/meet-the-obama-donors-at-the-bls/
Statistics: Posted by yoda — Fri Oct 05, 2012 1:17 pm
---
View full post on
opinions.caduceusx.com
Expat, Meet Obamacare
By Jim Karger Jul 17th, 2012
My wife and I had dinner last night at a small Asian-fusion restaurant here in San Miguel de Allende, Mexico with two lawyer friends visiting from the United States. One sat down and immediately began our evening's conversation with a story.
"You won't believe this," he said, holding up his thumb, grinning ear to ear.
"I was chopping vegetables the other night and I sliced my thumb right here." I could see the scar.
"I am sorry to hear that," I offered, "but you seem absolutely cheerful about it."
He continued. "It bled profusely and we ended up going to the emergency room." His excitement was palpable.
"And, you won't believe this, I was seen by a doctor in about two minutes. In the US where I live, I might have sat in the ER for 3 or 4 hours. The doctor sewed me up, told me he wanted to see me again in a couple of days. And then do you know what happened?"
"You discovered a winning lottery ticket in your pocket?" I joked.
"Almost as good," he laughed. "I got the bill. $35 dollars!"
Having lived in Mexico 10 years, that sounded about right to me.
"Don't you get it? Thirty-five dollars," he pronounced the words slowly as If I did not understand him the first time. "In the U.S. that would have been $500, maybe $1000, or more!"
Such is the reaction of many who experience medicine outside the US sickcare system, the most expensive in the world.
THE "CURE" IS WORSE THAN THE DISEASE
And now, with ObamaCare, misnamed the Patient Protection and Affordable Care Act, all Americans, or almost all, are going to have the privilege of paying for that expensive care through the mandatory purchase of insurance which government deems "minimum essential coverage" and if they (you) don't buy it, you will get hammered with a stiff penalty which the US Supreme Court has decided is actually a tax– a tax on not buying something the government wanted you to purchase.
With no free market or competition built into the system, the American taxpayer is about to be bent over and gang-screwed again. The only difference is that everyone, or almost everyone, is going to get this shaft, including many Americans who live outside the United States.
Let's begin with the statute itself, Section 1501, which appears to be a collection of English words that have no relation to one another:
Section 1501
''(4) INDIVIDUALS RESIDING OUTSIDE UNITED STATES OR RESIDENTS OF TERRITORIES.– Any applicable individual shall be treated as having minimum essential coverage for any month–
''(A) if such month occurs during any period described in subparagraph (A) or (B) of section 911(d)(1) which is applicable to the individual, or
''(B) if such individual is a bona fide resident of any possession of the United States (as determined under section 937(a)) for such month.
Section 911(d)(1) is part of the Internal Revenue Code and provides:
"(d) Definitions and special rules
For purposes of this section–
(1) Qualified individual
The term "qualified individual" means an individual whose tax home is in a foreign country and who is–
(A) a citizen of the United States and establishes to the satisfaction of the Secretary that he has been a bona fide resident of a foreign country or countries for an uninterrupted period which includes an entire taxable year, or
(B) a citizen or resident of the United States and who, during any period of 12 consecutive months, is present in a foreign country or countries during at least 330 full days in such period."
So, you are probably asking, "What does this mean in English?" At best, it is difficult to explain, but here goes:
Whether the individual mandate to purchase health insurance and the penalties for not purchasing it will depend on whether the expatriate is either:
1) Eligible for the IRS's foreign earned income exclusion, which means the expatriate must have a tax home (the general area of your main place of business or employment where you happen to be permanently or indefinitely engaged) in a foreign country, as well as be either a legitimate resident in that country, or
2) spend at least 330 days a year outside the United States.
Still not clear? I thought not. Let's try again.
If you live outside the US but return to the US more than 35 days in any year, you will be mandated to purchase qualified health insurance coverage or pay the tax unless you can prove you qualify for the foreign earned income exclusion.
The foreign earned income exclusion may be available to you if you meet the bona fide resident test (which means in general terms that you've lived in a foreign country for over a year, made it your home, and pay taxes there.) More on this in a minute.
Just know that if you are able to spend less than 35 days a year in the US, your life will be better, or at least easier as far as ObamaCare is concerned. The physical presence test is reasonably simple to calculate– you either spent 330 full days outside the US in a tax year or you didn't. The calculation is explained by the IRS here.
The problem is that many American expats visit family, friends, and return to do a little business from time to time that keeps them in the US for more than 35 days in a given year, which leaves only the bona fide residence as a way out of ObamaCare, and that test is more difficult. The IRS has an explanation of it here and I hope you find more helpful than I did.
What the IRS does make clear is that the determination of whether you are a bona fide resident of a foreign country will be made based on your answers on IRS Form 2555 which can be found here.
The questions asked on Form 2555 include: whether you buy or rent your residence in the country in which you live, whether you have told the government in the country in which you live that you are not a resident of that country, whether your family lives with you full or part time abroad, and whether you are required to pay income taxes in the country in which you live.
Disturbingly, the effect of your answers to all of these questions is not made clear on Form 2555, except for this bright line test: if you have told the government of the country in which you live that you are not a resident of that country and (for that reason) claim you are not required to pay income tax in that country, welcome to ObamaCare. In such a case, the IRS will deem you having not met the bona fide residence test.
While all expats must wait to see how this plays out, my guess (only a guess at this point) is that you may dodge the ObamaCare bullet if:
1) You live out of the country and don't return to the U.S. more than 35 days in any year, or
2) You live out of the country, have declared to the country in which you live that you are a "resident" of that country, and you pay income taxes in that country as required by their tax laws which, of course, differ by country. (In Mexico, for example, that would arguably mean holding an FM-2 visa stamped "resident," or having "immigrant" status, and filing a Mexican income tax return for any income Mexico requires residents to report.)
On the other hand, if you fall into one of the following categories which many U.S. expats will, my guess is you will find the IRS wanting you to pay the ObamaCare tax if you fail to purchase US health insurance that meets minimum government requirements:
1) You live out of the country and spend more than 35 days a year in the U.S. and are not considered a "resident" by the country in which you live and do not pay income taxes in that country as required of residents, or
2) You live out of the country pursuant to a non-resident visa, e.g., an FM-3 "non-resident" visa in Mexico, and you do not pay income tax in the country where you live because you are not, or claim not to be, a resident there.
Of course, I could be wrong. It remains early in the game. The individual mandate of ObamaCare does not take effect until January 1, 2014, which is also when the tax for failing to have mandated insurance goes into effect. That tax includes an annual penalty of $95, or up to 1% of income, whichever is greater, on individuals who are not covered by an acceptable insurance policy; this will rise to a minimum of $695 ($2,085 for families), or 2.5% of income, by 2016. (Any US citizen who lives outside the US should consult with their tax attorney or tax advisor to determine whether they must buy US health insurance or pay the tax.)
What I do know is that ObamaCare is an in-your-face Statist move, funding 16,000+ new IRS agents to make sure everyone complies or else, and that it will be another reason many US citizens living abroad will seriously consider expatriation. One other avoidance technique I failed to mention is to get yourself tossed into a US prison, easy to get done these days. Seems prisoners are provided healthcare and won't be required to duplicate the coverage they already have. As you can see, some US expats won't be so lucky.
Many other questions remain, to include whether cross-border or international health insurance policies which many expats purchase meet minimum government requirements. And, if an expat is required to purchase insurance, will they receive tax credits to subsidize their purchase of insurance available to some of their onshore brethren? Other topics for other times.
Now, take a deep breath. Remove the pistol from your mouth. Check your blood pressure and before writing hate mail, remember that I did not write this law, but rather, that I am just a humble decipherer of the Klingon.
Go in peace, or flee. Your choice.
Regards,
Jim Karger
http://whiskeyandgunpowder.com/expat-meet-obamacare/
Statistics: Posted by yoda — Tue Jul 17, 2012 4:05 pm
---
View full post on
opinions.caduceusx.com
MEET THE NEW GOVERNOR OF MAINE
THIS CAME TO ME AS AN EMAIL D.D.
In case you haven't heard about this guy before, his name will stick in your mind!
The new Maine Governor, Paul LePage is making New Jersey 's Chris Christie look like an enabler. He isn't afraid to say what he thinks. Judging by the comments, every time he opens his mouth, his popularity goes up.
He brought down the house at his inauguration when he shook his fist toward the media box and said, "You're on notice! I've inherited a financially-troubled State to run. Observe…cover what we do…but don't whine if I don't waste time responding to your every whim just for your amusement."
During his campaign for Governor, he was talking to commercial fishermen who are struggling because of federal fisheries rules. They complained that 0bama brought his family to Bar Harbor and Acadia National Park for a long Labor Day holiday and found time to meet with union leaders, but wouldn't talk to the fishermen. LePage replied, "I'd tell him to go to hell and get out of my State." The Lame Stream Media crucified LePage, but he jumped 6 points in the pre-election poll.
The Martin Luther King incident was a political sandbag which brought him National exposure. The lame stream media crucified him, but word on the street is very positive. The NAACP specifically asked LePage to spend MLK Day visiting black inmates at the Maine State Prison. He told them that he would meet with ALL inmates, regardless of race, if he were to visit the prison. The NAACP balked and then put out a news release claiming falsely that he refused to participate in any MLK events. He read it in the paper for the first time the next morning while being driven to an event and went ballistic because none of the reporters had called him for comment before running the NAACP release.
He arrived at that event and said in front of a TV camera, "If they want to play the race card on me they can kiss my ass", and he reminded them that he has an adopted black son from Jamaica and that he attended the local MLK Breakfast every year that he was mayor of Waterville.
(He started his morning there on MLK Day.)
He then stated that there's a right way and a wrong way to meet with the Governor, and he put all special interests on notice that press releases, media leaks, and all demonstrations would prove to be the wrong way. He said any other group which acted like the NAACP could expect to be at the bottom of the Governor's priority list!
He then did the following, and judging from local radio talk show callers, his popularity increased even more: The State employees union complained because he waited until 3 PM before closing State offices and facilities and sending non-emergency personnel home during the last blizzard. The prior Governor would often close offices for the day with just a forecast before the first flakes. (Each time the State closes for snow, it costs the taxpayers about $1 million in wages for no work in return.)
LePage was CEO of the Marden's chain of discount family bargain retail stores before election as governor. He noted that State employees getting off work early could still find lots of retail stores open to shop. So, he put the State employees on notice by announcing: "If Marden's is open, Maine is open!"
He told State employees: "We live in Maine in the winter, for heaven's sake, and should know how to drive in it. Otherwise, apply for a State job in Florida !"
Governor LePage symbolizes what America needs; Refreshing politicians who aren't self-serving and who exhibit common sense. Sounds like someone we could use running this country!!
THE LAW IS THE LAW!
So "IF" the US government determines that it is against the law for the words "under God" to be on our money, then, so be it.
And "IF" that same government decides that the "Ten Commandments" are not to be used in or on a government installation, then, so be it.
I say, "SO BE IT," because I would like to be a law abiding US citizen.
I say, "SO BE IT," because I would like to think that smarter people than I are in positions to make good decisions.
I would like to think that those people have the American public's best interests at heart.
BUT… YOU KNOW WHAT ELSE I'D LIKE?
Since we can't pray to God, can't Trust in God and cannot post His Commandments in Government buildings, I don't believe the Government (Federal, State and Local) and its employees should participate in the Easter and Christmas celebrations which honor the God that our government is eliminating from many facets of American life.
I'd like my mail delivered on Christmas, Good Friday, Thanksgiving and Easter. After all, it's just another day.
I'd like the US Supreme Court to be in session on Christmas, Good Friday, Thanksgiving and Easter as well as Sundays. After all, it's just another day.
I'd like the Senate and the House of Representatives to not have to worry about getting home for the "Christmas Break." After all it's just another day.
I'm thinking that a lot of my taxpayer dollars could be saved, if all government offices and services would work on Christmas, Good Friday and Easter. It shouldn't cost any overtime since those would be just like any other day of the week to a government that is trying to be ……."politically correct."
In fact….I think that our government should work on Sundays (initially set aside for worshipping God..) because, after all, our government says that it should be just another day….
What do you all think??
If this idea gets to enough people, maybe our elected officials will stop giving in to the "minority opinions" and begin, once again, to represent the "majority" of ALL of the American people.
SO BE IT………..
Please Dear Lord,
Give us the help needed to keep you in our country!
'Amen and Amen'
"I hope this makes its way around the USA several times over!!"
Let's see that it does.
Statistics: Posted by DIGGER DAN — Sat Mar 03, 2012 4:34 am
---
View full post on
opinions.caduceusx.com