When Priced in Gold, the US economy is at Depression-Era Levels
by SIMON BLACK on DECEMBER 31, 2012
December 31, 2012
Buenos Aires, Argentina
As we slide into the end of yet another year in which the nominal price of gold has posted a positive return, I thought it would be interesting to take a look back on history to get a better understanding of where we are today.
It's obvious that, for many reasons, the size of the global economy is far greater than it was decades ago. We learn in any basic economics course that, over the long run, enhanced productivity and increased technology drive long-term production gains.
Certainly, an economy can produce more widgets if you're a lean, mean, automated machine… as opposed to a blacksmith with a hammer and forge.
But there are other factors as well. Population growth. Accounting standards. And of course, the continued inflation of the currency. $1 today buys a whole lot less today than it did a century ago, so when comparing, it's important to find a better standard of measurement.
There are a number of pricing yardsticks we could use… like the cost of a New York City cinema ticket (25 cents in 1935, $20 today). But it would be awkard to calculate GDP in terms of billions of cinema tickets.
Gold is a much more appropriate (though still imperfect) long-term standard of pricing, with its history as a store of value dating back to the ancients.
With this in mind, I collected the appropriate data on gold prices, population, and GDP in the United States since 1791 and plotted GDP per capita denominated in ounces of gold.
This measurement smooths out changes in economic growth due to currency inflation and changes in the population, making it much easier to compares apples to apples.
The results are rather startling. In its earliest days, US GDP per capita was a mere 2.6 ounces of gold per person per year. But this grew quickly, effectively doubling in the 20 year period from 1791 to 1811.
Most of the 19th century proved difficult for growth, as it took another seven decades (over three times as long) for GDP per capita to double again. This makes sense given that the 19th century was marked by several costly wars (War of 1812, Mexican War, Civil War, etc.)
An industrialized American economy began to take off in the 20th century; GDP doubled from 12.00 ounces of gold per capita in 1892 to 23.55 ounces of gold per capita in 1916. And by 1929, it had almost doubled again to 41.12 ounces of gold per capita.
We know what happened after that– years of depression and economic stagnation. The economy bottomed in 1934 at 14.93 ounces of gold per capita, and then it began a multi-decade rise, peaking at 139.05 ounces of gold per capita in… 1970. This was right before Nixon closed the gold window. And the economy never touched that level again. How interesting.
Since 1970, it's been a series of peaks and troughs. The economy boomed during the 1990s, then ran out of steam quickly in the ensuring dot-com/housing/sovereign bust.
We have just ended the year at 28.40 ounces of gold per capita (based on trailing twelve month GDP data). This is an astoundingly low figure.
To put it in perspective, since the end of the Great Depression, US GDP per capita has only been under 30 ounces of gold two times– this year, and 1980. That's it.
In fact, the post-war average for the US economy is 72.83 ounces of gold per capita, so the economy today is an amazing 61% off this historical average.
Right now, the largest economy in the world is producing as much as it did in 1931, almost at the peak of the Great Depression. And no matter what the talking heads and politicians say, the data show that the trend is getting worse. Today's figure is worse than last year, which was worse the year before. This trend of economic contraction goes back to 2001.
Curiously, this time period also coincides with the greatest expansion of debt and the monetary base in history. Hmmm. Coincidence?
This is truly incredible. With all of our modern advances in technology and productivity, our criminal Ponzi scheme debt-based fiat monetary system is so destructive that it's turned the clock back seven decades on the economy. Mind blowing. If this doesn't scream "SYSTEM RESET", I don't know what will.
http://www.sovereignman.com/highlight/w … els-10286/
Statistics: Posted by yoda — Mon Dec 31, 2012 10:47 am
---
View full post on
opinions.caduceusx.com
The Sharp, Sudden Decline of America's Middle Class
They had good, stable jobs – until the recession hit. Now they're living out of their cars in parking lots.
Mark Seliger
By JEFF TIETZ
June 25, 2012 11:45 AM ET
Every night around nine, Janis Adkins falls asleep in the back of her Toyota Sienna van in a church parking lot at the edge of Santa Barbara, California. On the van's roof is a black Yakima SpaceBooster, full of previous-life belongings like a snorkel and fins and camping gear. Adkins, who is 56 years old, parks the van at the lot's remotest corner, aligning its side with a row of dense, shading avocado trees. The trees provide privacy, but they are also useful because she can pick their fallen fruit, and she doesn't always­ have enough to eat. Despite a continuous, two-year job search, she remains without dependable work. She says she doesn't need to eat much – if she gets a decent hot meal in the morning, she can get by for the rest of the day on a piece of fruit or bulk-purchased almonds – but food stamps supply only a fraction of her nutritional needs, so foraging opportunities are welcome.
Prior to the Great Recession, Adkins owned and ran a successful plant nursery in Moab, Utah. At its peak, it was grossing $300,000 a year. She had never before been unemployed – she'd worked for 40 years, through three major recessions. During her first year of unemployment, in 2010, she wrote three or four cover letters a day, five days a week. Now, to keep her mind occupied when she's not looking for work or doing odd jobs, she volunteers at an animal shelter called the Santa Barbara­ Wildlife Care Network. ("I always ask for the most physically hard jobs just to get out my frustration," she says.) She has permission to pick fruit directly from the branches of the shelter's orange and avocado trees. Another benefit is that when she scrambles eggs to hand-feed wounded seabirds, she can surreptitiously make a dish for herself.
By the time Adkins goes to bed – early, because she has to get up soon after sunrise, before parishioners or church employees arrive – the four other people who overnight in the lot have usually settled in: a single mother who lives in a van with her two teenage children and keeps assiduously to herself, and a wrathful, mentally unstable woman in an old Mercedes sedan whom Adkins avoids. By mutual unspoken agreement, the three women park in the same spots every night, keeping a minimum distance from each other. When you live in your car in a parking lot, you value any reliable area of enclosing stillness. "You get very territorial," Adkins says.
Each evening, 150 people in 113 vehicles spend the night in 23 parking lots in Santa Barbara. The lots are part of Safe Parking, a program that offers overnight permits to people living in their vehicles. The nonprofit that runs the program, New Beginnings Counseling Center, requires participants to have a valid driver's license and current registration and insurance. The number of vehicles per lot ranges from one to 15, and lot hours are generally from 7 p.m. to 7 a.m. Fraternization among those who sleep in the lots is implicitly discouraged – the fainter the program's presence, the less likely it will provoke complaints from neighboring homes and churches and businesses.
The Safe Parking program is not the product of a benevolent government. Santa Barbara's mild climate and sheltered beachfront have long attracted the homeless, and the city has sometimes responded with punitive measures. (An appeals court compared one city ordinance forbidding overnight RV parking to anti-Okie laws in the 1930s.) To aid Santa Barbara's large homeless population, local activists launched the Safe Parking program in 2003. But since the Great Recession began, the number of lots and participants in the program has doubled. By 2009, formerly middle-class people like Janis Adkins had begun turning up – teachers and computer repairmen and yoga instructors seeking refuge in the city's parking­ lots. Safe-parking programs in other cities have experienced a similar influx of middle-class exiles, and their numbers are not expected to decrease anytime soon. It can take years for unemployed workers from the middle class to burn through their resources – savings, credit, salable belongings, home equity, loans from family and friends. Some 5.4 million Americans have been without work for at least six months, and an estimated 750,000 of them are completely broke or heading inexorably toward destitution. In California, where unemployment remains at 11 percent, middle-class refugees like Janis Adkins are only the earliest arrivals. "She's the tip of the iceberg," says Nancy Kapp, the coordinator of the Safe Parking program. "There are many people out there who haven't hit bottom yet, but they're on their way – they're on their way."
Kapp, who was herself homeless for a time many years ago, is blunt, indefatig­able, raptly empathetic. She works out of a minuscule office in the Salvation Army building in downtown Santa Barbara. On the wall is a map encompassing the program's parking lots – a vivid graphic of the fall of the middle class. Kapp expects more disoriented, newly impoverished families to request spots in the Safe Parking program this year, and next year, and the year after that.
"When you come to me, you've hit rock bottom," Kapp says. "You've already done everything you possibly could to avoid being homeless. You maybe have a teeny bit of savings left. People are crying, they're saying, 'I've never experienced this before. I've never been homeless.' They don't want to mix with homeless people. They're like, 'I'm not going over to those people' – sometimes they call them 'those people.' So now they're lost, they're humiliated, they're rejected, they're scared, and they're very ashamed. I'm worried about the psychological damage it does when you have a place and then, all of a sudden, you're in your car. You have to be depressed just from the fall itself, from losing everything and not understanding how it could happen."
One evening last spring, I visit Janis Adkins in her parking lot at the Goleta Community Covenant Church. When I turn into the driveway, the sun has fallen to the horizon. The other residents haven't arrived yet, and Adkins' van, at the far corner of the lot, seems almost metaphysically solitary, drawn to the parcel of greenery at the asphalt's edge.
Because the night is chilly and the van shell seems to draw the cold inward, Adkins has already tucked herself in, reclining against pillows and a rolled sleeping bag at the back corner of the van, beneath blankets and layers of piled-up fleece clothing. For privacy, Adkins has put silver sunshades in the front windshield; a row of clean shirts and blouses suspended on hangers obscures the lot-facing side window. By the light of a little LED bulb in a camping headlamp, she is reading a novel called The Invisible Ones, whose main characters are gypsies.
Adkins has tousled blond-gray hair and the kind of deep, unaffected tan that comes from working outdoors. She grew up in a middle-class family in Santa Barbara, but eventually took off to become a river guide in Utah. Adkins engages you frankly, her manner almost practiced in its evenness: few gesticulations, steady intonation. Across the ceiling of the van she has affixed a silken red-and-gold banner that spells out a Buddhist chant of compassion. She practices yoga and meditation and believes in the Buddhist concept of equanimity; she takes comfort in the parable of the Zen ox herder, who tries and fails, day after day, to break a raging ox. When a friend calls to ask how she's doing, she often says, "Still riding the ox."
But the rigors of homelessness – the sudden loss of the signifiers of her selfhood – regularly breach the protection of detachment; the trick for her is regaining it quickly. "When negative thoughts come, it's important to be able to say, 'It's just a thought,'" she tells me. "'Just let it go.' When I get really down, I try to look at a worse-case scenario, like the pictures of the Haiti earthquake. I go, 'What could I do to help?' Things like that drive me forward." She also reminds herself to be grateful: to Starbucks for free cups of hot water, to the YMCA for her discounted membership, to the Safe Parking program. Gratitude snuffs out self-pity.
Before the financial crash decimated the value of her home and her customer base, Adkins had been contemplating selling her nursery, High Desert Gardens, and going to work for a humanitarian or environmental organization. But the suddenness and violence of the recession took her by surprise. The nursery specialized in drought-tolerant plants and offered more than 100 species of trees. Over the years, she had developed a deep base of horticultural knowledge, and people came from long distances to seek her advice. Business was good enough that she could leave her employees in charge of the nursery and travel for a month or so every summer to escape the harsh Moab heat.
Within two years of the crash, sales had dropped by 50 percent and the value of her land had fallen by more than that. Four banks refused to help her refinance. "Everyone was talking about bailouts," she recalls. "I said, 'I'm not asking for a bailout, I'm asking you to work with me.' They look at you, no expression on their faces, saying, 'There's nothing we can do.'" She had to shut the nursery down and sell everything she could to avoid foreclosure: "I was practically giving stuff away just to try to make some money. Started selling everything that wasn't permanent. I was going to sell the doors, the windows, the gates if I could, but they told me I couldn't." She decided not to file for bankruptcy: It would have cost her thousands of dollars and require her to give up her van, which she was determined to keep. When she had nothing left to sell to make her mortgage payments, she was forced to put her home on the market, clearing only $4,000 on the sale.
"I was spinning out of control," she says. "I was starting to lose my wits. It's very surreal being at a level of depression where it's easier to think about suicide and dying than it is to bend over and pick something up you're stepping over. It was getting bad enough that my friends started looking at me, going, 'You better get out of here.' The only functional thing I could figure out was to just go. I thought I would go travel and figure out what I wanted to do next. So some friends packed up my house and we converted my van so I could have as much stuff in there as possible, and I just left."
However long it takes to lose everything, to get to the point where you're driving away from your repossessed home, the final unraveling seems eye-blink fast, because there is no way to imagine it. Even if you've been unemployed for a year and are months-delinquent on your mortgage, you still won't have a mental category for your own homelessness; it's impossible to project yourself into the scenario. The reality, when it occurs and endures, seems to have sprung from nowhere.
Without reflection, Adkins drove to a wildlife refuge she knew about in Arizona. She thought perhaps she could get a volunteer job there, something to keep her busy, but she soon realized that the plan would leave her with no way to make ends meet. "I went to a place by this lake and I just stayed there for 10 days and cried and slept. I was so bad." Eventually she headed to Santa Barbara. She hoped that old connections might help her find work, but it wasn't long before she began running out of money.
Sitting in her van, we chat a bit about High Desert Gardens and the gypsy book and her volunteer work at the wildlife shelter. Eventually I ask how she gets by. She says that a cousin in town gives her food and cash when she can, and a woman at the church arranges informal gardening work for her. Various people she knows give her their recycling so she can redeem the cans and bottles, and she borrows money from friends and acquaintances, like the manager of the wildlife shelter. Having maxed out her borrowing capacity, though, she is increasingly unable to pay what she owes to places like the YMCA, where she goes to shower. She wouldn't be adverse to dumpster­diving – "I hear there's good food" – but she's not strong enough to climb the sides.
"I actually tried panhandling a couple months ago," she says. "I was so broke. I had, like, a dollar. And I didn't know what else to do, so I went to the library and Googled 'effective panhandling.'"
"Really?" I ask.
"I wouldn't make that up," she says, laughing. "There were a lot of different strategies. One site said do not dress up, dress down. Look sad. Don't be negative in your signs. Say thank you constantly. Be humble for real, don't be phony-humble."
Read more: http://www.rollingstone.com/culture/new … z1z7vo7FbL
Statistics: Posted by yoda — Thu Jun 28, 2012 3:46 pm
---
View full post on
opinions.caduceusx.com
Priced Out of the Middle Class
June 28, 2012
As rising costs have outpaced incomes for decades, households have been priced out of the middle class.
In Why the Middle Class Is Doomed (April 17, 2012) I listed five "threshold" characteristics of membership in the middle class:
1. Meaningful healthcare insurance
2. Significant equity (25%-50%) in a home or other real estate
3. Income/expenses that enable the household to save at least 6% of its income
4. Significant retirement funds: 401Ks, IRAs, income property, etc.
5. The ability to service all debt and expenses over the medium-term if one of the primary household wage-earners lose their job
I would now add a sixth:
6. Reliable vehicles for each wage-earner
Author Chris Sullins suggested adding these additional thresholds:
7. If a household requires government assistance to maintain the family lifestyle, their Middle Class status is in doubt.
8. A percentage of non-paper, non-real estate hard assets such as family heirlooms, precious metals, tools, etc. that can be transferred to the next generation, i.e. generational wealth.
9. Ability to invest in offspring (education, extracurricular clubs/training, etc.).
10. Leisure time devoted to the maintenance of physical/spiritual/mental fitness.
Lagniappe attributes:
11. Community altruism (volunteer time and/or money).
12. Pursuit of continuing education (not net surfing, but some exploration and growth in the real world).
The key point of these thresholds is that propping up a precarious illusion of wealth and security does not qualify as middle class. To qualify as middle class (that is, what was considered middle class a generation or two ago), the household must actually own/control wealth that won't vanish if the investment bubble du jour pops, and won't be wiped out by a medical emergency.
In Chris's phrase, "They should be focusing resources on the next generation and passing on Generational Wealth" as opposed to "keeping up appearances" via aspirational consumption financed with debt.
What does it take in the real world to qualify as middle class? Let's start by noting that real (adjusted for inflation) income has barely budged in 40 years, while household income has declined: Soaring Poverty Casts Spotlight on 'Lost Decade':
According to the Census figures, the median annual income for a male full-time, year-round worker in 2010 — $47,715 — was virtually unchanged, in 2010 dollars, from its level in 1973, when it was $49,065.
Overall, median household income adjusted for inflation declined by 2.3 percent in 2010 from the previous year, to $49,445. That was 7 percent less than the peak of $53,252 in 1999.
Here are my calculations based on our own expenses and those of our friends in urban America. We can quibble about details endlessly, so these are mid-range estimates. These reflect urban costs; rural towns/cities will naturally have significantly lower cost structures. Please make adjustments as suits your area or experience, but please recall that tens of millions of people live in high-cost left and right-coast cities, and millions more have high heating/cooling/commuting costs.
The wages of those employed by Corporate America or the government do not reflect the total cost of benefits. Self-employed people like myself pay the full costs of benefits, so let's "get real" and count *all* costs paid to maintain a middle-class lifestyle.
1. Healthcare. Let's budget $13,000 annually for healthcare insurance. Yes, if you're 23 years old and single, you will pay a lot less, so this is an average. If you're older (I'm 58), $13,000 a year only buys you and your spouse stripped down coverage: no eyewear, medication or dental coverage. If you have two children, you will be hard-pressed to buy decent coverage for less than $1,000/month.
Add in co-pays and out-of-pocket expenses, and the realistic annual total is between $15,000 and $20,000 annually: Your family's health care costs: $19,393.
Let's say $15,000 annually is about as low as you can reasonably expect to maintain middle class healthcare.
2. Home equity. Building home equity requires paying meaningful principal. Let's say a household has a 15-year mortgage so the principal payments are actually meaningfully adding to equity, unlike a 30-year mortgage. Let's say $5-$10,000 of $25,000 in annual mortgage payments is interest (deductible) and $15-$20,000 goes to principal reduction.
3. Savings. Anything less than $5,000 in annual savings is not very meaningful if college costs, co-pays for medical emergencies, etc. are being anticipated, and $10,000 is a more realistic number given the need to stockpile cash in the event of job loss or reduced hours/pay. So let's go with a minimum of $5,000 in cash savings annually.
4. Retirement. Let's assume $6,000 per wage earner per year, or $12,000 per household. That won't buy much of a retirement unless you start at age 25, and even then the return at current rates is so abysmal the nestegg won't grow faster than inflation unless you take horrendous risks (and win).
5. Vehicles. The AAA pegs the cost of each compact car at $6,700 annually, so $13K per year assumes two compacts each driven 15,000 miles. The cost declines for two paid-for, well-maintained clunkers. Average cost of auto ownership: $8,946 per year. let's assume a scrimp-and-save household who manages to operate and insure two vehicles for $10,000 annually.
6. Taxes. Self-employed people pay full freight Social Security and Medicare taxes: 15.3% of all net income, starting with dollar one and going up to $106,800 for SSA. Since an adjusted gross income (AGI) of $66,193 or more puts you in the top 25% of earners, let's use a base income (self-employed) of $68,000 to calculate our SSA/Medicare taxes: that's about $10,000 annually.
Property taxes: These are low in many parts of the country, but let's assume a New Jersey/New York/California level of property tax: $10,000 annually.
Income tax: Since the mortgage interest is only $5-$10K a year, itemized deductions are less than the standard deductions of around $18,000. One-half of the self-employment tax is deductible, as well as the health insurance and IRA retirement contributions, so that's another $30,000 in deductions. That leaves about $20,000 in taxable income and about $3,000 in Federal tax, and let's assume $2,000 in state and local taxes for a total of $5,000.
7. Living expenses: Some people spend hundreds of dollars on food each week, others considerably less. Let's assume a two-adult household will need at least $12,000 annually for food, utilities, phone service, Internet, home maintenance, clothing, furnishings, books, films, etc., while those who like to dine out often, take week-ends away for skiing or equivalent will need more like $20,000.
8. Donations, church tithes, community organizations, adult education, hobbies, etc.: Let's say $2,000 annually at a mimimum.
Note that this does not include the cost of maintaining boats, RVs, pools, etc., or the cost of an annual vacation.
Here's the annual summary:
Healthcare: $15,000
Mortgage: $25,000
Savings: $5,000
Retirement: $12,000
Vehicles: $10,000
Property taxes: $10,000
Other taxes: $15,000
Living expenses: $12,000
Other: $2,000
Total: $106,000
Oops. That's more than double the median household income. OK, let's assume the mortgage is a bit high, ditto the property taxes. Let's say we need "only" $96,000.
Oops again: our tax calculations were based on $68,000 in self-employed net earnings. To earn $96,000, our taxes are going to skyrocket, as we're still paying the full 15.3% SSA/Medicare taxes while we'll jump into the 25% tax bracket when our taxable income exceeds $35,000. Since we'll be paying at least $15,000 more in SSA and income taxes, then we're up to $111,000 as the minimum household income to maintain a middle class lifestyle for two self-employed adults.
An individual earning $111,000 is in the top 10% of all wage earners. A houshold earning $111,000 is in the 80%-90% income bracket–the lower half of the top 20%. This suggests that the "middle class" has atrophied into the 10% of households just below the top 10%. Households in the "bottom 80%" are lacking essential attributes of a middle class lifestyle that was once affordable on a much more modest income.
Note that this $111,000 household income has no budget for lavish vacations, boats, weekends spent skiing, etc., nor does it budget for luxury vehicles, SUVs, large pickup trucks, etc. There is no budget for private schooling. Most of the family income goes to the mortgage, taxes and healthcare. Savings are modest, along with living expenses and retirement contributions. This is a barebones budget.
If costs had stagnated along with wages, it would take a lot less to maintain a middle class lifestyle. But costs for most middle class essentials have skyrocketed. I was struck by something I read recently in a history of the Tang Dynasty in China, circa 700-900 A.D. When costs are cheap, goods and trade are abundant and prosperity is widely distributed. Once costs rise, trade declines and living standards stagnate. Poverty and unrest rise.
Here are a few charts that illustrate "being pricing out" of the middle class:
Wages have risen modestly while debt has increased enormously.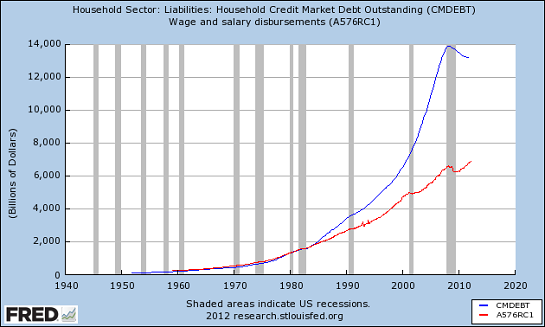 Social Security taxes have skyrocketed: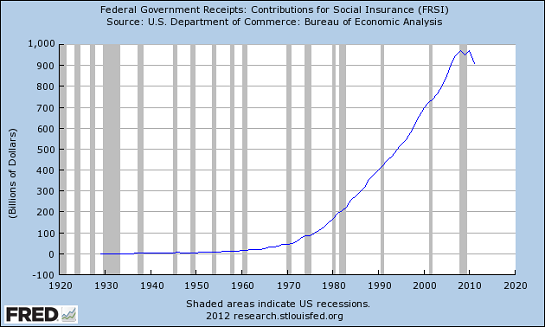 So have property taxes: they rose right through the last recession even as property values tanked: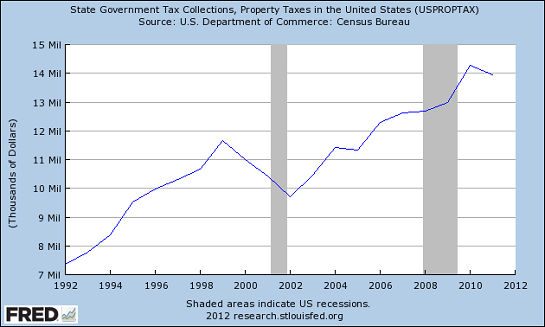 Labor's share of national income has plummeted: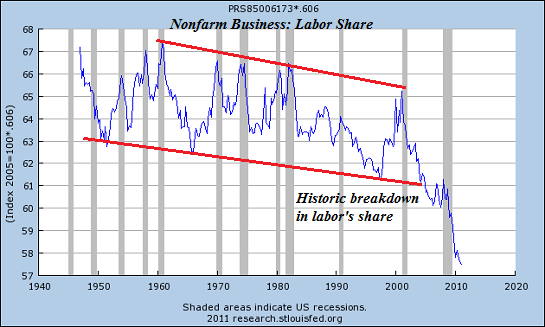 Interest income has fallen through the floor (thank you, Federal Reserve):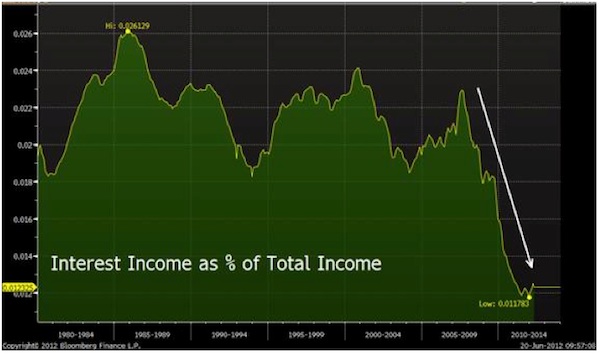 The bedrock of Main Street, small business, has cratered: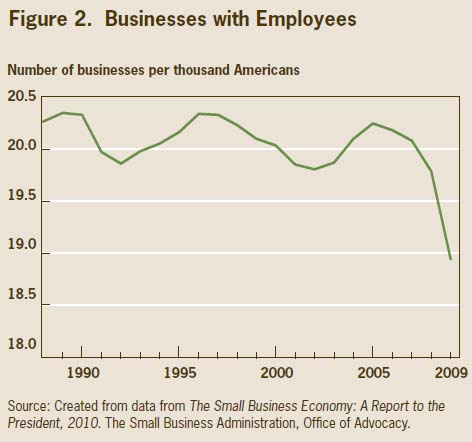 Net worth of the middle income households has been reduced to a sliver: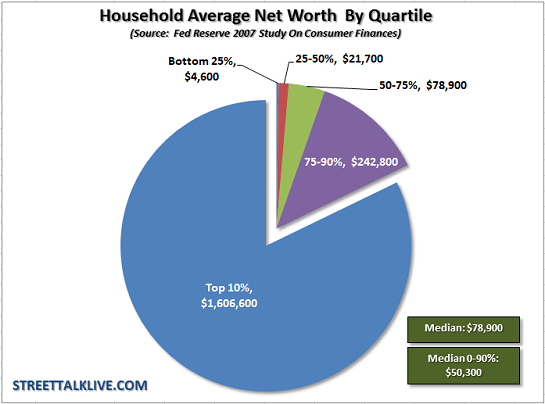 As costs have risen faster than incomes for decades, households have been "priced out" of the middle class. There is no other way to plausibly interpret the data.
http://www.oftwominds.com/blog.html
Statistics: Posted by yoda — Thu Jun 28, 2012 12:15 am
---
View full post on
opinions.caduceusx.com
January 27, 2012
Is the operative phrase here "priced to perfection"?
With everything from stocks and bonds to 'roo bellies rising as one trade, it may be a good time to ask: what's priced into the market's uptrend? We say "bad news is priced in" when negative news is well-known and the market has absorbed that information via the repricing process.
When the market has absorbed all the "good news," then we say the market is "priced to perfection:" that is, the market has not just priced in good news, it has priced in the expectation of further good news.
Markets that are priced to perfection are fiendishly sensitive to unexpected bad news that disrupts the expectation of continuing positive news.
So what have global markets priced into this uptrend across virtually all markets? Just as a partial list, we might include:
1. The Eurozone's sovereign debt/banking crisis has either been resolved or lowered to a simmer that won't damage global financial markets.
2. The austerity resulting from the extend-and-pretend fixes to the Eurozone's crushing debt and insolvent banking system will do no more than dent the Eurozone's major economies in 2012.
3. The U.S. economy has dodged recession and is growing slowly but surely.
4. All the primary metrics of that growth such as employment, GDP and retail sales are all rising smartly and will certainly continue on that rising trendline.
5. The bursting China's real estate bubble has had essentially zero effect on its growth as measured by GDP.
6. The slowdown in China's largest export market, the Eurozone, will have a marginal effect on China's overall growth rate.
7. The developing economies will continue expanding faster than the developed economies, and this rapid growth will continue pushing commodity demand and prices higher.
8. Geopolitical conflicts that might impact the supply of oil have all been priced into the price of oil.
9. Political developments in Europe will not disrupt global financial markets.
10. Global central banks (i.e. the ECB and the Federal Reserve) have effectively restabilized the global financial system via ample liquidity and massive expansions of money supply and balance sheets.
11. Volatility has been banished by this central bank-backstopped stability.
12. The strong yen will have negligible effects on the global economy or on Japan's growth and stability.
This is just a partial list of all the "good things" that are priced into global markets. If all of these good things are well-known and already priced in, then we have to ask what other good news could possibly turn up to drive prices even higher? If "positive surprises" are priced in, then how can positive surprises drive prices higher?
Put another way: if everyone who could buy in has already bought in to ride the "good news" wave on expectations of more good news to come, then where is the new money coming from to drive prices even higher?
If markets are indeed priced to perfection, then the second line of inquiry is: what happens if expectations of enduring stability and good news are dashed by "unexpected" bad news? Could volatility suddenly return from banishment? Could prices suddenly decline as the market reprices in risks that have been dismissed as non-factors?
Bulls have been claiming that the "good news" is a powerful trend that will only continue showering us with positive reports of ever-rising GDP, sales, revenues and profits. If that story is called into question, then how does a market priced to perfection reprice this doubt and risk?
How does a market priced to perfection reprice a "black swan" financial event, that is, a low-probability event that comes to pass despite the low odds? What if the official suppression of risk over the past 4 months has greatly increased the pressure in the global financial system and thus the odds of a Black Swan appearing "unexpectedly"?
These are questions to ponder in the weeks and months ahead. Time will tell if this is indeed a market priced to perfection or a market that has barely begun its march higher.
http://www.oftwominds.com/blog.html?ref=patrick.net
Statistics: Posted by yoda — Fri Jan 27, 2012 10:29 am
---
View full post on
opinions.caduceusx.com
Ashvin Pandurangi:
Don't Be Fooled: Nothing's Priced In
I'm not a technical analyst or a fundamental analyst or any other type of equity market analyst. What I am is just a guy who likes to think he can spot completely nonsensical propaganda when he reads or hears it.
You know, the type of non-stop propaganda that attempts to manage perceptions/expectations and convince "investors" that, while things are obviously very bad in the real economy, everything is still just hunky dory in the wonderful world of equities.
Case In Point
Some mainstream market analysts chimed in after the serial S&P ratings downgrades of nine Eurozone countries, and specifically the one-notch downgrade of France from AAA to AA+ (ratings outlook still negative), to say that the market had already "priced them in" and therefore they are really no big deal. S&P had put all of these countries on negative watch back in December before the latest and unsurprisingly innocuous EU Summit, so the downgrades were no surprise.
Here are just two examples of a very pervasive and perverse logic, presented by The Telegraph:
S&P cuts ratings of nine eurozone countries: reaction
Fabrice Seiman, head of Lutetia Capital, said:
"S&P is absolutely right. France is paying the price of 30 years of irresponsibility in public finances. French politicians on the right and on the left fell short of the job by not taking measures to reduce spending."
I think this is already priced in. There should not be any sizable reaction, but there could be a technical reaction on the Franco-German spread. It should be limited to the long-term and if there is a reduction in spending."
Bill O'Grady, chief market strategist at Confluence Investment Management, said:
"If France had been downgraded more than one level it would have precipitated a crisis. This is not good but it was anticipated, baked in. For oil it is probably a neutral event. If it raises concerns about a worsening economic environment it would be bearish."
Ashvin Pandurangi: That logic does sound appealing on the surface and many others like to parrot it, but the first question to pop into my mind was this – how can the market "price in" very significant developments in Euro sovereign credit markets by steadily increasing in valuation since they became aware those developments would occur?? Since the S&P put a bunch of EZ countries on negative watch on December 5, 2011 and the EU Summit on December 9, the S&P500 has risen almost 6%.
That's a boat load of downgrades the market appears to have priced in over the last month while very little "positive" news has come out of Europe. Now I'm confident that the initial reaction to my question above would be, "that's a really simple and stupid question to ask!". Fortunately, there are several great analysts out there who have reached similar conclusions about these equity markets, which have allegedly "priced in" everything under the Sun, and have provided us with slightly more nuanced arguments than my own.
The U.S. Dollar (and Treasuries) has been increasing in value alongside U.S. equities, so the pundits should find it very difficult to explain the upwards "pricing in" market action of the last month by saying it is a nominal increase of shares priced in dollars. What we have is a very significant divergence between the dollar index and equities, as Charles Hugh Smith outlines in his piece, A Useful Fiction: Everybody Loves a Melt-Up Stock Market, and one that must close in the near future. The following charts of the dollar index ($DXY) and 5-year Treasuries are from M3 Financial Analysis:
The truth is that the very notion of the market "pricing in" events as the investor collective becomes aware of them is flawed. In the comprehensive TAE classic of 2010, Fractal Adaptive Cycles in Natural and Human Systems, Nicole Foss delves into Robert Prechter's theory of "Socionomics" (among other things) and how it can explain market valuations as a function of endogenous factors, such as the collective mood of investors, rather than exogenous events relayed by "the news".
Bob Prechter's socionomics model combines Elliott's observed fractal patterns with an understanding of human herding behaviour, comprising a comprehensive challenge to prevailing notions such as the Efficient Market Hypothesis by reversing causation and recognizing the role of emotional/irrational behaviour as the prime market driver. While the real economy demonstrates negative feedback loops, finance is thoroughly grounded in positive feedback.
Ashvin Pandurangi: Mish Shedlock also touched on this concept in a post earlier this week. He illustrated that, at best, the market should be viewed as a contrarian indicator for future economic trends due to its function as a gauge of extreme sentiments, and, at worst, it shouldn't be viewed as an indicator of anything at all.
Cherry Picking Timeframes on Alleged Leading Indicators; Big Change In LEI on January 26
"The stock market is not a leading indicator of the economy. Rather, the stock market is a coincident indicator of sentiment towards equities.
…
Far from being a leading indicator, on an absolute basis the S&P has a perfect track record of peaking right before or just as a recession starts. This is just as one might expect from a gauge of equity sentiment which tends to peak right before a downturn in the economy (with everyone extrapolating good times forever into the future).
On a percentage change basis, the S&P 500 is not leading, not lagging, and not coincident. Instead it is completely useless mush."
shvin Pandurangi: It's not just the "fringe bloggers" drawing these conclusions about the market, but also such "reputable" financial institutions as UBS. Granted, the well-intentioned bankers over there also point out that the French downgrade, among others, was expected and shouldn't affect near-term credit spreads too much. Instead, they choose to focus on the effects it will have on the state of realpolitik in Europe's core, and how that is certainly not something which is "priced in" at all. Indeed, only market shills and fools can even pretend to separate the two (finance and politics).
UBS Explains Why AAA-Loss Is Actually Relevant
"France has not only lost its AAA status. Critically, France has lost AAA status at a time when Germany has not. France also retains a negative outlook against a stable outlook for Germany, compounding the distinction. The relative decline of France's credit rating is something that has potential political implications.
There are parallels here to the relative positions of the UK and the US in 1949, in the wake of sterling's devaluation against the dollar. The devaluation was simply a confirmation of economic reality, but the visible confirmation of that shift in relative economic reality served as a defining moment in the shift of the bilateral relationship in political terms.
Since the foundation of the Coal and Steel Community in 1951, the history of (continental) European politics has been essentially a story of France and Germany holding each other in check. Indeed, this was the explicit aim of the ECSC's founders. With the downgrading of France relative to Germany, there is now a de jure as well as a de facto inequality between the two states. The ability of France to act as a counterbalance to Germany in economic decision-making has been compromised.
In the wake of the downgrade of the EFSF, it is clear that the actions of S&P have elevated the role of Germany (and perhaps, to a lesser degree, the Netherlands) in any collective economic decisions within the Euro area. Any economic decision that requires money to be spent will require wholehearted German endorsement if rating agency determined credit credibility is to be maintained. The bargaining power of Germany in the economic councils of Europe has been correspondingly increased."
Ashvin Pandurangi: So if the equity markets are "pricing in" anything, it's the pure hope that all of these downgrades of countries, banks and corporations will continue to be glossed over by bond markets, that political/economic imbalances in Europe haven't been exacerbated, that the Greek government and its creditors aren't helplessly struggling to reach a "voluntary" debt reduction deal before a technical default in March becomes inevitable, that China/India aren't facing "hard landings" and that the U.S./U.K. economies will not be dragged down by their own housing markets, corporate [lack of] earnings, unemployment trends or any of the above.
Some people will tell you that the only thing the markets need to keep their manic phase intact is the inevitable QE money printing that the Fed will officially announce, which has conveniently been "just around the corner" for almost a year now. Despite those consistent predictions of QE3, I made clear that I didn't expect the Fed to relent in 2011, and many of the same financial and political reasons underlying that expectation still stand. The primary reasons being the conundrum reflected by the fact that the S&P is still hovering around 1300 (and oil around $100/bbl), which makes the marginal benefits of QE very slim, and the politically volatile situation in the run-up to November's elections.
On the other hand, the financial threats from the Euro crisis and a strong dollar (weak euro) have clearly intensified over the last few months, and the ECB is even more constricted from printing than it has ever been (at least for anything other than sub 3-year sovereign paper through its indirect LTRO, which still doesn't reflect net cash entering EZ bond markets). Perhaps these developments will finally convince the Fed to "pull the trigger" on QE3, but then many questions still remain – how many trillions are needed to boost "risk appetite" for more than a few weeks and what happens when those trillions are perceived as "not enough"?
Like I said at the beginning, I'm not any sort of market analyst, but there do seem to be a whole slew of developments starting to weigh on collective investor sentiment right now, which will only get heavier in the upcoming weeks and months. No one can tell you that any of these negative and ongoing developments herald an imminent market crash or how exactly they will impact shares. What I can say with confidence, though, is that none of them are insignificant bumps in the road. They certainly did not "remove any uncertainty" from the markets and they have in no meaningful way been "priced in" by these markets either.
POSTED BY ILARGI
http://theautomaticearth.blogspot.com/
Statistics: Posted by yoda — Thu Jan 19, 2012 1:07 pm
---
View full post on
opinions.caduceusx.com