The Many Guises of Financial Repression October 10, 2012 | Author Pater Tenebrarum
What is Behind the New Buzzword
Economists, market analysts, journalists and investors alike are all talking about it quite openly, generally in a calm and reserved tone that suggests that – to borrow a phrase from Bill Gross – it represents the 'new normal'. Something that simply needs to be acknowledged and analyzed in the same way we e.g. analyze the supply/demand balance of the copper market. It is the new buzzword du jour: 'Financial Repression'.
The term certainly sounds ominous, but it is always mentioned in an off-hand manner that seems to say: 'yes, it is bad, but what can you do? We've got to live with it.'
But what does it actually mean? The simplest, most encompassing explanation is this: it describes various insidious and underhanded methods by which the State intends to rob its citizens of their wealth and income over the coming years (and perhaps even decades) above and beyond the already onerous burden of taxation and regulatory costs that is crushing them at present.
It is as though a highway robber were not only content with robbing you at gunpoint on the street, but were emptying your bank account by having his associates hack into it at the same time and then visiting you at home to break into your wall safe for good measure.
One would think that people should be up in arms over it and do everything to avert it instead of merely calmly discussing it with a proverbial shrug.
How and why has it come to this? Why is there this sudden need for the State to not only openly grab the vast bulk of what its citizens produce, but add to the loot by robbing them by thinly disguised stealth methods as well? There are two main reasons for this: the legacy of the past and the unwillingness to shrink the power and size of the State.
Time Preferences and Obstacles to Reform
In democracies (especially when they are using a fiat money system) time preferences tend to be much higher than they would otherwise be. This is most pronounced in the case of the political class: the average politician cares not one whit about the long term health of his nation's capital stock – it doesn't belong to him after all. However, he is in a position to dispose of other peoples' wealth and will almost always do so in a manner that 'buys' the maximum of votes in the next election. Note that this tendency to maximize the income obtained by political instead of economic means raises the time preferences of nearly everyone in society – this is so because it diminishes the prospective return on capital for everyone, including of course those whose wealth is diminished by taxation. Long term economic growth suffers accordingly (for readers who want to know more about this particular topic, Hans-Hermann Hoppe has written extensively about it).
Ever more promises were made to ever more people, ever more privileges were extended and ever more costly welfare and warfare programs were initiated. It was seemingly easy to pay for it all: tax revenues were high and what could not be obtained by means of taxation was simply borrowed and/or printed. It has been perfectly clear for a long time that the funding of all these programs would not be sustainable in the long run. Even the governments own 'watchdogs' like the 'GAO' ('government accountability office') in the US and similar offices elsewhere have continually made a compelling case that spending needs to be reined in.
Alas, in the long term 'we're all dead' as Keynes maintained, so why worry? To the politicians of the day, the long term has always been something someone else would eventually have to deal with.
We have now arrived at the edges of this long dreaded moment, the time when the piper will have to be paid. The moment that could always be put off in the past has clearly been reached in the euro area for instance, where the limitations on government financing imposed on the supra-national central bank have unmasked the truth about government finances in a number of countries.
The past cannot be undone. In many cases it has become impossible to get rid of so-called 'entitlement spending' short of declaring national bankruptcy – it has become part of so-called 'mandatory spending' (we have to use quote marks here because a sufficiently motivated political leadership could deal with it if it wanted to). Moreover, politicians are loath to cut discretionary spending as well: no matter what type of spending is cut, there will be 'blowback' from the vested interests that are denied their place at the trough. Any spending cuts or economic reforms that really make a difference are a sure way to lose elections.
As an example, consider Gerhard Schröder's actually not overly radical welfare state and labor market reforms in Germany. He undertook them in light of the economic pressures German reunification had produced. They went against the grain of what his party (the social democrats) stood for. They most certainly led to his electoral defeat. And yet, today it is widely acknowledged that Germany's economy would have continued to stagnate and could never have become Europe's 'economic locomotive' without them. The positive effects arrived far too late to save Schröder's political career – he actually made policy for the long term, a rare exception.
Leviathan Doesn't Want to Shrink
Apart from the legacy of the past – which consists of the already accumulated outstanding public debt and the many promises to continue spending – there is a desire to keep the State's bloated size intact at all costs. Every single bureaucracy within the State is eager to keep growing and amass more powers over time. No ministry wants to be the one that bears the brunt of prospective spending cuts.
Regular readers know that we have focused our criticism of EU-style 'austerity' on this point: governments that are reluctantly forced to reduce their deficits and debts in the euro area tend to do so in a manner that aims to keep the size of government unaltered – the main focus is on raising taxes even further, not on slimming down the bloated State. The banking industry – which is the industry enjoying the biggest of all privileges, namely the power to create money ex nihilo – is likewise taboo. Apparently there cannot possibly be too many banks or any banks not worth saving at tax payer cost. Meanwhile, the system's ability to obtain profits by denying savers a return on their savings is couched in propaganda about the alleged necessity for central banks to manipulate rates to zero, and in some cases even below zero, to 'save the economy'.
Numerous ways to avoid spending cuts and to diminish the value of outstanding debt have been thought up. This is where financial repression comes in.
It can take many forms – higher taxation, capital controls (either open or disguised), the imposition of negative real interest rates, regulations that force investment into government-desired channels, selective defaults, credit dirigisme, monetary inflation and so forth. We cannot accuse the political and bureaucratic classes of a lack of creativity in these areas. Nor can we accuse them of hiding their desire to impose additional oppressive taxation.
Below is a clip that shows Austria's minister of the interior holding forth in parliament not long ago. Consider in this context that the total tax burden imposed on the country's citizens amounts to 60% at this time (you'll have to use Google translation, the article is in German). It is also a country in which political corruption and waste of tax payer funds have attained what are often stunning proportions (to no detriment to the perpetrators, as the ministry of justice can stop any and all investigations at will). Here is the clip (her rant begins at 0:38)
——————————————————————————–
ustria's interior minister Johanna Miki-Leitner, talking about the need for a new 'solidarity tax'.
Here is a translation of what she said:
"…and when the rip-off artists and speculators among the top income earners are asked to pay up, and they have the feeling that we are ripping them off, then I can only say, they have anyway no sense for the collective good, for our community. Then I simply say to them: Fork over the dough! Fork over the millions! Fork over the loot!"
——————————————————————————–
This by the way is a 'conservative' politician. Consider also that there really are no 'speculators' in Austria. Neither are there many rich people and most of the known 'rip-off artists' are as a rule members and/or friends and relatives of the political class. What they are ripping off are tax payer funds. In fact, Austria's small handful of 'rich' people consists of utter financial midgets compared to e.g. the rich in the US. Under the guise of 'taking from the rich' (who somehow automatically seem to be deserving of opprobrium, because what else can they be if not 'rip-off artists and speculators'), Mrs. Miki-Leitner's rant indicates that taxes will be raised further on everyone. When is it going to be enough? As noted above, the tax burden on the middle class already amounts to 60% of its income if calculated correctly.
We don't want to pick specifically on Austria as it were – it merely serves as an example of the hubris and shamelessness of the modern-day political class when it comes to the forcible appropriation of other peoples' property. It is roughly the same in virtually all of Europe.
Below we bring a few recent examples of 'financial repression' activities on the part of governments that show the many guises which the policy is taking apart from the well-known fact that central banks are inflating all out.
Recent Examples of Financial Repression
'FATCA'
One example is the US 'FATCA' Act, a thinly disguised attempt to introduce capital controls through the backdoor by making it nigh impossible for US citizens to hold funds abroad. The reporting and compliance requirements the law imposes on foreign financial institutions are so complex and costly that many of these institutions have simply ceased to do business with US clients. This has created undue hardship for US citizens residing in foreign countries. A recent article at BC Business describes the problems faced by banks and credit unions as well as their clients in Canada as a result of this law. A few highlights follow below. First an example of what it can do to private citizens who try to comply with the regulations:
"New U.S. laws targeting overseas tax cheats have not only left a million Canadians facing the potential of financial ruin, but have put local credit unions in an impossible bind.
Maury Williams, a 68-year-old history professor at UBC's Okanagan campus, was born in Australia, moved to the U.S. with his family as a child and acquired U.S. citizenship at age 15, when his mother decided to become a U.S. citizen. He moved to Canada in August 1973 to take a teaching position at the now-defunct Notre Dame University in Nelson, and became a Canadian citizen in 1986.
That seemingly benign history has created a nightmare. In May 2011 Williams and his wife Linda realized that their status as U.S. citizens requires them to file U.S. income tax returns. The rule has been in place for several decades, although it is rarely enforced by the U.S. Internal Revenue Service. Wanting to do the right thing, Williams and his wife plunged into the Byzantine world of American tax compliance by entering the Offshore Voluntary Disclosure Program — a program designed to give U.S. tax cheats a chance to come clean without facing criminal charges. He has since discovered that it is not the way to go for anyone whose only transgression was not knowing the U.S. requirement for expatriates to catch up on tax filing.
As of this summer, the adventure has cost the couple $28,000 in accounting fees and nearly $18,000 in back taxes owed to Uncle Sam. And it's not over. At press time, the Williamses were awaiting a response from the IRS on all the paperwork filed through the Offshore Voluntary Disclosure Program in December 2011 on their "catch-up" with filing requirements. The IRS could assess late-filing penalties that would add tens of thousands more to what they've already paid, putting them at risk of financial ruin.
[…]
Put aside the cost for a moment, and consider what this has done emotionally, psychologically and physically to this ordinary Canadian family whose only "crime" was that at one time they were U.S. citizens. Asked about the impact, Williams said, "Nightmare, unfairness — it goes further for me. I'm not quite sure how to put this, but my wife has an arthritic condition, and it's gotten a lot worse. We're both convinced that the stress associated with this has had some impact. It's affecting our health. Linda and I have gotten to the point where we don't talk about this anymore."
However, that is not all. As the article points out, the requirements of the FATCA act actually clash with Canada's own privacy laws. The US is asking Canadian institutions to do something in terms of client data collection they are not allowed to do. This creates a legal bind for them that goes well beyond the mere costs of compliance (the same problem is faced by institutions in many other countries as well).
"FATCA, which was passed into law in 2010, demands that every financial institution in the world identify all account holders who are "U.S. persons" — defined by the IRS as anyone who is a U.S. citizen, or even a U.S. landed immigrant or green-card holder — and report directly to the IRS on the status and balances in those accounts. Intended to catch U.S. tax cheats stashing money abroad, this huge net threatens to sweep up, along with a handful of tax cheats, those six to seven million U.S. expatriates living ordinary lives in other countries.
One significant challenge for Canadian financial institutions is the fact that Canadian and provincial right-to-privacy legislation prohibits them from sending financial information to a third party (like the IRS) without the consent of the account holder. While Canada's major banks have taken strong positions on FATCA, the country's credit unions are also caught up in the controversy and are actively pushing for changes. Collectively, they are not happy. "I've never touched a file before in which there is absolutely no public policy benefit, no benefit for Canada, no benefit for a Canadian credit union," says Gary Rogers, vice-president of financial policy at Credit Union Central of Canada, the association that represents the country's credit unions. "The burden to follow some rules imposed by a foreign government is quite disgusting. I've been trotting out that phrase from the 1960s — 'Yankee Imperialism.' I launched that with our board, and got a chuckle. But it is accurate."
The end result, quite predictably, is this:
"None of the credit union officials would speculate on what their ultimate policy decisions will be — perhaps because the options are not very palatable. One of those options, and it's one already being employed in other countries, is to simply get rid of all account holders with American ties, and refuse to open accounts for anyone with American connections. As draconian as that sounds, it is already happening in Asia and in Europe. If a financial institution can purge itself of all accounts with American connections, it won't have any compliance issues with the U.S., and it won't have to report anything to the IRS."
(emphasis added)
Or to put it bluntly: the law effectively amounts to the introduction of capital controls through the backdoor.
Forcing Pension Funds to Buy Government Debt
Another example we have come across are laws and regulations that force pension funds to buy sovereign debt whether they like it or not. People are coerced into buying the debt of what are de facto, if not yet de iure, bankrupt governments. After all, without the ability to print money, many governments would have been forced into outright default already. Avoiding default by printing money is of course nothing but default by another name. As the FT reports:
"Pension funds will be forced to buy chunks of the trillions of US, UK and EU long-dated sovereign bonds to be issued over the next few years – but with disastrous consequences, experts say.
Solvency II-type regulations and financial repression – in which governments are pressing institutional investors to buy debt – will push pension funds to invest in government bonds. The problem, however, is that government bonds offer low-to-negative real returns that will eat into pension funds and increase those funds' growing deficits. While financial repression can help governments to shrink debt, this type of policy is definitely not favourable to pension funds, says Jerome Booth, head of research at Ashmore.
"Financial repression works well, as it did after the second world war, but it is distortionary," he says. "Whilst it's good for the taxpayer, as a saver I think it's outrageous. Anyone who invests money in sovereign bonds has got some explaining to do."
Recent monetary policy in developed markets has already pushed down government bond yields, but experts say the situation could get worse. One concern is that over the long term, a period of high inflation or strong currency moves would lead to a great reversal of government bond prices.
Mr Booth adds: "In markets, risk is always moving. It's not acceptable to shove people's money into deposits or government bonds."
(emphasis added)
'Acceptable' or not, it is being done. As the article notes, a veritable 'tsunami' of government debt issuance lies dead ahead, with the US alone expected to issue an estimate $5 trillion in new debt by 2017.
As Ludwig von Mises notes in 'Human Action' regarding investment in government bonds, there is no such thing as a 'risk free' investment that is independent of the wealth generated on the free market. Furthermore, over time, the government is forced to begin paying for all the capital that has been squandered in the past.
Mises writes:
"Now, the irredeemable perpetual public debt presupposes the stability of purchasing power. Although the state and its compulsion may be eternal, the interest paid on the public debt could be eternal only if based on a standard of unchanging value. In this form the investor who for security's sake shuns the market, entrepreneurship, and investment in free enterprise and prefers government bonds is faced again with the problem of the changeability of all human affairs. He discovers that in the frame of a market society there is no room left for wealth not dependent upon the market. His endeavors to find an inexhaustible source of income fail.
There are in this world no such things as stability and security and no human endeavors are powerful enough to bring them about. There is in the social system of the market society no other means of acquiring wealth and of preserving it than successful service to the consumers. The state is, of course, in a position to exact payments from its subjects and to borrow funds. However, even the most ruthless government in the long run is not able to defy the laws determining human life and action. There are in this world no such things as stability and security and no human endeavors are powerful enough to bring them about.
If the government uses the sums borrowed for investment in those lines in which they best serve the wants of the consumers, and if it succeeds in these entrepreneurial activities in free and equal competition with all private entrepreneurs, it is in the same position as any other businessman; it can pay interest because it has made surpluses. But if the government invests funds unsuccessfully and no surplus results, or if it spends the money for current expenditure, the capital borrowed shrinks or disappear entirely, and no source is opened from which interest and principal could be paid. Then taxing the people is the only method available for complying with the articles of the credit contract. In asking taxes for such payments the government makes the citizens answerable for money squandered in the past. The taxes paid are not compensated by any present service rendered by the government's apparatus. The government pays interest on capital which has been consumed and no longer exists. The treasury is burdened with the unfortunate results of past policies."
(emphasis added)
Mises put these words to paper in the late 1940′s. Although he didn't use the term 'financial repression', it is evidently precisely what he deemed the ultimate outcome of the vast accumulation of government debt to be.
The Transaction Tax
Euro area governments are pushing ahead with the introduction of the 'transaction tax', which will will do untold harm to European capital markets and further diminish the shrinking incomes of citizens depending on their savings and investments. As numerous studies have shown, the tax will destroy far more revenue than it can ever hope to bring in. The reaction of Europe's political class: Let's do it anyway!
"Finance ministers from 11 European Union countries agreed at a meeting in Luxembourg on Tuesday to support a tax on financial transactions, hoping to discourage risky trading while simultaneously raising revenue.
Germany and France, the EU's two largest economies, have long supported the idea of the tax, while countries like the Netherlands, Sweden and the United Kingdom remained staunchly opposed out of fears the tax could harm the competitiveness of their financial markets.
Sweden imposed a similar tax in the 1980s, only to lose much of its trading activity to London. Stockholm later repealed the law. "We still think that the financial transaction tax is a very dangerous tax," Swedish Finance Minister Anders Borg said ahead of the meeting. "It will have a negative impact on growth."
There are still few details on how the tax — referred to as the "Tobin tax" after the Nobel laureate American economist James Tobin who first proposed it in 1972 — would work and how its revenue would be used. The European Comission, the EU's executive branch, has proposed taxing trades in bonds and shares at a rate of 0.1 percent per transaction and taxing trades in derivatives at 0.01 percent.
Some have proposed the revenue be put into a fund that would help struggling banks, while others — particularly Brussels — want the money to beef up the EU's budget. Austrian Finance Minister maria Fekter said that a model for how the tax might work would be presented by the end of the year in the hopes that it could be installed by 2014.
Talks on the tax are one element of European Union efforts to create banking rules that could help prevent a repeat of the debt crisis which continues to ravage euro-zone finances."
(emphasis added)
Let us simply ignore Sweden's experience! Who cares about 'growth'? We must 'rein in risky trading'! This is such appallingly uninformed nonsense that one doesn't know where to begin. Have they no better things to do? Of course the officially intended 'victims' of the tax, namely financial institutions and the ever-present 'evil speculators' (on whose activities the market economy depends, a fact that has not once been mentioned or considered by the eurocrats as a result of their economic illiteracy) are definitely not the ones who will pay for this newest burden. Everybody else certainly will – first and foremost the proverbial widows and orphans. The tax will severely impair market liquidity, thereby raising spreads and diminishing the prospective investment returns of pension funds, mutual funds and other investment vehicles. The banks will simply pass the cost on to their customers – they are not going to pay a single cent. Speculators will decamp to more welcoming shores, which should permanently increase the equity risk premium in the countries imposing the tax, which in turn will make it more expensive for companies to raise capital. Meanwhile, anyone who actually believes that the financial crisis could have been averted by means of imposing such a tax urgently needs to have his head examined.
Negative Interest Rates, Inflation
Banks have begun to impose penalties on those who seek to escape the risks associated with the euro by fleeing into the currencies of Denmark and Switzerland. This is a result of the central banks in these countries attempting to discourage capital inflows by imposing negative deposit interest rates.
As Bloomberg reports:
"State Street Corp. (STT) and Bank of New York Mellon Corp., two of the world's biggest custody banks, will charge depositors to hold Danish kroner and Swiss francs as customers seek refuge from the crisis-stricken euro.
State Street will apply a negative interest rate of 0.75 percent annually to krone deposits starting Nov. 1, with a separate charge for francs, according to a note to clients last week. That means money managers, insurance companies and pension funds must pay the bank to hold their cash. BNY Mellon started charging for krone deposits last month, a person with knowledge of the matter said. The lender isn't charging for francs.
Denmark and Switzerland have cut interest rates close to or below zero to keep the krone and franc from rising as investors flee the euro for safer havens, reflecting concern that the currency may break up. While negative rates may drive off some customers, global lenders want to restore the profit margin between what they pay for deposits and what they earn on investments.
"It does look customer-unfriendly, but since State Street's mainly dealing with institutions I would think that people would be more understanding," said Richard Herring, a professor of international banking at the University of Pennsylvania. "The overall problem is the distortions that are caused by the monetary policies that are being pursued in the major countries."
(emphasis added)
Of course 'negative interest rates' are a liable to create even worse economic distortions than merely 'suppressed' interest rates. In the real world there can be no such thing as a 'negative interest rate'. The natural interest rate must always be positive – it expresses the discount of future goods against present goods. It is simply not possible for future goods to be worth more than present goods. Time preferences may in theory rise to something approaching 'infinity': for instance, imagine the hypothetical case that we find out that a comet will collide with the earth and destroy it within a week's time. Obviously there would no longer be any incentive to provide for the future and time preferences would increase accordingly.
However, it is logically impossible for time preferences to become 'negative'. And yet, a number of central banks have manipulated their administered interest rates into negative territory and several others are reportedly considering taking the same step. How that can result in anything other than even more misallocation of scarce resources remains unexplained by the bien pensants leading these institutions.
http://www.acting-man.com/?p=19934
Statistics: Posted by yoda — Thu Oct 11, 2012 8:07 pm
---
View full post on
opinions.caduceusx.com
A GREAT EXAMPLE OF THE COMING FINANCIAL REPRESSION
by SIMON BLACK ·
May 14, 2012
London, England
[Editor's note: Tim Price, frequent Sovereign Man contributor and Director of Investment at PFP Wealth Management in the UK, is filling in for Simon today.]
Imagine you are one of two people playing Monopoly. While you follow the rules religiously, the other player, who also happens to be the banker, does not.
He routinely appropriates properties. If he doesn't like the score on the dice, he simply changes them. He continually takes as much money from the bank as he likes. Whenever the rules don't suit he arbitrarily alters them in his favour.
Oh, and he hates to lose. Rather than concede defeat, he is perfectly willing to set fire to the table.
Imagine no longer. This is the state of the financial markets. You are playing against the world's central banks.
For some time now, the Financial Times has been running articles (under the inauspicious label of 'Collateral Damage') discussing the merits or demerits of central banking. Only one contributor, Ron Paul, has challenged the status quo:
"[W]hile socialism and centralised economic planning have largely been rejected by free- market economists, the myth persists that central banks are a necessary component of market economies."
Every other contributor thus far has sought to defend central banking as a necessary part of the system… a view that seems categorically embraced by most people. In browsing through the comments of Dr. Paul's FT article, for example, one reader posted:
"The problem with blindly accepting Dr Paul's diagnosis is that he lacks the necessary qualifications to make a diagnosis. Would you trust a medical diagnosis made by Ben Bernanke, Mario Draghi or Mervyn King ?"
No, I wouldn't. But I wouldn't trust an economic diagnosis from any of those individuals either. Given their track records, why would anyone?
Getting rid of central banks (over time, let us be realistic) would have several effects.
First, it would require insolvent commercial or investment banks to fail properly, as opposed to feeding off the blood of taxpayers indefinitely.
As an example, lest anyone regard the $2 billion loss recently announced by JP Morgan as comparatively trivial, it should perhaps be seen in the context of the same bank's overall derivatives exposure, which is shown graphically below.
JP Morgan's total derivatives exposure stands at $70.1 trillion, or roughly the same size as the entire world economy. Each of the $1 trillion towers in the image is double-stacked to a height of 930 feet (283 meters).
Second, eliminating central banks would require governments to balance their books, no longer able to monetize the debt through its relations with the central banker.
Third, asset prices would revert to being determined by the market, and not by unelected economist serving the interests of bankers and politicians.
As this is clearly not going to happen anytime soon, most investment managers seem content to embrace the system and continue playing the cards they've been dealt.
To give you an example, the FT reported that, last year, US pension funds for the very first time put more of their assets into bonds as opposed to equities.
Like many investors, these fund managers fail to understand the risks they're running and seem to have accepted the convention that nothing could possibly go wrong while central bankers are in charge.
Yet with Treasury yields as low as they are, this is unlikely to end well. The chart below shows the impact on investors who purchased British Gilts during the stagflation suffered in the UK during the 1970s.
Investors who bought conventional Gilts in 1973 had to wait for 12 years to earn a positive real return on their investment. And this is exactly the sort of financial repression we have to look forward to under the current system controlled by the political and central banking elite.
Tim Price
Director of Investment
PFP Wealth Management
Sovereign Man Contributor
http://www.sovereignman.com/
Statistics: Posted by yoda — Mon May 14, 2012 10:49 am
---
View full post on
opinions.caduceusx.com
Ryan Jordan
Earlier this week, noted economist Carmen Reinhart posited once again that western economies are enduring another period of financial repression. In the simplest sense, financial repression means savers are subjected to additional taxation in the form of negative real interest rates (meaning you are losing money on your bank deposits after accounting for inflation.) The last period of negative real interest rates occurred in the wake of huge public sector deficits after World War II. In Reinhart's opinion, government-mandated negative real interest rates persisted from 1945 to 1980. This was a thirty-five year war on savers.
I found the timing of this article interesting, since so many people in the financial world are touting some sort of economic recovery, especially here in the United States. I have to admit things are going well on Wall Street: broader stock indexes have, in many cases, finally broken above levels not seen since before the collapse of Lehman in 2008. I would point out that in a qualitative sense, the word "recovery" feels out of place in a country where I doubt we can return to the world before 2007. Still, I am a good sport and willing to play along with the idea that the economy is on some sort of a rebound. (At least until the end of the world in December, mind you.)
So what does this "recovery" mean for people looking for places to put their hard earned savings? After all, the appearance of Reinhart's article on financial repression sort of throws a bit of cold water on anyone who equates recovery with the positive real rates of the 1980s and 1990s. Reinhart is implying that the heavy hands of the state and central banks are fiddling with the scales, manipulating the truth about the damage inflation can do to real economic growth, as well as to real investment returns.
Well, as you might have guessed, tangible assets, including commodities, but also things like collectibles, were among the top performers during the period from 1945-1980. According to Benjamin Burton and Joyce Jacobsen, collectibles such as rare art, wine, stamps, and numismatics put in solid real returns during the last period of financial repression (often 5-10% per annum), though you will note the difficulty entailed in systematically documenting the performance of all collectibles, as well as the wide range of returns seen in this article. (See Burton and Jacobsen, "Measuring Return on Investments in Collectibles," Journal of Economic Perspectives, 13:4, 205-208).
Among the best of the best of tangible investments during the least period of financial repression, however, was (you guessed it) silver bullion. Admittedly, the silver market was not fully liberalized until about 1963 (meaning that average people could not take advantage of the free market price for the metal until that point.) Be that as it may, the price of silver from 1945 to 1980 jumped nearly 100 times, from about 50 cents an ounce to nearly 50 dollars.
Silver bullion, even more than gold, has two jet packs strapped to its back. One is investment demand, but the other is industrial demand. (This might even include the possibility of countries deciding to increase their now-depleted stockpiles of the metal, in addition to corporations trying to get their hands on silver.) You would assume that in a real economic recovery, industrial demand for silver would be strong, thus sending its price higher.
I think sometimes gold and silver bugs do themselves a disservice by focusing only on currency collapse or some other unfortunate reason to invest in the silver market. What I call the discourse of collapse has limited utility when trying to convince other people to put some money in silver. It also leaves the impression that silver will only rise amidst a shattered American (or global) economy. But this just isn't true. At the end of the day, none of us can know with certainty the shape of things to come. I personally think the western world is in worse fiscal shape than in the period from 1945 to 1980, but I am neither omniscient nor omnipotent.
What I do know is that silver can fire on more than one engine. Even in the event of a recovery, there are plenty of reasons for the white metal to move higher. Maybe not tomorrow, but with time.
http://www.gold-eagle.com/editorials_12 … 31512.html
Statistics: Posted by yoda — Sat Mar 17, 2012 11:52 am
---
View full post on
opinions.caduceusx.com
THE GREAT REPRESSION
February 21, 2012
London, England
[Editor's note: Professional money manager Tim Price is filling in for Simon today from London. His thoughts below on gold, bonds, and the false pretext of investing in equities is delightfully insightful.]
"No government has ever commanded the resources at the disposal of our ungodly Leviathan, which consumes about 25% of the product of the world's richest country. It is driven by a voracious alliance of government's own employees, and those who receive benefits from the state. At least 90 million Americans either depend directly on government handouts or jobs, and each private worker must support not only himself and his family, but also carry a government worker on his shoulders."
-Tom Bethel, "Freedom and its Enemies," June 1999.
Financial markets don't really do the long term anymore, but if they did, they might spend less time drooling at the prospect of more monetary crack, and more time wondering who will be funding all the government debt that now towers above everyone further than the eye can see. CLSA's Russell Napier (hat tip to Macro Advisors' Filip Ruszkowski) recently pointed to an ominous development from the summer of 2011:
"..a terrible burden fell upon the people of the USA. For the first time in 15 years, those who had money (savers) began to fund their government, rather than the printers of money (central banks). This shift has already hurt private-sector growth and asset prices, and as federal debt to GDP reaches 100%, it will squeeze out private-sector activity. Structural moves to coerce markets into funding government have begun in Europe and will come to the USA too.."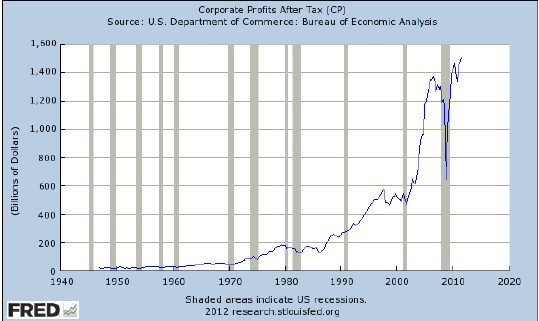 The chart above confirms that US corporate profits have now reached record levels as a
percentage of GDP. They are unlikely to stay there. Napier suggests, perfectly logically, that when the government needs money to fund itself, it will target those constituents that actually have some. That is, in other words, wealthy individuals and corporations.
What will be awkward about this financial repression of the moneyed classes, if it comes (which it surely will), is the timing. Well, not just the timing, but the yields on offer consistent with that timing. With the benefit of hindsight it would have been no bad thing to be coerced into buying US Treasuries when they yielded, say, 16% (the chart below shows generic 10 year yields going back to 1979; source: Bloomberg). But now that they yield 2% or so (a negative real yield of 1% or so using official inflation data), well, who wants that? Answer: not foreign central banks, many of whom have stopped buying this yieldless junk.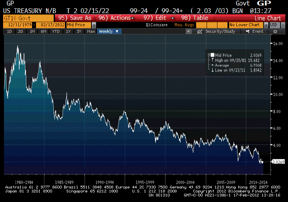 But somebody will have to buy it. As bank-robbers and their public sector rivals, governments, know, if you need money, go where the money is. Napier points out that previous peaks in the corporate profit-to-GDP ratio were 1966, 1997 and 2006. Subsequent long-term returns from equities were uniformly poor. As he makes clear, there is a difference between central banks and the private sector when it comes to buying government debt.
Central banks can print money to finance their purchases, which makes them more or less wholly price-insensitive. But the private sector cannot print money – it will be forced to sell other assets to pay for the government debt it will soon be coerced into buying.
Perhaps some of those other assets will be stocks. Stocks will get smashed in any case, because the private sector will also have to get used to paying more tax. (The government will get its money one way or another.) More tax = lower net profits, obviously. Tax paid by corporations is close to its average level of the past 30 years. More awkwardly, the federal debt to GDP ratio over the same period, Napier observes, has risen from 32% to 100%.
The UK faces a similar problem, which makes the current euphoria in FTSE-land just as difficult to rationalise. Absent QE, and given the potential for a rather messy bang emanating from Greece over the coming months, and accepting an economy facing dollops of austerity well into the future, should UK stock markets really be as euphoric as they currently are?
UK government bonds are comparably unattractive to their American cousins. The chart below (source: Bloomberg) shows generic 10 year Gilt yields over the past 20 years. Being forced to buy them at 10% might not have been so bad. Being bludgeoned into buying them at 2% will be a little more painful.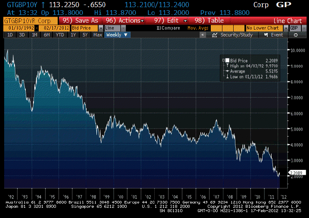 So how precisely will governments go about stealing savers' money? The Dutch pensions regulator gave an indication of one possible wheeze back in February 2011 when it ordered the Stichting Pensioenfonds Vereenigde Glasfabrieken (bless you!) pension fund to sell its gold holdings (13% of the fund) on the premise that it was too risky.
In an NBER paper last year, Carmen Reinhart and M. Belen Sbrancia pointed the way. As their abstract states,
"Historically, periods of high indebtedness have been associated with a rising incidence of default or restructuring of public and private debts. A subtle type of debt restructuring takes the form of "financial repression". Financial repression includes directed lending to government by captive domestic audiences (such as pension funds), explicit or implicit caps on interest rates, regulation of cross-border capital movements, and (generally) a tighter connection between governments and banks..
Low nominal interest rates help reduce debt servicing costs while a high incidence of negative real interest rates liquidates or erodes the real value of government debt. Thus, financial repression is most successful in liquidating debts when accompanied by a steady dose of inflation."
The UK government has already achieved partial control of directed lending given that it owns half of our banking system. (Not that it seems to know how to control its remuneration. But then it is practically a binding characteristic of governments to be half-assed about virtually everything.) Both of the Anglo-Saxon economies have also achieved saver theft status by the manipulation of interest rates. Next on the list will be a creeping abuse of those captive domestic audiences and, perhaps, regulation on capital controls.
Very few of these will actually be novelties. The US previously had Regulation Q, for example, which put a government-sanctioned limit on the interest rates available for savings deposits.
Indeed Reinhart and Sbrancia point out that the widespread use of such policies between 1945 and 1980 has been "collectively forgotten". We have had half a century of increasingly free markets. In the official governmental version of reality, those markets became too free, and now require the firm hand of the state. Governments are unlikely to acknowledge the extent to which their own untenable borrowings laid the groundwork for the financial crisis.
Highly paid shills for the status quo on Wall Street have recently been wheeled out to observe the fundamental ugliness of western government bonds. They are correct. This is an asset class that has managed to defy the laws of economics in becoming ever more expensive even as its supply swells.
Their response has been to recommend piling into stocks instead. The logic here is not so pristine. If Napier's thesis is correct, the West faces a period of outright deflation, which will be deeply traumatic for exactly the sort of speculative stocks that have lately done so well.
Admittedly, the picture is confused, and prone to all sorts of political horseplay, as observers of the long-running euro zone farce can attest. Nevertheless, when faced with a) huge underlying uncertainties; b) structurally unsound banking and government finances; and c) central banks determinedly priming the monetary pumps, we conclude that the last free lunch in investment markets remains diversification.
G7 government bond markets are a waste of time (though you may end up being cattle-prodded into them regardless). But there are still investment grade sovereign markets offering positive real yields. Stock markets are partying like 1999. Which, in many cases, it probably is. We would normally advise to enjoy the party but dance near the door.
This time round, we weren't invited to the party – and we don't mind in the slightest.
Tim Price
Director of Investment
PFP Wealth Management
Statistics: Posted by yoda — Tue Feb 21, 2012 11:49 am
---
View full post on
opinions.caduceusx.com