Andrew J. Coulson
After my previous post showing the lackluster overall achievement trends in states with purportedly "high quality" universal pre-K programs, one response was that this might miss better results among minority students. Well, I've had a chance now to chart the results for African American kids and… they're slightly worse. See below. Can we now, finally, stop for a moment and reflect before lavishing tens of billions of dollars we don't have on a federal expansion of such programs?
View full post on Cato @ Liberty
Andrew J. Coulson
In previous blog posts I've pointed out that federal pre-K programs have proven ineffective for half a century and that the claims of large returns-on-investment due to pre-K stem almost exclusively from just three small-scale programs—out of hundreds of such programs operating around the nation for decades. Naturally, if we confine ourselves to talking about the tiny minority of programs that appear to have worked, we'll find, well, that they worked. Pretending that their results are representative is not scientifically-based policymaking, it's willful self-delusion—particularly when they have never successfully been scaled-up.
Those few among the advocates of universal government preschool who comtemplate such facts usually point, in their defence, to Georgia and Oklahoma. These two states have long had universal state-funded preschool programs deemed, by their advocates, to be "high quality." Even if we could magically wave our policy wands and ensure that these programs could be faithfully replicated by the U.S. Congress, we might not want to. Here is why, in pictures:
Several things are evident from these charts. First, neither state has seen a very large move in its scores relative to the national average; Second, while Georgia shows improvement Oklahoma shows decline; and Third, Oklahoma's declines are larger than Georgia's improvements. These are the results in putatively "high quality" pre-K states. Would anyone without ulterior political motives see them as an argument for borrowing and spending tens of billions of additional federal tax dollars every year?
If taxpayers in certain states around the country think they can improve upon Georgia's results and avoid falling prey to Oklahoma's, more power to them. But there is no empirical basis that could justify a federal government role in preK even if the Constitution allowed it one.
View full post on Cato @ Liberty
USA – Not a pretty picture25 Dec 2012
Neither the outcome of the federal election nor the fast-approaching budget "fiscal cliff" bothered any of the 250 gawkers and bidders at a 1,170-acre land rental auction Nov. 10 in Thurman, Iowa.
That's right, an auction where the right to crop one family's five parcels of Fremont County, Iowa, the absolute southwest corner of the state, went on the block that Saturday at the appropriately-named Skyline Sportsman Club.
Minutes later, every notion about local land values had surpassed any skyline — nearby Omaha's, the more distant Des Moines' and even that of super-tall Chicago. The winning bids were:
· Tract One, 196 acres, all tillable, $545 per acre;
· Tract Two, an all-tillable 158 acres, $470 an acres;
· Tract Three, 296 acres, all tillable, $520 per acre;
· Tract Four, 104 acres, all tillable, $485 per acre and
· Tract Five, 417 acres, all tillable with some grain storage, $615 per acre.
As stunning as those prices are — an average $548 per acre — the terms of the rental deal are even more stunning.
According to Jim Hughes, whose firm, Jim Hughes Real Estate in Glenwood, IA, brokered the deal, the land was rented for two years only. Cash rent terms for 2013 are 25 percent of the day of auction, the remainder on March 1, 2013. For 2014, 25 percent is due Jan. 1, 2014; the balance on March 1, 2014.
In short, you pay, then pray, then plant.
Hughes describes the renters as "local farmers who are willing to risk grain prices and weather on a two-year, $550-an-acre rental deal rather than a 30-year, $12,000-an-acre purchase deal."
Well, mostly.
Many ingredients go into the rocket fuel that pushes land values and rents to the moon: commodity prices, aggressive local farmers, excess machinery capacity, cheap labor, low interest rates, federal farm program benefits.
A new, major ingredient, however, is federal crop insurance, the heavily subsidized program that delivers an ironclad guarantee on locked-in revenue regardless of weather, commodity prices and federal farm payments. (In 2012, 62-cents of every $1 in federal crop insurance premium were paid by taxpayers.)
"Oh, crop insurance played a definite role in the prices," reckons Hughes. "It's the best thing that ever happened to farmers."
Bruce Babcock, professor of economics at Iowa State University and a faculty member of ISU's Center for Agricultural and Rural Development, agrees. "If you can lock in 85 percent of your expected revenue" — the level permitted under current federal crop insurance programs — "you've taken virtually all the risk out farming," he says.
And it will get better. Part, if not all, of the remaining 15 percent of crop revenue presently not insured under the federal program is almost certain to be covered if and when Congress finally approves a 2012 Farm Bill. Both the Senate and House versions raise subsidized coverage over 90 percent.
That's an unbelievable move, opines Babcock, at a time when there is a bipartisan call in Congress for all Americans to assume "more risk" — take cuts in federal programs like food assistance, retire at an older age, pay more taxes — in the marketplace in order to cut federal spending.
But when it comes to the Farm Bill, Congress is proposing to "ratchet down market risk" — raise the level of subsidized crop insurance — "while doubling down on the cost of these programs rising?" he asks. "This is just insane."
Babcock is exactly right: how can farmers and farm groups ask taxpayers to underwrite an expansion of an already highly-subsidized revenue insurance program that guarantees farm income and higher land values, but does not — cannot — guarantee food production or conservation compliance?
Farmers better come up with an answer quickly because the question will be asked.
The Farm and Food File is published weekly in more than 70 newspapers in North America. Contact Alan Guebert at http://www.farmandfoodfile.com
source url
http://articles.aberdeennews.com/2012-1 … e-tillable
http://www.meattradenewsdaily.co.uk/new … cture.aspx
Statistics: Posted by yoda — Tue Dec 25, 2012 1:56 pm
---
View full post on
opinions.caduceusx.com
2012: The Tipping Point – The Results are in – The Bankers Lost
Darryl Robert Schoon
Posted Nov 22, 2012
The bankers' bet that sufficient credit can reverse an economic contraction is no longer on the table. This does not mean central bank credit will tighten. Just the opposite will happen. Monetary easing will continue until the very end. Central bankers are trapped. The end game is now underway.
It is highly unlikely the Mayan predictions of the end of the world referred to the bankers' world of credit and debt. Nonetheless, with only one month remaining until December 21, 2012 – the end date of the Mayan 5,125 year Mesoamerican calendar – the concomitant end of the bankers' 300 year ponzi-scheme of credit and debt should not be dismissed as mere coincidence.
The world has entered a paradigm shift of immense proportions; and the collapse of the bankers' economic world is a part of that shift. The bankers' credit fueled a 300-year global expansion which transformed the world. The bankers' credit, however, has now become debt which increasingly cannot be repaid.
Economics is not rocket science although the arcane algorithms used by Wall Street banks to predict capital markets imply that intended conclusion. Modern economics, i.e. capitalism, is merely the current iteration of the supply and demand dynamic distorted by 300 years of credit and debt – a distortion that's now about to end.
Prior to capitalism, the underlying economic dynamic was supply and demand. However, in economies fueled by the bankers' debt-based banknotes, the relationship between credit and debt becomes equally, if not more, important than supply and demand.
GOLD, MONEY AND CREDIT
After gold was removed from the global monetary system in 1971 and after initial inflationary concerns were addressed in 1980, embedded constraints on monetary and credit growth no longer existed. The attendant rise in debt is noteworthy – as will be the consequences.
What central bankers did not anticipate from the explosive growth of credit was the resultant levels of massive debt. Fixated on growth, central bankers miscalculated the inevitable effects of the unrestrained increase in monetary and credit aggregates on their heretofore successful ponzi-scheme of credit and debt.
Credit is the zygote of debt; and since debts constantly compound in capitalist economies, unless controlled, credit will inevitably lead to fatal levels of debt. This is not rocket science. This is common sense.
Prior to the 1980s, central bankers controlled credit growth with central bank credit. After the 1980s, however, the markets, not central bankers, controlled the growth of credit – and markets love credit.
After 1980, credit growth was similar to pouring sugar into petri-dishes where glucose conversion had been previously carefully observed and stabilized. Now, three decades later, the alcoholic fumes from the petri-dishes are obvious to all, even to the central bankers who realized too late what the investment bankers had done with their credit.
The subtext to all central bank maneuverings since 2008 has been the attempts of central bankers to avoid the now inevitable deflationary collapse in demand that will bring their 300-year economic fraud to an end.
In the first edition of my book, Time of the Vulture; How to Survive the Crisis and Profit in the Process (2007), I predicted a deflationary collapse was going to happen. Six years later, that predicted depression is about to make its appearance on the world stage; and, it will be an economic collapse, a depression so deep, that another completely new economic paradigm will take its place.
CAPITALISM FOR DUMMIES
EUPHORIC BUBBLES AND DEPRESSING DEPRESSIONS
Depression, an economically moribund state where credit can no longer induce growth
Depressions are caused when uncontrolled credit growth results in speculative bubbles and runaway markets, e.g. stocks, real estate, etc. When this happens, capitalism's usual cycles of expansion and contraction are replaced by deflationary depressions where collapsing bubbles result in excessive levels of supply and crippling levels of defaulting debt.
RICHARD KOO'S BALANCE SHEET RECESSION, aka THE LAST WALTZ
Richard Koo, currently chief economist at Nomura Research Institute, has deservedly carved out a reputation analyzing the current economic malaise. Koo's term for the downturn is a 'balance sheet recession'; a term drawing attention to the fact that monetary solutions, i.e. lower interest rates, will not solve the problem; that the problem and solution are found, instead, in the balance sheets of affected nations.
A presentation Koo gave at a gathering of The Institute for New Economic Thinking showed that although Australia, the UK, the EU, the US and Japan have all significantly cut interest rates, the global economy still has not recovered.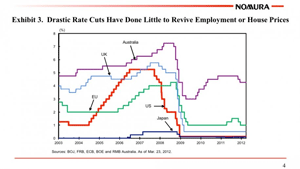 Koo's solution, the substitution of borrowing-based government spending to make up for the loss of private demand, is drawn from the considerable experience of Japan after the spectacular collapse of the Nikkei in 1990.
However, Richard Koo is wrong that Japan's strategy will also work for the US, the UK, and the EU, etc. Japan's remarkable record in holding a deflationary depression at bay for over 20 years is not just because of record levels of government borrowing (Japan's ratio of public debt to GDP is now 204%, the highest among industrialized nations); but, more importantly, Japan's struggle against deflation occurred as the largest surge of credit-driven consumer demand in history was in progress.
Japan's struggle against deflation began when the US credit-driven 25-year consumer bubble was just getting underway. Japan's now prolonged 22-year survival is as much the result of bubble-driven US and global demand which directly benefited Japan as it is due to the ability and tenacity of Japan to draw down and deplete its record levels of domestic savings.
Koo's solution to survive today's deflationary crisis will neither work for the US, the UK, or the EU in the future as it did for Japan in the past – and it won't work for Japan in the future as well; for, today, there is no bubble of excessive global demand to prolong Japan's now record survival.
The opposite is, in fact, true. Aggregate global demand today is falling and for the first time in decades, Japan's exports are exceeded by its imports. Today, Japan, as well as the rest of the industrialized, i.e. over-indebted, world stands naked and exposed to deflation's now imminent assault.
As 2012 ends, all major economic zones are drinking deeply at the well of Richard Koo's solution, i.e. central bank-based government borrowing. But, in the end, Richard Koo's proffered well water will be little different than the cyanide-laced kool-aid that Jim Jones offered his ill-fated followers in Jonestown in 1978.
DRINKING POISON TO QUENCH THIRST
Drinking poison to quench thirst is a Chinese saying that describes the eventual consequences of the continued monetary easing of central banks and historic levels of government spending; and, although continued government borrowing and spending may hold deflation at bay, as Koo maintains, it will only do so temporarily and at the potential cost of a someday fatal monetary debasement.
There are only two possibilities left in the bankers' end game. Either deflation's growing momentum will pull today's faltering economies into the ever-growing maw of a deflationary collapse or the continued printing of money to stave off such a collapse will end with the complete debasement of paper currencies in a hyperinflationary blowoff.
I advanced the deflationary scenario in Time of the Vulture; and believe both scenarios are not mutually exclusive. It is indeed possible that a more extreme version of 1970s stagflation is coming; that, in the end game, a deflationary depression and a hyperinflationary crisis could occur simultaneously.
We are in uncharted territory; and, unlike most, I view the collapse of the current economic paradigm as a necessary and ultimately beneficial rite of passage, a prerequisite for the better and more highly evolved paradigm that will follow.
Richard Koo presented his 'balance sheet recession' findings at a gathering of the Institute for New Economic Thinking; and while there has been some discussion at the Institute about paradigm change, most of its 'new economic thinking' still focuses on the current paradigm, what ails it and what can be done to save it.
As 2012 began, there was still hope that the worst of the 2008/2009 downturn had been averted; that a slow but protracted recovery was underway. There is no such hope today. All central banks are printing money and easing credit; but are no longer doing so in the certainty that such actions will reverse what previous actions did not.
As 2012 ends, there is an underlying acceptance, a resignation that what is being done is being done in the abeyance of any real solution; and that although today's actions may not be a viable answer, in the end such actions are better than no action at all.
Maybe so, maybe not.
http://www.321gold.com/editorials/schoo … 12212.html
Statistics: Posted by yoda — Thu Nov 22, 2012 11:26 am
---
View full post on
opinions.caduceusx.com
Will the most divisive campaign in modern American history culminate in massive riots in our major cities?  Right now, supporters of Barack Obama and supporters of Mitt Romney are both pinning all of their hopes on a victory on November 6th.  The race for the presidency is extremely tight, and obviously the side that loses is going to be extremely disappointed when the election results are finalized.  But could this actually lead to violence?  Could we actually see rioting in communities all over America?  Well, the conditions are certainly ripe for it.  A whole host of surveys over the past few years have shown that Americans are very angry and very frustrated right now.  In fact, a Pew Research Center poll from late last year found that 86 percent of all Americans are either angry or frustrated with the federal government.  We have seen this frustration manifest in protest movements such as the Tea Party and Occupy Wall Street, but right now things are fairly calm as liberals and conservatives both look forward to November 6th.  Many Republicans started the countdown to the next election literally the day after John McCain lost back in 2008.  All of their hopes of getting Obama out of the White House are riding on a Romney victory.  For many Democrats, Barack Obama is a "once in a generation" icon.  Just the thought of Mitt Romney replacing Obama in the White House is enough to push many of them to the brink of insanity.  In recent years we have seen horrible rioting erupt in cities after major sports championship games.  How much worse could the rioting potentially be if this bitterly contested election is decided by a very narrow margin – especially if there are allegations that the election is "stolen"?
The election is nearly four weeks away, and many Obama supporters are already threatening to riot if Obama loses.  The following are some very disturbing messages that were posted on Twitter recently that have been reposted on Twitchy.com….
"If Romney wins I'm Starting a Riot….Who's WIT ME???"
"I Hope The USA Is Well Aware That If In The Event This Character Romney Wins The Election, The People Will Start A Country Wide Riot! #Power"
"If Romney is elected president, its gon be a riot its gon be a riot."
"If ROMNEY GETS IN THE WHITE HOUSE …U MIGHT AS WELL KILL ME NOW …..CAUSE ITS GONNA BE A ************ RIOT !!!"
"If Romney became President and took away welfare Downtown Cincinnati would become a riot"
"If Romney takes away food stamps 2 Chainzz in this bit IMMA START A RIOT"
"If Romney wins. (which i highly doubt) THERE WILL BE A RIOT—"
The following are a few more tweets that I found which threaten a potential riot if Obama loses the election….
From @joecools_world….
"Need 2 come up wit a game plan if Romney win…. Riot all thru Newark"
From @killacate….
"I swear on everything I love if Romney wins ima riot. I don't even care if its just me."
Romney supporters are not really threatening to riot, but many of them are proclaiming that they may leave the country if Obama wins.  Here are some examples….
From @BrentskiTheBoss….
"If Obama gets reelected I may leave the country"
From @AbbieFickes….
"im sorry but if obama were to win again, i might as well leave the country and live in zimbabwe"
This presidential campaign has been getting increasingly heated, and individuals on both sides have been committing some despicable acts.
For example, in a previous article I mentioned that some Romney campaign signs down in Virgina have been smeared with excrement.
Over in Ohio, a huge pile of manure was dumped right in front of Warren County Democratic headquarters early on Tuesday morning….
Volunteers at the Warren County Democratic headquarters, just north of Cincinnati, were shocked and disappointed by a political prank unloaded on them early Tuesday morning – someone dumped a pile of horse manure in the parking lot of the headquarters building on US 42, just north of Lebanon.
It appears that both sides have resorted to literally slinging crap around.
There is so much hate in America today, and this campaign is bringing a lot of it to the surface.  It is even being reported that a bus driver told a 12-year-old boy that he should have been aborted because his family has a Romney campaign sign in their yard….
Belling read a letter from the 12-year-old boy's mother, detailing the alleged abusive behavior by the bus driver.

Apparently, the Romney-Ryan yard sign bugs the bus driver and she's been harassing the boy, making rude comments to him related to politics.

When the driver engaged the 12-year-old boy in a political conservation, he responded by saying that Obama is pro-abortion.

The bus driver allegedly said to the child, "Maybe your mom should have chosen abortion for you."
How sick is that?
You can strongly disagree with someone without being mean and without being hateful.
Right now, the United States is a bubbling cauldron of frustration and anger that could be set off at any moment.  This election could potentially be a "trigger point" which could end up unleashing a lot of that anger and frustration.
Already, there have been allegations that the Republicans have been committing voter registration fraud.  Democrats are furious about this.
Evidence has also emerged that Democrats have been willing to assist voters in registering to vote in two different states.  The following is from a recent article by Mac Slavo….
When undercover reporters visited various locations across the country they received the same response from Obama campaign staffers – that it's basically okay to vote multiple times if you happen to be registered in two or more states.

In Houston, Texas, for example, the Project Veritas reporter made her intentions known, and rather than being rebuffed for her planned illegal activity, she was provided assistance with obtaining the proper forms to be registered in two states and was told to say "I don't know" if the double-voting ever became an issue.

Similar situations unfolded at other DNC funded community organizations.
It appears quite probable that whichever side loses this election will accuse the other side of stealing the election.
And if millions of Americans feel that the election has been stolen from them, that will make it much more likely that we will see rioting.
Keep your ears open for phrases such as "voter fraud" and "election fraud" following this election.  People are so angry already that even allegations that someone stole the election could be enough to set the streets of America on fire.
As always, let us hope for the best, but let us also prepare for the worst.
View full post on The Economic Collapse
By Neal McCluskey
Polls are tricky things, giving a veneer of scientific certainty to an endeavor subject to all sorts of biases, methodological problems, etc. Worse, while they might tell us what people think, they do almost nothing to inform us about what policies actually make the most sense. With those provisos in mind — and they apply heavily here – what follows are the highlights of the annual Phi Delta Kappa/Gallup poll on public education, released this morning. Phi Delta Kappa, by the way, is the self-described "premier professional association for educators."
I'm not going to hit all the topics — you can catch every question here – I'm just going to cover the ones likely of most interest to libertarian types. And here they are:
School choice:  Using PDK/Gallup's long favored voucher question — the most loaded one, which asks whether respondents favor or oppose allowing people to "choose a private school at public expense" — 44 percent favored and 55 percent opposed. For whatever reason — maybe seeing choice greatly expand recently, maybe growing disgust with teachers unions – favorability rose from 34 percent last year. Charter schools were favored by 66 percent of respondents, and "laws that allow parents to petition to remove the leadership and staff of failing schools" – roughly, "parent trigger" laws — were favored by 70 of respondents.  This last one is probably the worst way to deliver "choice," but it must sound good. And how did the best way to deliver choice – tax credits — do? The pollsters didn't even ask about them, probably because they would have polled very well.
National Standards: Asked several questions about their thoughts on the likely effect of "common core standards" — but not the Common Core standards — most people thought having some commonality would be beneficial. But there seems to be a huge disconnect between the question and reality: only 2 to 4 percent of respondents answered "don't know" or refused to respond to the common core questions, but 60 percent of voters polled just a few months ago said they knew nothing about the actual Common Core standards being implemented in almost every state. So people seem to like generic commonality, but know little about the actual standards that were, unfortunately, purposely kept under the radar by their supporters.
Biggest Problem Facing Schools: Surprise, surprise, by far the most cited "biggest problem" people said their public schools were facing was "lack of financial support." 35 percent picked that, versus 8 percent fingering "lack of discipline," the next biggest vote-getter. What this likely tell us is that (1) we are very slowly coming out of a recessionary period and some districts probably are making some cuts, and (2) people have no idea how much is actually spent on education, or how much it has grown over the decades. It also shows that propaganda — when you hear people say "the schools are underfunded" enough you believe it — works.
Grading Public Schools: As always, people gave their local public schools decent grades and public schools overall lousy ones. This year 48 percent of respondents gave their own public schools an A or B (though that means a majority graded them C-or-below), while only 19 percent gave high marks to "public schools nationally." Basically, people — who often heavily considered schools when they bought their homes — tend to affirm their own choices, but see the overall system as crummy.
And so goes another Phi Delta Kappa/Gallup poll. See you pollsters next year!
Edu-poll Results, for What They're Worth is a post from Cato @ Liberty – Cato Institute Blog
View full post on Cato @ Liberty
My friends:
Tomorrow JP Morgan is releasing their second quarter results and the world will be watching. Jamie Dimon is in a fix and he can't dance around it. There's a serious meltdown in his derivative book and that book is over $70T…probably much more!
People like baseball analogies so here's my take:
Tomorrow morning we enter the Top of the 9th Inning in our battle to regain our freedom. There's a lot more of this game left but the really important stuff happens in the final innings.
This is all a very carefully planned out (scripted) game… and you have a front row seat!
May the Road you choose be the Right Road.
Bix Weir
www.RoadtoRoota.com
Statistics: Posted by DIGGER DAN — Thu Jul 12, 2012 9:23 pm
---
View full post on
opinions.caduceusx.com
Bruce Walker
Francois Hollande has been deemed only the second candidate of the "Left" elected as a President of the Fifth Republic of France. Francois Mitterrand was the other leftist President. As a follow up to his presidential victory a few weeks ago, the French people also granted the Socialist bloc a majority in the National Assembly — between 308 and 320 seats out of a total of 577 members. These elections have two "rounds," and the top two candidates, if none receives a majority, compete against each other in the second round. This means that Hollande can govern without relying upon other blocs, such as the Green or the "far Left."
Political definitions in French politics, however, have very little real meaning. Consider the composition of the Chamber of Deputies (the lower chamber of the French national legislature in the Third Republic — similar to the present National Assembly in the Fifth Republic) right before the Second World War began. There were 617 delegates, compared to 577 in the National Assembly today. This was the breakdown by political party: Socialist (155 members), Radical Socialist and Radical Republican (113 members), Communists (72 members), Republican Federation (54 members), Alliance of Left Republicans and Independent Republicans (42 members), Independent Republicans of Social Action (28 members), Democratic Left and Independent Radicals (26 members), Socialist and Republican Union (25 members), Independent Left (25 members), Independent Popular Action (15 members), Independent Republicans (12 members), Popular Democrats (13 members), Independent Agrarians (13 members), French Social Party (8 members), and Independents of the Republican and National Union (4 members.)
Out of 617 members, 458 belonged to some party calling itself "Socialist" or "Left" or "Communist," or 74 percent of the members of the chamber. There were no "Right" or "Capitalist" or "Conservative" members, and even the tiny "Republican Center" had vanished. French politics did produce new groups during the period between the beginning of the Nazi rise to power in 1930 and the year of its bloodless conquests in 1938. But the groups didn't repudiate national socialism. A few snippets under the category of "New groups born of the 1936 election" tell it all: There came the "Formerly Radical Left, to which [had] … been added certain reelected Left independents and certain elements of the Left who seceded from the Democratic Alliance," the "Party of Proletarian Unity," the "Dissidents from the Radical-Socialist Party, … composed an extreme Left wing," a group "comprised of dissident Communists and extremist Socialists," and another "composed of extreme Left Radicals." Five new groups, each apparently lurching out farther to the Left!
So what is the partisan composition of the 2012 National Assembly? Socialist Party (280 members), Union for Popular Majority (194 members), Miscellaneous Left (22 members), Europe Ecology (17 members), Miscellaneous Right (14 members), Radical Party of the Left (13 members), New Center (12 members), Left Front (10 members), Radical Party (6 members), National Front (2 members), Center for France (2 members) and a sprinkling of others. No "Freedom," no "Christian," or "Capitalist" at all. The so-called "Right" in France, as in nearly all of Europe, does not really exist. Incarnations of collectivist statism, whether the Socialist Party, the Europe Ecology Party, or the Radical Party of the Left, stand for continuing along the same path that has gotten the euro zone into its current condition.
That explains much of what is happening in Europe today, but there is another story coming out of these elections that perhaps explains just as much the problems of Europe. Five years ago when the Socialist Party fielded a candidate against Sarkozy, that candidate was Segolene Royal, who had lived without being married to new French President Francois Hollande. She and the new president had four children together, but she left him after losing the 2007 election. Hollande has a new live-in girlfriend, and Hollande's four children by Royal have now severed contacted with their father's girlfriend because she is perceived as having manipulated their mother's loss of her National Assembly race.
In America it would be unthinkable to have a major party candidate for the White House living in sin with a woman, then dropping her and cavorting with a married woman, but the last two presidential nominees of the major socialist party in France have simply lived together without marriage and, beyond that, conceived and raised four children without their famous parents being married. Hollande began an affair with Treirweiler in 2005, while his live-in "partner" Segolene was running against Sarkozy and while Treirweiler was still married with children.
What does France have to look forward to? The new president and the new National Assembly are firmly committed to the tax-and-spend policies that have been the cause of the problems of Europe and the presidential household (Treirweiler is considered the "First Lady" of France) reveal a moral deconstruction that suggests the end of all semblance of Judeo-Christian religious values. It is hard to see what this new regime in France can do to halt the nation's slow economic, political, and moral suicide.
http://thenewamerican.com/world-news/eu … is-failing
Statistics: Posted by yoda — Tue Jun 19, 2012 1:33 pm
---
View full post on
opinions.caduceusx.com
The election results from Greece are in and the pro-bailout forces have won, but just barely.  It is being projected that the pro-bailout New Democracy party will have about 130 seats in the 300 seat parliament, and Pasok (another pro-bailout party) will have about 33 seats.  Those two parties have alternated ruling Greece for decades, and it looks like they are going to form a coalition government which will keep Greece in the euro.  On Monday we are likely to see financial markets across the globe in celebration mode.  But the truth is that nothing has really changed.  Greece is still in a depression.  The Greek economy has contracted by close to 25 percent over the past four years, and now they are going to stay on the exact same path that they were before.  Austerity is going to continue to grind away at what remains of the Greek economy and money is going to continue to fly out of the country at a very rapid pace. Greece is still drowning in debt and completely dependent on outside aid to avoid bankruptcy.  Meanwhile, things in Spain and Italy are rapidly getting worse.  So where in that equation is room for optimism?
Right now the ingredients for a "perfect storm" are developing in Europe.  Government spending is being slashed all across the continent, ECB monetary policy is very tight, new regulations and deteriorating economic conditions are causing major banks to cut back on lending and there is panic in the air.
Unless something dramatic changes, things are going to continue to get worse.
Yes, the Greek election results mean that Greece will stay in the euro – at least for now.
But is that really a reason for Greeks to celebrate?
Right now, the unemployment rate in Greece is about 22 percent.  Businesses continue to shut down at a staggering rate and suicides are spiking.
So far this month, about 500 million euros a day has been pulled out of Greek banks.  The entire Greek banking system is on the verge of collapse.
Meanwhile, the Greek government is still running up more debt.  It is being projected that the Greek budget deficit will be about 7 percent of GDP this year.
The Greeks went to the polls and they voted for more of the same.
Are they crazy?
Someone once said that the definition of insanity is doing the same thing over and over again and expecting different results.
Unfortunately, it looks like things are going to continue to get worse in Greece for quite some time.
And the rest of Europe is heading into a very bleak economic future as well.
At the moment, unemployment in the eurozone is at a record high.
Most analysts expect it to go even higher.
To say that Spain has an unemployment problem would be a massive understatement.  The unemployment rate in Spain is even higher than the unemployment rate in Greece is.  In fact, unemployment in Spain is the highest that it has ever been since the introduction of the euro.
The Spanish banking system is a complete and total disaster at this point.  The Spanish government has already asked for a 100 billion euro bailout for its banks.
But that might not be nearly enough.
Spain is facing a housing collapse similar to what the United States went through back in 2008 and 2009.  Right now, home prices in Spain are absolutely collapsing….
Fresh data yesterday shows how desperate the crisis is becoming in Spain. The property crash is accelerating. House prices fell at a 12.6pc rate in the first quarter of this year, compared to 11.2pc the quarter before, and 7.4pc in the quarter before that. Prices have fallen 26pc from their peak.

"Fundamentals point to a further 25pc decline," said Standard & Poor's in a report on Thursday. It may take another four years to clear a glut of one million homes left from the building boom.
Meanwhile, money is being pulled out of banks in Spain at a very alarming rate.  As panic spreads we are seeing slow motion bank runs all over Europe.  Over the past few months massive amounts of money have been moved from troubled nations to "safe havens" such as Switzerland and Germany.
Investors are getting very nervous and yields on Italian and Spanish debt are spiking again.
Last week yields on Spanish debt hit their highest levels since the introduction of the euro.  Without massive ECB intervention the yield on 10 year Spanish bonds will almost certainly blow well past the 7 percent danger mark.
The credit rating agencies are indicating that there is danger ahead.  Moody's recently downgraded Spanish debt to just one notch above junk status.  Spain is heading down the exact same road that Greece has gone.
The situation in Europe is very grim.
Greece is going to need bailouts for as far as the eye can see.
Spain is almost certainly going to need a huge bailout.
Italy is almost certainly going to need a huge bailout.
Ireland and Portugal look like they are going to need more money.
France is increasingly looking vulnerable, and Francois Hollande appears to have no real solutions up his sleeve.
As I have said so many times before, watch Europe.
Every few weeks there are headlines that declare that "Europe has been saved" but things just keep getting worse.
The governor of the Bank of England, Mervyn King, said the following a few weeks ago….
"Our biggest trading partner is tearing itself apart with no obvious solution."
And that is the truth.  There is no obvious solution to the problems in Europe.  The politicians could kick the can down the road for a while longer, but in the end there will be no avoiding the pain that is coming.
The equation for what is happening in Europe that I have shared before still applies….
Brutal austerity + toxic levels of government debt + rising bond yields + a lack of confidence in the financial system + banks that are massively overleveraged + a massive credit crunch = A financial implosion of historic proportions
We are watching a slow-motion financial train wreck that is absolutely unprecedented happen right in front of our eyes and our politicians are powerless to stop it.
It is going to be a long, hot summer for the European financial system.
On election day in Greece, the mood was incredibly somber.  Instead of celebrating, most Greeks seemed resigned to a very hard future.  As an article in the Telegraph described, the entire nation seems to be grinding to a halt….
This is the election that is supposed to decide whether Greece stays in the euro. Yet as it, and Europe, face what could be their Katrina moment, the dominant sense here is not of panic, or fear, or even hope – but of a country in suspended animation, grinding to a halt.
The Athens Heart shopping centre, in the southern suburbs, is polished, full of big brands, and almost totally empty of customers. "We've had five sales all day," says Steryiani Vlachakou, the assistant in the Champion sportswear store. "It's been getting a lot, lot worse."
Sadly, it is not only Greece that is doomed.
The truth is that all of Europe is doomed, and when Europe falls the entire globe is going to feel it.
So get ready for the hard times that are coming.  The pain is going to be immense and most people are not even going to see it coming.
View full post on The Economic Collapse