David Boaz
Articles on page A7 and A8 of Saturday's Wall Street Journal, about rising wages in China and France, confirm something that I learned from Julian Simon. As the Journal reported:
The 14% wage rise for private-sector workers in 2012, reported by China's National Bureau of Statistics on Friday, represented an acceleration from 12.3% in 2011.
And:
With high labor costs eating into his bottom line, Mr. Madec uses frozen ingredients—and even complete main courses—for the dishes served at Les Templiers…. a steady increase in labor costs and food prices has fueled an unexpected phenomenon: Many restaurants can no longer afford to prepare meals from fresh ingredients in their own kitchens.
And what's the lesson I learned from Julian Simon? As I wrote in Libertarianism: A Primer,
Over the long run, in real terms, the only price that consistently seems to rise is the price of human labor. Looking back a hundred years or so, we see that prices of goods–from wheat to oil to computers–have fallen, while the real wage rate has quintupled in 50 years. The only thing getting more scarce in economic terms, that is, relative to all other factors, is people.
View full post on Cato @ Liberty
Interviewed by TF Metals Report, Jaitly and Maguire cite rising backwardation in gold
http://www.gata.org/node/12289
Submitted by cpowell on Fri, 2013-03-01 04:11. Section: Daily Dispatches
11:09p ET Thursday, February 28, 2013
Dear Friend of GATA and Gold:
Interviewed this week by Turd Ferguson of the TF Metals Report, Sandeep Jaitly, investment manager and strategist at First International Group in London and editor of The Gold Basis Newsletter, and London metals trader and silver market whistleblower Andrew Maguire comment on rising backwardation in the gold market. Maguire says the backwardation has gotten extreme and has reached levels that in the past have preceded violent rises in the gold price.
The interview with Jaitly is 22 minutes long and can be heard at the TF Metals Report here:
http://www.tfmetalsreport.com/podcast/4 … ep-jaitl...
The interview with Maguire is 29 minutes long and can be heard at the TF Metals Report here:
http://www.tfmetalsreport.com/podcast/4 … w-maguir...
CHRIS POWELL, Secretary/Treasurer
Gold Anti-Trust Action Committee Inc.
Statistics: Posted by DIGGER DAN — Sat Mar 02, 2013 4:17 pm
---
View full post on
opinions.caduceusx.com
Suicide by self-immolation a rising trend in France
A man burned himself to death in western France on Wednesday after losing unemployment benefits in a suicide that is becoming part of a worrying trend as the country struggles through tough economic times.
By FRANCE 24
Joseph BAMAT (text)
At noon on Wednesday, a 43-year-old man got off a bus near a state employment agency in the western city of Nantes. He stopped on a side street around 50 metres from the office, where he discarded his house keys, then doused himself with gasoline. French police waiting at the scene saw the burning man arrive at a sprint and said that, despite efforts to put out the flames, it was too late.
The case of Djamal Chaab, whose application for jobless benefits had been rejected by the agency earlier in the week, has caused consternation in France. It is the latest in a growing list of job-related suicides to hit the country, which is struggling with low growth and record high unemployment.
According to Gérard Schmit, a professor of psychology at Reims University, suicide by self-immolation is "not part of French culture." However, suicides at the workplace are common in France, like in other Western countries with a strong media culture.
"This man did not have a job, and it is significant that he chose a place where he went in his search for employment," Schmit noted.
Personal information about Chaab remains limited. According to reports in the French media, he was an Algerian national with a long-term residency permit and a trained metalworker. His death has heightened fears about France's weak economy and a troubling trend of self-immolations.
Left suicide emails
On February 11, Chaab was informed by Pole Emploi –the name of France's state employment agency– that he did not meet requirements for monthly cash stipends, and that he needed to reimburse previous payments because of undeclared work he performed for a company in December.
Pole Emploi staff said Chaab was directed toward a different French welfare agency. While he was angered by the news, the jobseeker initially accepted the information with restrain, they noted. The events that followed took local and state officials by surprise.
On February 12, he called a Pole Emploi hotline and threatened to kill himself by overdosing on over-the-counter drugs. Workers alerted the police, who reportedly visited the man at his home. There, Chaab told police his threat was not serious.
The same day, however, he sent emails to local newspapers declaring his intention to kill himself by self-immolation in front of the state agency. Two hours later he followed up his first email with a second one:
"I went to Pole Emploi with five litres of gasoline to burn myself, but it's closed on 12/02/2013; so it will happen tomorrow the 13th or the 14th, because it really would be better to do it at Pole Emploi, thank you."
According to Nantes city security officials, police squad cars routinely drove by the employment agency on Wednesday, and were on hand when Chaab finally fulfilled his suicide pledge just after 12 noon, but officers were still powerless to save him.
The man had no criminal record and lived an otherwise normal life, police told the media.
Act of desperation?
On Thursday, Labour Minister Michel Sapin travelled personally to Nantes, where he told reporters that everything had been done to prevent Chaab from killing himself. "Everyone acted as they should have," Sapin said, adding that the deceased "was in such a state that no helping hand could have stopped him."
Nevertheless, Chaab is only the latest person to commit suicide over work-related woes in what has become a growing problem for French authorities.
Between 2008 and 2009 over 30 France Télécom employees committed suicide, many blaming management bullying after a string of layoffs. The latest France Télécom suicide took place in April 2011, by a man who set fire to himself in a company car park near the southwestern city of Bordeaux.
Also in 2011, a mathematics teacher set herself alight in front of pupils in the southern French town of Béziers, later dying as a result of her injuries.
In August 2012, a 51-year-old man died from injuries sustained after he lit himself on fire at a welfare agency in the city of Mantes-la-Jolie, around 50 km west of Paris. Similarly to Chaab, it appeared to be an act of desperation after finding out welfare benefits would end.
While Sapin and other French ministers have defended Pole Emploi, many advocacy groups have decried a worsening situation in which agency branches that are overwhelmed do little more than add to the desperation of French jobseekers.
The psychologist Schmit said this week's dramatic incident in Nantes sounded like what experts call an "altruistic suicide", which is perceived as an act of sacrifice by the deceased. "It may seem to outsiders like the actions of an isolated person, but that person strongly believes he has a message to convey on behalf of others," the expert said.
While self-immolations remain a rarity in France, there are already concerns that the latest suicide in Nantes is part of a copycat effect. Schmit warned such acts always had the potential to become an emblem for long-term trends.
http://www.france24.com/en/20130214-fra … re-economy
Statistics: Posted by yoda — Thu Feb 14, 2013 2:00 pm
---
View full post on
opinions.caduceusx.com
January 9, 2013
Many U.S. corporations derive 50%-65% of their revenues overseas. As the U.S. dollar rises, the foreign-exchange boost to overseas profits of the past decade will reverse.
One of the most glaring omissions in mainstream financial-media stock market commentary is the connection between the U.S. dollar's relative value and corporate earnings. I have often commented on this bullish consequence of a weakening dollar. 50%-60%+ of global corporate earnings and profits are non-U.S., i.e. booked overseas in a currency other than the U.S. dollar (USD). As the dollar weakened, global corporate profits skyrocketed as earnings in euros, yen, etc. rose when stated in dollars.
In other words, overseas profits expand as if by magic when stated in dollars.
When the euro and the dollar were 1-to-1 back in the early 2000s, then 100 euros of profit converted to $100 when stated in dollars. When the euro rose to $1.60, then the same 100 euros of profit earned by the U.S. corporation in Europe converted to a stupendous $160 in profit when stated in dollars.
This explains why the Fed has been so keen to trash the dollar: it magically increases corporate profits and thus drives stocks higher. The mainstream financial media's explanation for the weak-dollar policy is that the Fed is anxious to increase exports, but this is a sideshow; exports make up less than 9% of the U.S. GDP. The real action is in corporate profits, which thanks to the weak dollar are near all-time highs of $2 trillion, about 14% of the nation's entire GDP.
Record Corporate Profits (Economix, N.Y. Times)
As the dollar strengthens, overseas profits will decline when stated in dollars.
Courtesy of Chartist Friend from Pittsburgh, here are two charts showing the long-term trend in the U.S. dollar: up.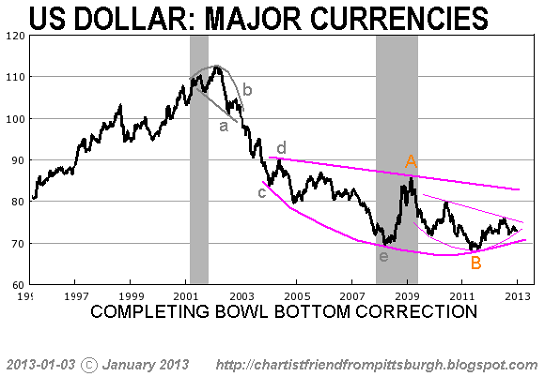 No wonder corporate profits have risen strongly since 2002, other than that brief spot of bother in 2008: the dollar's relentless decline magically boosted global corporate profits. Since many Fortune 100 U.S. companies (McDonalds, etc.) derive 2/3 of their revenues overseas, this foreign-exchange (FX) created boost in profits is a dominant dynamic in U.S. corporate profits.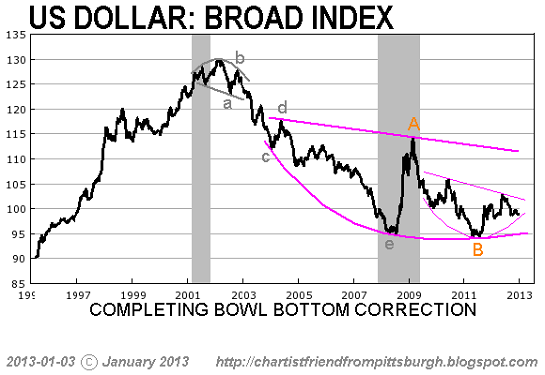 If we combine the FX drag of a rising USD with the cyclical top in corporate earnings described in What If Corporate Earnings Have Topped Out?, we discern a potential double-whammy on earnings and thus stock market valuations.
http://www.oftwominds.com/blog.html
Statistics: Posted by yoda — Wed Jan 09, 2013 7:11 am
---
View full post on
opinions.caduceusx.com
Jonathan Miller shows us the above chart (via RealtyTrak) and ask the question: How does flat to falling incomes, high unemployment, rising taxes and tight credit = housing recovery?
The short answer is a combination of record low mortgage rates and held back distressed activity. Following a weak 2011, year-over-year comparisons also look good.
The combination goosed housing sales and prices. The question for the housing bulls is, can it continue?
The answer, at least from this (personally long) housing bear is low rates in 2013 will confront rising foreclosure sales. That battle — plus the state of the consumer as outlined by Jonathan — will determine whether this year's improvement in housing will continue next year.
http://www.ritholtz.com/blog/2012/12/fa … atrick.net
Statistics: Posted by yoda — Tue Dec 11, 2012 2:20 pm
---
View full post on
opinions.caduceusx.com
Prices of China Farm Produce Keep Rising
24 August 2012
CHINA – The prices of farm produce have risen for the fifth consecutive week and price of materials for production have stabilised after falling for four months in a row, according to the Chinese Ministry of Commerce.
The retail price of eggs rose by 1.3 per cent compared to the previous week, up by 2.9 per cent, 2.6 per cent and 1.5 per cent in Shenzhen, Guangzhou and Beijing respectively.
The price of pork rose by 0.6 per cent compared to the previous week but it is still down by 23.1 per cent year-on-year.
Pork prices in Chongqing, Beijing and Shanghai rose by 1.2 per cent, 0.8 per cent and 0.3 per cent respectively compared to the previous week.
The price of beef, lamb and chicken were up by 0.5 per cent, 0.1 per cent and 0.1 per cent respectively.
The price of rice and wheat flour saw a slightly change, with the prices of peanut oil, soybean oil and rice increasing by 0.3 per cent, 0.2 per cent and 0.2 per cent respectively.
Rapeseed oil remain unchanged, while the price of wheat flour dropped by 0.2 per cent.
Muggy and rainy weather has had a bad effect on growth and the storing of leafy vegetables. Fruit and vegetables are now in the slack season.
The wholesale prices of 18 vegetables in 36 medium-and-large sized cities rose by 2.2 per cent compared with that of the previous week, of which cabbage, tomato and eggplant were up by 12.3 per cent, 11.2 per cent and 8.5 per cent month-on-month.
The wholesale price of eight aquatic products were down by 1.2 per cent, of which silver carp, carp and small cutlass fish saw a decrease of 2.6 per cent, 1.6 per cent and 1.5 per cent.
The prices of energy resources were up by 0.1 per cent, of which crude oil increased by 2.1 per cent, with an accumulative increase of 9.9 per cent for five consecutive weeks. The price of coal remain unchanged, while coke dropped by 2.1 per cent.
The price of materials for light industry remained unchanged, of which the price of cotton rose by 0.1 per cent, while chemical fiber fell by 0.5 per cent.
The price of materials for agricultural production dropped by 0.2 per cent, because it is the low season for fertiliser, with reduced demand. The price of urea, superphosphate and ammonium bicarbonate decreased by 1.1 per cent, 0.9 per cent and 0.8 per cent respectively.
http://www.thecropsite.com/news/11798/p … eep-rising
Statistics: Posted by yoda — Fri Aug 24, 2012 9:20 am
---
View full post on
opinions.caduceusx.com
February 24, 2012
Charting gasoline prices against income and GDP provides some interesting results.
Since rapidly rising gasoline prices are in the news, let's look at some charts of gasoline and the economy, courtesy of frequent contributor B.C. These depict income and GDP in a ratio with the price of gasoline, and so they reveal information that is not contained in charts showing only the price of gasoline or GDP.
Here is disposable personal income and the price of gasoline: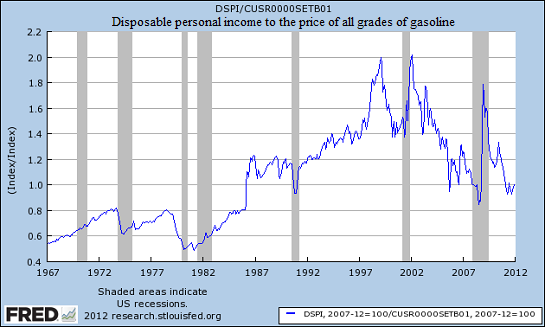 When real (inflation-adjusted) wages are stagnant and the price of gasoline is high, as was the case in the late 1970s and the recessionary early 1980s, the ratio is low. If income is stagnant and the cost of gasoline is high, then people have less money to spend on other items and the economy is also stagnant–exactly what occurred after the 1979 Iran Crisis pushed gasoline prices up. (Sound familiar?)
When gasoline is relatively cheap and incomes are rising, then the ratio is high. Thus when oil prices hit bottom and incomes were rising in the late 1990s, then the ratio was peaking.
Look at it now. The ratio spiked in 2009 as oil prices plummeted from $140 per barrel in 2008 to less than $40 by the end of 2009.
Since incomes are stagnant (actually down since the 2007 top) and gasoline is once again on the rise, the ratio is returning to recessionary levels.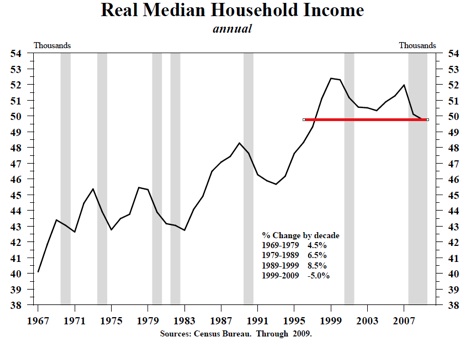 As B.C. noted: "These charts show that wages, incomes, and GDP have fallen dramatically in relation to the increase in the price of gasoline (and energy in general) since the secular peak in the late '90s to early '00s." The ratio is back to the recessionary levels of 1990 and 2008 and not far above the "oil shock" stagflation of the 1970s.
If the government portion of GDP is removed, what's left is private GDP to gasoline prices: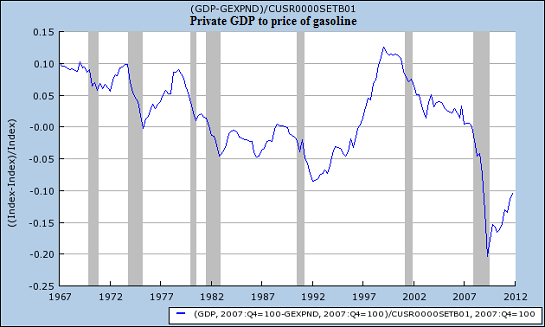 This chart shows the secular decline in the private economy from the late 60s into the late 1980s, and the expansion of the 1990s. The ratio once again began a secular decline from its peak in the Internet boom years of 1999-2000, and then fell off a cliff in the 2008-9 recession.
Though it has recovered a bit, the ratio suggests that in terms of private (non-government) GDP and the price of gasoline, the private-sector economy is plumbing depths that are unprecedented in last 45 years. (The "oil shock" stagflationary 1970s look resilient by comparison, and the nation wasn't borrowing 10% of its GDP every year, either.)
Yes, the Federal government can cover up the damage by borrowing 10% of GDP each and every year ($1.5 trillion, and don't forget to add in the off-budget "supplementary appropriations"), and the Federal Reserve can add trillions in quantittative easing stimulus, but even adding $8 trillion of borrowed/printed money to the economy over the past four years has had remarkably little effect on the private-sector economy. That does not bode well for the "recovery."
http://www.oftwominds.com/blog.html
Statistics: Posted by yoda — Fri Feb 24, 2012 12:11 am
---
View full post on
opinions.caduceusx.com
No. 2 Reactor Temperature Up to 82C
Tokyo Electric Power Co. said Sunday the temperature at the bottom of the No. 2 reactor at its crippled Fukushima No. 1 nuclear plant rose further to 82 C, but the reactor has not gone critical.
While the thermometer reading at shortly after 2 p.m. marked a new high since the reactor attained a cold shutdown in December, the utility known as TEPCO said it has confirmed that sustained nuclear reactions are not taking place in the reactor as no radioactive xenon has been detected inside its containment vessel.
TEPCO reported the latest development immediately to the Nuclear and Industrial Safety Agency of the Economy, Trade and Industry Ministry as the temperature exceeded the limit of 80 C designated by the company's safety regulation for maintaining a cold shutdown, it said.
It is considered desirable to keep the temperature below 80 C, while the bottom of a reactor pressure vessel must be kept below 100 C in a stable cold shutdown, in view of the margin of error of thermometers, according to TEPCO officials.
The Guardian adds that the temperature may actually be over 100C:
Confirmation that the temperature has risen above 80C could force the government to reverse its declaration two months ago that the crippled plant was in a safe state known as cold shutdown.
Cold shutdown is achieved when the temperature inside the reactors remains below 100C and there is a significant reduction in radiation leaks. Given that Tepco assumes a margin of error of 20C, the actual temperature could have risen to 102C.
Plant workers are unable to take accurate readings of the temperature inside the damaged reactor because radiation levels are still too high for them to enter and examine the state of the melted fuel, which is thought to be resting at the bottom of the reactor's pressure vessel.
The result has been a series of wildly different readings: two other thermometers positioned at the bottom of No 2 reactor showed the temperature at 35C, local media reported.
Tepco said it did not know the cause of the apparent temperature rise, but speculated that it might be due to problems with the supply of coolant or a faulty thermometer.
http://www.commondreams.org/headline/2012/02/12-0
Statistics: Posted by yoda — Sun Feb 12, 2012 8:15 pm
---
View full post on
opinions.caduceusx.com