Food service workers at a record high in US economy: Record percent of Americans now employed in food services as a share of total employment coupled with peak food stamp usage.
Posted by mybudget360 in economy, Employment, food stamps, government, recession
One of biggest contributors to jobs over the last few years has come from the low-wage food service sector. A record 7.6 percent of Americans now work in food services and drinking places. Given that we have 47+ million Americans on food stamps and this figure has boomed in the last decade, it should come as no surprise that as Abraham Maslow would have it, people are reverting to the basic necessities of life. Yet there is a larger story of our economic recovery. There was a McDonald's hiring a cashier but looking for someone with a college degree. Welcome to the low wage recovery. A large part of America is simply trying to get by and this population is growing. Those that frequent financial sites on the net are probably a very small part of the overall population. So I know it comes as a surprise to some readers when they realize the per capita wage in the US is $26,000. I'm sure this record percent of Americans in the food services industry must come as a shock as well.
Record employment in food services
The record figures regarding food service employment doesn't surprise me. The growth has been steady for the last few decades: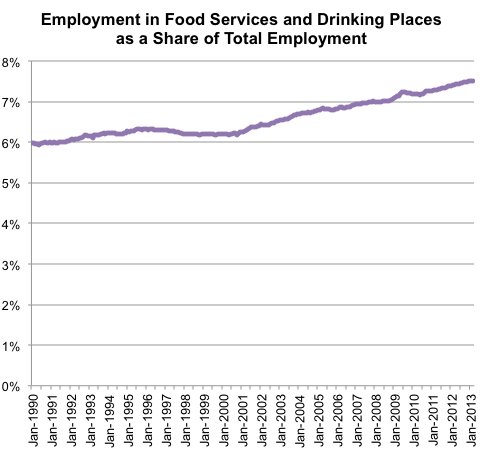 First, you cannot outsource food services. There is no off-shoring Taco Bell and your ability to order a burrito. There is no off-shoring Pizza Hut delivery. In a way, food services is an industry that is built to stay in a local area. Unfortunately the pay isn't the best but fits into the new low-wage American economy. We've discussed that under the illusion of profits, many firms are driving stock values higher by cutting employee wages, slashing benefits, and basically squeezing all the productivity they can muster out of the current workforce. This might be attractive when it comes to the stock market but little stock wealth is in the hands of most Americans. In fact, the top 1 percent controls over 42 percent of all financial wealth.
With the rise of people working in food services we also have a peak number of people on food stamps: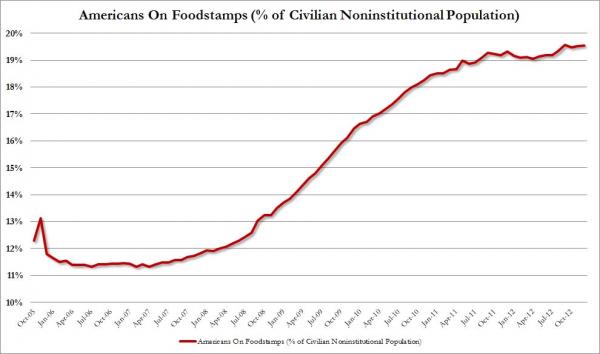 We now have a record percent of our population on food stamps and a record percent of our workforce employed by food services. Not exactly the ideal recovery many had in mind. You wonder what kind of economy we will have where workers are largely demonized in the media and many have lost their voice. In fact, some in the middle class actually advocate for policies that systematically go against their own interest and the interest of the country if they believe in having a healthy middle class. Ultimately we are on the quick road to fully converting our economy into a low-wage system. Peak food service employment and peak food stamp usage are merely symptoms.
The case of the McDonald's in Massachusetts looking to hire a cashier with a college degree is an anecdotal example of where things stand with our economy:
"(Huff Po) Hopefully "Do you want fries with that?" is a phrase they teach in college classrooms.
A McDonald's in Winchendon, Mass., is apparently requiring potential cashiers to have a bachelor's degree, according to a recent job posting. The ad, posted on jobdiagnosis.com, also says that applicants should be "friendly" and able to "smile while serving lots of guests daily."
The job opening is with an "independent franchise," but it also appears on the McDonald's corporate site, albeit with no note of the bachelor's degree requirement. McDonald's corporate headquarters didn't immediately return email and phone messages seeking comment."
So you have young Americans paying incredibly high costs for going to college and diving into debt simply to work at a fast food restaurant? You might write this off but given our record level of food service workers, maybe this is an unfortunate trend of our new low-wage economy.
http://www.mybudget360.com/food-service … #more-4756
Statistics: Posted by yoda — Tue Apr 09, 2013 10:59 am
---
View full post on
opinions.caduceusx.com
The Robot Reality: Service Jobs Are Next to Go
Published: Tuesday, 26 Mar 2013 | 12:39 PM ET
By: Blaire Briody, The Fiscal Times
If you meet Baxter, the latest humanoid robot from Rethink Robotics – you should get comfortable with him, because you'll likely be seeing more of him soon.
Rethink Robotics released Baxter last fall and received an overwhelming response from the manufacturing industry, selling out of their production capacity through April. He's cheap to buy ($22,000), easy to train, and can safely work side-by-side with humans. He's just what factories need to make their assembly lines more efficient – and yes, to replace costly human workers.
But manufacturing is only the beginning.
This April, Rethink will launch a software platform that will allow Baxter to do a more complex sequencing of tasks – for example, picking up a part, holding it in front of an inspection station and receiving a signal to place it in a "good" or "not good" pile. The company is also releasing a software development kit soon that will allow third parties – like university robotics researchers – to create applications for Baxter.
These third parties "are going to do all sorts of stuff we haven't envisioned," says Scott Eckert, CEO of Rethink Robotics. He envisions something similar to Apple's app store happening for Baxter. A spiffed-up version of the robot could soon be seen flipping burgers at McDonalds, folding t-shirts at Gap, or pouring coffee at Starbucks.
"Could [Baxter] be a barista?" asks Eckert. "It's not a target market, but it's something that's pretty repeatable. Put a cup in, push a button, espresso comes out, etc. There are simple repeatable service tasks that Baxter could do over time."
(More From The Fiscal Times: The Rise of Robots and Decline of Jobs)
Companies might not need to wait for a more advanced version of Baxter – MIT already has a BakeBot that can read recipes, whip together cookie dough and place it in the oven. The University of California at Berkeley has a robot that can do laundry and fold T-shirts. Robot servers have started waiting tables at restaurants in Japan, South Korea, China and Thailand – and just last week, a robot served Passover matzah to President Obama during his trip to Israel.
"Every year, machines are getting more capable of doing low-level tasks," says Professor Seth Teller, a robotics researcher at MIT's Computer Science and Artificial Intelligence Lab.
The Great Job Transformation
Many experts worry about what robots in the service sector could do to employment. The national unemployment rate remains at 7.7 percent – not remotely close to the 4.7 percent unemployment in 2007 before the recession. Job growth isn't expected to return to pre-recession levels until 2017, and the recent sequestration could easily derail it. Manufacturing has already shed nearly 6 million jobs since 2000.
"When machines and robots start taking over service sector jobs, that's when we'll really start to notice," says Martin Ford, robotics expert and author of The Lights In the Tunnel: Automation, Accelerating Technology and the Economy of the Future. "If you're making hamburgers or Starbucks drinks, that's really just high manufacturing."
(More From The Fiscal Times: The Robot Revolution: Your Job May Be Next)
What's worrisome to Ford is that these jobs have been offering a huge safety net to the middle class. They're jobs he calls "the jobs of last resort." When someone can't find a salaried job, they look for lower-paying service jobs to get by – and because the jobs typically have a high turnover rate, they're more likely to be available. Think of all the college graduates who take jobs as cashiers or baristas before they find salaried work. If those jobs were to vanish, those workers would be forced to file for unemployment instead."
Retail and service industries are the largest employers in the U.S., accounting for nearly 20 percent of total employment in 2011, according to the latest data available from the BLS. The retail sector employs nearly 14.8 million people, with Walmart employing 10 percent of them. On top of that, one in five retail workers are the sole income earners in their household. The U.S. restaurant industry employs 9.5 million people, and nearly 50 percent of all adults have worked in the restaurant industry at some point in their life, according to a 2012 report from the Workforce Strategies Initiative at the Aspen Institute. Compare these numbers to the tech job "boom" at companies like Facebook, Apple, Amazon and Google – and you get a mere 190,000 people.
Restaurant work also supports aging boomers as they transition out of the workforce – 12 percent of restaurant workers are 55 and older. "Many older Americans have fallen back on jobs in the restaurant industry, as they seek to transition to a new career or are simply unable to find other work," write the authors of the Aspen Institute report.
Play Video
Robot Lifeguard to Debut on Connecticut Beach
This summer, lifeguards at one Connecticut beach will be getting an assist from a robot known as Emily, which can reach a troubled swimmer far faster than a lifeguard. Ryan Hanrahan reports.
Teller at MIT argues that economic disruption from technology is nothing new – we've seen it before with inventions like the cotton gin, the automobile, and the personal computer. "One way to frame this is robots are taking human jobs away, but technology has, throughout history, transformed the nature of human jobs," he says. "As machines get more capable, they take on functions that were previously performed by people. There's a displacement, certainly, but we're still seeing this transformation play out, so you just don't know whether there's going to be a net gain or a loss [of jobs]."
According to Teller, Baxter and other robots could create jobs in new industries we haven't even envisioned yet. The PC, for example, eliminated plenty of jobs while creating millions of others. And he has a point – Baxter is creating some jobs. Rethink Robotics employs 85 people at their Boston headquarters that would've never existed without Baxter – though most are high-level engineers, designers and salespeople.
(More From The Fiscal Times: Ten Jobs That Won't Be Taken By Robots…Yet)
At the factories that are buying Baxter, employers now create robot "managers" to oversee Baxter. Baxter is also made in the U.S., and Rethink employs some 100 people in factories and distributors – though in an ironic twist, they're already planning to use Baxter to help build Baxter.
As robots move into other sectors and the home, Teller says the job opportunities are abundant. Robot IT and maintenance personnel, designers and salespeople for robot accessories, software, and apps, and robot security developers are just a few examples. "If personal robots are the next thing and everyone wants one in their house, doing the laundry and unloading the dishwasher, we're talking about another decade of massive economic activity," says Teller.
The PC, however, also created a decade of economic wealth – but the wealth has largely stayed at the top. Facebook, Apple, Amazon and Google don't employ many people, relatively speaking, but they have about 6.25 percent of the market cap of all U.S. companies. Yes, PCs have created IT jobs and software developers, but the tech industry is small compared to retail and restaurant industries. Computer and mathematical jobs make up about 3 percent of the labor force, according to the BLS, and require advanced degrees and years of training. Will the U.S.'s higher education system be prepared for massive retraining? Will service employees have the time and resources to learn new skills? Will enough high-skill jobs be available for them? No one is quite sure where they'll go when robots like Baxter push them out.
Erik Brynjolfsson, director of the MIT Center for Digital Business and co-author of Rise Against the Machine, has been warning economists about the coming job disruption for years. "Technology doesn't automatically lift the fortunes of all people," Brynjolfsson said recently to a crowd at Wharton University in San Francisco. "Profits [in the U.S.] have never been higher, innovation is roaring along, GDP is high, but job creation is lagging terribly, and the share of profits going to labor is at a 60-year low. This is one of the most important issues facing our society."
http://www.cnbc.com/id/100592545
Statistics: Posted by yoda — Tue Mar 26, 2013 12:50 pm
---
View full post on
opinions.caduceusx.com
Tad DeHaven
The U.S. Postal Service announced today that it intends to end Saturday mail delivery beginning on August 1st. According to the USPS, the move would save the government's beleaguered mail monopoly $2 billion a year. The USPS has lost over $40 billion since 2006 and it has maxed out its $15 billion line of credit with the U.S. Treasury. With mail volume in permanent decline, the USPS has no choice but to try and cut costs.
Congressional meddling has made it difficult for the USPS to downsize it operations to reflect economic and financial reality. Indeed, the USPS has been asking Congress to allow it to drop Saturday delivery service for the past couple of years, but those pleas have been rebuffed. With the USPS literally on the verge of not being able to pay its bills in full, it will be interesting to see if Congress finally relents.
Even if Congress does allow the USPS to drop Saturday mail delivery, the postal service faces a bleak future. The technological revolution in digital communication has undermined the USPS's mail monopoly. Compounding matters are excessive labor costs and the aforementioned unwillingness of Congress to grant the USPS sufficient operating flexibility. Without dramatic reforms, taxpayers face the possibility of ultimately being forced to clean up yet another federal mess.
Instead of kicking the can down the road (one thing that Congress is actually good at) policymakers should be considering privatizing mail delivery. In a competitive free market, customers might choose six-day delivery, or five-day delivery, or one-day delivery, etc, etc. Entrepreneurs would have an incentive to tailor services to satisfy customers and to seek new cost-effective delivery methods. Prices would be higher or lower depending on what customers want as is the case with any other service provided by the market.
View full post on Cato @ Liberty
By Tad DeHaven
Postmaster General Michael Donahoe has occasionally remarked that the U.S. Postal Service will end up in a Greek-like crisis if Congress doesn't allow it to reduce costs and operate with more flexibility. Michael Schuyler, now with the Tax Foundation, examines the analogy between Greece and the USPS in a paper that was released on Monday.
The "good" news for the USPS is that its fiscal situation isn't as bad as what the Greeks are dealing with—at least not yet. Whereas previous Greek governments intentionally understated deficits and debt until it caught up to the country in 2009, the USPS hasn't tried to hide the fact that its prospects are bleak. In addition, the USPS has been able to shed excess workers (through attrition) over the past several years, while recent attempts by the Greek government to cut its bloated workforce have been met with rioting.
The problem is that powerful interests maintain convenient opinions on some of biggest issues facing the USPS. Mike singles out for particular scrutiny the postal employee unions for continuing to pretend that the USPS would be alright if it didn't have to make annual payments to "prefund" retiree health care benefits. Both of us have been critical of this claim, but I think Mike's latest reality check is worth sharing in its entirety:
If Congress did not require the Service to put aside money to pay the costly health benefits it promises its workers after they retire, the deficits it reported in the last several years would have been substantially reduced and so would its reported deficits in the near future. Some stakeholders claim from this that the Service's problems are artificial, the fault of a funding requirement Congress imposed in 2006 as part of the Postal Accountability and Enhancement Act (PAEA, P.L. 109-435). They assert that the Service is, in reality, in fairly good shape. For example, Fredric Rolando, president of the National Association of Letter Carriers, declared, "The Postal Service has performed well in operational terms, nearly breaking even despite the worst recession in 80 years." It should be noted, however, that even if the RHBF is entirely ignored, the Service would have lost $4.8 billion in 2012, $5.1 billion in 2011, $3.0 billion in 2010, and $2.4 billion in 2009. Losses of $4.8 billion, $5.1 billion, $3.0 billion, and $2.4 billion caused by problems other than the RHBF do not equal performing well. No wonder Postmaster General Donahoe characterized as "irresponsible" the argument that the Service would be fine except for retiree health benefit contributions and said, "The idea that if we just eliminate the prefunding…we'll be OK—wrong!"

Mr. Rolando and others also argue that because the RHBF "already has $45 billion [of assets], enough to pay for decades of future retiree health care," Congress should not require the Service to make further contributions. The flaw in that argument is that although its projected assets in the fund were $45.7 billion at the end of 2012, its projected liabilities were $93.6 billion, leaving an unfunded liability of $47.8 billion. If Congress let it cease contributing to the retiree health fund without also enacting reforms to dramatically reduce projected liabilities, it would virtually guarantee a huge taxpayer bailout of the Service down the road. The call for a prolonged contribution holiday is reminiscent of the approach that has landed the Greeks in so much trouble.
Never mind the fact that we're talking about a benefit that a small and shrinking number of private sector workers are offered.
There's one more point that Mike makes that I found interesting. He notes that defenders of the status quo often accuse USPS management and certain members of Congress of pushing for reforms that will ultimately lead to postal privatization. But Mike argues that reforms that would help fix the USPS's financial imbalances would make privatization less likely:
[O]ne of the major postal reforms bills in Congress, the Postal Reform Act of 2011 (H.R. 2309), is often accused of paving the way for privatization. In fact, it would do the opposite. The House bill takes a tough-love approach and contains several controversial provisions. These include the creation of a Commission on Postal Reorganization Act, modeled on the successful military Base Realignment and Closure (BRAC) Commissions, as well as the creation of a Financial Responsibility and Management Assistance Authority, modeled on the effective District of Columbia Financial Control Board. No position is taken here on whether those provisions ought to be part of postal reform, but it should be noted that BRAC Commissions have saved the military billions of dollars and the DC Financial Control Board helped revitalize the District of Columbia. Those earlier, bipartisan efforts were not intended to privatize the Defense Department or the District; the goal was to help government run better.
Hmmm… I don't want government to "run better." And I think the U.S. Postal Service should be privatized regardless of how it's run or the state of its finances. So if Mike's right, perhaps free-market fans should be hoping that the USPS goes the way of Greece. After all, because Greece's finances are such a mess, privatization of Hellenic Post is now on the table.
The danger, of course, is that Congress would just bail it out with taxpayer money.
The U.S. Postal Service vs. Greece is a post from Cato @ Liberty – Cato Institute Blog
View full post on Cato @ Liberty
By Jim Harper
You'd think consumers didn't care about price.
This HuffPo piece makes the wireless industry's resistance to regulation requiring backup power at cell sites sound all "corporate-y."
"The biggest issue is they have not wanted to invest the money in hardening their networks sufficiently against a catastrophic event," says Harold Feld, senior vice president at Public Knowledge.
Industry group CTIA says the proposed requirements "would unnecessarily burden wireless carriers and potentially undermine the investments and network planning that have made their networks so successful."
What about the fact that the cost of backup power requirements would be passed on to consumers in the form of higher prices?
The case for a backup power regulatory mandate sounds weak. During the biggest storm in who-knows-when, in the most populous regions of the country, "thousands" were left without cell phone service. What percentage of the New York-New Jersey metropolitan area's population is that?
"As power returned to many areas over the weekend, wireless carriers reported that more than 95 percent of their cell towers in areas affected by the storm were working."
Lost service is a real thing that happened, but other dimensions of preparedness and response seem to have gone much worse.
To the extent lost service had a proximate relationship to someone not getting the help they needed, Superstorm Sandy makes clear the consequences of large weather events, and it will educate consumers and cell phone providers both about the risk of lost communications during natural disasters. Both will respond as they see fit.
But raise everybody's cell phone bill permanently to secure against outlier events? Let's put our thinking caps on:
Given the increased cost, marginal cell phone consumers would drop their service and they wouldn't have access to communications when they were in emergency situations.
It seems to me that getting a cheaper cell phone plan to people who may often have occasion to report muggings-in-progress is a greater protection for the public than insuring the wealthier consumer against lost service during extremely rare weather events.
This Would Raise the Price of Cell Phone Service is a post from Cato @ Liberty – Cato Institute Blog
View full post on Cato @ Liberty
USA – Restaurant meat sales 09 Oct 2012
Visits to full service restaurants declined in April, May and June, continuing a four-year trend of visit losses for the segment, according to The NPD Group, a Chicago-based market research company.
"Visits to casual dining restaurants declined by 2 percent in the quarter compared to the same quarter last year and midscale traffic dropped by 3 percent," NPD said.
Traffic to non-commercial outlets continued to contract for the quarter with a 2 percent decline, which was driven by losses in foodservice visits to business and industry and to the education sector."
While traffic at mid-scale and casual dining establishments lagged, the quick service segment experienced slight growth in traffic, according to NPD.
The segment recorded 1 percent growth compared to the comparable year-ago period.
The trend offset losses at full service restaurants, which kept total industry traffic stable in the second calendar quarter, according to NPD's foodservice market research.
"Visits were up at all the QSR main meals while midscale restaurants absorbed traffic losses throughout the day," NPD said.
Foodservice checks climbed an average of 2 percent in the second quarter despite slow growth in traffic.
The check increase was the strongest rate of increase in more than two years, NPD said, although it lagged behind inflation for food away from home.
Consumers also spent more in the second quarter, although price and affordability are impacting diners' decisions about where to eat, NPD said.
The average check at a mid-scale restaurant (9.66) is nearly twice that of a QSR ($5.18). A check at a casual dining restaurant is more than twice that of a QSR at $13.31.
"In our forecast for the balance of 2012 and 2013, the foodservice industry's growth is likely to depend on check increases with traffic remaining relatively flat," said Bonnie Riggs, NPD's restaurant industry analyst.
"An improvement in the economy, especially reducing unemployment, would certainly help the
http://www.meattradenewsdaily.co.uk/new … ales_.aspx
Statistics: Posted by yoda — Mon Oct 08, 2012 9:13 pm
---
View full post on
opinions.caduceusx.com
Members of President Obama's Secret Service detail face misconduct charges, reportedly over "involvement with prostitutes" in Colombia, where the president is participating in the Summit of the America's.
"Jon Adler, president of the Federal Law Enforcement Association, said the accusations relate to at least one agent having involvement with prostitutes in Cartagena," according to The Washington Post.
Fox News' Ed Henry confirmed the prostition aspect of the story, tweeting that he was "told by senior official [that] at least 1 Secret Service agent alleged to be involved w/ prostitute in Colombia."
A Secret Service spokesman refused to say why the agents had been recalled. "The Secret Service takes all allegations of misconduct seriously," spokesman Edwin Donovan said. "These personnel changes will not affect the comprehensive security plan that has been prepared in advance of the President's trip."
According to Adler, the entire Secret Service unit attending Obama was ordered back to the United States and replaced with another.
Read more: http://newsok.com/secret-service-agents … z1rzEv709o
Statistics: Posted by yoda — Fri Apr 13, 2012 10:43 pm
---
View full post on
opinions.caduceusx.com
Crystal Cathedral breakaway church set for first service
March 18, 2012
The daughter of Crystal Cathedral founder Robert H. Schuller was scheduled to hold the first service of her breakaway church at an Orange County movie theater Sunday morning.
Senior Pastor Sheila Schuller Coleman left the ministry founded by her father and started a new church, the Hope Center of Christ.
The service was to be held in Theater 15 at the AMC multiplex at the Outlets at Orange. She said the location was temporary.

"I am excited to say that the concession stands will be open," she said in an email to would-be congregants. "Children of all ages can feel free to enjoy their popcorn, coffee and candy as we worship the Lord."
The elder Schuller and his wife quit the international board overseeing the ministry, now bankrupt, that he started more than half a century ago. The church's "Hour of Power" program was long a pillar of American televangelism.
http://latimesblogs.latimes.com/lanow/2 … rvice.html
Statistics: Posted by yoda — Sun Mar 18, 2012 1:53 pm
---
View full post on
opinions.caduceusx.com
If Google plans to draw customers to its ultrafast Internet service, it would help to bundle it with a cable-style TV package.
And to get the necessary TV programming, it would likely need an "antenna farm" of commercial-sized satellite dishes to capture "The O'Reilly Factor," "SportsCenter," "Boardwalk Empire" and the rest of what people come to expect on their channel selections.
To do that, Google would need a license from the Federal Communications Commission to set up a satellite receiving station.
So news that Google applied to the FCC in December for such a license is now fueling speculation that the search king might bundle Internet and TV services in Kansas City. Google chose Kansas City, Kan., and Kansas City, Mo., last spring as the cities where it hopes to make next-generation Internet connections available and affordable to homes.
Google is being characteristically mum on the subject. A spokeswoman said only, "We're still exploring what product offerings will be available when we launch Google Fiber" — the name given for its Internet service project.
The FCC application does not give specifics about how Google might use the facility. And the fact that Google wants to camp the operation in Council Bluffs, Iowa, near Omaha, muddies the guessing about the company's intent.
Instead, Google said in its application only that the company wanted those satellite receiving stations to receive so-called C-band and Ku-band signals "to provide analog and digital audio, data and video services." That could constitute the sort of antenna farm that cable television companies use to capture signals before routing them to customers, analysts said.
The technology blog Ars Technica first noted the application, which was denied on technical grounds. The FCC signaled a revised application might go forward.
Google has been coaxing people toward watching more television programming over the Internet before. It owns YouTube, and last year signed up Hollywood talent to produce more professional content "channels" for the video-streaming website.
This development, if it turns out to be the construction of an antenna farm for collecting network programming, might mark a more traditional way to pipe entertainment to living rooms.
Why Council Bluffs? Perhaps because the Omaha area sits on the backbone of the fiber optic cables that stretch the Internet across the U.S. The location could help if Google launched its super-fast Internet service in other markets, or if it incorporated a paid-programming package with its Google TV.
Google TV was introduced in 2010 as a way to meld conventional television programming with Web surfing. It has yet to gain much popularity.
The Council Bluffs station might act as what the cable industry describes as a "head end." That's where television signals are collected from satellites, unscrambled and assigned to channels. Google could then transfer the signals over Internet Protocol Television, or a technology like that used with AT&T's Uverse service called IPTV, to homes. Running a connection to Kansas City, experts said, would be relatively simple.
The western Iowa hub might also be used to feed programming to devices such as tablets or smartphones using Google's Android software, or to televisions connected to the Internet through Google TV, said Kansas State University computer scientist Dan Andresen.
"You might want something centrally located in the country to reduce latency" — or delays in transmission — he said.
Some analysts say the Council Bluffs operation could set up a television service for Google to package with its 1 gigabit-per-second Internet service in Kansas City. Google expects to start offering service to some neighborhoods in Kansas City, Kan., by midsummer. The company has not yet said how much it will charge, but it has said it is considering services beyond just Internet access.
"I never believed (Google's plan for Kansas City) was going to be an Internet-only, data-only proposition," said Mark Kersey, a cable industry analyst.
He and others said that luring customers with just an Internet service, even at download speeds 100 times the broadband average and upload speeds 1,000 times quicker than the norm, would be difficult. Google has said it will charge rates competitive with conventional service.
Read more here: http://www.kansascity.com/2012/02/14/34 … rylink=cpy#storylink=cpy
Statistics: Posted by yoda — Wed Feb 15, 2012 11:16 am
---
View full post on
opinions.caduceusx.com