It's one thing for The Blaze, Glenn Beck's online vehicle to report this (as it did in February) it is another when The Associated Press does it. There is a lot of smoke coming from the White House these days.
This is an important article because it is the AP which is reporting it.
View full post on AgainstCronyCapitalism.org
Trevor Burrus
Yesterday, the Bureau of Justice Statistics (BJS) released a special report, Firearm Violence, 1993-2011. Not surprisingly, at least for those who follow crime statistics, the report shows that firearm homicides went down 39% between 1993 and 2011. The report also reconfirms many things that gun-rights supporters have been saying for decades: that less than 2% of prison inmates in 2004 bought their firearm from a "flea market or gun show," and that "2% of state inmates and 3% of federal inmates were armed with a military-style semiautomatic or fully automatic firearm."
Also not surprising is that very few people know about the dramatically reduced crime rate. Also released yesterday was a Pew study on Americans' perceptions of the crime rate. Despite cutting the murder rate nearly in half in less than twenty years, only 12% of Americans believe that gun crime has dropped in the past two decades. Fifty-six percent believe it has increased, and 26% believe it stayed the same. This is not new. People often don't realize how much better things are getting, and this fact can push public policy in misguided directions.
Many have tried to explain this precipitous drop in crime, including one study that connected it to the decreased amount of lead in the environment. Whatever the cause, one thing is clear: there are about 50 million more guns in America now than in 1993 and crime did not go up.
Now, I will not oversell that statistic, not only because it does not prove the thesis "more guns, less crime," but also because overselling statistics is a big problem in the gun control debate for both sides. For example, to take another statistic from the BJS report: the number of times per year people use guns to stop or curtail crime.
Despite the fact that the BJS is quite good at some things, it is uniquely bad at measuring the level of defensive gun use (DGU) in America. And despite the fact that I can easily demonstrate this to anyone with even the slightest inclination to allow their minds to be changed, I am not optimistic that the gun controllers will listen.
Gun controllers are constantly accusing gun-rights supporters of over-estimating the instances of DGU, and their primary source is the data from the National Crime Victimization Survey, which they rely on unquestioningly. The disparity between the BJS statistics and other studies is stark, as much as 30x. For example, yesterday's BJS report claims that, between 2007-2011, crime victims used guns to stop or curtail crime 235,700 times. This aligns with the general tendency for the BJS to record between 60,000 and 100,000 DGUs per year. By contrast, Florida State's award-winning criminologist Gary Kleck has found there may be as many as 2.5 million DGU instances per year. Gun-controllers almost always dismiss Kleck's data as wildly inaccurate, if not NRA-funded propaganda (it is neither), and instead unquestioningly accept the BJS numbers. See, for example, this study by the Violence Policy Center, which simply regurgitates the BJS numbers, and this discussion of the VPC report at Mother Jones. This New York Times post on the VPC report sneeringly offers this observation on the disparity between Kleck's and the BJS's numbers:
Readers can judge for themselves whether the V.P.C. or the N.R.A. is likely to have better numbers. The V.P.C. used data from the National Crime Victimization Survey, conducted by the Bureau of Justice Statistics. The N.R.A.'s estimate is the result of a telephone survey conducted by a Florida State University criminologist.
I accept the Times's invitation, and I will judge for myself:
Six Reasons to Distrust the NCVS on Defensive Gun Use
1) As you can see from the NCVS survey questions here, the survey is non-anonymous. Although respondents were given guarantees that the results will remain confidential, many respondents would certainly be uneasy about answering questions about gun use after giving their names and addresses. This is a well-known effect of non-anonymous surveys.
2) Respondents were told from the outset that the survey is conducted by the government, specifically the U.S. Census Bureau. Coupling this with the survey being non-anonymous and you have a perfect recipe for withholding information. This is all the more true if the respondent had reasonable concerns about whether an instance of DGU was legal, either because they themselves were not allowed to have a gun or to be carrying a gun (perhaps because of a felony conviction), because carrying a gun or having a gun is essentially illegal in their area (e.g., DC, NYC), or because of the obvious legal gray-area around the act of threatening someone with a gun, much less firing it at them. In essence, those who unquestionably trust the NCVS data on DGUs believe that the question, "hi, I'm from the government, please give me your name and address and tell me if you've used a gun to protect yourself in the past year" will yield accurate results.
3) Respondents were only asked about DGU after they had given the location of the crime. If the crime occurred outside the home, as did 78.1% of violent crimes between 2007-2011 (table 7), and some respondents were unauthorized to carry a gun outside the home, then they were being asked to admit to a crime.
4) But respondents were not just told that the U.S. Census Bureau is conducting the survey, they were told that the survey is sponsored by the Department of Justice. They were then asked to volunteer information about possibly illegal activities to the chief law enforcement agency of the United States.
5) Respondents were not directly asked about DGU because the NCVS is not primarily designed to uncover instances of DGU. They were first asked whether they have been victims of a crime and only then were they asked follow-up questions about the incident. But the NCVS under-reports crime, particularly domestic violence and rape, and if it under-reports crimes where DGUs are particularly common then it would of course under-report DGUs.
6) The follow-up questions are not straightforward enough to accurately capture instances of DGU. As you can see from the follow-up questionnaire given to those who report a crime (page 12), respondents must first have answered "yes" to the question, "Did you do anything with the idea of protecting YOURSELF or your PROPERTY while the incident was going on?" before they were asked about DGU. They were then asked to volunteer information about a DGU rather than being put in a position of having to lie in order to deny a DGU.
That's what the government did. Let's see how "the result[s] of a telephone survey conducted by a Florida State University criminologist (Gary Kleck)" were collected:
We use the most anonymous possible national survey format, the anonymous random digit dialed telephone survey. We did not know the identities of those who were interviewed, and made this fact clear to the Rs [Respondants]. We interviewed a large nationally representative sample covering all adults, age eighteen and over, in the lower forty-eight states and living in households with telephones. We asked DGU questions of all Rs in our sample, asking them separately about both their own DGU experiences and those of other members of their households. We used both a five year recall period and a one year recall period. We inquired about uses of both handguns and other types of guns, and excluded occupational uses of guns and uses against animals. Finally, we asked a long series of detailed questions designed to establish exactly what Rs did with their guns; for example, if they had confronted other humans, and how had each DGU connected to a specific crime or crimes.

Interviews were monitored at random by survey supervisors. All interviews in which an alleged DGU was reported by the R were validated by supervisors with call-backs, along with a 20% random sample of all other interviews.

Questions about the details of DGU incidents permitted us to establish whether a given DGU met all of the following qualifications for an incident to be treated as a genuine DGU: (1) the incident involved defensive action against a human rather than an animal, but not in connection with police, military, or security guard duties; (2) the incident involved actual contact with a person, rather than merely investigating suspicious circumstances, etc.; (3) the defender could state a specific crime which he thought was being committed at the time of the incident; (4) the gun was actually used in some way–at a minimum it had to be used as part of a threat against a person, either by verbally referring to the gun (e.g., "get away–I've got a gun") or by pointing it at an adversary. We made no effort to assess either the lawfulness or morality of the Rs' defensive actions.

An additional step was taken to minimize the possibility of DGU frequency being overstated. The senior author went through interview sheets on every one of the interviews in which a DGU was reported, looking for any indication that the incident might not be genuine. A case would be coded as questionable if even just one of four problems appeared: (1) it was not clear whether the R actually confronted any adversary he saw; (2) the R was a police officer, member of the military or a security guard, and thus might have been reporting, despite instructions, an incident which occurred as part of his occupational duties; (3) the interviewer did not properly record exactly what the R had done with the gun, so it was possible that he had not used it in any meaningful way; or (4) the R did not state or the interviewer did not record a specific crime that the R thought was being committed against him at the time of the incident. There were a total of twenty-six cases where at least one of these problematic indications was present. It should be emphasized that we do not know that these cases were not genuine DGUs; we only mean to indicate that we do not have as high a degree of confidence on the matter as with the rest of the cases designated as DGUs. Estimates using all of the DGU cases are labelled herein as "A" estimates, while the more conservative estimates based only on cases devoid of any problematic indications are labelled "B" estimates.
Kleck's study (which you can read here) was done in 1993, so there is good reason to believe that the instances of DGU have gone down with the crime rate. Also, Kleck's study, like all studies, is far from ironclad. But I'll leave that question to the reader: which study is likely to be more reliable?
(For more on defensive gun use, see Cato's study Tough Targets. You can also check out interactive map on defensive gun use.)
View full post on Cato @ Liberty
The answer is revealed in the chart below, which appeared as part of Dylan Grice's commentary in the March 13, 2013 edition of the Edelweiss Journal:
The chart shows the accumulated amount of U.S. government-issued debt for each quarter from 2009-Q1 through 2012-Q3. The Federal Reserve began accumulating U.S. government-issued debt once again in the fourth quarter of 2012 as part of its latest round of quantitative easing.
With the Fed having accumulated over half of all the U.S. government-issued debt during this time, has the federal government been running the Fed over the last four years or is it the other way around? And does that explain the U.S. Department of Justice's curious lack of prosecutions for U.S. banks and other financial institutions?
View full post on MyGovCost | Government Cost Calculator
Randal O'Toole
The lies begin right in the headline of the American Public Transportation Association's annual press release patting the industry on the back for carrying heavily subsidized riders last year. "Record 10.5 Billion Trips Taken On U.S. Public Transportation In 2012," claims the press release headline.
The text reveals that it wasn't actually a record at all, but merely the "second-highest ridership since 1957." When was the first highest? In 2008, meaning the headline would have been more accurate if it had read, "Transit Ridership Falls Since 2008."
Of course, as a lobby group, APTA is paid to promote the transit industry. Reporters are also paid to see through lobbyists' lies, but unfortunately many of them simply modestly rewrite the press release while others add their own questionable analyses.
The consumer is feeling renewed stress. Gas prices are up. Food prices are up. But incomes are stagnant or down generally.
Life for the middle class continues to be tenuous. As the Federal Reserve prints and prints and prints, pushing money into the stock markets and commodity markets, life for much the investor class has stabilized, and in the case of some (think big bankers)  the past 4 years have been a time of unprecedented manna.
For those clinging to jobs, trying to put kids through schools with tuitions which continue to rise every year, who are in some cases struggling just to keep the pantry stocked, things have been tough for a long time now. Nothing seems permanent  Little feels tangible. Many people remain underwater on their houses. Young people can't find jobs out of college. Hours are being cut widely thanks to the healthcare experiment being hoisted on the country from Washington DC. Payroll taxes just went back up. It's no wonder the use of coupons has spiked again.
For middle class America things are not much better than they were 5 years ago. For the bread and butter of the economy, the sarlied breadwinners outside of government and finance, the optimism of past generations, though not gone, is dimmer than in years past. Not only are we mired in a recession, but the rich have gotten richer and the government has gotten larger.
The only solution to this ongoing problem, the alienation and continued marginalization of the middle class, is the reintroduction of sound money. It is clear that the fiat money experiment, initiated by Richard Nixon in 1971 when he took the United States off of the gold standard has failed, for most people. But that's for another post.
For your information Staples and Chipotle have great coupon deals going right now.
(From CNBC)

Consumers are clipping coupons at a rate not seen since before the 2007 recession, and that's a troubling sign, according to Coupons.com CEO Steven Boal.

The website tracks how often people view and print coupons and their redemption rate. Right now, Coupon.com's Internet Coupon Index, as it's called, shows a spike in coupon offers and demand.

This pattern is almost identical to the one that played out right before the last major economic downturn. The higher the index value, the more consumers are under economic pressure, Boal told CNBC.com.

"The index tends to run in a range," he explained. "In September, October, November in 2007, it popped out of its range for the first time… And, for the first time since then, we are seeing a tripping out of the range,"
The post Use of coupons spikes most since 2007, the beginning of the Great Recession appeared first on AgainstCronyCapitalism.org.
View full post on AgainstCronyCapitalism.org
Mexico manufacturing output falls for the first time since 2009
Krista Hughes and Alexandra Alper
Reuters
Published Monday, Feb. 18 2013
Strong spending by Mexican consumers drove an acceleration in Latin America's second-biggest economy in the final months of last year but a fall in manufacturing raised concerns about resilience in a key export sector.
Mexico's economy grew twice as fast in the fourth quarter as in the third with an expansion of 0.8 per cent quarter-on-quarter, the national statistics agency said on Monday, beating expectations in a Reuters poll for 0.6 per cent growth.
But although full-year growth of 3.9 per cent matched 2011's rate, fourth-quarter growth compared to a year earlier came in at 3.2 per cent, missing expectations for a 3.57 per cent rise.
The economy is seen losing steam in the first half of 2013 amid fears U.S. tax hikes and spending cuts will sap demand for Mexican exports, which had been supporting growth.
The figures showed manufacturing output fell in the fourth quarter for the first time since 2009, when Mexico was battered by a deep recession. Growth was instead driven by an expansion in services, which make up two-thirds of economic output and are seen as a litmus test for domestic demand.
Services have grown in importance over the last five years and some analysts think planned structural reforms will help boost incomes and access to credit and unleash more spending.
"All of the recovery since 2008, 2009 has really been in industrial exports and … consumer spending has sort of lagged behind, but now it's almost a role reversal which is helping to sustain growth," said David Rees, an economist at Capital Economics in London.
Rees projects growth of 3.5 per cent this year, in line with government expectations, on strong domestic demand and a pick-up in industry in the second quarter, helped by robust U.S. factory activity last month. Most of Mexico's exports go to the United States and factory activity is closely linked.
But some analysts were not so sanguine. Banco Santander economist Rafael Camarena said industrial weakness supported bets for a benchmark interest rate cut, something the central bank warned last month it might pursue if inflation continues to cool and economic growth slows.
"We're seeing a slower economic expansion rate and low inflation, which creates a window of opportunity for the central bank to make this cut," said Camarena, who expects a 50-basis-point cut at the bank's March meeting.
Markets are pricing in a 64 per cent chance of a 25-basis-point cut in March to the central bank's 4.50 per cent benchmark rate and have fully priced in such a cut by April.
SERVICES SAVING GRACE
The figures showed industry contracted by 0.21 per cent in the fourth quarter. The services sector expanded 0.68 per cent while agricultural activity grew 2.09 per cent.
Industrial production posted its biggest monthly drop since 2009 in December as Mexican factory managers burned through inventories amid uncertainty about U.S. budget tightening that was due to start at the start of 2013.
U.S. lawmakers managed to avert across-the-board tax hikes, but they could still fail to reach an agreement on spending cuts that could drag on growth, and that uncertainty may cast a pall over manufacturing during the first part of this year.
Construction in Mexico also fell in the fourth quarter as public infrastructure spending dried up at the end of former President Felipe Calderon's term, hitting companies such as cement maker Cemex, whose fourth-quarter local sales missed expectations.
But strong spending on transport, real estate and financial services helped pick up the slack.
Confidence about Mexico's internal market drove billionaire Carlos Slim to take retailer Sanborns public this month, raising almost $1-billion.
Mexican retailers are eyeing 5 per cent growth in 2013 on continued strength in department store sales and consumer optimism, which dipped in January off a nearly five-year high.
Mexico's second-biggest retailer Soriana has said it is planning to invest 4.6 billion Mexican pesos ($362.69-million U.S.) to open about 60 new stores and boost its land reserves for development of future facilities.
"We're very positive about this year, just like last year. I think that Mexico is ready to grow and generate more jobs," Soriana CFO Aurelio Adan told Reuters in an interview last month.
Separate data showed economic activity slumped in December, after relatively strong expansion in the previous two months.
Mexico's IGAE indicator fell 0.99 per cent in the month, its biggest fall in almost three years, dragged down again by the industrial sector. Activity was up just 1.42 per cent from December 2011.
http://www.theglobeandmail.com/report-o … le8792788/
Statistics: Posted by yoda — Mon Feb 18, 2013 6:00 pm
---
View full post on
opinions.caduceusx.com
American Gerontocracy: Since 2009 2.7 million jobs for those 16 to 55 have been lost yet 4 million jobs were added for those between 55 and 69.
Posted by mybudget360 in debt, economy, income, young Americans
It is still a tough time to be young and looking for work in the United States. With the steady destruction of blue collar industries with living wages, many have to pursue a college degree for any chance at becoming middle class. Yet higher education has become a debt plagued mess where students have to enter selective schools or pick in demand degrees to have any fighting chance in the economy. The rest go into deep debt for what is now worthless paper. Yet it is understandable for young Americans to take this risk given the weak prospects in the market for those without a college education. The recent jobs reports are more proof of the great divide that is happening in our nation based on age. Since 2009, the economy has lost about 2.7 million jobs for those between the ages of 16 to 55. However, the offset has come from adding 4 million jobs in the age range of 55 to 69. Welcome to the American Gerontocracy.
The young and old divide when it comes to jobs
There was a startling chart that I saw over the last week. It shows added jobs based on two age segments: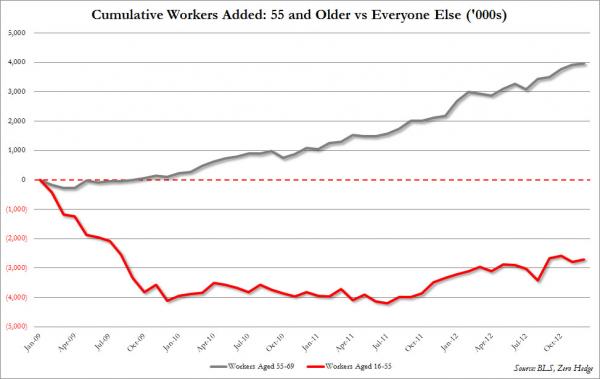 Practically all job growth has occurred in the 55 and higher age range. Keep in mind where wealth is concentrated in this country. Young Americans are largely broke and many are massively in debt: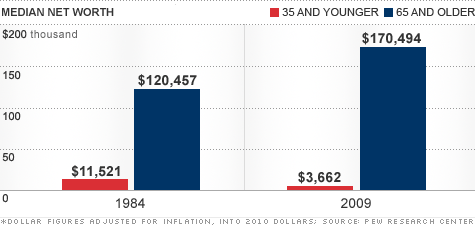 Americans under the age of 35 have a median net worth of $3,600. What are you going to do with $3,600? This is not going to buy any political favors where most of our representatives in Congress are millionaires. The voice of many young Americans are lost in the political battles that play out. So the continuing growth in jobs is largely not helping them out while many are pushed into pursuing college degrees that are becoming more and more expensive.
There are very few avenues to making it into the middle class without a college education. The facts highlight this trend. Yet keep in mind what is happening. Many of the more affordable state schools are becoming incredibly competitive to get into courtesy of their lower price point. Costs have soared at state schools as state budgets have collapsed. Most cannot get in but they still want to get an education. So they go into the for-profit market or private market where the cost of college can range from $20,000 to $50,000 per year. Yet the quality of education amongst these schools can go from a worthless piece of paper to having name recognition but no higher chance of landing a decent job.
Data highlights this trend: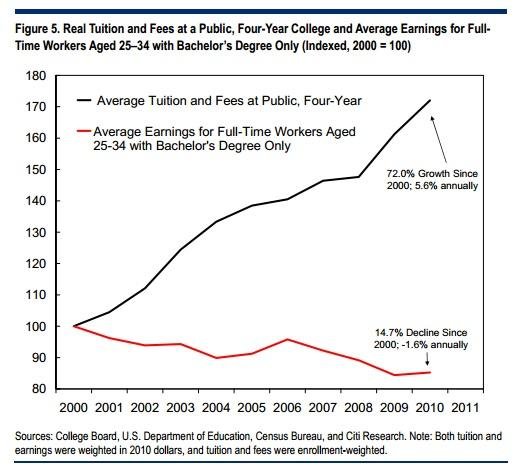 "This is probably one of the more telling charts. Since 2000 average tuition and fees at public institutions has gone up by 72 percent while earnings for those with a college degree between 25 and 34 has fallen by 14.7 percent. This is the age group that is carrying the heaviest burden of the $1 trillion in outstanding student loan debt."
But back to that net worth chart. The median net worth of those 65 and older has gone up to a median of $170,494. Adjusting for inflation, older Americans are much better off than they were in the 1980s while younger Americans are much poorer. Yet the media fails to account for all these changes and rarely highlights this important change. This is why in the recent fiscal debates the politicians were careful not to touch Social Security while at the same time acknowledging that many 20 to 30 year old Americans are likely to see major cuts in this program.
You see these issues playing out in places like Greece, Spain, and Japan where an older entrenched system is catering to the needs of wealth and is largely ignoring their younger populations. This is why there is little major talk on the hill about the absurd $1 trillion and more in student debt and the massive defaults we are now seeing. Virtually every other sector of debt is contracting while student debt is ballooning. This is why we are seeing a clash of generations occurring.
For the moment however, the irony is, that older Americans are doing slightly better than young Americans but at a cost. Many older Americans have little wealth as well and the zero interest rate policy of the Fed is crushing fixed income investments. Higher home prices because of low rates hurt first time home buyers (young Americans) but help boost the bottom line of older Americans that currently own homes. It is unfortunate that this is the situation we now find ourselves in but it is important to look at the numbers more carefully. It is still a tough employment market for young Americans.
http://www.mybudget360.com/american-ger … #more-4523
Statistics: Posted by yoda — Sun Jan 06, 2013 2:11 am
---
View full post on
opinions.caduceusx.com
…Gun Maker's Stock Soars More Than 700% Since Obama's Inauguration in 2009
By Gregory Gwyn-Williams, Jr.
December 18, 2012
Since President Barack Obama took the oath of office on January 20, 2009, the share price of firearms manufacturer Sturm, Ruger & Company has increased more than 700 percent.
At the close of business on the day of Obama's inauguration, the price of Ruger stock (Ticker: RGR) was $5.48 per share. At the end of the trading day on December 17, 2012, the price of the stock closed at $44.00 per share; an increase of 703 percent in less than four years.
But, Ruger isn't the only gun manufacturer that has seen an explosion in its stock value. Smith & Wesson shares (Ticker: SWHC) have increased 253 percent since Obama moved into the White House.
The price of SWHC was $2.45 per share when Obama was sworn in; it closed at $8.65 per share today, December 17, 2012.
When measuring the performance of Ruger's shares to that of the S&P 500, a stock market index based on the share prices of 500 publicly traded companies, the gains made by the firearms manufacturer are astounding.
The S&P 500 Index closed at 805.22 on the day Barack Obama took office. Today, the Index closed at 1,430.36; an increase of 78 percent.
This means that the price of Ruger stock increased more than 9X that of the broader market index.
Sturm, Ruger & Company trades on the New York Stock Exchange and Smith & Wesson trades on the NASDAQ Index.
http://cnsnews.com/blog/gregory-gwyn-wi … ation-2009
Statistics: Posted by yoda — Tue Dec 18, 2012 12:35 pm
---
View full post on
opinions.caduceusx.com
I'll give you a hint. It's not stocks.
If you can't read the tiny lettering above, the asset class is the barbarous relic, gold.
Why is gold out performing?
Could it be that Europe continues to implode and Germany now looks like it will confront a fairly nasty recession?
Could it be that the "fiscal cliff" is now just a bit too close?
Could it be that Obama was re-elected?
Could it be that with the Obama re-election, Bernanke will be that much freer to continue operating with abandon?
Gold is out performing because of all of these things, plus a few others. The financial cumulonimbus clouds continue to gather and funds, governments, even retail investors are looking for shelter from what may be a very nasty storm in the relatively near future. A storm which could even overwhelm treasuries.
That's crazy talk though right? Frankly, I hope so. But do YOU continue to consider treasuries a truly "riskless" asset any longer? (If you ever did, and I'm not talking just about inflation risk.)
Gold is one of the few ways investors can hedge against the rampant crony capitalism which defines much of the economic world these days. It is a check on (though not a total cure for) the current economic insanity we are witness to. It is one of the reasons the Federal Reserve hates the yellow metal.
Saying that, how much do you want to bet that Bernanke has a little (or perhaps not so little) stash of gold somewhere?
The post Guess Which Asset Class Has Crushed All Others Since Tuesday? appeared first on AgainstCronyCapitalism.org.
View full post on AgainstCronyCapitalism.org
Futures Magazine examines MF Global's "Original Sin."
MF Global was the 8th largest bankruptcy in the history of the United States. Corzine had tried to sell the firm in the waning days but Interactive Brokers smelled a rat and tossed them aside. $1.2 billion is still "unaccounted for," and no one has even smelled a jail cell.
(From Futures Magazine)
"There had been a number of possible white knights in the days leading up to the bankruptcy. Corzine contacted his old firm Goldman Sachs, which outright rejected the deal. JPMorgan (the largest creditor to MF Global Holdings) reviewed a purchase and decided against it, stating it did not fit their business. But Interactive Brokers (IB) was very interested, and the only one to make a bona fide offer. It had missed an earlier opportunity when Man Financial (which became MF Global) bought the bankrupt Refco in 2005. 
With the Sunday night marathon of conference calls among executives, attorneys and regulators buzzing in the background, all were expecting a sale of MF Global Inc. IB's accountants and lawyers pored through drawers, filing cabinets and computers as part of their final due diligence. Then a shortfall of $633 million in customer funds was discovered (later upped to more than $1.2 billion) and that put an end to the IB offer.
At first, MF Global executives claimed it must be an error, but after a frantic search for the money, they acknowledged it had been transferred out of the firm. With the shortfall confirmed, the clock now was ticking faster, and lawyers and executives hastily moved to complete the bankruptcy preparations."
(Futures Magazine, November 1, 2012)
The post It's Been 1 Year Since the Death of MF Global appeared first on AgainstCronyCapitalism.org.
View full post on AgainstCronyCapitalism.org