The Global Status Quo Strategy: Do More of What Has Failed Spectacularly
April 23, 2013
The global Status Quo–the U.S., the E.U., China, Japan, Cyprus, Greece, Italy, Spain, et al.–has only one choice: do more of what has failed spectacularly.
A key goal of propaganda is to mystify and obscure the Power Elites' real quandary and agenda. For example: we're just trying to help you out here, folks, by inflating another "wealth effect" bubble that will make you feel more prosperous. You're gonna love the warm fuzzy feeling of a return to the good times, even if you own zip-zero-nada in the way of productive assets.
Or: we're raising your taxes and expropriating your money via inflation to stabilize the system that benefits you. (And yes, you may kneel and kiss Janet Yellen's ring.)
The current level of mystification is truly extraordinary. But fortunately, oftwominds.com owns a demystification device that scrubs out the mystification, leaving only stark, unforgiving reality:
1. The global Power Elites know reform is necessary, but the risks of reform are unacceptably high. Why are they unacceptably high? The Status Quo players might lose power and perquisites, and that is unacceptable. These include crony capitalists, cartels, quasi-monopolies, public unions, state fiefdoms, the banking sector and assorted other predators and parasites.
In other words, real reform is impossible because that would implode the Status Quo.
2. Doing nothing will also bring down the Status Quo. Now that the global Status Quo is entirely dependent on rising debt to fund state deficits and marginal growth of investment and consumption, the Status Quo has been backed into a corner: expand debt or die.
Since households and companies can decide not to borrow more money even if they qualify to borrow more, it falls on the central states to borrow and blow money to keep their economies from imploding. This stupendous borrowing then falls on the central banks, which must monetize most of the state debt to keep interest rates low and force investors to chase risky assets and savers to squander their precious capital on gew-gaws and trifles, otherwise known as "aggregate demand" to the Keynesian Cargo Cultists dancing around Krugman's campfire.
3. Since the only endgames to ballooning debts and declining household incomes are runaway inflation or renunciation of debt, the Status Quo has only one choice left to preserve its neofeudal arrangement: do more of what has failed spectacularly, i.e. inflate more asset bubbles as a way to mask the system's phantom collateral for a few more months or perhaps years.
Unfortunately for central banks and their politico cronies, serial asset bubbles face the headwinds of diminishing returns. All the Fed and Federal agencies had to do to launch the first housing bubble was lower interest rates and encourage subprime mortgages.
Now it takes the Fed buying trillions of dollars in impaired mortgages, lowering interest rates to zero, guaranteeing FHA loans to anyone with a pulse and a paycheck, etc. just to keep housing from flatlining. See that little blip up that trillions of dollars in subsidies and intervention bought the Status Quo?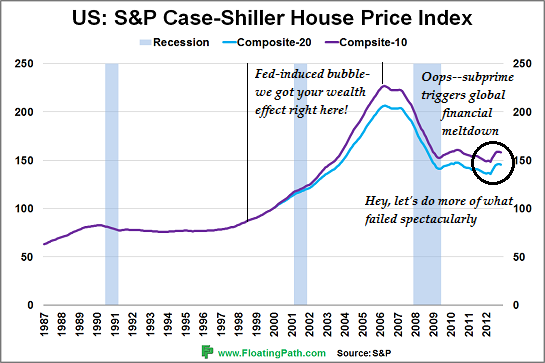 The other serial bubble in progress is of course stocks, which recently scored nominal new highs even as the adjusted-for-inflation (consumer price index) market notched a classic diminishing-return lower high: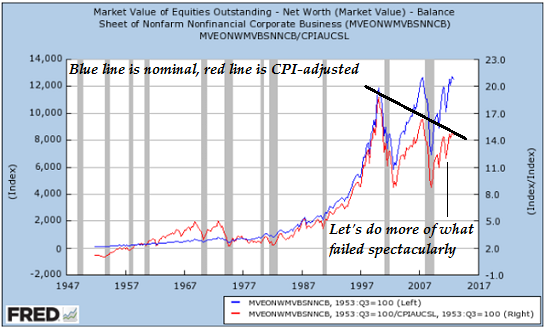 4. The only metrics that count are debt and the ability to service that debt. Households have this tiny little problem known as declining income that makes it impossible to service more debt unless interest rates fall to near-zero. Presto-magico, real interest rates (adjusted for inflation) are near-zero, and can't fall any lower.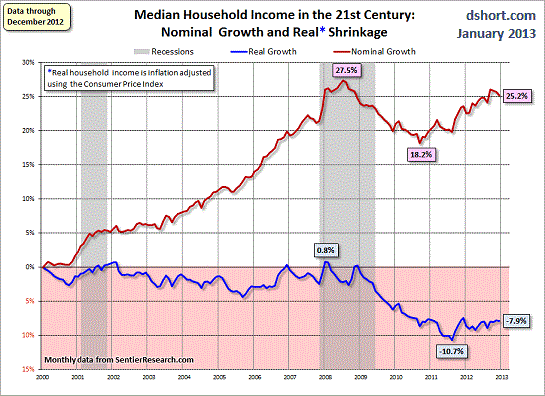 (Note that this is median income, and since only the top 5% have seen an increase in income, the lower 95% have actually experienced a steeper decline than shown here.)
That means the Fed has run out of room to lower rates. From here on, households will only be able to service more debt if their income rises. Alas, with full-time employment (the only measure that counts–sorry, Federal bean-counters, political lackeys and media toadies, 12-hour a week minimum-wage barista jobs and self-employed people with net earnings of $154 a year don't count) back to 1980 levels, that is not even a remote possibility.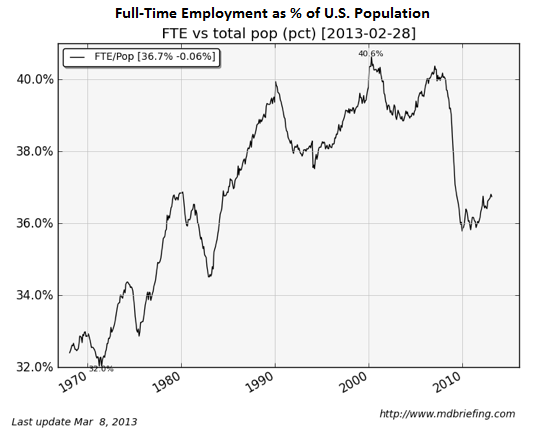 That leaves the global Status Quo–the U.S., the E.U., China, Japan, Cyprus, Greece, Italy, Spain, et al.–only one choice: do more of what has failed spectacularly. Yes, it will fail spectacularly again, but until then, the mystification machine is running full tilt.
http://www.oftwominds.com/blog.html
Statistics: Posted by yoda — Mon Apr 22, 2013 11:02 pm
---
View full post on
opinions.caduceusx.com
President Obama won last night, and this morning the country is waking up and contemplating what that means.
It appears that the message voters sent was that they want more of the same. (Even though they say they don't.) The House remains in GOP hands, the Senate in Dem hands. As Matt Welch, the editor of Reason Magazine, explains in the video below, that is probably good news for anyone who fears any big initiatives coming from Washington.
Forbes warns this morning however that crony capitalism has been given new life and that Washington-centric economic planning will likely ramp back up.
We'll be watching—closely.
The post The Status Quo is Dead! Long Live the Status Quo! appeared first on AgainstCronyCapitalism.org.
View full post on AgainstCronyCapitalism.org
President Obama won last night, and this morning the country is waking up and contemplating what that means.
It appears that the message voters sent was that they want more of the same. (Even though they say they don't.) The House remains in GOP hands, the Senate in Dem hands. As Matt Welch the editor of Reason Magazine explains in the video below, that is probably good news for anyone who fears any big initiatives coming from Washington.
Forbes warns this morning however that crony capitalism has been given new life and that Washington-centric economic planning will likely ramp back up.
We'll be watching – closely.
The post The Staus Quo is Dead! Long Live the Status Quo! appeared first on AgainstCronyCapitalism.org.
View full post on AgainstCronyCapitalism.org
In a Dysfunctional Status Quo, Reform Triggers Collapse
November 2, 2012
You cannot "reform" away the dysfunction of the Status Quo without dismantling the vested interests and the ruling Elites that benefit from the Status Quo.
The dream of every conventional reform movement is to rid the system of its dysfunctional features while preserving the Status Quo.
But what the reformers don't understand is that the Status Quo is dysfunctional not because of bad policies or a few corrupt officials–it is corrupt and dysfunctional from the ground up.
Dismantle the dysfunctional parts and you've dismantled the entire Status Quo.
This is why it is so difficult for countries to reform their dysfunctional regimes. Consider China, everyone's favorite example that trees can indeed grow to the sky and beyond:
Reform unlikely, says China expert Roderick MacFarquhar (via Maoxian)
MacFarquhar, a professor of history and political science at Harvard University, said the vested interests of the political elite were so entrenched in a corrupt system that an overhaul would amount to dismantling the regime.
Despite hopes the regime can peacefully transform itself into a democracy with rule of law, MacFarquhar said he could not see such a transition, which would require the ruling elite to give up its power and privileges.
Although a political system's inertia often meant a fragile regime could exist for years, MacFarquhar said unpredictable circumstances could trigger its collapse. "You don't know what can unseat a fragile system," he said.
Doesn't this apply not just to China but to Greece, Spain, Italy, the E.U. itself, the U.S., Japan and a host of other developed nations all depending on financial slight-of-hand "extend and pretend" to prop up the dysfunctional Status Quo?
In every case, eliminating the source of the rot and corruption would topple the increasingly fragile regime. In the case of China, corruption isn't a feature of the regime: it is the regime.
In the U.S., financialization isn't a corrupting feature of our financial system: it is the system.
In the E.U., catastrophically misguided central planning isn't a feature of the Eurozone: it is the Eurozone.
In Japan, a stupified government propping up a zombie banking system isn't a feature of the Status Quo: it is the Status Quo.
Any reform that actually excised the source of the moral rot, corruption, malfeasance, fraud, malinvestment, moral hazard and self-serving vested interests would bring the increasingly fragile Status Quo crashing down in a nonlinear cascade of interlocking failed systems.
Here's an example of how unsustainable systems fail: the housing bubble. I prepared this "domino effect" graphic way back in July, 2006, when conventional wisdom held that there was no housing bubble: Housing Dominoes Fall (July 26, 2006)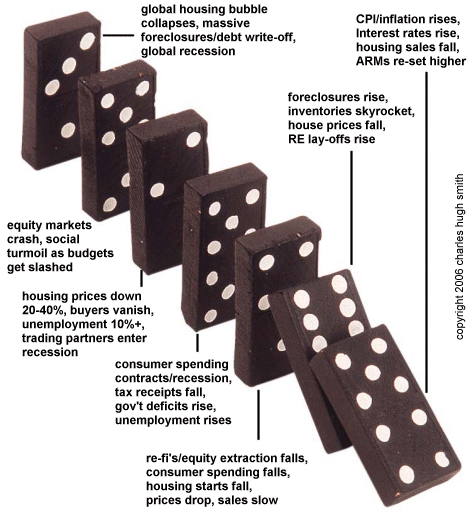 Just as it was easy to predict the implosion of the housing bubble and the financial system that created it, it is also easy to predict the collapse of the euro: The European Financial Crisis in One Graphic: The Dominoes of Debt (October 24, 2011). It took about 2.5 years for the dominoes to fall: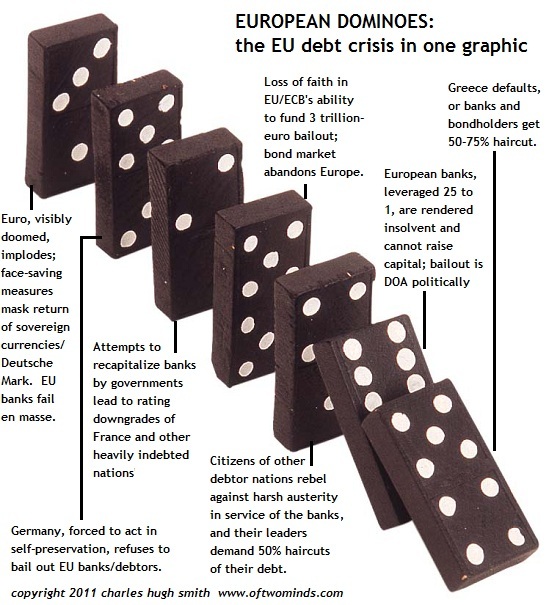 You cannot "reform" away the dysfunction of the Greek Status Quo without dismantling the vested interests and the ruling Elites that benefit from the Status Quo. The same can be said of the Status Quo everywhere from the U.S. to China.
http://www.oftwominds.com/blog.html
Statistics: Posted by yoda — Fri Nov 02, 2012 9:09 am
---
View full post on
opinions.caduceusx.com
The Resilience and Fragility of the Status Quo
September 4, 2012
The apparent resilience of the Status Quo masks its fundamental fragility.
Longtime correspondent K.B. recently posed a question that is on many minds, including mine.
For the last 5 years, I have been watching the slow train wreck that is our economy. We have been preparing by not spending extravagantly, not being home owners, and more or less being mobile. However, the "perception management" as you call it of the markets and the general economy today doesn't seem to have an end. I have been waiting so long for the wheels to fall off, a black swan event, or generally to see capitalism take its toll on the existing markets, that I am starting to believe that maybe Mises was wrong. Maybe, in addition to helicopters, Ben does have the magic touch. In short, I am exasperated at the gullibility of the remaining market participants (or perhaps their culpability) and I'm starting to think that the great correction isn't coming.
Because of that, I'd like to know what your thoughts are on how long the perception management can last. Do you have a notion as to what the key element will be that forces the train off the tracks? Other than silly stuff like logic and simple mathematics, what keeps you convinced of the eventual outcome of our predicament? This isn't about trading, but more about fatigue.
When I read Status Quo magazines like The Economist or BusinessWeek that exude an oily sheen of permanence, they always make me wonder: how much longer can the patched-together Status Quo continue on more or less as is?
Let's start with the basics: What was easy–papering over every problem with trillions of dollars in "free money"–has been done. That application of wallpaper held everything together, but it can't be repeated; it's no longer as easy to borrow and blow $6 trillion (the Federal deficits over the past four years) or loan $16 trillion to the corrupt, predatory financial system (Federal Reserve loans to banks).
This four-year paroxym of political and financial expediency has run up against various political and financial obstacles. The European debtor nations would like to repeat the papering over process in Europe, but the notion that a loss of collateral can be repaired with more debt is in the process of being repudiated by reality.
The real problems have not even been touched: the demographics of entitlements based on a shrinking workforce are still impossible, technology and globalization are still reducing the need and value of labor ( Labor Day 2012: The Future of Work), and the overleveraged, over-indebted, parasitic financial system remains solidly insolvent.
The flood of free money has lifted the global economy into "the Zombie Zone" –nothing is extreme enough to trigger a regime-changing crisis. House prices aren't low enough to trigger organic demand, but they're not high enough to trigger a collapse in sales. Oil prices aren't high enough to trigger a real energy revolution, but they're not low enough to enable a return to cheap abundance. Austerity isn't enough to actually repair national balance sheets and restore trust, but it's not deep enough to unleash a political regime change and renunciation of the unpayable debt.
The Status Quo hasn't fixed anything, but it has managed to stave off any extreme that would trigger consequences.
As you probably know, The Fourth Turning authors posit the next 80-year cyclical crisis will arise in 2021-22, about a decade away. Various other analysts are predicting some sort of economic low in the 2013-15 time frame.
Two things that were unseen 5 years ago have added resilience to the U.S. Status Quo. Cheap natural gas from fracking has dramatically increased domestic energy and at absurdly low prices, at least for now. NG could double from $2.50/ to $5/ without doing much economic damage, and even double again to $10/ without triggering a crisis. It is abundant enough (though I certainly wouldn't want a fracking rig in my backyard or water supply) that the constraints of energy price and supply have been loosened to some degree.
A geopolitical crisis could push oil much higher, but as I have posited, minus that sort of crisis, oil could drift lower as oil-exporting nations open the tap to fund their welfare states as demand falls in a deep global recession.
The amount of money pouring into the U.S. from overseas is looking like it might be a major factor in supporting the Status Quo. Four years ago we were all looking at China's purchases of U.S. Treasuries as something that couldn't last. It hasn't, but with cracks forming in Europe and China, billions of dollars of paper wealth are flowing out of those regions and into the "safe haven" of the U.S. and Canada. This is supporting real estate prices in Vancouver, Los Angeles, Manhattan (NYC) other desirable (to overseas investors) cities.
This vast inflow of safe-haven money is enabling the U.S. to sell its Treasury debt with ease. It seems we can run $1.3 trillion deficits with little pushback from the market as long as the U.S. continues to offer a relatively safe haven for wealthy Chinese and Europeans fleeing their own unstable economies.
A recent survey claimed 44% of wealthy Chinese are in the midst of moving their wealth (and offspring) out of China. I suspect this understates reality; it is probably closer to 95% who are shifting wealth and getting foreign passports for themselves and their children. Many people have made staggering sums of paper wealth in China, and there are trillions of euros of "old money" in Europe seeking an alternative to the euro. Gold is good but somewhat illiquid and it doesn't earn any interest, while smaller currencies lack the liquidity and size to facilitate this enormous transfer of financial wealth. Hence the USD and U.S. Treasuries have emerged as easily accessible places to stash wealth.
Another factor is the vast number of people who support the Status Quo because they want their slice of the promised swag. People don't want any real change if it means facing the reality that Central State promises are as phantom as the assets; they want their share, and they don't care how the Status Quo manages to fund it: borrowing trillions from our children, no problem, just give me my Medicare/Medicaid now!
The complicity of the majority is a source of surface resilience and structural fragility: the promises can't be kept, regardless of how often they're repeated or the depth of recipients' faith in the system.
Ironically, crises in other regions will likely accelerate the inflow of paper money to the U.S., further supporting the Status Quo, which now has the resilience offered by cheap natural gas and cheap money.
The odds of some instability erupting globally in 2013-14 seem high, but what the trigger might be remains unknown. The fragility and vulnerability of systems pushed to extremes are like sandpiles: it doesn't really matter which grains finally trigger the cascade; the system's rising instability is the causal factor.
Where does this put us? If the ultimate crisis is another decade away, we might as well enjoy what we can in the meantime and assemble the pieces of a semi-sustainable life: income streams that we own/control, a very low cost of living, and property in areas that are universally desirable, i.e. they have decent weather, surface supplies of water, concentrations of intellectual and financial capital, and ideally, a functioning local government that isn't hopelessly corrupted by vested interests. Any disadvantages in these resources can be offset by a solid network of friends, family, associates, business contacts, etc., i.e. social capital.
I think it is safe to assume the promises of Social Security, Medicare and pensions will be chipped away by one force or another (inflation, taxation, "austerity," etc.) and so those who have written these out of their own personal expectations will be psychologically primed for self-reliance embedded in local support networks.
People often ask me whether it is a good time to buy real estate, and the answer depends on issues I cannot assess from a distance. If the total cost of ownership is roughly equivalent to rent, and the property could generate some income (via a workshop, small orchard, spare bedroom rented out, etc.) then the purchase price is not the only factor to consider. Taking advantage of super-low mortgage rates has some potential merit, but income and liquidity must also be factored in.
Can the household pay the mortgage and property taxes if its income is cut in half? If not, then that leaves the household vulnerable to some sort of financial shock. If the locale is desirable to offshore wealth seeking stability, the property is probably much more liquid (i.e. buyers will emerge) than areas solely dependent on domestic demand.
Access to a full-spectrum job market is also valuable, as is "walkability."
In general, buying into that which is vulnerable to financial, climate, political and FEW (food, energy, water) disruptions will remain a risky investment, while buying into that which is independent of pushed-to-extremes global systems and based on the timeless fundamentals listed above will be less risky—-not risk-free, but less risky.
In general I think it prudent to accept risk that is transparent and open to your own management, and avoid risk that is opaque and in the control of others. The more something is dependent on cheap energy, cheap credit, and some perfection of extreme factors (long supply chains, 100% State funding, etc.) , the more vulnerable it is to instability, disruption and sudden changes in the rules.
Given the number of systems that are operating at extremes, I expect some sort of "second stage" crisis to emerge within the next year, possibly triggered by second-order effects that appear to most people as unintended or unforeseen.
That might create opportunities for those with cash and access to cheap credit, i.e. those who can prove they don't need credit. We might even get some sort of relief-boomlet once the instability of 2013-15 clears. That relief rally will signal the "all-clear" to most people, but it may well be the final calm before the real crisis unfolds in 2021-22.
http://www.oftwominds.com/blog.html?ref=patrick.net
Statistics: Posted by yoda — Mon Sep 03, 2012 10:19 pm
---
View full post on
opinions.caduceusx.com
The Keys To Understanding the Collapse of the Status Quo: Credibility and Expectations
August 13, 2012
When expectations are raised to impossible heights based on the promise of exponential financialization, the credibility of the Status Quo is doomed.
Data is important, but not all trends can be quantified. Longtime readers know that I value data and often use charts to explain the forces of transition/collapse. But there are profound dynamics that are not easily quantified, instances in which quantification may obscure our understanding.
Credibility and expectations are two such dynamics. Both credibility and expectations are very real forces, despite their status as inner states immune to direct measurement.
Beneath the surface of financial statistics, the real bedrock of any political and financial Status Quo is its credibility in the minds of its subjects. Once the people lose faith in the system, it will collapse under its own weight, a process I described in When Belief in the System Fades (March 12, 2008).
The corollary to this structural need for highly motivated, dedicated people to work the gears is that if their belief in the machine fades, then the machine grinds to a halt.
The loss of credibility in the European Union, China, Japan and the U.S. is now in full swing. Credibility is like a sand castle; every false promise, every half-truth, every simulacra "solution," every secret deal, every surrender to vested interests, every politically expedient but ultimately disastrous "fix" removes a handful of sand from beneath the sand castle.
When enough sand has been removed, the castle collapses under its own weight.
The most interesting characteristic of this hollowing out process is the apparent stability of the Status Quo until the sudden "nobody saw it coming" collapse. In the current era, the Arab Spring is a regional example of this hollowing out of credibility; in the late 1980s, the process was exemplified by the "nobody saw it coming" implosion of the Soviet Empire. In 2007-08, the exposure of phantom wealth tracked a similar pathway, with apparently "solid" institutions imploding "unexpectedly."
Can anyone seriously claim the European Union, the European Central Bank and its alphabet-soup programs still retain a shred of credibility? Every EU/ECB "save" is fictitious, every "fix" expedient, every promise empty, every face-saving summit a living lie.
Ultimately, all the posturing, promises and saves come down to an impossibility: "rescuing" phantom assets purchased with astounding levels of debt by issuing even more astounding levels of debt.
Does anyone truly believe this absurdity is anything more than a transparent fraud designed to extend the life of a failed, corrupt system constructed on fantasies and lies?
Those with assets are fleeing for less fantastic and dangerous climes. The handful of French millionaires who are supposed to magically bail out a failed-state that absorbs 55% of GDP are busy transferring their assets out of France, a mass exodus of capital that is also playing out in China, where those who embraced the slogan "to get rich is glorious" are transferring their wealth, ill-gotten or well-earned, overseas.
So vast is this outflow of wealth that for the first time the outflow of capital from China exceeds the inflow of investment capital. The smart money is exiting, and the last batch of credulous "China story" rubes are dumping their capital down a rathole.
The same process is visible in global stock markets, where the smart money is selling. The loss of credibility in the digital bucket shop known as the U.S. stock market is evidenced by the outflow of some $200 billion over the past few years. To some degree, this has been offset by the influx of foreign capital desperate to escape the black hole of the euro, but the steady erosion of faith in the U.S. stock market is striking: as noted last week, 80% of the trading is either invisible, officially sanctioned manipulation or computers trading.
If the U.S. legal system weren't hopelessly compromised, the U.S. stock markets would be shuttered as corrupted beyond redemption.
Globally, the erosion of petrocapitalism (more on that later this week, via correspondent Ray W.) and the self-destruction sequence of financialization are laying waste to the credibility of politicos' promises. It was so easy to be a politico when financialization (exponential expansion of debt and leverage) raised the global tide, lifting all boats; extravagant promises based on everlasting "growth" could be issued, votes bought and the vested interests of crony-capitalist cartels and public employees lavishly rewarded.
In this environment, expectations were raised to impossible heights. Expectations are the yin to credibility's yang: together they form a unity, as credibility is linked to the fulfillment of expectations. If expectations are raised and then dashed, credibility is eroded and then lost entirely.
Expectations everywhere have been raised to heights so lofty that the air has become thin: all these expectations are like debt-money claims on the real world: the claims can expand to near-infinity, but the real world remains stubbornly limited.
As lofty expectations are unmet, the credibility of the Status Quo inevitably decays and implodes. We are as yet in the early stages of this process. Let's check back in 2014 to see if the sand castle of the Status Quo has collapsed in a heap of wet sand, or if it is merely sagging in the pre-collapse phase.
http://www.oftwominds.com/blog.html
Statistics: Posted by yoda — Sun Aug 12, 2012 5:23 pm
---
View full post on
opinions.caduceusx.com
Why The Debt-Dependent Status Quo Is Doomed in One Chart
June 29, 2012
The global economy is now addicted to debt. Once debt stops expanding, the economy shrivels. But expanding dent forever is unsustainable. Welcome to the endgame.
Regardless of whether you call it debt saturation or diminishing return on new debt, the notion that taking on more debt will magically enable us to "grow our way out of debt" is not supported by data. Correspondent David P. recently shared this chart of Total Credit Market Debt Owed and GDP and this explanation:
The purpose of this chart is to examine the relationship of total debt to GDP. Since Debt is not factored into GDP, just exactly how much debt is being used to create growth, and over what time periods. But absolute numbers don't work so well, since they don't let you examine particular years, seeing what the 1950s look like vs the 2000s, for example.
Red Line: Annual Change in TCMDO (Total Credit Market Debt Owed) * 100/ That year's total GDP, showing that year's % increase in TCMDO/GDP.
Blue line: % change in GDP over last year.
Any gap between the red line and the blue line is what I would call the creation of debt in excess of income. And that gap is the ANNUAL gap, not a cumulative gap. As an example, in 2008 TCMDO grew by an average of 30% of that year's GDP, while GDP itself grew by around 5%. Ouch.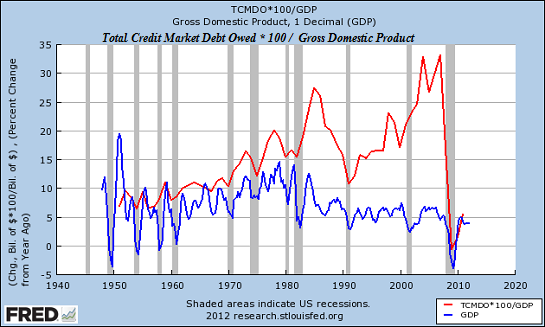 So projecting forward, how much debt growth do you think we'd need to get back to business as usual? 50s was 8%, 60s about 12%, 70s 15%, 80s maybe 20%, 90s back down to 15%, and 00s probably 25-30% per year. We'd probably need a surge of 35% or more, per year, to bring back those exciting bubble years. But who could possibly have the income to support that? To quote the parable of the Little Red Hen: "Not I", said the goose.
Thank you, David. Note what happened to GDP the moment debt ceased expanding in 2008: it tanked. This is the chart of debt addiction: the moment the expansion of debt is withdrawn, the economy implodes.
Here is a chart which shows debt has outrun income for decades: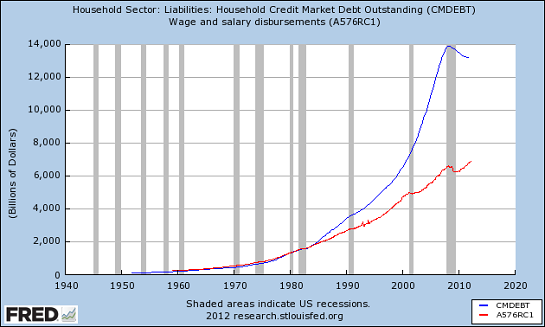 Debt can be expanded at a rate that exceeds the rise in real income in only one way: by lowering interest rates so the same income can support a larger debt.
This is of course the reason the Federal Reserve has lowered interest rates to near-zero with the ZIRP (zero-interest rate policy).
Eventually the buyers of newly issued debt at near-zero (or even negative) yields start to fear they will never get their capital back or they will be paid back in depreciated currency, and so they demand a higher yield. Since income has already been stretched to the limit to support a towering mountain of debt, this rise in yield catapults the borrower into insolvency.
That is Greece, Spain, Italy, and eventually, the entire debt-dependent global Status Quo.
http://www.oftwominds.com/blog.html
Statistics: Posted by yoda — Fri Jun 29, 2012 10:38 am
---
View full post on
opinions.caduceusx.com
It's hard to miss the irony in the fact that perhaps the biggest stumbling block to the status quo financial elites in the Western world who are attempting to kick the can a bit farther down the road, aside from the sheer impossibility of the underlying math, is democratic elections. 2012 may very well be the year where decades of political theatre for the benefit of large corporations and financial consumers from sea to shining sea come back with a vengeance to bite the status quo politicians in the ass.
And let's be clear, it is the run-up to elections and the accompanying theatrical drama that will prove to be the most difficult for the status quo, rather than the actual outcomes of these elections. There is little doubt that almost all of the politicians will end up singing the exact same tune once they are actually in office. The real problem for the perennial can-kickers is that they simply do not have enough time to wait around for the elections to finish and the winners to take office.
First and foremost, we have the elections in Greece to replace the unelected, technocratic government that was force-fed to its people late last year. Due to the increasingly large and vehement public opposition to bailouts for the banks and austerity for the poor, politicians in the "opposition" parties must be very careful not to align themselves too much with the Troika and it's puppet PASOK party (of which former Prime Minister Georgios Papandreou was a member).
That's why we see the leader of the New Democracy party, Antonin Samaras, who has his eyes fixated on the position of Prime Minister (I'm not really sure why anyone wants to be the leader of Greece anymore), continuously flounder and backtrack on what exactly he will agree to in the latest austerity package that all of the bailout money has been conditioned on. Last year, Samaras refused to sign any written commitment to the terms of the austerity package, which has since expanded, before finally giving in.
That was all just a prelude to the main show which is taking place now. Samaras has once again "pledged" in writing to implement the Troika's austerity program, but is simultaneously saying that the program may have to be adjusted once he is in office, since it does not do enough to promote growth (no kidding!). Helena Smith reports on what she was told by a top adviser to Samaras for The Guardian:
Guardian Live Blog
"The letter has just gone. We have no problem expressing committment to a stabilisation progam. We are all for eliminating the deficit, controlling the debt and going on with the privatisation program things that right from the beginning we proposed.
It [the letter] makes very clear that we have full respect for the long-term objectives, targets and key policies of the programme.
We also said we should modify the plan to allow for prompt [economic] recovery. We don't want to make recovery a top priority but we insist that it becomes an additional priority, that it be be applied in tandem with other policies to allow the economy to breath. Is this such an irrational, stubborn view when the [rescue] plan to date clearly hasn't worked?"
It's not because the objectives are wrong. From the beginning we agreed with them. But there is a missing ingredient.
Even if it was perfectly implemented the numbers didn't add up. We are not saying that we are against austerity but we have to change the mix and allow for recovery.
We are feeling a little embarassed that again and again they want us to show our committment to the plan. When we say prioritize recovery we mean we want to discuss it with them, not do anything unilaterally. Even if they allowed us to do whatever we wanted to do we would still stick to the programme."
How about those statements for floundering and backtracking?? Now that Germany, Finland and the Netherlands are kicking around the idea of delaying Greece's bailout money until after the elections, Samaras will have to put on an even bigger show about how he will protect the interests of Greek workers and pensioners against the abrasive Eurocrats, and perhaps even promise not to sign off on the current plan. Otherwise, everyone will just assume he is going to do exactly what the Troika requires of him once he gets in office, like the PASOK party he is running against, which is quite a safe assumption.
Secondly, there are elections in France and incumbent President Nicolas Sarkozy has been steadily dropping in the polls against Francois Hollande of the Socialist Party. As of early February 2012, Hollande is almost running at his all-time high of 60% against Sarkozy. If you thought Samaras was being a thorn in the side of the pan-European austerity hawks, then take a look at what Hollande has been saying. Steven Erlanger for the New York Times reports:
French Candidate Assails Plan for Greece
"The front-runner for the French presidency, the Socialist candidate François Hollande, criticized European policy on Greece on Monday, saying that mandatory austerity measures were too severe and would never produce the desired results because "everyone knows" that "there is no rebound in growth in Europe and in Greece."
Mr. Hollande's remarks, one day after the Greek Parliament adopted austerity measures demanded by the European Union and the International Monetary Fund, while violent protests left many buildings in Athens in flames, offered a critical assessment of European and Greek leaders' handling of the crisis. The Greek government, he said, would "have a short life," while the austerity plan forced on Greece amounted to a "purge."
The French presidential race is heating up with President Nicolas Sarkozy expected to make his candidacy for re-election official this week. Mr. Sarkozy is still running behind Mr. Hollande in the opinion polls for both the first round of voting on April 22 and in a runoff on May 6. In a luncheon interview with a group of foreign journalists here, Mr. Hollande was pleasant and expansive, but remained vague on the details of his programs."
Right, Politics 101 – keep all your plans and policies for office vague and uncertain, but stay sharply critical of the current administration. Yet, that's exactly what the markets can't continue to handle right now – vagueness and uncertainty about the future of fiscal and monetary policy. The French sovereign bond market has so far remained relatively quiet throughout the whole crisis, except for a brief spike upwards in the 10-year yield late last year. If all of Sarkozy's repeated promises of implementing domestic austerity come into question, though, France's credit situation could change very fast, especially since it has already been downgraded from AAA by S&P and put on "negative outlook" by Moody's.
We also have a Spanish regional election in Andalucía on March 25, which is a bit more trivial than those above, but it still has the potential to create some major disruption in the Spanish bond market over the next month. Spain has been one of the worst hit economies during the financial crisis, with its unemployment rate reaching 23% at the end of 2011, and it has so far failed to offer the Troika any "credible" austerity plan for reducing its budget deficit. Angela Benoit reports for Bloomberg:
Spain Risks Deficit Spiral as Election Postpones Budget Cuts: Euro Credit
"Spain's month-old government may postpone deeper budget cuts until after a regional election in March, adding to the risk the nation misses its deficit goal for the second year
The ruling People's Party, led by Prime Minister Mariano Rajoy, will contest an election in the southern region of Andalusia to end 30 years of Socialist rule. Spain's 10-year bond yields have risen 10 basis points to 5.5 percent since the PP government took over on Dec. 21, increasing the rate to 359 basis points more than German bunds of similar maturity.
"Rajoy doesn't want to get burnt before the Andalusian election," Antonio Barroso, an analyst at Eurasia and a former Spanish government pollster, said in a telephone interview. "They're so crucial for the PP that it won't take any kind of measure that would undermine its ratings in the region."
Rajoy needs to slice the equivalent of 3.6 percent of gross domestic product off the budget deficit this year to meet a European Union target, just as the economy may be entering its second recession in two years. Postponing steps until after the March 25 election risks undermining confidence in Spain's ability to meet its goal, which Fitch Ratings already has "doubts" the country will reach.
"Rajoy has yet to explain how he will reduce the deficit when the economy is shrinking," said Georg Grodzki, global head of credit research at London-based Legal & General Investment Management, which oversees about $515 billion. "I don't think Spain can afford to wait for more than two months at the most."
There's obviously nothing Rajoy can do to achieve a "sustainable" budget deficit in Spain while the economy contracts, and implemented austerity will only make the latter worse, but he also can't afford to not offer up any bogus policy promises. The regional election is now getting in the way of him doing so, though, because the Spanish people are simply against any Greek-style "structural reforms" (they are not senseless and can see what has happened over there). Rajoy realizes such opposition exists, and will therefore hold off on submitting a budget until after the election. It's entirely unclear whether the credit markets will hold off on pounding Spanish bonds into the ground, though.
Last, but certainly not least, we have the 2012 Congressional and Presidential elections in the U.S. I have suggested before that the Obama Administration, in its consistent attempts to present a rosy economic story before November 2, may have effectively killed the capacity of the Fed to "print money" through QE3 asset purchases [Who Killed the Money Printer?]. That in and of itself would be a HUGE blow to the status quo elites who are banking on the Fed to step in with at least a trillion dollars or so in easing to keep the markets happy.
But the electioneering syndrome certainly doesn't stop there. We also have the Republican Presidential front-runners and those up for re-election in the Senate who will harshly criticize and block any and all attempts of Obama to launch any significant stimulus measures or help bail out Europe through additional contributions to the IMF. Since the Republicans control the House of Representatives, these full frontal blocks will not be hard to carry out. For example, The Hill reports on the opposition to Obama's latest mortgage refinancing plan.
White House to push housing plan despite Republican opposition
"The White House has recently promised major steps to boost the housing market and help struggling homeowners, but bruising fights with Congress loom over major pieces of the plan.
The housing market is widely seen in Washington as still struggling in the wake of the subprime mortgage crisis, and weighing down what would be a more robust economic recovery.
In recent days, the White House has made a concerted effort to address the housing sector, rolling out new plans to help homeowners avoid foreclosure and boost the housing sector.
But while the administration can nibble around the edges and implement changes, it needs Congress and regulators to get on board with any major initiatives, and this presents significant challenges
There are, of course, many other elections occurring around the world, but these are the "democratic" ones that could be the most disruptive to maintaining the status quo, hopium-filled market environment over upcoming months. And, as mentioned earlier, the political theatre of these elections is by no means the only thing that could throw a spanner into the works. Here's another obvious one – all of the non-existent capital that was promised to backstop the Euro periphery through the IMF, EFSF, private bondholder "haircuts", etc., doesn't materialize! All in all, 2012 should be a very disturbing year for the extenders and the pretenders alike.
http://theautomaticearth.org/Finance/po … s-quo.html
Statistics: Posted by yoda — Wed Feb 15, 2012 11:31 am
---
View full post on
opinions.caduceusx.com