The global elite have now proven that when the chips are down they are going to go after any big pile of money that they think they can get their hands on.  That means that no bank account, no retirement fund and no stock portfolio on earth is safe.  Up until now, most people assumed that private bank accounts were untouchable and that deposit insurance actually meant something.  Now we see that there is no pile of money that is considered "off limits" by the global elite and deposit insurance means absolutely nothing.  The number one thing that any financial system depends on is faith.  If people do not have faith in the safety and stability of a financial system, it will not work.  Well, the people that rule the world have just taken a sledgehammer to the trust that we all had in the global financial system.  They have broken the unwritten social contract that global banking depends on.  So now we will see a run on the banks, and this will not just be limited to a few countries in southern Europe.  Rather, this will be worldwide in scope.  Yoda may have put it this way: "Begun, the global bank run has."  All over the world, frightened people are going to start pulling money out of the banks.  A lot of that money will go into gold, silver and other hard assets.  And as money starts coming out of the banks, this could cause many of the large banks that have been teetering on the edge of disaster to finally collapse.
Many of you may not believe that they would ever come after bank accounts, retirement funds or stock portfolios in the United States.
Many of you may be entirely convinced that the Great Cyprus Bank Robbery could never happen in America.
Well, where do you think this whole plan was dreamed up?
It was the IMF that reportedly pushed the hardest for the wealth tax in Cyprus, and the IMF is headquartered right in the heart of Washington D.C.
Almost every nation on the planet has to deal with the IMF.  It is an organization that is dominated by the United States and that is always involved when there is an international debt crisis.
If the IMF thinks that it is a great idea to steal from bank accounts to solve a financial crisis in Cyprus, why wouldn't they impose a similar solution in other countries in the future?
And if bank accounts are no longer safe, are there any truly safe places to put your money?
You can trust the politicians when they tell you that an unannounced "wealth tax" will never happen where you live if you want, but that is the exact same lie that the politicians in Cyprus were telling their people until the day that it happened.  The following is from an article in the Cyprus Mail…
And after all, President Anastasiades had emphatically declared in his inauguration speech that "absolutely no reference to a haircut on public debt or deposits will be tolerated," adding that "such an issue isn't even up for discussion." Finance Minister Michalis Sarris made similarly reassuring statements, arguing that it would be lunacy for the EU to impose such a measure because it would threaten the euro system.
At this point, politicians in Cyprus have been given two very unappealing options.  Either they vote yes on the wealth tax and destroy all faith in the banking system of Cyprus, or they vote no and they are forced out of the eurozone.  In either case, we will probably see the financial system of Cyprus collapse and their economy plunge deep into depression.
At this point, the vote has been delayed until Tuesday.  Apparently some additional "arm twisting" was required to get the needed votes.
And there have been proposals to change the terms of the wealth tax.  Reportedly, some politicians want to impose a maximum rate of up to 15 percent on bank accounts of over 500,000 euros so that the rate on smaller accounts can be decreased.
It has also been announced that the earliest that banks in Cyprus will reopen will be Thursday.
But what is happening in Cyprus is small potatoes compared to how this will affect the rest of the world.  The entire planet is watching this unfold, and as a recent article by Lucas Jackson described, faith in the global financial system is being greatly shaken…
It would be hard to over-emphasize how significant the Cyprus situation is.  The EU demonstrated under no uncertain circumstances that they will destroy the rule of law to maintain their own power.  It was a recognition of tyranny that many of us have always assumed was the case but yesterday became reality.

The damage done here is not related to the size of the haircut – currently discussed between 3 and 13% – but rather that the legal language which each and every investor on the planet must rely on in order to maintain confidence in the system has been subordinated to the needs of the powerful elite.  To the power elite making the major decisions in DC, London, Berlin, France, Brussels, et. al., laws are like ice cream, easily melted.

Which begs the question, who is next?  Will it be Portugal?  Greece? Spain?  Italy?  France???

Will they impose a "one-time" tax on your bank account?  Your house?  Your stocks and bonds?  Retirement accounts?
The global elite have declared open season on all large piles of money, and now many people all over the world will consider taking money out of the bank to be the rational thing to do.  This will especially be true in countries in southern Europe since they would probably be the next to have wealth confiscated.
This is so abundantly clear that even Paul Krugman of the New York Times understands this…
It's as if the Europeans are holding up a neon sign, written in Greek and Italian, saying "time to stage a run on your banks!"

Tomorrow and the days immediately following should be very interesting.
The global elite have truly "crossed the Rubicon" by going after private bank accounts.  It is almost as if they purposely chose the most damaging solution possible to the financial crisis in Cyprus.
Many in the financial world are absolutely stunned by all of this.  For example, David Zervos is describing this move as a "nuclear war on savings and wealth"…
All of us should really take a moment to consider what the governments of Europe have done. To be clear, they initiated a surprise assault on the precautionary savings of their own people. Such a move should send shock waves across the entire population of the developed world. This was not a Bernanke style slow moving financial repression against risk free savings that is meant to stir up animal spirits and force risk taking. This is a nuclear war on savings and wealth – something that will likely crush animal spirits. This is a policy move you expect from a dictatorial regime in sub-Saharan Africa, not in an EMU member state. If the European governments can clandestinely expropriate 7 to 10 percent of their hard working citizen's precautionary savings after the close of business on a Friday night, what else are they capable of doing? Why even hold money in a bank account? Are they trying to start a bank run?
So what motivated the global elite to do this?
According to CNBC, one of the motivations was to go after the Russians that had been using the banking system of Cyprus to launder money…
Indeed, the IMF is reported to have been keen on the levy as a way to stem the flood of Russian money into the island over the last few years which has prompted concerns over money laundering.
Russian money accounts for about 25 percent of all money in the banking system of Cyprus, and obviously the Russians are quite upset by what the IMF and the EU have decided to do.  Even Vladimir Putin is loudly denouncing this move…
Russian President Vladimir Putin called the tax "unfair, unprofessional and dangerous," according to a statement posted on the Kremlin website. Russian companies and individuals have $31 billion of deposits in Cyprus, according to Moody's.
And you haven't heard a lot about this in the western media, but the Russians have actually stepped forward and have offered to help Cyprus out of this jam.  For example, there are reports that Russian investors are interested in buying the two banks that were the primary cause of this bailout…
Officials have also said Russian investors are interested in buying a majority stake in Cyprus Popular Bank and increasing their holdings in Bank of Cyprus – the two biggest banks on the Mediterranean island.
And according to Sky News, Gazprom has offered Cyprus a very large sum of money for the right to explore their offshore gas reserves that have not been developed yet…
The uncertainty comes as Russia's finance minister said his country would consider restructuring its loans to Cyprus.

Russian energy giant Gazprom has also reportedly offered financial assistance to Cyprus in exchange for access to the island's gas reserves.
So far the government of Cyprus has rejected the help of the Russians, but could they change their mind at some point?  Apparently the Russians are offering enough money to completely fund the bank bailout…
According Greek Reporter, Gazprom made an offer over the weekend to the Cypriot government to fund the bank restructuring planned under the Cypriot bailout (which is set to cost up to €10bn) in exchange for exclusive exploration rights for Cypriot territorial waters. How reliable this story is remains to be seen, but it does hint at the geopolitical tension which we have been warning about.

Gazprom is known to be very close to the Russian government and despite Russian President Vladimir Putin overtly slamming the deposit tax – calling it "unfair, unprofessional and dangerous" -  it is unlikely that they would let this opportunity pass untouched. Fortunately, the Cypriot government is said to have rejected the deal off the bat, but if displeasure towards the eurozone and the EU grows, the Russian option may become increasingly appealing.
It will be very interesting to see what happens.
Meanwhile, some European officials are already suggesting that other nations in southern Europe should have a "wealth tax" imposed upon them.  The following comes from an article by Paul Joseph Watson…
Joerg Kraemer, chief economist of the German Commerzbank, has called for private savings accounts in Italy to be similarly plundered. "A tax rate of 15 percent on financial assets would probably be enough to push the Italian government debt to below the critical level of 100 percent of gross domestic product," he told Handelsblatt.
A "tax" of 15 percent on all financial assets?
Could you imagine if you woke up one morning and the government had decided to suddenly steal 15 percent of all the money that you had in bank accounts, retirement funds and stock portfolios?
If I had a bank account in Italy I would be very nervous right about now.
Under normal circumstances these kinds of things don't happen, but governments will use an "emergency" to justify all kinds of things.  I recently came across an article that included a great quote by Herbert Hoover that put this beautifully…
"Every collectivist revolution rides in on a Trojan horse of 'emergency'. It was the tactic of Lenin, Hitler, and Mussolini. In the collectivist sweep over a dozen minor countries of Europe, it was the cry of men striving to get on horseback. And 'emergency' became the justification of the subsequent steps. This technique of creating emergency is the greatest achievement that demagoguery attains."
This is what the elite love to do.
They love to create order out of chaos.
And this is just the beginning.  The Great Cyprus Bank Robbery was just a beta test for what is coming next.
As the global financial system crumbles, the global elite are going to target our bank accounts, our retirement funds and our stock portfolios.  You might want to start thinking about how you will protect yourself.
So what are your thoughts on all of this?  Please feel free to post a comment with your thoughts below…
View full post on The Economic Collapse
March 3, 2013
Who're you going to Trust: The Stock Market or the Media Innumerates?
By Clarice Feldman
Years ago, when I used to play poker with some guys, I played a hand in which across the table from me was someone who looked as though he had a straight flush. He kept pumping up the bidding and everyone folded but me. When we finally showed our hands he had nothing.
"You don't know what you're doing," he yelled. "Any good player would have folded! Why did you stay in?" he shouted angrily.
"Because you curled your lip and reacted furiously when I stayed in. Someone with a winning hand would never do that." I responded, raking in the pile of chips.
I was reminded of that this week, when Obama overplayed his sequester hand.
While the press keeps carrying his water, claiming we'll all suffer because the Republicans held him to his word when his team proposed the sequester deal, the market and the rest of us see it otherwise.
After the witching hour — midnight the 28th — sarcastic reports starting appearing online:
?@iowahawkblog: #OnTheSceneSequesterReport Mass hysteria at Kroger as eggs no longer USDA size-graded
http://newsbusters.org/blogs/noel-shepp … z2MJfjhM1p
Last week, I noted how much money the administration had squandered on failed projects headed by their friends and contributors. As the week wound down the administration kept warning of dire consequences.
You can be sure that the minute a meat processing plant is shut down for lack of an inspector from the Department of Agriculture which just spent hundreds of thousands of dollars on an offensive and stupid racist indoctrination program, the alternate media will start reminding taxpayers where the money they already paid in went. John Hinderaker at Powerline leads the way:
One of the fundamental precepts of our immigration law is that we expect legal immigrants to be contributing members of society. Immigrants are therefore not allowed to be admitted if they are likely to become a public charge, i.e., to be recipients of welfare benefits. But the Obama administration has ignored this longstanding provision of the law, just as it has ignored so many other laws it finds inconvenient. The State Department has now confirmed, as the tireless Jeff Sessions points out, that in 2011 a mere .0033% of visa applications were denied on "public charge" grounds.
This wouldn't be so bad if it meant that we are admitting a high caliber of immigrants who aren't going on welfare. Unfortunately, that is not the case. Currently, 36% of immigrant-headed households receive benefits from at least one major welfare program. And many illegal immigrants, too, receive federal welfare benefits. In fact, as we have noted repeatedly, the Obama administration recruits illegals to sign up for the food stamp program.
The federal government wastes vast amounts of money, often spending it in ways that are not only useless, but that actively damage the United States. The idea that the government spends its borrowed money so wisely that spending simply can't be cut — the position of the Obama administration and Congressional Democrats — is ludicrous.
In short form, the argument is made by Senator Jeff Sessions, top Republican on the Senate Budget Committee:
"Does any lawmaker, reporter, or citizen believe that the only way to save taxpayer dollars is to hurt children, that every government program is effective and helpful and not one penny is wasted?"
Sessions, who says his committee will solicit government workers' aid in cutting out the fat, added:
"While the White House operatives may think this attack is clever, it betrays an astonishing elitism: the federal government is perfect and requires no reform. That is why they have no plan to make our government leaner and more efficient. The President had 18 months to develop reforms to improve the government, but instead he announced furloughs of federal workers as a political cudgel. Yet, his golf weekend at the yacht club with Tiger Woods cost taxpayers over a million dollars — enough money to save 341 federal workers from furlough."
As if to prove Session's point, the Washington Post reports this local comedy club routine:
"We had our sequester talk earlier in the week," Shahryar Rizvi said 90 seconds into his stand-up set, a few hours after getting off work at the Department of Labor's Employment and Training Administration.
It was Thursday night — Sequester Eve — and Rizvi, a 32-year-old IT project planner who moonlights as a comedian, was at a Dupont Circle open-mike night, mining the increasing disquiet of his day job for laughs.
"Our head of our division sat us down and told us how many furlough days we're going to have, what the plan is if it all goes down," Rizvi said of the looming $85 billion in across-the-board federal budget cuts. "And I was so [ticked] that he did this. 'Cause he did this during the meeting when we as a division were going to make our 'Harlem Shake' video."
The small crowd in the Topaz Hotel's basement bar, a few blocks from the White House, erupted in laughter. Rizvi paused a beat, then continued: "Nobody's going to dance with a keyboard shirtless now."
At the same paper, blogger Jennifer Rubin pored through the transcript of Obama's curled lip presser made when it was clear that holding his breath or, more accurately, pinching taxpayers' nostrils wasn't going to work and she, too, saw what investors did-the bluff was called and the game's just about over:
And then toward the end of the press conference he let the cat out of the bag — ok, the Republicans win and get to keep the Budget Control Act sequester cuts:
QUESTION: Just to make it 100 percent clear, you'd sign a budget that continues to fund the government even at the lower levels of the sequester, even if you don't (inaudible)?
OBAMA: I'm not going to – I never want to make myself 100 percent clear with you guys. But I think it's fair to say that I made a deal for a certain budget, certain numbers. There's no reason why that deal needs to be reopened. It was a deal that Speaker Boehner made as well and all the leadership made. And if the — the bill that arrives on my bill is reflective of the commitments that we previously made, then obviously I would sign it because I want to make sure that we keep on doing what we need to do for the American people.
Now that this game has been played and anyone but low information voters knows that the president proposed the sequester, agreed to it, failed to advise his agencies to make cuts in January so the damage would be less, refused to agree to a Republican offer giving him greater flexibility in making cuts, any inconvenience citizens suffer should be rightly blamed on him.
Now, it's time to deal with other Administrative overreaching and malfeasance.
There is, for example, Obamacare, which polls say remains deeply unpopular.
Nancy Pelosi and other Democratic politicos have been suggesting that the relatively teensy cuts of the sequester will so impede medical research that many will die unless all the government agencies can go on unrestrained spending splurges.
Bgates brings a little good sense to this-Obamacare will do more to harm medical research than will these cuts:
Stupid people love the idea of a magic pill that will make them immortal even more than they hate the evil drug companies that try to profit off of human suffering (to be more precise, off of reducing human suffering, but stupid people can't be bothered with such hairsplitting). What's more, the only reason they hate the evil drug companies is because those greedy bastards charge people merely because the companies have sunk fortunes into the effort of understanding human biology and convincing the government they can safely improve some aspect of it. The stupid people would be quite happy with enormous amounts of money being spent on developing new medicines to improve their lives, so long as it was made clear that they wouldn't have to pay for any of it.
Of course, single payer doesn't have to mean single seller. After all, we are not Communists. The federal government will simply be integrated into the medical free market system, and deal with the suddenly no-longer-evil pharma sector — GlaxoSmithKlineJarret, MedtRahmic, Obamgen, etc. — and the news will be filled with stories about how the government's commitment to medical science and economic recovery is demonstrated by the record profits earned by those firms.
The way I see it, all the Democrats need to do here is convince people that government spending demonstrates compassion, that no tax rate on somebody else can be too high if the money is used for curing the cute little sick girl who gives the Democrats' weekly radio address, and that there's no reason to oppose their plans besides an irrational hatred of health and science. Think they're up to it?
[snip]
The pipeline, all the way from "I bet this stuff kills the hell out of the HeLa cells in that Petri dish" to "Ask your doctor if Provasic is right for you", runs around 20 years — and most of that time is spent in FDA-mandated trials. That means that under single payer, the people who want to show they can create medicines quicker and cheaper than the anarcho-Gilded Age free market they're going to pretend we have right now are the same people responsible for making the current system as slow and expensive as it is. Taking the federal boot off the neck of the industry could produce real results. What's more, I'm sure they'll be able to find libertarian-leaning white papers to say so, thus letting them sell whatever they do as a bipartisan — hell, a Republican idea, basically, as Red State as the Heritage plan that's indistinguishable from the 2000 pages of Obamacare.
Will the FDA regs be relaxed selectively, to benefit politically connected firms? Who can say? Not the press, that's for sure. Maybe Michelle Obama leverages her hospital administration experience to become the historical first-ever First Lady in history to be named to the Cabinet, for the new department of Compassionate Care and Cure Providers, and she agrees to let Barney Frank's new biotech company roll the dice with a drug that only made it through Phase I trials, and it kills a bunch of people.
He brings the same high intelligence to bear on the President's failure as Commander in Chief of the Armed Forces.
To help see you through the difficult times of the sequester, he offers up a profitable bar bet:
If you count up the number of American and allied military fatalities in Afghanistan, for each month between October 2001 and December 2012, and you listed the 20 deadliest months — how many of the 20 deadliest months in the Afghan war happened during the militarist cowboy Bush administration, and how many (if any!) under the reign of the wise, benevolent, and Nobel Peace Prize winning President Barack Obama?
(ans: one and nineteen, respectively.)[snip]
Absurd. If provoked, I could get you a list of dozens of prominent figures from the newspaper owning, TV news reading, and music lip syncing industries who would put the likelihood of a nuclear holocaust during a third Bush term at no less than 90%. Since the world's population in 2009 was over six billion, scientifically we can say that Obama saved at least 5.4 billion lives. And that's not even counting the number of babies ages 0-4 who hadn't yet been born.
Which of course we wouldn't count, because unborn babies aren't people.
Time to start really betting against the Administration and the lip curler in chief.
http://www.americanthinker.com/2013/03/ … rates.html
Statistics: Posted by yoda — Sun Mar 03, 2013 2:02 am
---
View full post on
opinions.caduceusx.com
Are stock investors coming back in at another debt induced peak? How regular stock investors are horrible at market timing.
Posted by mybudget360 in debt, economy, government, i-banking
The media is falling over itself with articles on how fantastic the stock market is. The fact that the S&P 500 is now up from the March 2009 lows by over 100 percent seems to put the financial crisis in the annals of history. Yet for most investors, the stock market is largely a casino. For example, if we take a look at the fundamentals we realize that much of the meteoric rise has come courtesy of big institutional funds trading on low volume. The retail investor has been largely absent because first, nearly one third of this nation has no actual savings. It is hard to save with no money. Next, you have the median household income at $50,000. With the rise in tuition, healthcare, and now housing values once again the cost of living is getting more expensive. But of course, just like at the peak of the tech boom, the average investor is now inching slowly back into the waters only to realize that much of what has occurred has been on the backs of giant piles of digital dollars printed by the Fed. Are investors making another investing mistake?
The VIX views no problems
The VIX index measures market volatility and according to the latest data, all seems to be well: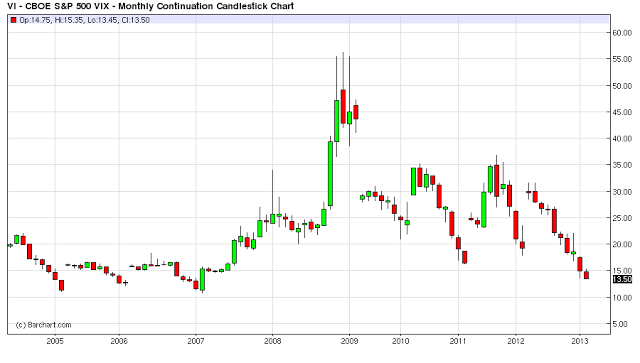 No worries are imminent that our debt-to-GDP ratio is now in excess of 100 percent. There is little worry about the coming pension crisis. Student loan bubble? No need to worry when the digital printing press is all you really need. The VIX is acting as if all is well but in reality we have 47.5 million Americans on food stamps and real inflation is back in the market. Since the manufacturing sector is stripped down, most pathways for middle class jobs require some sort of college or vocational training. The cost for this education or training has far outpaced any gains in income.
Yet people are moved by emotions, not actual numbers. They see or hear about their friend that has made money hand over fist in the stock market. Similar to the stories that emerged during the housing bubble these stories are pulling in retail investors back into the market but not many have the big piles of money to make a dent in overall volume. Tulip mania, the Roaring 20s, the tech bubble, the real estate bubble, and now the easy Fed money bubble.
This is another fascinating point regarding trading volume. You would think with all the good news that trading volume would be steadily up. That is not the case: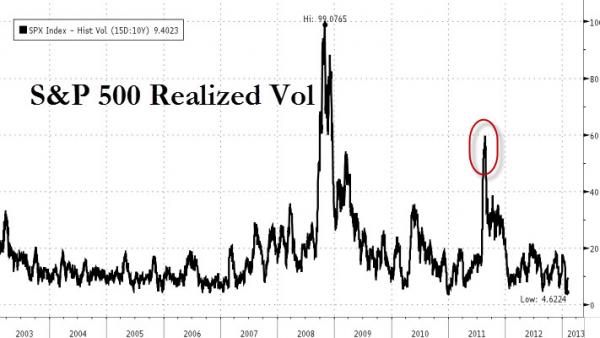 Trading volume is at decade lows. You see the big crisis in 2008 and the issues that emerged in 2011. Yet most of those issues have not been resolved. Banks are fully leveraged again thanks to Federal Reserve digital printing. The Fed is buying up virtually every mortgage being made. Hedge funds are crowding out regular home buyers and pushing prices up on the rental and home price front. Colleges thanks to Fed lending are pushing prices up since most students will incur student debt.
Most Americans derive their wealth from housing and housing is still very far from a full recovery: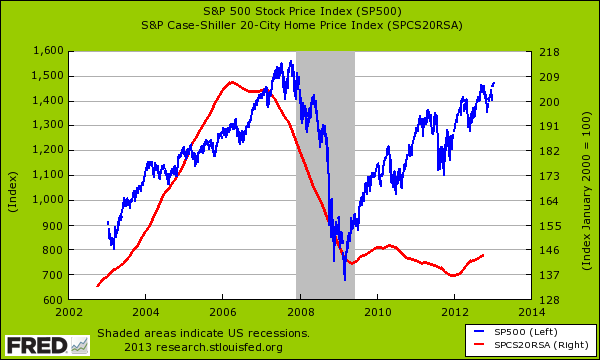 While the S&P 500 has nearly recovered all losses incurred since the financial crisis, home values are still down nearly 30 percent from their peak. For an asset class that has never experienced an annual decline for a generation, this is a big deal. The fact that investors are now diving back into the stock market with little regard to fundamentals is similar to what happened during the tech bubble. The big money has already been made.
You also see this with the flood into bonds over equities: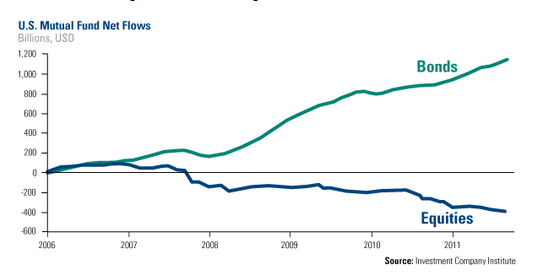 Part of this from the retail side is occurring because many baby boomers are recalibrating their portfolios as they near retirement. It is common wisdom that your bond allocation should be heavier as you near retirement. Yet the yields on junk bonds for example are incredibly low for the risk being taken on. This is what happens when the Fed artificially prices risk in the markets and people try to protect their money. And of course, the ultimate indicator of a bubble is when the mainstream press talks about the good times: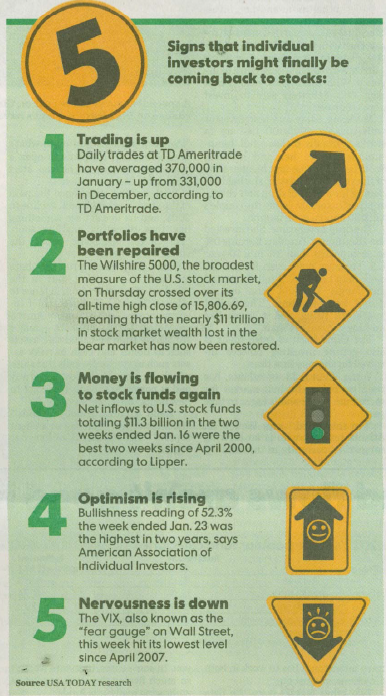 Timing does matter when you are investing. Some seem to think that getting on a wave that is about to crash is a smart move.
http://www.mybudget360.com/stock-invest … #more-4625
Statistics: Posted by yoda — Tue Feb 12, 2013 1:15 pm
---
View full post on
opinions.caduceusx.com
THE STOCK MARKET: FOOD STAMPS FOR THE 1%
Posted on 1st February 2013 by Administrator in Economy |Politics |Social Issues
Mike Kreiger
Mike Krieger nails it. The middle class gets screwed from above and below. They get angrier by the day. This country will erupt in violence and bloodshed before this is over. The oligarchs better have their Lear Jets fueled and ready to take off when the economic system eventually implodes. Those 250 million guns in the hands of Americans are going to be put to use.
Via Michael Krieger of Liberty Blitzkrieg blog,
The price of anything is the amount of life you exchange for it.
- Henry David Thoreau
Society is like a stew. If you don't stir it up every once in a while then a layer of scum floats to the top.
- Edward Abbey
When the rich wage war, it's the poor who die.
- Jean-Paul Sartre
The Stock Market: Food Stamps for the 1%
For most of the past four or five years, I have spent the majority of my time studying the dominant forces that fuel the power structure that exists in these Unites States today, and indeed throughout the world. My education began quite suddenly and unexpectedly in the middle of the last decade when I started understanding fiat money, Central Banking and the global monetary system. Since then, I have expanded my understanding to mainstream media brainwashing, the military-industrial complex, the role of the political oligarchs in Washington D.C., the corruption of the food industry under the complicity of the FDA itself and much more. The more I peered under the curtain, no matter what the industry, the clearer it became that the system had no chance of survival under its current form. What's worse, it became obvious that the very small 0.01% of the population that I call oligarchs (financial and political), who are actively gaming the system for their own pleasure, are well aware of the system's terminal nature. That's why they are rapidly putting in place the police state grid.
That said, this article is not about the implementation of the surveillance state. I cover that pretty much daily these days. This post is more of a philosophical stream of consciousness; a guilty pleasure that I have not engaged in as of late.
I have mentioned many times in the past that food stamps are just a payoff to the poor. While I think a permanent and expanding welfare state is completely and utterly destructive to an economy and culture, I do not demonize these folks. The vast majority of them would like to work and be productive. They are victims and this is being done to them quite intentionally. It creates dependency. It keeps them off the streets. It's an unspoken bribe plain and simple. The oligarchs do not want angry, roving, hungry masses on the streets while they strip mine what's left of the economy. Food stamps, disability and all sorts of other freebies take care of this segment of the population as the oligarchs continue on with their crimes and prepare for the day of reckoning (hence the surveillance grid).
However, the oligarchs have another problem to deal with. This problem is the huge group of people that resides in between them and the poor. Ideally, they would like to shove all of them into the poverty category and keep them barely alive and on dole of the government. That way, the politically connected large corporations that do not pay taxes and receive bailouts can continue to pay them peasant wages while the government takes care of the rest. It's a win-win. The situation I just described is exactly what is happening as we speak and has been occurring at an ever frequent pace since the coup of 2008. This is exactly why people are buying guns, gold and are extremely negative on the economy and the future of the United States. I recently discussed this in my post Gallup Poll: Americans Most Negative on the Nation and Economy in 30 Years. If you read the Gallup data in detail you will see that this level of negative readings only occur during very bad economic times. The average person can feel themselves getting poorer despite the nonsense spewed by the mainstream media. Their standards of living don't lie and no amount of false statistics can change that. As John Adams famously said: Facts are stubborn things.
Stubborn indeed; and this is where the stock market comes into play. Banana Ben Bernanke has not made it a secret that he is directly targeting a higher stock market with his purchasing power destroying money printing. He has made that clear from pretty much the beginning. The idea is that a higher market will improve the balance sheets of pensions, individual retirement accounts and also create a psychological impact that will make people feel confident and thus boost the economy. It is the last point that is of course most important. If the latter does not happen then the boost in stock prices is merely an unsustainable bubble that will burst and all the "good" that was done to balance sheets will be undone with a vengeance at some point in the future. The latter did not happen.
As much as people like to talk about the 1% versus the 99%, the real winners since 2008 have been the oligarchs. The 0.01% have benefited much more than any other class in terms of both money and power. It's the 0.01% versus everyone else and the quicker we recognize that, stop fighting amongst ourselves, and push them aside the better it will be for our species.
As I have repeatedly stated, the oligarchs are using the current period in between financial panics to put in place the surveillance grid they plan to use on the population once the SHTF. It is of extreme importance that the masses stay apathetic and obedient in the process. Hence food stamps for the poor and the stock market for the 1%.
I grew up around the 1%. It's my socioeconomic class. I know the 1% intimately. There's nothing special about the 1%. Most of them are very average and very lucky. Of course there are many, many exceptions but there are exception in all classes. Sure they are slightly more educated than the rest of the population, but on average are not any more intellectually curious than the 99% and are just as easily manipulated by propaganda and more importantly money.
More than any other group, the 1% has been convinced that the stock market represents some sort of leading indicator of wealth and prosperity. Nothing could be further from the truth. Sure, the stock market can function as such an indicator. It is such an indicator when the rising stock market reflects a dynamic, capitalist economy where new industries and companies are rising to the top and improving standards of living for the populace. It represents the opposite indicator when it merely reflects the ownership interests of the oligarchs in a crony-capitalist, fascist economy that is picking away at the dying carcass of what little economic freedom still remains. This is what a rising stock market actually represents today. When people look at it they should understand it is merely a measure of the oligarchs getting wealthier and more powerful and you becoming more of a debt slave. It represents their interests in multinational corporations with record profit margins because they refuse to pay their employees a living wage. A rising stock market today is actually a leading indicator of the destruction of the middle class, cultural destitution and a society in collapse.
The stock market is like slop in a pigpen. It is a key instrument used to keep the 1% from getting antsy. Unlike the middle class (a group that isn't falling for any of the tricks), many of the 1% work on Wall Street or related industries and own stocks. Many of the people in the 1% are at least wealthy and connected enough to still cause serious problems for the oligarchs. They must be kept quiet as the coup that started in 2008 is brought to fruition. Then they will be left high and dry like everyone else. This is the role that the stock market is playing at the moment.
So as the 1% sits around analyzing a casino, the poor collect food stamps and the middle class dies. Many in the 1% look upon the poor on food stamps with disdain, yet little do they realize they are on food stamps as well. It's called the stock market.
http://www.theburningplatform.com/?p=48437
Statistics: Posted by yoda — Fri Feb 01, 2013 9:32 am
---
View full post on
opinions.caduceusx.com
You can thank the reckless money printing that the Federal Reserve has been doing for the incredible bull market that we have seen in recent months.  When the Federal Reserve does more "quantitative easing", it is the financial markets that benefit the most.  The Dow and the S&P 500 have both hit levels not seen since 2007 this month, and many analysts are projecting that 2013 will be a banner year for stocks.  But is a rising stock market really a sign that the overall economy is rapidly improving as many are suggesting?  Of course not.  Just because the Federal Reserve has inflated another false stock market bubble with a bunch of funny money does not mean that the U.S. economy is in great shape.  In fact, the truth is that things just keep getting worse for average Americans.  The percentage of working age Americans with a job has fallen from 60.6% to 58.6% while Barack Obama has been president, 40 percent of all American workers are making $20,000 a year or less, median household income has declined for four years in a row, and poverty in the United States is absolutely exploding.  So quantitative easing has definitely not made things better for the middle class.  But all of the money printing that the Fed has been doing has worked out wonderfully for Wall Street.  Profits are soaring at Goldman Sachs and luxury estates in the Hamptons are selling briskly.  Unfortunately, this is how things work in America these days.  Our "leaders" seem far more concerned with the welfare of Wall Street than they do about the welfare of the American people.  When things get rocky, their first priority always seems to be to do whatever it takes to pump up the financial markets.
When QE3 was announced, it was heralded as the grand solution to all of our economic problems.  But the truth is that those running things knew exactly what it would do.  Quantitative easing always pumps up the financial markets, and that overwhelmingly benefits those that are wealthy.  In fact, a while back a CNBC article discussed a very interesting study from the Bank of England which showed a clear correlation between quantitative easing and rising stock prices…
It said that the Bank of England's policies of quantitative easing – similar to the Fed's – had benefited mainly the wealthy.

Specifically, it said that its QE program had boosted the value of stocks and bonds by 26 percent, or about $970 billion. It said that about 40 percent of those gains went to the richest 5 percent of British households.

Many said the BOE's easing added to social anger and unrest. Dhaval Joshi, of BCA Research wrote that  "QE cash ends up overwhelmingly in profits, thereby exacerbating already extreme income inequality and the consequent social tensions that arise from it."
So should we be surprised that stocks are now the highest that they have been in more than 5 years?
Of course not.
And who benefits from this?
The wealthy do.  In fact, 82 percent of all individually held stocks are owned by the wealthiest 5 percent of all Americans.
Unfortunately, all of this reckless money printing has a very negative impact on all the rest of us.  When the Fed floods the financial system with money, that causes inflation.  That means that the cost of living has gone up even though your paycheck may not have.
If you go to the supermarket frequently, you know exactly what I am talking about.  The new "sale prices" are what the old "regular prices" used to be.  They keep shrinking many of the package sizes in order to try to hide the inflation, but I don't think many people are fooled.  Our food dollars are not stretching nearly as far as they used to, and we can blame the Federal Reserve for that.
For much more on rising prices in America, please see this article: "Somebody Should Start The 'Stuff Costs Too Much' Party".
Sadly, this is what the Federal Reserve does.  The system was designed to create inflation.  Before the Federal Reserve came into existence, the United States never had an ongoing problem with inflation.  But since the Fed was created, the United States has endured constant inflation.  In fact, we have come to accept it as "normal".  Just check out the amazing chart in the video posted below…
The chart in that video kind of reminds me of a chart that I shared in a previous article…
Not that I expect the United States to enter a period of hyperinflation in the near future.
Actually, despite all of the reckless money printing that the Fed has been doing, I expect that at some point we are going to see another wave of panic hit the financial markets like we saw back in 2008.  The false stock market bubble will burst, major banks will fail and the financial system will implode.  It could unfold something like this…
1 – A derivatives panic hits the "too big to fail" banks.
2 – Financial markets all over the globe crash.
3 – The credit markets freeze up.
4 – Economic activity in the United States starts to grind to a halt.
5 – Unemployment rises above 20 percent and mortgage defaults soar to unprecedented levels.
6 – Tax revenues fall dramatically and austerity measures are implemented by the federal government, state governments and local governments.
7 – The rest of the globe rapidly loses confidence in the U.S. financial system and begins to dump U.S. debt and U.S. dollars.
I write about derivatives a lot, because they are one of the greatest threats that the global financial system is facing.  In fact, right now a derivatives scandal is threatening to take down the oldest bank in the world…
Banca Monte dei Paschi di Siena, the world's oldest bank, was making loans when Michelangelo and Leonardo da Vinci were young men and before Columbus sailed to the New World. The bank survived the Italian War, which saw Siena's surrender to Spain in 1555, the Napoleonic campaign, the Second World War and assorted bouts of plague and poverty.

But MPS may not survive the twin threats of a gruesomely expensive takeover gone bad and a derivatives scandal that may result in legal action against the bank's former executives. After five centuries of independence, MPS may have to be nationalized as its losses soar and its value sinks.
So when you hear the word "derivatives" in the news, pay close attention.  The bankers have turned our financial system into a giant casino, and at some point the entire house of cards is going to come crashing down.
In response to the coming financial crisis, I believe that our "leaders" will eventually resort to money printing unlike anything we have ever seen before in a desperate attempt to resuscitate the system.  When that happens, I believe that we will see the kind of rampant inflation that so many people have been warning about.
So what do you think about all of this?
Do you believe that Federal Reserve money printing is the real reason why the stock market is soaring?
Please feel free to post a comment with your thoughts below…
View full post on The Economic Collapse
Why there is more than a 90% probability to a bearish stock market scenario
Posted on 27 January 2013
Are the guys rushing to switch from bonds to equities so far this year the first charge into a new secular bull market or the last into the old cyclical bull market rally? That's what the smart money is asking on Wall Street this weekend. The positive newspaper headlines about stocks are so often a contrarian indicator.
Then again you can be more scientific than this. US fund manager John Hussman has more than a 90 per cent probability to a bearish scenario for stocks because the combination of the following key indicators is in place…
Bearish points
The S&P is more than eight per cent above its average for the previous 52 weeks, more than 50 per cent above its four-year low and trades well up on its historic average cyclically adjusted earnings multiple; treasury yields have risen over the past half-year and investor bullishness is way ahead of bearish sentiment.
Mr. Hussman notes that whenever all these factors have flashed together then in nine out of ten cases in the past 40 years there has been a correction in the stock market. That's a more than 90 per cent probability of a bearish immediate stock market scenario.
It's not that there will be no 'Great Rotation' from bonds back into stocks, just that it is unlikely to be a smooth process with no casualties, i.e. occur without a major stock correction as a part of the switch.
That's what another wise head, Michael Hartnett of Bank of America is saying: 'The two major risk scenarios to an orderly Great Rotation are: a bond market crash as in 1994; or a risk shock as in 1987 driven by a currency war.'
Will it be any different this time? ArabianMoney would argue yes, this time it could be much worse. Was not the scale of the global financial crisis of 2007-9 and the Great Recession much bigger than what happened in those two other recent events? Was the Fed policy response not unprecedented? Why should the aftershocks therefore not be that much greater too?
Go-Stop economy
George Soros's lecture at the World Economic Forum last week propounded his view that we are now in a 'Go-Stop' global economy that he thought was much better than only being on Stop though clearly with heightened volatility and considerable risk. How does that square with an always up stock market and present investor complacency? It's a bull trap surely.
Beware the pushing of the Stop button and a plunging stock market. That might indeed be followed by the mother of all rallies to new stock market highs and beyond (with renewed money printing by the central banks) but the Fed currently seems to be growing wary of adding more fuel to the fire under financial markets.
Listen to what the smart money is saying and that 90 per cent probability of a bearish immediate stock market scenario is not nearly so unbelieveable.
http://www.arabianmoney.net/us-dollar/2 … -scenario/
Statistics: Posted by yoda — Sun Jan 27, 2013 1:52 am
---
View full post on
opinions.caduceusx.com
Which is a better investment: The stock market or farmland?
Oklahoma State University Extension | Updated: December 19, 2012
In July 2012, Mike Duffy at Iowa State University posted an article "Comparing the stock market and Iowa land values: A question of timing" on their Ag Decision Maker website. We've repeated what he did, using Oklahoma data for pastureland and non-irrigated cropland. The U.S. Department of Agriculture regularly reports agricultural land values and associated cash rents for Oklahoma. Oklahoma farmland values have shown annual increases every year since 1997 for both cropland and pastureland. Non-irrigated cropland values have shown gains for 33 of the past 43 years. In similar fashion, pastureland values have increased every year but 9 times during the same period since 1970. Values in 2012 for both categories reached record territory in nominal terms and have more than doubled since 2000. However, in inflation-adjusted terms, the 2012 cropland value is not a record and is still 30% below the peak set back in 1980. In contrast, pasture prices have kept pace with the rate of inflation and are roughly equal to 1980 values.
The composite value of the stock market, as measured by the Standard & Poor's 500 Index (S&P) average, has recovered from the disastrous 2008 year. Even though the S&P lost 34 percent of its value between 2000 and 2008, its overall record has been impressive since 1970. Stock values rose from 90.05 in 1970 to a June 2012 close of 1,323.48, a 13-fold increase despite the late-2000s recession.
Methodology
The returns to land or stock shares are composed of two parts. First is a capital gain or increase in value. (In some years, a capital loss occurs if values decrease.) The second component is yearly returns. Yearly returns are affected by both revenue and costs associated with the property.
Land ownership has annual costs not associated with stocks. For example, property taxes must be paid and should be included in a comparison of owning stocks or farmland. In addition, if farmland is held as an investment and not by an owner-operator, a professional farm manager may be involved and the fee for this service should be considered. Some maintenance and insurance with farmland not associated with owning stocks is also necessary.
The data used for this analysis comes from various sources. The Oklahoma non-irrigated cropland and pastureland values come from the USDA/National Agricultural Statistics Service (NASS). Land tax estimates per acre were calculated using data from the Farm Credit Associations of Oklahoma.
The S&P averages and yearly dividends from 1970 to 2012 were obtained from the website of Robert J. Shiller at Yale University. The value used is the December close of each year with the exception for 2012 being the month of June.
A few assumptions are necessary in the study. For the first analysis summarized in Figure 1, it is assumed $1,000 is invested in each alternative at the end of the first year (1970). The initial amount of land or stock purchased was based on the 1970 value. For example, the average dryland cropland value in Oklahoma was $257 per acre in 1970. Thus, 3.89 acres could have been purchased for $1000.
A second assumption is that all net land rent or dividend earnings in any year will be reinvested in the land or the stock market. This will increase the number of units held. To continue the example above, average cropland rent in 1971 was $9.50 per acre. Average taxes in 1971 were $0.58 per acre. Using a management fee equal to 7 percent of gross rent and a 6 percent of gross rent charge for insurance and maintenance, the net return per acre in 1971 was $7.68.
The net rent in 1971 represents a 2.91 percent return since the average cropland value had increased to $264 per acre. For the $1,000 investment, this would be a return of $29.10. If the entire return were invested to purchase additional land, .11 acres could have been added to the portfolio. Thus, at the end of 1971, the investor would have 4 acres worth $1,055. The process is repeated each year.
Results
Considerable annual variation was noted in the investments examined. Non-irrigated cropland values increased an average of 4.5 percent with a standard deviation of 9.8 percent. The annual percentage change ranged from a negative 16.9 percent to a positive 27.8 percent. Pastureland values grew an average of 5.8 percent annually with a standard deviation of 12.7 percent. The annual percentage change ranged from a negative 18.3 percent to a positive 48.9 percent. The Standard & Poor's 500 Index yearly closing value showed an average percentage change of 8.1 percent with a standard deviation of 16.9 percent. The yearly percentage change in the S&P ranged from a negative 40.7 percent to a positive 35.0 percent. In summary, the stock market as reflected in the S&P offered a higher overall percentage gain than agricultural land, but also demonstrated more volatility as shown by its standard deviation.
The annual rate of return for non-irrigated cropland using cash rental rates as a proxy for income and subtracting taxes, management fees, insurance and maintenance has averaged 3.5 percent since 1970. The standard deviation of the yearly return to land has been 0.8 percent. The maximum yearly return was 4.7 percent while the low was 1.7 percent. For pastureland, the annual return averaged 2.0 percent with a standard deviation of 0.7 percent. The maximum annual return was 2.8 percent while the low was 0.7 percent. The S&P yearly dividend averaged 3.0 percent of the S&P closing level. The standard deviation was 1.3 percent, the maximum yearly return was 5.4 percent, and the lowest yearly return was 1.2 percent.
Figure 1 shows the return to $1,000 invested in 1970 for all three investments. At that time, $1,000 would have purchased 3.89 acres of cropland, 7.08 acres of pastureland or 11.1 shares of the S&P. Using the assumptions above, an investor at mid-year 2012 would have 15.31 cropland acres worth $21,285, 15.62 pasture acres worth $18,078 or 36.49 shares of the Standard & Poor's worth approximately $49,270. In other words, the value in either farmland category would be less than half the value of the S&P investment. Note the dramatic swings in the S&P since 1999 in contrast to the steady climb in farmland values.
However, timing is everything. A starting point other than 1970 would lead to different results. The initial purchase date and subsequent purchases based on reinvestment of returns are important and realistically, farmland does not lend itself readily to reinvestments similar to stocks.
Figure 2 shows a comparison of the returns through June 2012 based on alternative years for the initial investment using the same methodology shown in Figure 1 (buy, hold or reinvest as income allows). It represents returns to Oklahoma farmland as a percent of the returns to the S&P. Values in excess of 100 percent correspond to farmland with a higher value and conversely, if the value is below 100 percent, then the S&P would have a higher value for the initial $1000 investment made in that year. For example, an initial investment in farmland beginning in 1970 as shown in Figure 1 would have returned less than half of the stock market.
Figure 2 demonstrates that the timing of the investment makes all the difference in which appears to be a better investment. A decision to invest in agricultural real estate would have yielded a higher value in just about every year from 1991 through 2011 (the late-2000s recession being an exception). Looking back, agricultural land values in Oklahoma began their rapid rise in mid-1970s and peaked in 1981. After years of devaluation during the 1980s, land values began a slow but steady rise in the 1990s. Oklahoma farmland and the S&P have offered roughly equal returns on their investment since 2009. Given the recent rapid increase in farmland values, this result may not be intuitive. But remember that despite healthy farmland value increases, farmland rents in Oklahoma have not kept pace resulting in declining rates of return. At the same time, investors buying into the stock market have seen substantial appreciation since the late 2000's recession with very competitive returns. It will be interesting to see what this chart will look like in 20 years relative to recent economic conditions.
Conclusions
So the question remains. Is Oklahoma farmland or the stock market a better investment? It is a complicated question and one for which there is no one right answer. As mentioned previously, the timing of the initial purchase, subsequent purchases, and reinvestments of returns influence the returns to either stock or farmland investments. Several assumptions were made in this study. Real estate taxes, a management fee, insurance and maintenance were subtracted from the return to land (represented by cash rent) and were the only ownership costs assumed for land. Other costs vary with individual circumstances. This study also assumed no transaction costs associated with either the purchase of land or the purchase of stocks. Finally, this study assumed average performance for land values, rents and the stock market. Deviations from average performance would produce different results.
The majority of land is purchased by existing farmers. They purchase the land for a variety of reasons including factors beyond traditional investment theory. Farmland has been a competitive investment compared to the stock market over the past 20 years (Figure 2).
What will happen to the value of farmland over the next several years is difficult to predict. Agricultural land represents an income-producing asset and its value is essentially driven by current and expected earnings. Agricultural land values have risen more quickly than rents in recent years. In the short term, an increase in both are likely to continue given a strong cattle economy, high grain prices, low interest rates, and continued nonfarm investor interest. In the longer term however, changing market conditions, government policies and/or interest rate increases could adversely impact values and earnings.
The performance of the stock market over the next several years is also not clear. The S&P 500 used as a benchmark includes companies with significant global investments and earnings. Thus, economic conditions throughout the world matter.
Farmland and the stock market are different types of investments and assets. This simple comparison was based strictly on averages. Oklahoma farmland has outperformed the S&P in some periods since 1970, but not all years. Yes, timing is everything.
http://www.cattlenetwork.com/cattle-new … 11161.html
Statistics: Posted by yoda — Wed Dec 19, 2012 11:18 am
---
View full post on
opinions.caduceusx.com
…Gun Maker's Stock Soars More Than 700% Since Obama's Inauguration in 2009
By Gregory Gwyn-Williams, Jr.
December 18, 2012
Since President Barack Obama took the oath of office on January 20, 2009, the share price of firearms manufacturer Sturm, Ruger & Company has increased more than 700 percent.
At the close of business on the day of Obama's inauguration, the price of Ruger stock (Ticker: RGR) was $5.48 per share. At the end of the trading day on December 17, 2012, the price of the stock closed at $44.00 per share; an increase of 703 percent in less than four years.
But, Ruger isn't the only gun manufacturer that has seen an explosion in its stock value. Smith & Wesson shares (Ticker: SWHC) have increased 253 percent since Obama moved into the White House.
The price of SWHC was $2.45 per share when Obama was sworn in; it closed at $8.65 per share today, December 17, 2012.
When measuring the performance of Ruger's shares to that of the S&P 500, a stock market index based on the share prices of 500 publicly traded companies, the gains made by the firearms manufacturer are astounding.
The S&P 500 Index closed at 805.22 on the day Barack Obama took office. Today, the Index closed at 1,430.36; an increase of 78 percent.
This means that the price of Ruger stock increased more than 9X that of the broader market index.
Sturm, Ruger & Company trades on the New York Stock Exchange and Smith & Wesson trades on the NASDAQ Index.
http://cnsnews.com/blog/gregory-gwyn-wi … ation-2009
Statistics: Posted by yoda — Tue Dec 18, 2012 12:35 pm
---
View full post on
opinions.caduceusx.com
Are stock markets about to go over the fiscal cliff with a Black Christmas for Wall Street?
Posted on 16 December 2012 with no comments from readers This should be the season of office parties and long lunches on Wall Street but this year the US 'fiscal cliff' negotiations make it impossible to turn off the mobile phone. It has been generally assumed that nobody would actually want to jump off the cliff and that this game of chicken would not result in actual casualties.
However as the moment of impact comes close there are going to be some anxious moments. Is it worth investors sitting tight or should they be moving to the sidelines just in case?
Rogue Santa
Far be it for ArabianMoney to turn party pooper and point out that the S&P's three year rally could be due for a reversal. We would rather nominate our old friend Dr. Marc Faber as the contrarian answer to Santa Klaus.
The world's top rated pundit (click here) is calling for a 20 per cent or more correction in the S&P 500, and for good measure has been recently talking about a 20-30 per cent contagion sell-off in the emerging markets which he has been so successful in tipping in 2012.
The US 'fiscal cliff' certainly has the ingredient required to form a market top. It's imbued market participants with complacency and reduced market volatility. It's given them confidence that the Fed can deliver good times in all circumstances. How quickly 2008-9 is forgotten, the Fed did not prevent the global financial crash happening.
QEII
Central banks do have their limitations. During Her Majesty Queen Elizabeth II's tour of the Bank of England gold vaults last week her consort Prince Phillip asked officials whether another financial storm was coming and warned them not to allow it. As if they would have permitted 2008-9 if they had had any real say in the matter!
Mr.Bernanke is equally powerless. Indeed he has told Congress that if the fiscal cliff happens then he cannot completely offest the consequences for the economy. This is politicians playing with fire and somebody could well get burnt, and having just been re-elected it will not be them.
At the end of last week US stocks failed to catch light when Chinese equities enjoyed a sudden pop, and fell back. Is the stage being set for a Black Christmas on Wall Street?
http://www.arabianmoney.net/us-dollar/2 … ll-street/
Statistics: Posted by yoda — Sun Dec 16, 2012 1:19 am
---
View full post on
opinions.caduceusx.com
Aboveground gold stock likely smaller than commonly thought
http://www.goldmoney.com/podcast/aboveg … fcode=gata
Episode 78: GoldMoney's Andy Duncan interviews James Turk, Chairman of GoldMoney and co-author of The Collapse of the Dollar, about his study of the aboveground global gold stock, gold's role as money, and the coming fiat currency collapse. They discuss the discrepancies between official gold stock figures and the study's carefully calculated figures, going all the way back to Roman times and using the year 1492 as a pivotal calculation point – which was when the Spanish Empire began its imports of gold deposits discovered in the Americas. In contrast to the widely referenced number of 171,000 tonnes of aboveground gold, James's study suggests that it is actually closer to 155,000 and therefore overstated by about 10%.
James explains that gold is not an investment, but money. He talks about the difference between money and currency, and emphasises the ability of gold to preserve purchasing power over long periods of time (as opposed to fiat currency). Given the lack of discipline exhibited by central banks and politicians, James's outlook for paper currencies is gloomy. He predicts one or more fiat currency collapses to take place sometime between 2013 and 2015.
This podcast was recorded on 3 December 2012.
Statistics: Posted by DIGGER DAN — Thu Dec 06, 2012 6:42 am
---
View full post on
opinions.caduceusx.com