US to lead global soybean stocks to all-time high
World soybean inventories are to jump to their highest ever, lifted by a record harvest in the US which will bring to an end a period of elevated prices for the soy complex.
Global soybean stocks will end 2013-14 at 75.0m tonnes, up 20%, and the highest level on record, the US Department of Agriculture, in its first forecasts for the season.
The recovery reflects hopes of bigger harvests in most of the main producing countries, but in particular the US itself, the top soybean grower, where growers will reap a harvest of 92.3m tonnes (3.39bn bushels), an all-time high.
The forecast, which was significantly higher than investors had expected, assumed a yield of 44.5 bushels per acre, the same as that the USDA pencilled in its initial crop estimates unveiled in February.
While the USDA on Friday reduced hopes for corn yields, reflecting the historically slow pace of US plantings, soybeans are slightly later seeded, meaning that the wet Midwest weather has yet to compromise productivity.
Price impact
The harvest will prove sufficient to more than double US stocks over 2013-14, taking them to 7.22mn tonnes (265m bushels) by the close of the season, a seven-year high, the USDA said in its monthly Wasde world crop supply and demand report.
Wasde soybean estimates, change on last and (on market forecast)
2012-13 US carryout stocks: 125m bushels, unchanged, (+2m bushels)
2012-13 world carryout stocks: 62.46m tonnes, -170,000 tonnes, (+160.000 tonnes)
2013-14 US carryout stocks: 265m bushels, N/A, (+29m bushels)
2013-14 world carryout stocks: 74.96m tonnes, N/A, (+5.97m tonnes)
Sources: Agrimoney.com, USDA, ThomsonReuters
And, with looser supplies implying weaker prices, the USDA forecast farmgate soybean prices falling to $9.50-11.50 a bushel from $14.30 a bushel this season, and likely to prove their lowest since 2009-10.
For soymeal, which earned soybean processors $425.00 a short ton this season, values will fall to $280-320 a short ton, the weakest for an even longer period.
In Chicago, soybean futures for July delivery closed down 0.7% at $13.99 a bushel in late deals, with the new crop December contract 1.1% lower at $12.05 ½ a bushel.
Soymeal for July ended 1.6% lower at $406.80 a short ton, and for December down 1.6% at $338.00 a short ton.
http://www.agrimoney.com/news/us-to-lea … -5825.html
Statistics: Posted by yoda — Mon May 13, 2013 9:26 am
---
View full post on
opinions.caduceusx.com
Fri 3rd May 2013
Canadian grain stocks fall to multi-year lows
Canada is braving a delayed sowing period, threatening a late harvest and increased reliance on old crop supplies, with the smallest wheat stocks in five years, the smallest canola inventories in eight years and thinnest barley supplies on record.
Canada's stocks of all its top-10 crops, bar corn and rye, were lower at the end of March than a year before, Statistics Canada data showed.
Inventories of oats tumbled furthest, by 30% to 1.21m tonnes, the lowest March-end figure in a decade.
However, the drop in canola inventories was not much slower, down 25% to 3.91m tonnes, the weakest for the time of year since 2005.
And the important wheat-stocks figure was also lower, by 8.1% to a five-year low of 13.5m tonnes.
Sowing delays
Signally, unlike the US March stocks data released more than a month ago, which sent grain prices tumbling worldwide, the Canadian figures fell short of market expectations, which for canola were for stocks of at least 4.1m tonnes, and for wheat of 13.9m tonnes.
Yet they come as poor weather is delaying the important spring sowing period, meaning that users will have to rely longer on old crop supplies, whether or not yields are penalised by planting hold-ups.
"We view Canadian planting prospects over the next three weeks as of far greater importance to trade than old crop stocks," Richard Feltes, at Chicago broker RJ O'Brien, said.
However, another US analyst told Agrimoney.com: "The stocks figure cannot be dismissed too lightly.
"If the harvest is delayed, yet the old crop is tight, that does look like creating a chance of a bit of a squeeze in the market as buyers wait for new crop."
Barley concerns
In barley, the data – which showed inventories falling 9.7% to a record low for March of 2.96m tonnes – stand to provoke further nerves among buyers already concerned at sowing delays, particularly in the malting barley market.
"The general sentiment in the malting industry is nervous as 'act of god' clauses in barley contracts in Canada and North Dakota become more likely to be enacted as the potential late crop becomes ever more likely," malting barley consultancy RMI Analytics noted last week.
"As we have seen in Canada the planting of barley in early June can lead to frost, rains and even snows at harvest – not a good event for meeting malting specifications."
Dearth of data
Sowing progress of Canadian spring crops, while seen being heavily delayed like that of North Dakota, is hard to gauge accurately because of a void of official reports – reflecting the slow start.
The Prairies province of Alberta is to release its first crop progress report on May 10. Farmers had sown 55% of spring crops by May 17 last year, with an average of 67%.
Manitoba and Saskatchewan provinces have yet to announce the start of their crop progress reports, which began last year on April 23 and April 19 respectively.
http://www.agrimoney.com/news/canadian- … -5800.html
Statistics: Posted by yoda — Fri May 03, 2013 1:33 pm
---
View full post on
opinions.caduceusx.com
Fed model suggests U.S. stocks will soar – and then land with a thud
MARTIN HUTCHINSON
NEW YORK — Reuters Breakingviews
Published Tuesday, Mar. 12 2013
The S&P 500 index of U.S. stocks is nearing a new record close to eclipse the peak of 1,565.15 set in October, 2007. Simple interest-rate-based valuations, such as the so-called Fed model, suggest the benchmark could more than double again – but on long-term assumptions, it would then crash-land.
The Fed model equates the earnings yield on stocks with the prevailing 10-year Treasury bond yield. This yardstick proved a reasonable predictor for shares between 1982 and 2007, with stock markets rising as interest rates fell. The relationship has broken down since then.
The model named for the Federal Reserve is flawed, accounting neither for the inflation protection built into stocks nor, on the downside, for the extra risk of stocks over U.S. government bonds. Nevertheless, ultralow interest rates tend to push stock prices higher. Were the S&P 500 to align with the Fed model so the earnings yield equalled today's 2-per-cent return on 10-year Treasuries, it would top 4,000. Matching the previous high in 2000 for the index adjusted for the nominal size of the U.S. economy would bring a new peak just shy of 2,500.
Even that would represent a significant bubble. In fact, the current level of the S&P 500 is a stretch. Based on current as-reported earnings and a 1950-to-2012 average price-to-earnings ratio just under 19 times, according to data compiled by economist Robert Shiller, a figure of around 1,600 is on the money. Today's U.S. corporate earnings, however, are flattered by low interest rates. They totalled 12.5 per cent of national income in the most recent government statistics. Since 1950, the average is 9.5 per cent. Overlay that adjustment, and the right level for the S&P 500 would be nearer 1,220.
Alternatively, apply the Fed model using a long-term average Treasury yield. Take current S&P 500 earnings and apply a 50-year average yield of 6.6 per cent, and the result would put the index at about 1,290. Assume earnings will decline as a proportion of national income, as above, and that drops to about 980. Dividends reveal a similar picture. The average dividend yield on the index between 1950 and 2012 was 3.3 per cent. The current yield is 2 per cent. Assume a reversion to the long-term mean, and the S&P would drop by nearly 40 per cent.
Or look back to February, 1995, when then Fed chairman Alan Greenspan embarked on policies that expanded the money supply much faster than the pace of economic growth. The S&P 500 stood at about 487. Apply the growth in nominal GDP since, and it implies an index level of 1,060. Once interest rates and other factors normalize, the index could slump by a third from current levels – and far more should investors first inflate it further.
http://www.theglobeandmail.com/globe-in … le9678415/
Statistics: Posted by yoda — Tue Mar 12, 2013 5:59 pm
---
View full post on
opinions.caduceusx.com
How long until investors fall out of love with stocks and turn to real assets?
20 February 2013
With US stocks hitting another high yesterday it is harder and harder to be a bear, and yet logically the end of the rally must be coming closer with each new advance. We remember how the Nasdaq felt like this in November 1999 and yet only finally crashed in March 2000. Momentum is one thing, business economics are another.
For how long can total US company profits stay at an all-time high in relation to GDP? Even the bullish analysts of Wall Street have barely any profit advance pencilled in for 2013. The charts are already indicating a crash (click here).
Mean reversion
Today's buyers are forgetting a simple fact of life: everything always reverts to the mean. Fat profit margins can therefore never last. They are a transitory phenomenon. And as profits fall so do share prices. Stock prices are only discounted future profits, after all.
You could view this as a binary competition between stocks and bonds for the prize of least ugly looking investment. If interest rates rise then bonds fall in value and stocks may fall by less and less fast.
But in the real world stocks and bonds are not the only game in town. What about real estate and other real assets like gold, silver, art, and diamonds?
At the moment the stock rally has investors transfixed by past performance. But the outlook for profits suggests that performance is truly in the past. After a three year plus rally in equities that is hardly surprising. Only an idiot buys in year four.
So if bonds are also looking ugly, and the return on them is now so low that any fool can see this unpleasant reality, and equity values are peaking then where should investors be turning next? Driving equities to further overvaluation is one course but it becomes more dangerous by the day.
Real assets
No, it is the real assets segment that will provide the best returns in the next rotation of the investment universe, and the best returns will come in the assets with the most limited supply.
There is a lot of real estate inventory still left from the last bust, so the upturn potential is more limited although we are already seeing it across the US and Dubai. Gold, diamonds and especially silver are where the supply bottlenecks will be most accute.
How long will this process take? That's impossible to say with pin-point accuracy. But when you can see something as inevitable it most always often happens.
http://www.arabianmoney.net/gold-silver … al-assets/
Statistics: Posted by yoda — Wed Feb 20, 2013 11:07 am
---
View full post on
opinions.caduceusx.com
The Echo Boom in Housing-Recovery Stocks
February 4, 2013
Is housing in an echo boom? Though the jury is still out, it seems a risk-on speculative fever has returned to some housing-related equities.
Speculative bubbles often produce an "echo boom" a few years after the bubble has burst, as the cultural/institutional memories of the asset's spectacular gains remain operative long after the initial boom/bust. Is the much-hyped housing recovery an organic, sustainable trend, or is it merely a speculation-driven echo boom that is doomed to fade?
Given the unprecedented stimulus that the Federal Reserve has applied to the housing sector via multi-trillion dollar purchases of mortgages and its gargantuan money-printing/bond-buying efforts to suppress interest rates, it is not really possible to claim housing is in an organic trend; that would first require an end to Fed support and a normalization of the mortgage market and interest rates.
Housing bulls claim upticks in sales and household formation are evidence that pent-up demand is driving the market higher. Skeptics suggest the real driver is not higher demand but lower supply as lenders restrict inventory (homes for sale on the open market): The Real Housing Recovery Story.
Roughly a third of all existing home sales in many markets is not organic demand by households, it is speculation by flippers or investors chasing yield in a near-zero (real) yield environment. High levels of speculative activity could be nurturing a false confidence in permanently rising demand that is actually temporary.
Let's start with new home sales, the barometer of new construction. The 20% rise from 2011 is impressive, but this is off a very low base–a mere 306,000 new homes sold, less than a third of the 2006 level. (Courtesy of Calculated Risk)
For context, recall that there are about 75 million homeowners, about 50 million with mortgages, and over 19 million vacant dwellings in the U.S. In this context, 60,000 dwellings is statistical noise.
Annual New Home Sales
YearSales (000s)Change in Sales
20051,2836.7%
20061,051-18.1%
2007776-26.2%
2008485-37.5%
2009375-22.7%
2010323-13.9%
2011306-5.3%
2012136719.9%
1 Estimate for 2012
Next up: the housing bubble in home prices, using the San Francisco Bay Area as an example: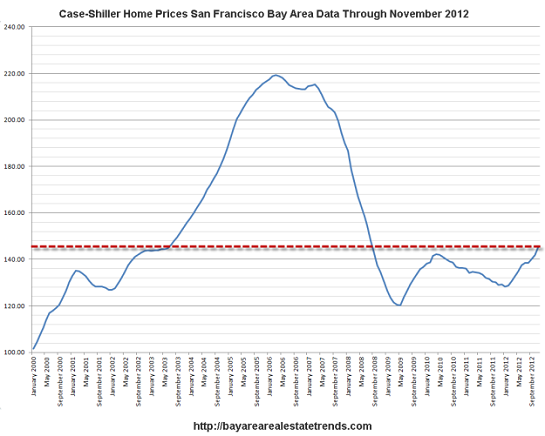 The initial $1.1 trillion in Fed mortgage purchases and massive home-buying subsidies issued by the Federal government triggered an echo boom in 2010 that soon rolled over. The current uptrend started in early 2012, when lenders began restricting inventory by keeping foreclosed and defaulted houses off the market.
Is this uptick a speculative "echo boom" that is not sustainable? Charts of housing-sector stocks may offer some clues.
XHB is an exchange-traded fund (ETF) of homebuilders. This has roughly tripled off its lows and almost regained the lower boundary of its bubble-top price range in 2006.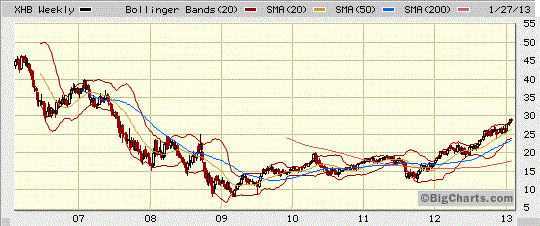 Drywall/sheetrock manufacturer USG is a proxy of demand for construction materials. USG traced a classic bubble spike and collapse in 2006, and has recently risen to 2005 levels around $30, roughly triple its lows.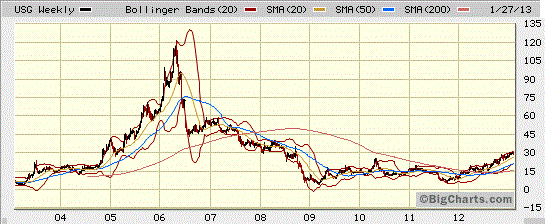 Weyerhaeuser Co. is another proxy of demand for construction materials. WY has returned to its bubble-top highs reached in 2007. This raises a question: can demand for lumber be equal to the 2007 levels when only 1/3 as many new homes are being built?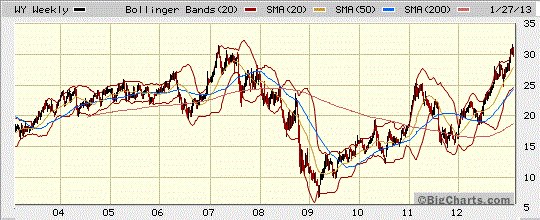 Sherwin-Williams also reflects construction/renovation demand. SHW exceeded its housing-bubble levels back in 2010, and has followed an exponential line higher since January 2012.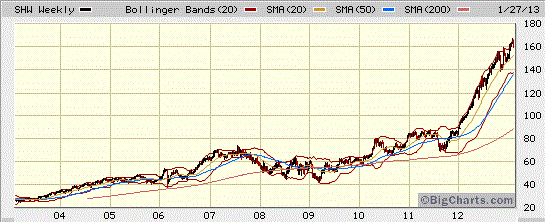 It certainly appears that some housing-related stocks have reached heights that far exceed the modest uptick in new-home sales. Is this the market forecasting stronger profits ahead and speculators front-running the housing recovery? Has the speculative push outrun the modest gains of actual home construction and sales?
Though the jury is still out, it seems a risk-on speculative fever has returned to some housing-related equities, and that euphoria generally ends badly for those coming late to the party.
http://www.oftwominds.com/blog.html
Statistics: Posted by yoda — Mon Feb 04, 2013 12:14 am
---
View full post on
opinions.caduceusx.com
Peter Morici at the University of Maryland thinks they are. I for the most part I think so too.
I still have money in the market of course, but any gains I make I make in spite of the hedge funds and big banks "trading word clouds" around me, as David Stockman puts it. I'm happy for gains when I get them, but I know that I am "out gunned." Morici goes a step further and calls the market "rigged."
It's 2 tiered system. Actually it has more tiers than 2, and it has always had tiers,  but in a nutshell there is the high frequency trading world of quant models and flashes of green and red on computer screens in Greenwich Connecticut, and then there is the world of the retail investor.
There are still lots of ways to win for the average investor, even in the stock market, even now. But just understand that more than ever the retail investor is playing a completely different game from the big guys.
(From Real Clear Markets)

With corporate profits at record levels and stocks regaining the ground lost during the financial crisis, Wall Street anxiously anticipates the return of individual investors to equity markets. It may be a long wait, because the little guy may have concluded stocks are a sucker's bet.

Investors, as opposed to traders, buy stocks in companies whose profits they expect to rise. The conventional wisdom says stock prices will follow profits up, but over the last two business cycles, that simply has not happened.
The post Are Stocks a Suckers Bet for the Little Guy? appeared first on AgainstCronyCapitalism.org.
View full post on AgainstCronyCapitalism.org
Investors yank $150 billion from stocks for 3rd year
By Hibah Yousuf December 27, 2012: 7:32 AM ET
The U.S. stock market has been on a bull run since early 2009. At the same time, individual investors have been pulling billions of dollars out of stocks each year.
As the S&P 500 rallied about 13% during the first eleven months of 2012, individual investors yanked about $152 billion from the U.S. stock market, according to data from EPFR Global, a Boston-based firm that tracks fund flows for both mutual funds and exchange traded funds.
That marks the third year in a row that investors have withdrawn more than $150 billion from U.S. stock mutual funds and ETFs.
While individual investors have been shunning the market, institutional investors, such as hedge funds and pension funds, have been significantly adding to their stock positions. They've poured more than $80 billion into stocks so far this year.
"Retail investors and institutional investors have acted in complete opposition since the March 2009 lows," noted Simon Ringrose, managing director at EPFR Global.
In November alone, individual investors pulled nearly $19 billion out of the market, the most since August 2011, when the debt ceiling debacle and the Standard and Poor's credit rating downgrade took center stage. November's big bleed was a result of more political wrangling in Washington — this time over the fiscal cliff.
The mass exodus from stocks isn't exactly new. While individual investors have been taking money out of the stock markets since 2005, the outflows accelerated considerably beginning in 2010.
Experts have largely pinned the reason for the stock dump on the Baby Boomer generation.
They represent the largest group among retail investors, and after having their portfolios rocked by the dot-com crash and the financial crisis, they've shifted out of stocks and into bonds much earlier than usual as they head into retirement.
And any money do they do have in the market is consistently going into bond funds, said Ringrose.
Since the beginning of this year, individual investors have plowed more than $90 billion into U.S. bond funds, the most since the record $117 billion in 2009, according to EPFR.
A lack of confidence among investors across age groups has also been a factor, in the wake of high-frequency trading, and incidents like the May 2010 flash crash , Nasdaq's bungled Facebook IPO (FB) and the Knight trading glitch (KCG).
http://buzz.money.cnn.com/2012/12/27/in … ?iid=HP_LN
Statistics: Posted by yoda — Thu Dec 27, 2012 1:08 pm
---
View full post on
opinions.caduceusx.com
Rosen – Key Targets For Gold, Silver, Miners & Common Stocks
http://kingworldnews.com/kingworldnews/ … tocks.html
KWN has received tremendous interest in 54-year market veteran and analyst Ron Rosen's charts and comments which have recently been published exclusively on King World News. With the weakness in gold and silver today, we followed up with Rosen to get his take on what to expect going forward, and Rosen did not disappoint. He gave another tremendous interview.
Below are charts and comments from 54-year market veteran and analyst Ron Rosen:
"On the S&P 500, the bear market began in the year 2000. There is a clear 'megaphone' pattern and the market has most likely seen its high for this leg (see chart below). Stocks may attempt to fight the trend for another 30 days, but once that period is over we are headed back down to the long-term trendline.
This is the trendline that began at the 1982 bottom. If you look closely at the chart, which starts at 1982, you can see the 1987 crash reached the trendline near the early part of the chart. The next pattern down in the megaphone pattern will take us to that long-term trendline in the S&P 500 and the Dow.
This will be a devastating drop for those who are positioned incorrectly….
"I will talk about how the gold and silver shares will perform in that environment in a minute because there is confusion about how the shares will act with the global markets under pressure.
If you look at the gold chart below, you will see that gold has been in a bull market ever since the Dow and the S&P peaked (in real terms) in the year 2000. So the Dow has essentially gone nowhere since it peaked in the year 2000, while gold has advanced roughly 580%. All you have to do is look at the quarterly chart for gold and you will know that we have been and continue to be in a bull market for gold.
Silver is also moving with gold. This downside action we are seeing today in gold and silver should come to an end in the next few days. We are at a major turning point for the metals and the direction will be higher after this brief bought of weakness.
Coming back to global stock markets, they are due for a final leg down and it is going to be an enormous collapse. The public has been conditioned to believe that gold shares will go down with the general stock markets and nothing could be further from the truth.
The rise in the gold and silver shares will be sensational. As stocks weaken and the price of gold moves into a steeper ascent, the profits to the gold miners will be massive. Profits will be absolutely enormous. Up to now, they have been relatively tame because the price of gold is at a level where they are not making that much money. But if you just look at the long-term gold and silver charts you will see how high they are headed.
From here on out, every single dollar that the price of gold or silver goes up, the vast majority of those gains will go straight to the profit side of the ledger. That's going to be monstrous. Can you imagine gold at $3,000, $4,000, $5,000, $6,000 an ounce with the costs of mining only increasing modestly from current levels?
As I said, the gold and silver shares will see monstrous profits and the mining shares will soar just like they did in the 1970s bull market. It won't matter what general stocks are doing, just like it didn't matter that stocks were in a bear market from 1966 to 1982. We saw mining shares in a full blown mania when the gold and silver bull markets ended in 1980, and that was in the midst of the '66 to '82 bear market.
So KWN readers need to understand that the mining shares will divorce themselves from the action of the general stock market as the price of gold and silver soar, and money moves out of general stocks and bonds and into gold, silver and the shares.
Investors cannot get off of the main trend and make money, and the main trend is up for gold, up for silver, and the mining shares, and down for the general stock markets."
Rosen also added: "There is no painless way out of the mess the world is in today. We are in the final death throes of a mess that started 100 years ago with the creation of the Federal Reserve and there is no painless way out.
The solution to solve the problem is very, very painful and it is politically impossible to accomplish. Therefore, the markets will do the work that nobody else will do and the markets work is up for gold and silver and down for the common stocks and the industrial shares. The market will do the work that the politicians won't do."
Statistics: Posted by DIGGER DAN — Wed Nov 28, 2012 1:29 pm
---
View full post on
opinions.caduceusx.com