$100 million Hindu temple thrown open near Hollywood
PTI | Jan 3, 2013, 06.22 PM IST
WASHINGTON: One of the biggest Hindu temples in the US, built at a whopping cost of $100 million near the Hollywood city in Los Angeles has become a major draw for its grandeur and environment-friendly design, since its inauguration.
The 68th Swaminarayan temple of Bochasanwasi Shri Akshar Purushottam Swaminarayan Sanstha (BAPS) has been built using 35,000 pieces of meticulously hand carved Italian Carrara marble and Indian Pink Sandstone, temple officials said.
BAPS said that it is first earthquake-proof Mandir in the world and is expected to last for 1,000 years.
"The Mandir is a beautiful testament to the hard work of your congregation who has spent several years to build this place of worship," Chino Hill Mayor Peter Rogers said.
"The Mandir and Cultural Center will indeed be a place that Chino Hills can be proud of for so many, many generations," he said, at the temple's inauguration on December 23.
Using cutting edge technology to protect it from earthquakes, the temple encompasses five pinnacles, two large domes, four balconies, 122 pillars and 129 archways.
The 6,600 hand-carved motifs depict a mosaic of tales of inspiration, devotion and dedication, along with historical figures from Hinduism, temple officials said.
"Artisans created the carvings in India with great love, skill and patience before the pieces were shipped to Chino Hills," a BAPS statement said.
The Mandir is situated on a 20-acre site, complete with 91 foot lotus-shaped reflection pond, a Cultural Centre, gymnasium and classrooms.
It is designed to "calm the mind and open it," said Ronak Patel, a volunteer of the BAPS Swaminarayan Sanstha.
"The upper structure of the complex is protected from earthquake damage by separating it from the base with a series of 40 base-isolator units," it said.
"The Mandir also uses a solar power system to generate electricity and reduce adverse effects on the environment. The Mandir combines the best of traditional stone art and architecture and the best of modern technology," said Divyesh Patel, a member of the BAPS Swaminarayan Sanstha.
http://timesofindia.indiatimes.com/worl … 873628.cms
Statistics: Posted by yoda — Thu Jan 03, 2013 11:59 am
---
View full post on
opinions.caduceusx.com
Gold-Confiscation Coming To India?
Written by Jeff Nielson
Thursday, 13 December 2012 12:42
As one of the loudest voices warning of the risks of "bullion confiscation" by our governments; it was no surprise to me to see the Corporate Media singing the virtues of bullion confiscation. What was a surprise is where this "initiative" purportedly originates: India.
Readers who follow the precious metals market are familiar with the dynamics here. Western Sheep choose to hold the bankers' fraudulent paper currencies – despite our governments openly/explicitly driving the values of those currencies to zero with their "competitive devaluation." It was this foolhardy mistake which is a major factor behind the greater-than-50% decline in the U.S. standard of living over the past 40 years.
Meanwhile the "peasants" in India (as well as many/most urban residents) do not engage in similar, suicidal behavior. They park their wealth in gold (and silver) bullion – immune to the print-and-dilute theft inherent in every fiat-currency system. It is one of the key reasons why Asian standards of living are rising, while those of the West plummet downward at the fastest rate in history.
In my own naivete, I had assumed that our predatory Western governments would target their own people for bullion confiscation, and look to steal the modest amount of savings of the shrewd minority in our societies who do hold precious metals. But apparently the bankers and Oligarchs have their sights set on a bigger prize: the largest private holdings of bullion in the world, in India.
Let's be clear that this is obviously a Western proposal, as indicated by the English-speaking "front" organization used to deliver this propaganda. What is the substance of the proposal?
…Households and temples carry about 25,000 metric tons [of gold] and a successful plan to gather at least 10 percent of the gold reserves for lending to jewelers will ensure supplies for three years…
So here we see the modest goal of the Western Oligarchs: harvesting (i.e. confiscating) "at least 10 percent" of Indians' gold, and to apparently repeat this harvest every three years – since the propagandists putting forth this trial-balloon claim that a 10% harvest would only deal with the supposed "problem" faced by India for three years.
We see further evidence that the entity spewing this banker propaganda is nothing but a Western mouthpiece, as any genuine "Indian" entity would understand that proposing to plunder the gold from India's religious temples would be an absolute "non-starter" for its ¾ billion population.
Just as phony as the organization itself is the supposed "problem" which this bullion-confiscation scheme claims to address: what it calls India's "current account deficit." Here a quick definition is in order for those not conversant with this economic jargon.
A current account deficit (or surplus) represents the flow of "money" into/out of an economy. Just as nations have "trade deficits" (and surpluses), so too it is a necessary proposition of arithmetic that each year there will be some nations with net in-flows of capital, and others with net out-flows.
What is phony here is the lie behind the mythical "current account deficit" of India. As the world's largest importer of gold bullion, each year India has a large out-flow of the bankers' bogus paper currencies and a large in-flow of real money: gold. Obviously you cannot have a "current account deficit" (or surplus) in exchanging one form of money for another.
Let's make no mistake here. The Western banksters themselves (and the Oligarchs they represent) not only consider gold to be "money", but (as has been the case for 5,000 years) our best money. They recently were forced to elevate gold to the status of a "Tier I" monetary asset, in deference to its superior status to their own, debauched paper.
More importantly, it is these same banksters who require all international gold transfers between banks/governments to be reported and accounted for exactly as they do with their paper currencies. No one thinks of gold as "money" more than Western bankers. Thus the premise that India's swapping of (bad) paper money for (good) gold money somehow is creating a "currency deficit" is not only wrong, but patently absurd.
There are several other points to note here. Notice that at no point in the Bloomberg article do the propagandists use the word "confiscate". In the 2,000+ years in which the bankers have been stealing from us (since they originally went by the name "money-changers"), one lesson they have learned is that they are much more successful with their stealing if they scrupulously avoid using the word "steal."
Of course the Corporate Media apologists will tell us that bullion confiscation is not "stealing", as governments pay "fair compensation" for the gold (or silver) which they coercively obtain from their populace. Yes, just like the "fair compensation" paid by the U.S. government to its own citizens when it confiscated their gold in 1933 – and then immediately "revalued" it higher by 50%.
Put another way. First the U.S. government took its citizens gold. Then it retroactively reduced the actual value of the "fair compensation" by half. The only thing separating that from an open act of theft was that the U.S. government inserted an intermediate sham-transaction to make the theft a two-step process.
Am I trying to frighten readers away from gold and/or silver bullion by warning of the dangers of bullion-confiscation? Absolutely not. Indeed, regular readers know I deliver precisely the opposite message: gold and silver bullion (as a matter of simple arithmetic) is our best refuge from the Hyperinflation Hell looming directly ahead of us.
My message to people is to hold lots of gold/silver bullion (which cannot be debauched/stolen through the banksters' money-printing scams). However, it's crucial that people hold their precious metals personally; in a home safe or other secure location. Obviously if (when?) bullion confiscation takes place in our own societies (again), the first gold/silver to go will be every ounce contained in any/every bullion account, fund, or trust – as all this bullion can be snatched effortlessly with nothing more than a point-and-click.
Would our increasingly authoritarian governments ever send their Nazis to start busting down doors, looking for bullion "the hard way"? Three reasons mitigate against this.
1) Our governments' Big Brother electronic surveillance still provides them with no way to identify the source/location of all wealth we have stored in bullion – another reason they don't want the Little People holding gold and silver.
2) Similarly, since we could have disposed of our bullion in private, legal transactions; they have no way of proving that such privately-held bullion even exists (at least in holdings of moderate amounts).
3) Our governments (up until now) have shown the preference to Steal with Stealth. They have already looted more than ¾ of all our wealth over the decades; through banking and taxation systems which were structured to funnel all wealth out of the pockets of the bottom-99% and into the vaults of the Top-1% (over time).
While those reasons provide no absolute security for our bullion holdings; gold and silver still represent our safest form of financial security – given the alternatives. Apart from losing all our paper wealth relentlessly through the serial theft inherent in the banksters accelerating currency-dilution; (insolvent) Western governments have already begun "confiscating" (i.e. stealing) paper assets.
Some will argue for parking their wealth in real estate. However, not only do our permanent near-zero interest rates ensure that all real estate markets are permanently in some form of "bubble", but land can also be seized. Unlike bullion, however, it can't be hidden.
http://bullionbullscanada.com/
Statistics: Posted by yoda — Thu Dec 13, 2012 1:22 pm
---
View full post on
opinions.caduceusx.com
The Temple of Inflation – where does the typical Americans spend their money? A comparison between 1986 and today.
Posted by mybudget360 in bailout, banks, debt, economy, government, income, inflation
For most people that I know the mortgage and rent payment will eat up the largest portion of a monthly budget. This is the case for the vast majority of Americans as well. Housing is the biggest line item expense on the monthly budget. For the most part people tend to think that the Federal Reserve is fully focused on home owners but the reality is this is only an afterthought. The core focus of the Fed is to inflate the debt of the banks (massive amount) and the government away ($16 trillion and growing). Even a tiny bit of inflation is painful if household incomes are not going up. Household incomes adjusting for inflation are back to levels last seen in the mid-1990s. With the push for lower rates, rents have been going up consuming a larger part of a household's budget. Even if overall inflation looks stable the big jumps in rents, health care costs, tuition, and food are hitting households very hard.
Overall inflation
I'm not sure where people get the notion that we are not experiencing any inflation. According to the MIT inflation data and CPI, we've been seeing general price rises since the brief dip in 2009: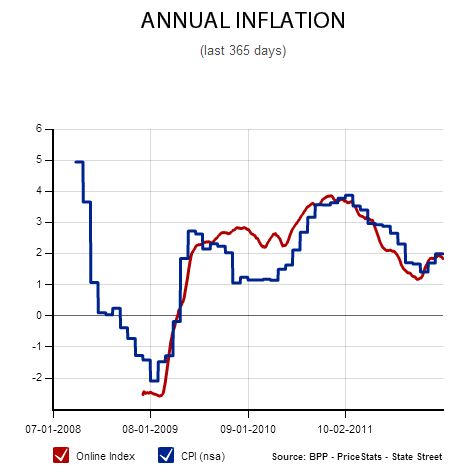 Households are feeling this because incomes are not going up so even a 2 or 3 percent annual increase is felt deep in the wallet. You are moving back. For the 1990s and 2000s with stagnant incomes, households were able to keep their spending levels up by increasing their debt. This provided a cover for the slow erosion of wage growth.
If we look at spending over the last few decades, you will notice that a couple of areas now consume a large portion of the budget: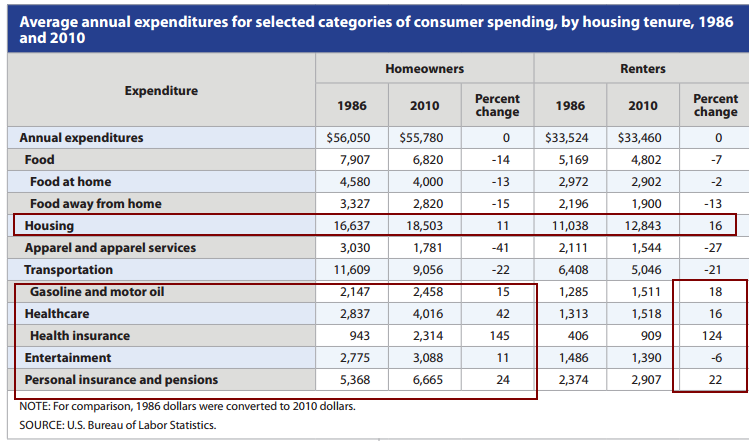 This chart is very important to examine. As a percent of household income, Americans now spend more on the following items since 1986:
-Gasoline and motor oil
-Healthcare and Health insurance
-Housing
-Personal insurance and pensions
-Tuition
This is an interesting perspective. Tuition should be included here because the increase in paying for college is on par (even higher) than the increase in healthcare. For a renter household, imagine they went to a college with an annual cost of $20,000. This amounts to 60 percent of their overall budget and 36 percent for a homeowner household. No wonder why student debt is well over $1 trillion. The point being, the cost of living has gotten much more expensive and Americans are now feeling the pinch as access to debt has decreased. The only access to easy debt that has been left open is through mortgages and student debt.
This overall trend is the squeeze Americans are living through. Inflation is part of our economic system: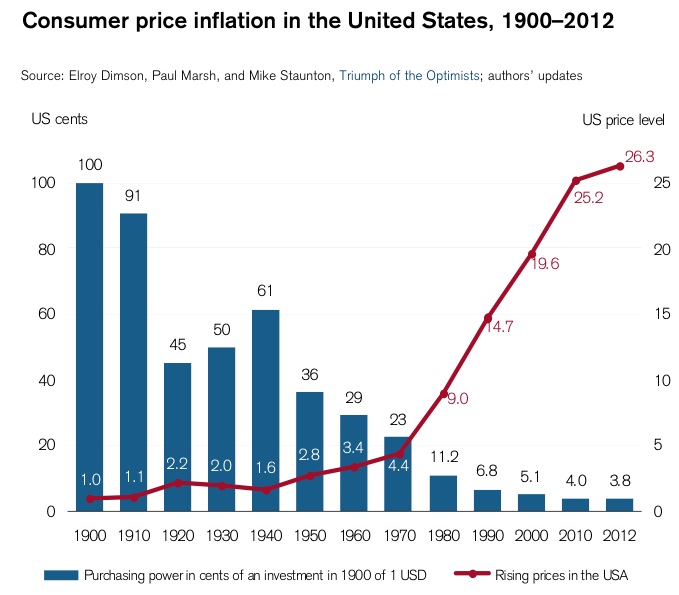 Nothing has truly gotten cheaper for US households. Many think that having access to debt is similar to wealth but that is not the case. We have seen that through the recent period of deleveraging. But examine the chart above. A US Dollar back in 1900 now has the purchasing power of 3.8 cents. This also makes the Fed's actions more covert in the respect that they realize Americans are completely focused on the monthly payment. So interest rates have fallen dramatically in the last decade keeping asset inflation intact (in order to bailout banks and the government with a weaker dollar). This is the change in interest rates: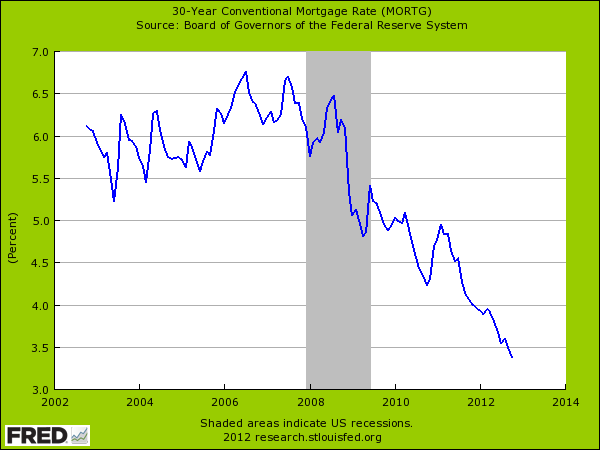 Interest rates went from roughly 6.5 percent in 2008 to below 3.5 percent today. How big of an impact does this have? Examine a $200,000 mortgage:
Principal and interest at 6.5%: $1264
Principal and interest at 3.5%: $898
It seems like a clear win and on the principal and interest side it is. But then again, home values simply inflate to new levels. Also, taxes on properties are based on the underlying price of the home and so is insurance. So these remain inflated adding additional cost to the overall monthly payment. In other words, the focus on simply keeping home values high is really a method to allow banks to offload inflated properties while pushing on ancillary costs to homeowners (i.e., mortgage insurance, taxes, etc).
The American consumer is not better off than they were a few decades ago. Plus, we have a massive number of Americans on food stamps, some 47 million and this number is a peak both in percentage terms and as a raw number. The only inflation that isn't occurring is on household wages. Those claiming inflation is not happening are not looking at the data.
http://www.mybudget360.com/where-do-ame … #more-4436
Statistics: Posted by yoda — Sat Dec 01, 2012 3:12 am
---
View full post on
opinions.caduceusx.com
Shooting outside Sikh temple in Wisconsin
Four people have been shot in a "hate crime" shooting at a Sikh temple in Oak Creek, Wisconsin.
05 Aug 2012
There are conflicting reports and no suspect has been identified in a shooting that took place occurred around 10:45 a.m. at the temple, just outside of Milwaukee.
According to the Milkwaukee-Wisconsin Journal Sentinel, the president of the templeb was among those shot. A Police Swat team entered the building before noon local time to bring uninjured people out of the building.
According to information broadcast over police radio, a witness to the shooting told law enforcement the shooter was a white male, bald, with a heavy build. He was wearing a sleeveless T-shirt, according to Oak Creek Patch. He was last seen with two handguns.
Ven Boba Ri, a member of the temple's committee, said the man started shooting after he walked up to a priest who was standing outside, and shot him. Then he went inside and started shooting.
"We have no idea," he said of the motive. "It's pretty much a hate crime. It's not an insider."
http://www.telegraph.co.uk/news/worldne … onsin.html
Statistics: Posted by yoda — Sun Aug 05, 2012 12:05 pm
---
View full post on
opinions.caduceusx.com