Gold necklace thieves plague Paris
Published: 24 Oct 2012 17:44 GMT+02:00
Updated: 24 Oct 2012 17:44 GMT+02:00
A new trend has hit the streets of Paris: ripping gold chains from their owners' necks, according to new crime figures.
Police said on Wednesday that 270 people had been arrested in the first nine months of the year for muggings aimed at cashing in on the rising price of the precious metal.
In July alone – at the height of the tourist season – there were 635 reported incidents of thefts of gold chains or necklaces in the French capital and its surrounding suburbs.
Authorities in other French cities have reported a similar upward trend in gold-centred thefts in a year which has seen the metal hit record highs thanks to its rediscovered status as a safe haven in times of financial turmoil.
Gold prices were at $1,708.35 an ounce Wednesday on the London Bullion Market, up from $1,574.50 at the beginning of the year.
http://www.thelocal.fr/page/view/gold-n … ague-paris
Statistics: Posted by yoda — Thu Oct 25, 2012 1:47 pm
---
View full post on
opinions.caduceusx.com
The Real Reverse Robin Hood: Ben Bernanke and his Merry Band of Thieves
August 31, 2012
Away from the stifling media crush, staid Ben Bernanke is dashing Reverse Robin Hood, lackey pawn of the Neofeudalist Financial Lords who shamelessly steals from the poor to give to the parasitic super-rich.
Amidst electioneering chatter about a "reverse Robin Hood" who steals from the poor to give to the rich, it's important to identify the real Reverse Robin Hood: Ben Bernanke and his Merry Band of Thieves, a.k.a. the Federal Reserve. It's especially appropriate to reveal Ben as the real Reverse Robin Hood today, as the Chairman is as omnipresent in the media as Big Brother due to the Cargo-Cult confab in Jackson Hole, Wyoming.
Please answer the following questions before launching a rousing defense of the All-Powerful Fed and its chairman:
1. What is the nominal yield on your savings account, thanks to the Fed's zero-interest rate policy (ZIRP)? (Answer: 0.25%)
2. What is the inflation-adjusted yield on your savings account? (Answer: – 2.25%)
3. What is the rate of interest the Fed charges banks for "free money"? (Answer: 0%)
4. What is the average interest rate for bank-issued credit cards? (Answer: 14.52%)
5. What is the interest rate for student loans? (Answer: 6.8%, and 7.9% or 8.5% for PLUS loans)
6. Does the Fed pay interest on the funds banks have borrowed from the Fed for 0% and then deposited with the Fed? (Answer: yes)
7. Exactly how has the average American worker benefited from the Fed's policies? (Answer: interest on credit cards has declined from 19.9% to 14.52%, if the worker has outstanding credit, which few of the bottom 90% do.) Theoretically, workers could re-finance their homes at lower interest rates, but the vast majority are either underwater or no longer qualify. Ben and the Merry Thieves love pulling Catch 22.
8. How has the average parasitic Neofeudalist Financial Lord benefited from the Fed's "rob the poor to give to the rich" policies? (Answer: Handsomely. The top 1%'s income and net worth has soared as Ben and his Merry Band of Thieves have stripmined interest income from the poor and pension funds and diverted it to the rich.)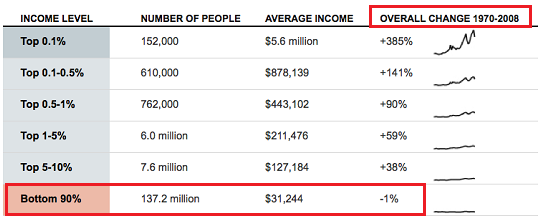 9. Have the Fed's Reverse Robin Hood policies narrowed income disparity in the U.S.? (Answer: no–income disparity has widened further as a result of Fed goosing of risk assets.)
10. How many of the nation's 14.5 million unemployed have gotten jobs as a result of Fed policies who would not have gotten a job if the Fed had been abolished in 2009? (Answer: unknown, but the best guess is 17, including Bennie the part-time janitor, with a statistical error of + or – 17.)
11. How does Ben the Reverse Robin Hood justify his thievery? (Answer: he doesn't. Officially sanctioned propaganda casts him in the role of selfless do-gooder, protecting saintly Neofeudalist Financial Lords from restless debt-serfs.)
Listen up, debt-serfs, you have it good here on the manor estate. You get three squares of greasy fast-food or heavily processed faux-food a day, and if Reverse Robin Hood and his Merry Band of Thieves is ripping you off it's for a good reason: the predatory Neofeudalist Financial Lords need the money more than you do, as they have a lot of political bribes to pay: it's an election year, and the bribes are getting increasingly costly. Poor things, we're sure you understand. Now go back to work or watching entertainment (or "news," heh) and leave the Lords alone.
An open plea to William Banzai: dear Master of the visual arts, could you please perform your magic and transform Ben Bernanke into the Reverse Robin Hood leading his Merry Band of Bankster Thieves? I would be most grateful if you could apply your powers to this imagery.
http://www.oftwominds.com/blog.html?ref=patrick.net
Statistics: Posted by yoda — Fri Aug 31, 2012 12:35 am
---
View full post on
opinions.caduceusx.com
Driven by gold and silver prices, thieves target coin collections
http://www.washingtonpost.com/local/cri … s_business
As Julian Leidman packed up more than $4 million in rare coins after a Connecticut show, the thieves probably already had the prominent collector under surveillance and had laid plans for one of the biggest coin heists in U.S. history.
Leidman eased his minivan onto Interstate 95 south toward his Maryland home and the thieves probably followed, waiting and watching for dozens of miles. Then they saw their opening.
When Leidman stopped for dinner at Tiffany's restaurant in Pine Brook, N.J., he took a table near a window so he could keep an eye on his vehicle. The thieves sneaked around the side he couldn't see, smashed a window and took at least five cases.
Most of Leidman's inventory was gone, more than 2,000 vintage coins and banknotes including one of the coin world's major prizes — a 1921 Saint-Gaudens $20 gold piece worth as much as a modest home in the suburbs.
Thefts of rare coins have spiked in recent years, experts say, crimes linked to the run-up in gold and silver prices. Coin thieves are often part of organized rings, some from Colombia and others with ties to the Russian mafia, that orchestrate sophisticated, lightning-quick and sometimes ruthlessly violent heists, according to the Numismatic Crime Information Center, a nonprofit organization that tracks coin thefts.
Fairfax County police think thieves probably followed a dealer to his Annandale home after a show in April and snatched coins and banknotes worth as much as $500,000 when the dealer left his car for about 10 minutes. In 2011, a mother and son from Texas were convicted of being part of a scheme to steal $152,000 in coins from a New Market, Va., collector.
"Why rob a bank with cameras, witnesses, and there's a good chance your picture will end up on the evening news?" said Steve Ellsworth, president of the Virginia Numismatic Society and a coin security expert. "Coin thefts often don't have witnesses, and criminals can make off with far more money."
The October 2009 scheme targeting Leidman, which has resulted in a case that is nearing its conclusion in federal court in New York, opens a window on the world of thefts that sometimes seems pulled from a Hollywood script.
Leidman, 65, has been collecting since age 11. His Silver Spring store, Bonanza Coins, is overflowing with boxes, buckets and glass cases full of coins. Leidman is a major player in the coin world, and the illustration of the $20 1907 Indian Head double eagle piece on one wall is a reminder.
Leidman bought the coin — there is only one — for $500,000 in 1979, making it the world's most expensive coin at the time. He hoped to turn a profit on it, but the market soured and he unloaded it two years later at a loss. It is now worth an estimated $15 million.
Leidman jokes about his bad timing but grows serious when he talks about the theft. He spent four decades building his business, but in the space of a Sunday evening dinner it appeared to be falling apart. His insurance company did not cover the cost of the stolen coins, Leidman said. Some of the coins were his, while others he was selling on commission for other collectors.
Statistics: Posted by DIGGER DAN — Tue Jun 12, 2012 6:22 am
---
View full post on
opinions.caduceusx.com
Thieves Expand Their Horizons, Yet Again
Time for the latest installment of "If we're in a recovery, why are people stealing everything that isn't nailed down?" As I've noted previously — here, here, and here, for example — the past few years have seen a notable uptick in the breadth and depth of unusual items that have been targeted by thieves. As the following reports suggest, that trend seems to be continuing, unabated:
Cosmetics
"Pair Accused of Pocketing, Reselling $20K in Perfume, Cosmetics" (Washington Post)
The young women walked so quickly, grabbed items from the shelves so confidently, that employees at the Glenarden J.C. Penney might have thought they were out shopping for Mother's Day.
Except this was their second trip to the store that day. And Mom probably did not ask for $20,000 in perfume and makeup.
The women, police said at a news conference Friday, were professional shoplifters — bit players in an organized ring of cosmetically-inclined thieves. Three and four times a day, police said, Darquesha Wilkinson, 19, and Latasha Mungo, 24, both of the District, would walk into department stores across the region, swipe high-end perfume, lotions and makeup, then sell them on the streets at a discount, often out of the trunks of their cars. And until Tuesday — when a J.C. Penney loss-prevention employee recognized the pair as suspects in previous shoplifting incidents — they hadn't been charged there, blending in with other shoppers because they were charming and well-dressed, police said.
"That's what they do. This is their job," said Sgt. Aubrey Thompson, who heads the Prince George's County Police's Organized Retail Crime Unit. "It only takes them but 30 seconds."
Grave markers
"'Pathetic' Thieves Take Minnesota Vets' Markers" (StarTribune.com)
Bronze stars are disappearing from the graves of so many Minnesota soldiers that some veterans officials are urging families to place the memorial markers at home instead of in the cemetery.
In Isanti County alone, more than 200 stars have disappeared from three local cemeteries in recent weeks and similar thefts — presumably carried out by crooks who plan to sell the stars for scrap — have plagued veterans' graves in Anoka County.
"It's really unfortunate that there are people among us who are so cowardly that they prey on the people who have demonstrated the greatest bravery," Anoka spokeswoman Martha Weaver said. "That's really pathetic."
Airbags and catalytic converters
"Car Thieves Are Increasingly Looting for Oddball Parts" (MSN Autos)
Airbags and catalytic converters containing precious metals are all the rage on the automotive black market.
In the dark of night a few weeks ago in Santa Monica, Calif., thieves made off with so many parts — including the airbags — from a 9-year-old Honda Accord that the car was declared totaled. In Detroit, there's been a spike in the number of catalytic-converter thefts of late; looters are lured by the precious metals contained in the parts, which can fetch as much as $150 from scrap yards, according to the Detroit News.
Along with catalytic converters and airbags, thieves have recently begun coveting auto parts such as tires, rims and navigation systems and hawking them on the black market. According to Detroit's CBS affiliate, the culprits responsible for stealing these oddball car parts are increasingly turning to Craigslist and other online sales outlets to unload them.
One possible reason for this burst in car-part-stealing creativity is that technology has made it more difficult to make off with an entire car. So, instead, thieves simply target individual parts. A catalytic converter, for instance, can be jacked in a few minutes by thieves who roll beneath a vehicle with a battery-powered saw and make a few cuts.
Religious items
"Metal Thieves Steal Fresno Church Cross" (UTSanDiego.com)
FRESNO, Calif. — Metal thieves used a sledgehammer to smash a California church stained-glass window and steal a cross and other religious items.
Fresno police say they have recovered most of the items taken from St. Therese Roman Catholic Church.
Father Michael Burchfield says the thieves broke into the church earlier this month and ripped off metal fasteners from priest vestments.
Also taken was a 2-foot cross that contained a splinter from the cross on which Jesus Christ was crucified.
Plants
"Gardener: Thieves Stole $1,000 Worth Of Plants From 2 Mpls Gardens" (WCCO)
MINNEAPOLIS — The tough economy may have turned thieves to steal a different kind of green.
Somebody stole plants and planters — worth more than $1,000 — from two yards in the south Minneapolis.
Abby Rutchick has lived on her tree-lined street in Linden Hills for more than 30 years.
"You can kind of tell we're all gardeners and spend a lot of time out here," she said. "And really enjoy it, it's a passion."
Sometime between 1 a.m. and 5 a.m., somebody stole dozens of plants and planters from her front yard.
Rutchick discovered the thefts when she opened the door Wednesday morning.
"Came out and looked a little further to see all my planters were gone, and everything that was in the pot is gone," Rutchick said. "It still looks very full, but we know everything that's missing."
She says the thieves seemed to know what they were doing.
"These were very discerning plant thieves," she said.
Gardening equipment
"Summer Brings Rash of Lawn Mower Thefts" (TriCities.com)
A slew of lawn equipment has gone missing, in what police said has been a rash of storage shed break-ins.
Bristol,Tenn., police have seen an increase in thefts of lawn mowers, weed trimmers, chainsaws and hedge trimmers, Capt. Charlie Thomas said. The equipment is often stored in an outdoor shed, and Thomas said the thefts have occurred all over the city, often in the early morning hours.
Scuba gear
"Dive Shop Theft Suspect Caught on Security Cameras" (WINK)
LEE COUNTY, Fla. – Investigators have released surveillance photos from a May 10th theft at a Lee County scuba diving shop.
"We trust our customers, I love my customers, but I do have surveillance cameras throughout the entire store," said ScubaVice Diving Center owner Ramiro Palma.
It's a security measure that came in handy at the store on McGregor Boulevard, after a young man and woman came into the store on May 10. Deputies say the woman distracted the clerk while the man grabbed a diving computer out of the display case and stuffed it down his pants.
Snack foods
"Discarded Wrappers Used to Track Snack Thieves" (Associated Press)
Police say they followed a trail of discarded wrappers to track down four people who allegedly burglarized a Little League snack bar.
La Mesa Police Sgt. Colin Atwood tells U-T San Diego (http://bit.ly/JEcEyF) that police were called late Thursday night about a lot of noise at the Rolando Little League snack bar in Rolando Park.
Atwood says officers followed empty cookie, chip and Cheetos packages for about two blocks to a home where more snacks were found in a car.
Atwood says one man, two women and a girl were arrested for investigation of burglary. The girl was taken to Juvenile Hall.
Dogs
"Pet Thefts on the Rise" (WRGB)
SCHENECTADY — A local family is desperately searching for their dog after she was taken from her home on Wednesday.
Foxy, a pomeranian, was stolen from the front porch of her family's McClellan Street home while her owner was inside for two minutes. A neighbor witnessed the alleged thieves, a woman and a young girl, pull up in front of the house and snatch the dog.
Authorities are encouraging pet owners to be on the lookout, as pet thefts are on the rise during summer months. The most regular dog thieves are those who are training fighting dogs.
"They will steal other peoples dogs and actually use them for what they call 'bait dogs,'" said Brad Shear of the Mohawk Hudson Humane Society.
The American Kennel Club tracks thefts through a national database and cite a 32% increase in 2011.
http://www.financialarmageddon.com/
Statistics: Posted by yoda — Wed Jun 06, 2012 7:15 pm
---
View full post on
opinions.caduceusx.com