We've Dug a Pretty Damn Big Hole for Ourselves
How do we get out of this mess?
by James H. Kunstler
Monday, April 22, 2013, 10:15 PM
The diminishing returns of technology are insidious, and they are ever with us. By this I mean the slow erosion of the quality of life, despite the impression that technological wonders only make our lives better.
We've Become a Society of Self-Deluded Children
The most obvious example is what happened to the telephone over the past thirty years. We computerized every phone system in America to "improve communications." The net effect is that after all that time and expense (billions of capital investment), it is now nearly impossible to get a live human being on the phone, whether you are calling a Fortune 500 corporation, a non-profit charity, or your best friend. Has that improved communication? What you get instead are robots that waste big chunks of your time forcing you to listen to complex call-routing menus – often ending in futility.
Companies and institutions assume that they benefit from the "efficiency" of not having to pay gangs of human receptionists. But they only succeed in annoying their customers and clients, who are treated as pests to be avoided. In effect, phone systems became firewalls, not communication enhancers.
Add to that the more recent phenomenon of cell phones and smart phones, which, for all their charms, 1) don't work in all locations, 2) drop calls frequently, 3) have lousy sound quality, 4) feature time delays that make people talk over each other constantly, 5) erode real-time social relations with distracting apps and web features, and 6) possibly harm people's brains by constantly rinsing them in microwaves.
A larger issue of technology's effect on culture is the erosion of a shared sense of what is going on in the world based on reality. Increasingly and insidiously, the consensus about how the world operates is based on things that constitute unreal cultural constructions, especially TV shows, the daily Web-flow, computer games, and pseudo-informational memes based on gossip, make-believe, and wishes. The self-referential nature of this process, by the way, is what generates the cultural mood of irony, especially among young people, who are the most thoroughly and immersively hostage to a cognitive field of rapidly degenerating show-biz artifacts that become more ridiculous with each iteration, self-reference, or mutation – until daily life seems like little more than a continuous Gong Show of implausible made-up spectacle. You might end up thinking that Federal Reserve Chair Khloe Kardashian is releasing a new cologne which can be used as an alternative fuel one hundred times more powerful than gasoline and exported worldwide to reduce the trade deficit, save Social Security, and make America energy-independent.
This is a time in history when it's hard to take anything seriously, including our fate.
There remains, however, an age-old relationship between reality and truth, and societies that allow them to become divorced run the risk of collapse. That happens to be exactly the predicament of the USA these days, and hence it is not such a marginal view to anticipate a bug-on-the-windshield moment for a society that has made self-delusion its baseline normal zeitgeist.
It's especially remarkable that a nation with fairly deep traditions of free thought and speech, with durable institutions for purveying them (a free press), should sleepwalk into a captivity of pervasive, systematic, institutionalized lying and fraud. The people of Nazi Germany and Stalinist Russia suffered under such regimes at gunpoint, with boots on their necks, but in the USA of Bush and now Obama, we have conveyed ourselves to very similar circumstances willingly, like little children skipping through the gates of Disney World, with gleeful disregard for the consequences.
The Hard Truth of the Hole We Dug
For instance there is the current story of our collective financial situation, what the reality-based (and hence widely ridiculed) commentator David Stockman refers to as "the leveraged buyout of America." The story we get is that the wise hands at the Federal Reserve are engineering an "economic recovery" from some kind of mystifying banking accident that occurred in 2008. The exact nature of the "mess" (as President Obama and others term it) cannot be explained, but it had something to do with rising and then falling house prices, and banks that lent money (i.e., gave mortgages) to unfortunate people who paid too much. The banks then got bailed out by the government in order to "save" the country from a re-run of the 1930s Great Depression.
No doubt, even superficial consideration of this fable makes people's heads hurt. It's easier to tune into Here Comes Honey Boo Boo and kick back with a 40 oz. King Cobra malt liquor than puzzle through the latest minutes released by the Federal Open Markets Committee. (Indeed, a truly rational person might learn more from reading the spilled entrails of a Jersey Giant chicken.) Here's what actually happened to this country leading up to the fiasco of 2008:
Highly paid banking lobbyists (including former federal regulators and elected officials) bought enough influence over lawmakers to get rid of the Glass-Steagall Act, a Great-Depression-vintage law that required the separation of commercial banking (checking and savings accounts plus mortgage and business lending) from speculative investment banking. That allowed large banks to combine their operations and, among other things, turn loans into "innovative financial products" (bonds constructed out of massive quantities of non-performing mortgages and other loans), which they pawned off far and wide on "muppet" clients, including big institutional investors such as pension funds.
The big banks retained pieces (tranches) of these innovative products (called collateralized debt obligations, or CDOs), which they bought insurance on (credit-default swaps, or CDSs), since they were guaranteed to fail and thus generate insurance payouts, covering the costs of the whole racket for the banks. However, the insurers (for instance, AIG) did not really expect to have to pay out, weren't prepared, and didn't have the scratch to cover their obligations when the payouts were triggered. These daisy-chained counterparty obligations between financial institutions threatened a systemic cascading bankruptcy of all of them (massive counterparty failure). The then-Treasury Secretary Henry Paulson (former CEO of Goldman Sachs) importuned the U.S. Congress to bail out these banks, which they reluctantly did. And ever since then, the Federal Reserve and its handmaiden "too big to fail" banks have been running an array of scams aimed at concealing the worsening bankruptcy of American society and its government.
Expensive Energy Complicates Things Further
These calamities of capital mis-management occurred in tandem with trouble in the energy sector of the economy. The shorthand for the trouble was encapsulated in the term "Peak Oil." For practical purposes, it should have been called "Peak Cheap Oil," because these years in the mid-2000s marked the end of oil that was affordable under the terms of how American society was set up to run.
At every level of American society – and for Europe and Japan as well – the end of cheap, affordable oil had rather dire implications for all the common operations of life in advanced societies: food production, transportation, commerce, and especially finance. Finance – the management of a society's accumulated wealth – was the most abstract of these systems and the one most easily upset by the implications of Peak Cheap Oil. The reason was that oil happened to be the "master resource" for generating economic growth and Peak Cheap Oil provoked a particular problem with money: Without continued growth of 3 to 5 percent a year, not enough new wealth could be generated to cover the interest on loans in the financial system. In effect, the whole system of interest became impaired, and without interest you couldn't have the normal operations of banking.
It was pretty elementary. But the American public was not disposed to understand it, because everything in the U.S. economy worked on revolving credit, including the issuance of money itself (which was loaned into existence by the banks), and the public was addicted to debt. Loaning money into existence, of course, implied the creation of ever more debt, which came burdened with interest payments. It was not a casual coincidence, by the way, that the greatest orgy of debt creation in human history occurred in the very years leading up to Peak Cheap Oil, roughly 1990 to 2005, when relatively cheap oil use reached its zenith. So, by the time Peak Cheap Oil actually hit, the debt burden in American society was crushing at every level: household, business, and government.
Additionally, the problem of Peak Cheap Oil suggested to anyone paying attention that the debt bust was a permanent predicament. It had no remedy other than writing off losses, and, pretty soon, vivid economic contraction. Sometimes the terms "depression" and "recession" were used to describe the evolving situation, but the word "contraction" was more accurate, because a permanent contraction of industrial technological civilization had commenced. The reality of it was too scary for most people to process, especially people with political power. Really, anybody running things in American society – businesses, news media, college economics departments – could not face the implications of a contracting industrial economy. The words "recession" and "depression" were reassuring in the sense that they depicted low phases of a cycle that was sure to turn up eventually in the form of "recovery."
Lesson Not Learned
Hence "recovery" became the shibboleth constantly invoked by people running things after the crisis of 2008. Unfortunately, no such recovery was underway. It was papered over by the twin Federal Reserve policies of quantitative easing and financial repression – a combination of the nation's central bank loaning vast new amounts of money into existence at ultra-low interest rates (hardly any interest to pay back) and creating steady monetary inflation to reduce the burden of existing debt by shrinking the dollar value of the debt. The program was a racket in the sense that it was fundamentally dishonest. And it enlisted its handmaiden too-big-to-fail banks (a.k.a. "primary dealers") into several levels of the racket:
as middlemen purveying U.S. Treasury bonds to the Fed for commissions and fees
as recipients of a bottomless cascade of near-zero interest loans that could be rolled into securities paying a bit more interest, therefore providing a steady creaming-off of profit in what is known as a "carry trade"
Meanwhile, all kinds of games were being played by the government from the simple misreporting of basic economic statistics, to the misrepresentation of revenues and expenditures, and known-to-be-false projections of future indexes. The basic operating system in the USA had moved from the rule of law to pervasive accounting fraud. The U.S. congress was not only deadlocked between two extreme positions on the left-to-right gradient, but both major parties were wholly bought off by their sponsor-contributors, including the shadow army of lobbyists with no political stance other than service-for-pay from the officeholders they shoveled money to. Business played games to stoke the recovery myth, too, like the "channel stuffing" rampant in the car industry, in which new cars were jammed into the dealer lots (delivered on credit) beyond any reasonable expectation of actual sales, but were recorded on the balance sheets of the automakers as sales nonetheless. Voila! Car sales are up this month! After 2011, this was joined by a campaign to provide sub-prime auto loans on the same order as the trash mortgages that had gotten the banks in so much trouble a few years earlier. The practice continues today, along with securitization of trash car loans into asset-backed securities. A similar racket goes on with college loans, which have come to eclipse even credit-card debt in sheer volume.
Plan B? There's No Plan A!
Now, the presumed purpose of these shenanigans from the point of view of the Federal Reserve and the White House was to keep the financial system stable and afloat, and therefore to keep "normal" American daily life going. Unfortunately, it was based on the unreal assumption that the financial norms of, say, 2006 could be ginned back up again, and this premise was just inconsistent with the reality of a post-Peak-Cheap-Oil world. Unfortunately, there was no organized counter-view to this wishful thinking anywhere within the boundaries of the political establishment. Nobody in power or in charge of anything could present a road map of where to lead this society from here – "here" being a realm of hopeless futility. The nation has been mired in this quandary for years and has been hung out to dry with the very feeble guidance from mainstream opinion-makers and leaders that nothing else really matters as long as the stock markets are going up.
At this point, any sane person reading this is asking: How the heck do we get out of this mess?
In Part II: Fixing the Mess We've Made, we look at the largest trends society will need to comply with as the unsustainable economic, financial, and resource pursuits described above collide with reality. Yes, the impact will be painful, as will be the transition to a new, more maintainable way of life. But those who intelligently re-align their lifestyles today, in advance, will experience much less disruption – in fact, thriving is a real option.
So the smart move here is to understand these defining trends, determine where you can best position yourself to take advantage of them, and start taking steps to do so now. Of all your current assets, none is more valuable then time. Don't waste it waiting for direction from above. If it ever does arrive, it will be much too late to be of use.
http://www.peakprosperity.com/blog/8154 … -ourselves
Statistics: Posted by yoda — Tue Apr 23, 2013 1:25 pm
---
View full post on
opinions.caduceusx.com
Money Velocity Free-Fall and Federal Deficit Spending
January 18, 2013
The velocity of money is in free-fall, and borrowing, squandering and printing trillions of dollars to prop up a diminishing-return Status Quo won't reverse that historic collapse.
Courtesy of Chartist Friend from Pittsburgh, here are three charts overlaying the velocity of money and the Federal surplus/deficit. The charts display the three common measures of money: M1, M2 and MZM. From the St. Louis Federal Reserve site:
M1 includes funds that are readily accessible for spending. M1 consists of: (1) currency outside the U.S. Treasury, Federal Reserve Banks, and the vaults of depository institutions; (2) traveler's checks of nonbank issuers; (3) demand deposits; and (4) other checkable deposits (OCDs).
M2 includes a broader set of financial assets held principally by households. M2 consists of M1 plus: (1) savings deposits (which include money market deposit accounts, or MMDAs); (2) small-denomination time deposits (time deposits in amounts of less than $100,000); and (3) balances in retail money market mutual funds (MMMFs).
Money Zero Maturity (MZM) is M2 less small-denomination time deposits plus institutional money funds.
The correlation of deficit spending and money velocity is especially striking in the chart of M2 velocity.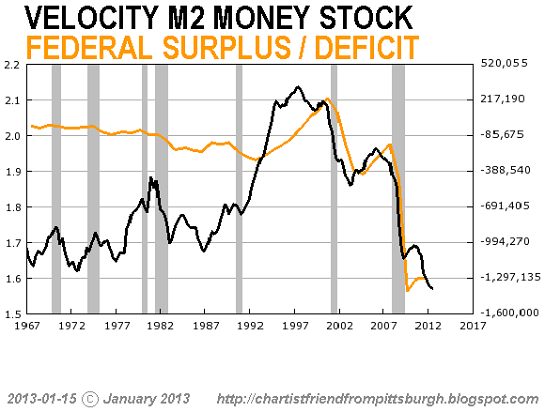 Here is MZM velocity: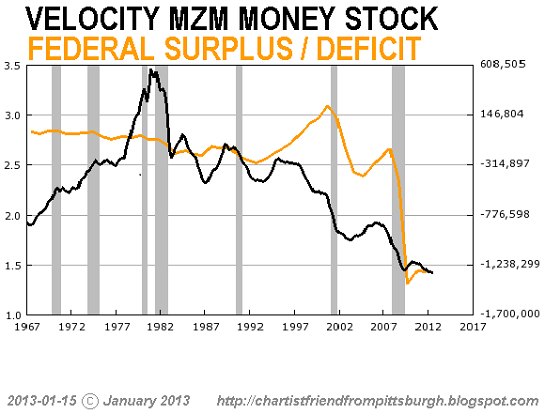 And M1 velocity: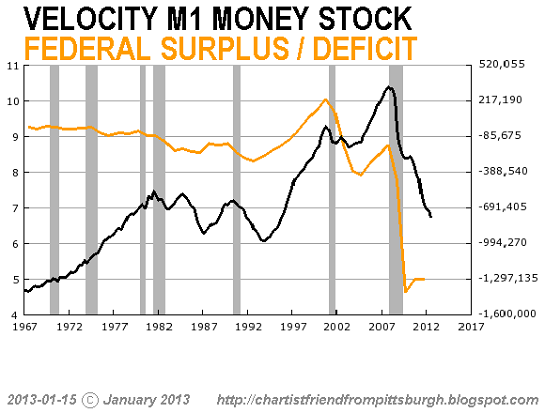 Since correlation implies causation, ideologically unbiased observers will wonder: does declining money velocity lead to more deficit spending, or does deficit spending depress money velocity?
Alternatively, both declining money velocity and soaring deficits reflect a contracting, post-credit-bubble economy. It is interesting to compare when the various measures of money velocity bottomed and topped out:
– M1 velocity rose straight through the inflationary 1970s (no surprise there), chopped around the expansionary 1980s and then climbed along with the Bull market in stocks from 1994 to a peak in 2007, matching the peak in stocks and housing almost perfectly.
– M2 velocity first peaked during the height of inflation in 1981 (when interest rates also peaked), bottomed in 1987 and then tracked the stock market and economy higher, reaching a much higher peak in 1997, much earlier than M1 velocity. M2 fell substantially to a low in 2002 and then rebounded modestly to a lower peak in 2007, after which it collapsed.
– MZM velocity topped out in the inflationary surge of the early 1980s, like M2, but unlike the other measures, it did not ascend to new heights in the 1990s or 2000s; rather, it has fallen steadily for 30 years since its 1982 top.
The most striking feature of these charts is the complete collapse of money velocity. MZM and M2 have collapsed to historic lows, while M1 has fallen back to 1982 levels.
In this context, we can view unprecedented Federal deficit spending as a misguided attempt to compensate for the implosion of money velocity. I say "attempt" because the Treasury borrowing and blowing $6 trillion over the past five years and the Federal Reserve printing $2 trillion, backstopping the parasitic financial cartel with $16 trillion and buying over $1 trillion each of mortgage securities and Treasury bonds has only kept the economy stumbling along at essentially zero growth while real wages have declined by 7% to 9%.
This stupendous creation of money and unprecedented fiscal stimulus has had zero effect on money velocity. This conclusively shows that fiscal and monetary stimulus are not fixing what's broken with money velocity.
Please see these entries for more on why this is so:
Misunderstanding Austerity, Stimulus and Demand (January 17, 2013)
Why Expansionist Central States Inevitably Implode (January 15, 2013)
The Neoliberal Financial Skim (January 14, 2013)
Why Austerity Is Triggering a Crisis (January 7, 2013)
The Dangerous Blindspots of Clueless Keynesians (January 2, 2013)
Keynesian stimulus policies (deficit spending and low-interest easy money) create speculative credit bubbles. As the above charts illustrate, post-bubble economies do not respond to additional stimulus because the economy is burdened by impaired debt and phantom collateral.
In sum, the U.S. economy is a neofeudal debt-serf wasteland with few opportunities for organic (non-Central Planning) expansion. As a result, the velocity of money is in free-fall, and borrowing, squandering and printing trillions of dollars to prop up a diminishing-return Status Quo won't reverse that historic collapse.
Put another way: we've run out of speculative credit bubbles to exploit.
http://www.oftwominds.com/blog.html
Statistics: Posted by yoda — Fri Jan 18, 2013 12:06 am
---
View full post on
opinions.caduceusx.com
Country-music legend Hank Williams Jr. unleashed another round of less-than-flattering words for Barack Obama, this time Friday night at the Iowa State Fair.
According to the Des Moines Register, after Williams performed the song "We Don't Apologize For America" a chant of "USA, USA" broke out among the crowd.
The singer responded with a smile, telling the audience he was their mouthpiece and added:
"We've got a Muslim president who hates farming, hates the military, hates the U.S. and we hate him!"
The crowd apparently loved what it heard, responding with "loud and enthusiastic" cheers.
The Register says when reached for comment Saturday, Brad Anderson with the Obama campaign in Iowa said, "That type of absurd nonsense doesn't really deserve a response."
In July, Williams Jr. told Rolling Stone magazine Obama "hates America in the first place, forget about the flag."
Last October, the music legend received massive publicity when he appeared on "Fox & Friends" and blasted a golf game between Obama and House Speaker John Boehner.
"It'd be like Hitler playing golf with [Israeli Prime Minister Benjamin] Netanyahu," Williams said at the time.
The video clip went viral, prompting ESPN to permanently drop Williams' "Monday Night Football" theme from its football program after 22 years.
"I was right," Williams told Rolling Stone. "ESPN might have done me the biggest favor in the world. It has snowballed since October."
In that magazine interview, Williams again discussed his belief that Obama is a Muslim, saying, "You know, we've got a president that does a call to the Quran or Mecca or whatever."
He explained his opinion of Obama has gotten worse since he was first elected in 2008.
"I mean, it's a zero," Williams said. "If I was at my office and I could get to my Internet and list the things like where our economy is – you don't want to go there with me. I mean, the guy is the worst. Giveaway programs, hates America in the first place, forget about the flag. …
"We have borrowed ourselves into our poor grandchildren. Now my opinion has gone down. It was pretty low to start with. It's really gone down since then. I mean, there's a whole lot of us out here, we flip the tube off when that guy comes on. We're not listening and we ain't watching."
To help publicize his anti-Obama thoughts, Williams recently issued a 10-disc album titled "Old School, New Rules."
One of the song lyrics say, "Hey Barack, pack your bags, head to Chicago, take your teleprompter with you so you'll know where to go."
http://www.wnd.com/2012/08/music-supers … president/
Statistics: Posted by yoda — Tue Aug 21, 2012 4:15 pm
---
View full post on
opinions.caduceusx.com
By Incentivizing Debt, We've Guaranteed Debt-Serfdom and Stagnation
June 12, 2012
Incentivize debt and you create multiple overlapping death spirals.
The incentives to take on debt are so ubiquitous that we underestimate their pernicious power to trigger self-destructive behavior. Want to go to college? Just borrow the money now, with no payments until you graduate. Need some consumerist-retail therapy to lift your sagging spirits? Just use plastic, and pay for the splurge later. Want to buy a house? Hey, the interest on that 30-year mortgage is all tax deductible. It's crazy to pay taxes when there's a big fat deduction for mortgage interest.
This same set of incentives works on a national and global scale, too. Put yourself in the shoes of the typical spineless, campaign-donation-dependent politico whose primary obsession in life is clinging to power via winning the next election. Every heavy-weight constituency is protesting any tiny reduction in their share of the Federal swag, so drastic cuts are out of the question. What's the only painless option? Borrow $1.5 trillion every year to make sure the swag is fully funded and the restive constituencies are quieted for another election cycle.
But debt has a consequence called interest that feeds a destructive self-reinforcing cycle. At a certain threshold, there is no painless way to pay the interest except to borrow more money. That increases the interest payments due next year, and so the "solution" is to borrow yet more next year.
As I explain in Resistance, Revolution, Liberation: A Model for Positive Change, the Status Quo has relied on "growing our way out of debt" to overcome this cycle: if the new debt fuels a rise in productivity, the economy will grow so much faster than the debt that the relative burden of the debt actually declines.
In a simple example, if a $1 trillion economy borrows $1 trillion and invests it such that the economy rapidly expands to $5 trillion of goods and services, then the rise in national income means the interest on the $1 trillion can be paid out of the huge increase in income generated by the rising productivity.
The same is true for a company that borrows what appears to be a large sum in order to boost production. If revenues leap from $100 million to $1 billion as the result of a $100 million investment, the interest can be paid out of the higher cash flow.
The wheels fall off the "growing our way out of debt" strategy if the borrowed money was spent on consumption or invested in low-productivity purposes. After it's all said and done, the money's gone but the debt remains and the interest is still due.
This is where the housing bubble enters the picture. Given that mortgage interest (even the interest on home equity lines of credit, HELOCs) is deductible, then it was incredibly attractive for those with equity to borrow that equity for consumption, an addition/remodel or to fund another home purchase as an investment or vacation get-away.
Since the additional debt did not create any additional income, more of the household's income is now diverted to paying interest. Even if the additional debt was used to purchase a rental property, if that property's expenses (property taxes, maintenance, etc.) have outpaced rental income increases, or the equity in the rental was extracted in the bubble, then the actual rise in net income might be negligible or even negative.
I know a number of households with substantial real estate assets and upper-middle class incomes, but they are effectively low-income debt-serfs, as most of their income goes to the interest payments on their stupendous mortgages.
Now that they're heavily mortgaged, banks won't lend them more money, nor will they refinance exisiting mortgages: these heavily indebted households are now credit risks.
15% equity on $2 million in property looks like there's a net household worth of $300,000, but it's dead money, i.e. trapped capital: it cannot be tapped except by selling the property.
And since property values have fallen significantly from the top, most households are loathe to sell at depressed prices. Meanwhile, the majority of household income goes to mortgage payments, leaving little to save, invest or enjoy.
This is how high-income households enter debt-serfdom. On paper, they're still worth a lot, but it's trapped capital. On paper, they have a substantial income, but since $50,000 of it (or even $100,000 or more if the household owns multiple properties) goes to mortgage interest, their actual net income is modest or even negative.
This is why so many households have pulled money out of IRAs and 401K retirement funds: their debt service costs and essential expenses exceed their income.
It's also why income tax revenues are lower than they were "in the good old days" before the bubble popped. As median household incomes have declined 9.9% since December 2007, there is less income to tax, and large mortgage payments have reduced taxable income to mere trickles even in high-income households.
Whenever I discover a well-off friend is paying minimal Federal and State taxes, I ask, what's the trick? Answer: huge mortgage payments.
The trapped-capital equity in real estate is simply another form of phantom wealth. If too many people try to free that trapped capital by selling, the price of real estate will decline and the actual net equity left after commissions might well be near-zero. Recall there are at least 6 million homes in the shadow inventory and 12 million "underwater" households whose mortgage exceeds the market value of their house.
Since they can't sell, they are debt-serfs, indentured to their mortgages and the owners and servicers of those mortgages.
This same dynamic plays out in heavily indebted nations. Take Japan, for example. Its national tax revenues barely cover its interest payments and social security program, despite interest rates below 1%. The rest of its government expenditures must be borrowed, adding to next year's interest payment burden.
Once a critical mass of income is devoted to paying interest, there is not enough income left to invest in productive investments. Without increases in productivity, income declines, further squeezing budgets as income falls but debt service costs remain fixed.
As the relative share of income siphoned off by interest rises, there is less available for either investment or consumption, so "growth" also declines. Borrowing more to pay the interest only adds to next year's interest payments.
Incentivize debt, and you end up relying on debt as a sustitute for productivity and income. Increase debt, and there's not enough income left for productive investments that might boost income. Incentivize debt via making interest tax deductible, and you create a self-reinforcing feedback of a rising share of declining income being devoted to interest payments. With demand and borrowing both suppressed by debt-serfdom, demand for housing, goods and services declines. Borrowing more to consume simply speeds the cycle of rising interest and falling net incomes.
Incentivize debt and you create multiple overlapping death spirals. We are seeing the death-spirals play out in a fractal manner, from households to nations to entire regions. High debt levels lead to high interest payments which lead to low investment and savings rates which lead to lower productivity which leads to stagnation of income, consumption and investment: in other words, a death spiral.
http://www.oftwominds.com/blog.html
Statistics: Posted by yoda — Mon Jun 11, 2012 10:01 pm
---
View full post on
opinions.caduceusx.com
Vigilante justice rising in Detroit as 'justifiable homicides' jump 79% in a year
34 self-defence killings in Michigan city last year
2,200% above U.S. average as police cuts get worse
Response times average 24 minutes for priority calls
Precincts and district HQs closed to public after 4pm
By JENNIFER MADISON and MARK DUELL
7th February 2012
Vigilante justice is rising in one of America's most violent cities as residents in crime-ridden neighbourhoods take matters into their own hands.
Detroit, Michigan, saw 34 self-defence killings in 2011 – a 79 per cent increase from the previous year, according to statistics in The Daily.
The 'justifiable homicides' rate is 2,200 per cent above the U.S. average, as citizens cope with alarmingly high response times and police cuts.
On patrol: Statistics show Detroit residents are resorting to self-defence tactics as police response times lag to an average of 24 minutes for priority calls
Residents are resorting to self-defence as police response times lag to 24 minutes for priority calls on average, Mara Gay wrote in The Daily.
That compares to an average of ten minutes in comparable cities across the rest of the country.
An FBI report shows Detroit homicides ranked second in the nation per capita last year, rising ten per cent in 2011 to 344 people.
The Detroit police department rolled out a plan in January to close precincts and district headquarters to the public after 4pm.
This was an effort to put more officers on patrol, especially in the most besieged neighbourhoods, without adding to the city's $200million deficit.
The policy took effect in an especially tough area on the city's east side and spread to the six other stations.
Criminal activity: Detroit's force includes about 2,700 officers left to patrol the streets, down from 4,000 a decade ago
And citizens are taking the law into their own hands, arming themselves with guns and guard dogs to fend off criminals, Ms Gay wrote in The Daily.
Detroit resident Julia Brown, 73, told the website the last time she called local police, authorities didn't respond until the following day.
'We got to have a little Old West up here in Detroit. That's what it's gonna take. I don't intend to be one of their victims, I'm planning on taking one out'
Julia Brown, 73
Now she carries a handgun to defend herself against criminals she says are terrorising her neighbourhood.
'We got to have a little Old West up here in Detroit. That's what it's gonna take,' she said. 'I don't intend to be one of their victims, I'm planning on taking one out.'
Kevin Early said he found himself in a similar situation in November when he was held up at gunpoint in Rosedale Park.
He recalled neighbours in the middle-class neighbourhood emerging from the street with shotguns as his attackers fled on foot.
Neighbours helped out: Kevin Early was held up by gunmen outside his house in a desirable area of Detroit three months ago and cops took 25 minutes to arrive
It was 25 minutes before an officer arrived to the scene. But like many police departments, Detroit's force is under severe financial constraints.
VIGILANTE JUSTICE CASES
Immigration officer Alvin Davis was fed up in 2009 with break-ins at his mother's house despite her constant calls to Detroit police.
The ex-federal agent spent days hunting down and harassing the teenagers allegedly robbing his mother, prosecutors said.
He even put his gun into one of their mouths and got a four-year jail term for unlawful imprisonment and assault, reported The Daily.
Kevin Early was held up by gunmen outside his house in a desirable area three months ago and cops took 25 minutes to arrive.
The criminal justice expert reasoned with his attackers for 20 minutes before he thought they would shoot him, so he ran off.
Neighbours emerged from the Detroit street's other posh homes with shotguns as the attackers fled, reported The Daily.
The city has about 2,700 officers, down from 4,000 a decade ago. There are few areas to make cuts other than jobs.
But authorities are loath to do this, particularly in light of the city's violent crime rate, one of the highest in the country, and a spike in murders.
Compounding matters is Detroit's size of 139 sq miles, even though the population has fallen from 1.8million in 1950 to 700,000 today.
As The Daily reports, residents in wealthier areas are also often hiring private security firms to patrol their streets in armoured trucks.
Business owners at Threat Management Group and Recon Security, which patrol neighbourhoods, said business is booming.
A spokesman for Detroit Police told The Daily they are working on lowering response times, and said citizens do have a right to defend themselves.
'It's not about police response time because often the act has already taken place by the time the police are called,' Sgt Eren Stephens said.
Read more: http://www.dailymail.co.uk/news/article … z1lhV4FcsZ
Statistics: Posted by yoda — Tue Feb 07, 2012 7:02 am
---
View full post on
opinions.caduceusx.com