Neal McCluskey
Yesterday we laid out how, as percentages of total state education workforces, the Obama adminsitration's worst-case sequester job loss predictions are actually tiny. They're so small they approach zero, generally clocking in at around 0.30 percent.
It seems, though, that even that number might be too big to fully capture the degree of fear-mongering by the administration. As the Washington Post is now reporting, U.S. Secretary of Education Arne Duncan actually has no evidence to back up the claim he made on Face the Nation this weekend that "there are literally teachers now who are getting pink slips, who are getting notices that they can't come back this fall." OK, he could point to one example – Kanawha County, West Virginia – but not without adding, "whether it's all sequester-related, I don't know."
The big question now is, can we get the administration to cop to less than zero job losses? It might not be possible because, as trumped up as the sequester is, it probably will involve some job trimming. But it isn't hard at all to see less than zero cuts when you put the sequester into historical context. As our by-now famous graphs make clear, for decades hiring in our schools grew well in excess of enrollment – a huge hiring boom. That means relatively minor cuts will, indeed, come out to far less than zero long-term losses. And considering that academic achievement was utlimately flat throughout the boom, much bigger cuts are clearly in order.
Anyway, thanks to Secretary Duncan – and the Washington Post – for making the job of exposing administration fear-mongering much, much easier.
View full post on Cato @ Liberty
Can you imagine — a place with ZERO property tax?
by SIMON BLACK on JANUARY 30, 2013
January 30, 2013
Central Chilean Coast
[Editor's note: Sovereign Man contributor Darren Kaiser of Chile-Farmland.com is filling in today while Simon is en route to Peru.]
sov·er·eign·ty
n. pl. ·ties
1. The quality of having independent authority over a certain geographic area.
2. A territory existing as an independent state.
Human beings have always striven to achieve sovereignty. It's in our nature.
Like animals in the wild, we humans began our long climb to modernity by securing sources of food. Clean water. Land. Energy. Building materials. Eventually, even self-governance.
Yet as our advancement perpetuated, the rights of the individual slowly degraded. Perhaps nowhere is this clearer than with individual property rights… and specifically, with property taxes.
As they say, "Try not paying your property taxes for a few years and see who really owns your home and land…"
Especially in North America and Europe, people can pay thousands… tens of thousands of dollars / euros… to 'rent' their properties from the government. If you don't pay, the property is confiscated.
The real kicker is that in countries, states, and counties where, year after year, revenue doesn't quite meet expenditures, one can be sure that property taxes will rise.
We've seen this happen already–Italy, for example, recently re-introduced a property tax. Plus cities and counties across North America, from Winnipeg, Manitoba to Maricopa, Arizona, have either raised taxes or are considering increases.
I used to think that this was just something one had to deal with… until I came to Chile.
When I first arrived here, I learned that the official property tax rate was 1% for agricultural properties and 1.2% for non-agricultural properties. Moreover, I discovered that assessed property values tend to be incredibly low, meaning that the taxes are tiny.
This seemed really great, much more than what I was used to seeing. But what I learned next was quite shocking.
After I had identified the perfect region of the country for me, an area with a small microclimate close to the coast where ocean views meet fields planted in strawberries, beans, potatoes, wheat, and papaya, I learned that some of the smaller properties I was interested in were completely exempt from property taxes.
This was groundbreaking for me.
Some of these properties were small building sites. But others consisted of a few acres or more, replete with small creeks and wells, homes, fruit orchards, and seasonal crops. And the owners wouldn't pay a single peso in contribuciones, Chile's version of property tax.
As time went on, I found out that general property tax rates in Chile could be further reduced once a property had a dwelling built on it, or if the assessed value was under a certain limit.
This means you can actually lower your property taxes while adding to your property's value, a counterintuitive notion for many North Americans and Europeans.
As more and more people watch their sovereignty slip away due to more laws, higher taxes, competition over resources, and restrictions on small-scale agriculture, it's good to know that there are some real solutions out there.
http://www.sovereignman.com/expat/can-y … tax-10702/
Statistics: Posted by yoda — Wed Jan 30, 2013 11:01 am
---
View full post on
opinions.caduceusx.com
Zero Hedge endorses gold audit petition; please add your support today
Submitted by cpowell on Sat, 2013-01-12 13:38. Section: Daily Dispatches
8:41a ET Saturday, January 12, 2013
IF YOUR AN AMERICAN CITIZEN IT WOULD BE IN YOUR BEST INTEREST TO GO TO THIS WEBSITE AND SIGN THIS PETITION D.D.
Dear Friend of GATA and Gold:
Zero Hedge yesterday endorsed the petition to President Obama to commission an independent audit of the U.S. gold reserve that addresses not just weight and purity of the metal but swaps and leases. While most petitions undertaken at the White House's Internet site are mere entertainment, Zero Hedge writes, the petition about auditing the U.S. gold reserve "is one petition, which, unlike all the other gimmicky wastes of time, that we (and certainly the German people if not the Bundesbank) would wholeheartedly endorse, and one we hope promptly crosses the 25,000-signature threshold needed for a formal response from the White House."
Zero Hedge's commentary on the petition is here:
http://www.zerohedge.com/news/2013-01-1 … blicly-v...
The petition was posted only last Wednesday and when GATA called attention to it Thursday night it had only a little more than 100 signatures. It now has more than 2,000.
Of course we don't expect the petition itself to extract any honesty, candor, or information from the Federal Reserve and the Treasury Department — only more freedom-of-information lawsuits such as those contemplated by GATA are likely to accomplish that:
http://www.gata.org/node/11606
But if the petition reaches the 25,000-signature threshold and compels a sullen acknowledgment and rejection from the government, it just might spark some interest in the mainstream financial news media somewhere. Gold market rigging as the centerpiece of the ever-expanding Western central bank scheme of rigging all markets is now long beyond obvious and has been extensively documented by GATA:
http://www.gata.org/taxonomy/term/21
Lacking are only some courageous journalists resolved to stop playing their bit parts in an international performance of "The Emperor's New Clothes."
So if you haven't electronically signed the petition please do so as soon as possible and encourage friends and family members to sign it. It gained 20 signatures just in the time it took to write this appeal, so it has a chance. It's posted here:
https://petitions.whitehouse.gov/petiti … -audit-a...
CHRIS POWELL, Secretary/Treasurer
Gold Anti-Trust Action Committee Inc.
Statistics: Posted by DIGGER DAN — Sat Jan 12, 2013 9:52 pm
---
View full post on
opinions.caduceusx.com
Malou Innocent
As President Hamid Karzai visits Washington this week, a flood of recent news reports suggest that the White House is considering a zero option that would leave no U.S. troop presence in Afghanistan after 2014. Such news is bittersweet.
It appears that top officials have come to realize that America can protect its vital interests without an indefinite residual troop presence. That said, these officials implicitly acknowledge that conflating the fight against terror groups with the creation of viable central governments has failed. America can and should destroy, incapacitate, and punish those that do it harm; but the American military and civilian establishments have had repeated difficulty repairing failed states emerging from civil conflict.
After 10 years and counting, the fragile Afghan government still lacks a central pillar of nation-state sovereignty: monopoly on the legitimate use of force. Reports suggest that outgoing Secretary of Defense Leon Panetta favors leaving 9,000 U.S. troops behind to combat militants and to train the 350,000-large Afghan Army and police. But according to Washington's own metric, indigenous security forces, which the U.S. has spent $39 billion to train and equip, have to be effective enough to operate independent of foreign assistance. But reports have found that some coalition forces largely see the Afghan National Army (ANA) as unmotivated, highly dependent, and making little to no progress.
Leaving trainers also assumes that Afghan government forces are effective in gaining the Afghan population's support. But a Pentagon report from last year found little evidence of that. Afghan government corruption remains rampant and continues to bolster insurgent messaging. Sadly, more resources are unlikely to change the fact that the coalition has no overarching or coherent geopolitical framework to connect military gains with a broader political process that would resolve what drives the insurgency. Absent that, rural Afghans in insular pockets of the country will continue to turn to the Taliban alternative.
A plan to end America's limited presence is a debate we must have. Committing manpower with no decisive end attaches no conditionality on the performance of either Afghan elites or security forces while leaving U.S. troops exposed to insurgent attack. The lesson to draw from the Afghan mission is not to plunge into a country and dwell for ten years, but to avoid similar futile missions in the future. 
In today's Cato Daily Podcast, I discuss the future of Afghanistan and why it is time once again to rethink our mission:
View full post on Cato @ Liberty
OBAMA WALL STREET PROSECUTIONS: ZERO!!!!5 commentsPosted on 23rd September 2012 by Administrator in Economy |Politics |Social Issues
Failure, Liberal MSM, Obama, prosecutions, Wall Street
The extreme liberal bias of the mainstream media is revealed by their complete purposeful ignoring of Obama's absolute disgraceful bowing down to the Wall Street cabal. Bush convicted 1,300 white collar criminals. Clinton convicted 1,000 white collar criminals. And after the largest criminal fraud in the history of mankind, Obama has not even attempted to prosecute one Wall Street slimeball. Obama is a Wall Street captured stooge. How could the MSM give him a pass on this?
The liberal hypocrites who held antiwar protests against Bush have been silent during Obama's reign of terror, where he ramped up a worthless war in Afghanistan, kills women and children with predator drones, signed the NDAA, and signs executive orders allowing him to imprison Americans without charges.
The liberal MSM is showing their true colors with their slanted coverage of this election and Obama's disgraceful record.
Who really unchained Wall Street?
Jean-Claude Groulx
In keeping with the left's blaxploitation enterprise, white Northerner Joe Biden feigned the hemistichical rhythm of a Southern black preacher for his largely black audience in Virginia yesterday:
They've said it. Every Republican's voted for it. Look at what they value and look at their budget and what they're proposing. Romney wants to let the-he said in the first 100 days, he's going to let the big banks once again write their own rules. Unchain Wall Street! They gawn' put y'all back in chains.
For all the bluster of Obama, pre- and post-2008, as well as that of Attorney General Eric Holder concerning the alleged criminal activities on Wall Street, there have been zero Wall Street prosecutions under Obama/Holder. Compare that with his predecessors Bush and Clinton:
GAI [Government Accountability Institute] details how the George W. Bush and Bill Clinton administrations both actually took down financial criminals – unlike the Obama administration. Between 2002 and 2008, for instance, GAI points out how a Bush administration task force "obtained over 1,300 corporate fraud convictions, including those of over 130 corporate vice presidents and over 200 CEOs and corporate presidents."
"Clinton's DOJ prosecuted over 1,800 S&L (savings and loans) executives, senior officials, and directors, and over 1,000 of them were sent to jail," GAI adds.
But, despite having "promised more of the same," especially in the wake of the 2008 financial crisis, the Obama administration's DOJ has not brought criminal charges against a single major Wall Street executive.
The Bush and Clinton administrations' track records on prosecuting white-collar crime, and the Obama administration's failure to do so, Schweizer said, is "evidence that this has less to do with some sort of partisan or philosophical issue."
Bush – 1,300 convictions;
Clinton – 1,000 convictions;
Obama – Zero attempts.
And why the difference in prosecuting the law? The GAI report reveals that the Department of Justice upper echelon is stacked with attorneys, including Eric Holder, from law firms representing the very same companies involved in the financial meltdown of 2008, as well as financial corporations with questionable actions during the Obama administration…AIG, Goldman Sachs, Wells Fargo, J.P. Morgan Chase, Bank of America, CitiBank, Deutsche Bank, ING, Morgan Stanley, UBS, Wilmington Trust, and John Corzine's MF Global.
These very same DoJ attorneys also happen to be some of Obama's biggest bundlers for Obama's 2008 bid for president.
"When we think of cronyism and the problems of cronyism and crony capitalism, we think in terms of economic loss and gain," Schweizer said in a phone interview. "What we're showing here is that cronyism is now permeating our justice system. So, it's not just a question of dollars and cents, it's a question of whether you're going to face legal jeopardy or not on what you're doing."
Unchain Wall Street, Joe? There is no more corrupt and capricious "unchaining" of Wall Street that President Romney could possibly effect. Under Obama and Holder, "the chains" are dependent on not the Rule of Law, but rather the Law(lessness) of Men.
http://www.theburningplatform.com/?p=41103
Statistics: Posted by yoda — Sun Sep 23, 2012 8:23 pm
---
View full post on
opinions.caduceusx.com
When the financial clock strikes zero – Half of Americans pass away with nearly zero wealth. The middle class has contracted by ten percent in the last 40 years.
Posted by mybudget360 in banks, debt, economy, government, middle class, recession, wall street
A recent study demonstrates the precarious financial position many Americans find their lives in. The National Bureau of Economic Research found that nearly half of Americans pass away penniless. The exact figures were sobering stating that many of these Americans end up with no financial assets including home wealth and typically rely heavily on Social Security. This study points out a couple of important items regarding the state of the economy for many families. Many simply cannot save and end up relying on external funding. The system is witnessing heavy strain on these sources at a time when government spending is off the charts for bailouts and other targeted spending. Yet the typical American is still ending up in a financially precarious state. In the last four decades the middle class has contracted by ten percent. What does it say about the economy when half of the inhabitants of the wealthiest country pass away with almost no wealth?
The shrinking middle class
It is troubling to see that the middle class has contracted hand and hand with the reshaping of our FIRE driven economy and dismantling of the manufacturing sector: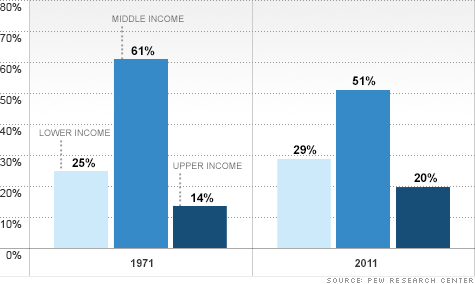 Yet the upper-income group also increased during this time and income inequality is at its highest level ever. This is another statistic that demonstrates the growing disparity in the low wage capitalism economy that is emerging. The fact that 46 million Americans are on food stamps is startling. So the data on the study is fascinating showing that half of the country will reach the end of their lives with little to their name:
"(NBER) We find that a substantial fraction of persons die with virtually no financial assets – 46.1 percent with less than $10,000 – and many of these households also have no housing wealth and rely almost entirely on Social Security benefits for support."
The heavy reliance on Social Security is telling. As our national debt reaches nearly $16 trillion the costs for items like Medicare and Social Security are set to soar. Keep in mind this is coming at a time when young Americans, those that are largely paying into the system to keep funds flowing, are much less affluent than their parents.
Low wage and temp work
The number of Americans in low wage jobs is increasingly high. We are seeing that the days of any sort of job security are out the window. Many are now contending in a fast paced economy where little protection is offered to frontline workers while the select few with big wallets can protect their wealth via political bailouts.
The notion of the Horatio Alger story is largely a giant dream, sort of like hitting the lottery. Most Americans think that a little bit of hard work and sweat will make you into a millionaire. A recent study shows some data on this mobility in our country:
"(Pew Research) Americans raised at the top and bottom of the income ladder are likely to remain there themselves as adults. Forty-three percent of those who start in the bottom are stuck there as adults, and 70 percent remain below the middle quintile. Only 4 percent of adults raised in the bottom make it all the way to the top, showing that the "rags-to-riches" story is more often found in Hollywood than in reality."
This tells you that many will continue to rely on things like Social Security once they reach retirement and this number is not going down: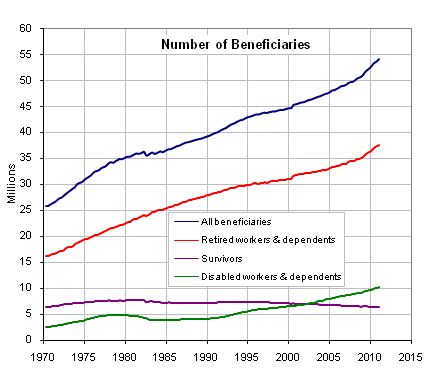 The economy is splitting up into two clear fields. Those that are in the growing smaller middle class and lower income class and those that are pulling away. Half of Americans will end their days penniless so young Americans in many cases need not worry about an inheritance.
http://www.mybudget360.com/financial-cl … #more-4254
Statistics: Posted by yoda — Sat Sep 01, 2012 10:24 am
---
View full post on
opinions.caduceusx.com
Why the U.S. Dollar Is Not Going to Zero Anytime Soon
July 23, 2012
The market considers a variety of inputs in pricing the value of a floating currency. The dollar has more going for it than is generally understood.
The conventional view looks at the domestic credit bubble, the trillions in derivatives and the phantom assets propping the whole mess up and concludes that the only way out is to print the U.S. dollar into oblivion, i.e. create enough dollars that the debts can be paid but in doing so, depreciate the dollar's purchasing power to near-zero.
This process of extravagant creation of paper money is also called hyper-inflation.
While it is compelling to see hyper-inflation as the only way out in terms of the domestic credit/leverage bubble, the dollar has an entirely different dynamic if we look at foreign exchange (FX) and foreign trade.
Many analysts fixate on monetary policy as if it and the relationship of gold to the dollar are the foundation of our problems. These analysts often pinpoint the 1971 decision by President Nixon to abandon the gold standard as the start of our troubles. That decision certainly had a number of consequences, but 80% the dollar's loss of purchasing power occurred before the abandonment of dollar convertibility to gold.
The depreciation from 1971 on looks rather modest on this chart. Clearly, dropping the convertibility of the dollar to gold did not change the overall depreciation dynamic much; the dollar had been losing purchasing power since the turn of the century.
cont
http://www.oftwominds.com/blog.html
Statistics: Posted by yoda — Sun Jul 22, 2012 2:15 pm
---
View full post on
opinions.caduceusx.com
Don't touch this site. They are all run by the same company out of China Fake stuff that falls apart as soon as you touch it. I'm looking for some Jordan 13 air max that look like this: SHORT QUESTION! WHERE CAN I FIND THESE SHOES? I looked online at EASEBAY, FOOTLOCKER, FINISHLINE,jordan retro 2 clearance, JIMMY JAZZ…no one has them. I'm looking for a LEGIT site though so can you help!! That's if you get the item before the site is shut down. What you see on the site are copied and pasted pictures. Site is out of China,Cheap Air Jordan 2 for Clearance, created less than 6 months ago.
That specific shoe you want was never released by Jordan Brand it is a fake therefore you'll not want to buy those everyone will be laughing at you. What you got is a counter fit site. Is this site legit? Not even going to look it up, since it is obvious this one is a scam site. More to the point, is this question just guerrilla marketing, or is it a legitimate question? If you get your merchandise complaints are that they fall apart as soon as you touch them or that the logos are backwards, etc.The prices seem within range; however, since there is no brick and mortar, I couldn't say if these weren't knockoffs.
I want to buy these Jordan's but I don't know if the site is the real thing. It usually takes about 6 months for these sites to close down since it is illegal to make counter fits. wholes… Nike Obama AF1 sneakers? Do the black and pink jordan air fusion 5 say "best of both worlds" on the tongue? Do you know where any shoes places are to get these shoes?!? a place to get Jordan's air force fusion, air max,Nike Air Jordan Dub Zero, and knee-high top converse (chuck Taylor's)?!?I live in Columbus,Buy Air Jordan 22 Shoes, Oh. in this area 43219 any places you know about I was thinking about footlocker, underground station etc. what else?!
Journeys would sell the knee high converse, but I'm not sure about the others. Sorry…… Where To Buy Nike Air Jordan Fusion AJF 5 in Astoria NY? yes it says that because it has 2 differnt shoes and they are saying u get to wear 2 good pairs of shoes at the same time. I own a pair dont worry. Try shoe palace,Herve Leger Dress Discount, you should have one in your mall they have all of the coolest shoes and more.I have the black and pink air jordan fusion 5"s.If they are authentic, do they say that. They don't look different and look very nice. On the tongue it says "best of both worlds". Are they authentic?
????????
http://www.cremag.ca/forum.php?mod=viewthread&tid=1007
http://gse.gs/bbs/forum.php?mod=viewthread&tid=108118&extra=
http://www.woodytang.com/discuz/forum.php?mod=viewthread&tid=2217
http://www.sjqnedu.com/bbs/home.php?mod=space&uid=264&do=blog&quickforward=1&id=1101
http://www.china3lab.com/bbs/home.php?mod=space&uid=227&do=blog&quickforward=1&id=635
Statistics: Posted by Darrian005 — Mon Jul 09, 2012 9:10 pm
---
View full post on
opinions.caduceusx.com